I'd scheduled this year's 2017 Yosemite Winter Moon photo workshop specifically for this moonrise, but as I got my group in position near Tunnel View in Yosemite, a layer of thin clouds behind Half Dome concerned me because it was impossible to tell exactly how thick the clouds were in the fading twilight. An amber glow signaled the moon's imminent arrival, but I held my breath until the moon's disk actually appeared. The thin clouds actually enhanced the scene by enveloping the moon in a golden halo, and by holding back some of its brilliance, enabling us to capture lunar detail that would normally have been blown out as the darkening landscape required more exposure.

Sun and moon rise/set times always assume a flat horizon, which means the sun usually disappears behind the terrain before sunset, and the moon appears after moonrise. When that happens, there's usually not enough light to capture landscape detail without blowing out the daylight-bright moon. To capture the entire scene with a single click (no image blending), I usually try to photograph the rising full moon on the day before it's full, when the nearly full (99% illuminated) moon appears before the landscape has darkened significantly.

The moon's size in my image is determined by the focal length of my lens—the longer the lens, the larger the moon appears. Photographing a large moon above a particular subject requires not only the correct alignment, it also requires distance from my subject. The farther back I can position myself, the longer the lens I can use without losing part of my subject. Tunnel View in Yosemite is one of my favorite locations to photograph a moonrise because it's about eight miles from Half Dome, allowing me to enlarge the moon with a 500mm lens and still fit all of Half Dome in my frame.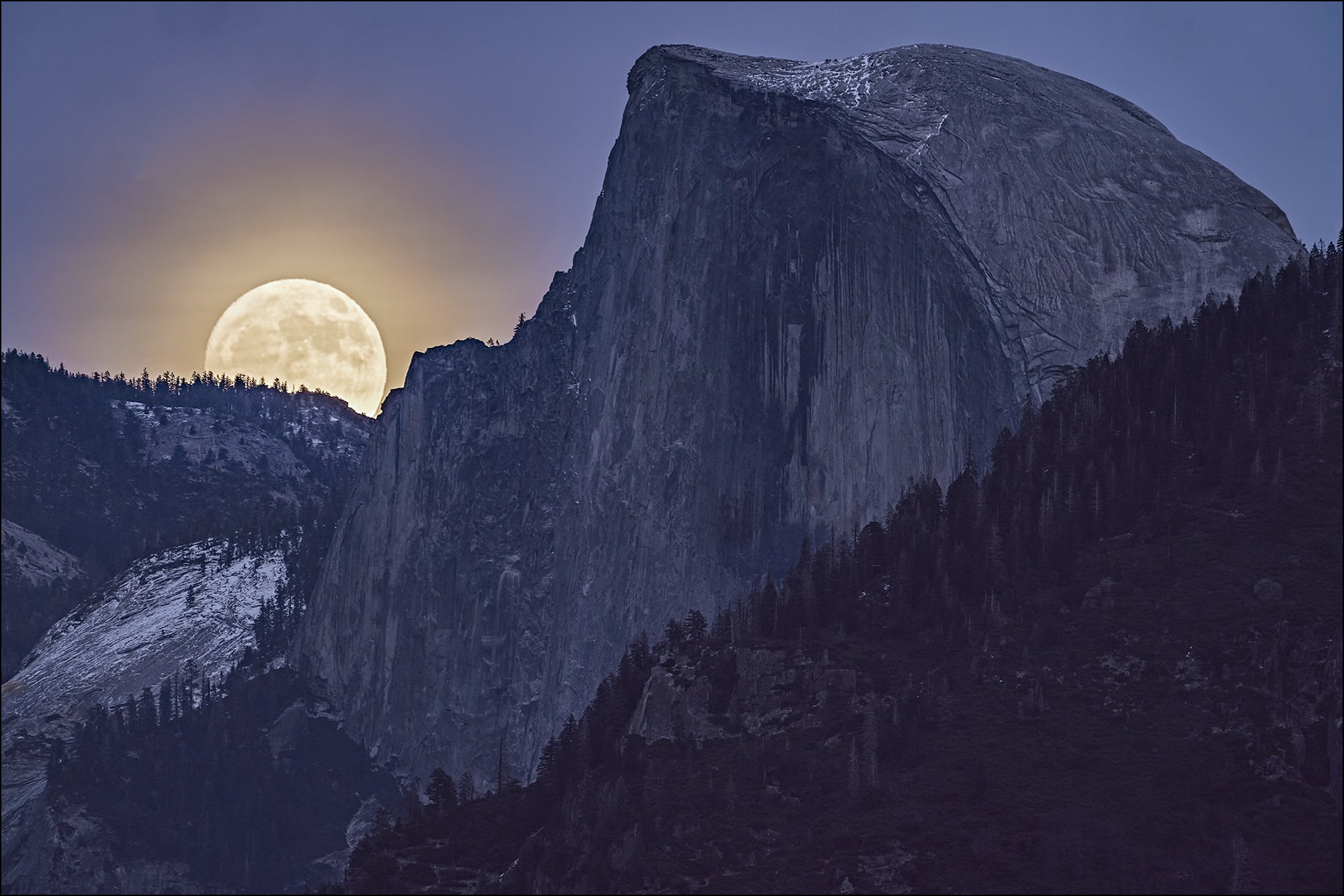 Sony α7R III. Sony 100-400 f/4.5-5.6 G Master lens with Sony 2x teleconverter. 1/8-sec., f/11, ISO 400.
Really Right Stuff 24L tripod and BH40 ballhead. Yosemite Supermoon and Half Dome photographed from Tunnel View, Yosemite National Park, CA. December 2, 2017


Gary Hart is a Sony Artisan Of Imagery. See more about him here. Follow his EloquentNature blog and sign up for his workshops here.
The December 4, 2017 supermoon was the first in a series of three. The full moons of Jan 2, 2018 and Jan 31, 2018 will also be supermoons (January 31st will also be a "blue moon" and there will also be a total lunar eclipse on that day (where the moon will pass completely through the Earth's shadow) and the one on January 2nd will be the biggest of the three where the moon will be 356,565 km from the Earth. Make your plans!