by Andy Mann
"There will be times that you wish you didn't come." Nat Geo Explorer, Mike Libecki, forewarned. "It's pretty insane." I have heard that before, having done previous climbing expeditions with Mike in the past. Oddly enough, these sorts of warnings usually make for great stories.
This trip, however, would be like nothing I've ever experienced. Along with good friends, Keith Ladzinski and Angie Payne we packed for an expedition to climb a remote tower in the jungle of Ua Pou Island in French Polynesia. Libecki has a knack for finding the most unexplored and uncharted climbing locations on the planet…being the first to summit them. It's always an adventure worth having.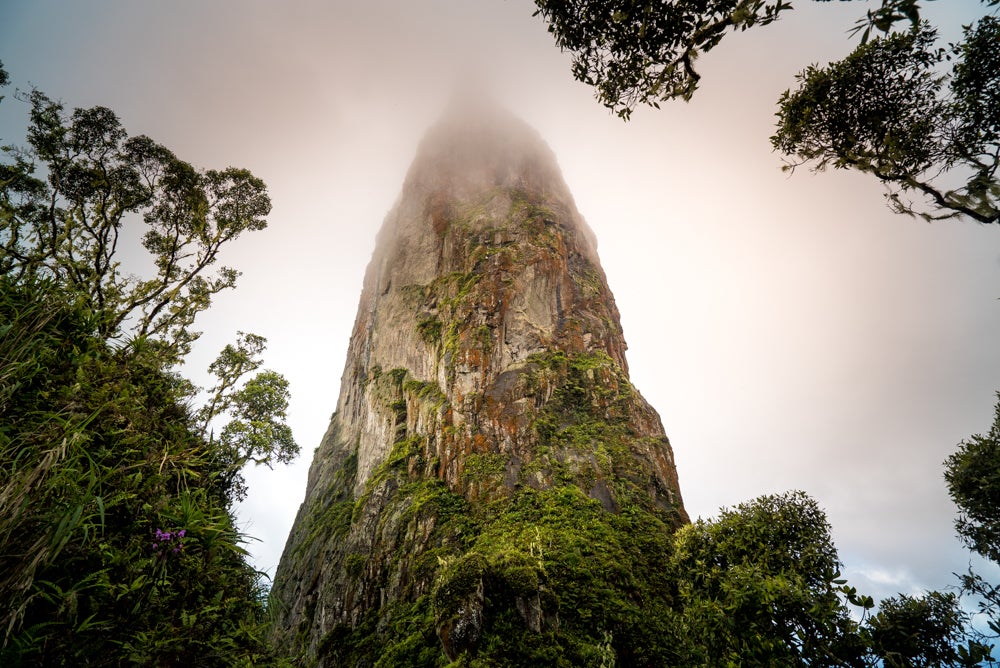 Keith Ladzinski (Director of Poumaka and Partner at 3 Strings Productions) and I are pretty bad about going light with gear on assignments. Even when it's mandatory, it usually doesn't happen. It would be nice if we talked each other off the ledge every now and again: "Nah man, you don't need to bring that lens, we already have one in that range." "Yeah, but what if we drop it?" "Damn, okay, pack it."
However, for this trip we decided that a combination of light, fast and bulletproof would have to be our only option. We each packed a Sony α7S and an FS7 along with a suite of E-mount lenses (Sony Vario-Tessar T* FE 16-35mm f/4 ZA OSS, Sony Vario-Tessar T* FE 24-70mm f/4 ZA OSS, Sony FE 70-200mm f/4.0 G OSS, Sony Distagon T* FE 35mm f/1.4 ZA, Sony E 50mm f/1.8 OSS) as our arsenal. We needed gear that had exceptional low light capabilities, a cinematic look and could be make the ascent up a 3000-foot jungle tower.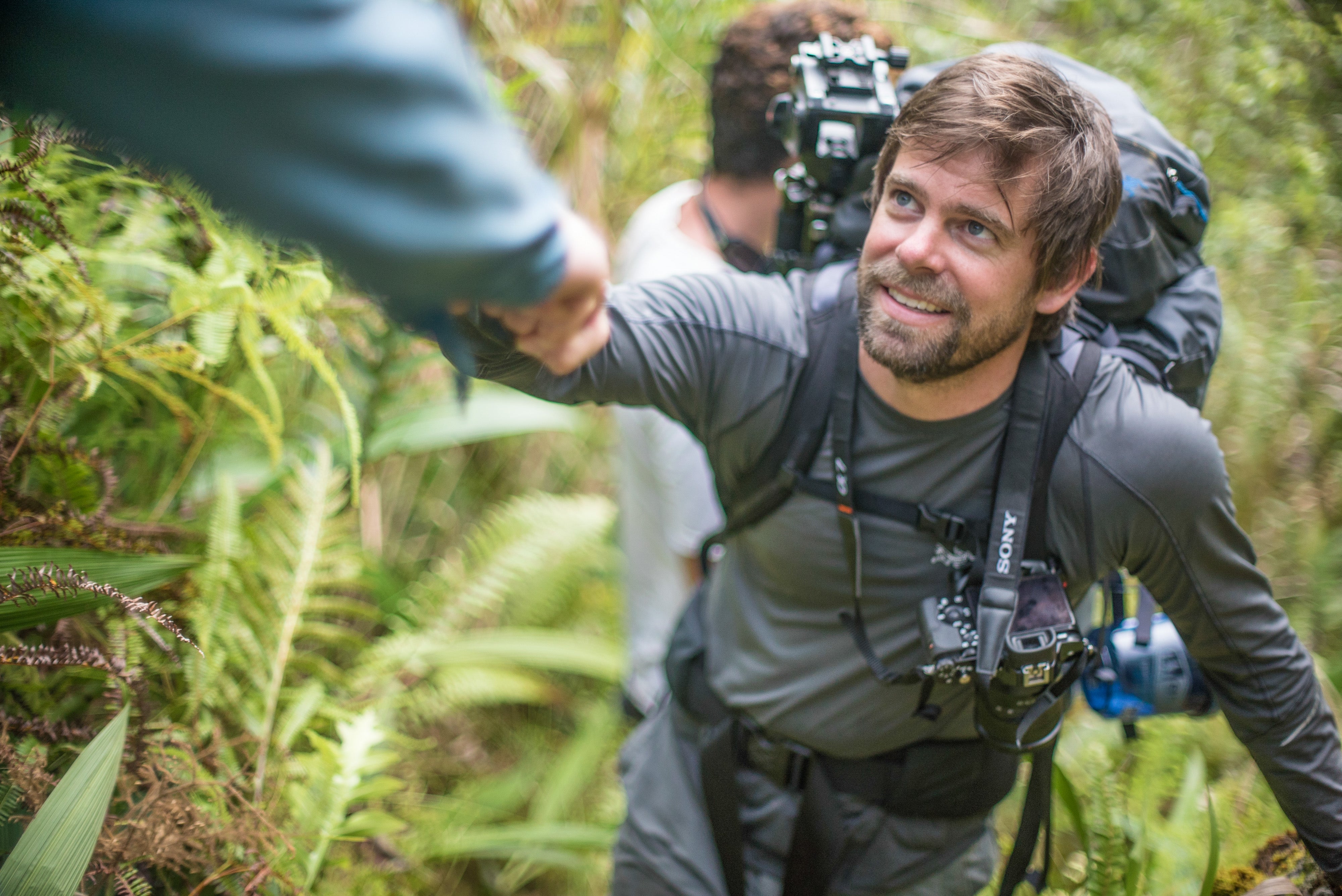 We boarded the plane and stuffed the extra baggage receipts somewhere we'd lose them and watched the pacific coast of North America fade from view.
After arriving on the island of Ua Pou, a remote archipelago in the Marquesas Islands near Tahiti, the four of us set out with heavy packs in search of our climbing objective. Of the six towers on the island, there was one that stood head and shoulders above the rest. "Poumaka" as it's called by the locals, is beautiful, daunting, enticing and mysterious. After several days of shuttling loads of gear and supplies through jungle so thick you could lose your mind, we arrived at the base of the tower. We made an advanced basecamp and called it "home" for the next 16 days.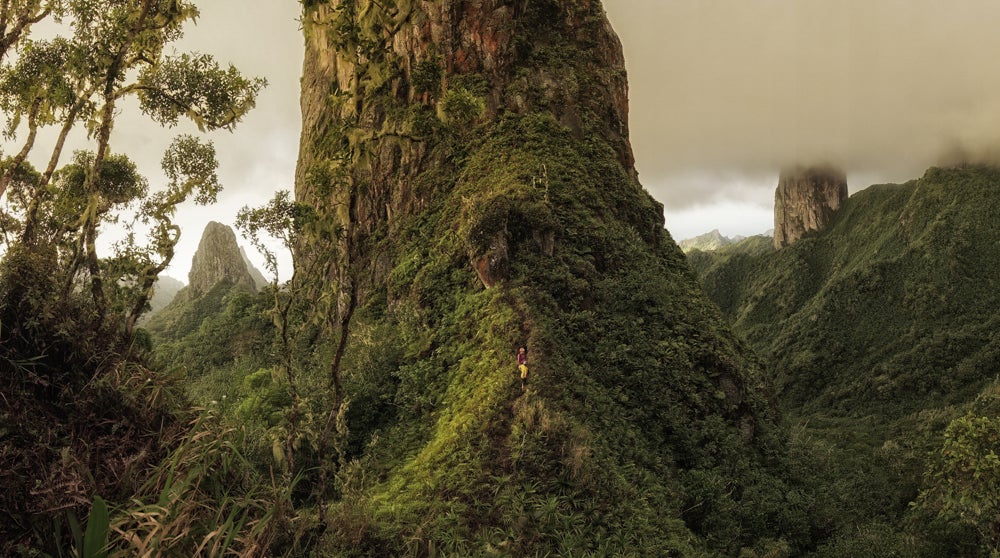 I had one look at the route up the north face and thought to myself, "I'll probably regret this." My initial doubts aside, the two things I would count on were the team's combined climbing experience and my Sony gear to immortalize the expedition.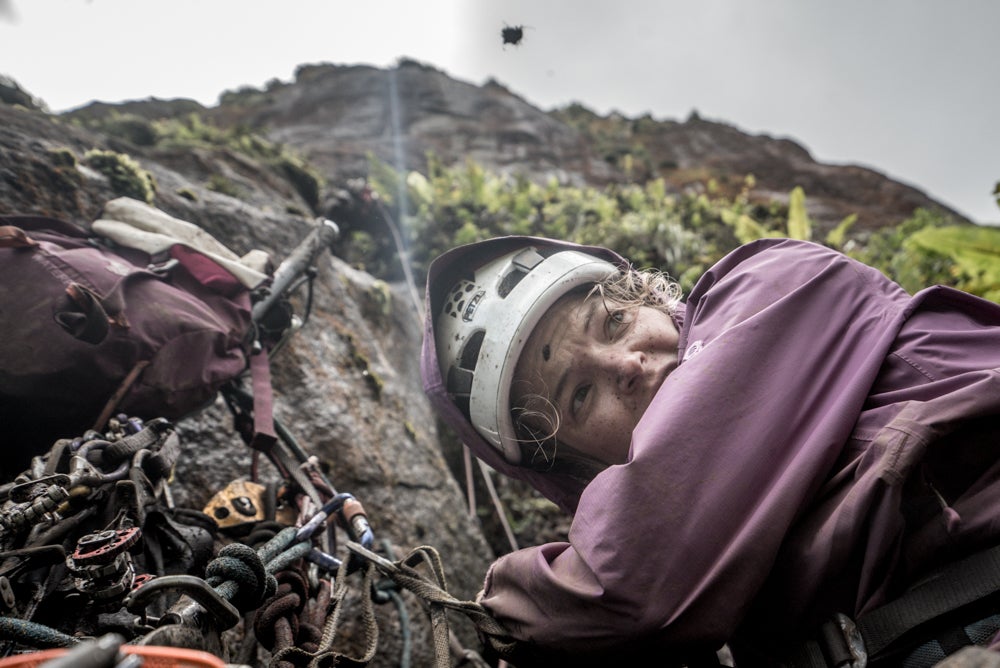 I'd spoil the rest of the story by attempting to articulate the next 2 weeks of getting ourselves from the bottom of that damn tower to the top. I think it's better just to see the film in person. Did we suffer? Yes. Did we have the time of our lives? Most definitely. Would we do it again? Of course!
A lot of the look and feel of this film is from the α7S. The crucial scene of the film, and of the climb, was filmed at ISO 6400 in a wet muddy cave, 2500 feet up, in the middle of the night, during a tropical storm. Despite those conditions and the high ISO, the footage is incredibly clean. We knew we'd be putting the camera in those sorts of difficult situations. Its capabilities surpassed our most optimistic expectations. We couldn't have told this story without the α7S.
"Poumaka" is an adventure film making waves around this year's festival circuit. The film premiered on May 27th at the Telluride Mountianfilm and is Official Selection at the Banff Mountains Film Festival. Filmed exclusively on Sony α7S and FS7 by Co-Director and Photographer, Sony Ambassador, Andy Mann of 3 Strings Productions (andymann.com and Instagram @andy_mann)
Gear List For Poumaka
Cameras:
Sony α7S and an FS7
Lenses:
Sony Vario-Tessar T* FE 16-35mm f/4 ZA OSS
Sony Vario-Tessar T* FE 24-70mm f/4 ZA OSS
Sony FE 70-200mm f/4.0 G OSS
Sony Distagon T* FE 35mm f/1.4 ZA
Sony E 50mm f/1.8 OSS
Sony 70-400mm f/4-5.6 G2 Telephoto Zoom (via adapter)