When I'm out on most shoots, I'm usually using my new Sony Alpha 1 and whatever lens works the best for the assignment. At the end of a day on assignment, my approach changes to a different and smaller system, because bigger is not always better. My favorite 'just having a camera with you' combo is the Sony Alpha 7C and one of the new Sony G-series compact prime lenses. The trio of lenses, 24mm f/2.8, 40mm f/2.5 and 50mm f/2.5 have made 'walk-around' photography a lot easier for me.
That combination of the Alpha 7C camera and small G prime lens is very strong in sensitive, quiet situations where I don't want to call attention to myself. When I am using the small camera and lens combo, I don't look like a professional, so there is less chance of me being challenged by security for permits or permissions and the people within the scene often seem more at ease as well.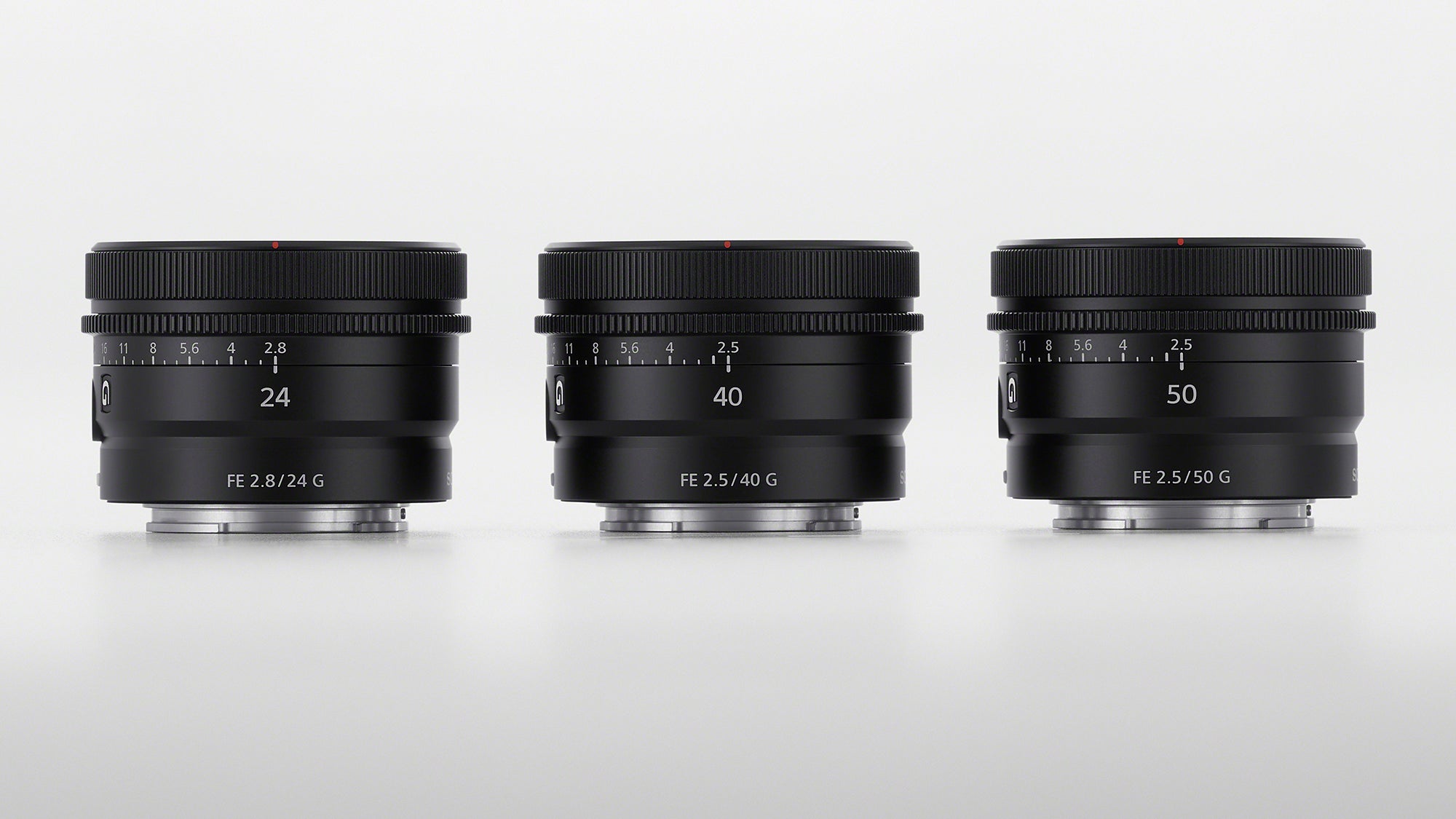 And for traveling light, I've found that the Alpha 7C and G primes make for a powerful combination. The lenses are so small you can carry all three with you in a small bag. And if you're working in low light, remember these lenses are likely faster than your zooms.
We all love zoom lenses and the flexibility they give us, however working with primes is a great discipline and a way to develop your own style. Instead of using the zoom to compose your image, a prime lens challenges you to see in a fixed frame and also encourages you to 'zoom with your feet.'
Of the three lenses, the one least familiar to most of us, myself included, is the 40mm. I wasn't quite sure how I would feel using this lens as compared to my 35mm. The more I used it however, the more I grew to like it as it had a different perspective and a pleasing foreground / background relationship.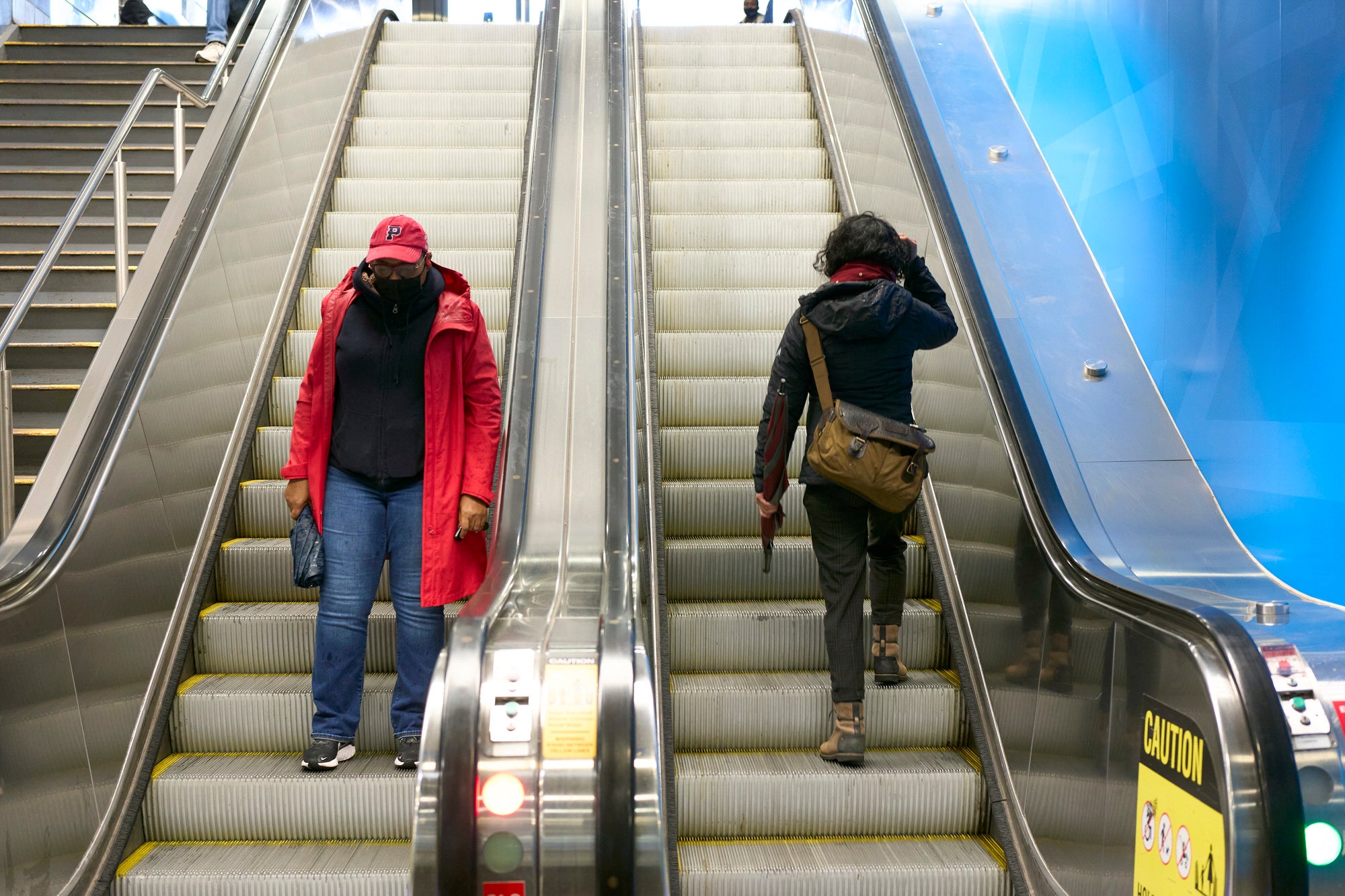 Photo by Ira Block. Sony Alpha 7C, Sony 50mm f/2.5 G lens.
Above: I was meeting a friend at Penn Station in New York when I noticed the symmetry of people moving up and down the escalator. I had the Sony Alpha 7C and 50mm on my shoulder and shot for about 5-10 minutes as people moved through the scene. I think the small camera and lens went unnoticed. If it was noticed, people would think I was just another tourist taking photos – which is a good thing, as a place like Penn Station has a lot of rules about 'professional photography' which can often seem to be arbitrarily enforced.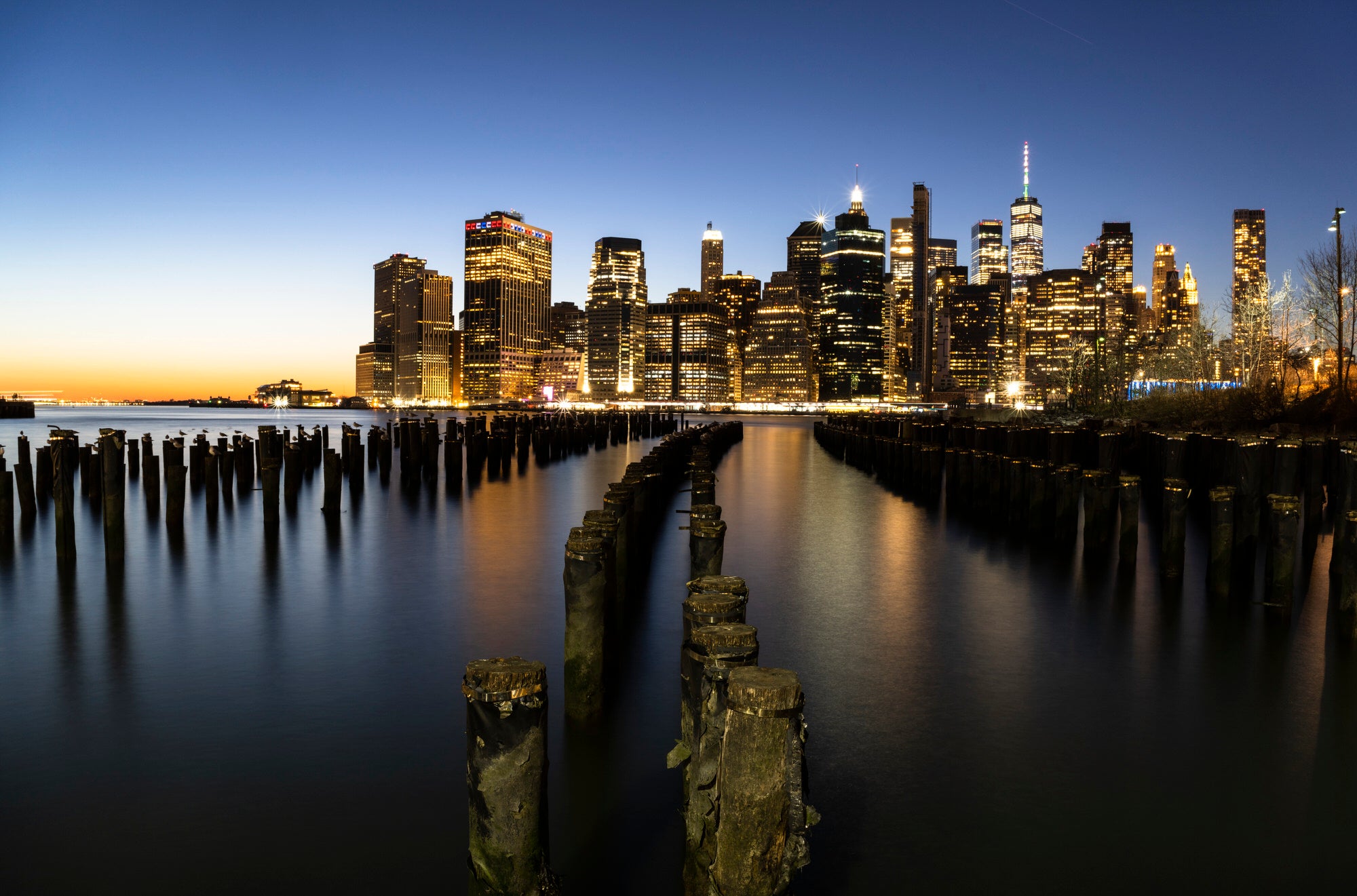 Photo by Ira Block. Sony Alpha 7C, Sony 24mm f/2.8 G lens.
Above: I had always wanted to take the classic photo at night from DUMBO in Brooklyn looking back at lower Manhattan with the wood pilings in the foreground. Also, in this case, I thought it would be interesting to see how the compact lenses performed on my new Sony Alpha 1 with its larger file size. I used the 24mm lens to gain more perspective in the foreground and waited as night approached. Of course, I was on my tripod using a long exposure to smooth out the water. When I later looked at the image blown up, the quality of the lens did not disappoint me.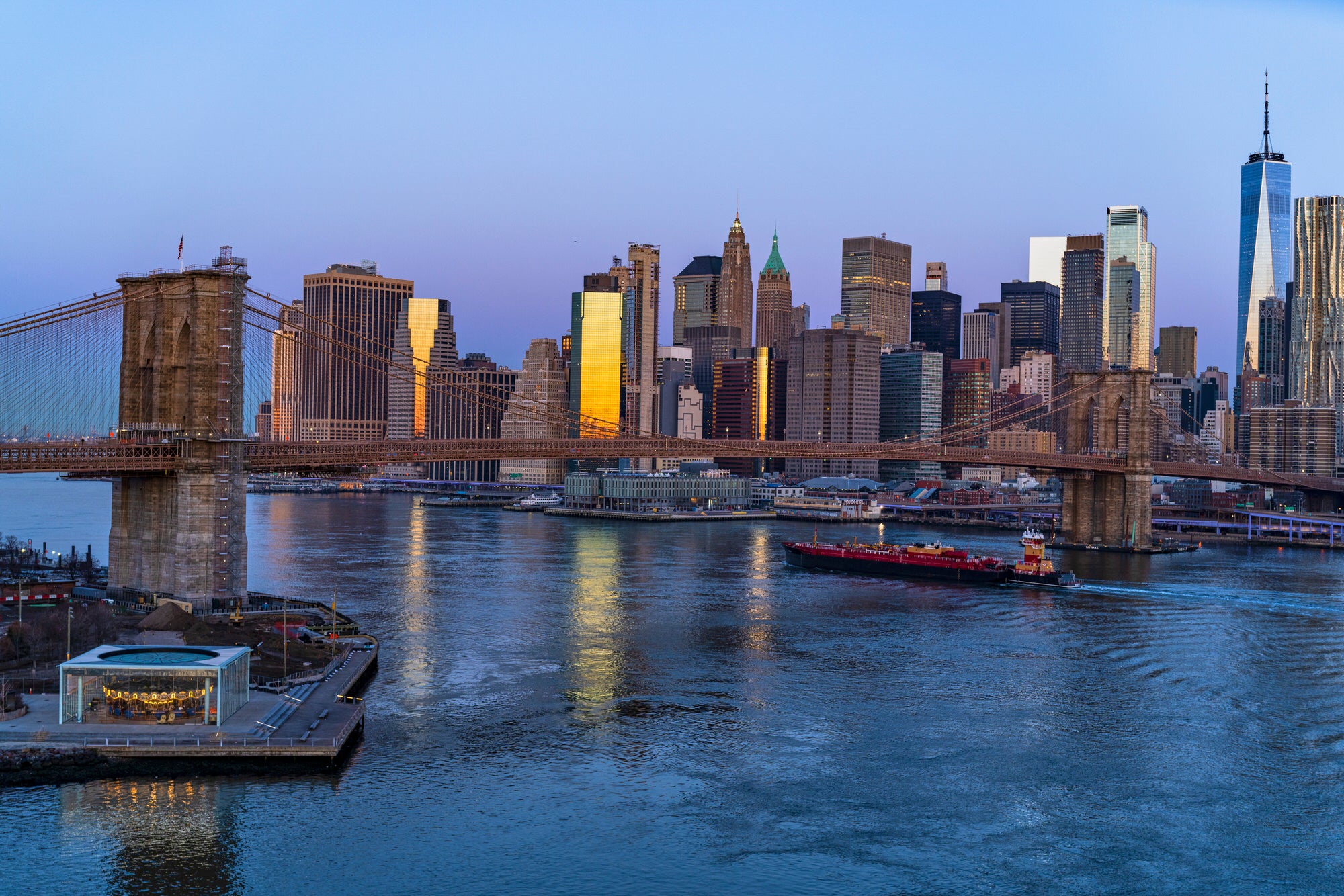 Photo by Ira Block. Sony Alpha 1, Sony 40mm f/2.5 G lens.
Above: The next morning, I got up very early and walked halfway across the Manhattan bridge with the Sony Alpha 1 and used the 40mm lens to capture the sunrise reflecting off a lower Manhattan building with the Brooklyn Bridge in the foreground. I waited as boats went by to fill the space on the East River – and was very lucky when the large red barge appeared. I regretted not having the Sony Alpha 7C with me as the hole in the fence I was shooting through was very small and the Sony Alpha 1 barely fit.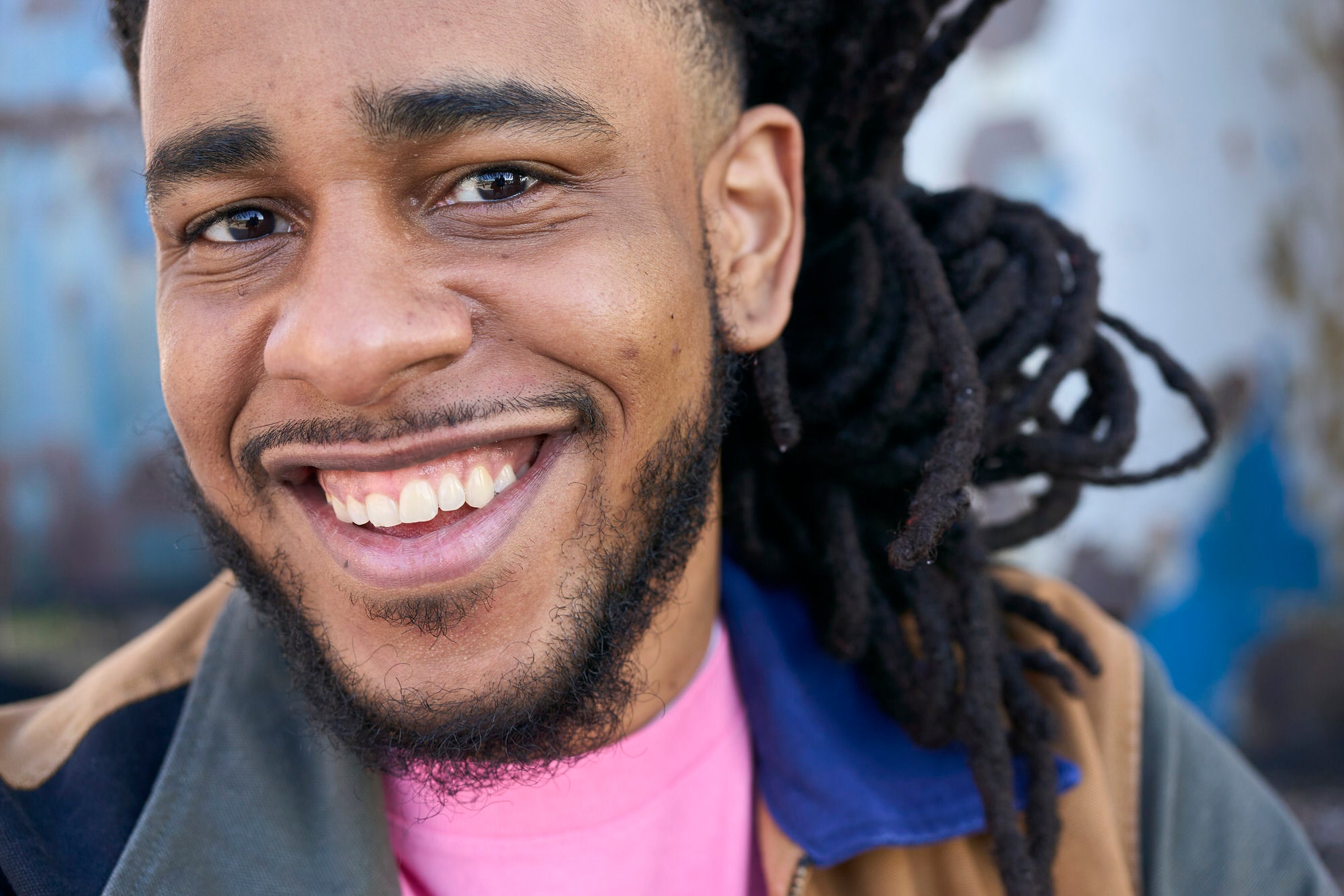 Photo by Ira Block. Sony Alpha 7C, Sony 50mm f/2.5 G lens.
Above: When photographing people, especially strangers, having a small camera and a small lens is really handy. People feel less intimidated and less nervous which results in a more natural emotive image. The portrait of the jubilant young man was easy once I engaged him in conversation and began taking images. The Alpha 7C and 50mm lens was an ideal combination, and the bonus was the nice smooth bokeh.
As a professional photographer you have to be prepared for every situation; you cannot come back to a client with excuses. And as an individual who loves photography and creating images, I always have a camera with me and the Sony Alpha 7C with a compact prime has become a very strong combination for a variety of situations for me.