My gear is varied, and each item serves its purpose, but there are a few items that I always manage to take with me and I want to share them with you today. Lately, my primary subjects have been food and macro; so this is the kit I bring when I want to get close and personal with my subjects.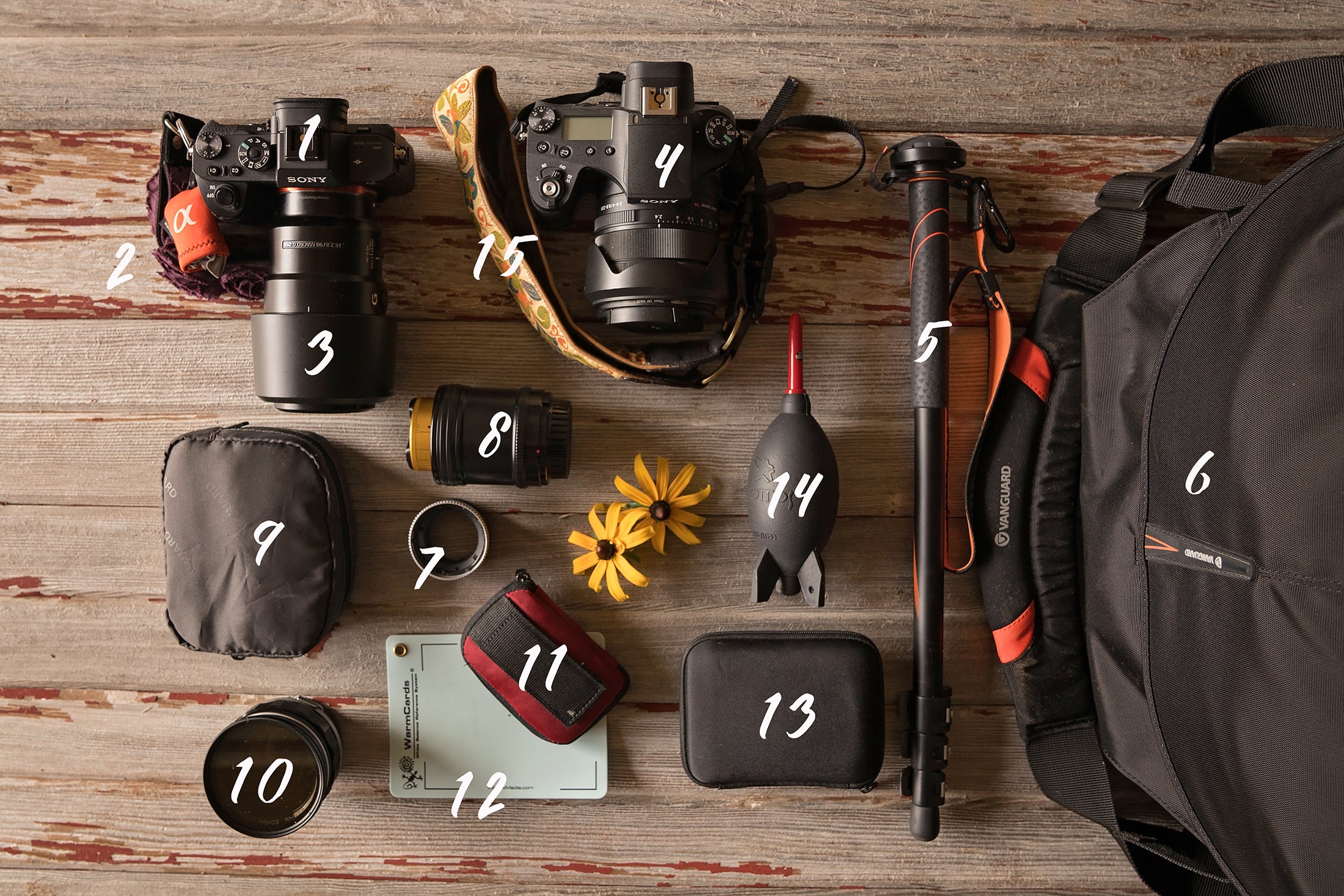 1. Favorite Camera: Sony α7S II
My first item is my trusty α7S II. This camera has been through the ringer and still keeps working flawlessly. It has been my go-to camera since the day I received it and it never disappoints in all the low light situations I can throw at it.
2. Surprise Favorite
Sony Alpha lens cloth— I actually got this handy little accessory at the Sony booth at Click Away 2015 in San Antonio and I constantly have it with me. I attach it to my camera ring, and it is so handy for all the many lens smudges that happen when I shoot with enthusiasm.
3, Sony FE 90mm f2.8 Macro G OSS
This is hands down the best macro lens I have every used. It is crazy razor sharp and color rendition is outstanding. This is my go to for fine floral details and food macro shots. I love that you can flip from auto focus to manual quickly and easily. I love that it doesn't get in the way of my intuitive process
4, Never-Leave-Home-Without-It-Camera: Sony RX10 Mark III
This is not a camera that I usually use for macro and food, but I do always have it with me. I wasn't sure how much I would use this camera when I first bought it, but I have used it almost everyday since! I don't know if the word 'handy' really covers it, but it really is handy to have on hand. I have shot everything from close in shots of delicate details within flowers, all the way to details on the moon's surface. It gets an amazing amount of use hanging out the car window on trips (when I am not driving, of course!). I absolutely love the close focusing distance and the incredible focal length range.
5, Vanguard Monopod
I always have a tripod or a monopod with me, as I tend to shoot video on the spur of the moment or need extra stabilization for long exposures. This one doubles as a walking stick, so it comes in handy for hiking with gear as well.
6, Bag: Vanguard Heralder 28
I love this bag! It is my usual overnight bag, as it holds all off my computer gear as well as my clothes and the gear you see here. It also has an external tripod holder with quick release for getting set up quickly.
7, Lensbaby Macro Converters
When I want to spice up my macro a bit more, I reach for a Lensbaby lens and add these converters. They give a macro effect that is unusual, plus they take up the tiniest amount of space in my bag. I never leave home without them.
8, Lensbaby Twist 60 e-mount
This vintage-inspired lens has a unique radial effect that is great for portraits and flowers. I enjoy the variety it gives to my work.
9, Battery Bag
This is where I keep six or so batteries for the RX10 III and the α7S II as well as a couple of chargers. I always charge up my batteries when I get home at night. Honestly, I only ever use a couple at most, but I love to have extras, just in case.
10, Vintage 1960s 'Dream Lens'
This lens is a rare find, and I love it. I had to beg the camera store to let me buy it, but I am happy I persisted. One of the reasons I switched to Sony was to gain access to vintage lenses that may offer unique bokeh effects. This is an f.095 lens and so the shallow DOF adds a dreamy look to my floral images. I just adore having Sony full-frame cameras that let me think outside the box and explore long-forgotten lenses.
11, Case for Sony SD Cards
I have a handful of super fast Sony 64GB High Speed UHS-SDXC U3 Memory Cards. This case has a belt loop that is great for adding it to my camera strap if I run out of hands, which is pracitally guaranteed!
12, Warm Cards, Level 1
I love white balance tools, and this is my favorite by far. This card adds a warm look to images without being overly yellow and produces lovely skin tones as well. It is durable plastic so it willingly takes a beating in my bag or bad weather.
13, Case for External Hard Drives
This simple hard case is great for traveling with an external. I generally have a 2TB Seagate drive tucked inside.
14, Bust Dust with Giotto's Rocket Blaster (Large)
I seem to attract dust like a magnet and I use this to not only blow dust off my lenses and sensor, but also from my computer screen and keyboard.
15, Abie Camera Strap
I love Abbie camera straps because they are extremely well made, super cute, and all the profits from the business are donated to help cure treatable blindness in third world countries through Mercy Ships and Helen Keller International.
Not shown: RX1R II
This camera is amazing! Seriously, I am in love. Sadly, I forgot to bring it home from my studio the day I compiled my gear for this image. I use this camera alongside my RX10 III when I have no idea what I will be shooting. This fixed-lens cameras fits easily into my purse, no camera bag needed! The lens is extraordinary, and the macro function gets a workout whenever I am using it.