I usually shoot scenes without people and if an idea comes to my mind, I just grab my gear and go. And usually I'm shooting landscapes or architecture. I like to photograph the landscape in a natural sense that just documents the scene. When I do have people in my photographs, I try to show how they naturally interact with the spaces. That's exactly what I did in Acadia National Park when I went there with the Alpha Imaging Collective. On the trip, I brought along my α7R II and I was able to borrow an α9 and three lenses that I wanted to try.
I shoot with the Sony system because of the versatility. The lenses for the Alpha Series all work with the cameras, so someone who's starting with an α6000 can use any of the lenses that the α9 would work with. Once they're ready, they're able to change out the camera body and still use all of the lenses that they used for the previous body.
I also like the adaptability of the Sony system. I can adapt different lenses, even vintage and really obscure camera lenses from old, extinct camera makers and use them on my Sony cameras with an adapter. It makes Sony more accessible for anybody who is coming from any other system. They can move to the Sony camera, use an adapter, build that trust with Sony as far as the camera body, and then start migrating to Sony lenses and making a full switch.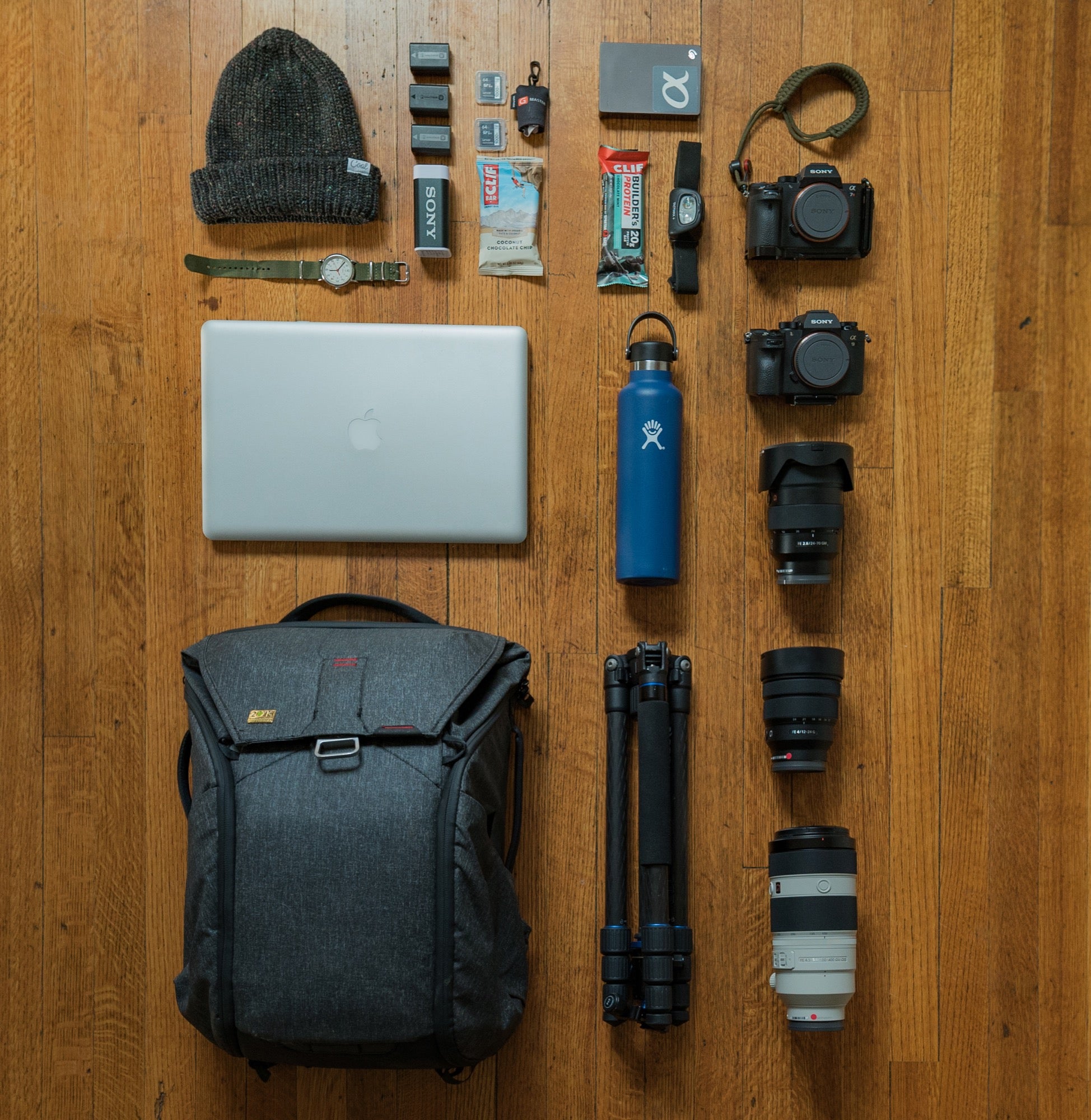 Cameras:
Sony α7R II: I use the α7R II because of the high resolution and dynamic range. I primarily shoot landscape and architecture, and the α7R II is an ideal camera for those scenarios. With its high resolution, if I ever wanted to crop in on the composition in post-production, I can still make a pretty tack-sharp, high-res image with good color. The camera really gives me a lot of options as the image evolves in post-production.
Sony α9: Becasue I wanted to try the α9 for its low light capabilities and the fast shutter speed, I got one on loan before going to Maine. With pretty much all of Sony's latest technology rolled into that camera, it's pretty amazing.
Lenses:
12-24mm f/4 G: I use the 12-24mm f/4 G wide-zoom primarily to add variety to my compositions and to get more of the landscape in the frame. In Acadia, I used the 12-24mm a lot. It's great when I'm in a tight spot and I want to make sure that I get enough of the landscape in the composition.
24-70mm f/2.8 G Master: This 24-70mm is a great mid-range zoom. I used it for everything from close-up shots of the foliage to tack-sharp landscapes. I really like this 24-70mm for its versatility. I'm able to get sharp images, and I can pull a lot of information out of the scenery. If I want to shoot a wide landscape composition, I can. If I want to shoot a more compressed, layered version of the landscape I can do that as well.
100-400mm f/4.5-56 G Master: This lens is completely new to me. It adds compression and layers to my landscape photos. In addition to layered landscapes, I've been able to shoot and document people interacting with the environment from far away with little or no influence. Especially hiking around Acadia, there were opportunities where I was able to move away from the group and shoot towards them and capture how they interacted with the space around them without influencing their actions.
Other gear:
Battery charger: I had an external battery charger and cable for my phone because I was using my phone quite often to capture behind the scenes and much of the activities of what we were doing on the trip.
Spare batteries: I always have spare batteries for my α7R II.
Lens cloth: I always have a lens cloth with me. In Maine, in addition to using it for my camera lenses, it came in very handy for keeping my glasses clean from all the mist and debris that would hit us throughout the trip.
Snacks and water: I like to carry some snacks with me. From trail mix to Clif bars, it's nice to have something to keep me going after hiking for a little bit. The snacks really keep my energy up. And it's always important to stay hydrated.
Tripod: For documenting the landscapes and especially astrophotography, a tripod is a necessity.
Juan Flores is part of the Alpha Imaging Collective. Follow him on Instagram @johnny.flowers