My name is Renan Ozturk and I'm a filmmaker and photojournalist. I love to tell stories about our connection to the natural world, often set within the most challenging environments. I am constantly searching for projects that move me – films that have a strong visual identity matched with some deeply compelling human element. This kit is for run and gun filmmaking and photography, something I would take on any assignment and feel comfortable coming back with solid material to move any project forward.
Every gram matters. See the cameras & lenses global adventure filmmaker and photojournalist Renan Ozturk packs in his bag for his run & gun style.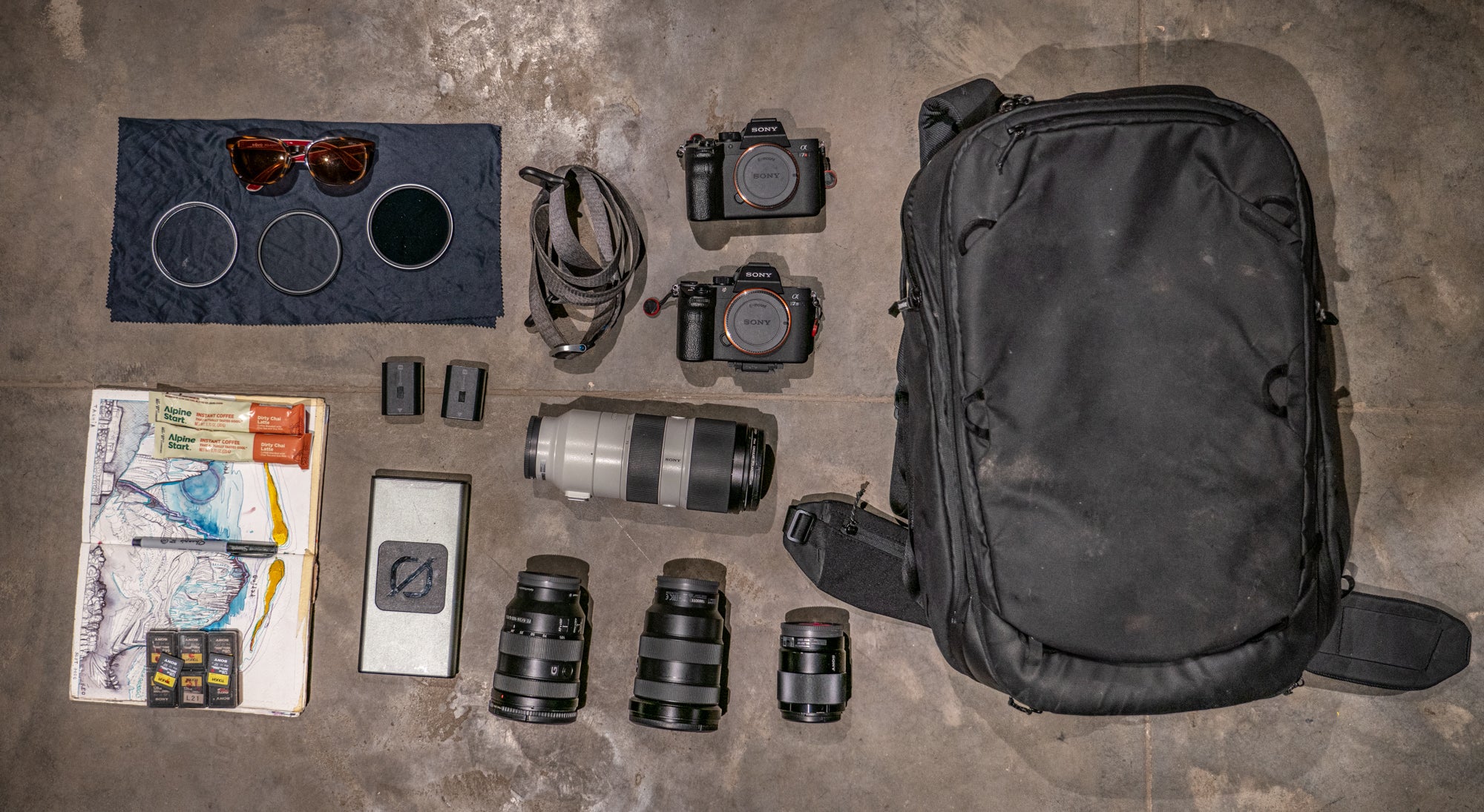 Cameras
Sony α7R IV: I'm in love with this camera for everything from high-end stills with the highest dynamic range to video and timelapse. I can't believe how much is packed into this lightweight full frame beast. This camera is now the cornerstone of everything I capture.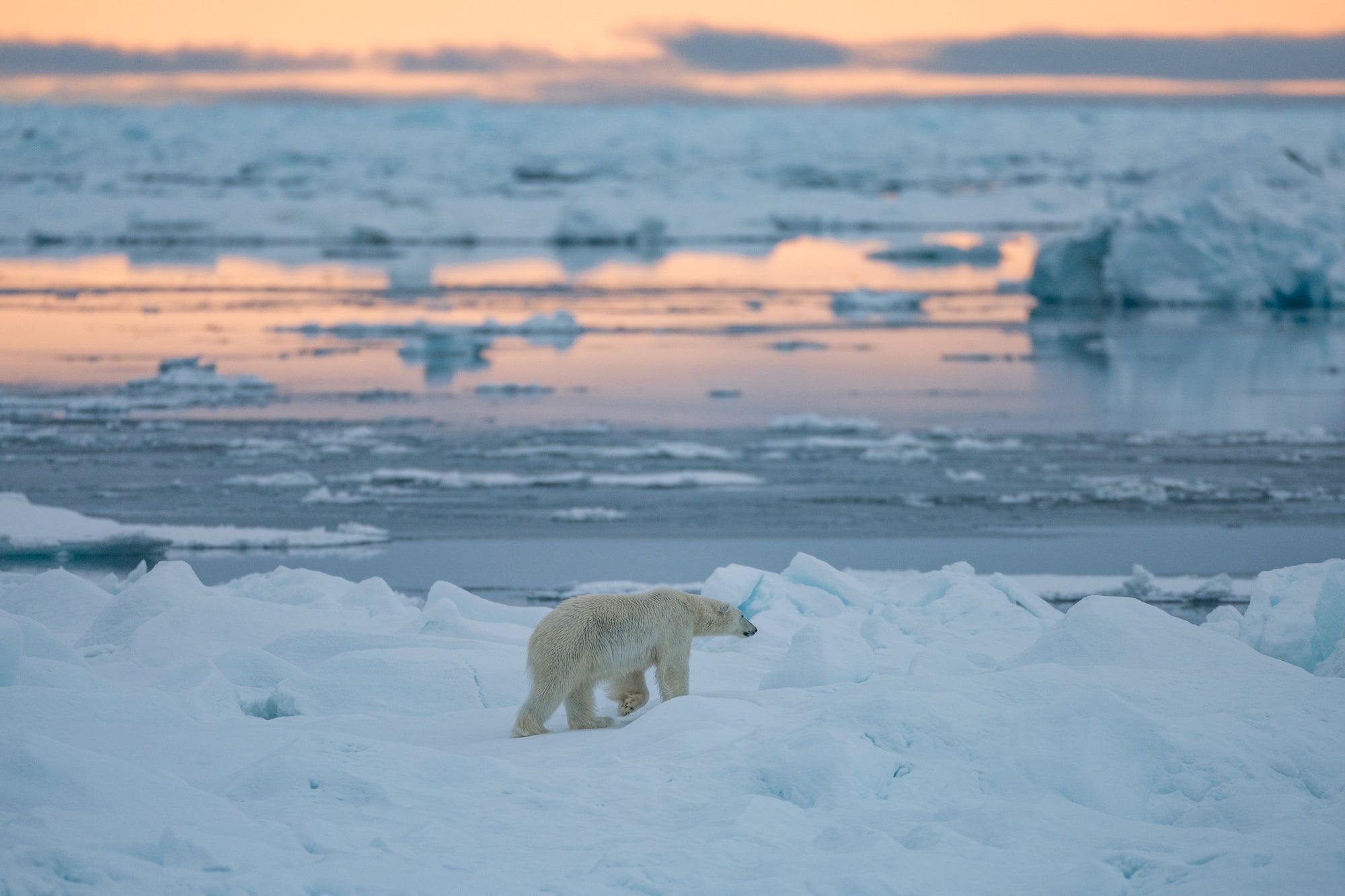 Sony α7R IV. Sony 600mm f/4 G Master. 1/800-sec., f/4, ISO 500. Polar Bear sunset on the pack ice in Svalbard, northernmost Norway. Loved shooting the α7R IV on this trip because of awesome autofocus tracking and resolution. We didn't want to disturb the bears so we often shot from long distances away, making the added resolution key for the ability to crop and still have an image that can stand the test of time.
Sony α7 III: I love this camera as a backup camera and because of its unparalleled low-light performance. I use it a lot for night photography and timelapse shots where I'm shooting many frames and I don't want the crazy resolution of the α7R IV.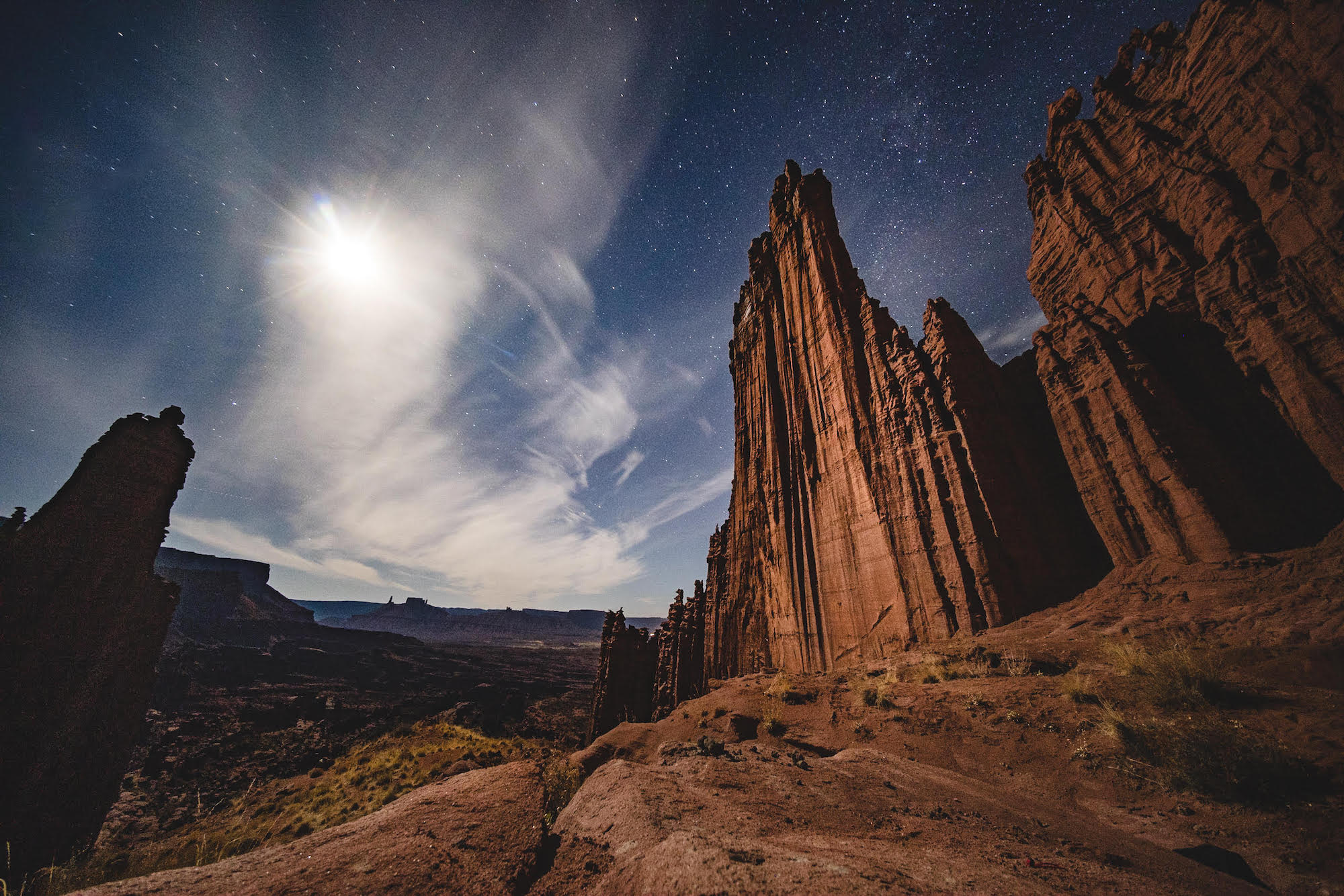 Sony α7 III. Taken in the otherworldly landscape of the Fischer towers just outside of Moab, Utah.
Lenses
The 24-70mm f/2.8 G Master is the ultimate do-it-all lens. A zoom that is still fast and sharp and ready to capture any unexpected moment like this once in a lifetime frame of a free-solo honey harverst in Nepal for National Geographic.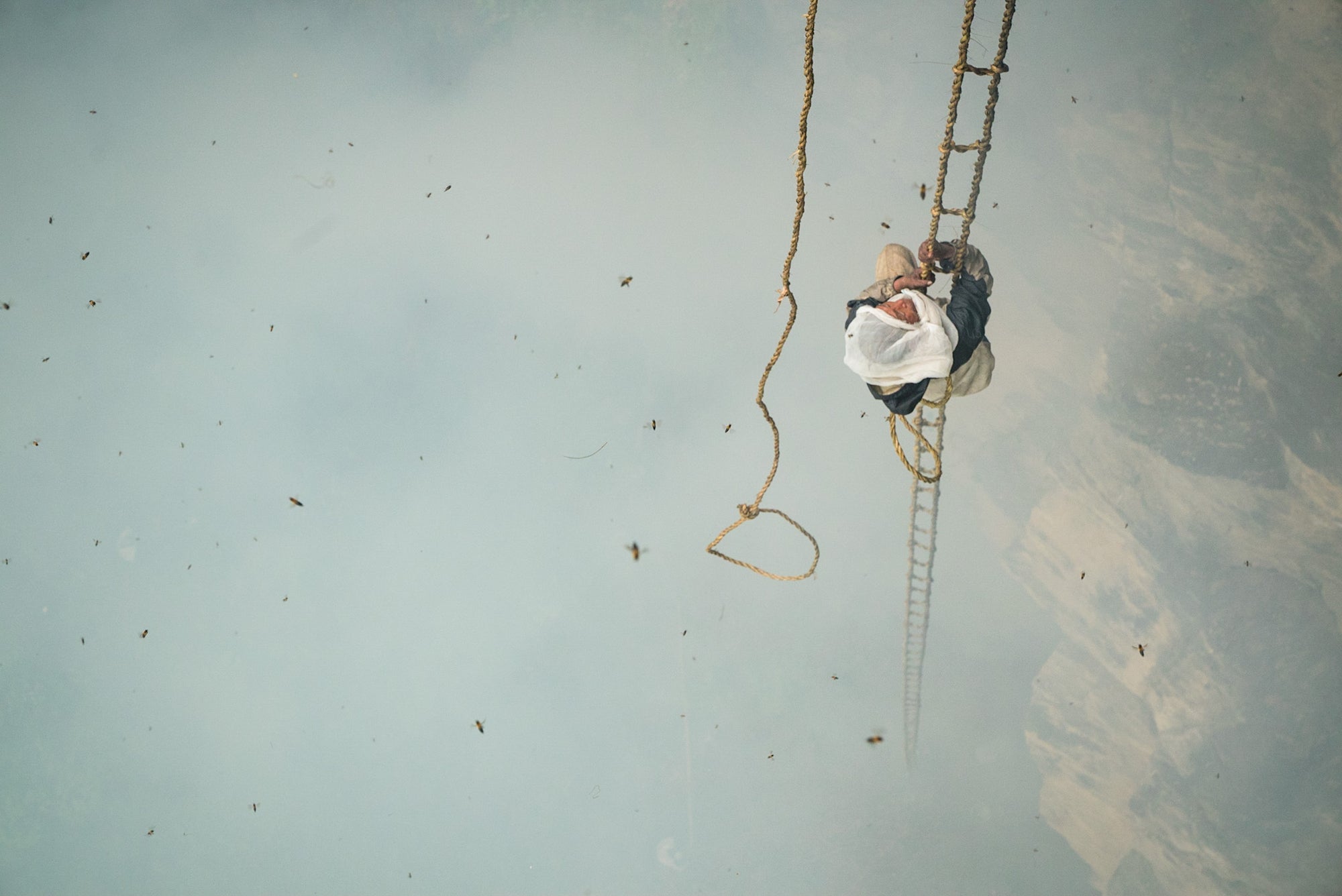 Sony α7S II. Sony 24-70mm f/2.8 G Master. 1/640-sec., f/6.3, ISO 3200.
Sony 24-105mm f/4 G: This is my ultimate workhorse, especially for aerial photography like this shot of monument valley. To be able to have such a small lens that has this range is really important when you sometimes just can't change lenses in fast-moving situations. I wouldn't leave home without it.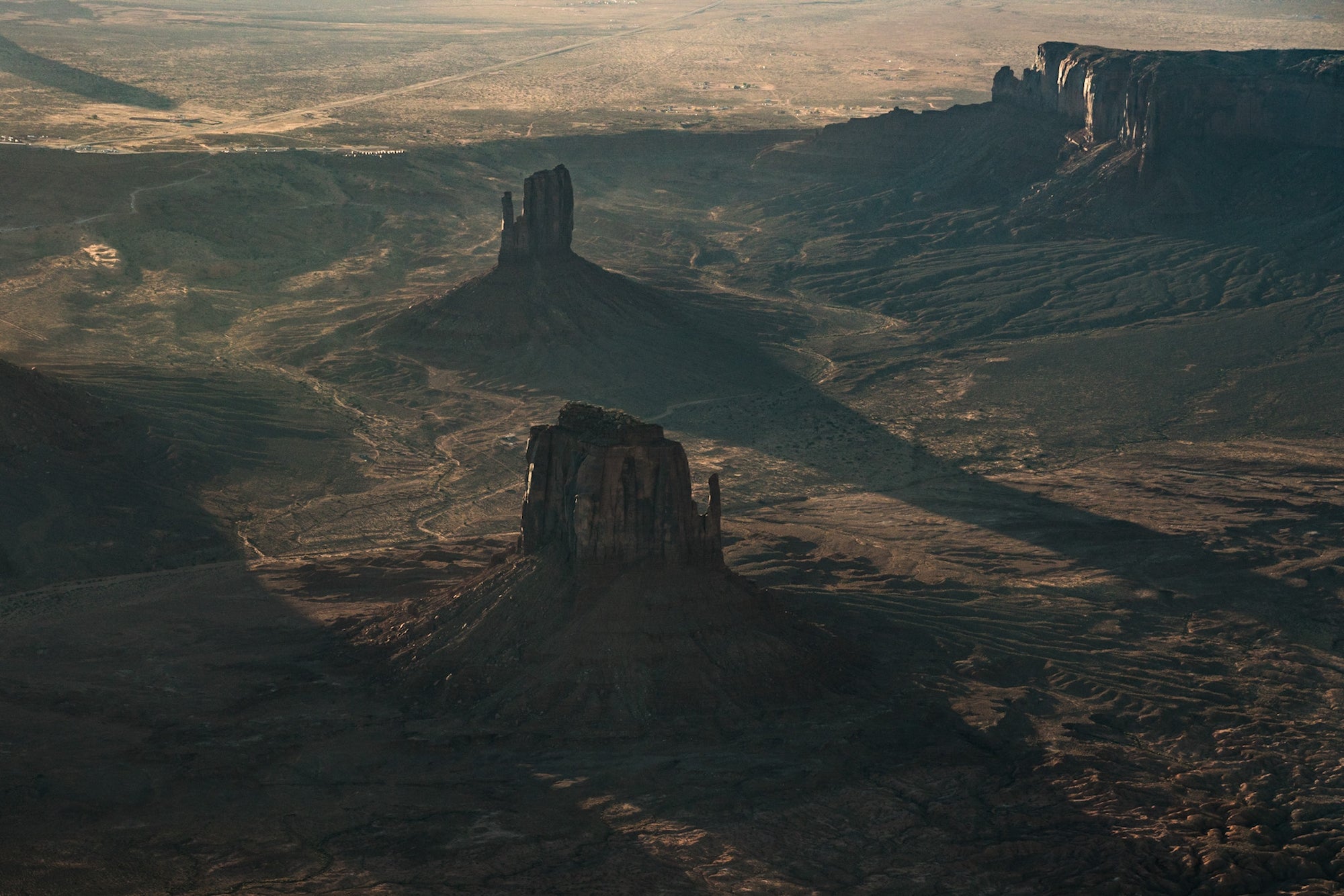 Sony α7R II. Sony 24-105mm f/4 G. 1/800-sec., f/7.1, ISO 640.
Sony 16-35mm f/4: The 16-35mm f/4 has been a go-to for me for climbing and landscape since it is so wide and fast…and still super sharp! I was caught in my own timelapse taken with this lens in this frame below in the death zone on Everest.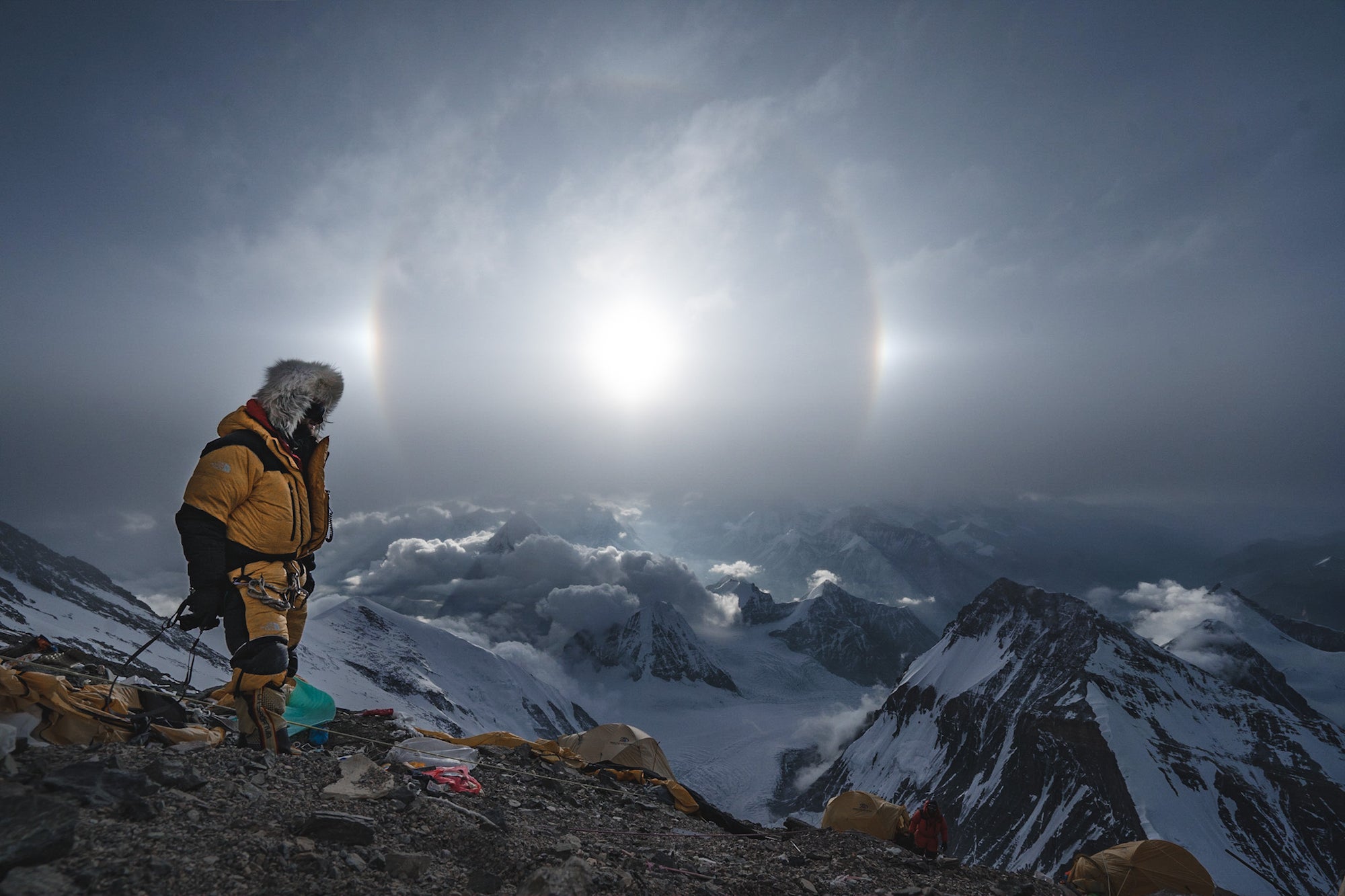 Sony α7 III. Sony 16-35mm f/4. 1/3200-sec., f/8, ISO 640.
Sony 70-200mm f/2.8 G Master or Sony 100-400mm f/4.5-5.6 G Master: I normally have a 70-200 2.8 or a 100-400mm also in my standard kit so I can execute more compressed landscape layers (like this arctic glacial fjord with mist) and wildlife scenes with a lens that still does not need a tripod and I can move around with rapidly.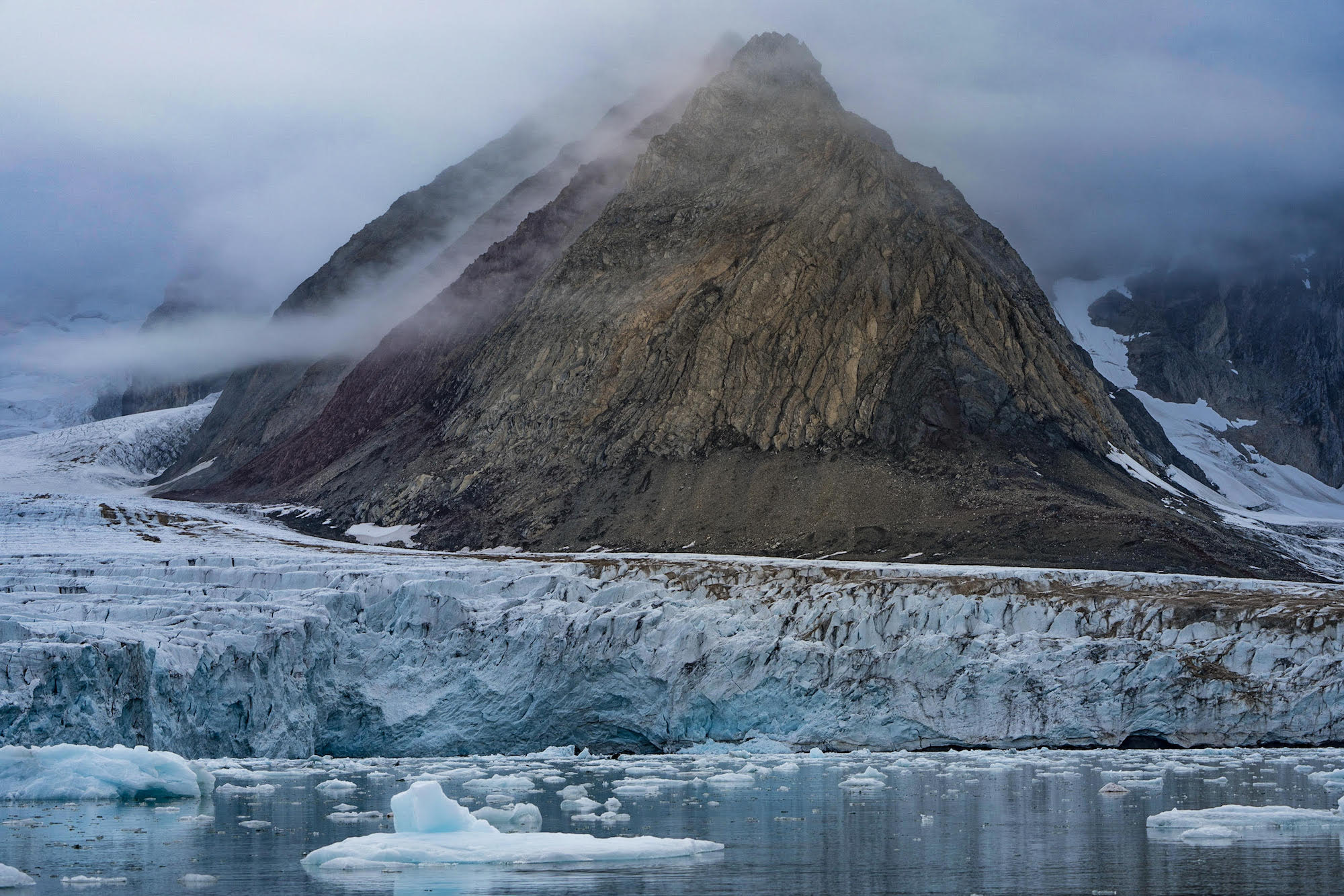 Sony α7R IV. Sony 100-400mm f/4.5-5.6 G Master. 1/125-sec., f/6.3, ISO 160.
Accessories
Extra Sony TOUGH SD Cards: Love these waterproof and fast cards – not only fast to shoot but also fast to download!
Tiffen Filters – CP / UV / Vari ND – Circular Polarizer, Clear Ultra Violet and Variable Neutral Density: Crucial for protecting my lenses in the harshest environments as well as creating the appropriate look for video and stills.
Sketchbook: Before I was a photographer I was a landscape artist so often I still bring a sketchbook on my assignments to do small watercolor studies, writing and language learning.
Microfiber Cloth: I'm known for being really hard on my gear so if I can I do my best to include a few of these to clean my glass and dry off moving parts that get hammered by dust, water and snow.
Revo Sunglasses: Your eyes are truly your best lenses and they need filtration too!
Peak Designs Straps: Love the quick release system on these and I trust them while climbing thousands of feet off the deck.
Goal Zero Sherpa 100 PD: I love this battery for charging my phone all day long. It will also charge a laptop and my camera in a pinch. It's on the larger side but that's why I like it. Sometimes I last days with just this source of power.
Alpine Start Instant Coffee: If you know you know – this is a small company started by my friend Matt on The North Face team and a lightweight thing to throw in for any travel mission with early starts.