When packing my bag, I'm always trying to go as light as possible in the mountains without sacrificing quality for video and stills. On the type of climbs where I usually take this kit, I'm literally cutting the tags off my jackets and sawing my toothbrush in half because every gram of weight makes a difference.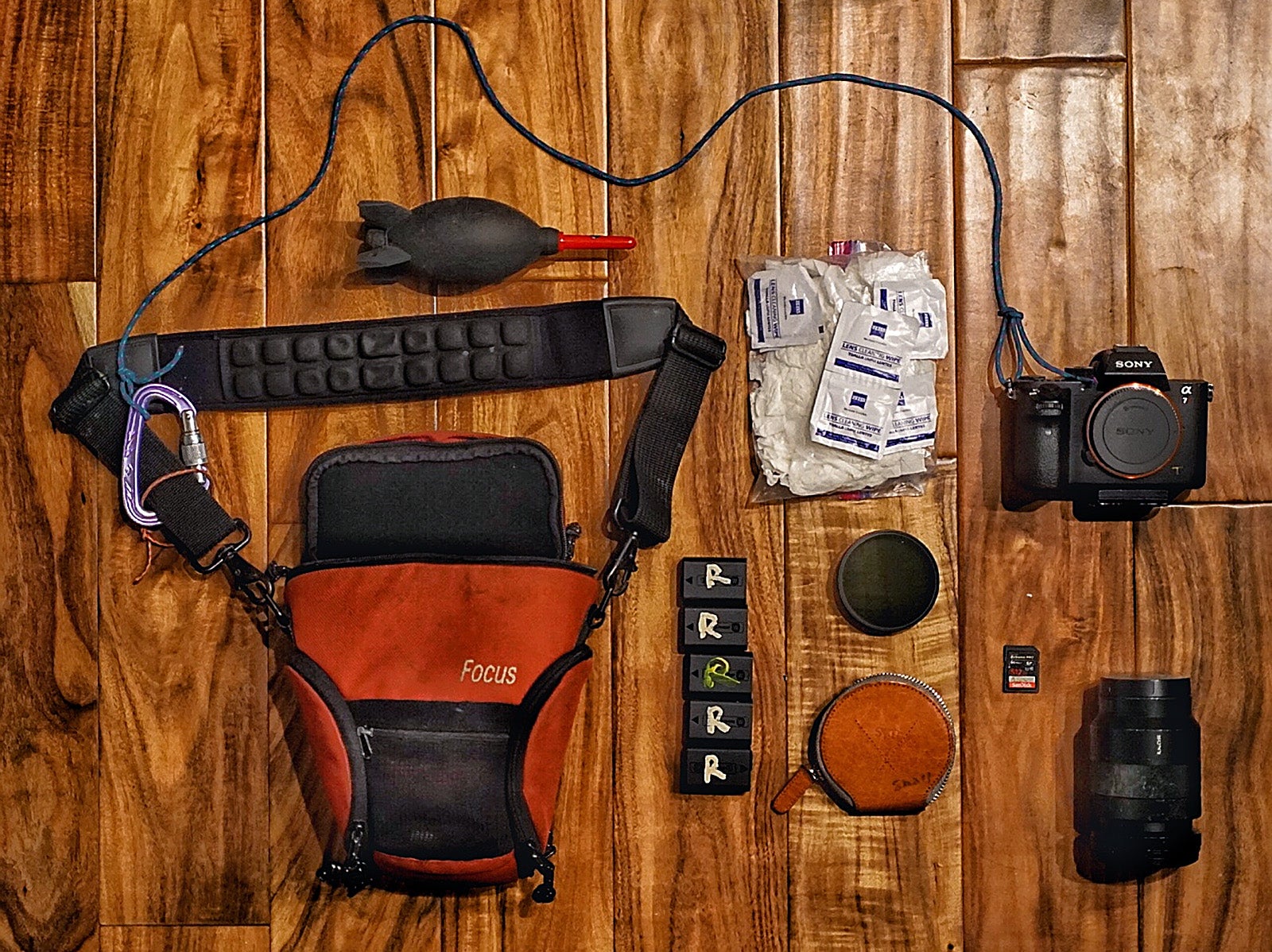 Camera
Sony α7R II: Because I don't want to sacrifice stills quality and the 4K video is top notch.
Lens
Sony Vario-Tessar T* FE 24-70mm f/4 ZA OSS Lens: I only carry one lens in this kit so it has to do a lot of things well. This 24-70mm f/4 is both light and also very sharp. I sometimes use the cropped-sensor mode on my α7R II to get a bit more range out of it.
Other gear
Old School F-Stop Navin camera bag: You'll notice that instead of a camera strap which gets caught on my other climbing gear, I just have a simple piece of tech cord attached to the camera on a Black Diamond Vaporlock carabiner to save it from taking the big ride if I drop it off the cliff.
10 Zeiss pre-moistened lens wipes: I gotta have a few of these to keep the 24-70 clean since I'm often using the camera and lens in the mud, snow, rock and ice.
A small zip top bag: This bag holds my SD cards and cleaning kits. It keeps everything dry in a storm and it's also lightweight.
Kimwipes: A take a small bundle of KIMTECH Kimwipes out of box and also put them in the zip-top bag for simplicity and easy access. It doesn't look all that tech, but it works brilliantly!
Syrp Variable-ND filter: I use this filter for video so I can keep my shutter speed at 1/50- or 1/60-sec. in bright conditions and still shoot at lower than f/8.
512 GB memory card: Why such a high-capacity SD card? When I'm climbing I don't want to have to change a card and drop it off the cliff face!
Giottos AA1900 Large Rocket Air Blaster: I splurge a little on weight with the large blower because I use it constantly to blow dust, snow and ice off the lens.
Sony Artisan Renan Ozturk is a world-renowned adventure photographer and filmmaker. His 2015 film, Meru (see trailer below), made with fellow mountaineers Jimmy Chin and Conrad Anker won the U.S. Audience Documentary Award at the 2015 Sundance Film Festival. See more about Renan Ozturk here. Follow him on Instagram @renan_ozturk