As a landscape lover who evolved into an action sports and portrait photographer, I often find myself going from a Major League Baseball stadium to catching a sunset or covering an event at a nightclub without the luxury of changing up my bag. I've taken the approach of being a one-man content crew and feel an obligation to be ready for anything. In order to do that, I have a rather large bag and am usually seen strapped up carrying two cameras at once with the capability of covering a focal range of 12mm all the way to 300mm.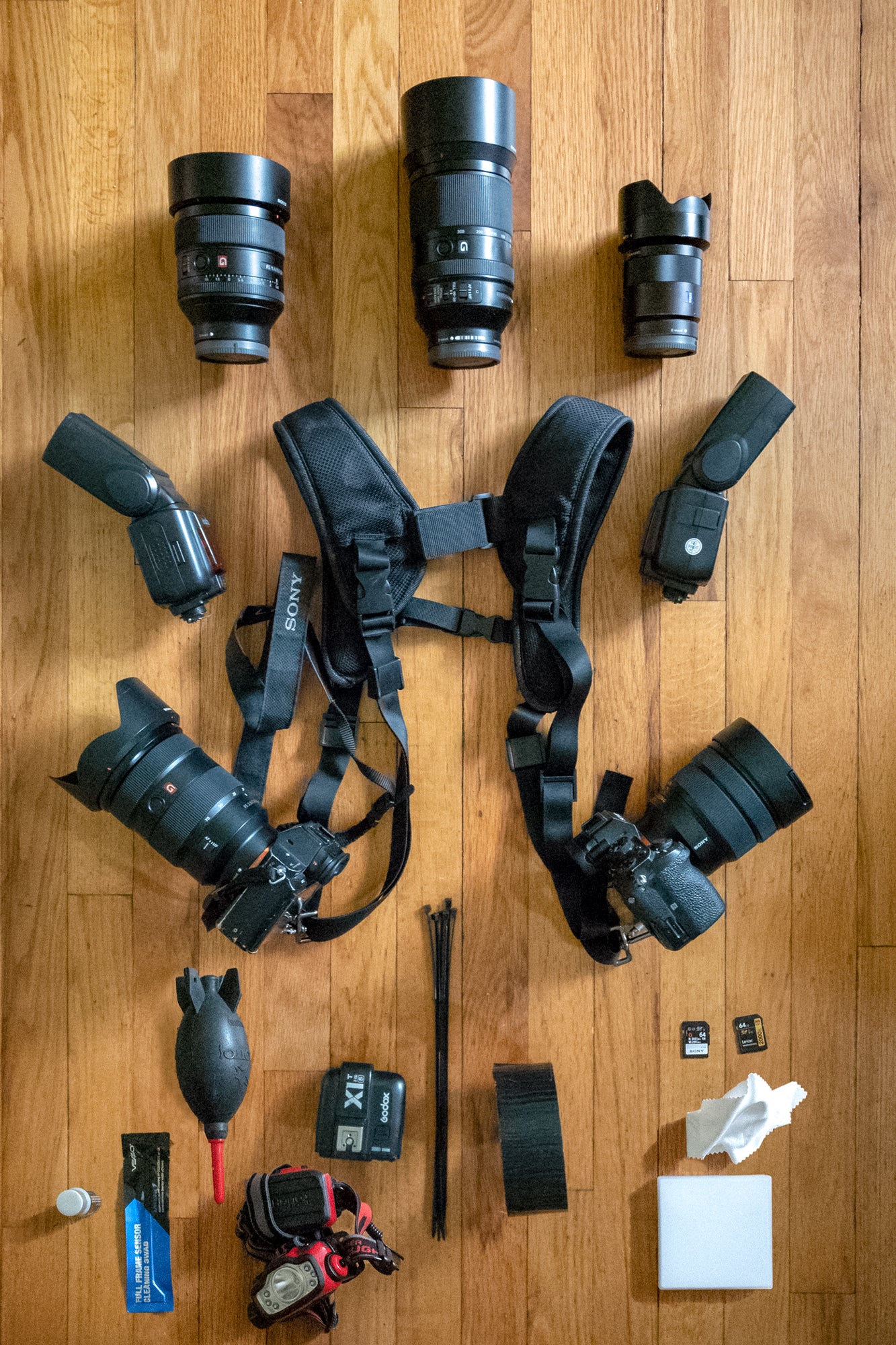 Cameras
Sony α7R II: Talk about a workhorse! There isn't anything this camera can't handle and the quality is consistently incredible. If I'm forced to only carry one camera, this is my primary shooter because of its 42.4 megapixels, 4K video, image stabilization, and insane dynamic range!
Sony α7 II: This is the camera that hooked me on Sony and I'm never turning back. It's 3 years old with plenty of cosmetic war wounds, but still pumps out top-notch photos without fail. The image of mine that Drake reposted twice came from this camera.
Lenses
Sony 85mm f/1.4 G Master: To me this is the finest portrait lens ever created. The combination of the smooth bokeh and sharpness of the subject never ceases to amaze me... or my clients. As long there's enough space in a room, this lens will always be my first choice for portraits. It's never let me down.
Sony 24-70mm f/2.8 G Master: In the rare circumstance I'm keeping a low profile and shooting with only one lens, the quality and versatility make this my top choice. Unlike many other lenses which tend to be soft at the beginning and end of the focal range, this lens gives me "beastmode" at any focal length with impressive corner-to-corner sharpness throughout. Also, the pleasant bokeh is worth noting, despite being a short- to mid-range zoom.
Sony 70-300mm f/4.5-5.6 G: I actually struggled to love this lens after my first couple outings with it, but then I realized it was user error. Long lenses have a steeper learning curve than wide angles do. I needed something longer to use while covering Detroit Tigers baseball games and this lens was a reasonably priced option. Once I became accustomed to shooting with faster shutter speeds and using proper shooting form, this lens has become a reliable part of my arsenal.
Sony 12-24mm f/4 G: This is my newest addition to the family and I'm having a ton of fun with it! I had very little experience shooting anything wider than the mid 20's but the 12-24mm has really upped my landscape and astrophotography game. It's remarkable how much I can fit into the frame using this and now I'm wondering what took me so long to get onboard with a super wide.
Sony 55mm f/1.8 Sonnar T: This was the first lens I purchased beyond the 28-70mm kit lens (which came with my α7 II) and I was instantly mesmerized by the almost 3D-like pop of the subject from the background. In fact, this lens is really the main inspiration for taking a portrait path after snapping a few shots of my daughter. Prior to that, I literally only took pictures of landscapes. It really opened doors for expanding my creative style and I started getting into street photography as well.
Accessories
Dual Camera Shoulder Harness: The most useful $15 Amazon purchase I ever made was the dual camera shoulder harness pictured above. If you have two cameras, you'll want to get something similar if you haven't already. Not only is it extremely functional, you'll get a ton more attention when you're carrying two cameras, especially when you're shooting them both at the same time!
Rocket Air Blower: Every photographer should have a rocket air blower to remove loose dust on their sensors while changing lenses (you should do this facing down, not up like too many people do). I live in a humid region, so once dust or anything gets on the sensor, it's stuck.
Sensor swabs and cleaning solution: Despite all the warnings and fear of cleaning your sensor on your own, it's not that hard. (Editor's note: Sony highly recommends that you have your sensor professionally cleaned to avoid the possibility of damage.) I always have sensor swabs and cleaning solution on hand, just in case.
Godox TT685S flashes: I own a few Godox TT685S flashes with a remote trigger. I prefer using them off camera so I can be more creative with my lighting.
Zip ties and electrical tape: I always carry zip ties and electrical tape with me because I'm that guy who will attach my flashes to trees or poles or wherever I need to. Plus, you never know when items or backdrops on set need a bit of reinforcement.
Fast memory cards: I carry the fastest memory cards I can, including the Sony SF-G series 64GB cards.
Headlamp: For landscapes, I'm frequently moving around in the dark before sunrise and after sunset. A headlamp lets me keep my hands free and makes it easy to get the camera set up. It also lets me see where I'm going when I'm walking to and from the shot!