Richard Condlyffe is a UK-born, US-based, underwater photographer who left a career in the corporate world to pursue his passion for underwater photography on a full-time basis. The underwater world has always been a source of fascination, beauty, and peace for Richard. "I'm very fortunate to be able to travel extensively to photograph underwater creatures and environments," he says. "My activities include entering competitions (which improves my photography), print sales, photojournalism and teaching. I'm passionate about the health of our oceans, especially the plight of sharks, many species of which are now critically endangered." Condlyffe was an early convert to Sony Alpha mirrorless cameras and underwater he mounts the camera a Nauticam housing using various ports for macro or wider-angle images. We caught up with him to learn more about all the gear he packs for photography in, on and under the sea.
Shooting through a dense substrate like water is very different to shooting through air. An often-heard rule in underwater photography is "get as close as you can to your subject, and when you think you're close enough… get closer!" This rule dictates many of my lens choices. Broadly speaking, my photography is either macro or wide angle. Long zoom lenses play no role in underwater photography.
Shooting in water is very accessory-heavy! First of all, the camera needs to be protected against the water. This requires a specially designed water-tight housing and ports for the camera body and lenses. The deeper you go, the darker it gets, making strobe lighting critical. And given that the light emitted from even powerful strobes disperses within just a few feet underwater, this illustrates the need to get close to your subject. I also use a variety of accessories for creative lighting techniques. Being an underwater photographer requires you to be a SCUBA diver, which of course requires its own accessories such as a wetsuit / dry-suit, buoyancy control device (BCD), mask, fins, regulator, dive computer and more.
I was a fairly early adopter of Sony Alpha cameras and given how Sony's market-leading mirrorless technology has evolved, that has turned out to be a great decision!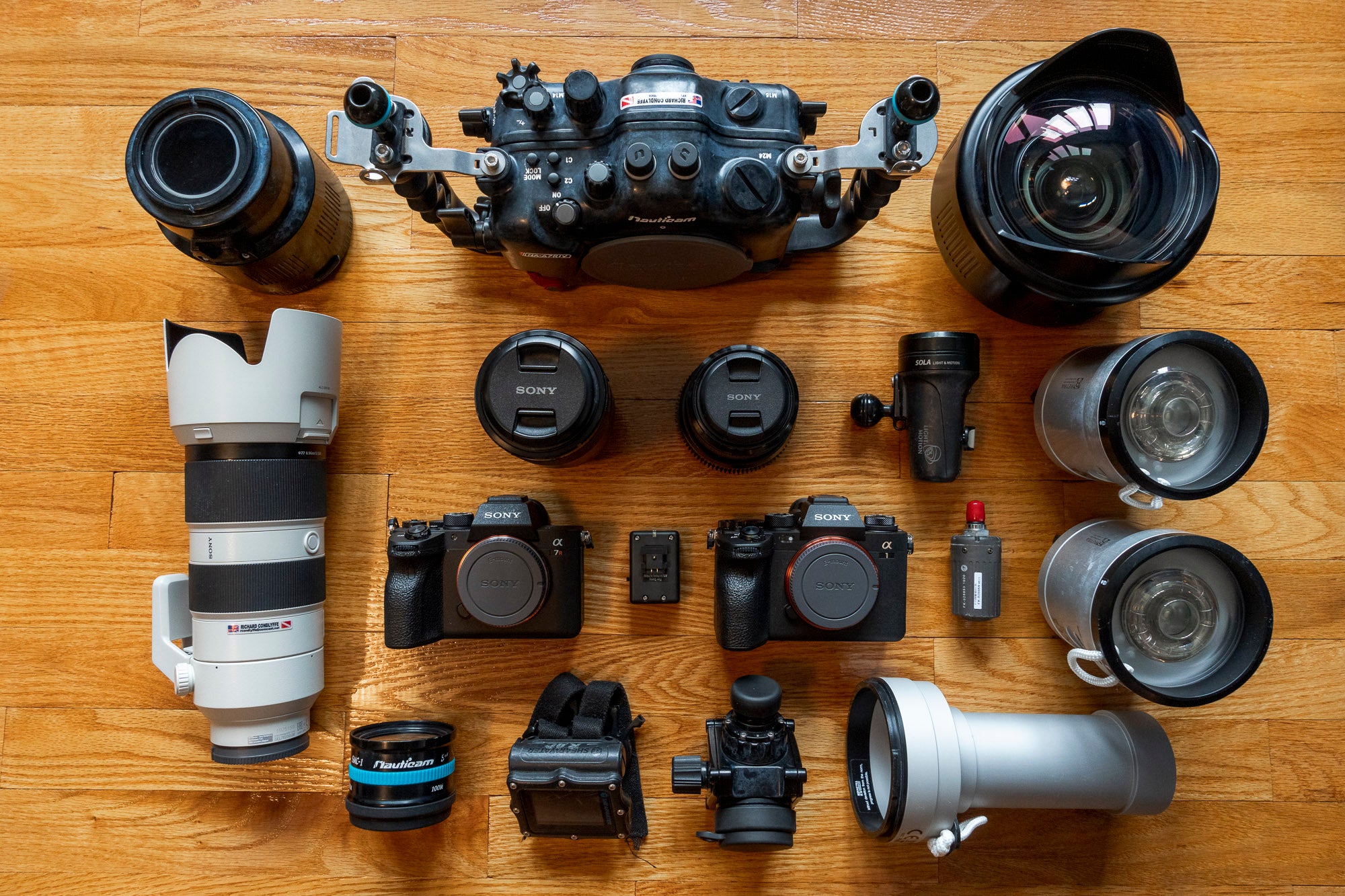 Cameras
Sony Alpha 1: I love this camera for different reasons in both wide angle and macro situations.
For wide angle, having a flash sync speed of 1/400-sec. gives me an extra stop of ambient light control over most cameras, which is especially useful when my shot includes a sunburst. So, I can photograph a shark 3 feet in front of me, illuminating it with strobe light, and get a crisp sunburst in the background without overexposing it. Also, the great ISO performance of the Alpha 1 allows me to shoot at higher ISO in darker conditions without the image getting too noisy.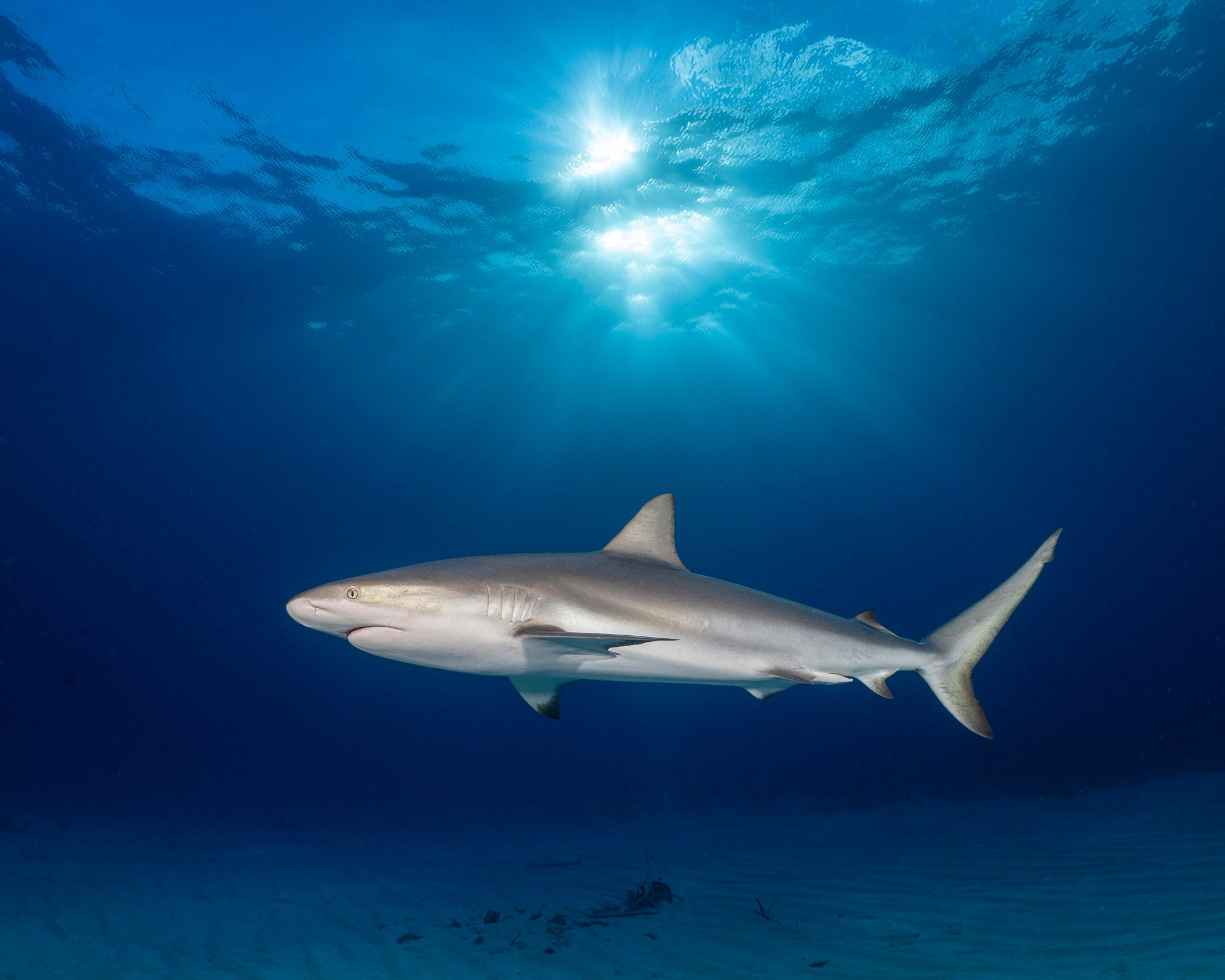 Photo by Richard Condlyffe. Sony Alpha 1. Sony 28-70mm f/3.5-5.6. 1/400-sec., f/9, ISO 200
For macro, I love the Alpha 1's fantastic focus tracking capabilities. When using macro lenses with relatively shallow depth of field, it's critical to be able to confidently obtain and track the right focus point on the often-tiny critters I'm photographing. The Alpha 1 allows me to confidently do that.
Photo by Richard Condlyffe. Sony Alpha 1. Sony 90mm f/2.8 Macro G. 1/400-sec., f/22, ISO 200
Sony Alpha 7R IV: I have owned the Alpha 7R IV since it was first launched. While the Alpha 1 is my go-to camera these days, I still use the Alpha 7R IV frequently for macro photography. Its 61 megapixels enables versatile cropping capability for extreme close-ups of critters such as shrimp, crabs or nudibranchs. In addition, my Alpha 7R IV doubles as my "topside" camera on trips where I may be shooting both underwater and on land.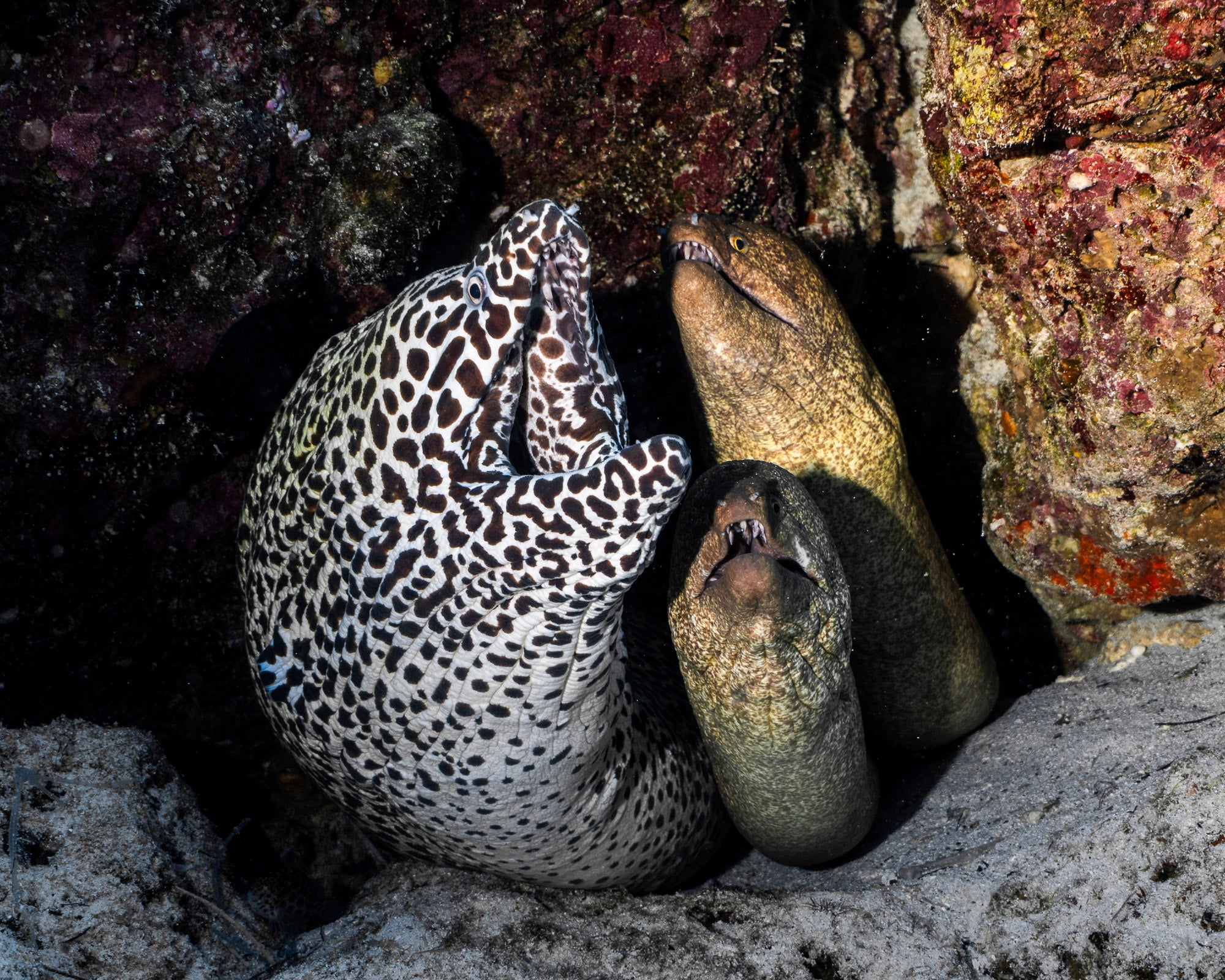 Photo by Richard Condlyffe. Sony Alpha 7R IV. Sony 28-70mm f/3.5-5.6. 1/200-sec., f/10, ISO 200
Lenses
Sony 90mm f/2.8 Macro G: This is my go-to macro lens. With the technology in recent Sony Alpha cameras this lens focuses quickly underwater, which is important in successfully getting the shot. I use it across the whole aperture range; f/2.8 to achieve nice bokeh and blurred backgrounds that make the foreground subject stand out; f/22 when I want to maximize depth of field, and in combination with fast shutter speed and low ISO when I want to limit ambient light and create a darker background.
Photo by Richard Condlyffe. Sony Alpha 7R IV. Sony 90mm f/2.8 Macro G. 1/250-sec., f/13, ISO 100
Sony 28-70mm f/3.5-5.6
: This lens choice may at first seem odd! It's not a flashy expensive lens! But the magic here is what this lens is designed to be used in combination with. Many of my accessories are made by a company called Nauticam, who produce advanced underwater optics tools to be used in combination with standard lenses. Nauticam produces a "Wide Angle Conversion Port" (WACP) that was developed to be used specifically with a 28-70mm lens. The WACP was designed in consideration of how light travels between water and the air or vacuum inside the camera housing. It helps produce an image that is sharper in the corners than most wide-angle underwater images would otherwise be. It also expands the field of view to 130 degrees when the lens is set to 28mm. The versatility of the 28-70mm lens means I can shoot everything from fish portraits at 70mm to Whale Sharks at 28mm.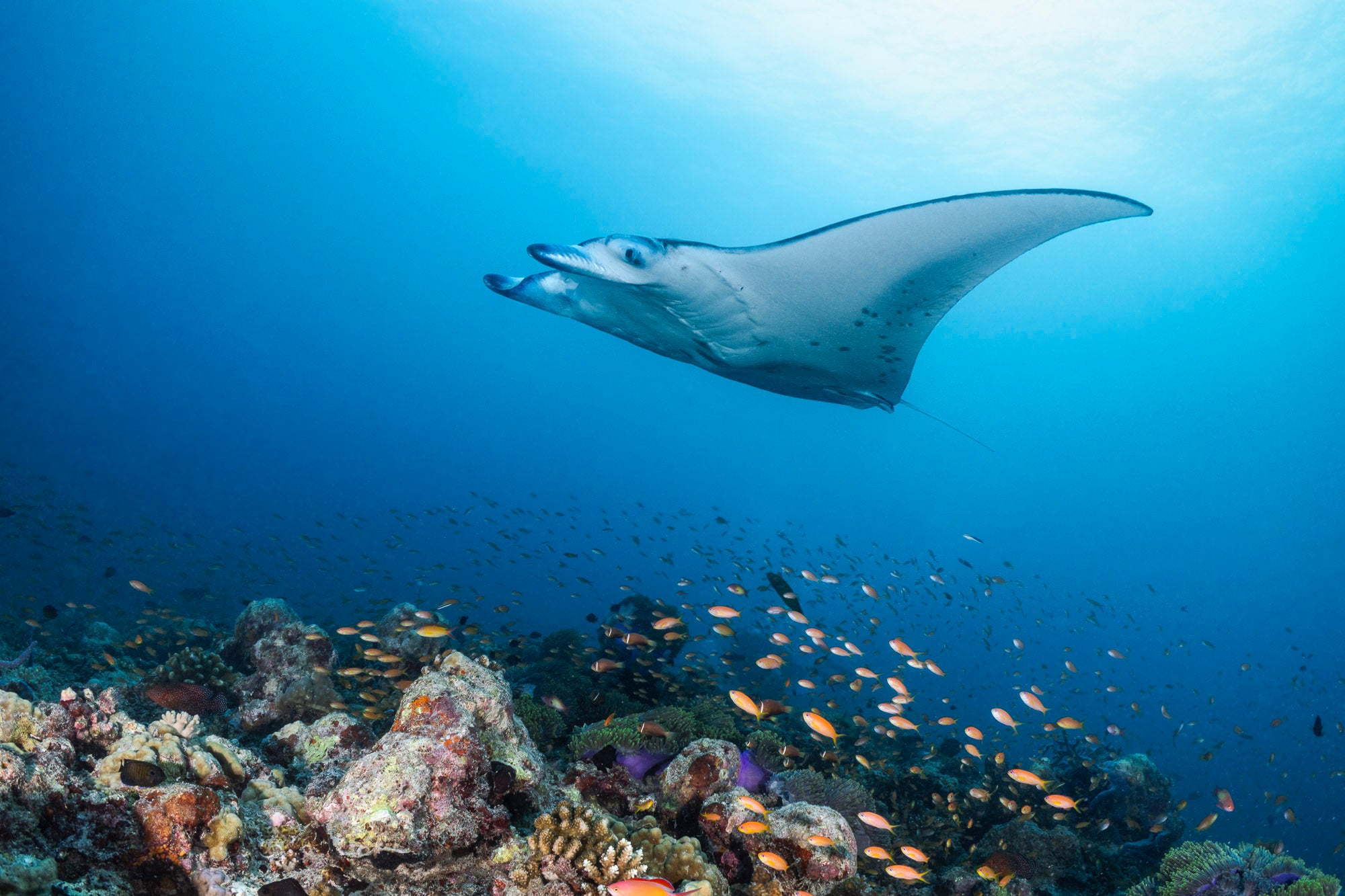 Photo by Richard Condlyffe. Sony Alpha 7R IV. Sony 28-70mm f/3.5-5.6. 1/160-sec., f/13, ISO 500
Sony 70-200mm f/2.8 G Master: This lens has no role underwater! It's an awesome "topside" lens. I love the bokeh it creates with a wide-open aperture. Definitely my favorite topside lens.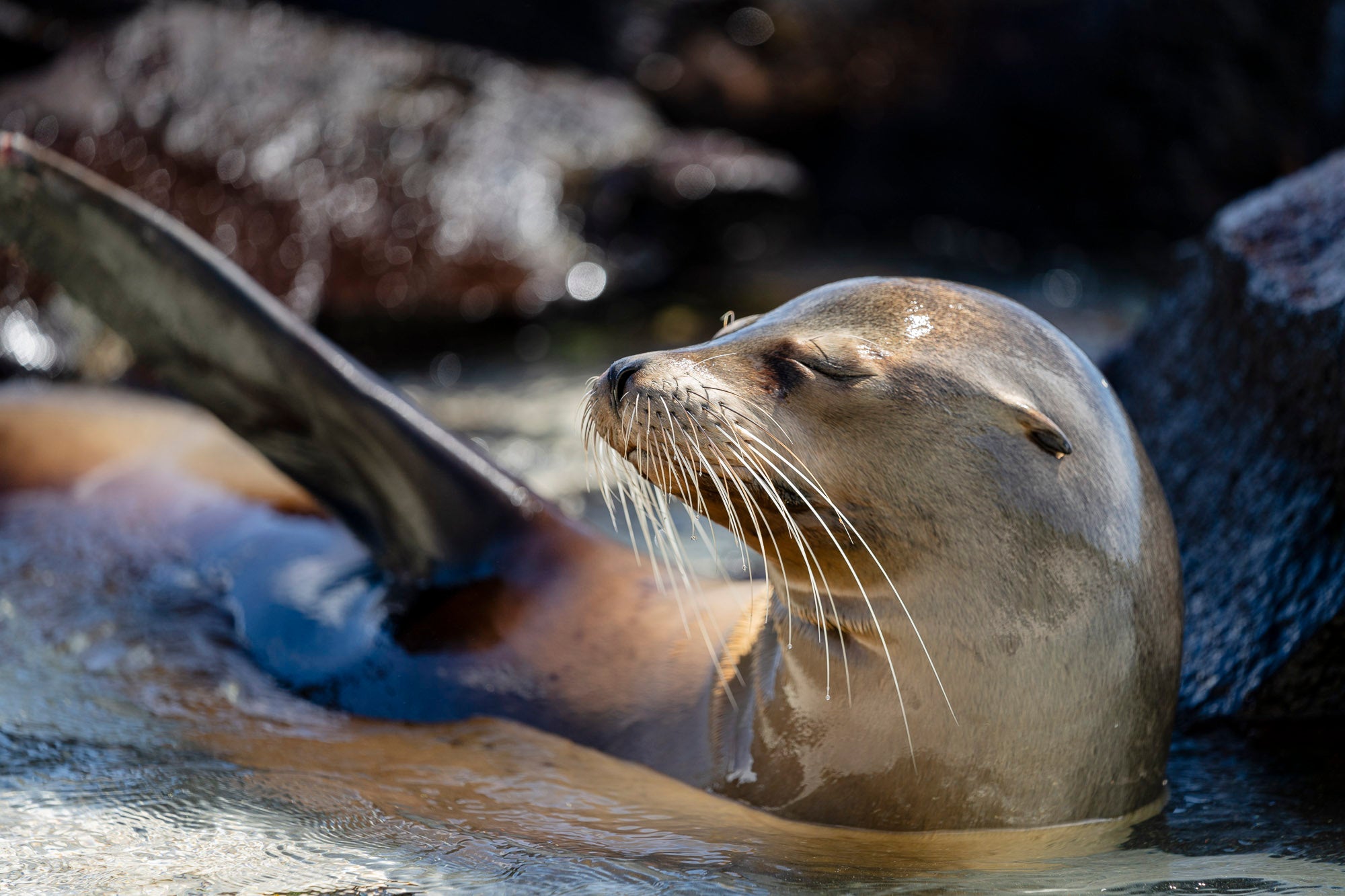 Photo by Richard Condlyffe. Sony Alpha 7R IV. Sony 70-200mm f/2.8 G Master. 1/500-sec., f/2.8, ISO 200
Accessories
As previously mentioned, accessories play an important role in my photography. I have already described the WACP. Here are a few more important accessories:
Super Macro Diopter: This accessory mounts onto the waterproof port in front of my Sony 90mm macro lens. Its purpose is to produce a further 2.2x magnification. It allows me to photograph subjects that might be no bigger than a grain of rice.
Underwater Strobes: As mentioned earlier, strobe light plays a very important role in underwater photography by illuminating subjects in limited light, as well as helping "freeze" the action when a subject is in motion.
Snoot: A snoot is a light-channeling device that attaches to a strobe. It channels the light into a narrow beam, thus illuminating only a very specific, targeted area. It is most commonly used in macro photography as a creative lighting technique. A snoot is very useful for isolating the subject when the background or surrounding area is not appealing.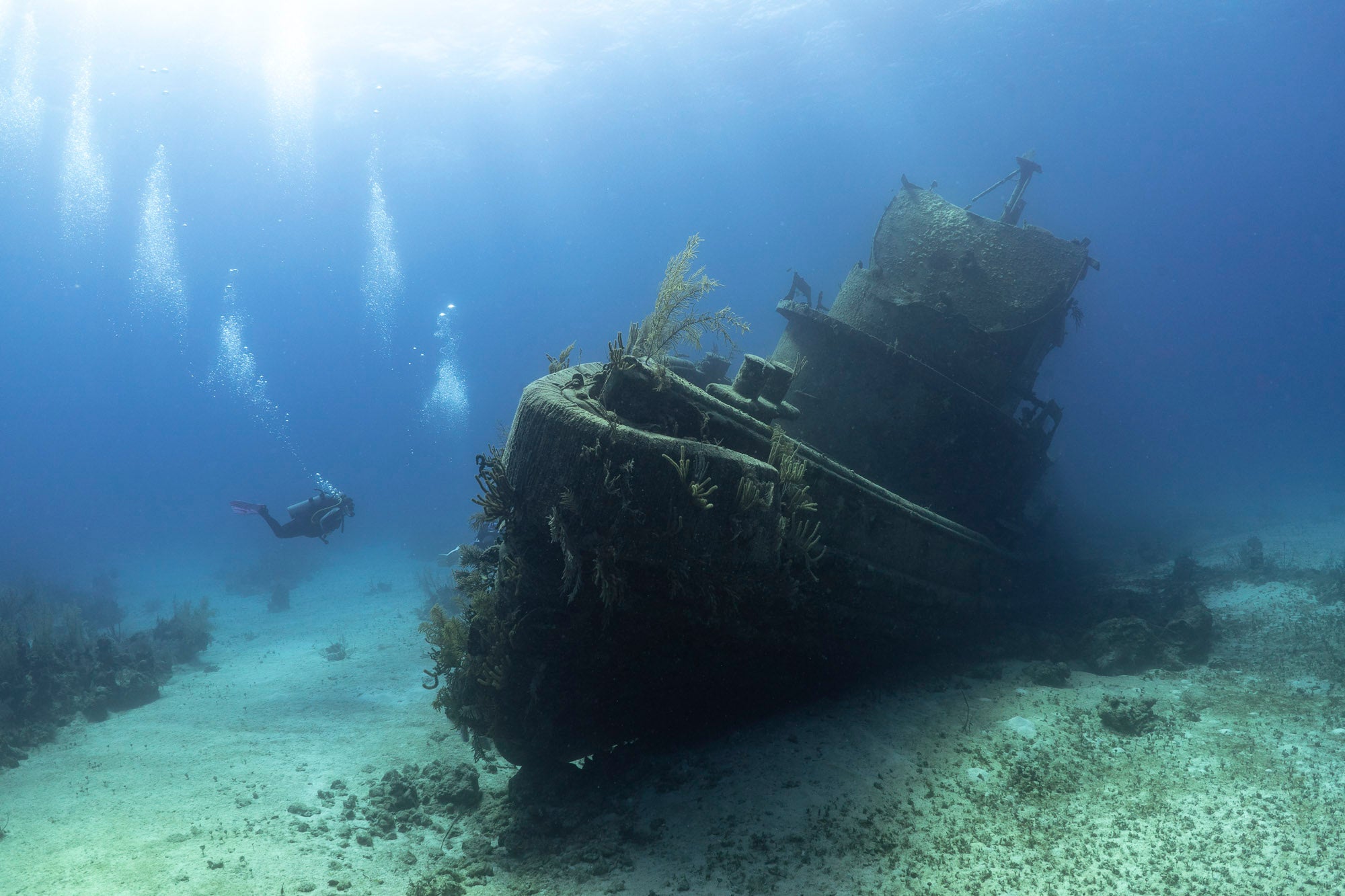 Photo by Richard Condlyffe. Sony Alpha 7R IV. Sony 28-70mm f/3.5-5.6. 1/125-sec., f/11, ISO 200
Flash Trigger: The flask trigger attaches to the camera hot shoe and enables the use of fiber optic cables to fire my external strobes.
Focus Light: In limited light, on a night dive for example, a focus light is important so the camera can focus. This light also has the option to emit red light as some creatures will run away from white light.
Angled Magnifying Viewfinder: I use a magnifying viewfinder to be able to look through my mask and see a clear, undistorted image, allowing me to more confidently get the composition I'm looking for. Having the 45o angle makes looking through the viewfinder more comfortable when the subject is on the ocean floor. This viewfinder attaches to the camera housing.
Dive Computer: Of all my SCUBA diving gear, the dive computer is one of the most important. Its algorithms constantly calculate how much time I have left on my dive before requiring decompression. It also communicates with a sensor connected to my air tank to let me know how much gas I have left to breath.
See more of Richard Condlyffe's work at richardcondlyffe.com.