Lukas Walter (@lukas_walter_photography) is a wildlife photographer who loves to travel to Africa from the open plains in East Africa to the thick bush in southern Africa. He is also passionate about the underwater world, particularly marine life. We sat down with Walter to learn what he brings with him on a shoot. We learned that what he carries changes depending on the adventure. Continue reading to learn more about Walter's gear and go-to accessories!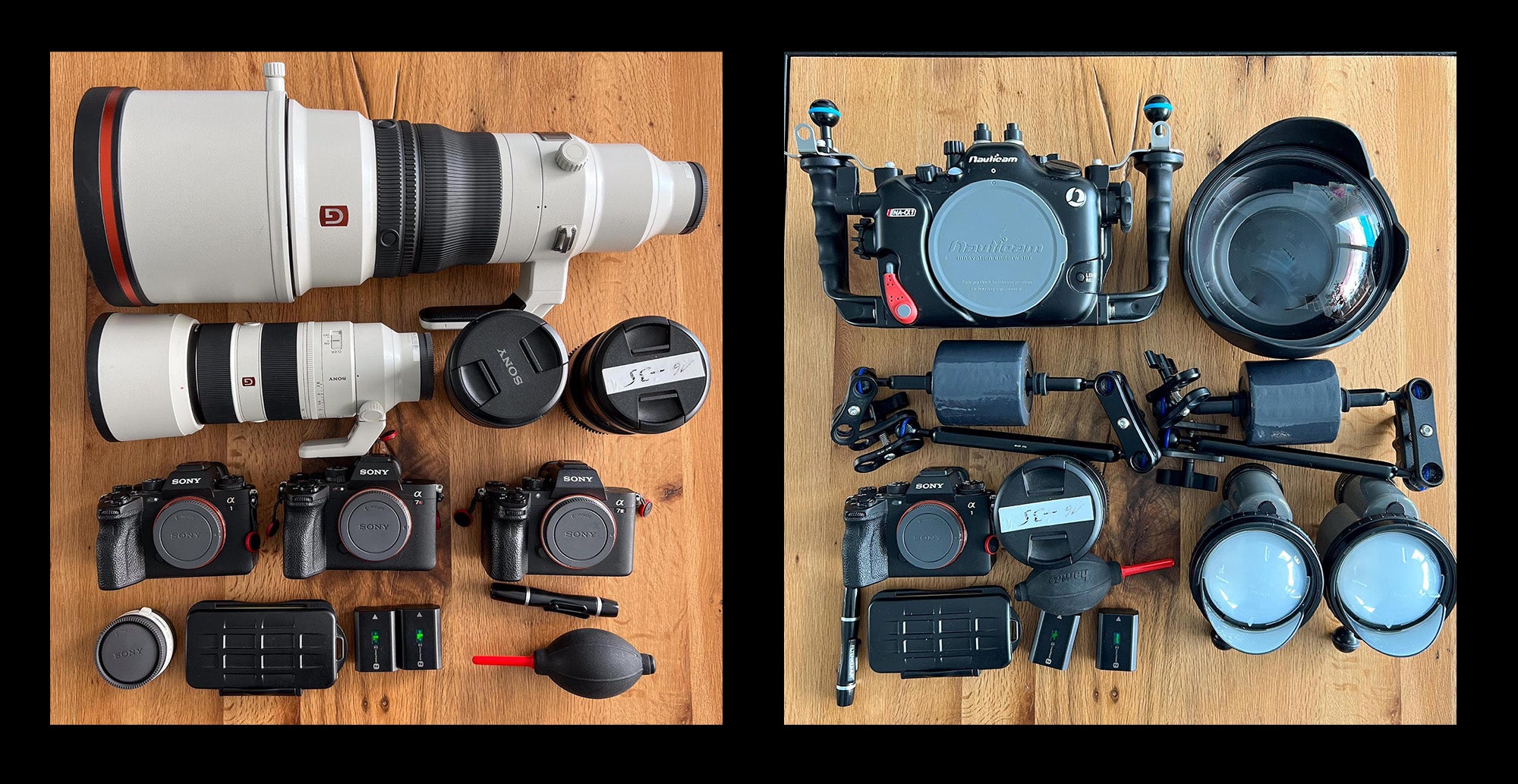 From safari to sea, this wildlife photographer relies on several Sony Alpha cameras and Sony G Master lenses to document beautiful creatures.
Cameras
Sony Alpha 1: This is my main workhorse both topside and underwater. Because of the stacked sensor it is fast, can track subjects very accurately and the 50MP lets you crop if needed while retaining great detail. From a bird in flight or a predator on the hunt, if there is any action happening this is the camera I want. Even if it is not fast action, the camera delivers great detail and dynamic range. In addition, the 1/400 sync speed for strobes comes in handy underwater.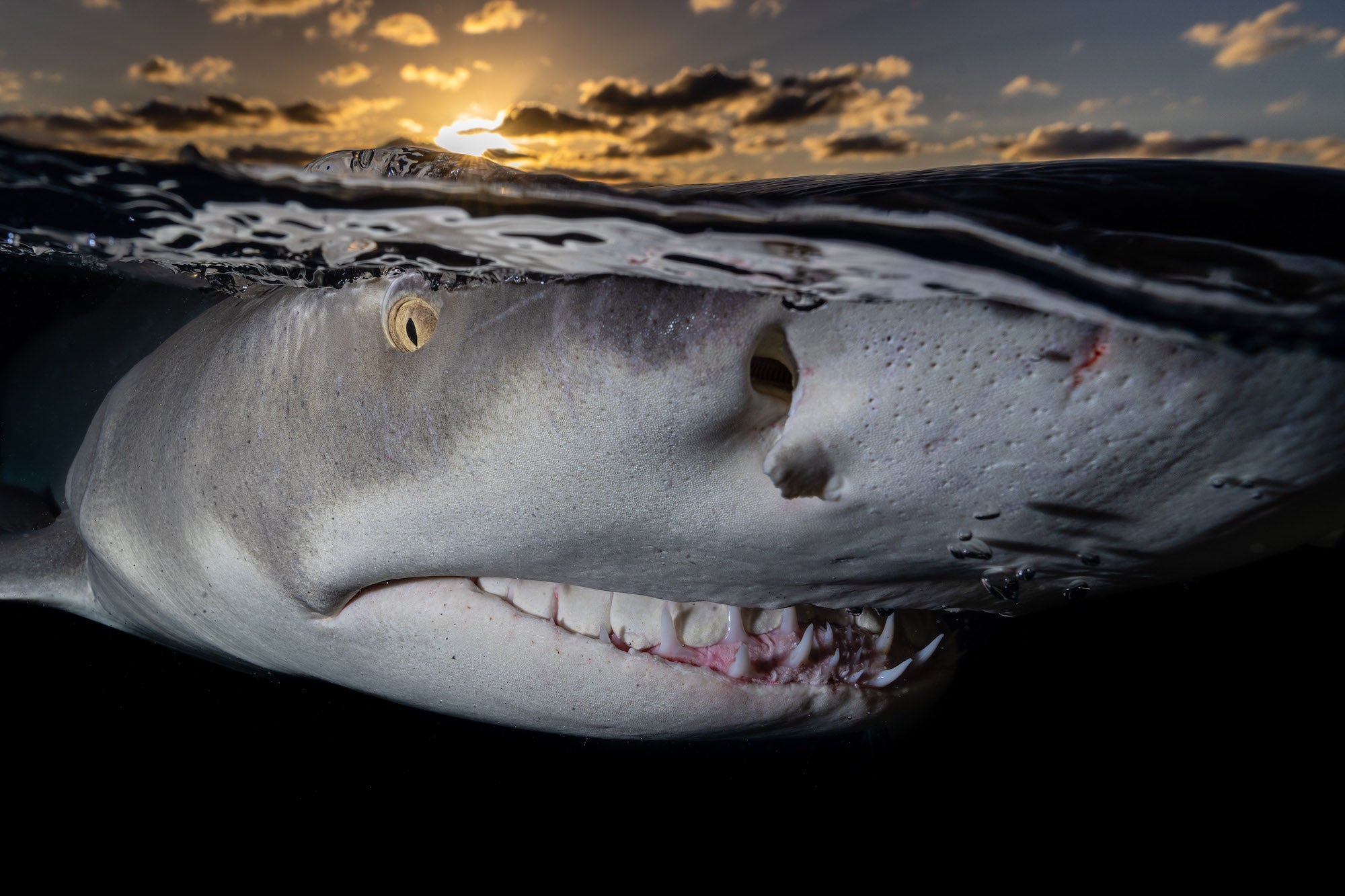 "This is one of my favorite pictures I took last year. It shows a lemon shark during sunset in the Bahamas. As there was quite the swell it took me many tries to get a good image but I'm happy with the result." Photo by Lukas Walter. Sony Alpha 1. Sony 16-35mm f/2.8 G Master. 1/400-sec., f/14, ISO 250
Sony Alpha 7R V: Being in dusty places a lot, I don't like swapping lenses and often with wildlife there is no time to do so. Therefore I have this camera as my second camera. It is not as fast as the Sony Alpha 1 but I love the subject recognition, dynamic range and the image quality it produces. There is no better camera for this price point, it is truly a beast built in a tiny frame.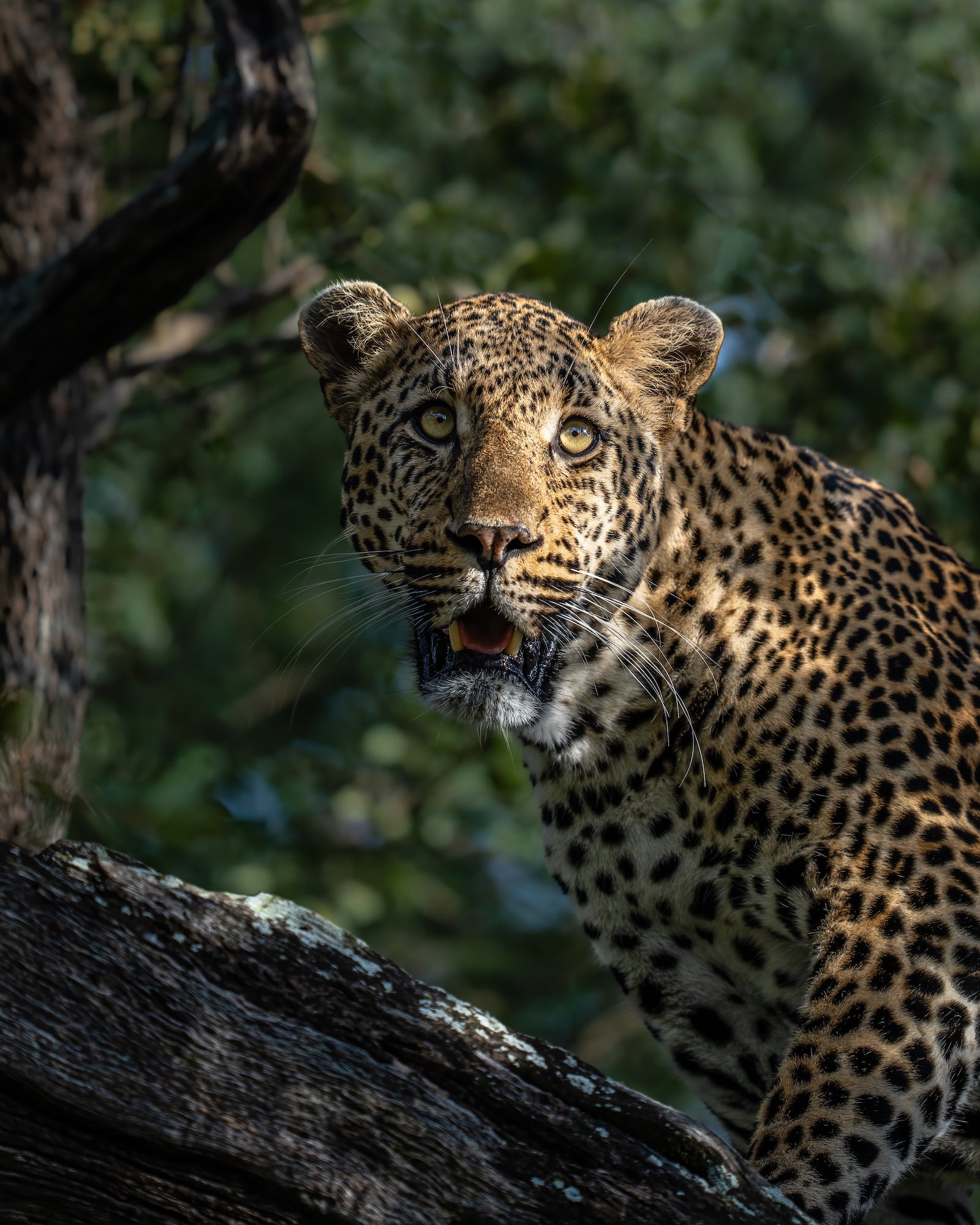 "This image was taken on a recent trip to the Sabi Sands, South Africa. It is quite cropped in, and I'm impressed how much detail the Sony Alpha RV was able to capture of this male leopard. The subject recognition was flawless." Photo by Lukas Walter. Sony Alpha 7R V. Sony 400mm f/2.8 G Master. 1/800-sec., f/2.8, ISO 160
Sony Alpha 7 III: This was my first full frame camera and until recently it was my second camera. I still keep it as back-up, just in case. The camera still produces beautiful images and fares very well in low-light. This is a tried and true camera that holds a special place in my heart. I have many wonderful memories out photographing with this camera.
Lenses
Sony 400mm f/2.8 G Master: This is my favorite lens. The image quality and sharpness it produces is outstanding. Being able to go to f/2.8 helps with getting those creamy backgrounds and helps a lot in low light. Wildlife often gets active when the sun is low and in those kinds of situations it lets you shoot much longer; I can continue shooting well into blue hour without worrying about the images being noisy. Despite the size the lens is quite light and you can still easily handhold it and shoot. If you are interested in photographing wildlife, this should be your first purchase.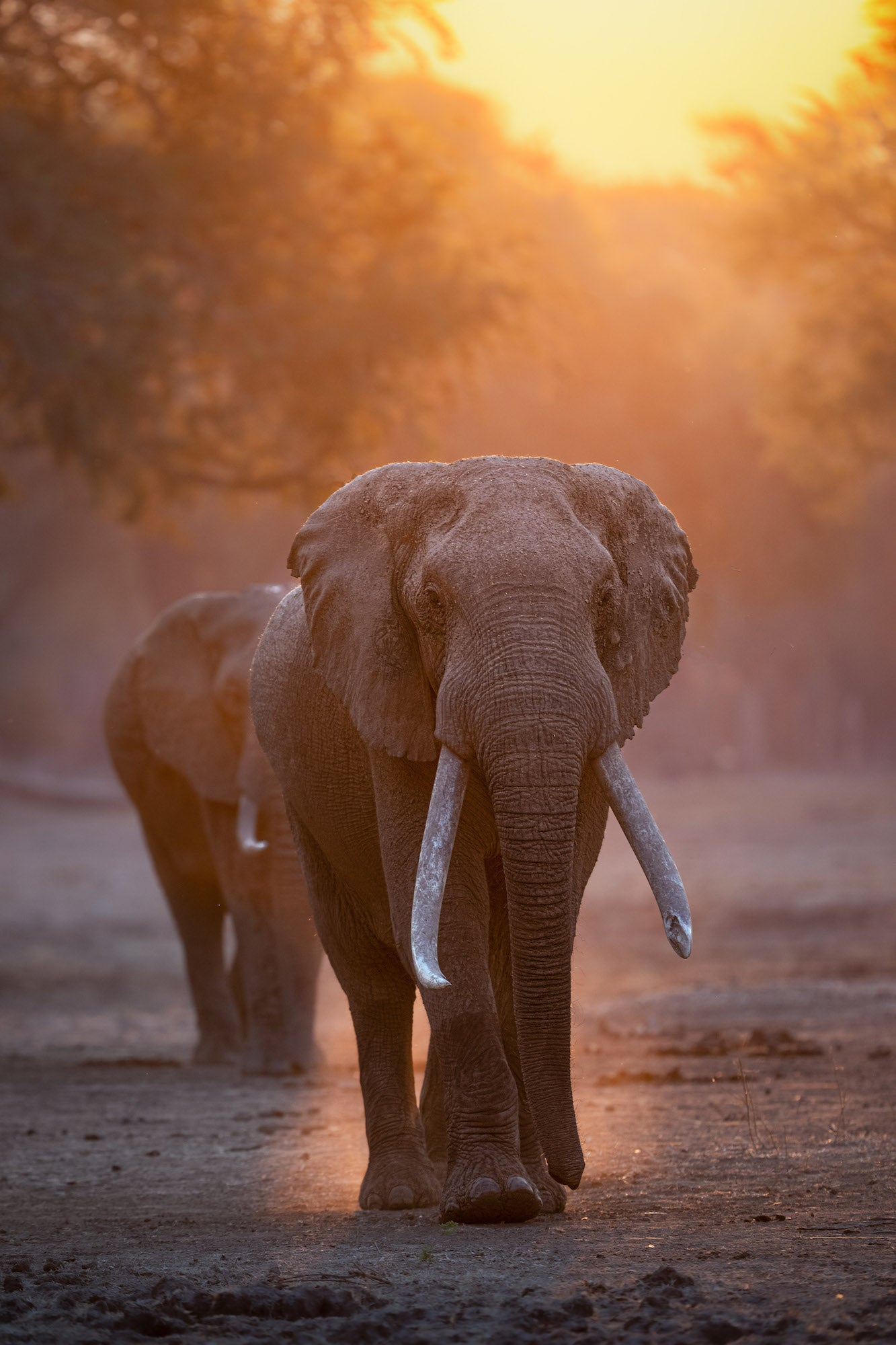 "This is again the elephant Boswell in Mana Pools, Zimbabwe. We were on foot and the elephants walked towards us. To avoid any confrontation we started to back off. As I turned around Boswell was in this beautiful light and I quickly had to take a few pictures before making more distance between us and the elephants. It was no problem to handhold the 400 f/2.8." Photo by Lukas Walter. Sony Alpha 1. Sony 400mm f/2.8 G Master. 1/640-sec., f/3.5, ISO 800
Sony 70-200mm f/2.8 G Master II: Having a fixed focal length in the Sony 400mm f/2.8 G-Master can sometimes be a bit limiting. Especially when you want to include the habitat the wildlife is living in. Therefore the Sony 70-200mm f/2.8 G-Master II is the perfect addition. It gives me the flexibility that comes with a zoom but still maintaining the low light capabilities. The image quality the lens produces is outstanding and it is fast focusing and lightweight. This zoom paired with the fixed 400 allows me to create a variety of different images in any given scene. And I'm never compromising quality for weight.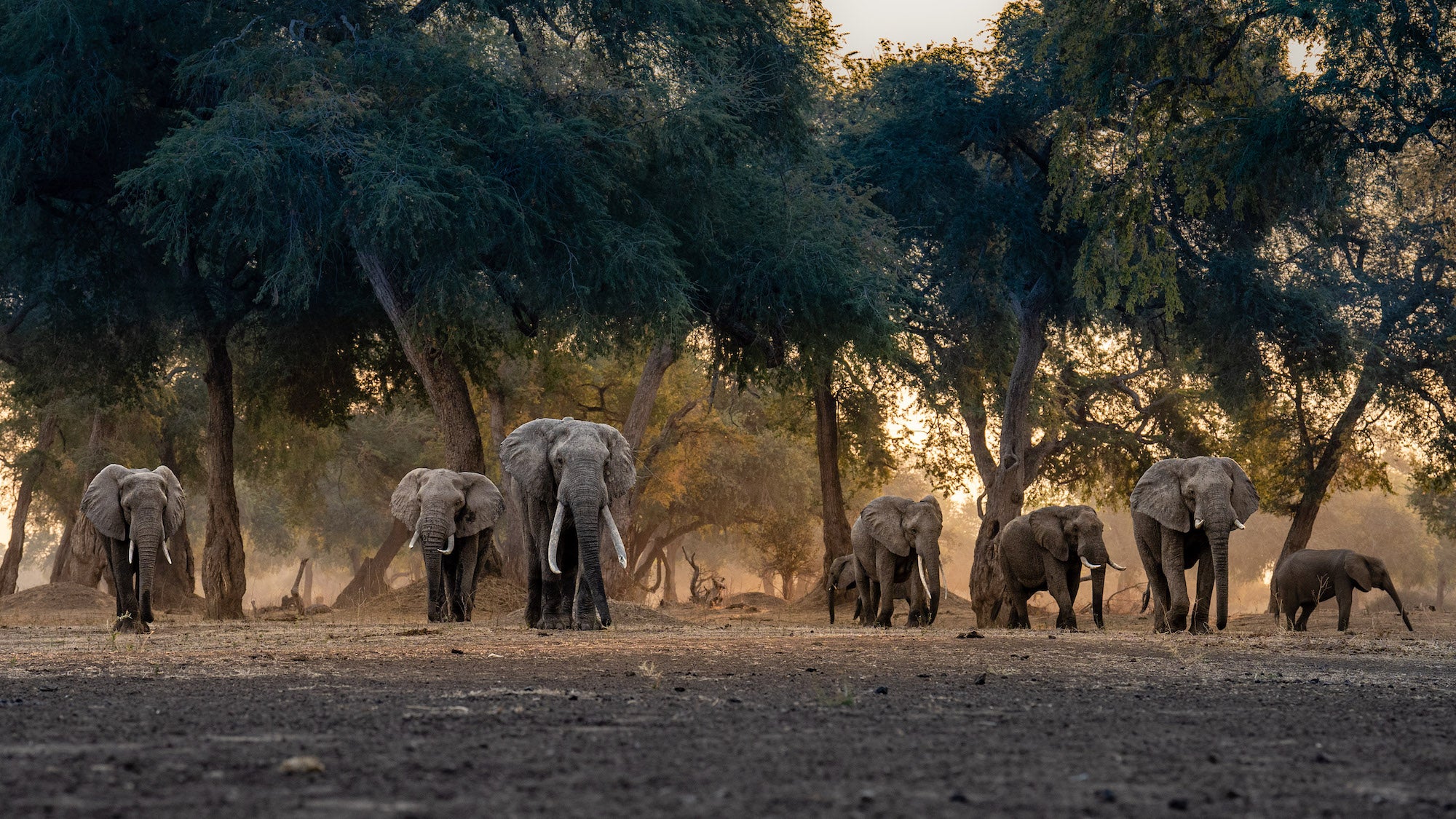 "I like this image as it shows the versatility of the 70-200 f2.8 G-Master II. I was able to capture the habitat of these elephants. This was again taken in Mana Pools, Zimbabwe." Photo by Lukas Walter. Sony Alpha 7 III. Sony 70-200mm f/2.8 G Master II. 1/640-sec., f/5.6, ISO 1000
Sony 135mm f/1.8 G Master: Another outstanding lens that I honestly don't use enough. It helps me in even darker situations with the extra light gathering capabilities. The sharpness and quality is fantastic. The focusing is very fast and accurate, even at f/1.8. I use the lens often with my dog and I'm always impressed how sharp and accurate that lens is. Together with the Sony Alpha 1 it is a great combination. I don't tend to bring it on my wildlife excursions, when I'll be on foot, because I have the 70-200 GM II, but in situations where I'm not as worried about packing light, this lens is a must-bring.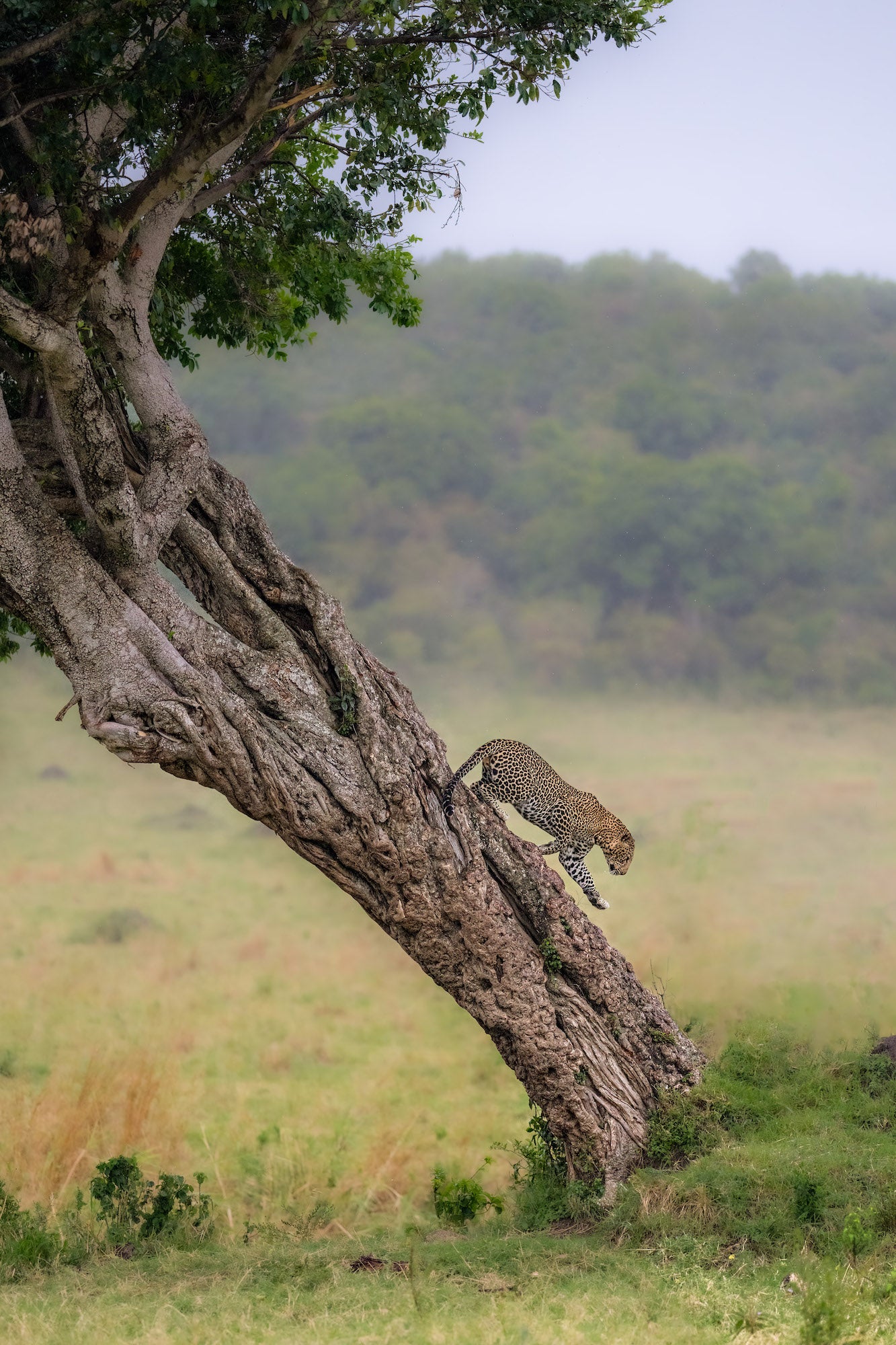 "This image was taken in the Masai Mara, Kenya. The sun had already set and it started to rain. We were waiting for this male leopard to come down from this tree. Luckily I was able to go down to f/1.8 and produce a good image despite the lack of light. This lens is tack-sharp and paired with the autofocus of the Alpha 1, I was able to make the most of this quick moment." Photo by Lukas Walter. Sony Alpha 1. Sony 135mm f/1.8 G Master. 1/800-sec., f/1.8, ISO 2500
Sony 16-35mm f/2.8 G Master: This is the lens I use for underwater imagery. As I prefer big marine life you need to get very close to them and this lens is usually wide enough for this work but gives me flexibility. As with the other lenses this lens is fast as well and very flexible. I love the perspective I get when photographing large underwater creatures.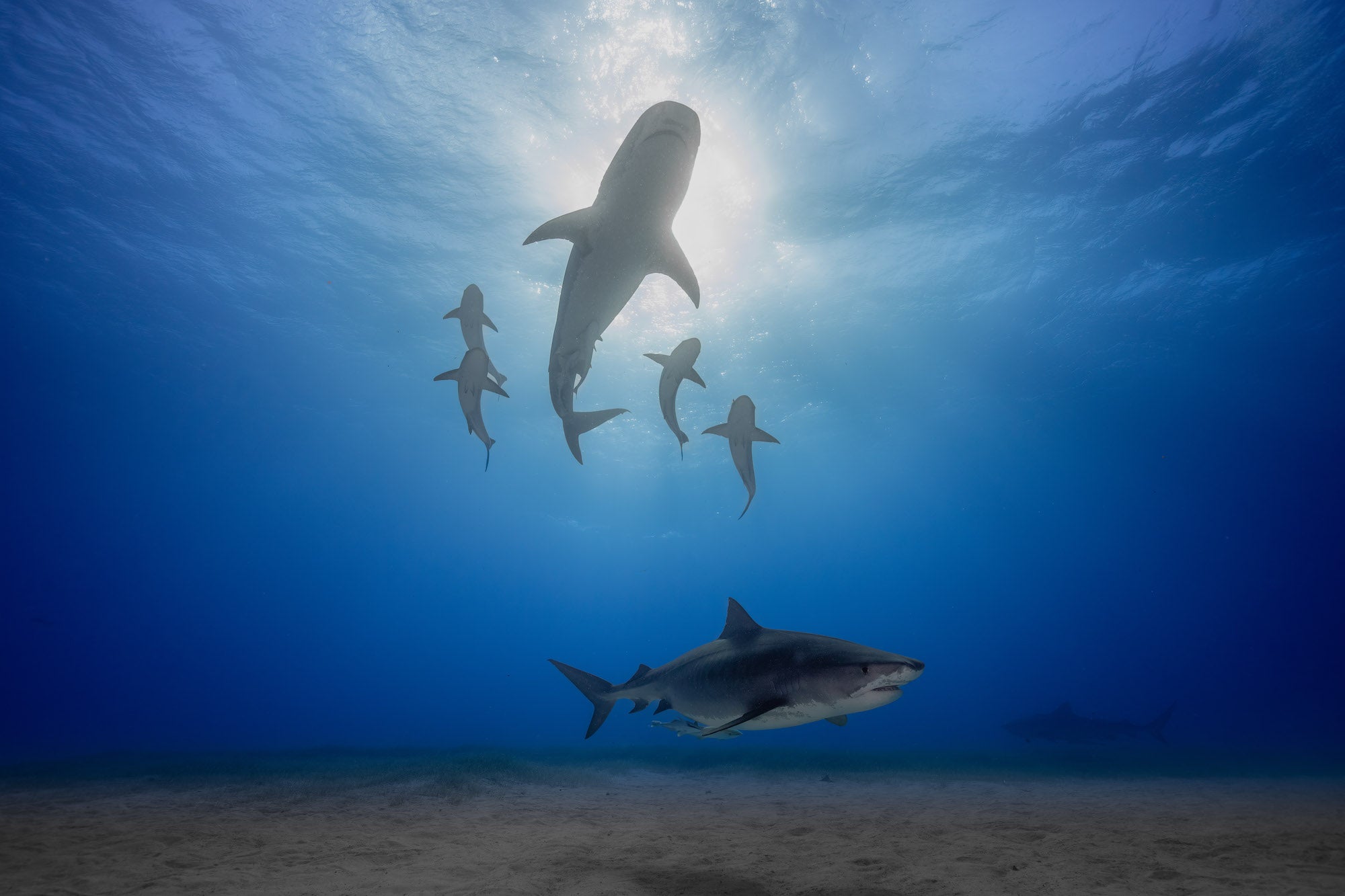 "Another image taken with the 16-35mm f2.8 GM. It shows a few tiger sharks followed by a few Cobia fish. I'm very happy the image quality this lens produces and if needed I can go down to f/2.8." Photo by Lukas Walter. Sony Alpha 1. Sony 16-35mm f/2.8 G Master. 1/400-sec., f/9, ISO 400
Accessories
Sony 1.4x Teleconverter: I exclusively use it together with the 400mm f/2.8 GM in case I want to fill the frame a bit more. With moving subjects it is often quite difficult to put it on but with static subjects it can be very useful.
A case with extra SD cards and other memory cards. You don't want to be in a situation without space for another image. I usually shoot in high bursts. The cards can fill up fast, especially with the Sony Alpha 1. So carrying extras is a must!
Extra batteries: Same here, you don't want to run out of battery. Luckily it has never happened to me. I can't imagine seeing some awesome wildlife and having no more battery life!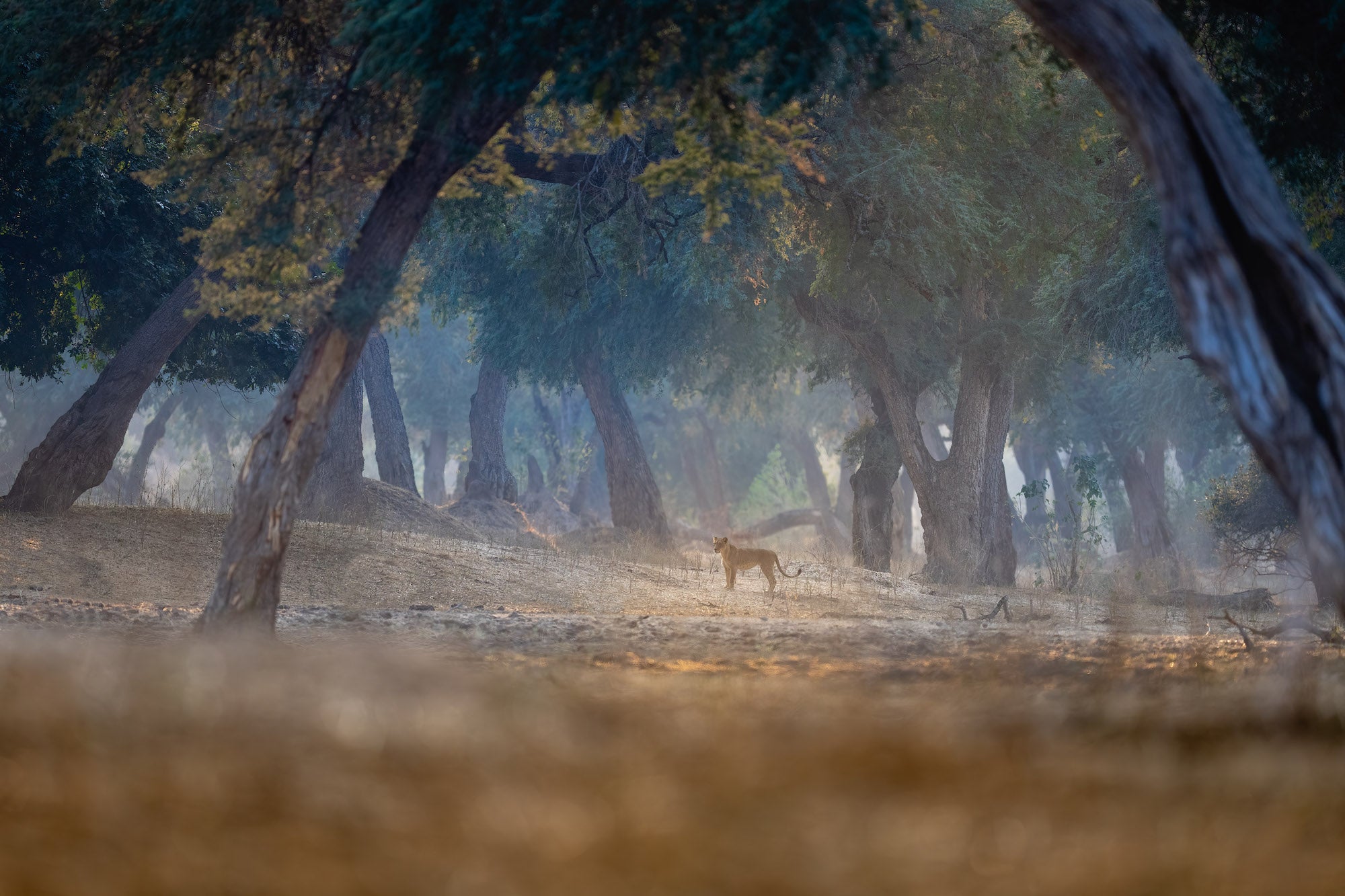 "This is a male leopard called Shujah. The image was captured in the Masai Mara, Kenya. After some afternoon rains he appeared out of a drainage line and started patrolling his territory. The Sony Alpha 1 had no issue tracking him going in and out the drainage lines." Photo by Lukas Walter. Sony Alpha 1. Sony 400mm f/2.8 G Master. 1/1000-sec., f/2.8, ISO 640
Cleaning Accessories: It often can get quite dusty and I always carry some basic cleaning tools with me to take care of the majority of the dust and dirt.
Underwater Housing & Glass Dome Port: To take the Sony Alpha 1 underwater a housing and dome port is still needed. I use a Nauticam housing/dome port as I can access all functions with it and it is very reliable.
Underwater Strobes & Arms: To bring back the colors underwater artificial light is the way to go. I use two Inon strobes when underwater.
See more of Lukas Walter's work on Instagram @lukas_walter_photography.