Lizzy Gadd (@elizabethgadd) is a self-portrait photographer and Alpha Collective member based between the lush and misty rainforests of BC and the majestic Rockies of Alberta, Canada. "I began taking these calming, ethereal and story-telling self portraits over 12 years ago to express myself in front of the lens and to capture the feeling of connection to nature through peaceful presence and solitude," she explains. "Often spending days at a time hiking in the wilderness with my camera gear, spending my time capturing these self portraits has become therapeutic for me and helps me feel more present and grounded throughout everyday life." We caught up with her to learn more about the photography gear she uses to create her dreamy self-portraits. See more as she explains what's in her bag and why below.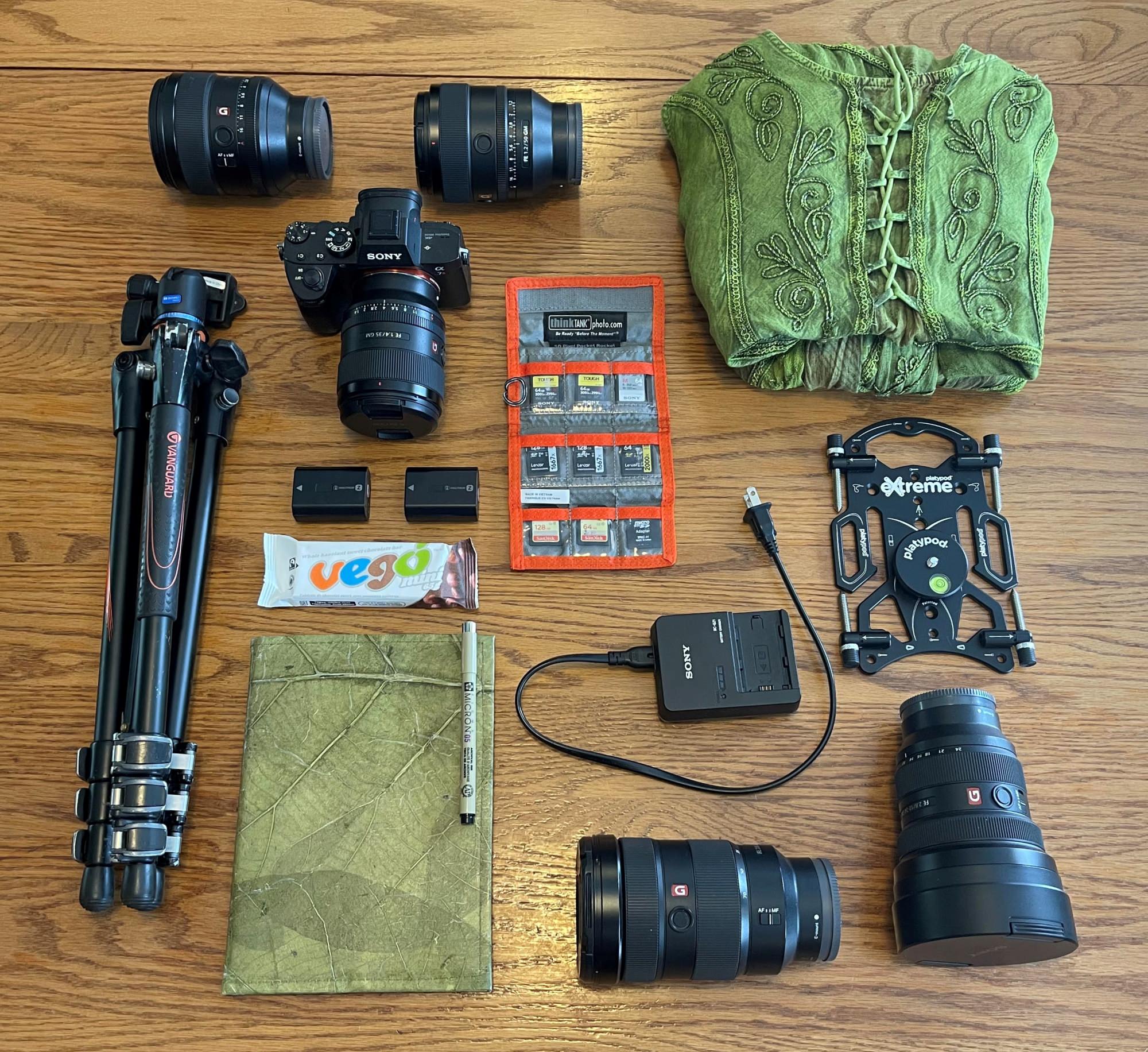 See the camera and handful of Sony G Master lenses self-portrait photographer & Alpha Collective member Lizzy Gadd uses to create her calming, ethereal & story-telling images.
Cameras
Sony Alpha 7R III: Currently my only Sony camera, I've been using this piece for roughly five years and have been extremely happy with how perfect it's been for my photography. I enjoy that it's fairly light-weight and thus easier to carry on long treks in the wilderness, and with 42.4mp I can easily blow up my images into massive fine-art prints (which is my favorite way of showcasing my work by far). Perhaps my favorite feature though is how easy this camera is to set up for my self portrait shoots – especially with the built-in timelapse intervalometer. This saves me from carrying around a remote (which I used to have to hide in my hands during a shoot, and often it wouldn't have a long enough range for how far away from the camera I was). With the built-in camera timelapse feature, all I do is open the camera menu to turn it on, and then press the shutter button to start it. Then I can run out in front of the camera however far I want and strike a series of poses, or just be present in nature, while my camera captures the whole ordeal. Afterwards, I can pick and choose my favorites from the timelapse sequence to edit and share.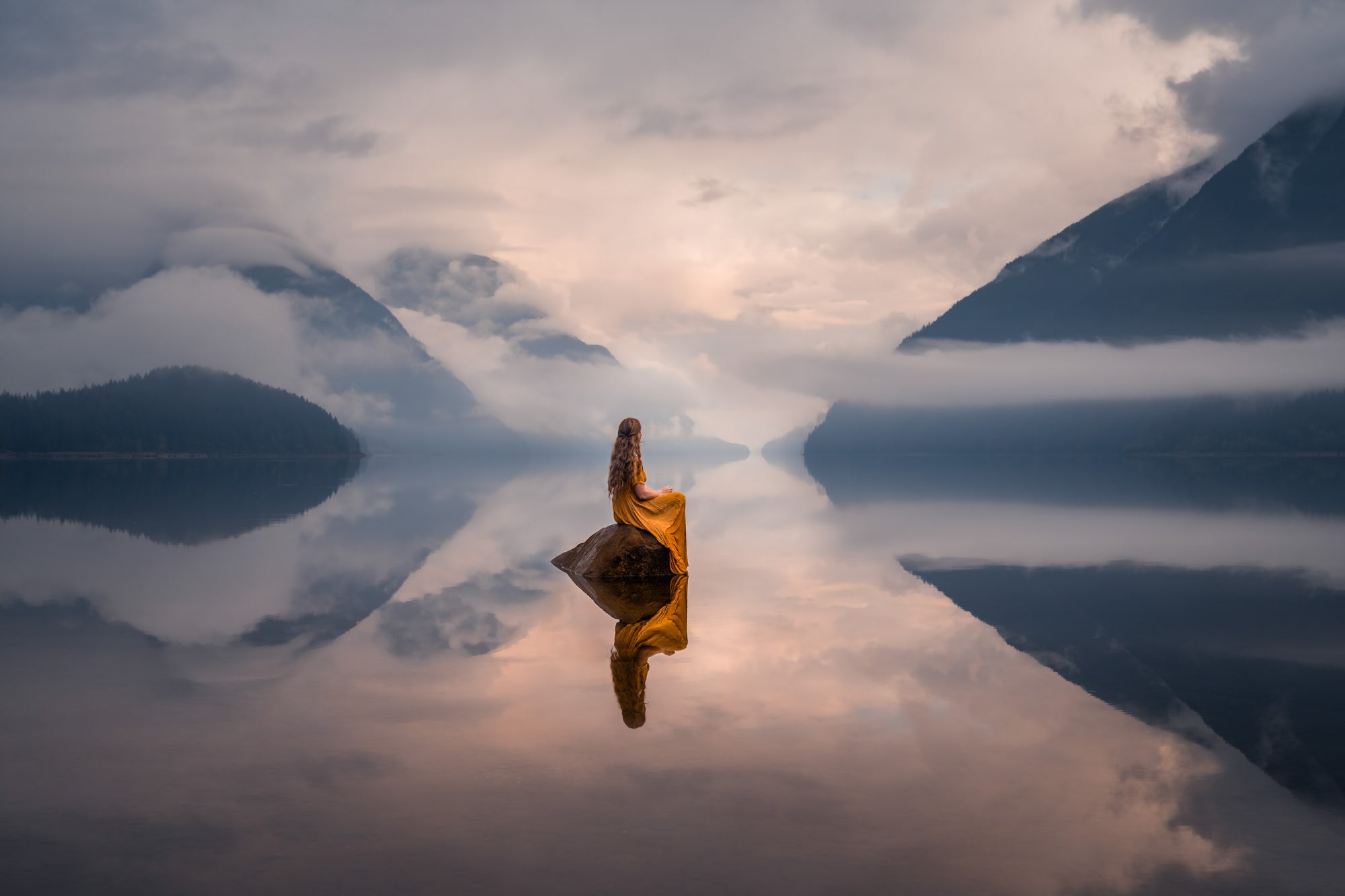 "Stranded in a Dream" – A self portrait taken with Sony Alpha 7R III and the built-in timelapse feature. After the timelapse started, I waded out to that rock and sat there for several minutes before the water ripples dissipated, allowing the camera to capture this perfectly calm, dreamy scene. Photo by Lizzy Gadd. Sony Alpha 7R III. Sony 24-70mm f/2.8 G Master. 1/400-sec., f/5, ISO 200
Lenses
Sony 50mm f/1.2 G Master: I've always been drawn to this lens for the beautiful focal length which is equivalent to what our own eyes see, as well as the insanely low aperture it can have. When I shoot wide open (at f/1.4 or even f/1.2), the images have this beautifully blurred background or foreground, while the subject (me) can still stay sharply in focus. I find shooting with this wide aperture creates a softer effect that helps lend a surreal dreaminess to my imagery. I also love how the low aperture provides me with the ability to easily shoot my self portraits in limited light on the dark moody days, in dimly lit forests, or after sunset.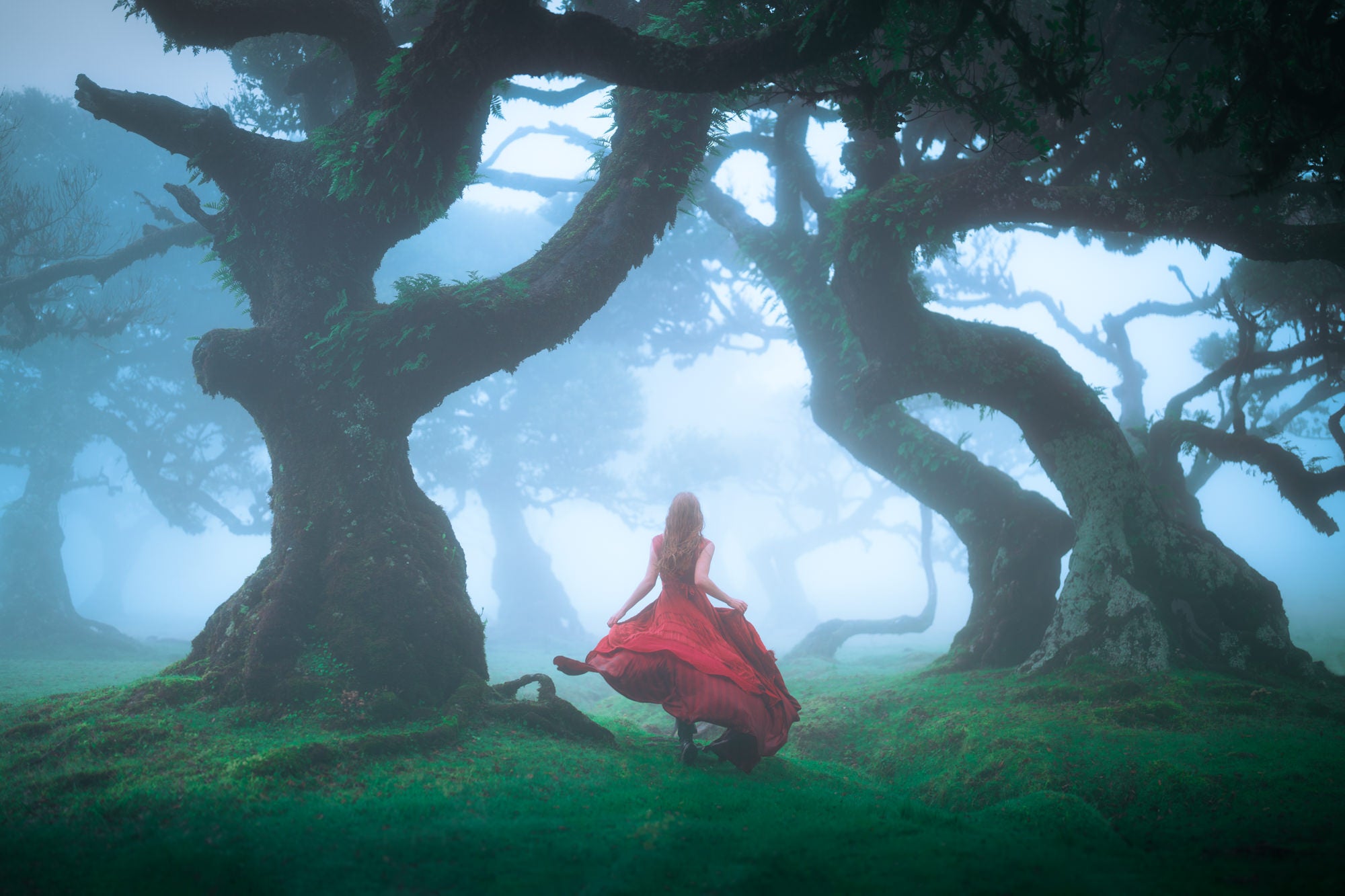 "Dance Through The Dark Woods" Photo by Lizzy Gadd. Sony Alpha 7R III. Sony 50mm f/1.2 G Master. 1/1000-sec., f/1.2, ISO 100
Sony 35mm f/1.4 G Master: My newest addition to my camera bag, the focal length of this lens is a little wider than my nifty 50mm, but it still has the dreamy effect of the low aperture (f/1.4) I like to shoot with. I use this lens frequently when I want to include a little more of my surroundings in my self portraits.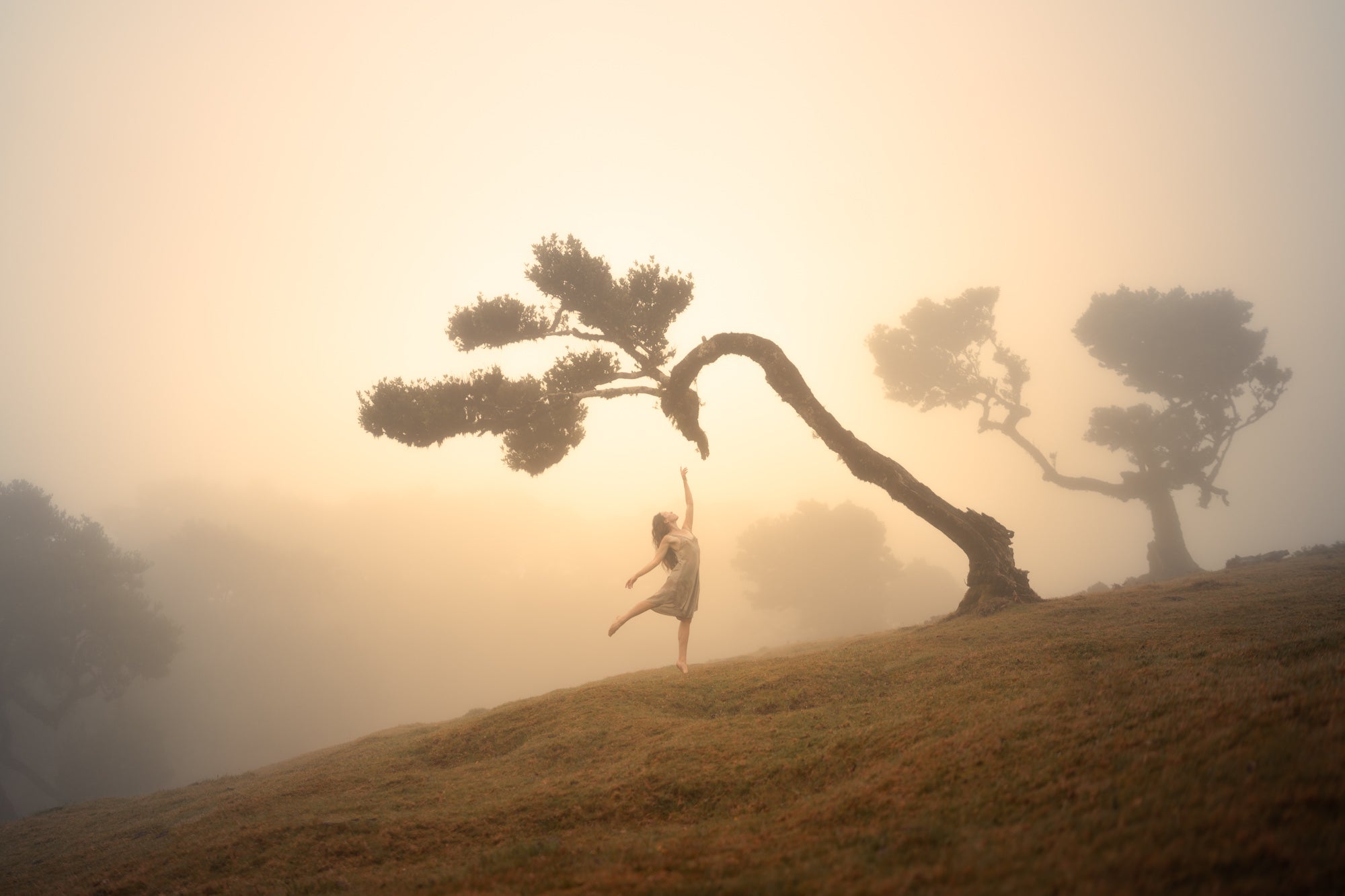 "To Flow As One" Photo by Lizzy Gadd. Sony Alpha 7R III. Sony 35mm f/1.4 G Master. 1/1000-sec., f/1.4, ISO 100
Sony 85mm f/1.4 G Master: For the same reason I love my 50mm and 35mm, this lens has an insane low aperture which really brings out the dreamy effect I love so much in my imagery. Having a longer focal length, I often use this lens when I'm a little further away from the camera and I want to compress the scene. It does the job amazingly well.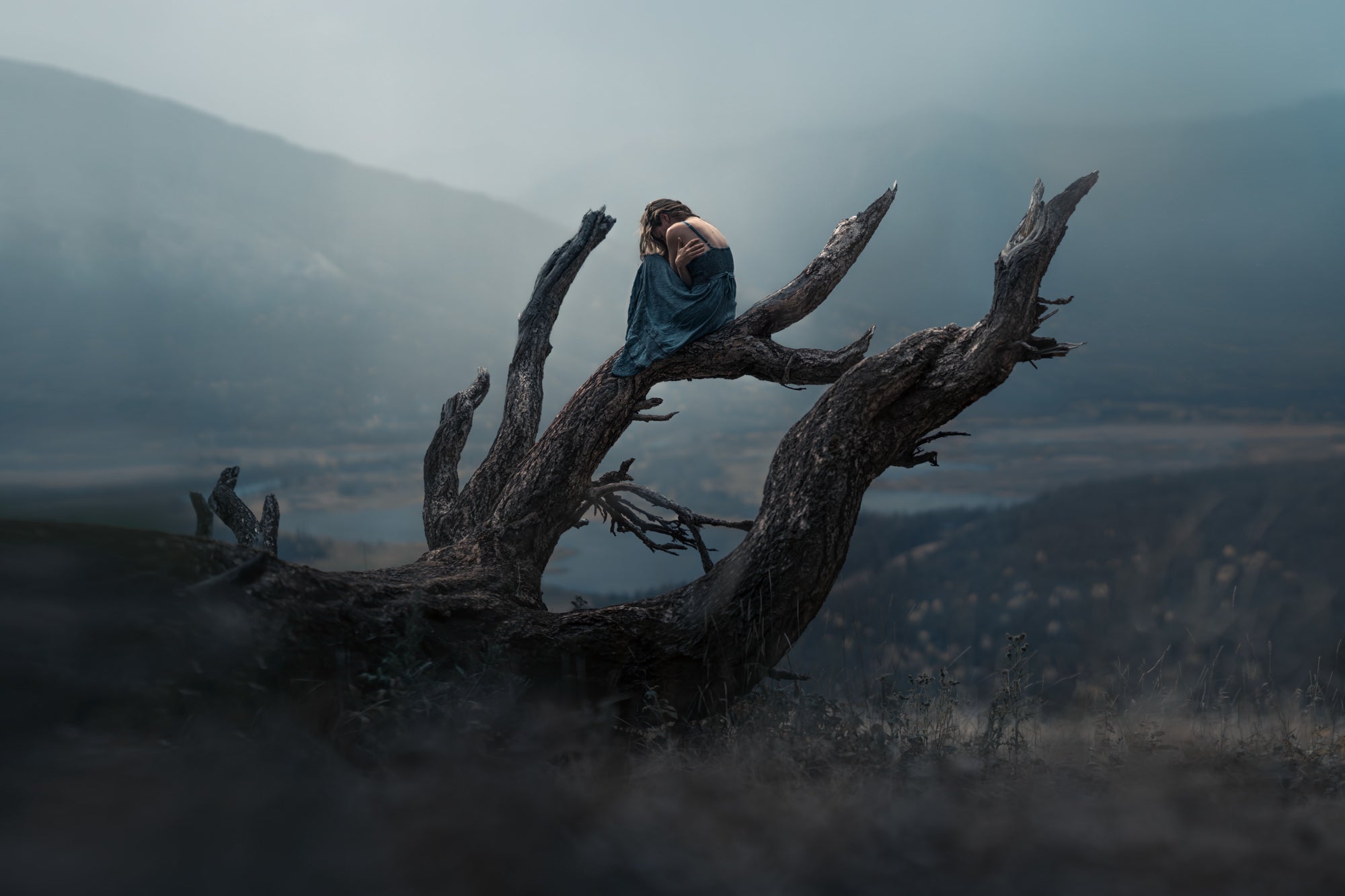 "Desolate" Photo by Lizzy Gadd. Sony Alpha 7R III. Sony 85mm f/1.4 G Master. 1/3200-sec., f/1.6, ISO 50
Sony 12-24mm f/1.4 G Master: The super wide focal length of this lens really helps me capture the details and vastness of tighter places (like inside ice caves), or to capture the beauty of the wide, night skies. The low aperture (f/1.4) makes it easy to clearly capture the stars or aurora borealis in my imagery.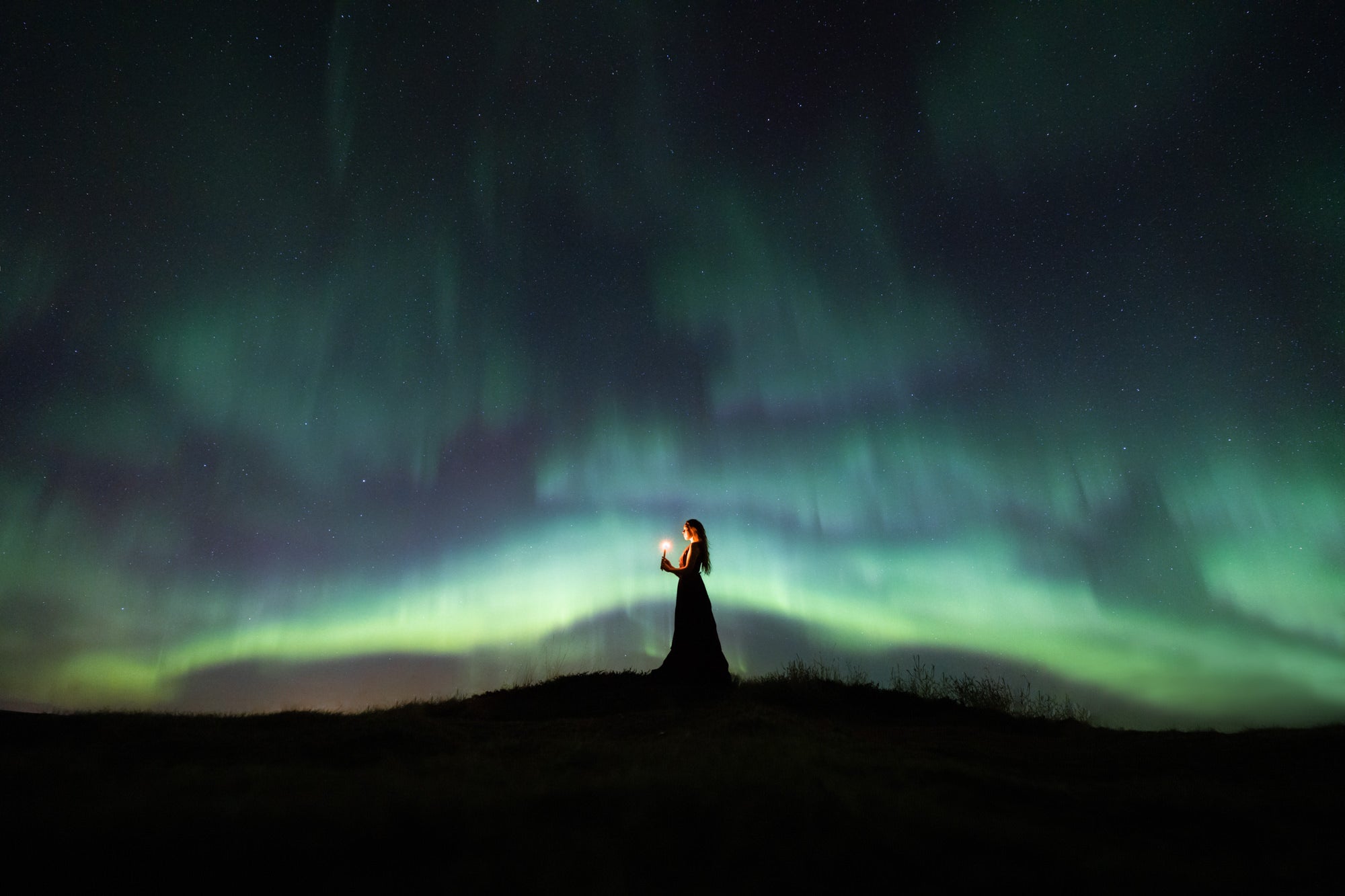 "Follow The Light" Photo by Lizzy Gadd. Sony Alpha 7R III. Sony 12-24mm f/2.8 G Master. 3-sec., f/2.8, ISO 6400. Read more about how she captured this image in Behind The Shot: This Stunning Self-Portrait With An Aurora Was A Long Time Coming.
Sony 24-70mm f/2.8 G Master: This is my go-to if I can only bring one lens on backcountry treks due to weight restrictions. Although the aperture is higher than I would normally shoot, it's still super decent at f/2.8, especially for its range of focal lengths. If I can only use one lens in the backcountry, I would rather have this lens with a decent focal range of 24-70mm to capture multiple scenarios, rather than be stuck with one focal length like most of my other lenses.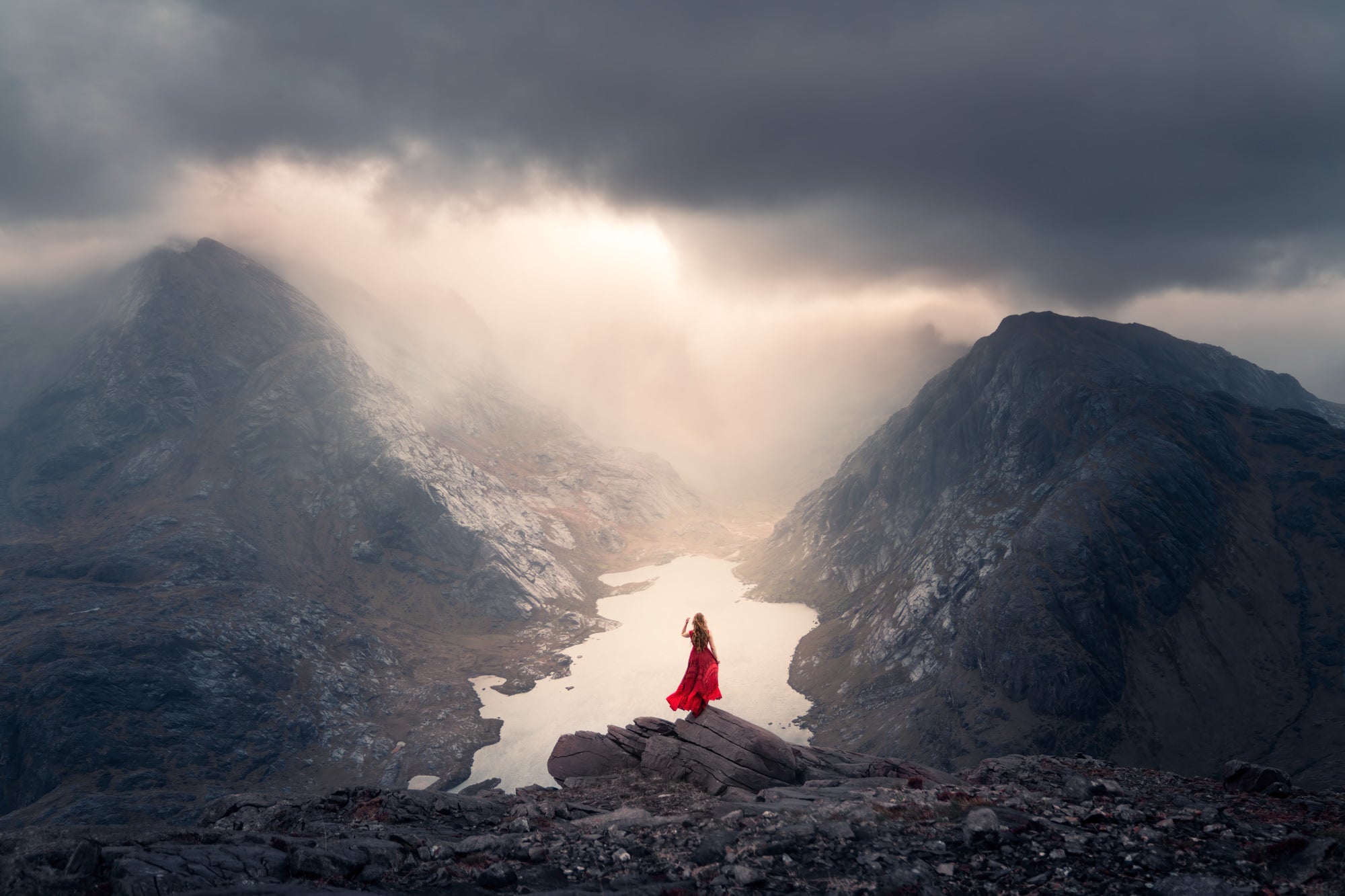 "Follow The Light" Photo by Lizzy Gadd. Sony Alpha 7R III. Sony 24-70mm f/2.8 G Master. 1/1000-sec., f/2.8, ISO 100
Accessories
Vanguard Tripod 204AB: I've had this tripod for eight years and love that it's lightweight enough to carry on backcountry treks, but sturdy enough to hold my camera and lenses. I've put this tripod through a lot of heavy use (even accidentally dropping it down cliffs), and though it's broken a few times, I've pieced and patched it together with other various tripod parts and it still works for me!
Memory Cards & Card Holder: I always make sure I have enough memory cards as they tend to fill up quickly when I'm time-lapsing my self portrait shoots. My favorites are the Sony TOUGH cards which are more weatherproof when I'm shooting and switching cards in rain or snow.
Batteries & Charger: Always bring spares!
Platypod eXtreme: I use this amazing little flat tripod for when I need to shoot at ground level, which is where I take at least 50% of my photos from. Shooting at ground level can really dramatize the scene, and it helps create that dreamy depth I love in my images when the blurred foreground leads into the scene (which you otherwise couldn't capture if your camera was several feet off the ground).
Dress: Somewhere in my camera bag, I always have a dress or two crammed in, mostly thrift-store finds or even just bed sheets sewn together into a flowy dress-like appearance, ha! They're not pretty up close after years of being put through use in all kinds of weather and terrain, but they do lend a more timeless and story-telling look to my self portraits than wearing my regular hiking pants and jacket would.
Journal/Notebook & Pen: Mostly to write down thoughts and inspiration while out in nature, but also to get ideas for my photoshoots by trying to bring to life the thoughts and emotions I've written in it.
Chocolate: Arguably the most important thing in my camera bag. Vego chocolate is my go-to these days!
See more of Lizzy Gadd's work on Instagram @elizabethgadd.