My name is Joanna Claire Sellick (@joannaclairesellick) and I am a fine art and self-portrait photographer from the UK. I first picked up a camera when I was around sixteen and studying graphic design for my A-levels, the idea being to learn the basics in order to photograph any products I created. However, after an art buddy introduced me to the world of conceptual photography, I absolutely fell in love with the genre. About three years ago, I finally started taking photography seriously, using online tutorials and signing up to workshops to hone my skills. The majority of my work is still self-portraits, and inspiration is often drawn from whichever emotions or experiences I am processing when I come to create. These ideas are then explored through fantasy or whimsical concepts.
(Note: For the entire month of October you can enter your own self-portrait in the Sony Alpha Female+ Self-Portrait Contest for your chance to win a Sony ZV-1 and to have your image featured! To enter, follow @sonyalphafemale, then upload your photo with a caption, tag @sonyalpha, and use the #SonyAlphaFemale and #SonySelfPortrait hashtags. Photos that you enter should be made during the challenge period – no tagging old posts. The winner will be notified via DM on Instagram. See Official Contest Rules for details.)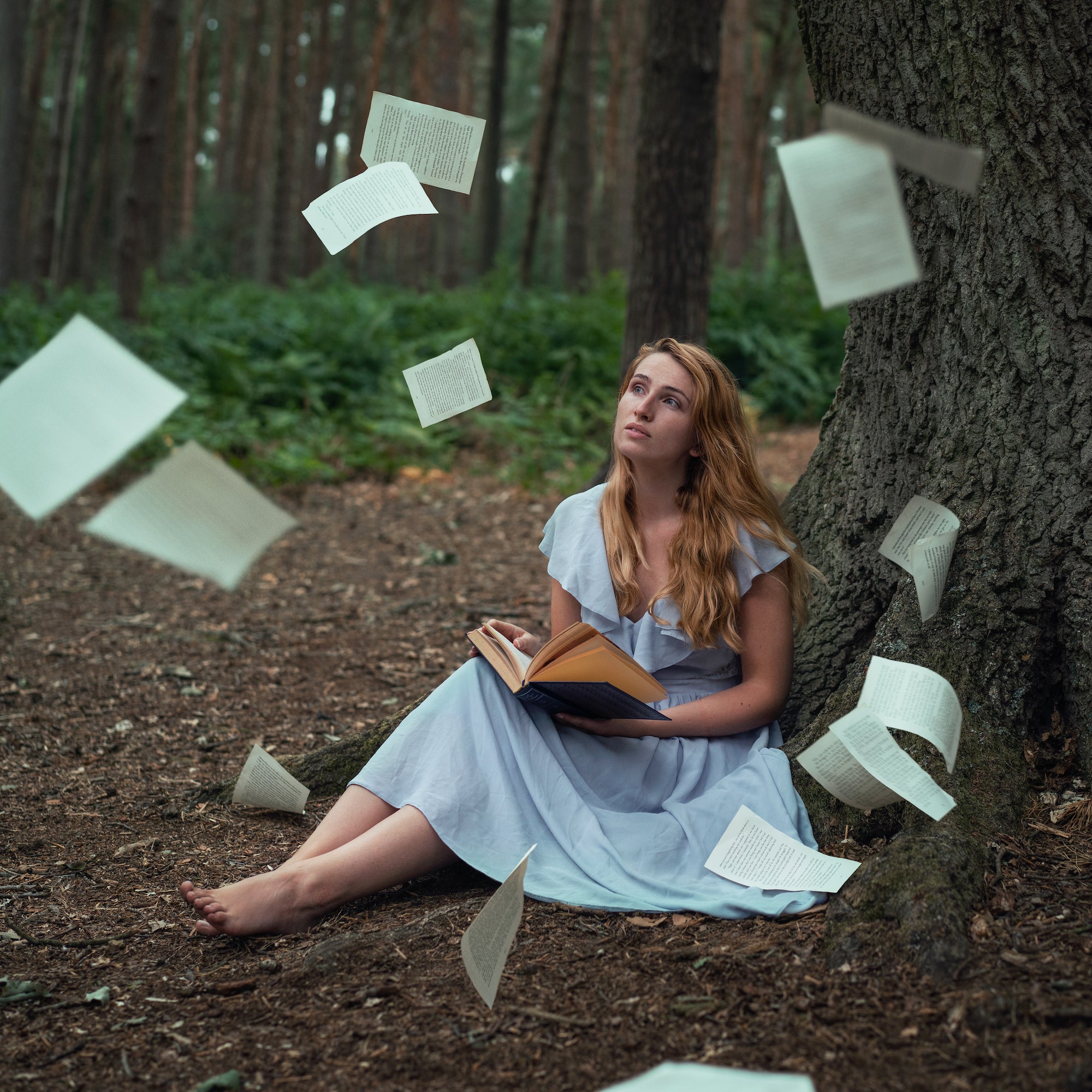 Photo by Joanna Claire Sellick. Sony α7R III. Sony 55mm f/1.8. 1/500-sec., f/2.8, ISO 800
Inspiration
Books have always been a massive part of my world, and are a regular theme and prop that turn up in my photos. As someone who writes and reads in my spare time, they represent an escape from reality. I wanted this photo to show that feeling of being swept up in the pages of a good story - so invested it feels as if you are walking alongside the characters.
My Self-Portraiture Process
For me, self-portraits are always an incredibly personal process. I am usually either by myself, triggering my camera via remote, or with an assistant who is there to press the shutter. As I knew I would be throwing loose book pages up in the air, I sweet-talked my Mum into coming to help me. When finding a location, I will more often than not end up in this fairytale woodland about a 20-minute drive from my house, as it suits my style of photography so well. Despite shooting here multiple times, I always find a new angle to use as my backdrop.
My final artworks will usually consist of 4-5 photos composited together, and I can take up to 100+ photos per shoot. I will take photos of multiple poses, adjusting one movement slightly each time, so I can review them properly on a big screen when it comes to editing. This also helps me get into character. I move about until I feel like I am displaying the right emotions/body language for the character the narrative is built around. For this shot, I took 109 photos, as it can be tricky to capture moving objects – such as book pages that are being tossed into the air.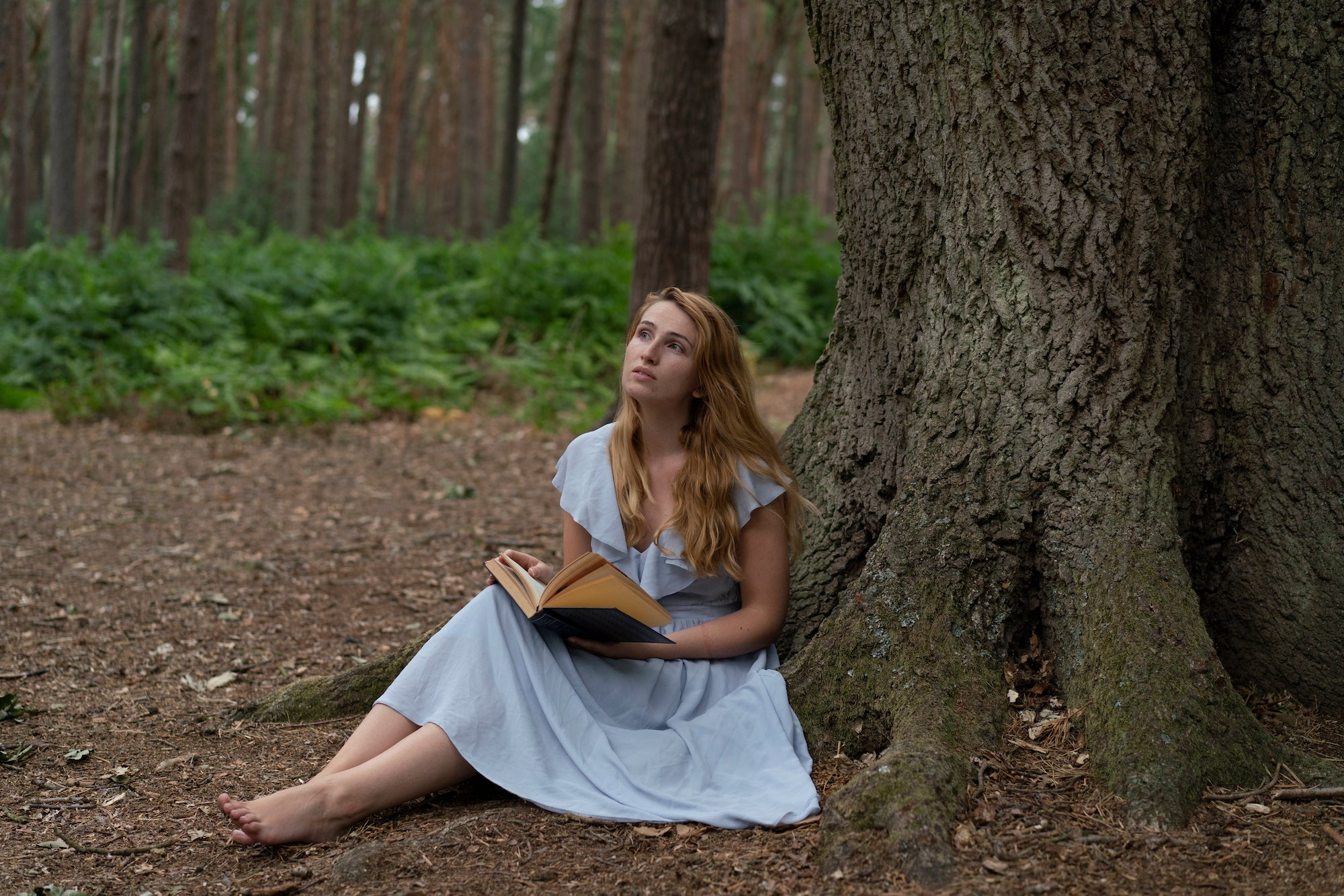 Photo by Joanna Claire Sellick.
To capture all of this, I put my camera onto a tripod, moved myself into position and used the Sony Imaging Edge app to make sure I was in frame. The app also tells me the camera settings, and I can adjust my shutter speed etc through my phone. This saves a lot of the back and forth I used to do with remote triggers! I then simply asked Mum to press the shutter when I was ready. Once I'd settled on a pose – deciding in the end to go with a dreamy far-off look – I took lots of shots of the book pages (which is not an easy task when it's windy!). Finally, I took some extra photos of the background encase I wanted to expand the photo later in post-processing.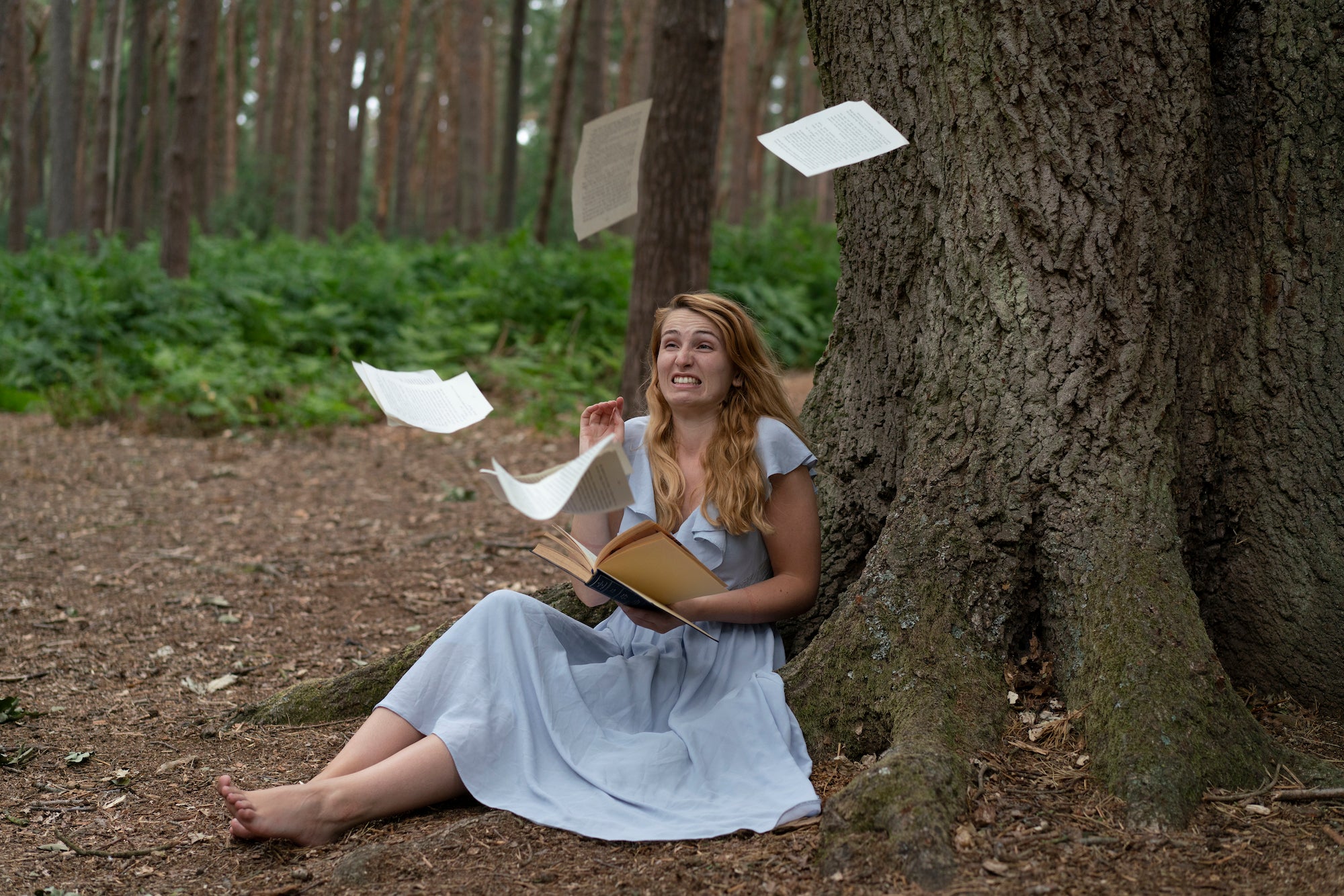 Photo by Joanna Claire Sellick.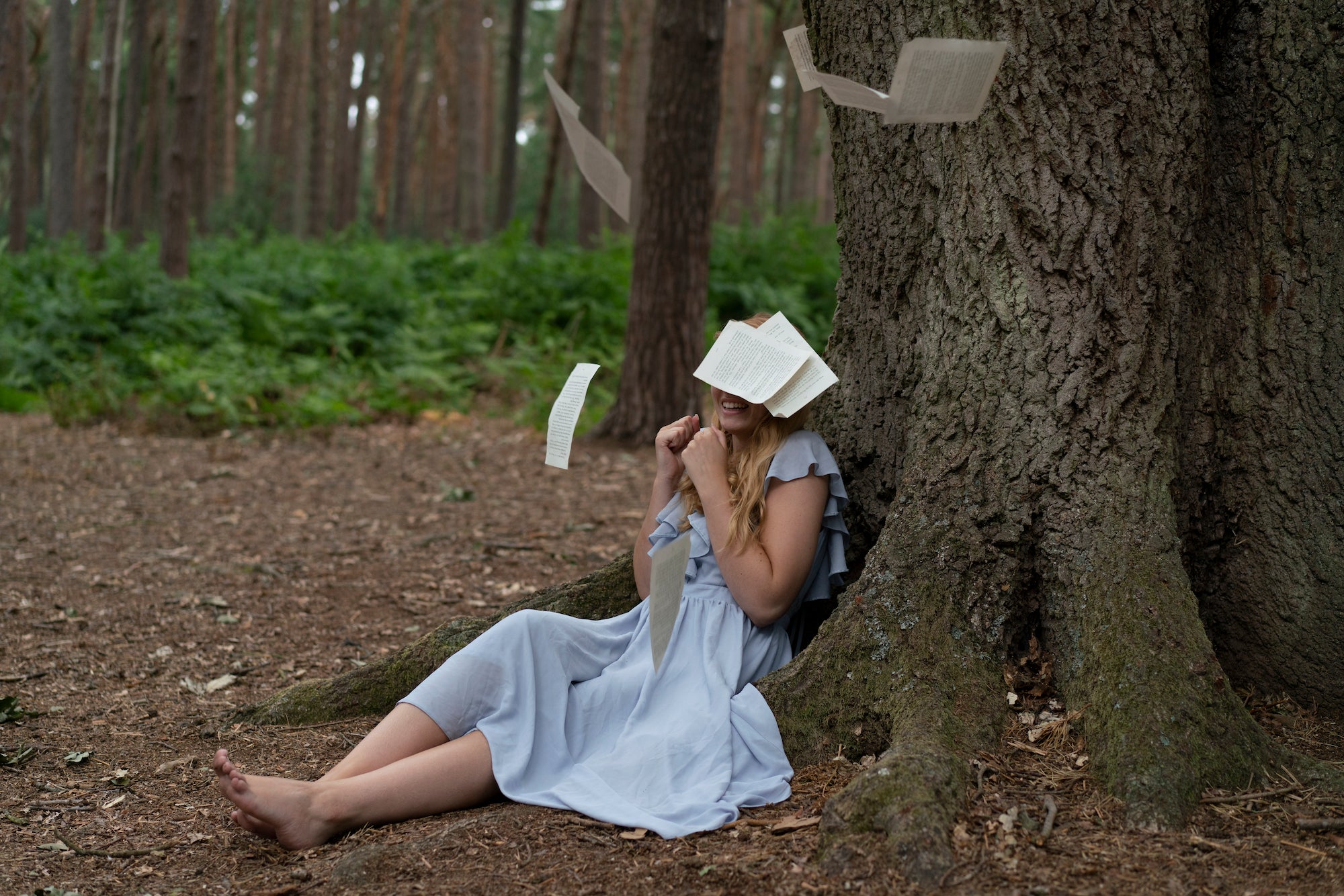 Photo by Joanna Claire Sellick.
Camera Gear & Settings
I shoot using the Sony α7R III as the file size is huge, so I know my photos are always going to be amazing quality – especially if I ever need to get them printed. My favorite lens to use is the Sony 55mm f/1.8 as it always gives the background a lovely blur. When shooting at this distance, I like to keep at an f-stop of f/2.8 to ensure all of me remains sharp and in focus. As it was cloudy and the woods were quickly gettin, my ISO was a little higher than usual at 800, and my shutter speed was 1/500-sec to ensure there was no motion blur when the pages were thrown in the air.
Post-Processing
This was actually one of my quicker edits. Since lockdown, I've really thrown myself into 8-10 hour photo manipulations, so this was quite refreshing in that it came together so easily. In the end, I stitched three photos together to make the background – one with the original pose and two other background photos to expand the top and bottom of the image into a square frame. I then cut out some of the individual book pages from seven different images before placing them into my main file. As I shot everything on location and in the same lighting, the only thing I had to do with the cut-outs was to move them into position.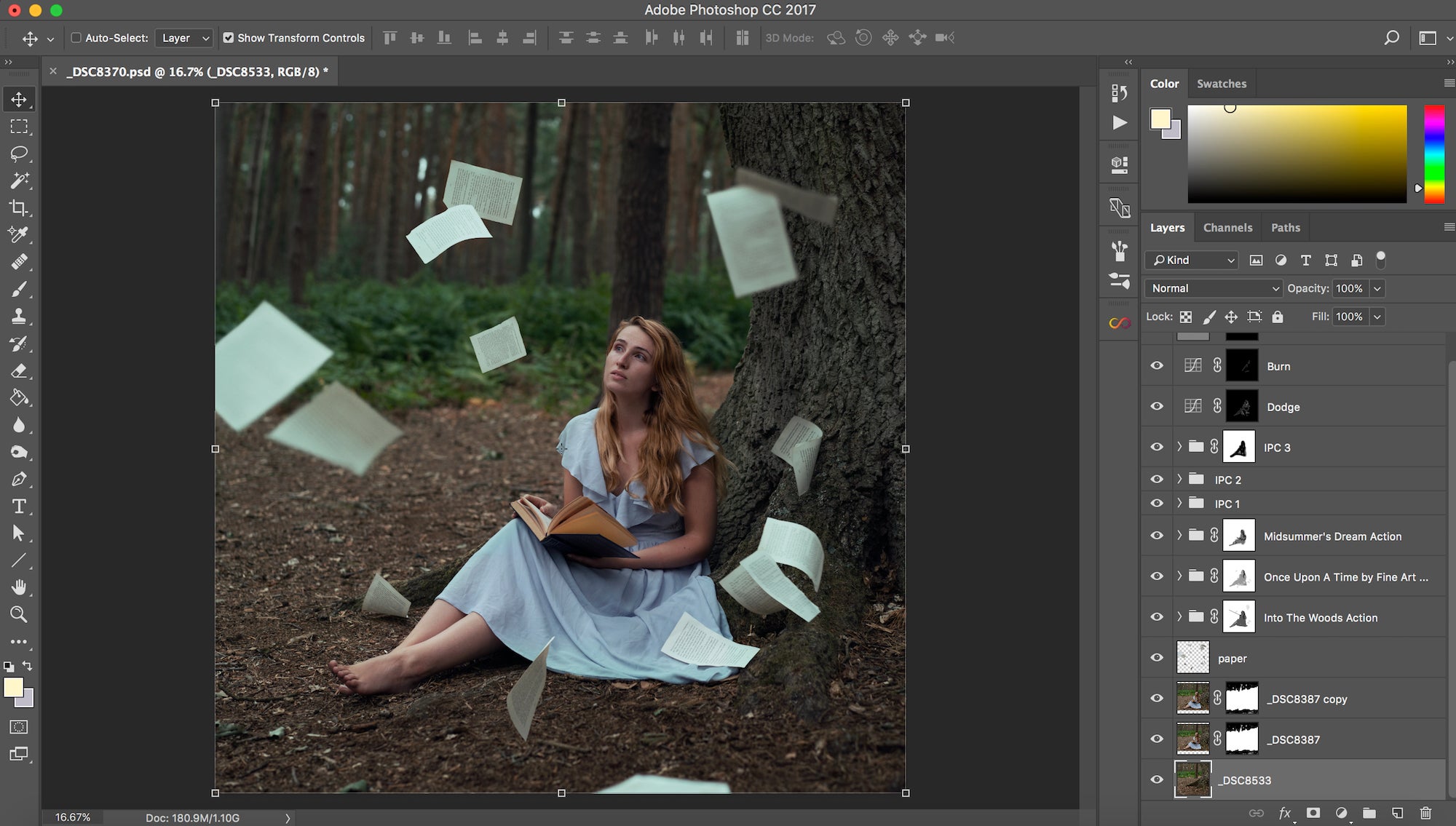 Once I had the base image together, I started to play around with toning. I quite liked the colors that were already in the shot, and didn't want to go too crazy with it, so I added a few underlying blue and gold tones to make the colors richer. Darkening the image slightly gives the forest a more enchanted feel. For color grading, I have a few adjustable Photoshop actions, created by The Color Lab, that I like to stack together to make my own color combination. I also use the Infinite Color Panel to generate color layers, which I carefully brush off the skin so I don't end up looking like an alien. Finally I use the Dodge and Burn technique to add in extra highlights and shadows. This not only helps me control where the viewer's eye is directed when looking at my photo, but also adds depth to any image. Once I have finished compositing in Adobe Photoshop, I will quickly run the photo through Adobe Lightroom and make any last lighting/color adjustments.