We've teamed up with Sony Artisan Brooke Shaden for #WhiteWallWednesdayPortraits challenges, where you take a portrait against a blank wall every Wednesday and turn it into something new using your creativity. Throughout the challenge Shaden will show her own White Wall Wednesday results along with a video that walks you through her entire workflow from start to finish. Last week Shaden showed us how to composite yourself outside and we spotlighted a #WhiteWallWednesdayPortraits photo by Kristey Fritz-Martin. This week she shows us how she edits herself onto a rooftop. Watch the video below and keep scrolling to go behind the scenes for this week's spotlight photo by Elizabeth Green.
Go behind the scenes of a #WhiteWallWednesdayPortraits image by Elizabeth Green & see how Brooke Shaden edits herself onto a rooftop.
#WhiteWallWednesdayPortraits Spotlight
My name is Elizabeth Green (@elizabethgreenphotography) and I'm a fine art photographer. I picked up the camera seriously about four years ago. Although I've always liked the idea of photography, I just didn't think I was any good at it. I joined our local photography club and started learning. It wasn't until I realized that I could learn a lot online, including Photoshop and compositing, that I really got excited. I've purchased all of Brooke Shaden's online classes, and was lucky enough to meet her in person in Seattle last year. She shares her knowledge and experience so generously and with such enthusiasm, it is hard not to be affected. Photography has totally changed my life. Exploring new places, meeting people, connections with other photographers, a new group of friends from my camera club, all of these things bring me a lot of joy. But most of all, coming up with an idea and creating something from nothing is wonderfully empowering.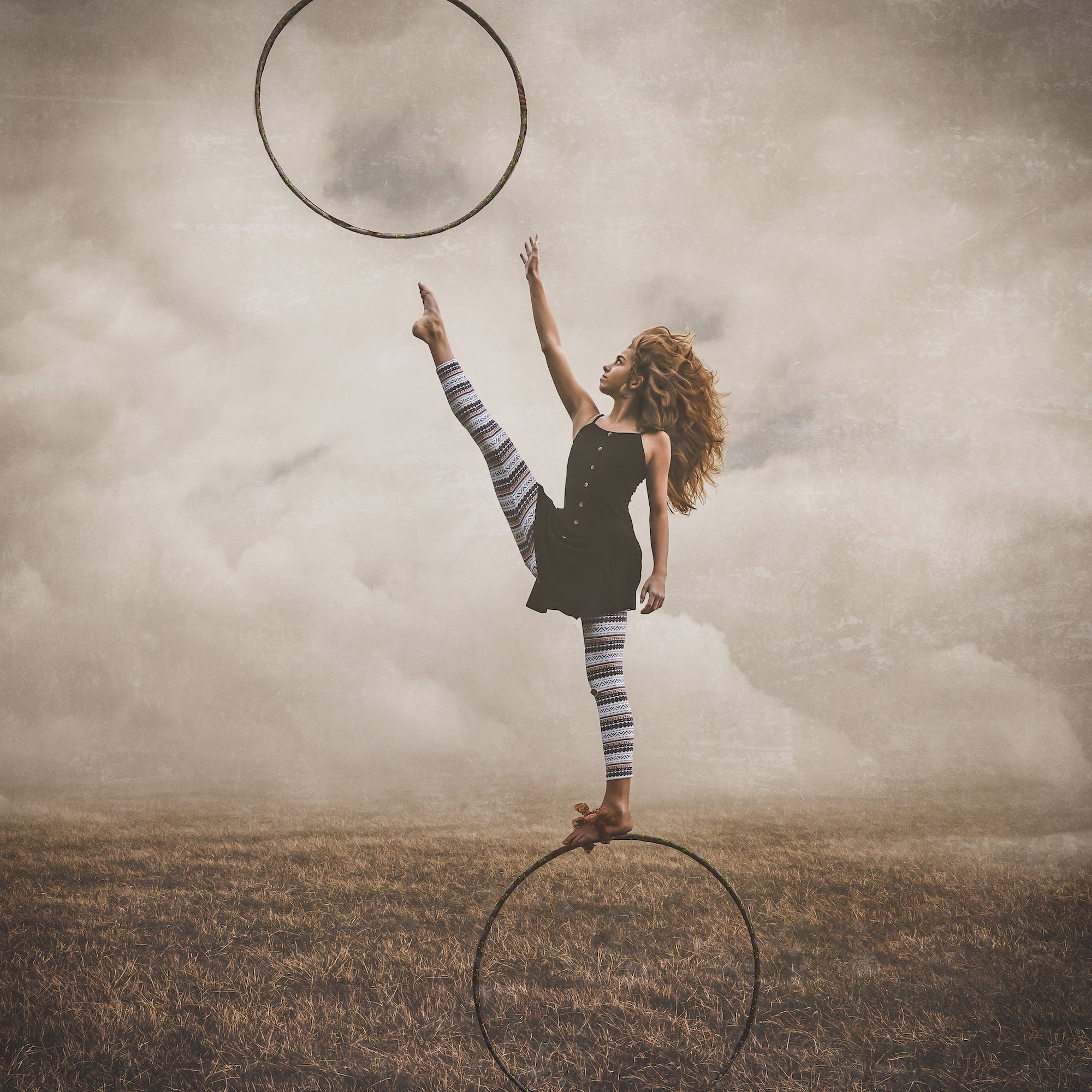 Sony α7R III. Sony 24-105mm f/4 G. 1/400-sec., f/8, ISO 100
Inspiration
I love making photos. Creating a photo is like going on an adventure. It excites me because there are always little unexpected things that happen. I love the happy accidents. Sometimes the image or character starts to take over, and suddenly I am just coming along for the ride. This particular photo started out being about balance and trust – both important things to be thinking about right now. As I began editing, it turned into something more – confidence and sure-footedness, and striving for the next challenge. I knew I wanted her to be walking on hula hoops. I find the idea of circles compelling...cycles, connectedness.
Camera, Lens & Settings
I am currently shooting with a Sony α7R III and Sony 24-105mm f/4 G lens. The α7R III was a recent birthday splurge for me, and is my favorite camera by far. For this image, I had my tripod and camera set up back at the road, and directed my model and her mother from there. I had the shutter speed set at 1/80 and the aperture at f/6.3. The ISO had previously been set to 50 and honestly, I didn't even think about it when I was taking the photos.
Planning The Shoot
It felt wonderful to be able to connect with a friend, as we have been strictly isolating at home. This is the first photo shoot I have done since the beginning of the pandemic. My model's mother is one of my best friends. We have been adhering to the measures in place to protect us from virus transmission, and had to come up with a method of taking photos without putting any of us at risk. She happens to have a house with a large north facing side that is painted white. I thought it would be perfect for some 'white wall Wednesday' shots. I planned out this shoot in more detail than I would normally, as I knew that time would be short because of the setting sun. To make it even more challenging, I would not be able to go near the model or the set at all. I stayed at the edge of the street so there was plenty of distance between us. Having her mother there as an assistant was a treat.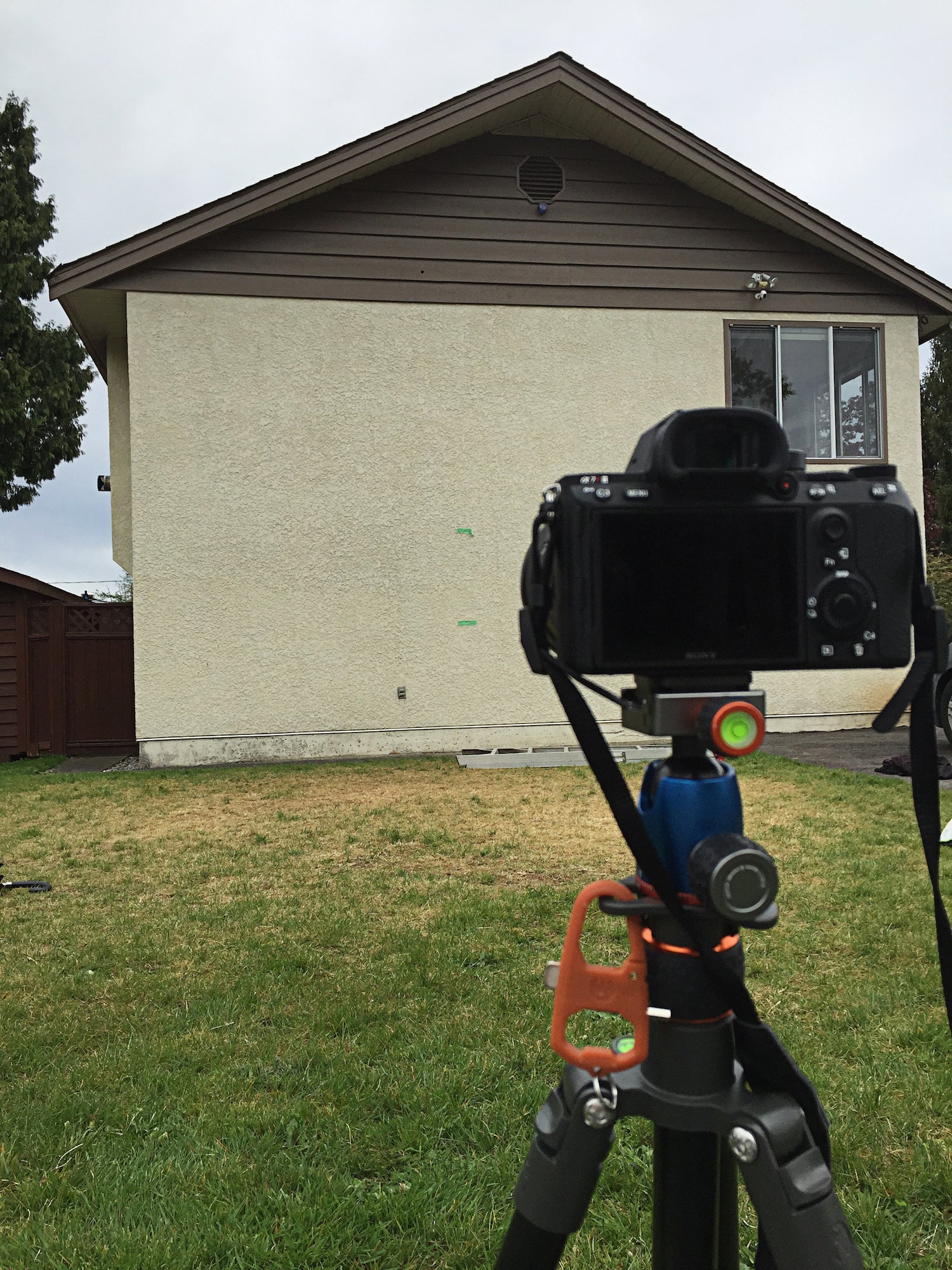 We decided to set up around 6:30pm for the shoot. I asked them to be ready in the yard with a ladder, and for my model to be wearing bright leggings and a dark top. I was hoping there wouldn't be direct sun shining on the model or the yard, while still having enough light to shoot.
I had drawn up some sketches of possible poses to try and which shots I thought I would need, and I had the general idea that I wanted the model to appear to be walking with hoops tied to her feet. Normally I would show my sketches to the model, but I was not able to do that this time.
My favorite question to ask myself in the middle of creating an image is "what happens if...?" Could she safely stand on the ladder and kick one foot up? Could she flip her hair around? What happens if she is throwing the hoop instead of walking on it?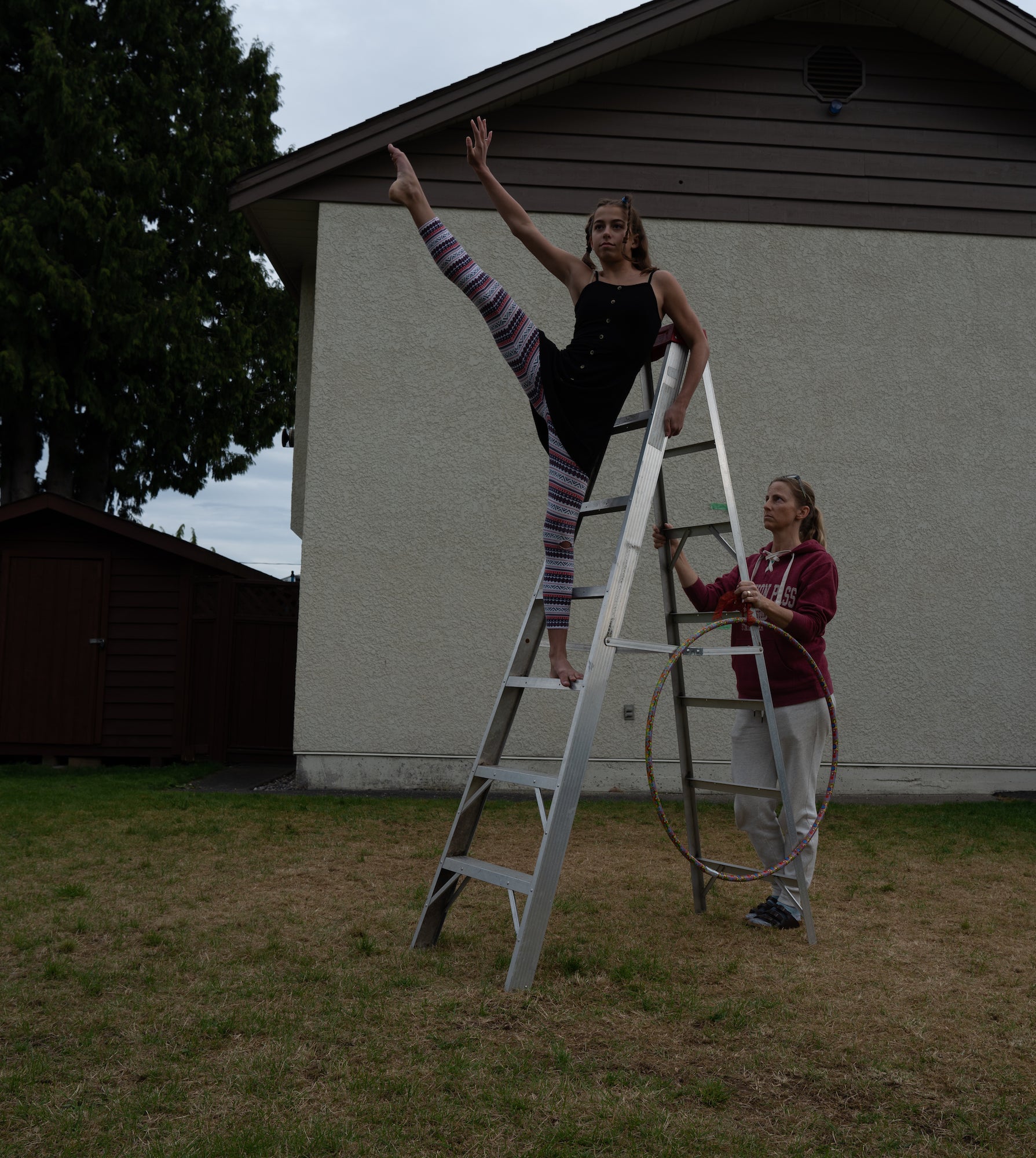 The Image
I wanted to make sure that I had the aperture closed enough to get all of her in focus, and the shutter speed to be fast enough to capture her poses without motion blur. The photos were underexposed, but my camera is amazing, especially with the live view mode. Based on my experience with this camera, I was confident it would work out in the end.
I took 11 photos of the model and used seven of them in this image. I took a separate picture for each leg, and of her body. This was so that I could eliminate the ladder from the final image while creating the position mid-air. I then added in photos of a local field and clouds, and a couple of two Lil' Owls texture layers in Photoshop.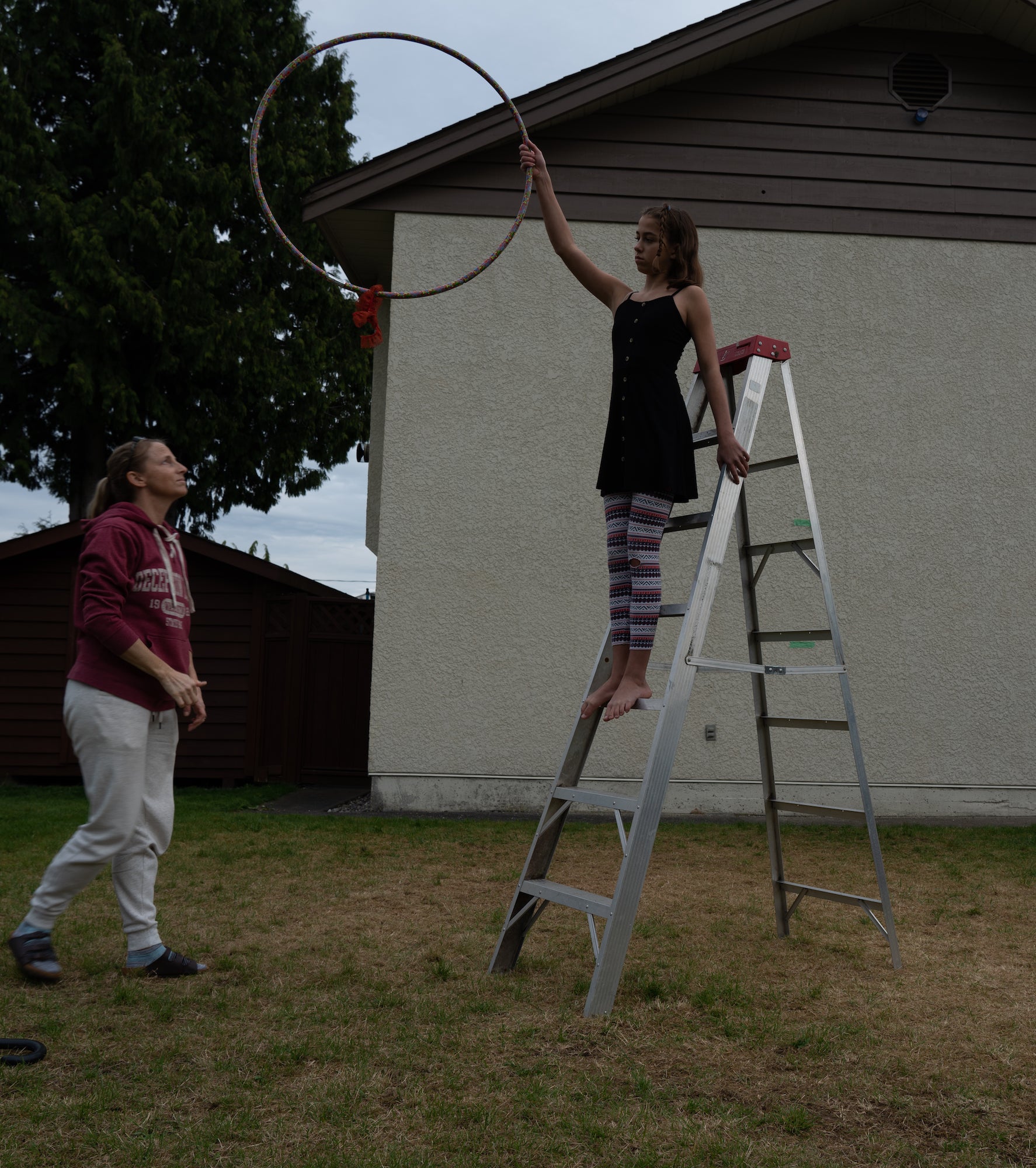 As I began to construct the image in Photoshop, her posture and expression, and then hair, began pulling me in a different direction. Her character was no longer content to simply walk on her hula hoop stilts. She was striving forward, confident in her footing, and looking eagerly towards the future. I love the light in her hair and the expression on her face. When I flipped her hair upside down, she became a lioness. She looked fierce. I'm so happy with how this image came together, capturing that energy.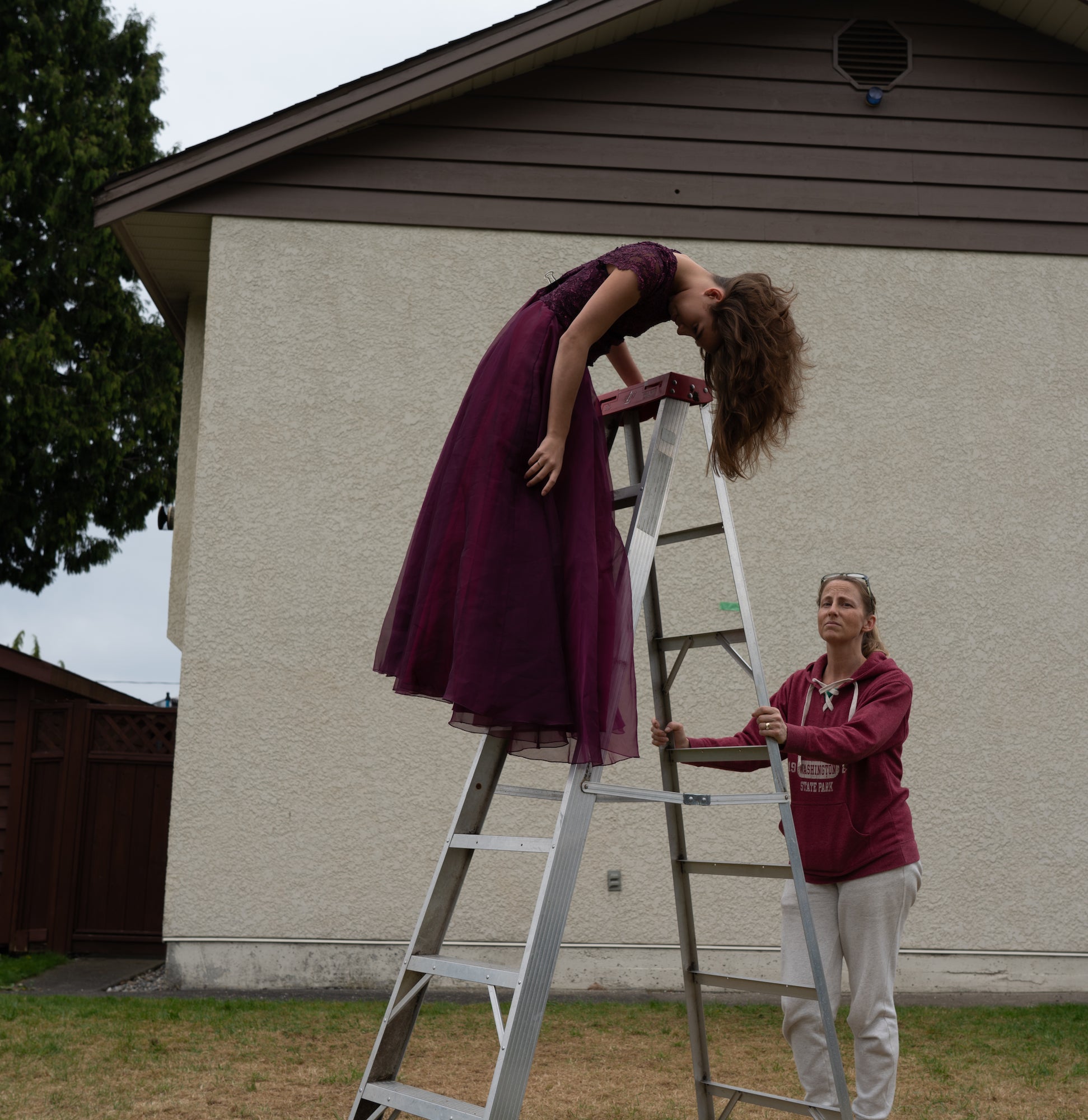 When I look at an image that I really love, that I created, it seems like something totally apart from me; like it's taken on a life of its own. My camera enables me to be a creator, and has sparked a new and lasting passion in my life.