With Valentine's Day coming at us in a hurry, the essence of love is palpable on the air. As the day when the pressure to be romantic pushes past the event horizon to the infinite, we connected with someone whose work-a-day life brings her in close contact with happy couples who have chosen one another for the rest of the lives. Wedding photographer Emily Schutz (@emilyschutzphoto) has a passion for photography that began early in life when her parents showed her the importance of documenting and preserving memories. Schutz's approach is a harmonious blend of documentary meets editorial. She focuses on connecting with her clients to ensure genuine moments and overall enjoyment throughout the process of working together. "I like to check in and make sure my clients are actually having fun on their wedding day. I'm always encouraging a relaxed and fun atmosphere." While some wedding pros over pack with a lens for imagined contingencies, Schutz keeps her kit light. With a pair of full-frame Sony Alpha cameras on her Holdfast Gear MoneyMaker harness and three surprising Sony Prime lenses, Schultz is effective and efficient while providing her clients with a great experience.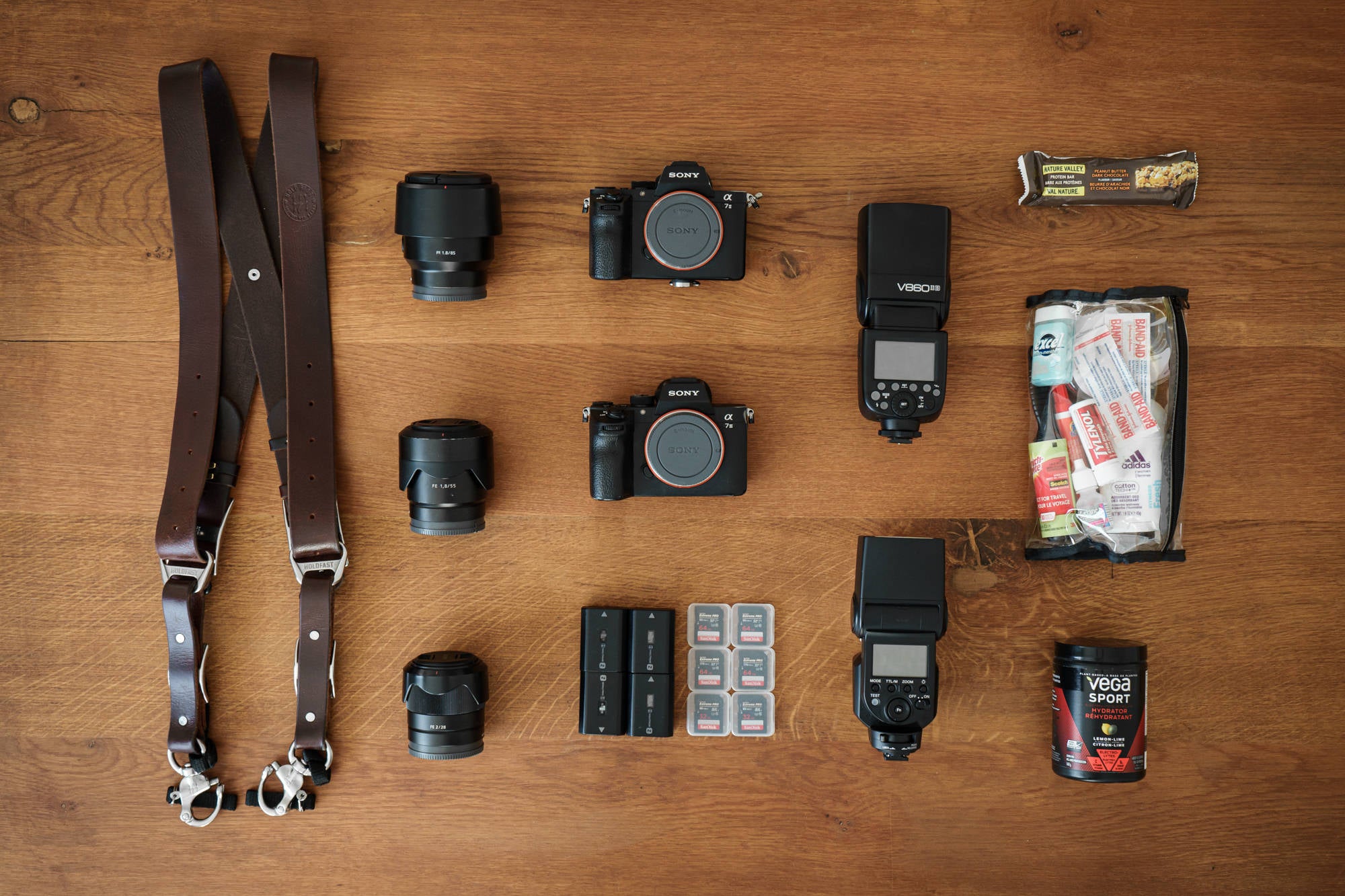 How a wedding photographer uses a pair of Sony Alpha cameras & just three surprising Sony primes for her documentary-meets-editorial style.
Cameras
Sony Alpha 7 III: I've been a Sony shooter since buying a point-and-shoot in 2005. I slowly upgrading over the years to a DSLR and then fully converted to mirrorless. I carry two Alpha 7 III's with me on wedding days. The Electronic Viewfinder is incredibly helpful during whatever rapidly changing lighting conditions I find myself in, like outdoor ceremonies. I'm never concerned about achieving proper exposure with the EVF. The compact, lightweight bodies are such an asset on these long wedding days. This line of work is tough on my back and shoulders, so the lighter gear can be, the better. Great battery life, ultra fast autofocus and dual card slots makes this camera a reliable companion.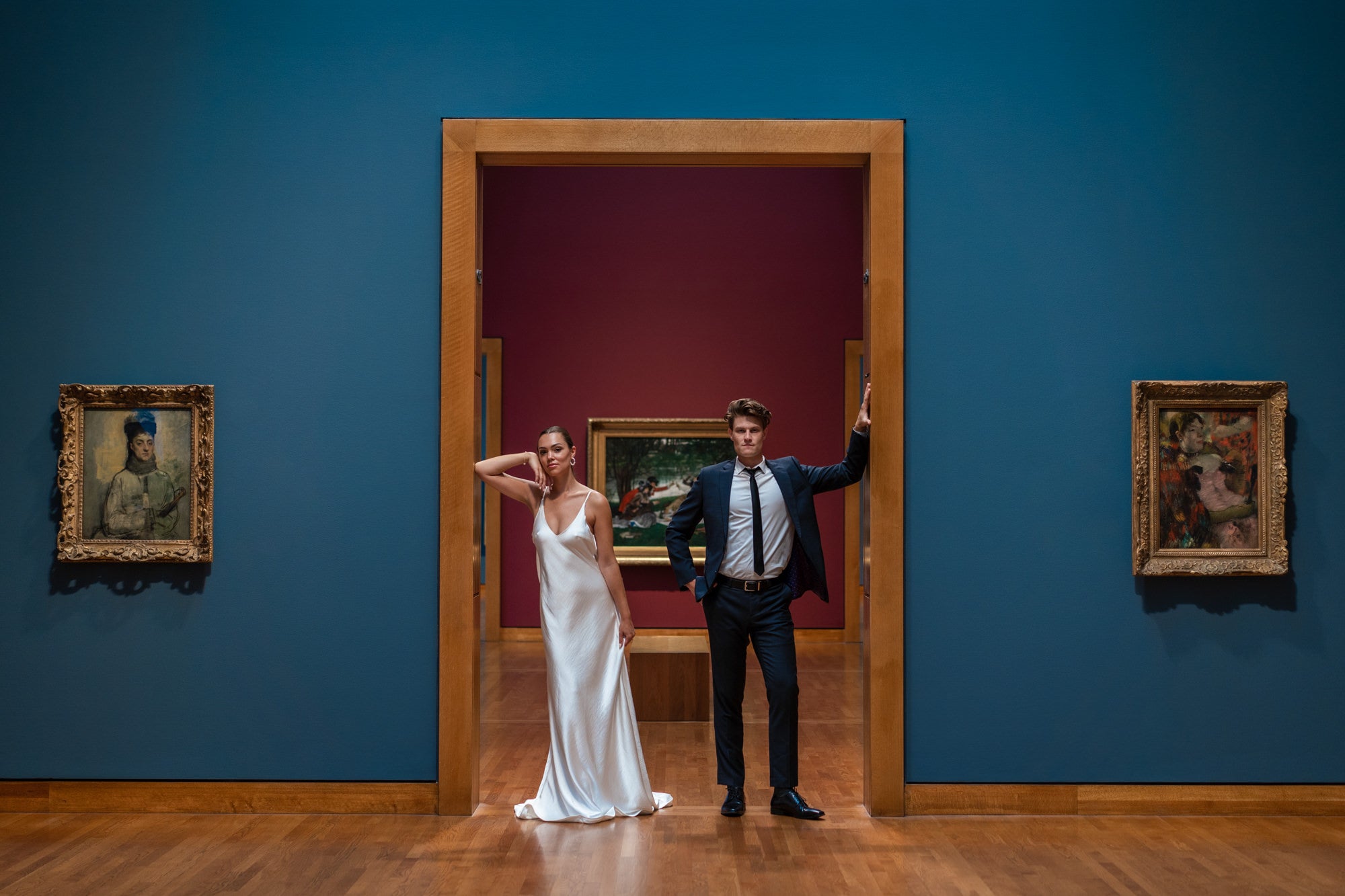 Photo by Emily Schutz. Sony Alpha 7 III. Sony 55mm f/1.8. 1/80-sec., f/2.5, ISO 500
Sony Alpha 7 II: This was my main body until I upgraded to the Alpha 7 III, it has now become my backup in my bag. Weddings are live events that you can't pause or reschedule, so it's essential for wedding photographers to carry multiples of their gear. Shutters fail, guests spill drinks, harnesses break but the show must go on! Being confident that I have backups should anything happen is important for not only my clients' confidence but my own.
Lenses
Sony 55mm f/1.8: This is hands down my favorite lens. It's glued to my camera and I produce 90% of my work with it. It's incredibly fast at nailing focus for ultra sharp images, which is hugely important during the fast paced moments on wedding days. The bokeh is buttery and compliments the overall image so well. The focal length is ideal for me as it allows versatility to capture everything from up close intimate moments such as portraits, to the wider scenes that tell the full story.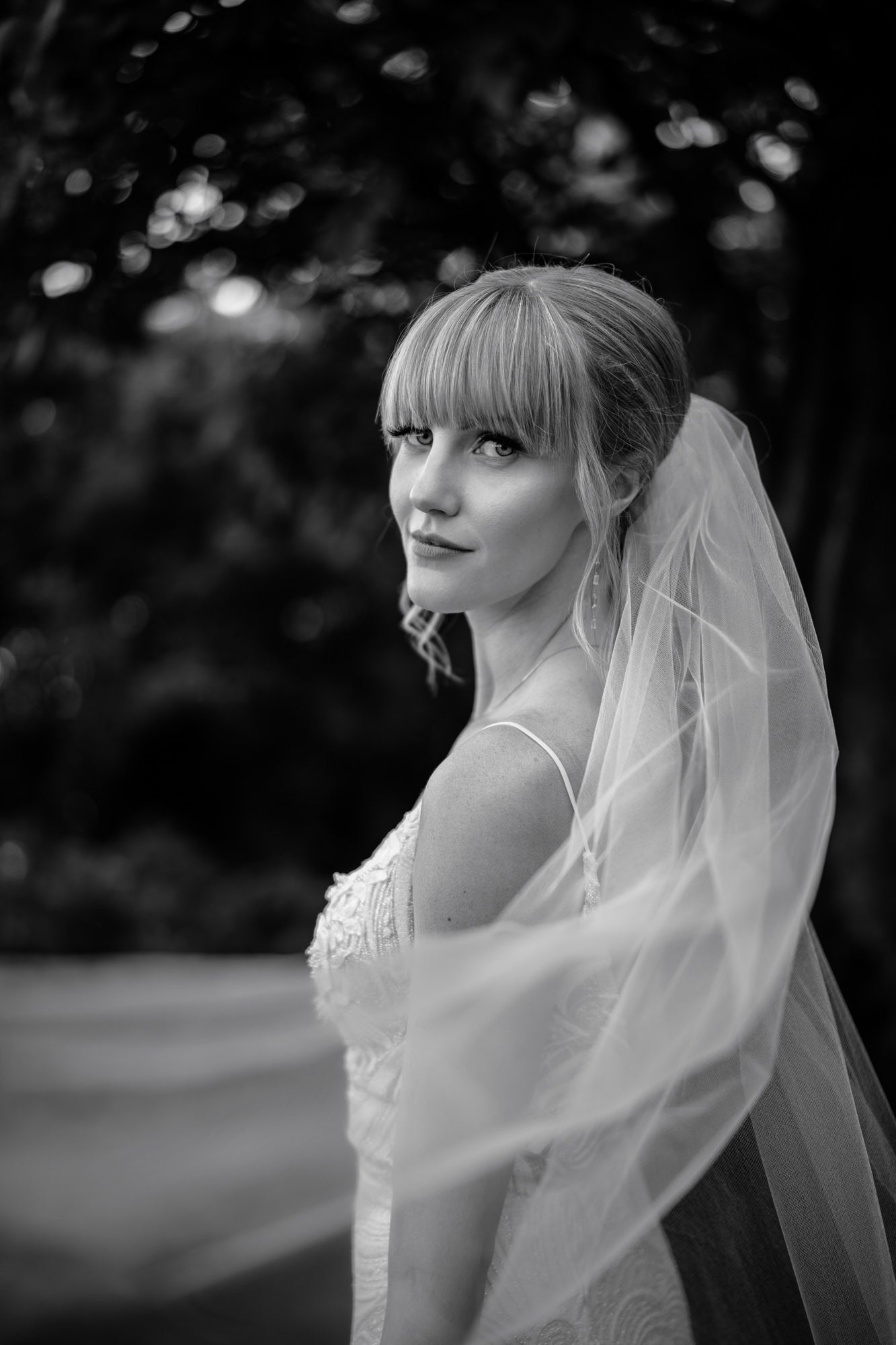 Photo by Emily Schutz. Sony Alpha 7 III. Sony 55mm f/1.8. 1/250-sec., f/1.8, ISO 50
Sony 85mm f/1.8: I use this lens during ceremonies to frame the couple more intimately, remove background distractions and really hone in on the couple's emotions. The focal length allows me to achieve this without blocking the view of guests. This lens also has really gorgeous swirly bokeh which is fun to play with during couples portraits or group shots.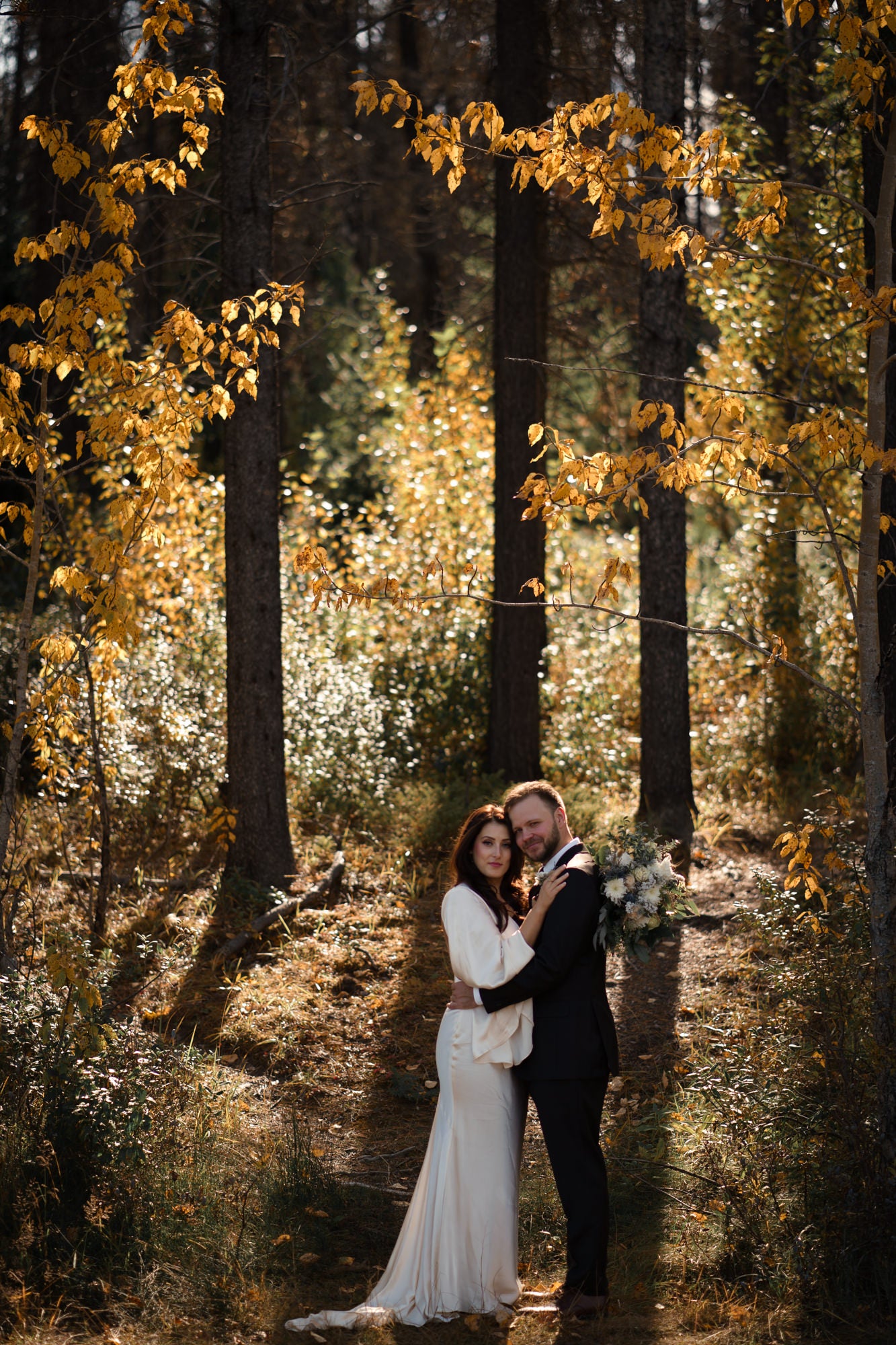 Photo by Emily Schutz. Sony Alpha 7 III. Sony 85mm f/1.8. 1/800-sec., f/2, ISO 50
Sony 28mm f/2: I usually don't have control over the layout of a ceremony or reception space, which means I sometimes end up like a contortionist crammed in corners or crouched in front of guests. A wide angle lens such as this allows me to capture the full scene while shooting in tight quarters. It's also my go-to lens when I have a stunning panoramic landscape such as the Rocky Mountains and I want to frame the subject in a way the really shows off the surroundings.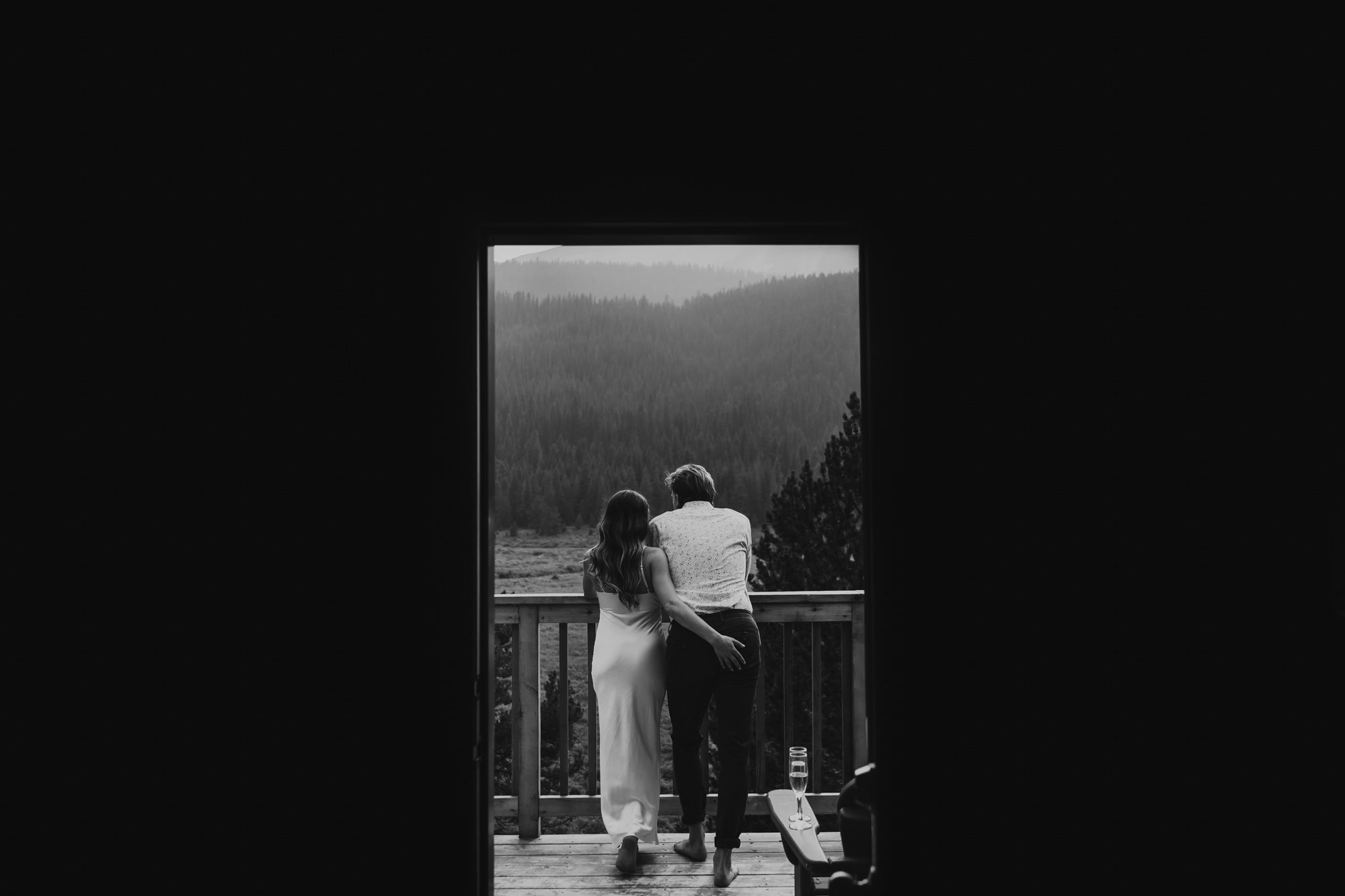 Photo by Emily Schutz. Sony Alpha 7 III. Sony 28mm f/2. 1/320-sec., f/2.8, ISO 50
Accessories
Flashes: These are essential for dimly lit venues, ensuring my subjects are properly exposed. In recent wedding seasons, flash photography has become a huge trend and clients are requesting more flash images.
Batteries & Memory Cards: I carry an exorbitant amount of these. It's overkill, but I really like the assurance that I'll never run out.
Holdfast Gear MoneyMaker: This harness keeps both of my Sony Alpha cameras ready with different lenses so I don't have to break the rhythm of a shoot to make a change.
Printed Timeline & Family List: Even though I have access to these items on my phone, I like having a backup printed copy. Phones can get misplaced or you can be in an area without access to wifi or cell reception. It's also helpful during family photos, as you can give the list to a helper and they can call out names and cross off the groupings as we take them.
Electrolytes: This might be the MVP of my bag. Hot wedding days lugging around gear means needing to stay properly hydrated. Electrolytes also come in handy when wedding party members have enjoyed a bit too much alcohol and not enough water.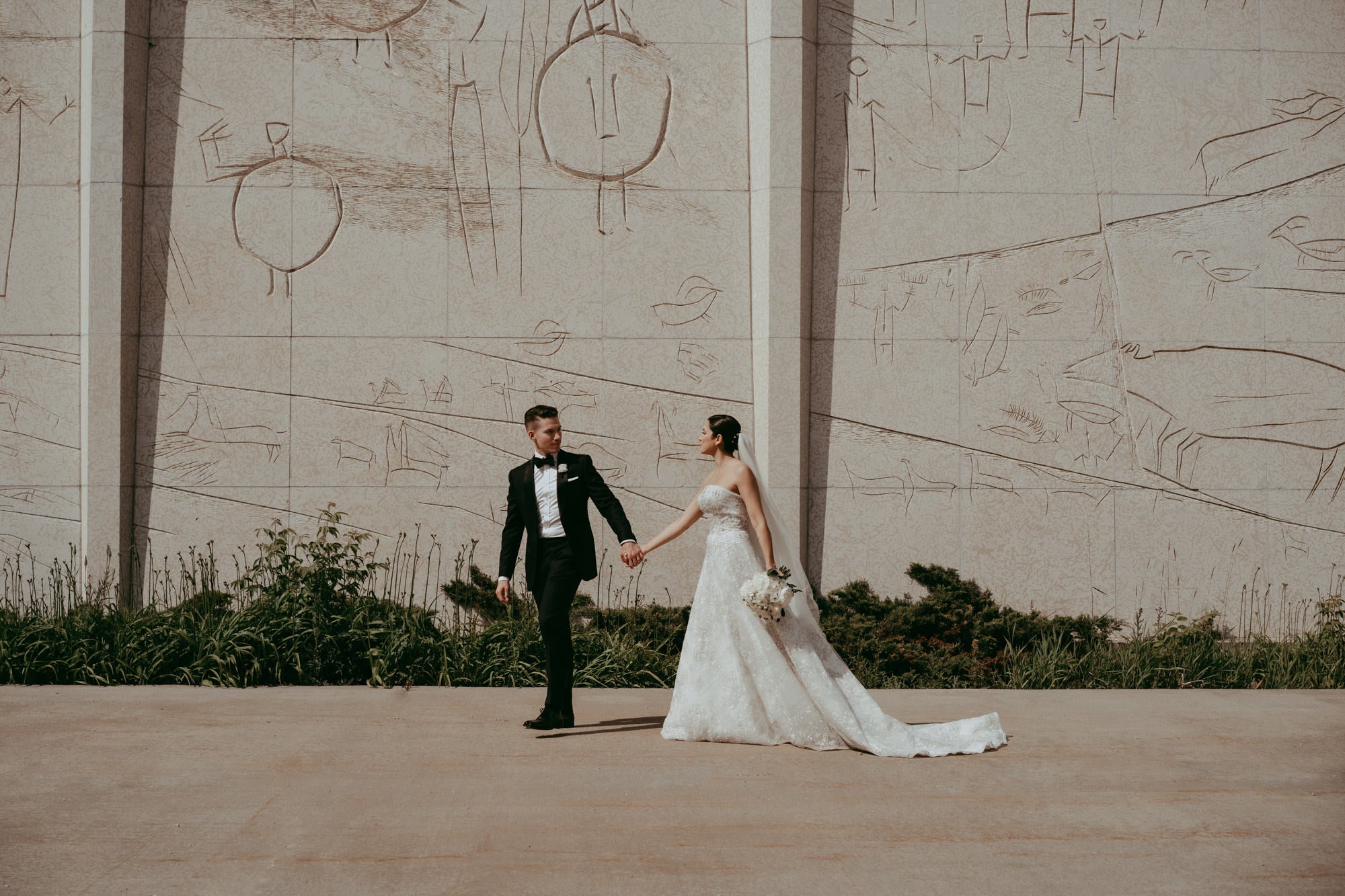 Photo by Emily Schutz. Sony Alpha 7 III. Sony 55mm f/1.8. 1/500-sec., f/5.6, ISO 50
Snacks: Sometimes I don't get a break until dinner, and even then sometimes I won't be able to sit and eat a full meal. I usually pack a bunch of easy snacks like protein bars. They also come in handy when my clients need a bit of energy during the busy day.
Extra Clothes & Shoes: Whether it's sweat, coffee spills, or getting covered in dirt, having a change of clothes/shoes ready is ideal. Weddings are in most cases a formal attire event and I like to do my best to blend in well and look professional and stylish.
The Anything-Can-Happen Kit: This is where I store my most used problem solving items. My subjects are human after all! Medicine for headaches, allergies, stomach issues, etc. Bandaids, sewing kit, bobby pins, hair ties, fabric tape, chapstick, this list goes on. As a photographer I'm the person spending the most amount of time with the couple and wedding party throughout the day. Oftentimes we're traveling between multiple locations and when little hiccups arise, I know I'm able to deal with them quickly and get back to capturing memories. If I didn't have these supplies it might mean people leaving, getting stressed or distracted, and not feeling at their best.
See more of Emily Schutz's work on Instagram @emilyschutzphoto.