Sony Artisan Sara France (@SaraFrance) is an international award-winning photographer based in San Diego with more than 20 years of experience. She is a renowned and sought-after artist in the world of wedding photography. Through her entrepreneurial spirit and business acumen, Sara's Photography is now synonymous with luxury and she has grown her business far beyond her individual career. She is the founder of The Copper Collective, an all-female boutique team of talented photographers based in San Diego as well as Shay Studios, which creates a wide range of visual content for businesses, from small brands to large international companies. With an ethos rooted in helping women succeed. We recently sat down with Sara to learn more about her shooting style and the story behind this breathtaking wedding shoot. Keep reading as she explains how she was able to take advantage of a beautiful sunset for this lucky couple.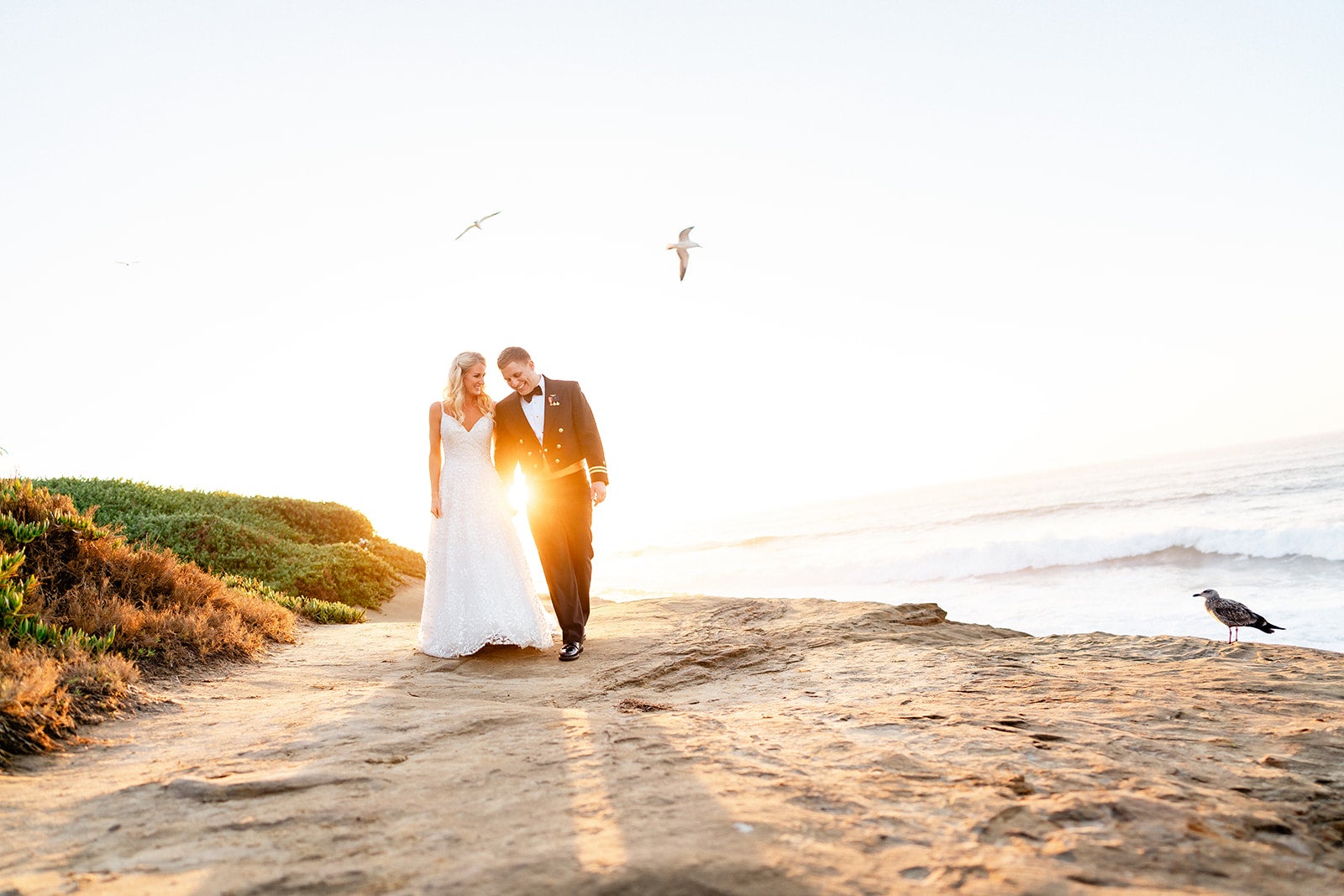 Photo by Sara France. Sony Alpha 7R III. Sony 24mm f/1.4 G Master. 1/400-sec., f/1.8, ISO 100
Wedding photographer and Sony Artisan Sara France explains how a little luck from Mother Nature combined with the right gear allowed her to create these memorable wedding images.
A Golden Setting
This wedding was a very last-minute booking. It was still during the pandemic and the client was not sure where they were going to get married but knew the timing as it had to align with the groom's military orders and window of time they had. A few weeks before the wedding a couple at their church offered their home that overlooked the ocean for the wedding. With most properties still shut down or under steep restrictions the couple jumped at the opportunity sight unseen. What they got was an unbelievable location they could not have imagined. During cocktail hour we took the short drive down to the Cliffs of La Jolla to capture a few images of them. The weather was perfect, the skies were clear and the sun was glowing with warmth and light for them. I went hoping for a shot like this but only Mother Nature and our perfect sunset timing could make it possible. There are so many elements you can not control on a wedding day and this is one of those images that can not be replicated. It is one of a kind. We can try but it will never quite be the same.
Photo by Sara France. Sony Alpha 7R III. Sony 24mm f/1.4 G Master. 1/1600-sec., f/1.8, ISO 100
The Gear That Made The Shot
I used the Sony Alpha 7R III with my Sony 24mm f/1.4 G Master lens. My settings were 1/1600-sec, f/1.8 and ISO 100. I chose the 24mm so that I could get the full epic nature of the location without any distortion. It really gives you that sense of being in the photo when you see it. I love an image with a shallow depth of field so I chose to shoot the image at 1.8 aperture to give it that glow. Eye auto focus is incredible as it tracks their eyes even when their faces are turned in towards each other or they are wearing sunglasses.
I also prefer to shoot on manual mode on my camera so that I can have the most control over the exposure of the image. Additionally, I find it much easier to edit this volume of images as you can lift your adjustment from one image and copy it to multiple images you shot in the same environment. It is also for this reason that I shoot manual white balance. What really has allowed me to use manual settings even more is the live view display. Which shows me the finished image as I am shooting so I can make any adjustments before I start to shoot and see any changes that might need to be made. It has been a game-changer in my shooting and workflow.
Building The Picture In Your Mind's Eye
Capturing the photo started with good planning. The client wanted to go to the beach for a few photos on their wedding day so I looked at the timeline and advised them of the perfect timing and location that was ideal and close to their venue. We arranged to all ride together to save time on parking and had a groomsman drive us so we could be dropped off. All these little logistical things make a huge difference in the time and space you have to take a shot. The weather is one thing you can not predict and we got so lucky on this day. However San Diego gives us beautiful options many days of the year, so that is helpful! When we got down to the cliff I wanted that beautiful sun right behind the couple which meant I needed to be a little lower. You can use the flexible screen on the Sony cameras to get a little lower without having to get dirty – helpful when you need to look nice at the reception!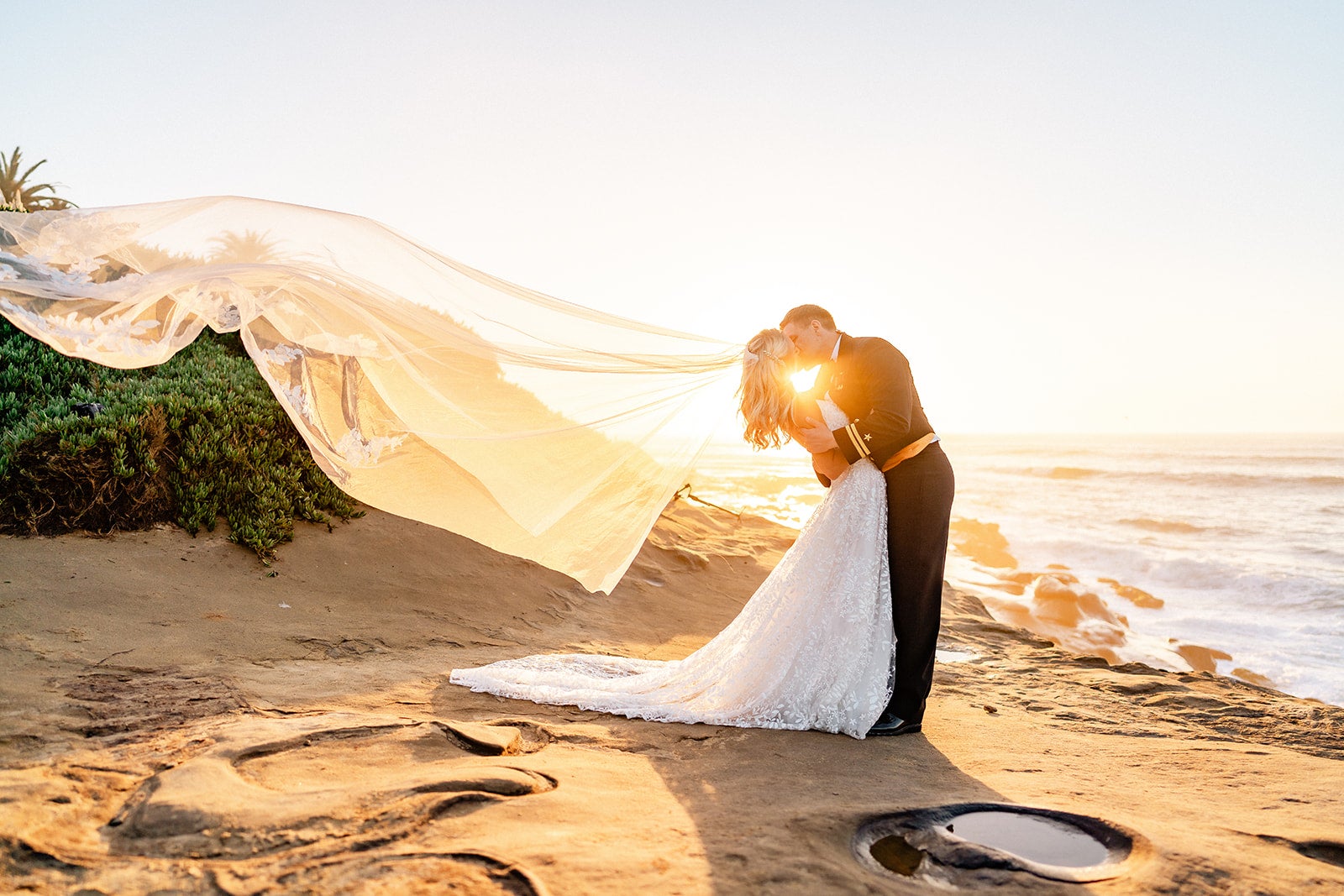 Photo by Sara France. Sony Alpha 7R III. Sony 24mm f/1.4 G Master. 1/1600-sec., f/1.8, ISO 100
Because the couple was in motion it was a bit of a dance to get just the right shot. I include a bridal and lighting assistant in all my wedding packages and that person is very important in moments like this. She was able to adjust the bride's train and give her veil a little lift to catch the wind. Throwing the veil is an art to make it natural while at the same time giving the veil some movement. We pay close attention to where the wind is going and where it will take the veil to determine how to help it catch the wind. What you do not see is that just out of frame my assistant is running in the opposite direction of the picture. Worth the moment, the light, the veil.
The Edit
I shoot on all manual settings and I can see the image as I shoot with live view display. This allows for much less editing on the back end. I do 99.9% of my editing in Lightroom. With this image just basic adjustments were done along with my base preset applied that gets the image 90% there. It adjusts things like the saturation of the greens and fine tunes the look of my images overall to have a consistent look. There were no localized adjustments done on this image but I will use that from time to time as needed.
See more of Sara France's work on her Alpha Universe Profile and on Instagram @SaraFrance.