Sony Artisan Zabrina Deng shoots professional wedding, engagement, portraits, fashion and more with her Sony Alpha photography kit. "Normally I use two camera bodies simultaneously during most of my shoots," she says. No matter what, she's always ready to keep up with what the day throws at her. We caught up with Deng to learn more about the gear you'll find in her bag. Keep reading below as Deng breaks down the different camera setups she uses for creating decisive moments at weddings, editorial fashion shoots, portraits at night and more.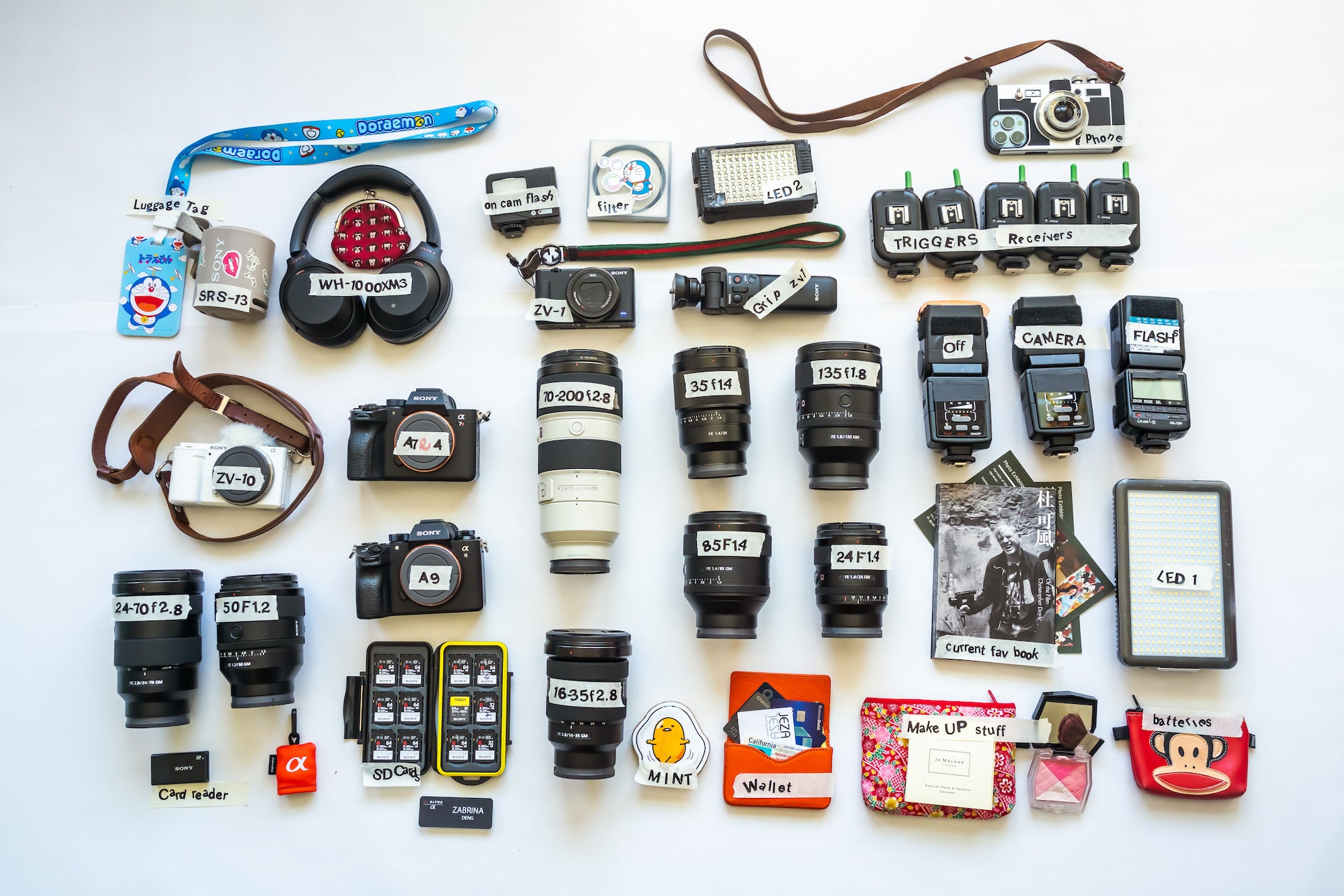 Wedding and portrait pro Zabrina Deng breaks down the different camera setups she uses for creating decisive moments at weddings, fashion, editorial and more.
Cameras & Lenses For Capturing Decisive Wedding Moments
Setup 1:
Sony Alpha 9
Sony 24-70mm f/2.8 G Master
Sony 70-200mm f/2.8 G Master
Sony 16-35mm f/2.8 G Master
Setup 2:
Sony Alpha 7R IV
Sony 50mm f/1.2 G Master
Sony 85mm f/1.4 G Master
Depending on the nature of the job, for example if I am shooting a wedding, then I would use the Sony Alpha 9 camera more because the file size is quite manageable. (I shoot RAW and JPEG format.) For typical wedding and portrait clients, the precision and speed of the camera along with my long time love, the Sony 24-70mm f/2.8 G Master lens, works beautifully in capturing the decisive moment during an intense event. There is always something exciting happening in the multicultural wedding events here in Northern California and the Alpha 9 and 24-70mm GM is an excellent combination. I usually mount the 24-70mm GM on the Alpha 9 and a prime or longer zoom lens such as the Sony 70-200mm f/2.8 G Master, 85mm f/1.4 G Master or Sony 50mm f/1.2 G Master on my Sony Alpha 7R IV camera. Then I use the Sony Alpha 7R IV camera body for the slower paced photos such as getting ready, bride and groom alone portraits, details, etc.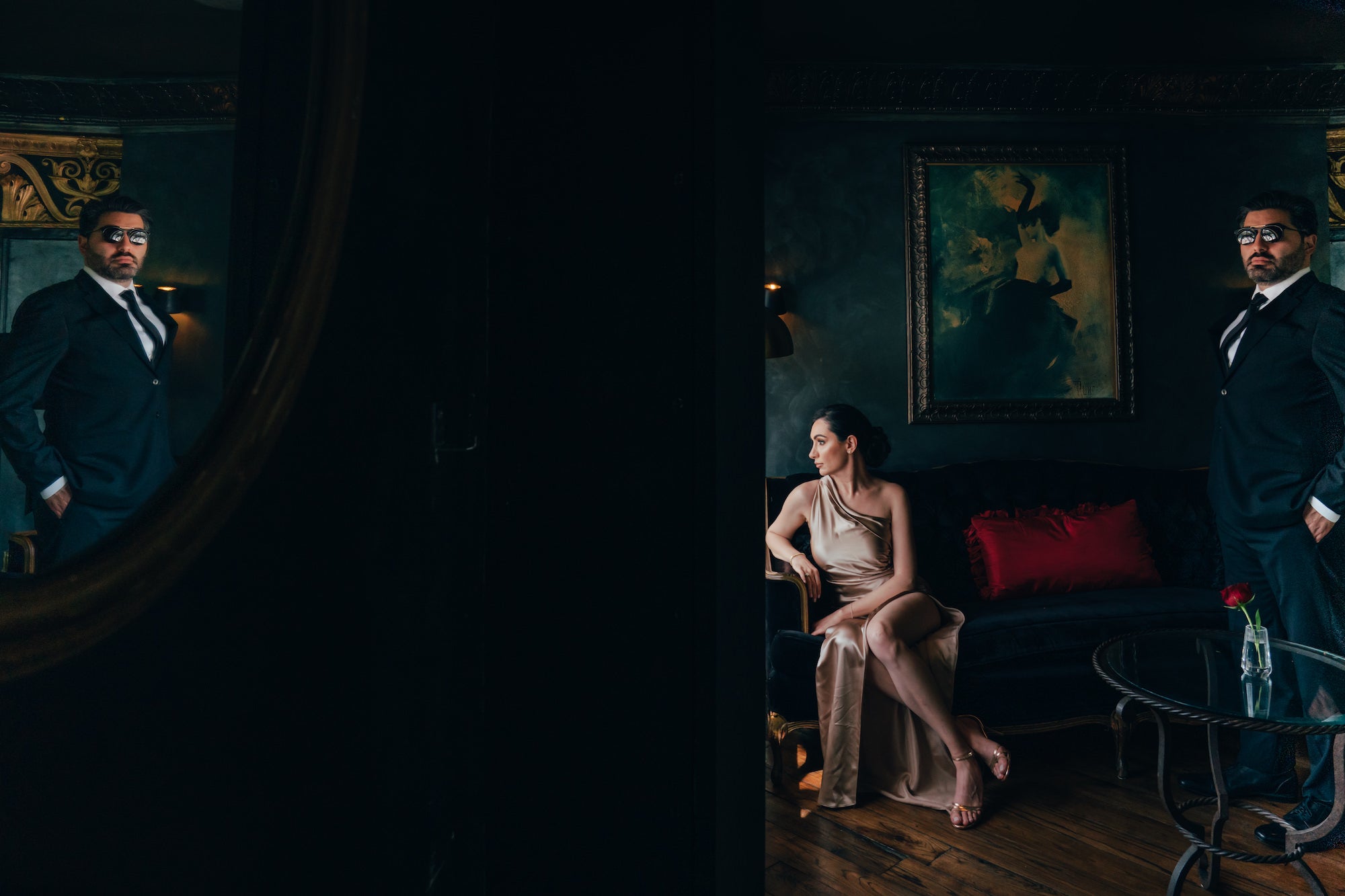 Photo by Zabrina Deng. Sony Alpha 9. Sony 24-70mm f/2.8 G Master. 1/200-sec., f/8, ISO 1000
Camera & Lenses For Fashion Editorial Shoots
Setup 1:
Sony Alpha 7R IV
Sony 50mm f/1.2 G Master
Sony 85mm f/1.4 G Master
Setup 2:
Sony Alpha 9
Sony 135mm f/1.8 G Master
Sony 16-35mm f/2.8 G Master
The Alpha 7R IV camera is what I use for editorial fashion shoots. I like to use it with the Sony 50mm f/1.2 G Master – that lens is really the crown jewel of my camera bag. I love the 50mm GM. In a way it's similar to what my eyes see in focus while wearing glasses. I find that 50mm is the perspective of someone wearing glasses versus the 35mm which is more wide and the perspective of someone not wearing glasses. With a fashion editorial shoot, where normally I have more control in terms of walking closer or further away, I can shoot about 70% of the frames using the 50mm. The 85mm f/1.4mm G Master is my second favorite when it comes to shooting close-up crops of portraits or to feature the detail of the clothes at a fashion shoot.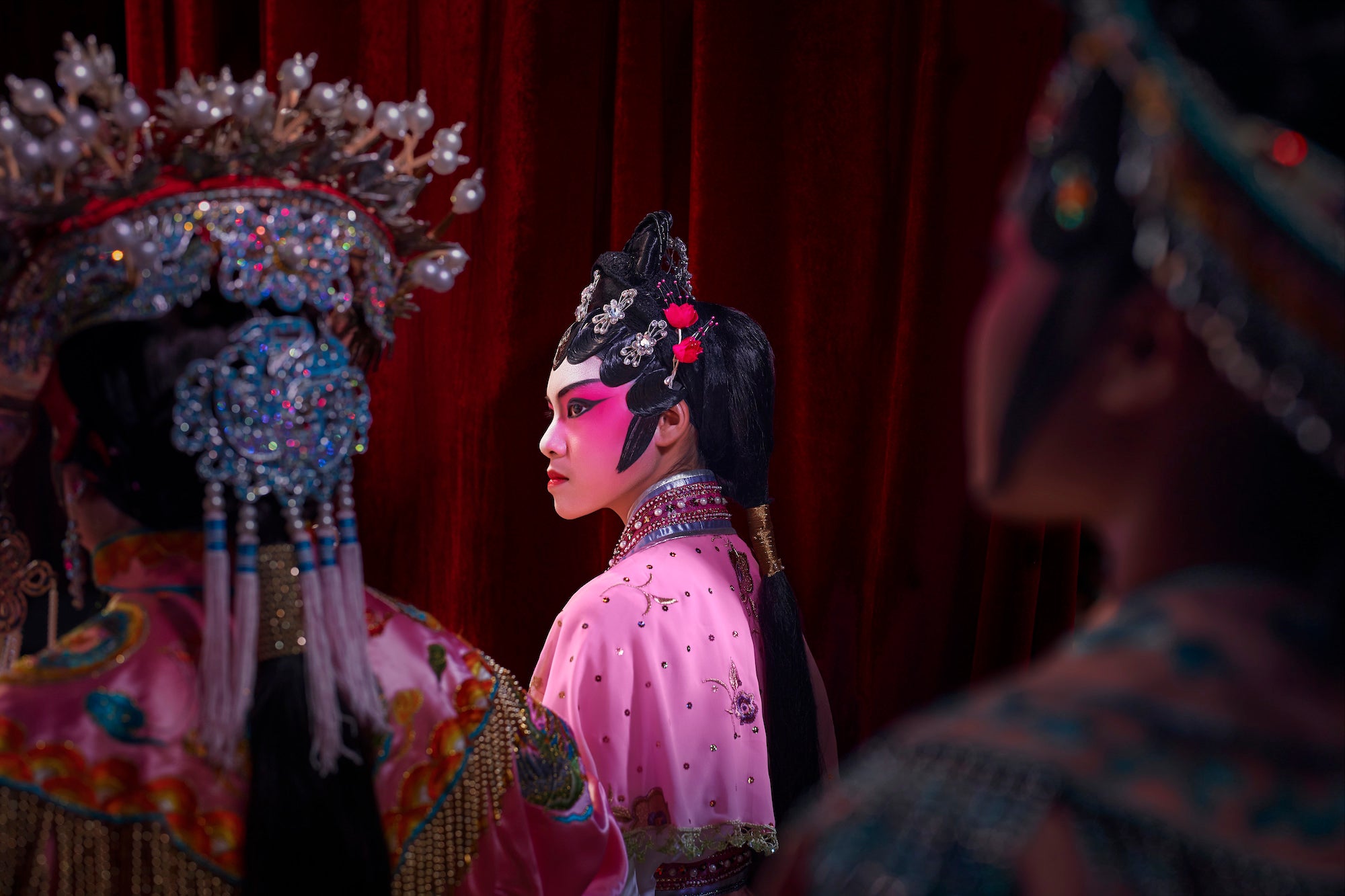 Photo by Zabrina Deng. Sony Alpha 7R IV. Sony 50mm f/1.2 G Master. 1/200-sec., f/2.8, ISO 800
Primes – The Shining Star Lenses At Night
Prime Lenses:
Sony 24mm f/1.4 G Master
Sony 85mm f/1.4 G Master
Sony 35mm f/1.4
If I am on assignment for a shoot at night, I will have all of my f/1.4 prime lenses (Sony 24mm f/1.4 G Master, Sony 35mm f/1.4 and Sony 85mm f/1.4 G Master) with me. I love to shoot shallow depth of field at night where I want to show the glistening lights of the street in the background. I love the bokeh and the roundness of the streetlights' bokeh from afar which gives a very romantic perspective while featuring the subject in a larger than life. It's an unavoidably charming, have-to-look-at perspective.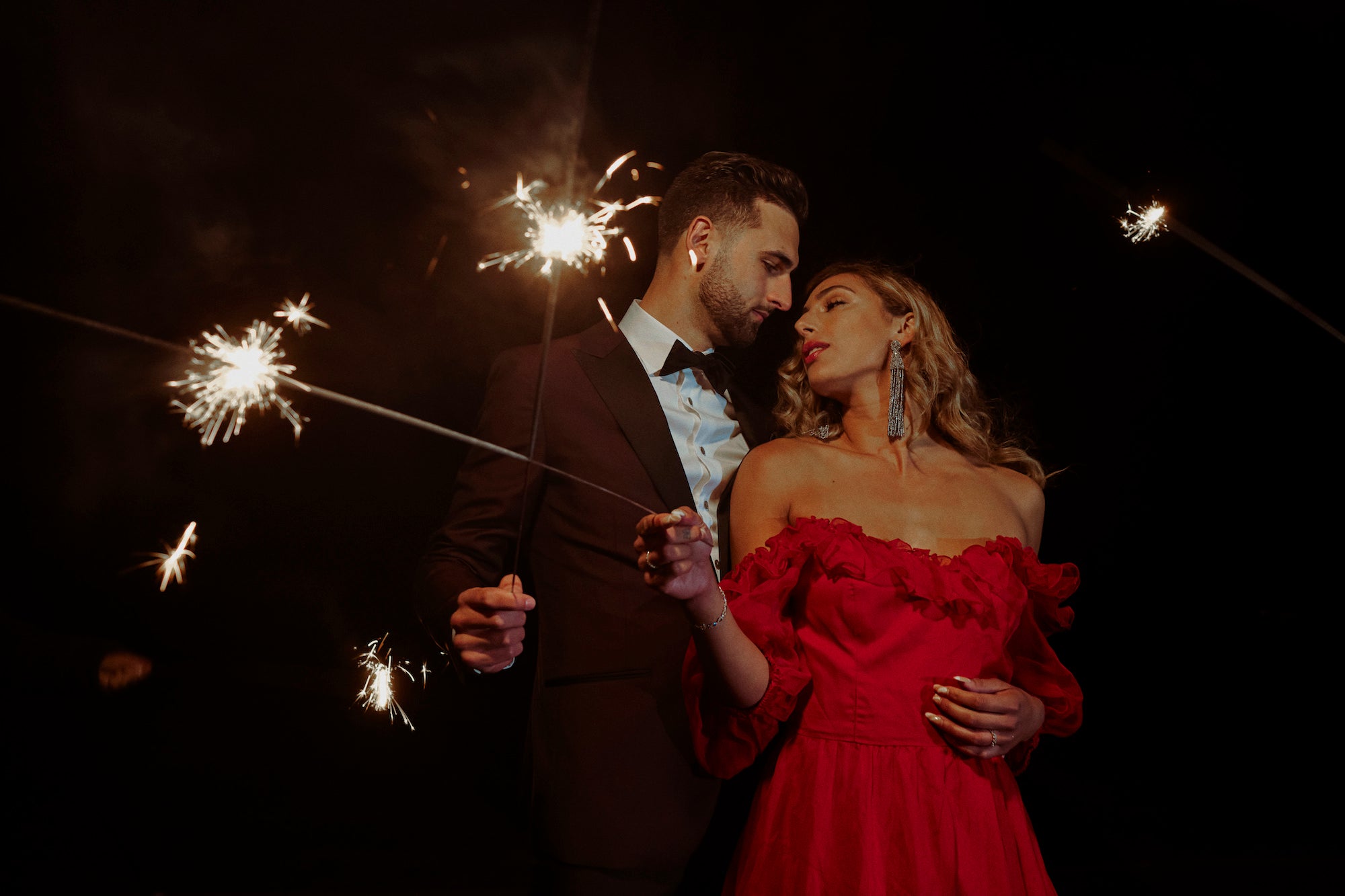 Photo by Zabrina Deng. Sony Alpha 1. Sony 35mm f/1.4. 1/40-sec., f/4.5, ISO 1250
For BTS Footage & More
Vlogging Cameras:
Sony ZV-1
Sony ZV-E10
Sometimes I give one of these to my assistant to shoot some BTS footage of me shooting. I also like to bring these on family vacations or outings because of their small size and great quality.
Lighting Accessories – Off-Camera Flashes & LED Lights
When it comes to lighting, mobility is still the key. I like to keep my lighting gear light and compact where I can easily repack or shuffle them inside my back pocket or in my backpack if I have to carry them all around. Most of the time I'm able to use one flash for fill light and another flash for hair light. The LED lights are most useful at nighttime or shooting in an enclosed space with little or no lights. My style to shoot at nighttime is to light the subject but make it look very organic, as though they're lit by ambient lights coming through the window or from streetlamps. With the technology of the Sony Alpha cameras and the fast Sony lenses I have, I am able to use lower power lights and still create balance. I am moving more toward shooting more with ambient lights or adding tiny lights from a small flash or an LED to make the subject pop.
People always find it fascinating how old school my lighting equipment is and the photos I've been able to create with such basic lighting gear. I've had the same basic flash and LED kit for almost 10 years now and it still works great. Judging everything by the eye, I work with a lighting assistant to adjust the power up and down during the shoot, and I will mount three small flashes together to build a bigger light source when I have a fashion shoot. I've learned this technique from fellow Sony Artisan Scott Robert Lim.
Other Accessories
Doraemon Luggage Tag: Doraeman is kind of like my childhood icon. He's a robotic cat, and then he has all of these different gadgets he can pull from his pocket. I feel like being a photographer is always kind of like that and have to pull out different things for different purposes during a shoot. I put my business card inside this luggage tag and carrying him around reminds me that we as photographers have to be magicians to a degree. It's also just a great conversation piece.
Sony SRS13 Bluetooth Speaker: Sometimes, especially when I'm watching the client getting ready doing hair and makeup or changing their wardrobe, I like to use this speaker to play music. It takes away some of the awkwardness of those quiet times.
Sony WH-1000XM3 Noice-Canceling Headphones: The noise-canceling headset is definitely my favorite item in my bag other than the camera gear. I use these for travel and everything – even jogging and going to the grocery store.
Sony TOUGH Memory Cards and Holder: In this holder I keep my Sony TOUGH memory cards that are not filled up, so I know if I need one I can grab them from here.
Small Pouch: I put my filled memory cards in this little pouch to avoid being confused with the cards I haven't used.
SD Card Reader: I have a card reader in the bag so I can access the files on my memory cards right away.
Book: I like to have an actual book with me. My current favorite for inspiration is from Christopher Doyle. He's a well-known director in Asian cinema.
Mints: I'm a foodie so you never know what food I'm going to try. I always make sure I have mints because I'm adventurous with food.
Card Case: To hold more of my business cards.
Makeup Pouch & Spray: In case I have a sweaty day, I have a little cologne and powder to freshen up during a long wedding or shoot.
Monkey Pouch: To hold extra batteries.
See more of Zabrina Deng's work on her Alpha Universe Profile and on Instagram @zabrinaxyz.