Henry Tieu (@henrysdiary) of the Alpha Imaging Collective specializes in adventure elopements and intimate wedding photography. "Unlike traditional weddings where everything tends to happen in a controlled environment like at a venue or a church, adventure elopements occur outdoors where anything can happen," he explains. "Being an elopement photographer is more than just being a wedding photographer. It is important for me to capture the love, the emotion and the happy tears my couples have on their special day. However, for those honest emotions and interactions to play out, I really have to prepare my clients as well as be prepared myself in all kinds of situations and weather conditions. Therefore, my gear is quite important for what I do. When packing for any adventure elopements, I look for gear that can empower me to document inspiring moments with creative imagery while preserving the sacredness of an intentional wedding experience." A longtime Sony user, Tieu is a devotee of the Sony Alpha 7 IV and a select group of fast prime lenses. You'll also find a particularly versatile Sony zoom and even a retro film camera in his bag.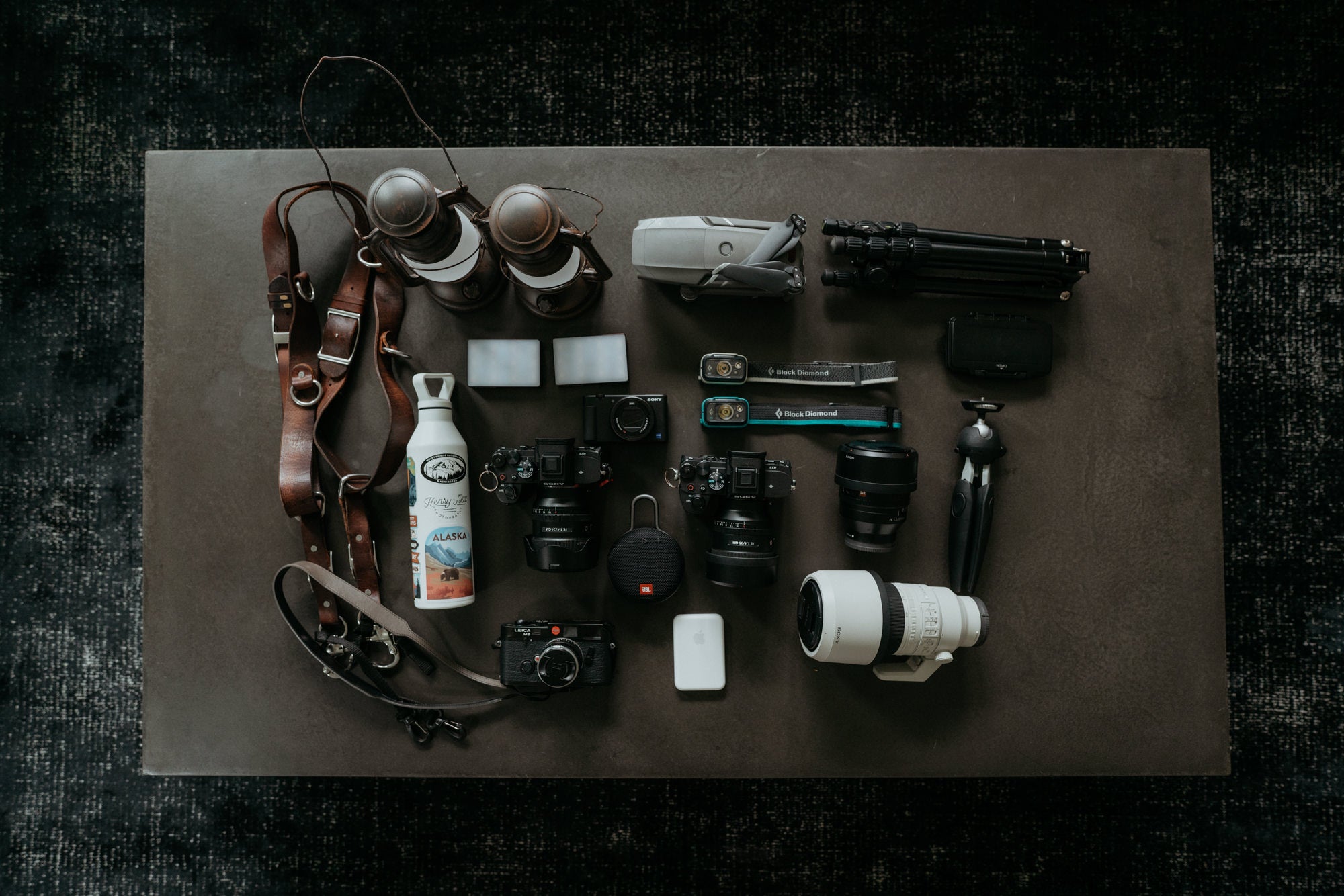 See the gear Henry Tieu of the Alpha Imaging Collective uses to document adventure elopements while preserving the couple's sacred intentional wedding experience.
Cameras
Sony Alpha 7 IV: I've been using Sony mirrorless cameras since the very beginning of my career. I started with the Alpha 7 II, then Alpha 7 III, so when the Alpha 7 IV came out, I knew I needed to grab some for my bag. I love these cameras for a number of reasons:
Lightweight: Being a wedding photographer, I always have to have a minimum of three cameras in my bag. I use two cameras simultaneously with different lenses in order to meet the fast pace of a wedding day. The third camera will be my backup camera just in case I accidentally smash my gear into the side of the mountain (which definitely happens once or twice a year). To carry all three cameras and multiple lenses, the weight of each is quite important. I need something super light so I can have the best gear without compromising the quality while carrying them all up mountains or when I travel internationally.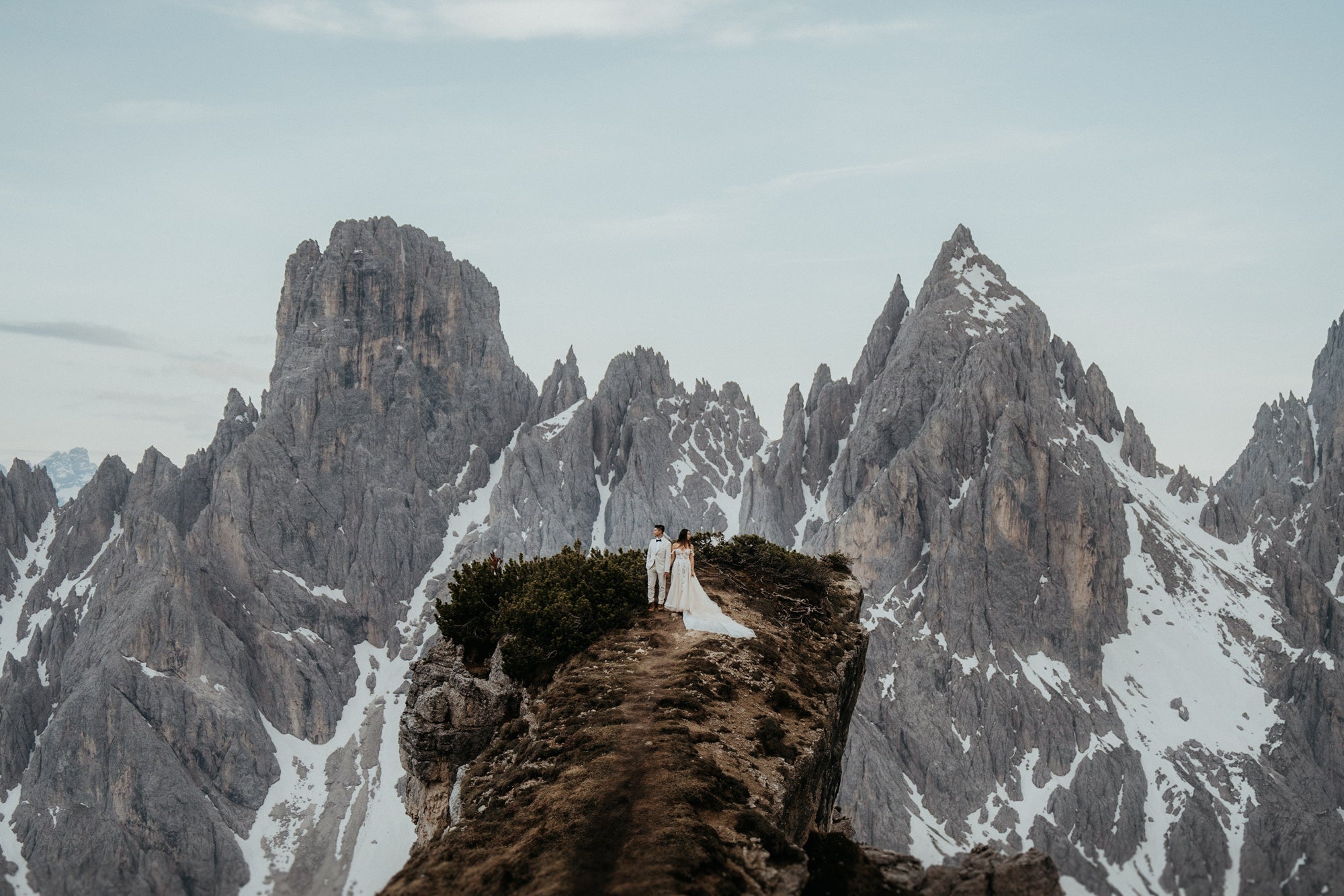 Photo by Henry Tieu. Sony Alpha 7 IV. Sony 70-200mm f/2.8 G Master II. 1/640-sec., f/2.8, ISO 400
Weather Proof: One thing adventure photographers know quite well but not many wedding photographers are aware about using the outdoors as our backdrop is that anything can happen. In 2022 alone, I photographed in the windstorm in Scotland, the dry heat in Vietnam, the cold weather of the Dolomites, tropical rain in Costa Rica, and countless rainy days in Washington state where I am based out of. No matter where I go, I can always rely on my Alpha 7 IV. Many of my colleagues have reached out and would be amazed every time they see me photograph in the pouring rain with nothing but a jacket and my gear would be all wet.
Fast Focusing: When photographing any weddings and elopements, one thing I keep in mind always is "there are no do-overs." So whatever I do, I want to make sure I nail the shot. In any other kind of photography, if you happen to miss a shot, chances are, you can wait to repeat it. Some natural phenomena might not happen quite often so the wait can be long so in the most generalized way of thinking I can say: if you missed it, chances are, you can try to recapture it sometimes. But in wedding worlds, many of the events of the day can't be re-captured. A first look can happen only one time so I need to make sure the emotions can be captured clearly and precisely. A first kiss can only happen once because after that, it's just any other kiss. A mom or dad might only cry during the ceremony procession and no other time. Now combine those once in a lifetime in an outdoor environment where anything can happen, the pressure is really on the photographers to make sure we don't miss key details that make wedding photography what it is. I can always rely on my Alpha 7 IV with the super duper fast focusing. Eye-focus is my all-time favorite function.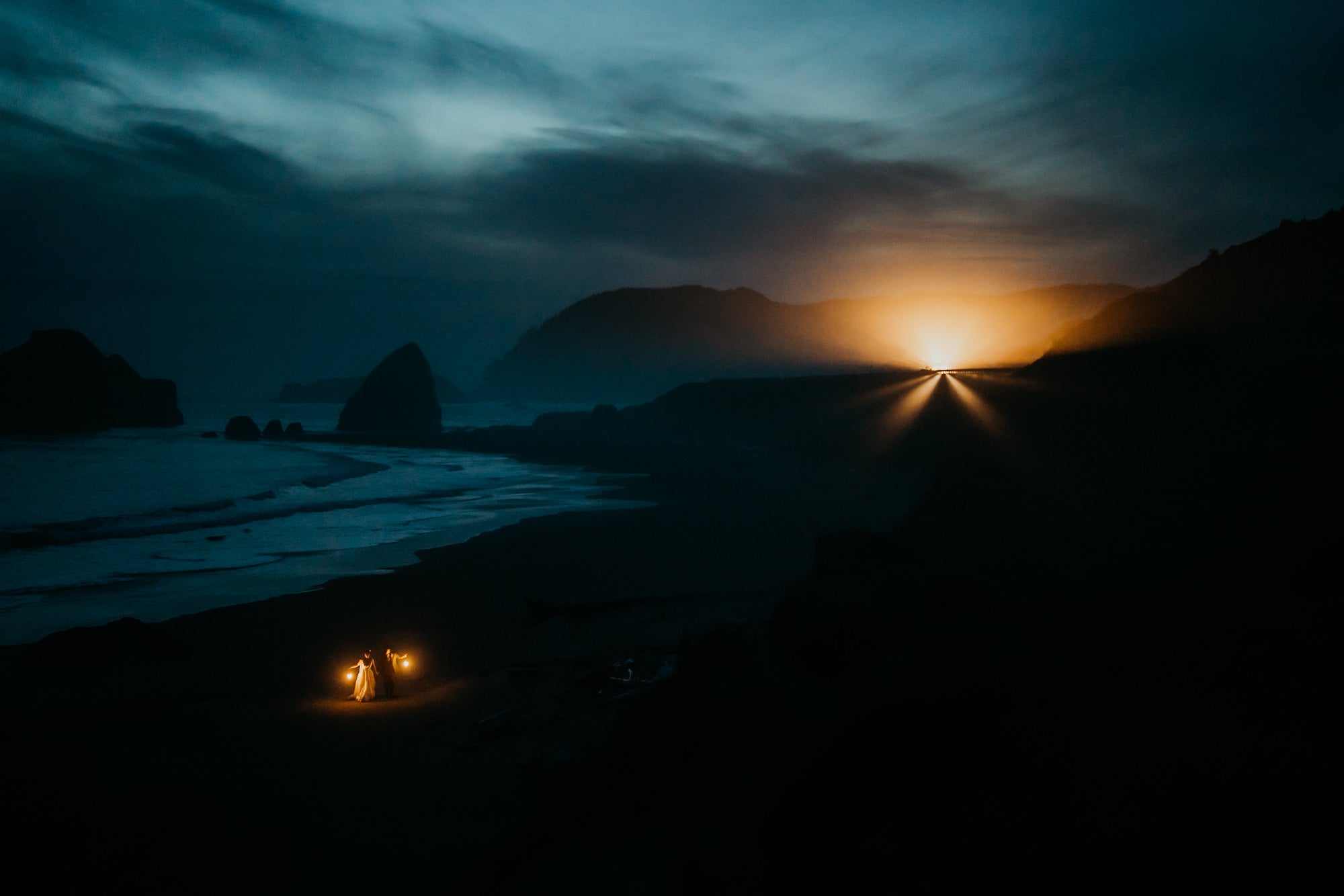 Photo by Henry Tieu. Sony Alpha 7 IV. Sony 50mm f/1.2 G Master. 1/60-sec., f/1.2, ISO 5000
Low-light Capability: Something about that time of day when the sun softly falls asleep behind the mountains and the stars gently twinkle from above is so calming and inspiring. Maybe it's the signal that an elopement day is about to end and that we better take it all one last time before it all just becomes another day. Or maybe the darkness allows us to see better, to be more in tune with our emotions, to be free of worries, to focus only on the last couple of moments here, moments that feel as long as the horizon.
As a storyteller, I want to embrace the story of the whole day, even after the sunlight fades. "Blue hour" moments are some of my favorites because they inspire me to create unexpected art in the unique and cinematic lighting. When photographing in blue hours and even into the night, the Alpha 7 IV and its low-light capability is stunning. I often joke with my clients when photographing in these situations where "my cameras can basically see in the dark."
Sony ZV-1: I am not a huge vlogger but since it's always fun to capture behind-the-scenes of some of the most amazing places I get to see, I figured it's always fun to just record random moments. I often use the Sony ZV-1 to vlog B-roll and behind the scenes of when I photograph and share on Instagram stories and reels. My audience loves it when they see me in action doing what I love. I love how smart this little guy is. Being a professional photographer, when it comes to settings, everything needs to be in manual mode. But when it comes to vlogging with the Sony ZV-1, I just put everything in Intelligent Auto. It is one less thing for me to worry about but also results in such high quality videos that I need.
Lenses
Sony 24mm f/1.4 G Master: Many of my wedding photographer colleagues flinch when they hear I use a 24mm for my work as wedding photography consists of a lot of portraits and most portrait photographers need something longer than a 24mm. I love how wide the 24mm is for getting ready moments when my clients stay in small cabins or when we hike up the trails together and I can really encapsulate all the elements within the trail and the couple at the same time. The 24mm allows me to tell the bigger stories, the wide landscapes, the images that make my clients seem so small in the amazing view in front of them.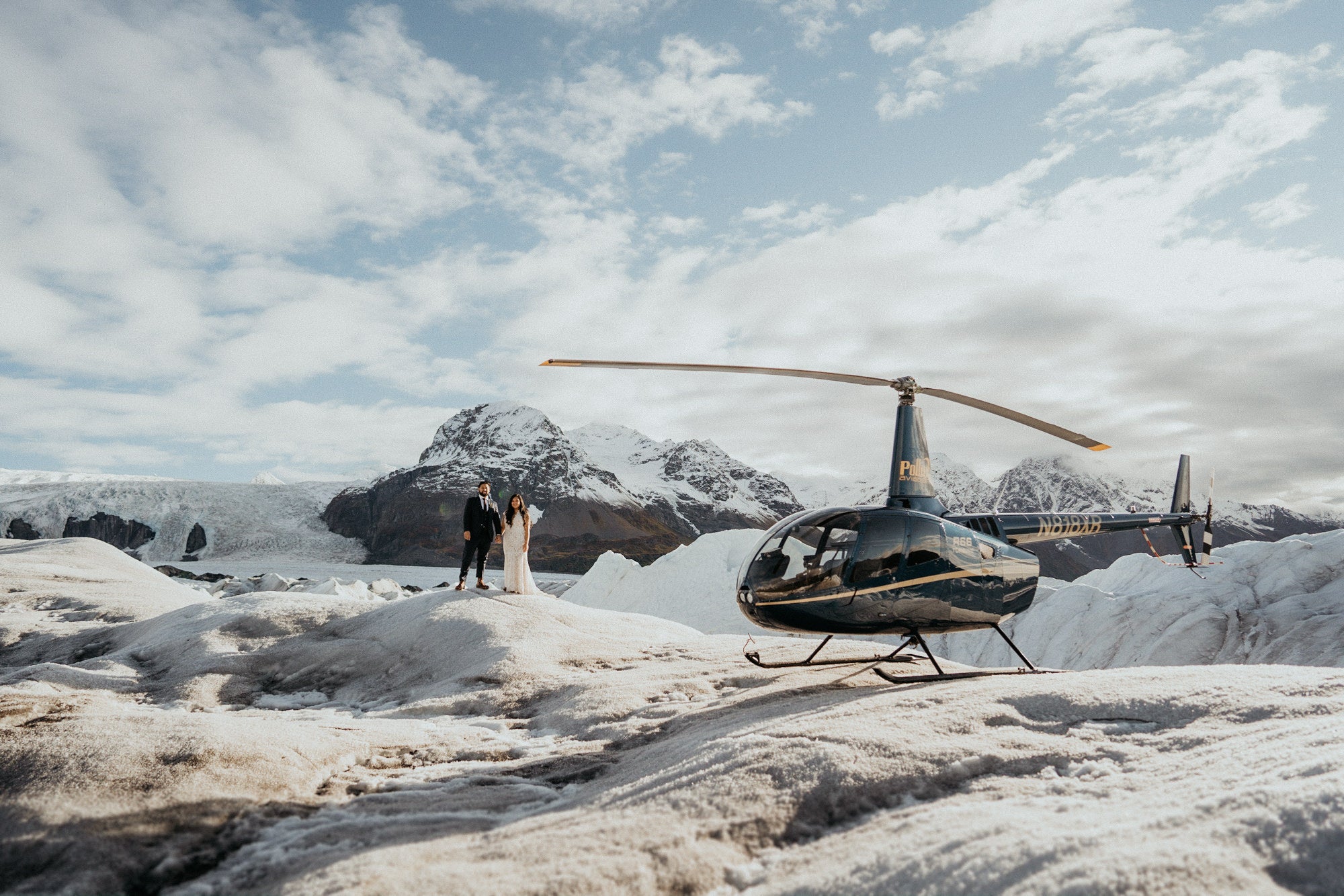 Photo by Henry Tieu. Sony Alpha 7 III. Sony 24mm f/1.4 G Master. 1/1600-sec., f/2, ISO 100
Sony 35mm f/1.4 G Master: A 35mm is such a wedding photographer "must-have," and this particular G Master version is the one, the only and nothing else can compare to it. I love that it is super light-weight but so durable. I use this lens to capture most of my portraits.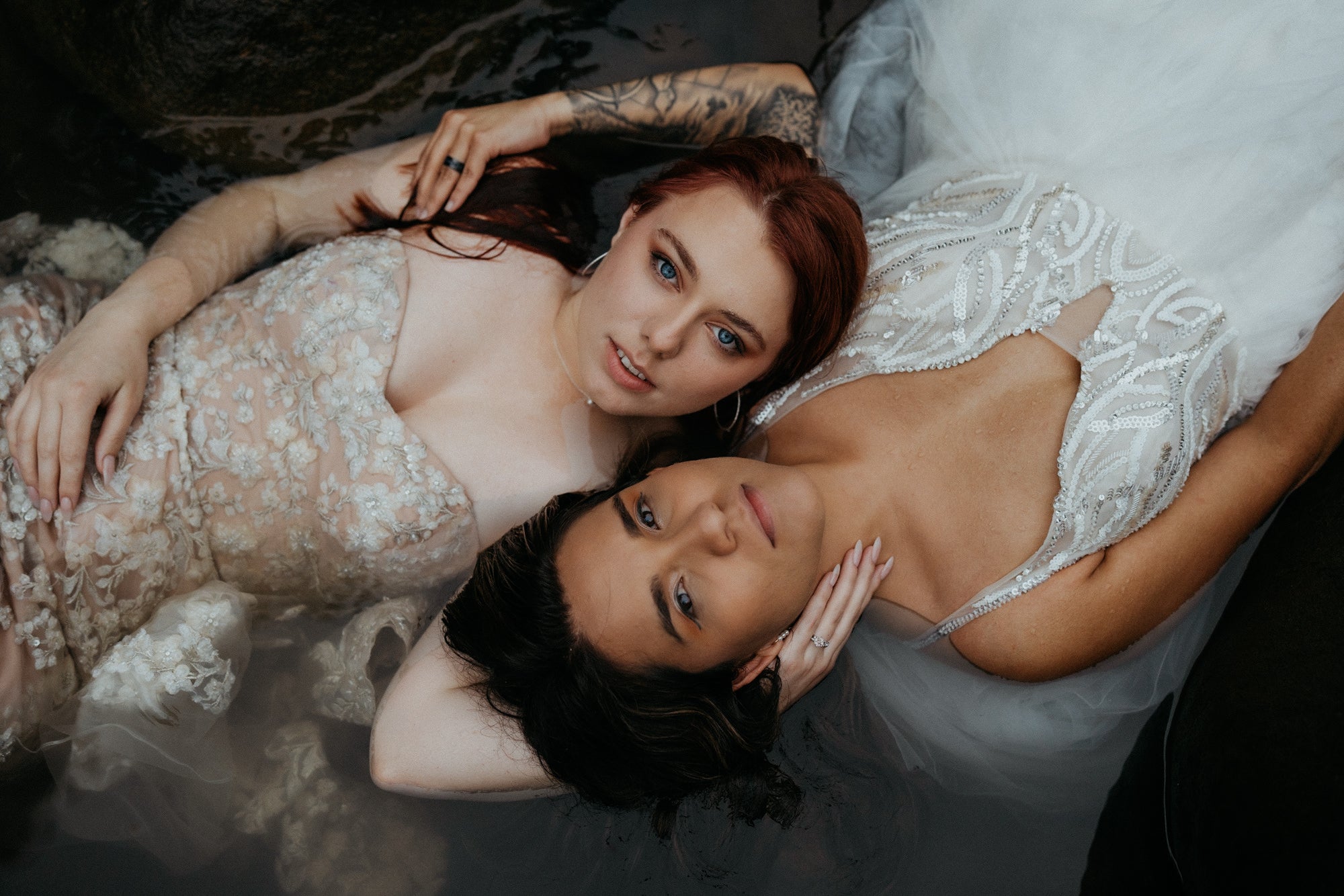 Photo by Henry Tieu. Sony Alpha 7 IV. Sony 35mm f/1.4 G Master. 1/500-sec., f/2, ISO 500
Sony 50mm f/1.2 G Master: My second most-used lens has to be this 50mm lens. And the fact that I can go all the way down to an aperture of 1.2 truly is life changing. I love how this lens allows my subject to really pop against the background and how creamy everything looks. I posted a reel about me using this lens at 1.2 aperture here:
Sony 70-200mm f/2.8 G Master II: I was lucky enough to be a few of the early testers who got to photograph this amazing beast of a lens. Right after having the opportunity to use it, I knew I had to get it. The minute I held it, I could already tell how much lighter it was since I also owned the first version of this lens. Then right when I started using it, I noticed the fast focusing right away. The 70-200mm is such an important lens in wedding work not just elopement photography work. This allows me to stay back and use my photojournalism skills to capture organic moments without my subjects feeling like I am interfering.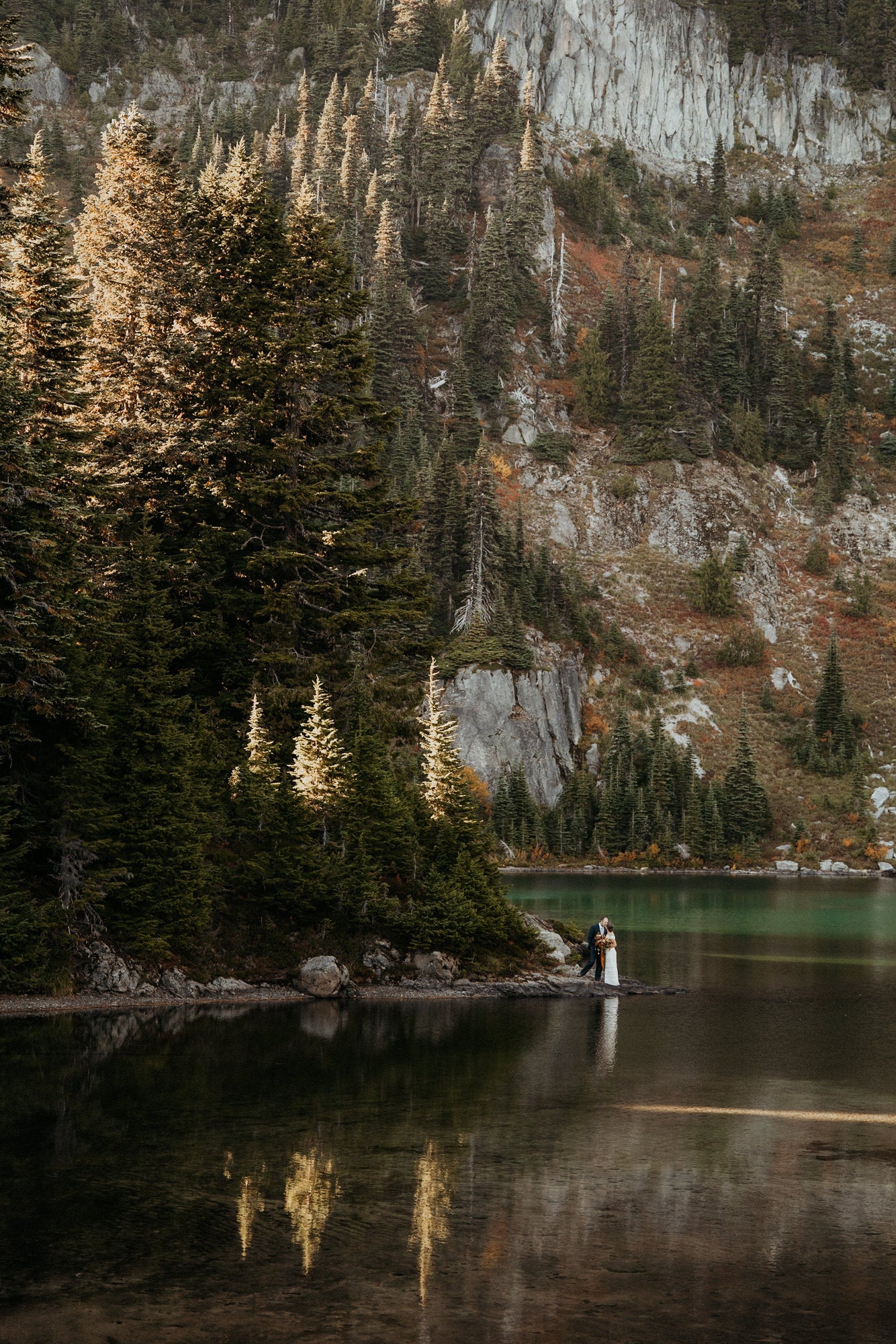 Photo by Henry Tieu. Sony Alpha 7 III. Sony 70-200mm f/2.8 G Master II. 1/500-sec., f/2.8, ISO 640
Accessories
Black Pro Mist Filters: I photograph and edit my photos based on the vibe of the day and how it should feel, not based on what I "typically do" or "always do." Sometimes, when the moment is right, I use the Black Pro Mist filters to add in haze and dream-like effect to a certain moment.
WANDRD Prvke 31L Backpack: I love the design of this bag. I can use this for everyday use or use it for hiking and it looks good in both scenarios. I also like the way my gears are organized inside the bag
Drone: Where legally allowed, I use my drone to capture one or two images to really give the day another perspective on the same landscape. Drone images are definitely a great addition to storytelling.
Lanterns: One fun way for me to incorporate light into blue hour photos is using these lanterns. I look for battery powered lanterns to make sure I can use them anywhere at any time instead of worrying about bringing fire and flame into National Parks and National Forests. Here in the West Coast, we also have fire season and I wanted to make sure I can still create art without worrying about harming the environment.
Film Camera: Besides digital photography, I also love some film moments. There's something retro and unique about film that makes it a different artform.
Arcteryx Rain Jacket: To protect my gear from the rain, which I often run to a lot as I am based out of the Pacific Northwest, I figured out a way that allows me to protect my gear as well as have everything still easily accessible to document all the important moments. I wear my camera harness inside my Arcteryx Rain Jacket so the jacket can shield the majority of water pouring down on me while allowing the flexibility to pull them out at a moment's notice.
Pelican Memory Card Case: As photographers we have to be very careful. I don't trust myself so I carry a lot of memory cards with me at all times. The Pelican case is great since it's water sealed and I can trust that my cards as well as the important photos they carry are safe in this case.
Black Diamond Headlamps: These headlamps stay in my backpack at all times. With us aiming for sunrise and/or sunset, my clients and I often have to hike in the dark and these headlamps are so important. I also keep them in my bag for non-hiking elopements just in case we happen to be out late. I also often use these headlamps as a light source for fun and creative photos.
Aputure MC Lights: I love these little lights because they are so compact and functional. I use my phone to get exactly the color I need and I use these lights for getting ready photos and night photos.
Manfrotto Tripods: I try to have two kinds of tripods on me at all times. One mini one for phone videos to capture behind the scenes or even for my main Sony Alpha 7 IV at narrow places or when I need the camera to be as low to the ground as possible. The other one is a much sturdier one but also lightweight so I can do portraits with astrophotography.
See more of Henry Tieu's work on Instagram @henrysdiary.