Sony Artisan Robert Evans is one of the most highly-acclaimed wedding photographers in the world. His approach to photographing a wedding covers both the classic traditional and modern artistic, providing his clients with different looks to satisfy all tastes. Evans currently shoots with the Sony Alpha 1 and brings the Sony Alpha 7 III as his backup camera for weddings. We connected with him to learn more about how he sets up his camera to capture a wedding reception. Check out his tips below and make sure you keep reading to the end for his bonus tips on how to change your approach when photographing the dance floor.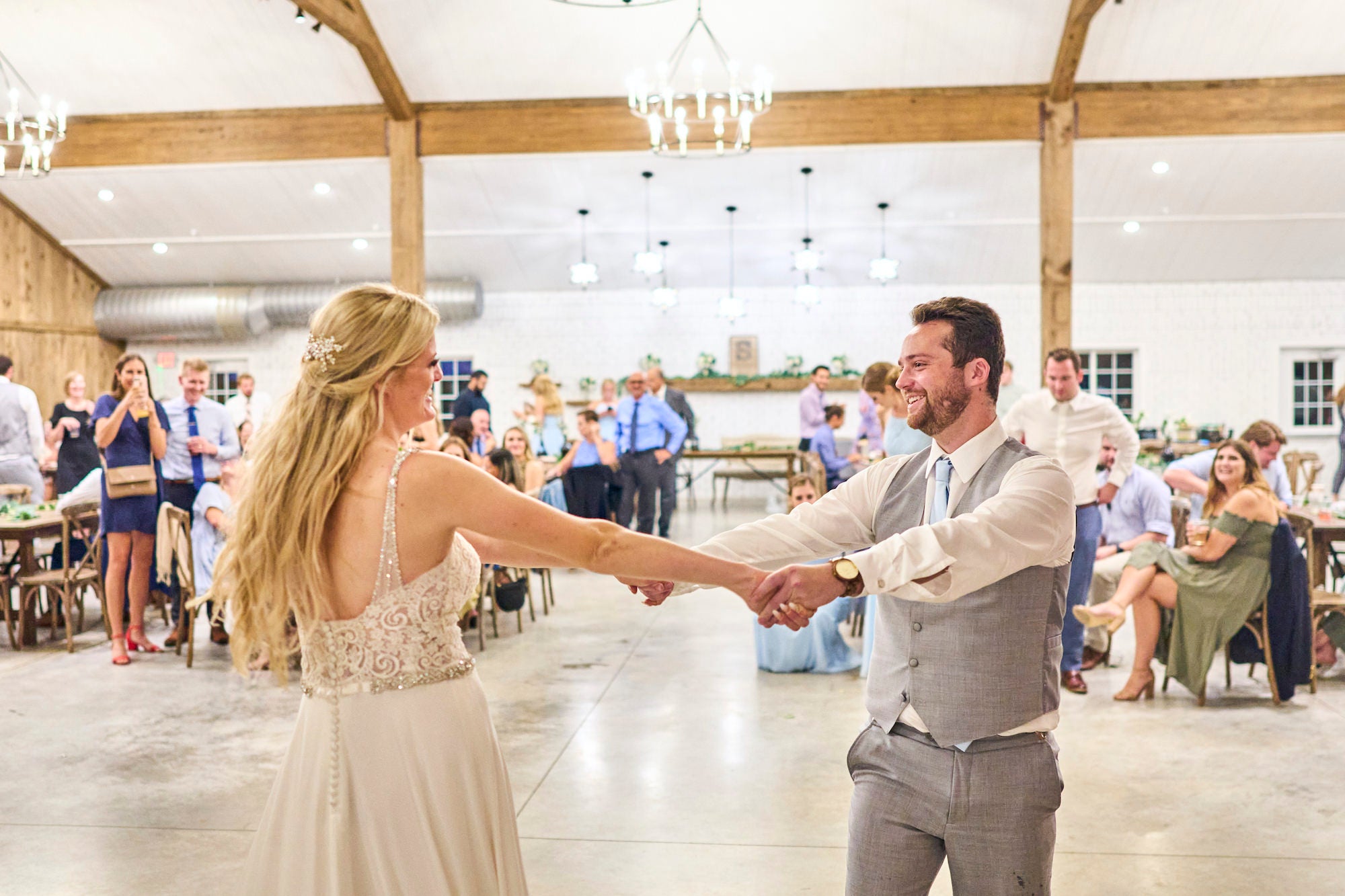 Photo by Robert Evans. Sony Alpha 1. Sony 24mm f/1.4 G Master. 1/125-sec., f/1.4, ISO 1600
From the toasts to the dance floor, see renowned pro wedding photographer Robert Evans camera and lighting setup secrets for capturing it all in style.
Camera Setup Tips For A Wedding Reception
1. Shoot RAW
Evans says he always shoots in RAW. "Some don't, but I always shoot RAW so that I can obviously process and post afterwards."
2. Shoot In Manual Mode
Evans says he prefers the flexibility that shooting in manual provides because you never know what conditions you'll have at the reception. "I shoot manually almost the entire day," he explains, "because with the viewfinder you can see when you're changing your exposure. I can mess with my apertures and shutter speeds and see what I'm doing. I think it just allows me more flexibility so I'm more comfortable doing that."
3. Shoot On Silent Mode (With A Telephoto Lens)
A wedding reception includes many special moments for the new couple, and Evans will shoot on silent a fair amount so he doesn't distract from those moments. "Shooting on silent really just helps me move around the room. There are always two of us photographing the toast, one capturing the person speaking and one capturing the reactions."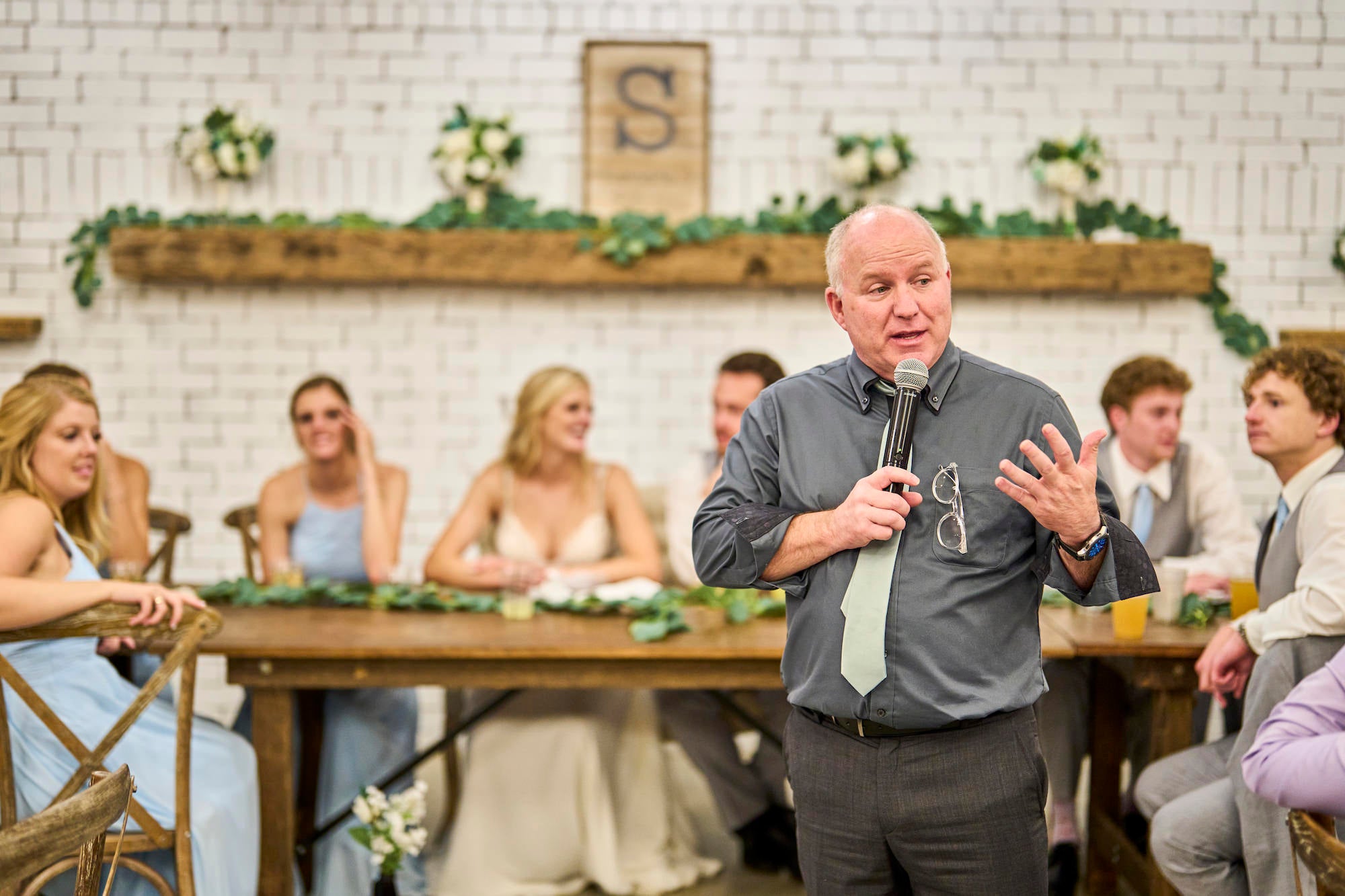 Photo by Robert Evans. Sony Alpha 1. Sony 50mm f/1.2 G Master. 1/125-sec., f/1.2, ISO 1000
He continues, "I tend to capture the reactions with the Sony 135mm f/1.8 G Master or the Sony 85mm f/1.4 G Master. These allow me to isolate the people while I move around. If I'm capturing the reaction of a guest, I don't want them to be wondering why I'm pointing the camera at them. Using these lenses combined with the silent shutter means I'm not disturbing anyone."
4. Set Your ISO
The ISO Evans sets on his camera is going to vary depending on the lighting of the room. "I would say you're going to be shooting usually at least around ISO 800, even in a fairly bright room," he explains. "I will go up to 10,000 even though I know the camera won't do more, generally I don't fluctuate between 10,000 and 800 ISO because I am using faster lenses so I can usually get away with that."
5. Set Your Shutter Speed & Shoot In Bursts
When Evans is photographing at the reception, he usually tends to shoot at a medium to a medium-high burst in drive mode. "Especially in low-light because I'll shoot 3, 4, 5 or 6 bursts. If it's really dark and say I'm shooting handheld, if I'm at 1/30-sec. or 1/15-sec. at f/1.8 or f/2.8, when shooting in bursts then one of the handful of images that I capture in the burst is usually in focus even if there is camera shake."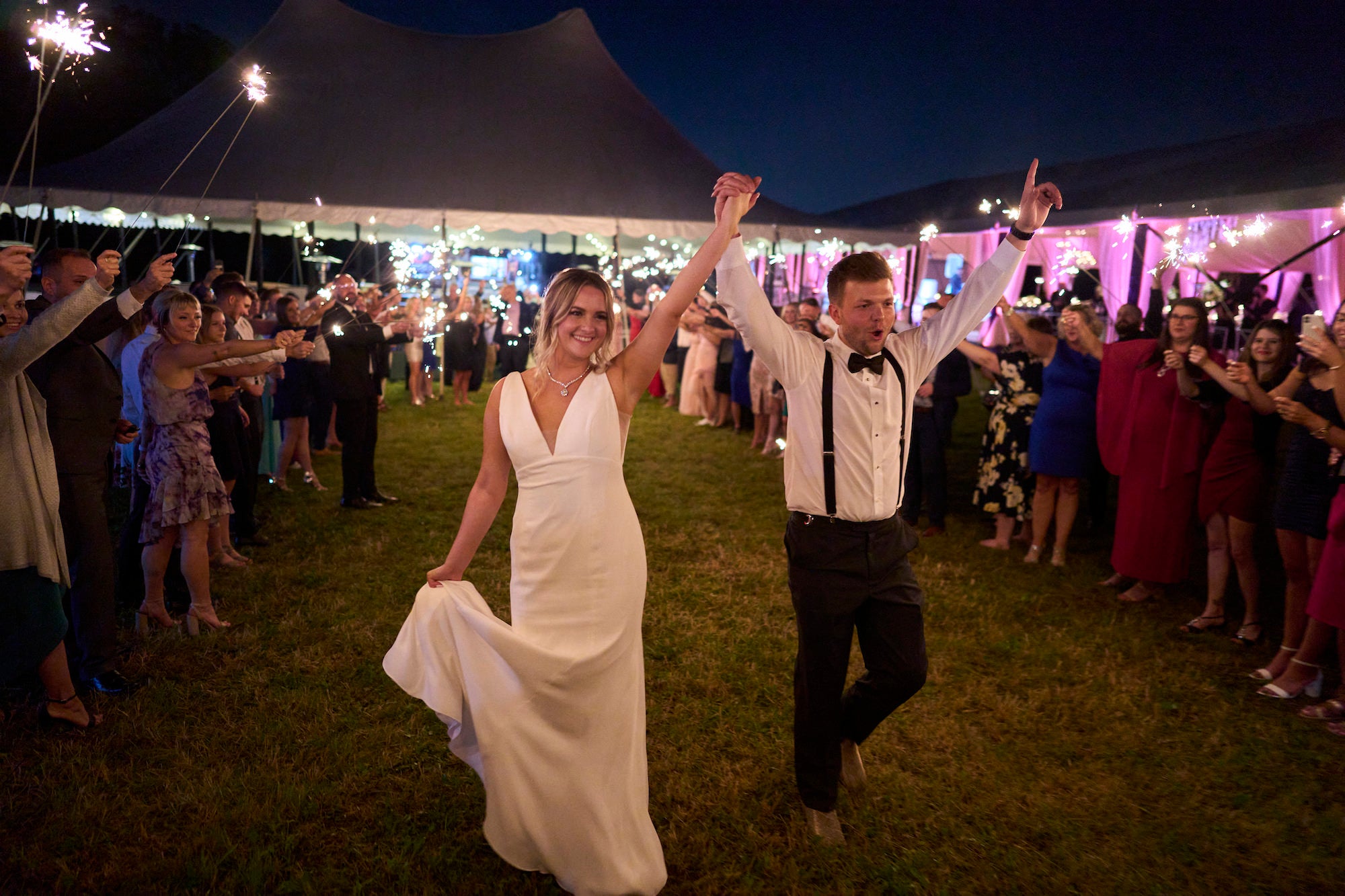 Photo by Robert Evans. Sony Alpha 1. Sony 24mm f/1.4 G Master. 1/100-sec., f/1.4, ISO 4000
6. Use Eye Auto Focus
Evans uses Eye Auto Focus while photographing people during the reception. "I'm mostly photographing people so I'm utilizing that green dot on their eyes from Eye Auto Focus."
7. Shoot Both Flash & Available (Wide & Tight)
While photographing a wedding reception, Evans is often using a lot of available light. He will then have his second photographers shoot with flash, this way he basically ends up with two looks. "A good example is the cake. My second will generally shoot flash wide as a safety image that covers everything, then I might put on a tighter lens to move in and shoot a more artsy image. Maybe I'll move in to get their hands cutting the cake, then back up to get them feeding each other. But this way they get two different looks and I'm safe because I have the traditional."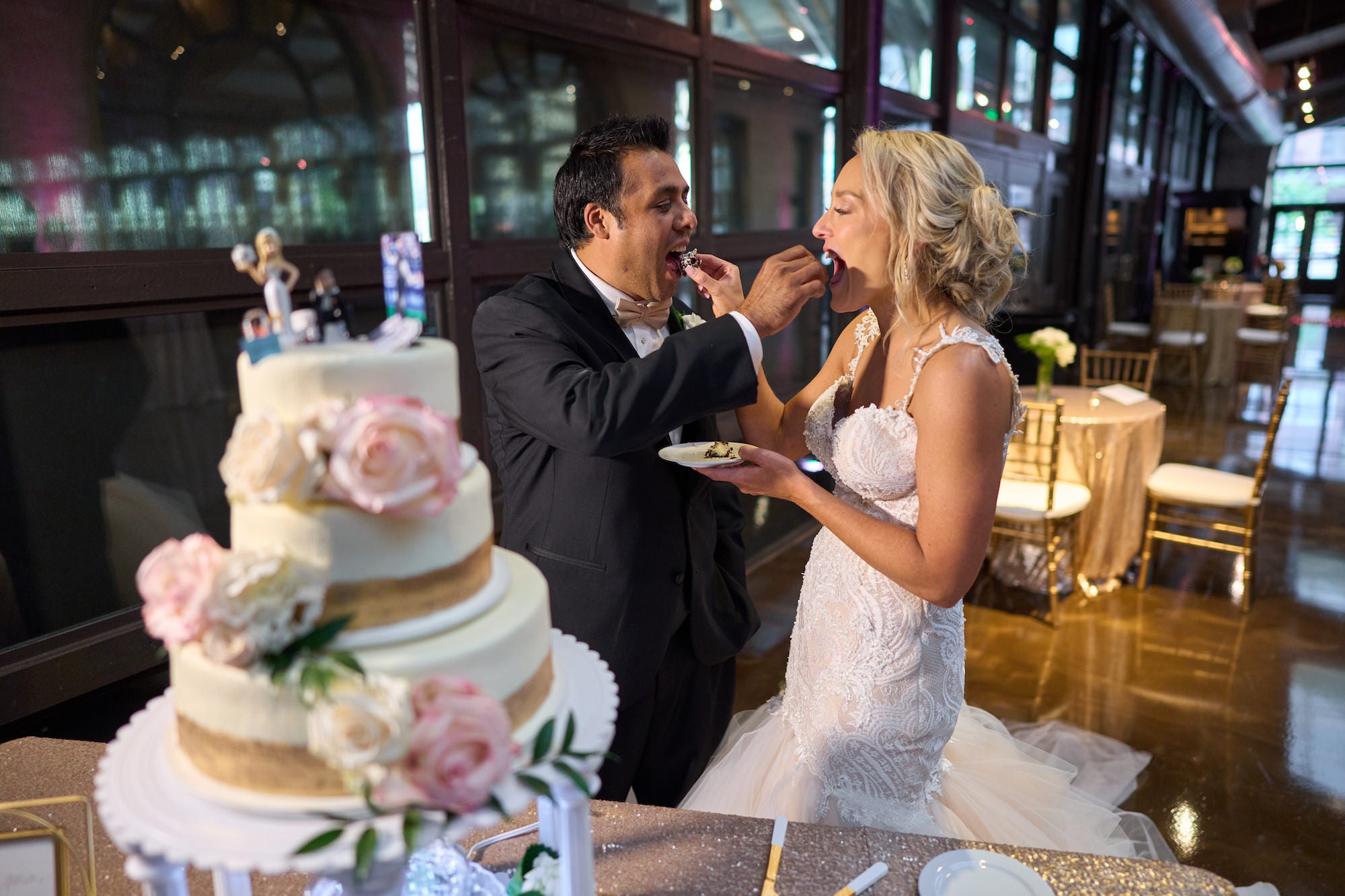 Photo by Robert Evans. Sony Alpha 1. Sony 24mm f/1.4 G Master. 1/200-sec., f/1.6, ISO 1250
Bonus – Camera Setup Tips For The Dance Floor
1. Use A Wide Lens
When it comes to the dance floor at a reception, the environment changes and so does the Evans approach to capturing it. "When I'm photographing the dance floor I will put on a wide lens. Sometimes I use the Sony 16-35mm f/2.8 G Master, but usually the Sony 24mm f/1.4 G Master."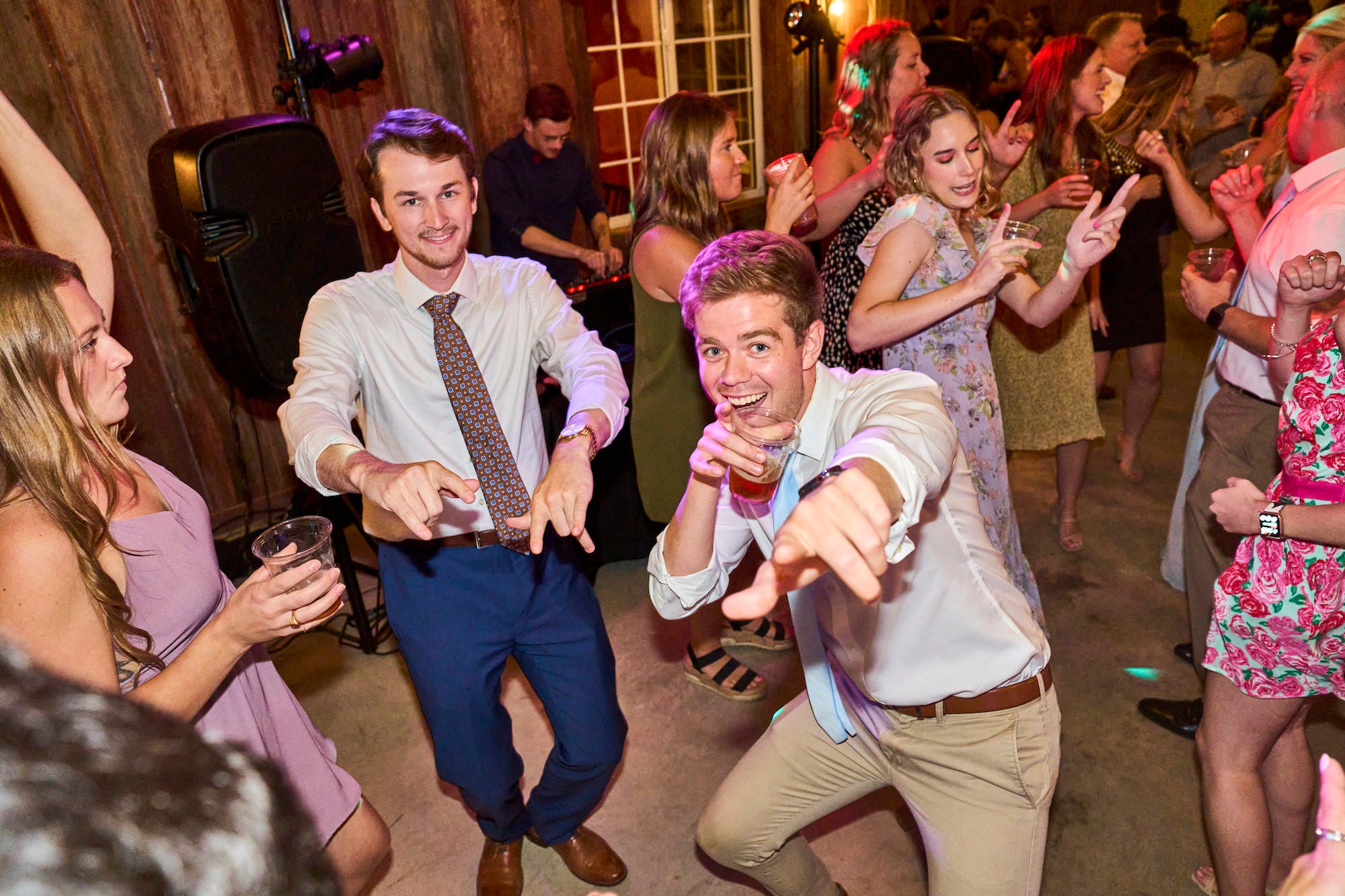 Photo by Robert Evans. Sony Alpha 1. Sony 24mm f/1.4 G Master. 1/125-sec., f/4.5, ISO 5000
He continues, "That gives me the ability to walk around the dance floor while just looking at the screen, not with the camera up to my eye. I barely even frame them, I'm just pointing it at them. The reason I do this is because then I can interact with the guests. I'm looking at them and smiling and letting them know I'm about to take their photo, but because the camera's to the side I'm still looking at them. With the wide lens I know I'll have enough in frame and I can go back and crop it exactly how I need."
2. Bring Out The Flash
Evans still shoots in medium burst mode and sometimes uses available light, but usually he puts a flash on his camera to capture the energetic dance floor. "I use the Sony HVL-F60RM and Sony HVL-F46RM Wireless Flashes. This way I can interact with them and use the flash to light up the shot."
3. Drag The Shutter & Set Your ISO
You have to be careful using flash though, as it can disrupt and make for a not-so-authentic photograph. "What I'll do a lot of the time is shoot at 1/30-sec or 1/60-sec because I know the flash is going to freeze them. So I want to drag the shutter a little longer to pick up the colors in the room from any lights on the dance floor – uplighting, backlighting or anything. It's usually just a process where you have to fine-tune things. 1/30-sec or 1/60-sec is a good place to start but sometimes I'll shoot even less and take it down to 1/15-sec with flash. If there's fast dancing, that's enough to stop them and give you a little bit of a blur to show motion, which sometimes you want to show. When using flash this way, my camera is typically set to about ISO 800."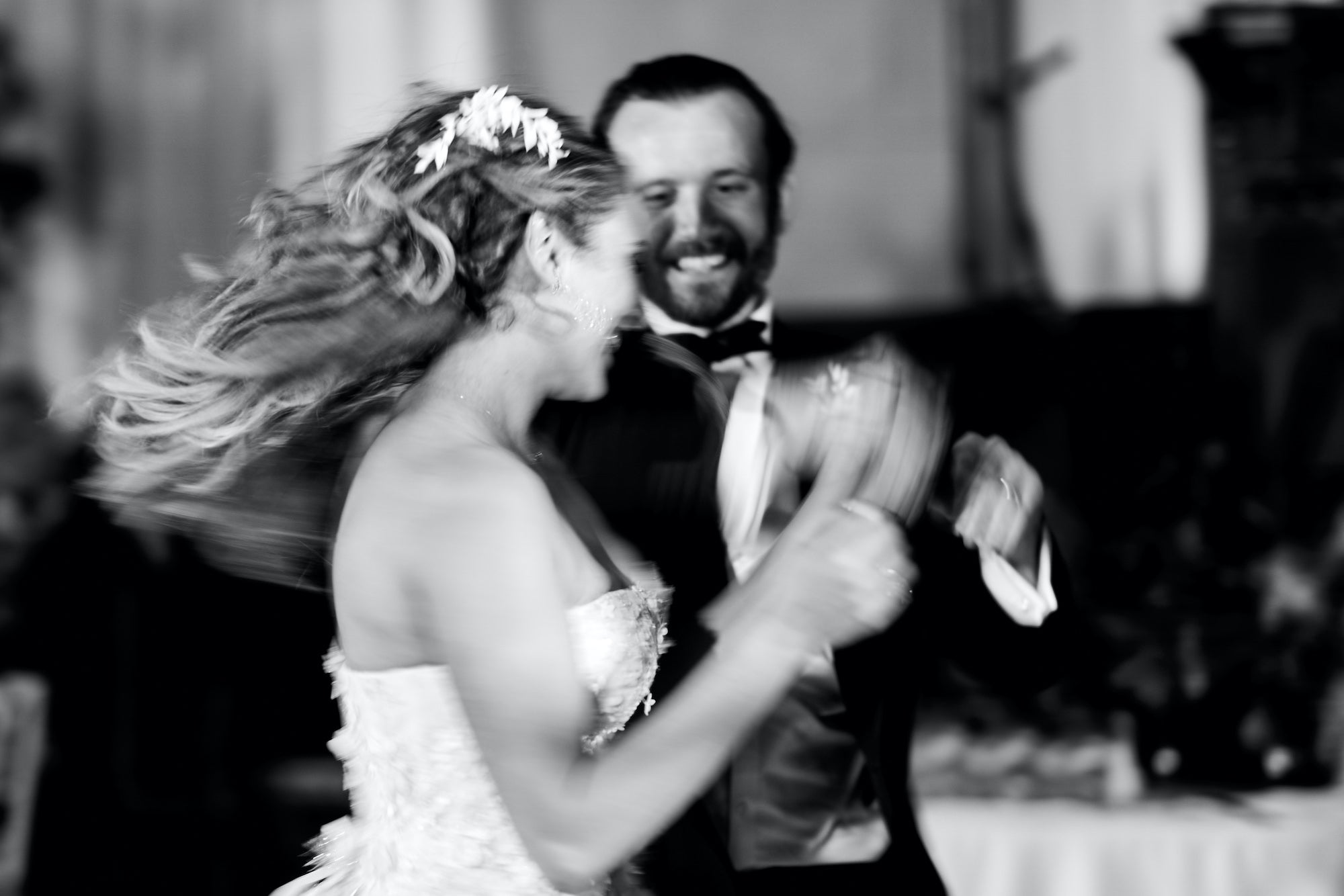 Photo by Robert Evans. Sony Alpha 7 III. Sony 85mm f/1.4 G Master. 1/25-sec., f/1.4, ISO 125
He continues, "People are having a good time, they're waving their hands in the air. So their faces might be sharp from the flash on them, but their hands are waving so you get a little blur or something. Of course you can't give a client an entire wedding like that, but if you mix it up a little bit and you give them a little bit of both – I have never had any complaints about it."
See more of Robert Evans' work on his Alpha Universe Profile and on Instagram @robertevans.