Robert Evans is a Sony Artisan and storyteller wedding photographer. When photographing a wedding, he typically spends 10 hours a day capturing images to tell the story of the couple. His experience has enabled him to know exactly which gear he wants with him for each chapter of a wedding day. He's already shown us in Part 1 the gear he uses when the wedding party is getting ready, in Part 2 what he uses for family portraits, and in Part 3 the gear he uses for the newlywed portraits. Now in Part 4 we get a look at the gear he uses for the ceremony itself on the wedding day.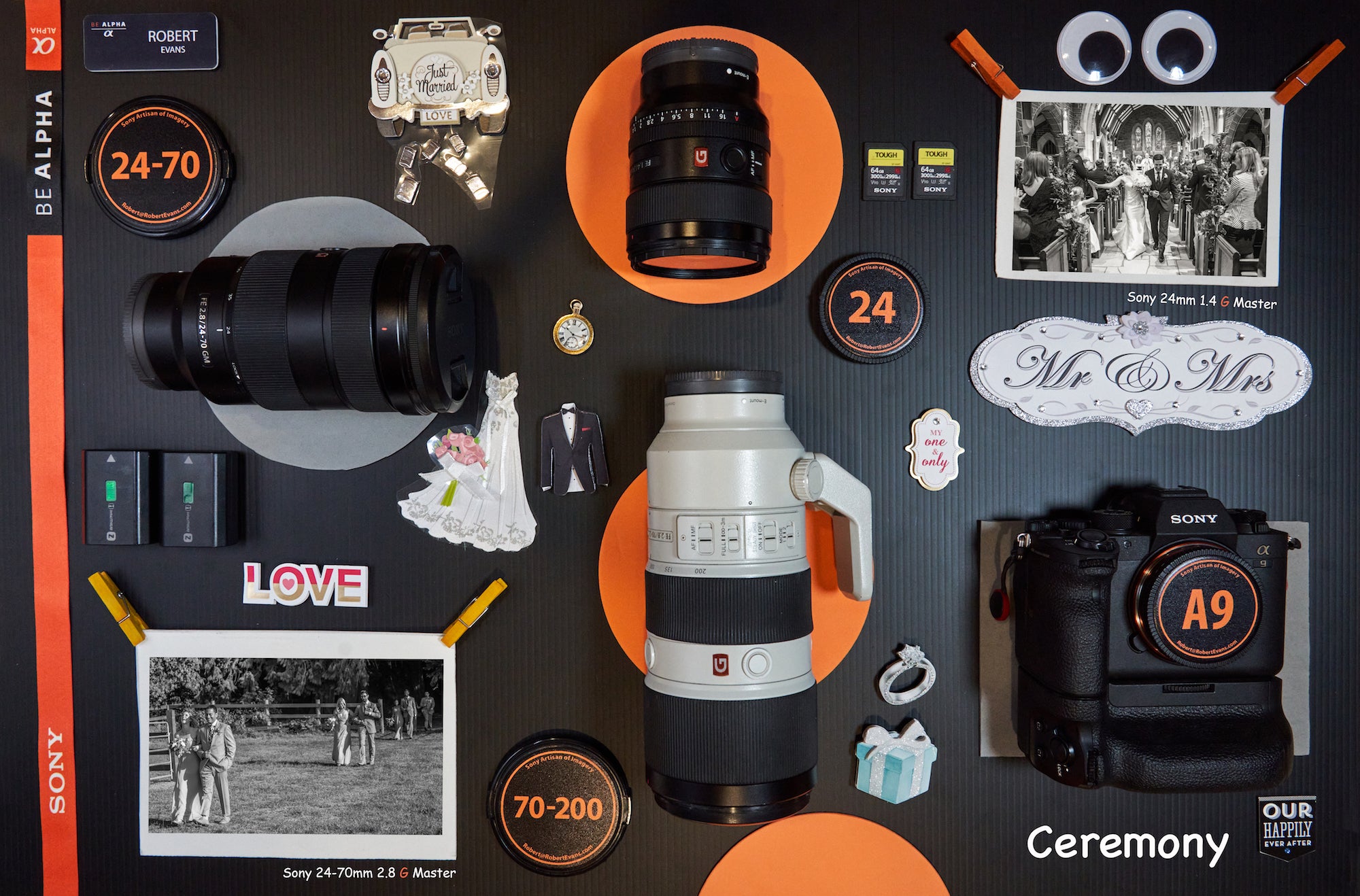 Cameras
It's time to get married, let's move onto ceremony. Now I switch to the α9 II as my main camera because I want the ability to shoot 20FPS at certain times during the ceremony. One of the first things I do is turn on silent shutter so the shutter makes zero noise and I will not attract any attention during the ceremony. Make sure you have fresh batteries and plenty of space on your SD memory cards before the ceremony gets underway.
Lenses
I like to spend the last 20 minutes leading up to my bride walking down the aisle at her side capturing all the emotion leading up to her big reveal. I'll put on the Sony 24-70mm f/2.8 G Master. As I said before it offers a f/2.8 aperture and 24-70mm range which allows me keep my distance and zoom is as needed which allows the moments to unfold without me hindering or influencing them. The 2.8 aperture enables me to do so behind the scene without the use of flash, making me more invisible, especially before the doors open and the bride walks in.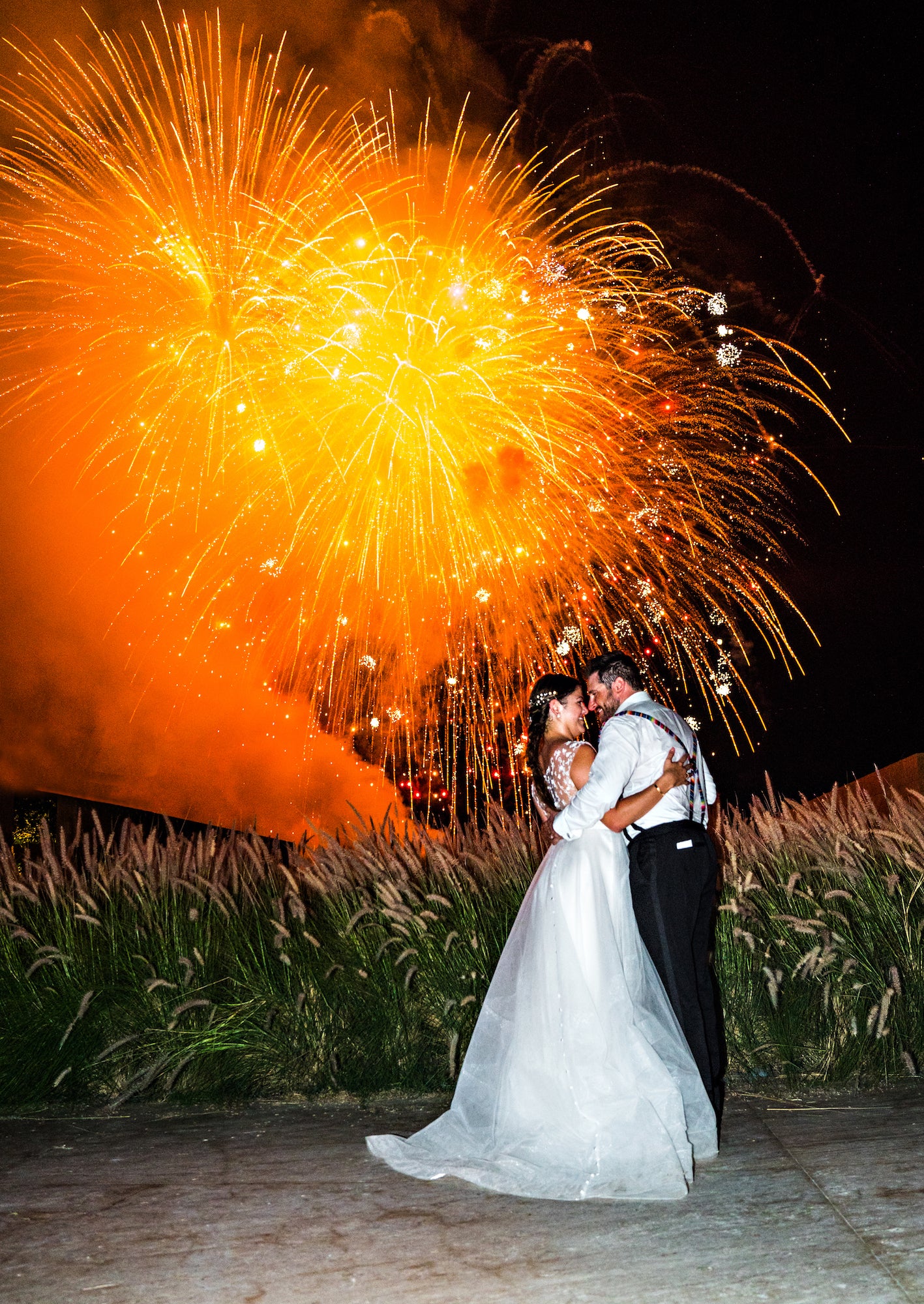 Photo by Robert Evans. Sony α7S II. Sony 24-70mm f/2.8 G Master. 1/160-sec., f/2.8, ISO 6400
During the ceremony I use the Sony 70-200mm f/2.8 G Master. In most cases I don't need more than 200mm to capture intimate looks and expressions, 20mm allows me to keep an unobtrusive distance while still capturing great emotion. If I do need a little more I always have the APS-C Super 35mm function custom programmed to the Focus Hold Button so I can always use this feature on all my G Master lenses to punch in a bit, with just the push of a button.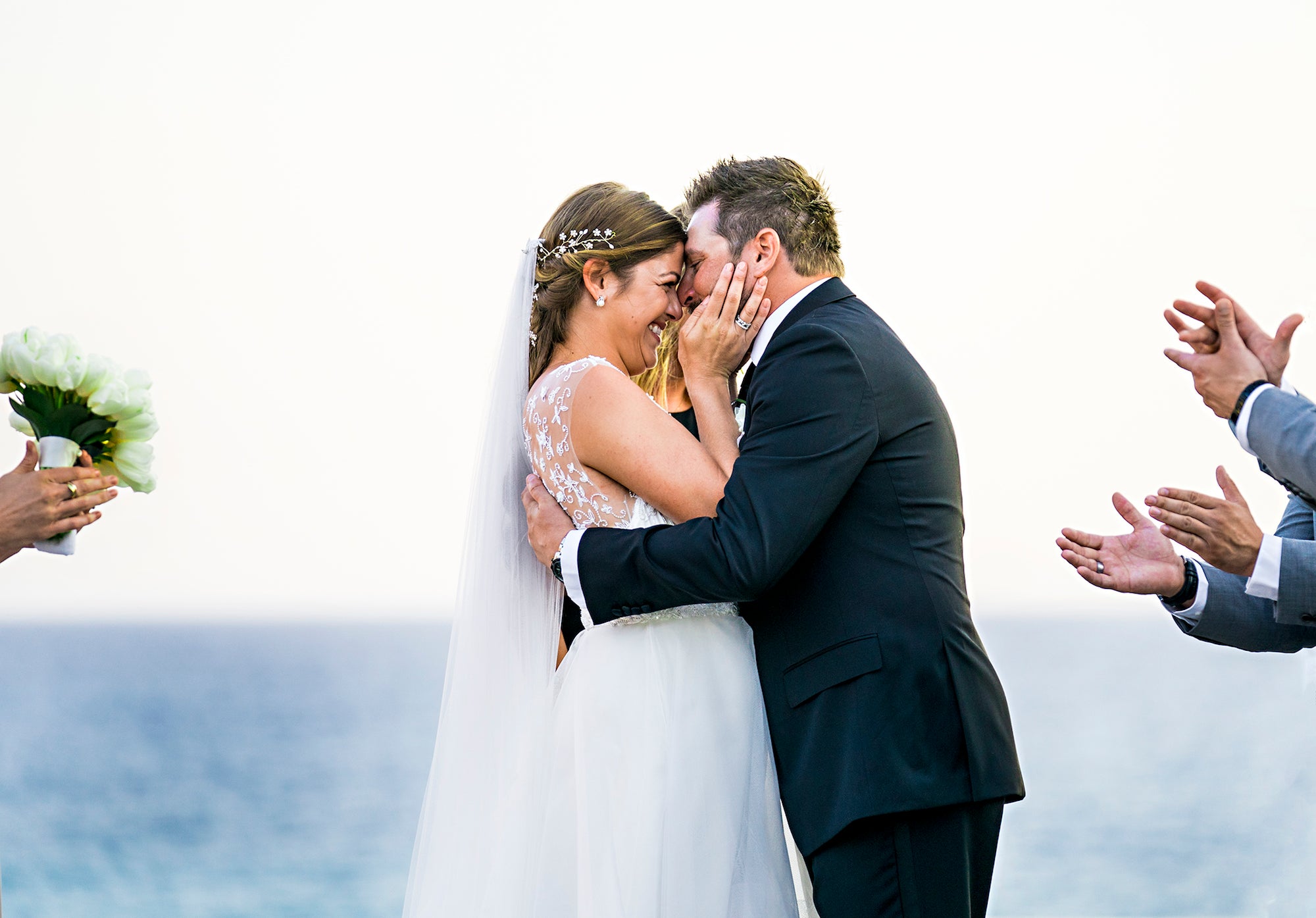 Photo by Robert Evans. Sony α9. Sony 70-200mm f/2.8 G Master. 1/800-sec., f/2.8, ISO 640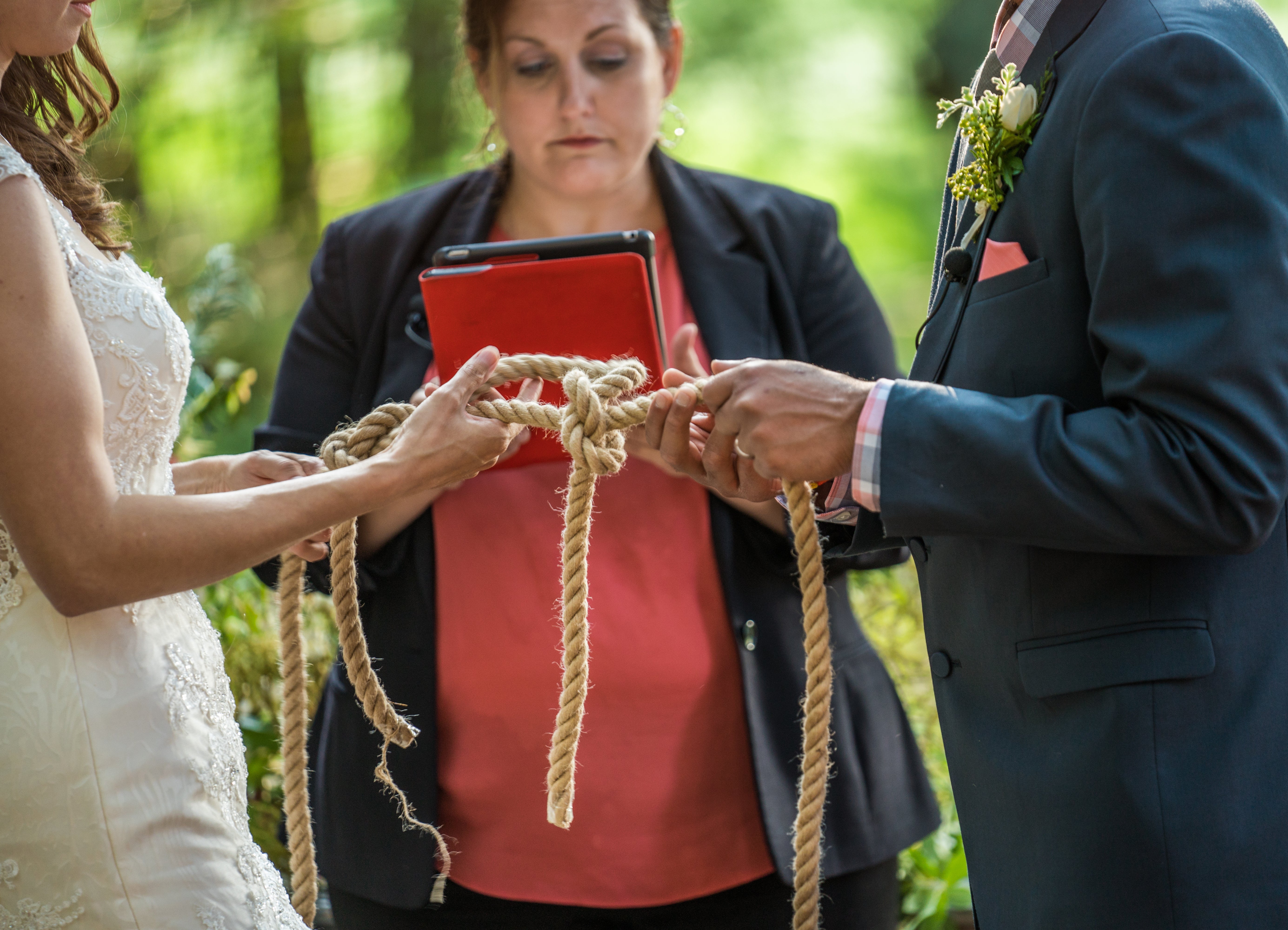 Photo by Robert Evans. Sony α9. Sony 70-200mm f/2.8 G Master. 1/50-sec., f/2.8, ISO 500
Just before the kiss, I attach my Sony 24mm f/1.4 G Master. The next thing I do is make sure my camera is set to continuous autofocus and set to capture the highest frame rate at 20fps. My second photographer will capture a close up of the kiss and I will photograph the kiss wide. Once they kiss, I move to the front of the aisle and back up down the aisle as my couple walks towards me as a newly married couple. I am letting the camera click away as they come toward me capturing 20FPS of every last tear of joy as it runs down their faces and all the laughter and smiles in-between.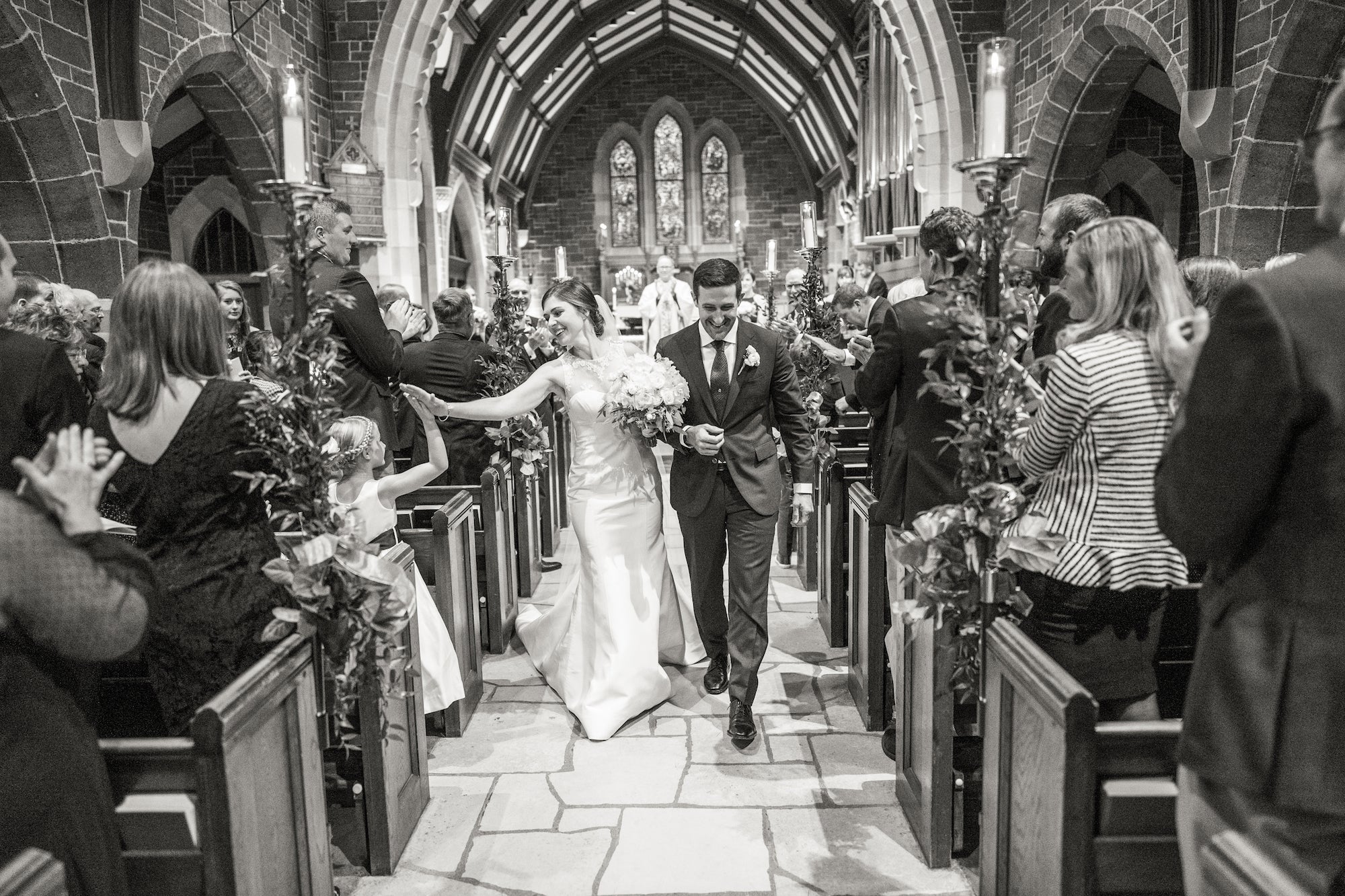 Photo by Robert Evans. Sony α7 III. Sony 24mm f/1.4 G Master. 1/400-sec., f/1.4, ISO 2000
I usually capture around 300 or so RAW images in my walk backwards down the aisle, all in available light, wide open at f/1.4 around 1/125-sec. Once I cull and edit the images I only select 7-10 my clients will see, only the best images. This is always hard for me, as I always have 50-60 or more acceptable images, but I have learned over the years, less is more. Shooting the recessional this way has greatly increased the amount of images I can choose from. It eliminates the days when I used single shutter clicks and got only one or two usable images due to blinks or my couple looking away. I capture the best moments every time, sometimes moments I didn't even see.
Accessories
Finally, I wanted to give you a glimpse at the other accessories I bring along with me to a wedding. Because I find myself traveling to most of my weddings, I try to keep my gear as minimal and light as possible.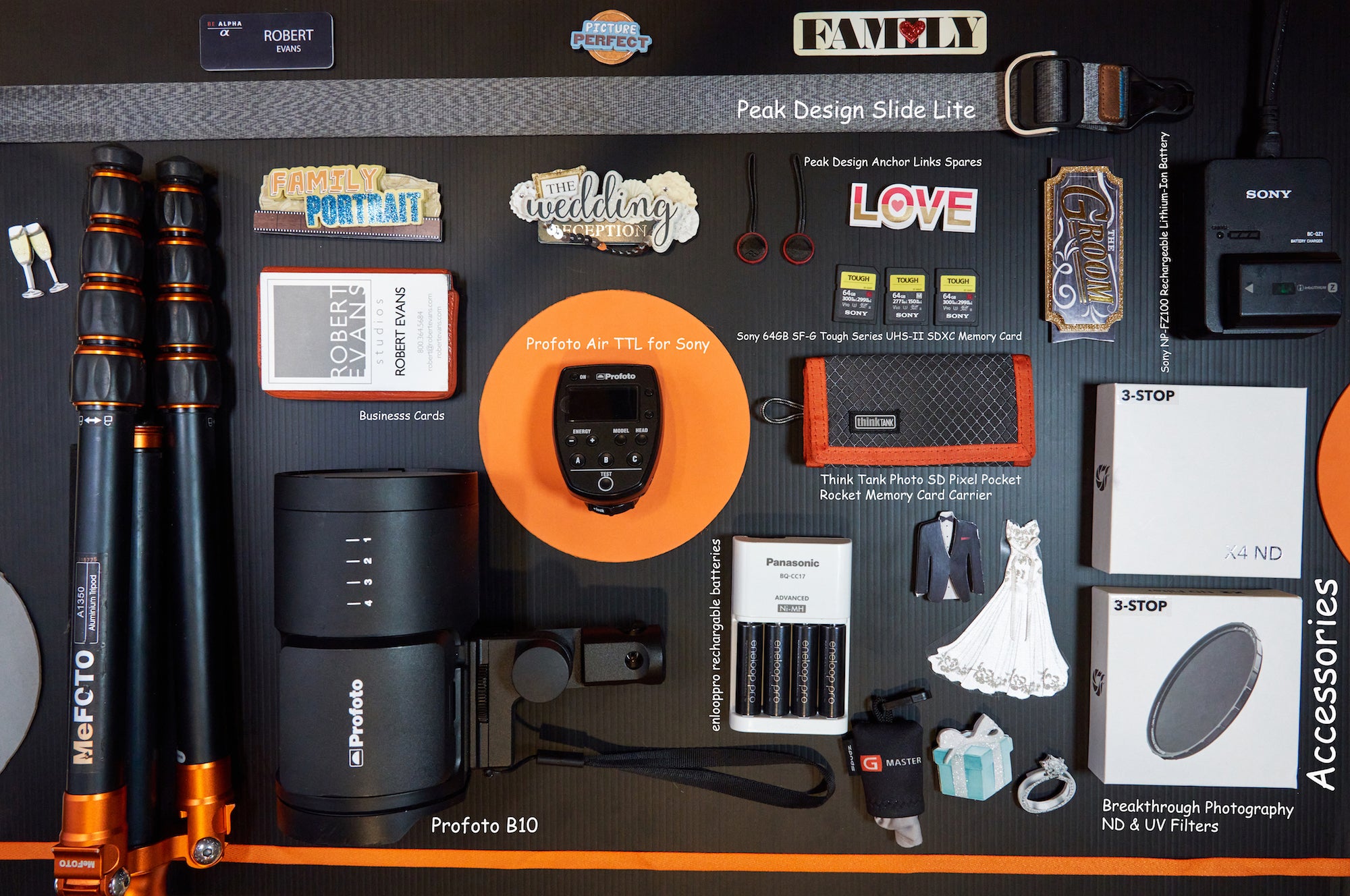 Of course I want to make sure I have the essentials, such as battery chargers for my Sony NP-FZ100 Rechargeable Batteries that fit in all my Sony Alpha bodies. I also bring plenty of SD Memory cards. I prefer the Sony TOUGH cards, SF-G TOUGH Series UHS-II SDXC Memory Card. I like the 64G capacity, and the fast write speed so I can capture 20FPS RAW when I need it along with the extra assurance that if I happen to drop a card, it will be OK.
Once I fill up a set of cards, I run one card in each slot recording RAW on both. I remove them from both slots and place them in my Think Tank memory card carry case. I keep it in the inside of my suit pocket. (Keep your cards on you at all times and at the end of the night empty your cameras and keep all the cards on your person. Should someone try to take your equipment, your clients' wedding images are safe in your pocket.)
AA Eneloop Pro Rechargeable Batteries For My Sony Flashes (I have two, one as back up): For a main flash I use and love the Profoto B10. There are two main reasons I love this flash: one, it's small, light, and portable, and two, I can adjust the output for a tiny bit if flash at 1.0 or overpower the sun at 10.00 and anywhere in-between. As I mentioned earlier, I do not like my images to look like I have used flash in most cases, so 90 percent of the time I am using it to add just a touch of flash when shooting outside. Especially when I backlight my couples, I can add the perfect amount of flash to their faces to make it look like natural daylight – otherwise the skin tones come out looking muddy.
ND Filters: I keep several sizes of Breakthrough Photography ND filters with me as well. If I want to shoot my fast G Master lenses outside on a bright day wide open, I still can with a 3-stop ND Filter. You cannot shoot at f/1.4 or f/1.8 wide open even at ISO 50 on a bright sunny day. I like Breakthrough Photography filters because they do not change the color or cast on my images, especially when dealing with a white dress. It is also a great idea to keep UV filters on the front of your Sony lenses. We invest good money in our Sony glass, a UV filter helps protect the front element from scratches that can easily happen when working fast on the wedding day.
Tripod: I keep a MeFoto Tripod with me for the occasional motion blur exposure, or I sometimes use it for detail and décor images inside my reception rooms. It's small, very light and easy to travel with.
Camera Straps: All my cameras are set up with Peak Design anchor links so I can quickly attach or remove any of my Peak Design camera straps. I absolutely love Peak Design camera straps – in my opinion the most innovative camera strap design on the market.
Business Cards: Finally, it's always good business to keep business cards with you at all times. I have business cards in all my camera bags so no matter which bag I use, they are always on hand.
I think it is important to use the camera and lenses together with your favorite accessories that work best for you and make your job easy. These are my go-to choices but depending on the day I may use different lenses too. I have shared tips on how I use my Sony gear, hopefully my insight will help you improve your wedding photography and has given you some inspiration looking toward your next wedding. Check back to AlphaUniverse.com for Part 5 on the gear I use for wedding day reception photos.