Alpha Collective member Charly Savely (@charlysavely) is known for her dreamy, colorful wildlife and travel adventure photography. Currently living in an A-Frame cabin in Alaska, Savely combines her thirst for adventure with her love for wildlife photography and conservation to capture unique moments that she hopes will reconnect us to nature. We connected with Savely to learn more about the Sony Alpha gear she uses for her wildlife photography. Learn more about her kit below, read her tips for beginner wildlife photographers and register for her first ever Online Wildlife Photography Workshop for more.
Charly Savely (@charlysavely) of the Alpha Collective lets us take a look inside her Sony Alpha kit for wildlife photography.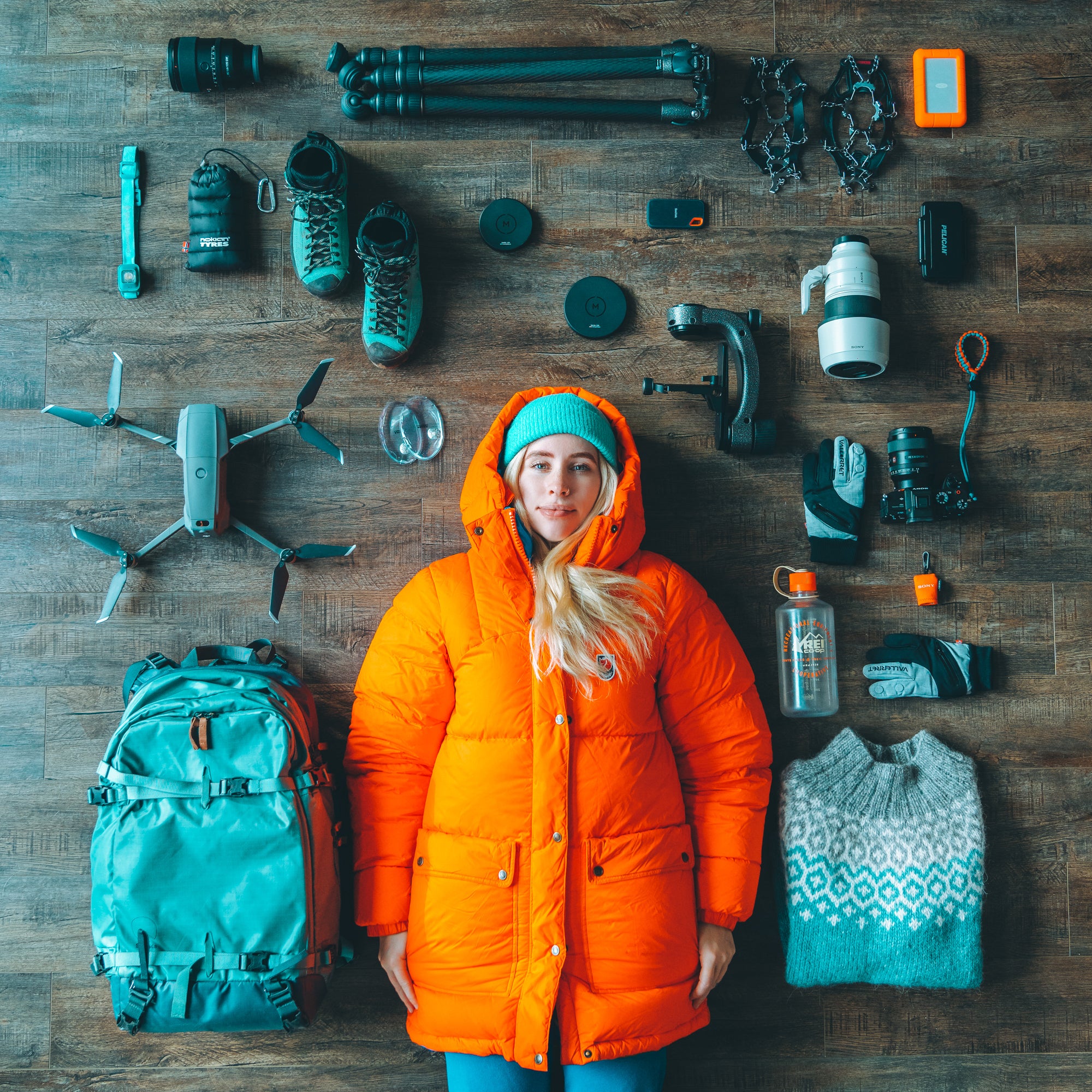 Cameras
I switched from Canon to Sony in 2017 and I'm SO glad I did. The cameras fit great in my small hands and are lightweight for hiking. I'm also in love with the auto-focusing! With human and animal eye focus, I can photograph wildlife at f/2.8 and never miss focus.
Right now my two favorite bodies are the Sony α7R IV and the Sony α7S III.
Sony α7R IV: I love the α7R IV for the megapixels. Even if I'm using a wider lens to photograph wildlife, I can crop/zoom in by half and still have a great quality, printable photo.
Sony α7S III: I love the α7S III for video because the stabilization is incredible. I prefer having two bodies because changing lenses in the middle of photographing wildlife is a nightmare and could lead to me missing a shot.
Two bodies also makes things way less stressful if you're switching back and forth between photo and video.
Lenses
Sony 100-400mm f/4.5-5.6 G Master: This is my workhorse. The zoom makes it versatile, so I leave it on most of the time. I love that I can get a different or minimalistic perspective by zooming in and cropping out distractions. For wildlife, being so zoomed in can help to create intensity between the animal & the viewer. It also captures more details of the animal as well. Even though it's f/4.5-5.6, I still get tons of bokeh and compression.
Sony 135mm f/1.8 G Master: This is my favorite lens. It's so sharp, dreamy and fast. I love that I can photograph an animal at f/1.8.
Sony 24-70mm f/2.8 G Master: You don't always need a long lens for wildlife. Sometimes it is great to have the landscape in shot as well to help tell the story. Not every photo needs to be a close up. This was the only lens I owned for years when I was first starting out.
Accessories
Tripod: My whole career I've been against / resisted using tripods as much as possible. They're clunky, slow me down and just get in the way. But as time goes on and I've used bigger lenses, I've come to appreciate tripods. They are my friends & relieve my arms from fatigue. Right now I'm loving my Gitzo tripod Systematic and Gitzo Gimbal Fluid Head.
My trusty beanies: My mint one is my favorite. I have too many, it's shameful. But I love the pop of color they can add. Some have asked me if I'm secretly balding because I'm always wearing one haha! It's actually the opposite, I have so much hair, the beanie keeps the hair out of my face while shooting.
Approach: Be present and sometimes, put the camera down and enjoy the moment. Remember to always be safe and aware of your surroundings. When photographing wildlife, remember you are in their home and should treat everything with the utmost respect.
Learn more and register for Savely's @wildistco Online Photography Workshop HERE.