My name is Matthew Hahnel (@matthewhahnel) and I'm a member of the Sony Alpha Imaging Collective. I'm primarily a travel and adventure photographer, so wildlife isn't usually my main focus. With that being said, I pride myself on being able to adapt to any situation as a photographer, and I welcome the unique challenges of wildlife photography. I had the privilege to visit Brooks Falls in Katmai National Park in 2017 and that experience gave me a greater appreciation and understanding of this style of photography and helped teach me some important lessons. Wildlife photography is about places a premium on speed and focal length reach, but there are also wide-angle possibilities to create images that help tell a more complete visual story. I shoot with Sony full-frame mirrorless cameras and native mirrorless Sony lenses and with the knowledge gained since my visit to Brooks Falls, I have fine-tuned my wildlife setup, as well as added some of the new gear from Sony to strengthen my kit. Below is what I will be taking to Kenya to document our stay at Oj Pejeta Conservancy.
"This will be my first opportunity to use the new 200-600mm f/5.6-6.3 … paired with the α9 and a 1.4x teleconverter it's an incredibly versatile setup that should have me covered for most situations."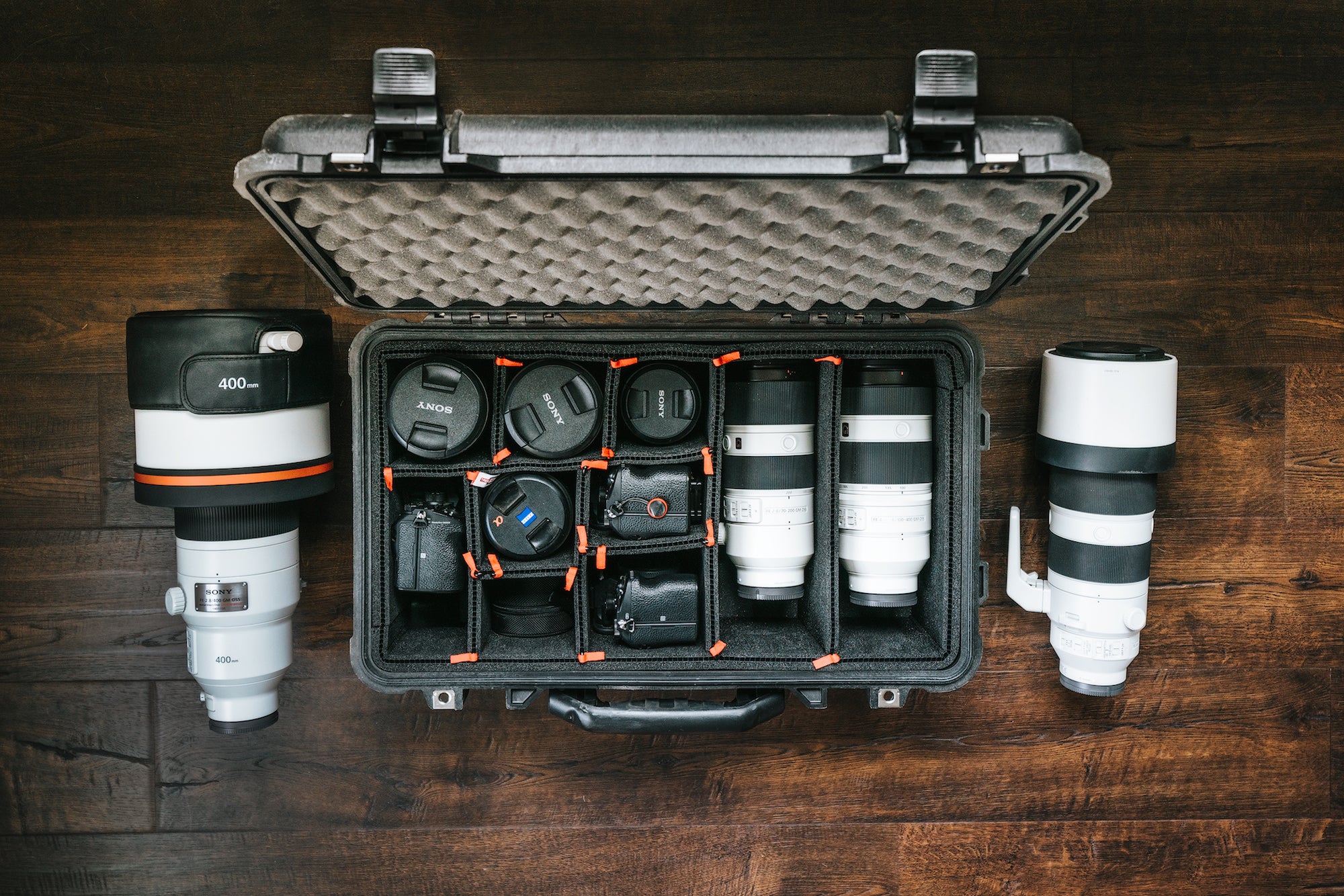 Two Sony cameras and seven Sony lenses. See Matthew Hahnel's fine-tuned setup for photographing wildlife in Kenya.
Cameras
Sony α7R III: The α7R III has been my go-to for the past couple of years now. For a 42 megapixel camera, the autofocus and speed is still impressive. I plan to use this when animals are stationary or moving slowly. The autofocus ability of the camera will be more than enough for these situations, and I'll get to take advantage of 42 megapixel files (great for cropping when needed) and incredible dynamic range.
Sony α9: The α9 is a camera that I will pull out of my bag when the animal is moving at a faster pace or is in an environment with low contrast that the α7R III autofocus might struggle a bit more in. The α9 is simply the speed and accuracy king. Its 567 phase-detect autofocus points at 20 FPS is unmatched and will be a perfect complement to the α7R III.
Lenses
Sony 200-600mm f/5.6-6.3 G: This will be my first opportunity to use the new 200-600mm f/5.6-6.3 and I have an idea that it will be one of my most-used lenses throughout the trip. When shooting wildlife, I often find that a 100-400 is not quite enough reach, but the 200-600 paired with the α9 and a 1.4x teleconverter is an incredibly versatile setup that should have me covered for most situations.
Sony 100-400mm f/4.5-5.6 G Master: The 100-400 is an underrated lens in my opinion. I use the 100-400mm a lot for my travel and adventure work when I need that sweet compression and to accurately portray the huge mountains I often photograph. The 100-400 will also come in handy on this trip as my wife will also be shooting, and it's a good complementary lens to the 200-600mm. It lets a little bit more light in for those times when it may not be as bright out, and it will be better for those times when the animals are a little closer to the vehicle.
Sony 400mm f/2.8 G Master: Kenya is the kind of place that the 400mm f/2.8 was made for. I recently purchased this lens and have yet to have the opportunity to really put it to the test, so I'm excited to get out there and see what it is capable of. With the option of pairing it with the 1.4x teleconverter which would give me 560mm at f/4, I feel like this may be one of my most used lenses throughout the trip.
Sony 70-200mm f/2.8 G Master: The 70-200mm f/2.8 is simply incredible. This lens is tack-sharp and will be ideal for wildlife that come closer to the vehicle. The f/2.8 maximum aperture will also be nice to take advantage of that creamy bokeh for some close-up wildlife portraits.
Sony 24-70mm f/2.8 G Master: This is probably my most used lens. It's super sharp, incredibly versatile, and covers the perfect focal range for a lot of what I shoot. Having f/2.8 is really nice to add a cinematic look sometimes as well. On this trip, I'll be using this lens when the animals are right near the safari vehicle and I would like to include some of the landscape in the photo. I may also use it for some shots of the Kenyan landscape during sunrise and sunset.
Sony 16-35mm f/2.8 G Master: This is another of my most frequently used lenses. It's sharp side-to-side which is rare in a wide-angle, and also has minimal distortion at 16mm. I'll be using this mainly for landscape and astrophotography.
Sony 24mm f/1.4 G Master: I prefer to shoot with primes for portraits and lifestyle images, and I use several Sony primes for their stunning results. I currently own the 50mm f/1.4 and 35mm f/1.4, but I'll be testing the newer 24mm on this trip to document the conservation efforts of the workers at Ol Pejeta. If the 24mm is anything like my Sony 50mm and 35mm, it's going to be a winner.
Sony 50mm f/1.4: Similar to the 24mm, I plan to use this for lifestyle and portrait images.
Accessories
Sony 1.4x teleconverter: Having the ability to extend the range of my lenses without losing too much light is going to be a vital part of my kit in Kenya. The 1.4x teleconverter offers sufficient range extension without the issues that start to come into play with a 2x.
Kinesis SafariSack 4.2: I've never shot with a beanbag before, but I have consulted some seasoned safari photographers and apparently they are a must. Due to restricted space within a vehicle not allowing for a tripod, resting my camera on the bean-bag attached to the side of the car will provide stability and protection.
Rocket blower and cleaning kit: Not surprisingly safari can be dusty and sandy. I take a rocket blower on every trip and this will be no exception. For tougher to remove smudges etc that find their way onto my lens, I'll use a Zeiss Pre-Moistened Cleaning Wipe.
Tripod: I always carry a Gitzo GT1545T carbon fiber trip with Really Right Stuff BH-25 ballhead. It is lightweight and packs up pretty small for a stable tripod. Although I won't be using this much on Safari, I may use it for some sunset landscape images or astrophotography.