For an expedition photographer like the Sony Alpha Imaging Collective's Andy Mann (@andy_mann), reliability and ruggedness are just as important as image quality. Coming back from the far reaches of the planet without photos doesn't keep you on National Geographic's speed dial. For an exhibition to Greenland and Norway that would involve documenting everything from mountaineering, extreme rock climbing and underwater wildlife photography, Mann chose a pair of Sony Alpha full-frame bodies and a bevy of Sony zoom and prime lenses (including a trio of G Masters). Mann embodies what it means to Be Alpha. We caught up with him to learn more about how he packed his camera gear for the expedition overall and how he pared it down to the bare essentials for the climbing portion of the trek...
"I wanted to be ready for any situation and leave without any regrets. So I was eager to be the wildlife guy, the underwater guy, the portrait guy, the lifestyle and travel guy, etc. – and I packed for it too." -Andy Mann
When I'm on big expeditions, I'm often forced to make important "what's in the bag" decisions during several strategic moments throughout the trip. On a recent expedition to Greenland and Svalbard, I knew that from the time I landed on the island to the time that we set up a basecamp that I could pack "everything but the kitchen sink." But once we set off on foot to establish higher camps and started climbing, I would have to slim down the weight to consist of the essentials only. It's important to know what images you want from any certain trip and to bring as much as possible to achieve your vision. The key to success is having your entire arsenal with you, but the real secret is knowing when and what to let go. This breakdown of gear focuses solely on my stills photography equipment.
The Kitchen Sink Kit
One of my favorite parts of these big trips is getting to cover a lot of ground and document as much as possible. I like to wear as many of the photographer hats as I can. Even though this trip was ultimately all about documenting big-wall rock climbing, I knew we were likely to see polar bears, experience rich Inuit culture and stand before mind-melting landscapes. I wanted to be ready for any situation and leave without any regrets. So I was eager to be the wildlife guy, the underwater guy, the portrait guy, the lifestyle and travel guy, etc. – and I packed for it too.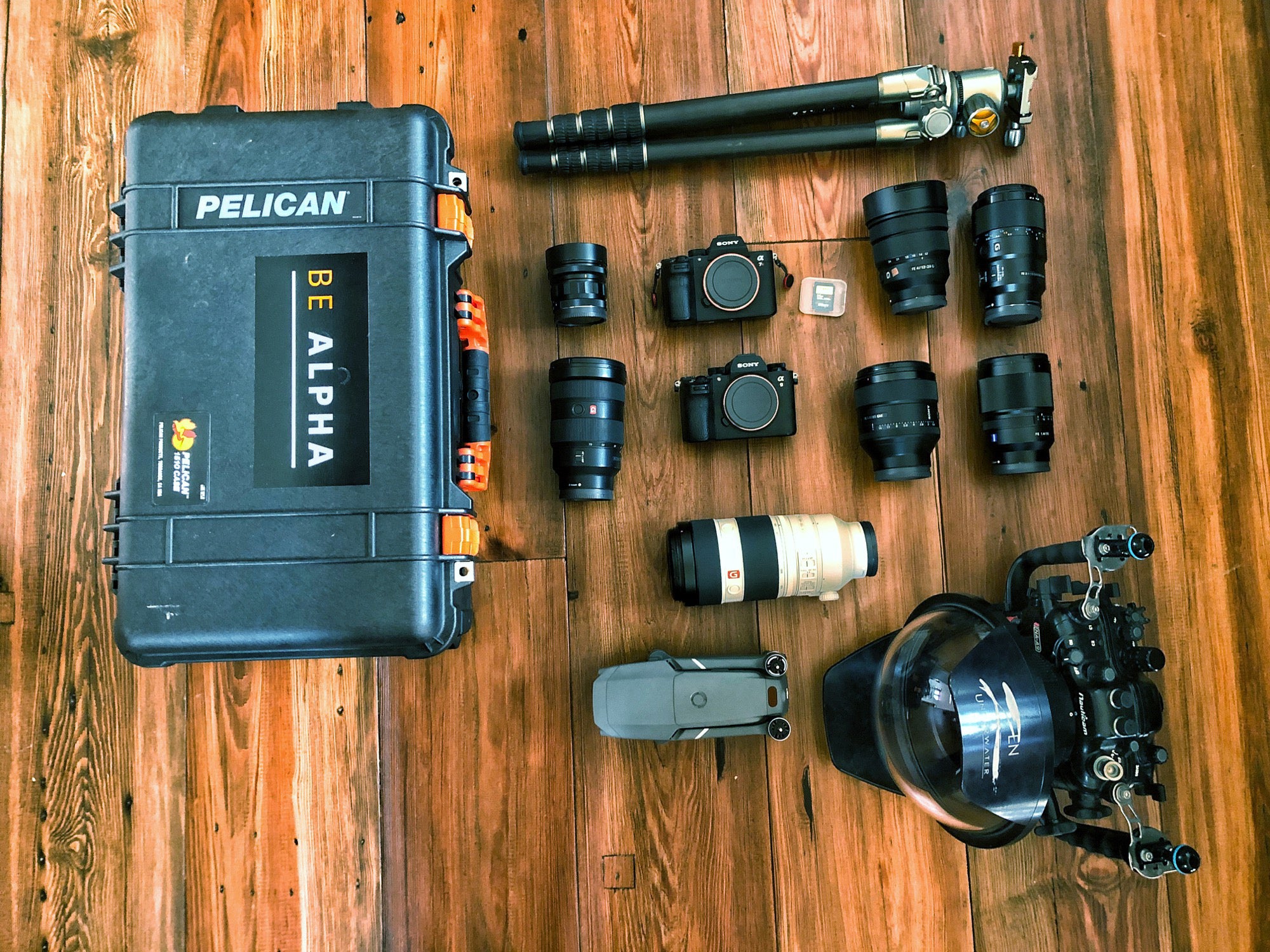 Cameras
Sony α9: Speed and timing are everything with wildlife and action sports, and the α9 is the Usain Bolt of cameras. I always take at least two Sony Alpha mirrorless cameras on any trip and I love the versatility of having this one do what it's best at: Speed. From polar bears to birds, these animals move quick and I can rely on the α9 for a tack-sharp shot. To be able to capture two seagulls quarreling and for it to be so sharp is really impressive.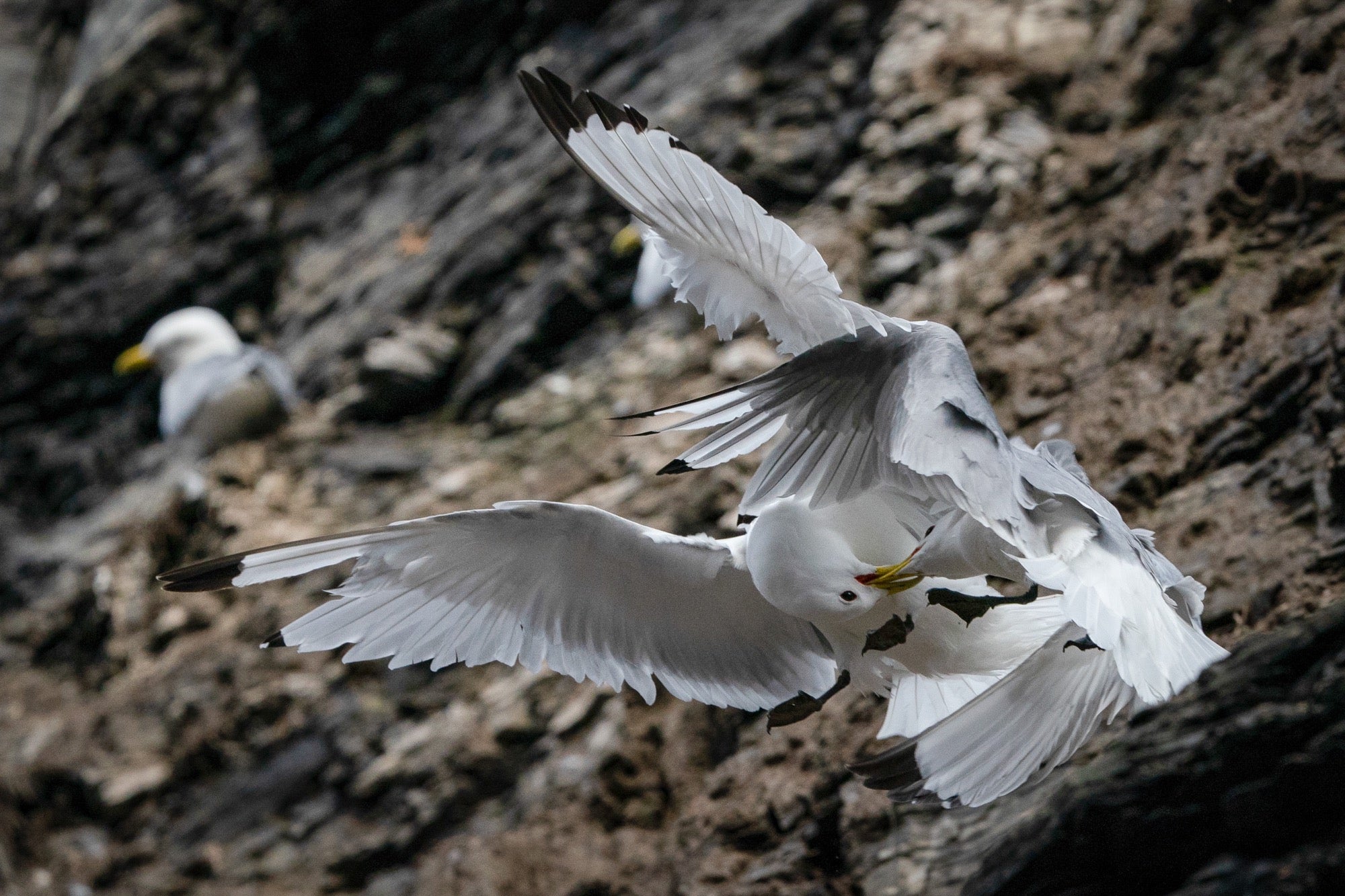 Sony α9. Sony 100-400mm f/4.5-5.6 G Master lens. 1/2000-sec., f/8, ISO 1600.
Sony α7R III: I love the high resolution and detail in the files churned out by the Sony α7R III. Nothing compares in my opinion and Greenland's landscapes deserve nothing less. And because the α7R III shoots with the speed of a sports camera, it's my go-to in many situations. This camera is seriously my muse.
Lenses
Sony 12-24mm f/4 G: This one lives in my underwater housing. 12mm is THE focal length for split shots and underwater shots (and, as it turned out, for the occasional candid of a curious polar bear).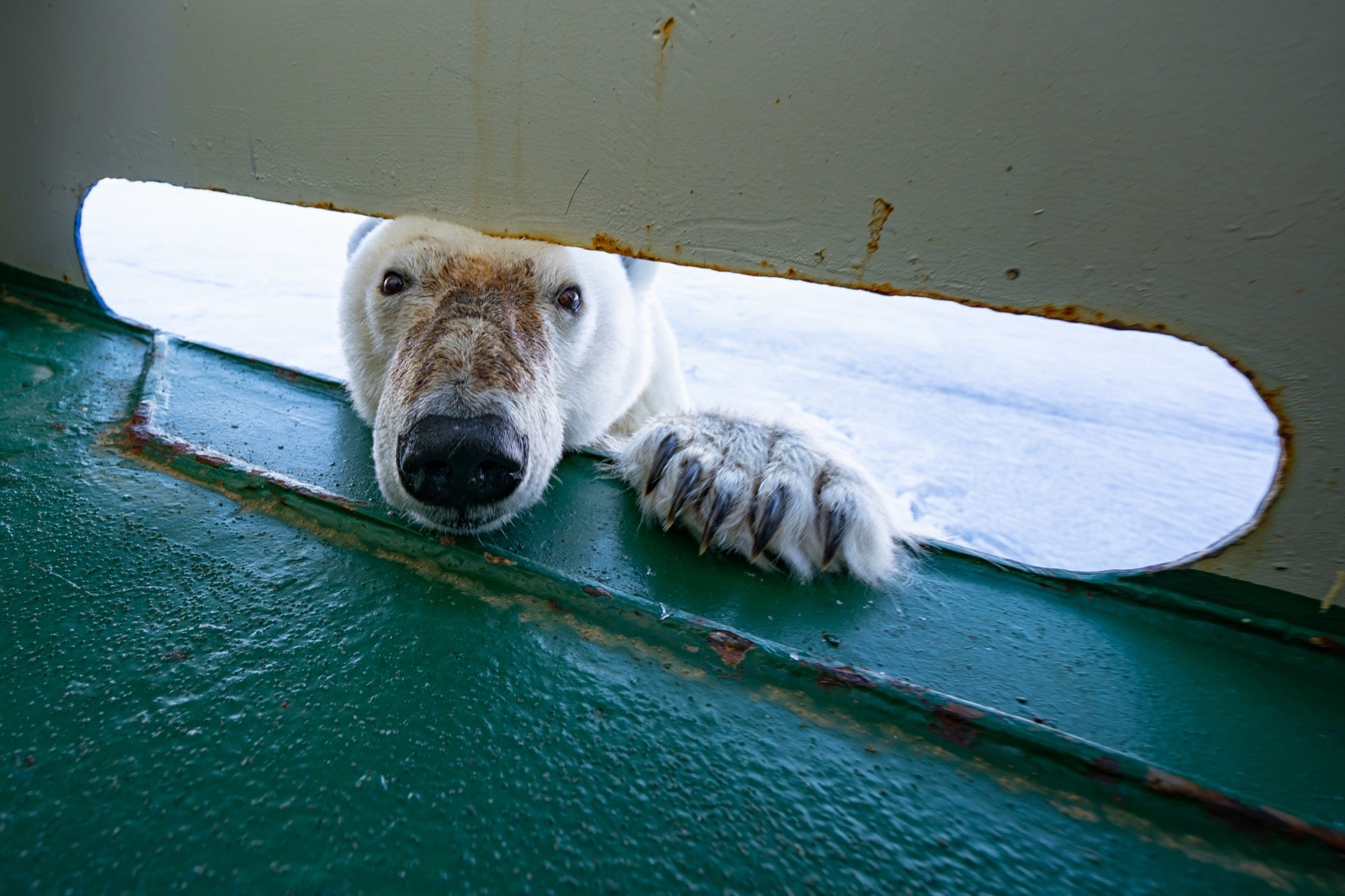 Sony α9. Sony 12-24mm f/4 G lens. 1/80-sec., f/4.5, ISO 100.
Sony 24-70mm f/2.8 G Master: People say "workhorse" with this lens, and although I agree, I think of it more as a Clydesdale – a beautiful lens to use and that does anything I ask of it with a bit of added style and panache. The 24-70mm f/2.8 G Master is a fast and accurate lens that blends the look of commercial and editorial perfectly. It adds polish and refinement my journalism.
Sony 100-400mm f/4.5-5.6 G Master OSS: I grab the 100-400mm G Master lens to get the quick shot – polar bears move fast! This range is crucial to great arctic photography.
Sony Distagon T* 35mm f/1.4: I love working in close quarters with this 35mm f/1.4 lens. I go for it when I'm inclined to reach for something wider, and I'm always happy I did. National Geographic photo editors prefer this to be the WIDE end of your images. They are right most of the time.
Sony 85mm f/1.4 G Master: The 85mm G Master is my go-to portrait lens. I love this lens for moving fast on walkabouts and capturing cultural moments and candid street shots.
Sony 90mm f/2.8 Macro G OSS: Tack sharp from corner to corner, the 90mm macro is a actually a solid multi-tasker that I like to have with me.
Voigtlander Heliar-Hyper Wide 10mm f/5.6 (for Sony E mount): the 100mm is kind of a trick lens for me, but in the right situation this mega-wide angle lens gives me a lot for its size.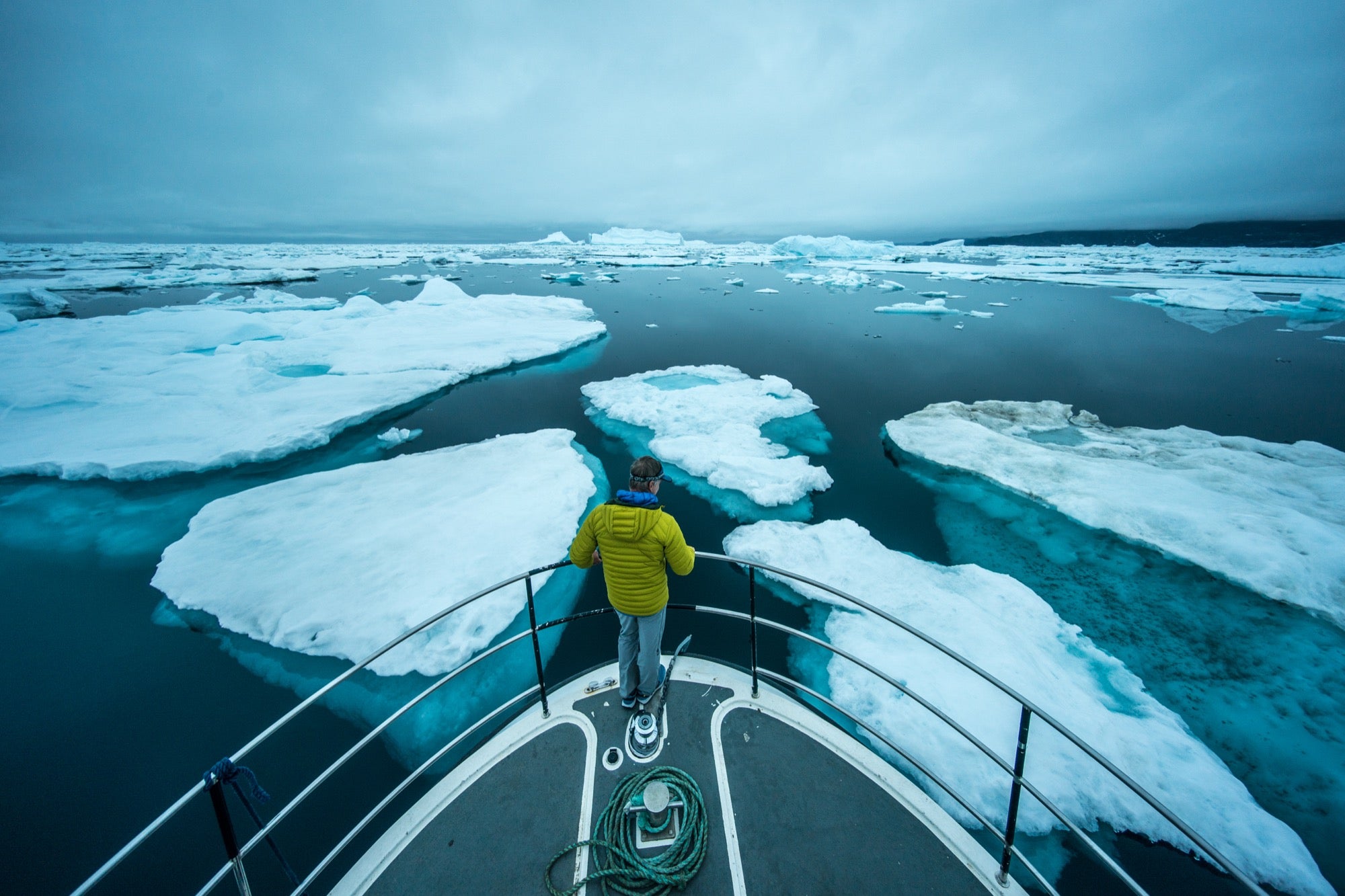 Sony α9. Voigtlander Heliar-Hyper Wide 10mm f/5.6 (for Sony E mount). 1/80-sec., f/5.6, ISO 200.
Accessories
Nauticam Underwater Housing (For Sony α9): What can I say, I'm an underwater guy at heart. Any chance to get in the water and make a memorable image, I'll going to jump in and this underwater housing allows me to document.
DJI Mavic Pro: There's just so much to see from above, and nothing captures that perspective like a drone. Now that they are pretty light, I can bring it everywhere.
Fotopro Tripod: These are my go-to tripods. Super refined, reliable and tough.
Pelican Case: Planes, trucks, sleds, boats, you name it – the gear takes a beating getting to and going around Greenland. I'd rather not take any chances and protect it with a good case.
Advanced Basecamp Kit
Once the hundreds of pounds of camping and photo equipment have been (almost effortlessly via planes, trucks and boats) brought to shore and we've set up a basecamp, it's time to shuttle loads of camping and climbing gear, along with food and supplies, far into the mountains to set up an advanced basecamp. After establishing our high camp, we'll start spending big days on the wall. Based on weight and mobility, I've slimmed down my kit to the essentials to cover the assignment, and at a weight I feel comfortable climbing with.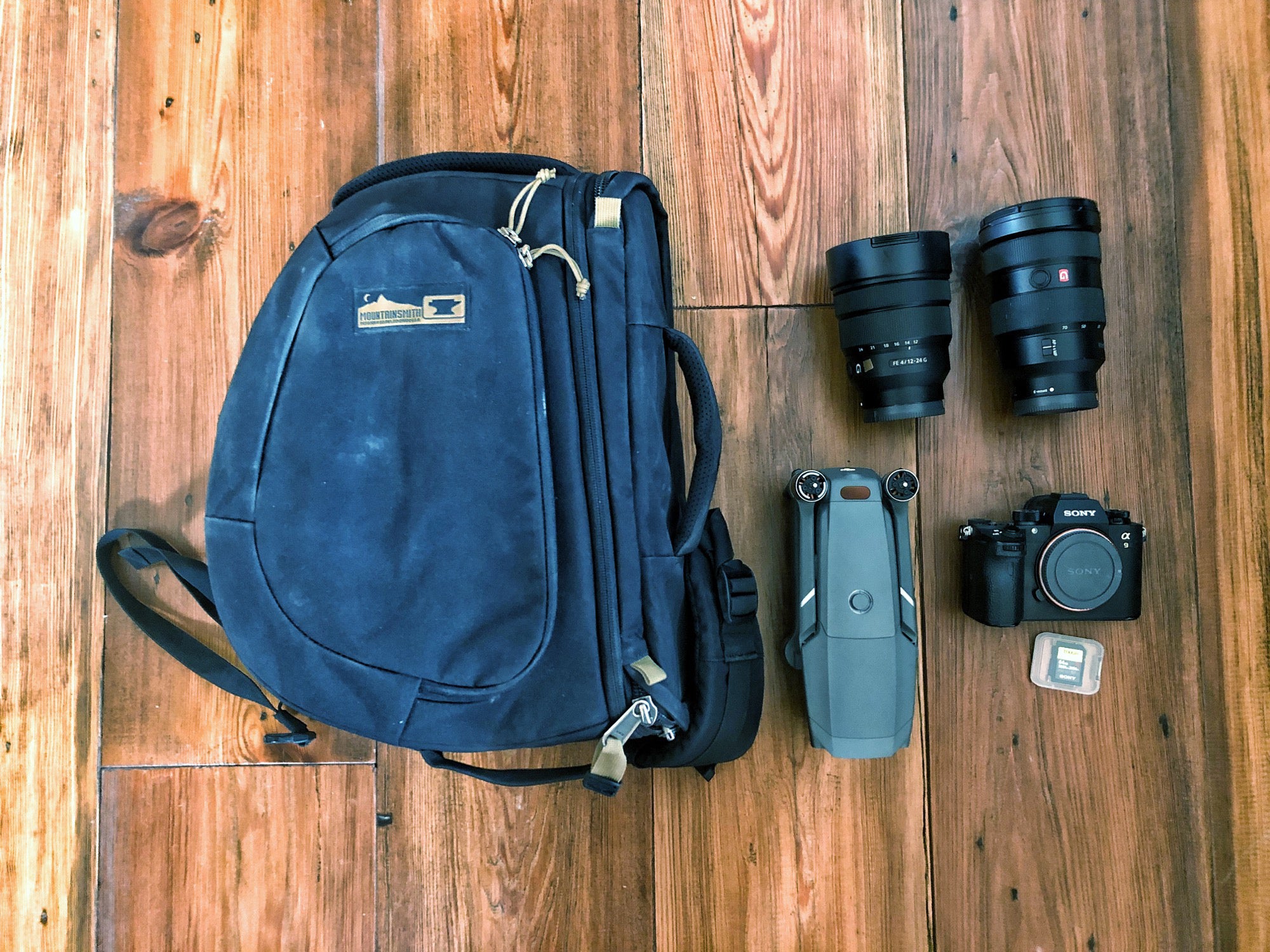 Cameras
Sony α9: I prefer the α9 while documenting summit pushes and living on the wall. When it's "go time" and we have no idea how long we will be up there, I prefer the more modest file sizes from the α9 since I won't be doing any offloading on the wall. The α9 also has incomparable focus abilities in my opinion, and tracking a subject moving toward me while keeping the eyes of the subject in focus is paramount (see more about Sony Continuous Tracking Eye AF in the α9 here) . Thirdly, I'm constantly switching from photo to video, and the α9 processes data so fast that there is rarely any wait time in making this transition.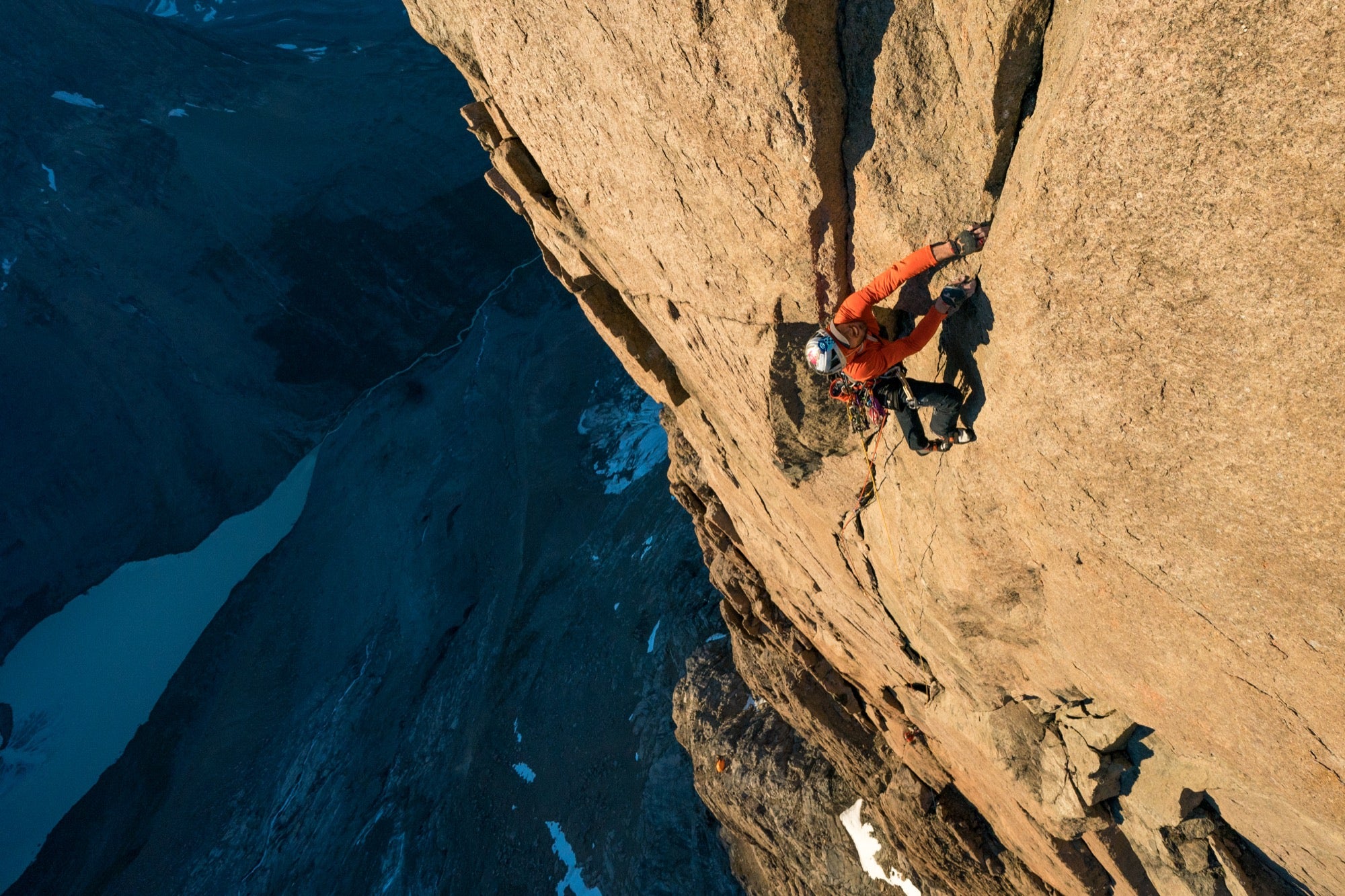 Sony α9. Sony 12-24mm f/4 G lens. 1/3200-sec., f/5.6, ISO 800.
Lenses
Sony 12-24mm f/4 G: The 12-24mm f/4 G lens helps me with working space. I'm often hanging at a belay with my partners no more than two feet from me without any possibility of moving to another position. I rely on the 12mm to be able to get that distance from my subject and make an interesting image in the mayhem. While I'm on the wall, looking down, I love the sense of exposure this lens adds to the frame and the lightness of having it around my neck in these awkward positions.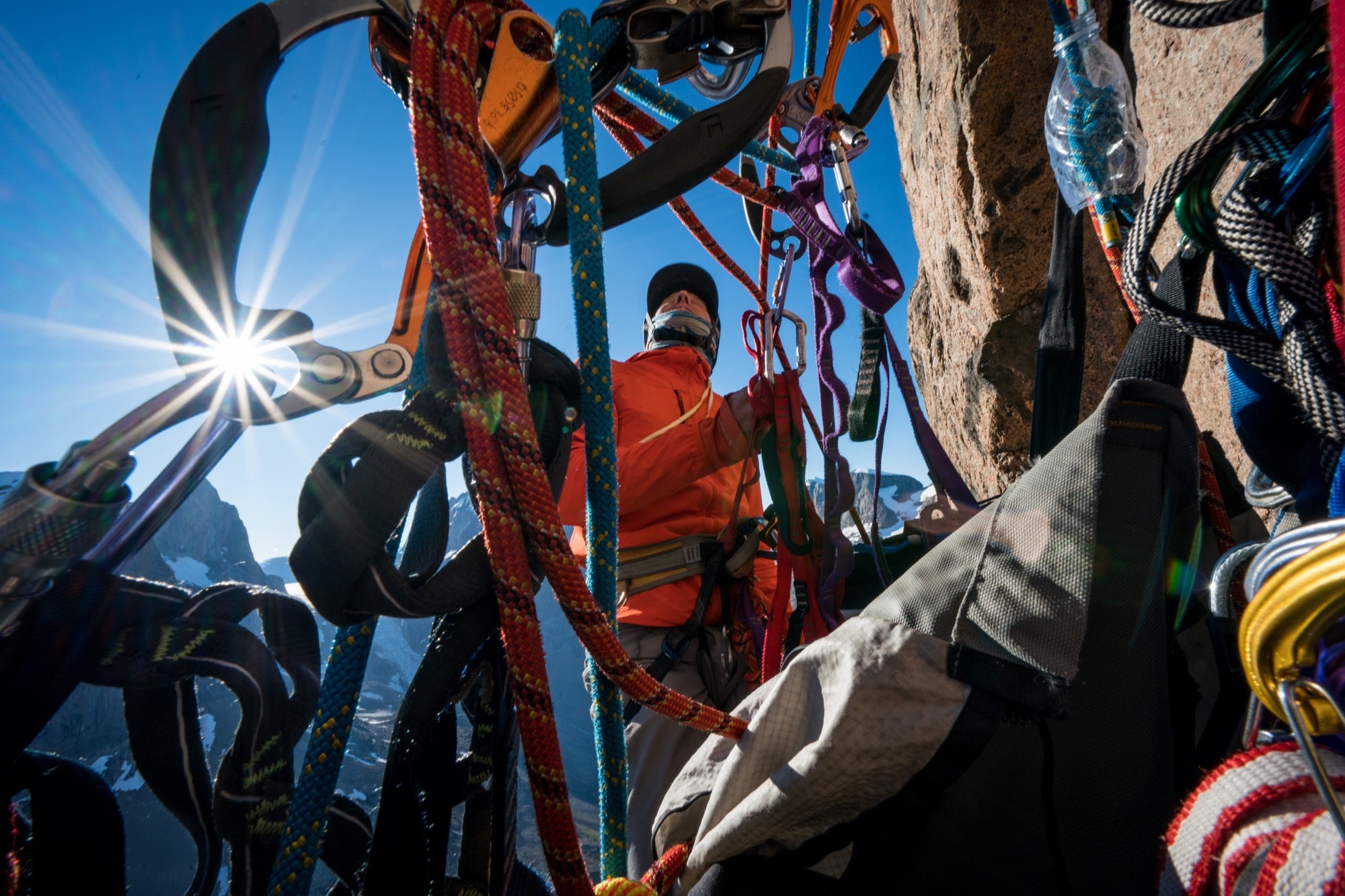 Sony α9. Sony 12-24mm f/4 G lens. 1/80-sec., f/20, ISO 250.
Sony 24-70mm f/2.8 G Master: I love the 24-70mm to be able to get beautiful depth of field up there and be able to work into the dark, relying on the 2.8 aperture when the sun dips behind the mountains.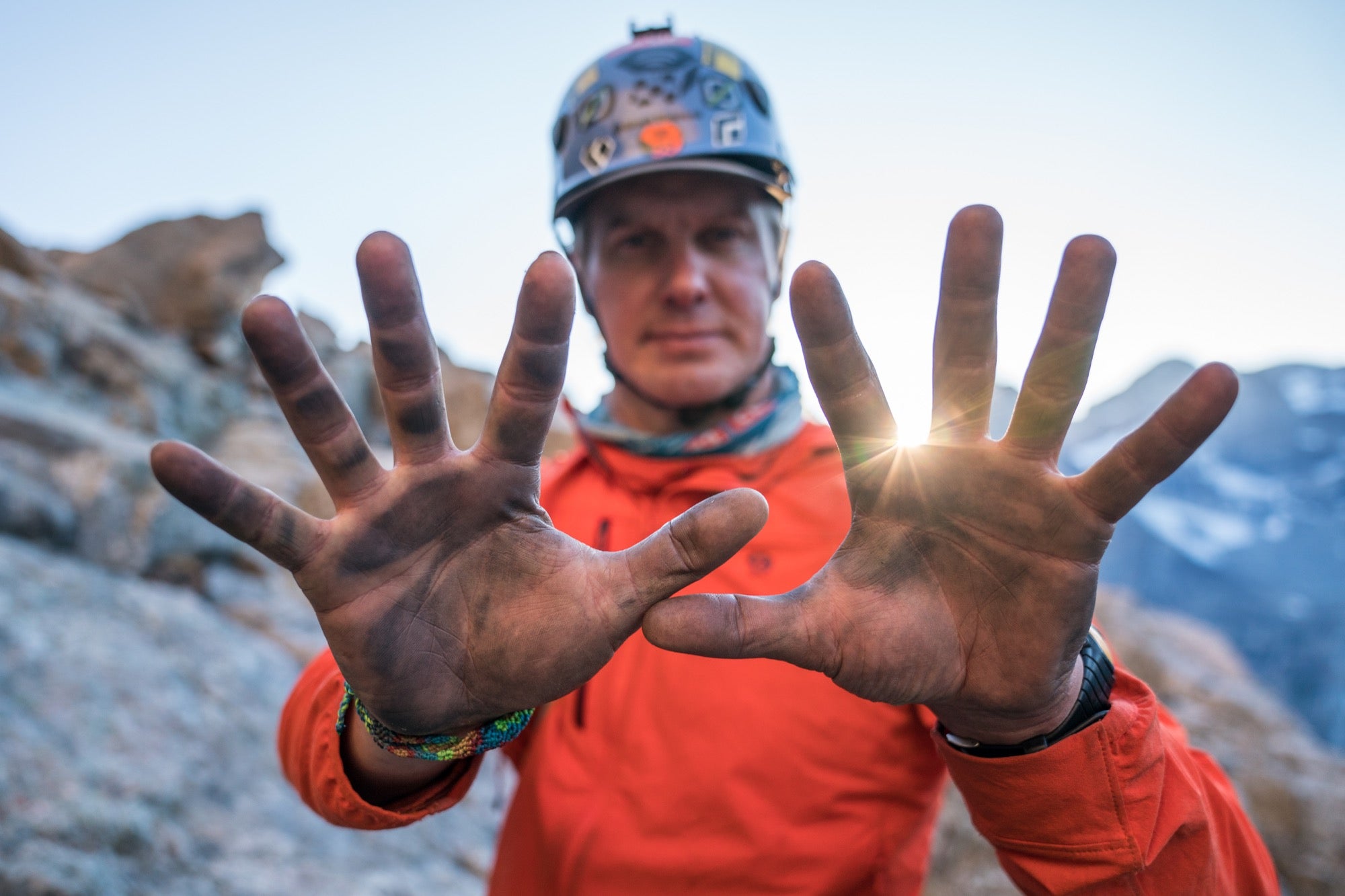 Sony α9. Sony 24-70mm f/2.8 G Master. 1/640-sec., f/2.8, ISO 320.
Accessories
DJI Mavik Pro: While I'm on the wall the only way to be able to get a truly wide angle view of the cliff is to fly a drone. This is the only reasonable way to show how tiny we are against the 300-ft. cliff.
Andy Mann/Mountainsmith Signature Wall Bag: I designed this bag with Mountainsmith to be able to sling quickly over the shoulder – not only to provide a stable shooting platform on your chest, but also to be able to safely access the inside of the bag in hairy situations and quickly be able to sling it back and continue climbing. It's the perfect size for a Sony mirrorless camera and up to four lenses.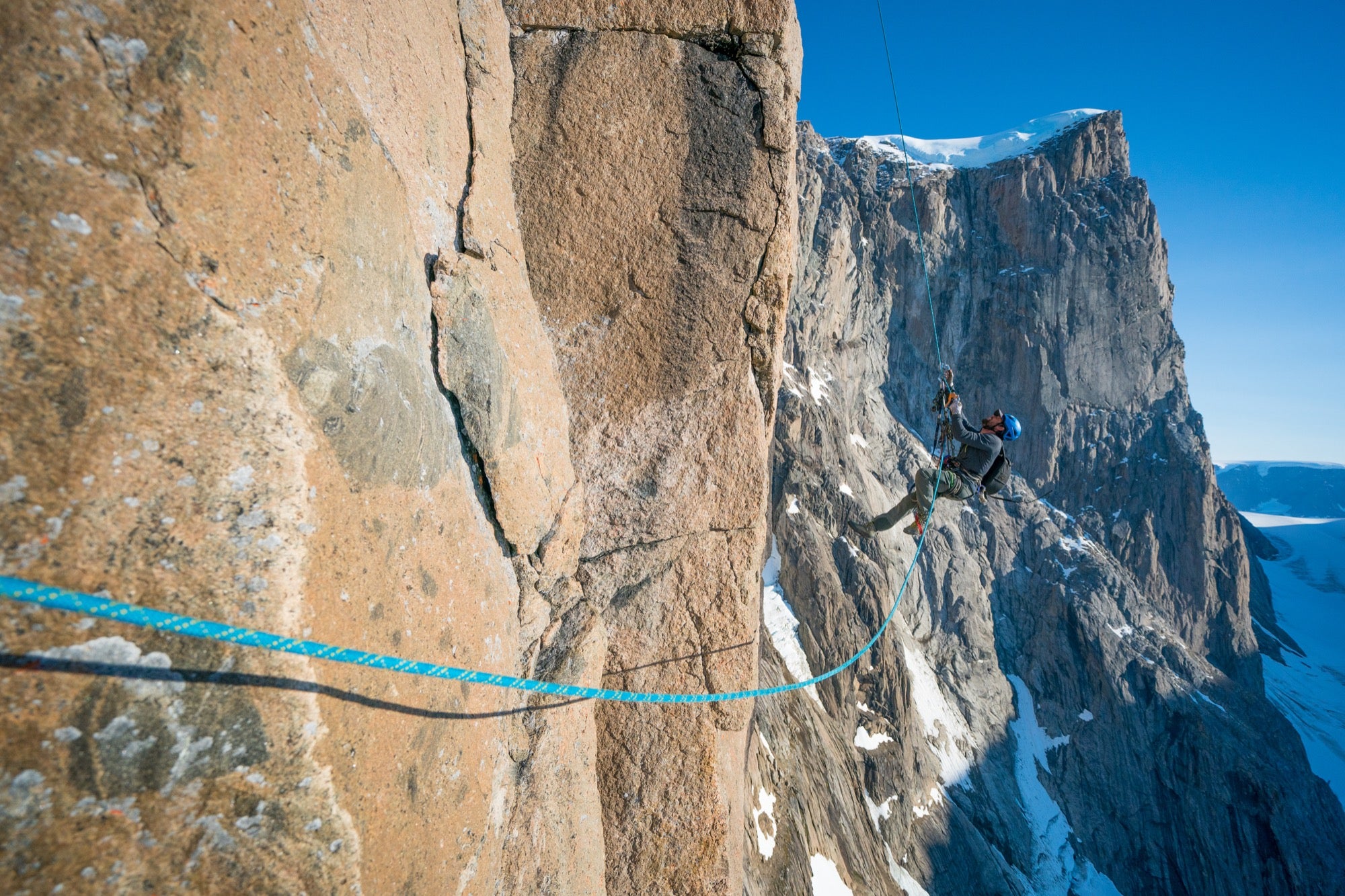 Sony α9. Sony 12-24mm f/4 G lens. 1/6400-sec., f/4, ISO 800