I didn't start photography with a silver spoon, or, in this case, a silver camera. I started photography at the tail end of my college career while moving to Los Angeles to begin a job in filmmaking. I was working hard to make enough money for rent while simultaneously pursuing my growing passion for photography. Frugal by nature, I had one rule for myself: I couldn't spend more than $10 a week on my craft.
Sony Artisan Brooke Shaden shows how she uses 5 common household items to create surreal photos that are even a little spooky. "I wasn't relying on expensive props, grand locations or fabulous wardrobe...the story was coming from within."
Sony Artisan Of Imagery Brooke Shaden is known for using her Sony α7R III, a 50mm lens, inexpensive, commonly-available props and her incredible imagination to create her stunning, narrative self portraits. In this video from a live demo on the Sony Stage at PhotoPlus Expo, Shaden shows how she uses some of her favorite $10 props.
This led to me places I didn't anticipate going, like dumpsters in back alleys of LA, thrift stores, and (though you didn't hear it from me) the back room of where I worked to sneak props home at night.
There were two side effects to creating in this way. One was that I had to think really, really creatively. If I had only myself, an old, white apartment, and a few found objects as props, what could I make? If I used nothing but window light and some Photoshop, what would it look like? The results were images that were wholly mine because of the second thing that happened: I had to put my whole self into the art in order for it to express something interesting.
I wasn't relying on expensive props, grand locations or fabulous wardrobe to tell a story; the story was coming from within.
Over the years I've gathered a few favorite household items into my workflow that have changed not only my images, but also how I look at creativity. Just because something isn't obviously inspirational doesn't mean that it can't be. And, in my experience, often means it is more so.
Here are five household items you can use right now to create surreal images: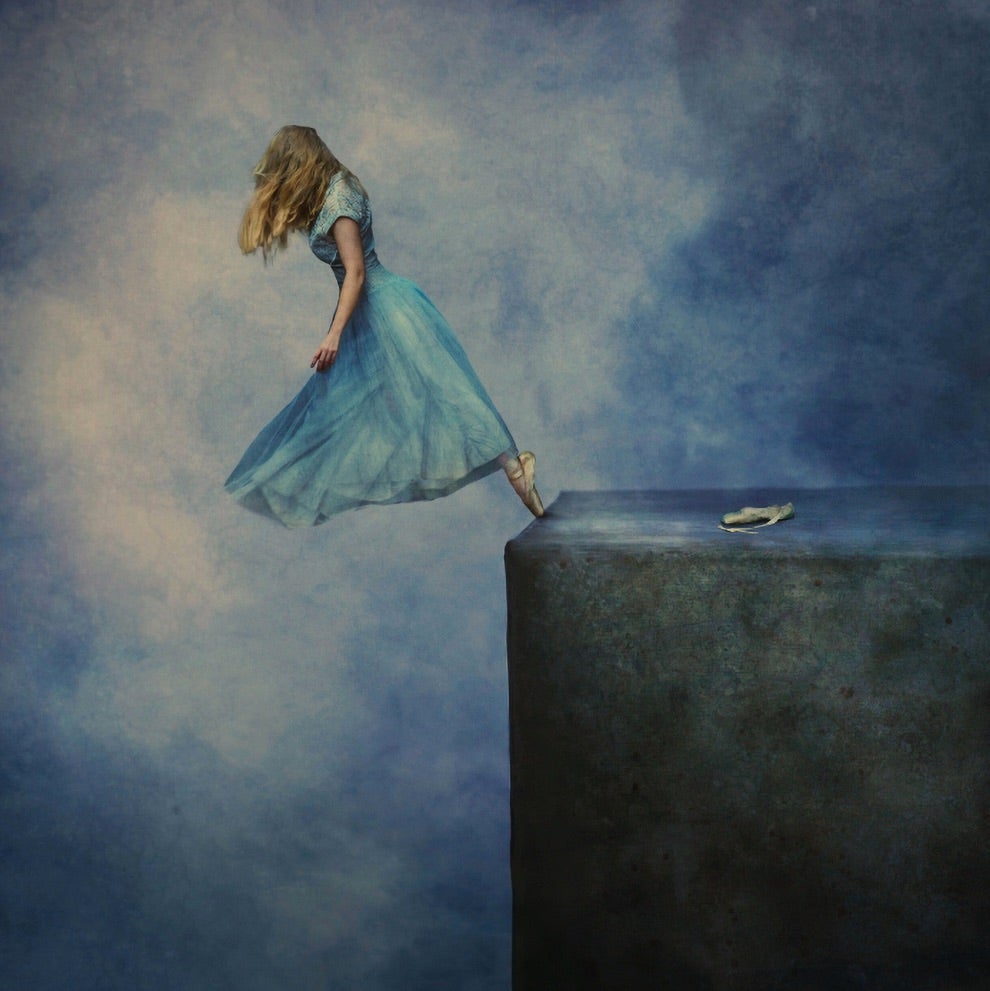 Toolbox. One day I got an idea in my head of a really steep, sharp cliff edge. I wanted to be falling forward off the edge in the image. No matter where I looked I couldn't find what I needed in a location. I looked for a whole year! One day I was organizing my garage and noticed an old toolbox, and BINGO! I had my cliff edge

 by photographing the box up close at the right angle, I was able to make it look how I wanted – like a building or a cliff, with an interesting and unusual texture. Through compositing, I added myself into the picture, some fog, and texture to bring it together.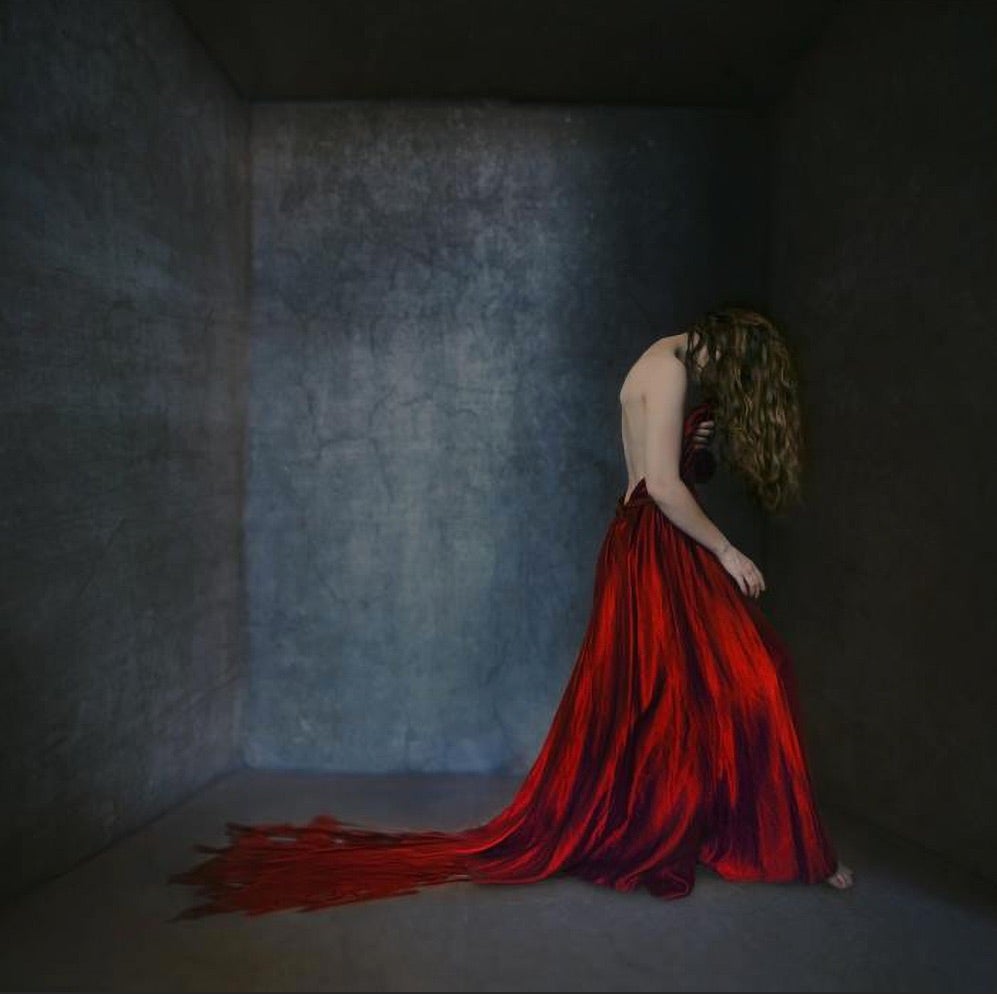 Cardboard box. For years upon years I have searched for the right room to shoot in. Something with three walls showing with no window that was bright enough and big enough. It was really difficult to find! It became an obsession of mine to find the right space. I picked up a cardboard box and told myself I would stare at that box until I figured out a way to use it in a photo. I issued myself a challenge. And then it dawned on me that the box would make the perfect room!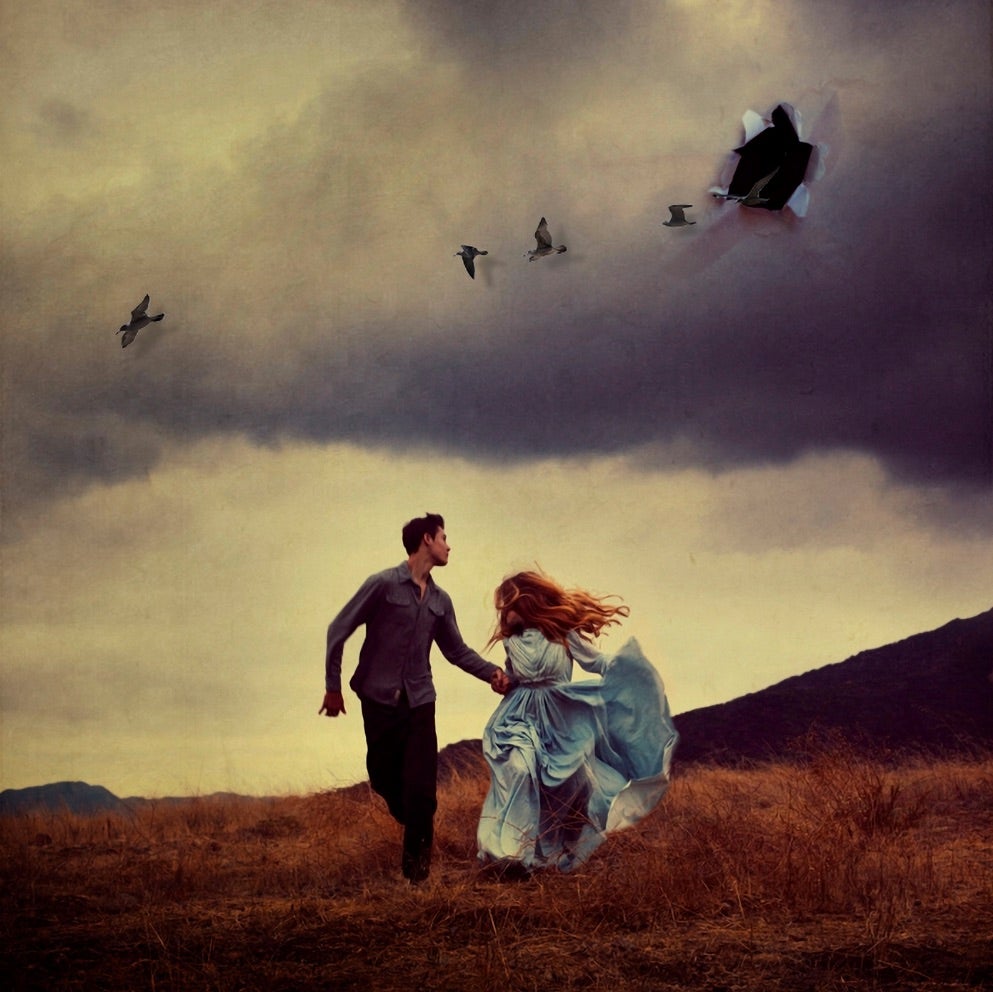 Paper and coffee mugs. I've often wanted to create holes in the ground or in walls, but wasn't quite sure how to do that without finding the perfect hole in the ground! So, I got a coffee cup (preferably one that has a natural color and texture) and used that image to create the effect of there being a hole in the ground. Alternately, I'll punch a hole through paper to look like a hole in a wall.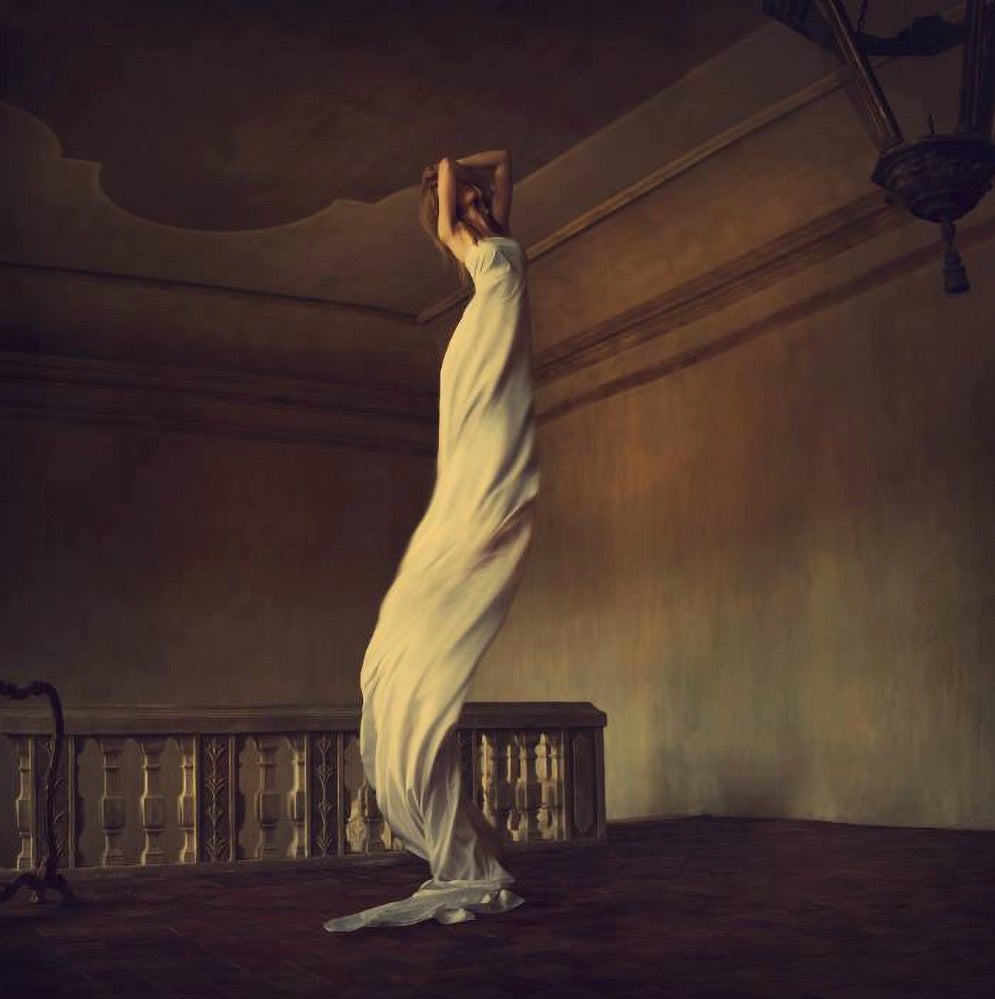 Bed sheets. Ah, bed sheets. My favorite tool! I use them as wardrobe frequently when I want something simple, nondescript, with no time period attached. They are surprisingly elegant! And when I don't need a bed sheet as a dress, I use them as backdrops. I don't own any proper backdrops, so I duct tape bed sheets to my walls when needed.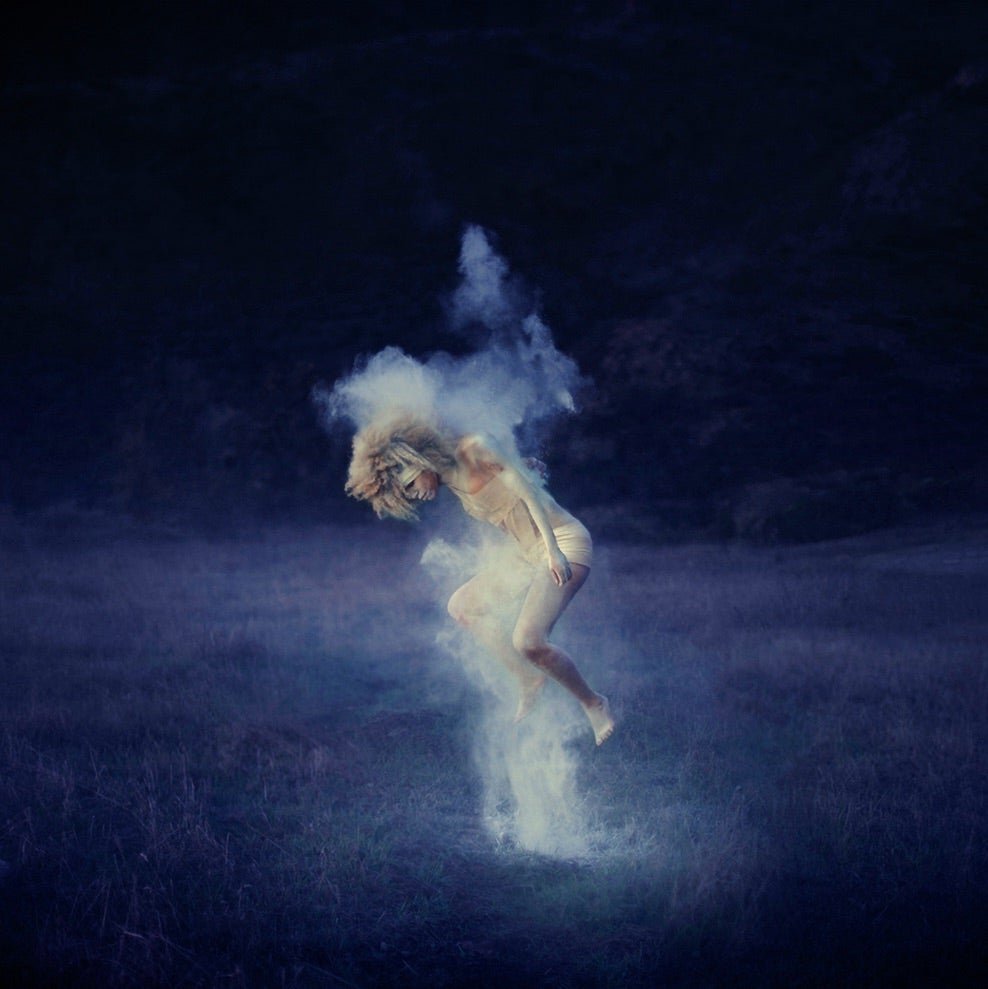 Kiddie pool. If you don't own one, you should. I don't have kids but always have a kiddie pool handy! I use the kiddie pool to look like a larger body of water quite frequently. By either shooting from above and looking straight down into the pool, or putting a black backdrop up in the background, I have used kiddie pools to look like lakes and oceans!
There are so many more ways you can use household items. Explore small spaces that go unnoticed, lighting that might look naturally good in an image, rummage through drawers and closets to see what you find.
I've used twine as hair, mushrooms as eyeballs, leaves as a dress, flour as an exploding head, pillow batting as clouds, and a huge number of other odd things as well. Above is one of my favorite images where I've utilized baby powder as smoke.
I believe that the key to being an artist is not about what you can afford for your craft, but how creatively you can use what you have.
Everything else is cake.
See more about how Brooke Shaden creates her surreal self portraits in this live demo from the Sony Stage at PhotoPlus 2018: