Kristin Atwood (@chefstudiokrissy) is a chef-turned filmmaker and founder of the James Beard and multi-Webby-nominated Chef Studio, an independent production company where food meets film. She won an Alpha Female+ grant to create Flight Of The Bumblebee, a five-part video cooking series inspired by bumblebees in spring and summer. Her experience in food video creation has taught her what works and what doesn't. Below she shares her top five tips for creating compelling food videos that people will want to watch.
Chef-turned filmmaker Kristin Atwood shares her top five tips for taking your food videos to the next level.
1. Mise en Place
This is a kitchen term which translates essentially to "everything put in place," and when you're filming food, mise en place is just as important as when you are working the line in a professional kitchen. Having equipment and ingredients prepped and ready to go for filming makes things run smoothly when it comes time to film and makes transitions much easier as you move from shot to shot. Have all your ingredients for a recipe shoot lined up and ready in advance and it will make your life significantly easier. There is honestly nothing more annoying than having to run to the store in the middle of filming because you realize you are out of butter or need a specific type of plate for a final shot.
2. Lighting Food Is It's Own Thing
Lighting food for film and photography isn't difficult once you get the hang of it, but it is definitely it's own thing and something that took me a while to figure out. Lighting that might look great for portraits or product photography can make food look flat and washed out. There is a line that is really easy to cross when lighting food where it starts to look really unnatural and unappetizing. I try to avoid lighting food from the front as in my experience this yields the worst results. Instead, I tend to opt for back or side lighting. While back lighting is sometimes considered a bit of a cardinal sin in other types of film and photography, it actually makes food look fantastic. You get really lovely contrast and an almost ethereal quality to the images. Side lighting is also great for food, it allows for a lot of dimension in your highlights and shadows which help you to really see the texture of the food on screen.
My favorite lighting set up for food is a single large diffused light source, preferably natural light. I'll either use a sheer curtain or white diffuser panel in front of a large window. If you want to mimic this look with artificial light you can use a large, octagonal soft box or place a light behind a large diffuser panel.
3. Compose Your Shots like You Would a Photo
This tip is film specific but the thing that really leveled up my food footage was making sure I composed each shot, no matter how small or mundane as if it was going to be a still photo. I think it's really easy to shrug off little shots when you're filming because they are small parts of a larger piece but going to that extra effort to make sure each shot is set up and structured just so makes all the difference to the overall quality of a video or series.
An added bonus when you film like this is that you can go back in later and it is super easy to take still shots and edit them in Lightroom as photos. Half of my social media photos are actually just still frames from footage.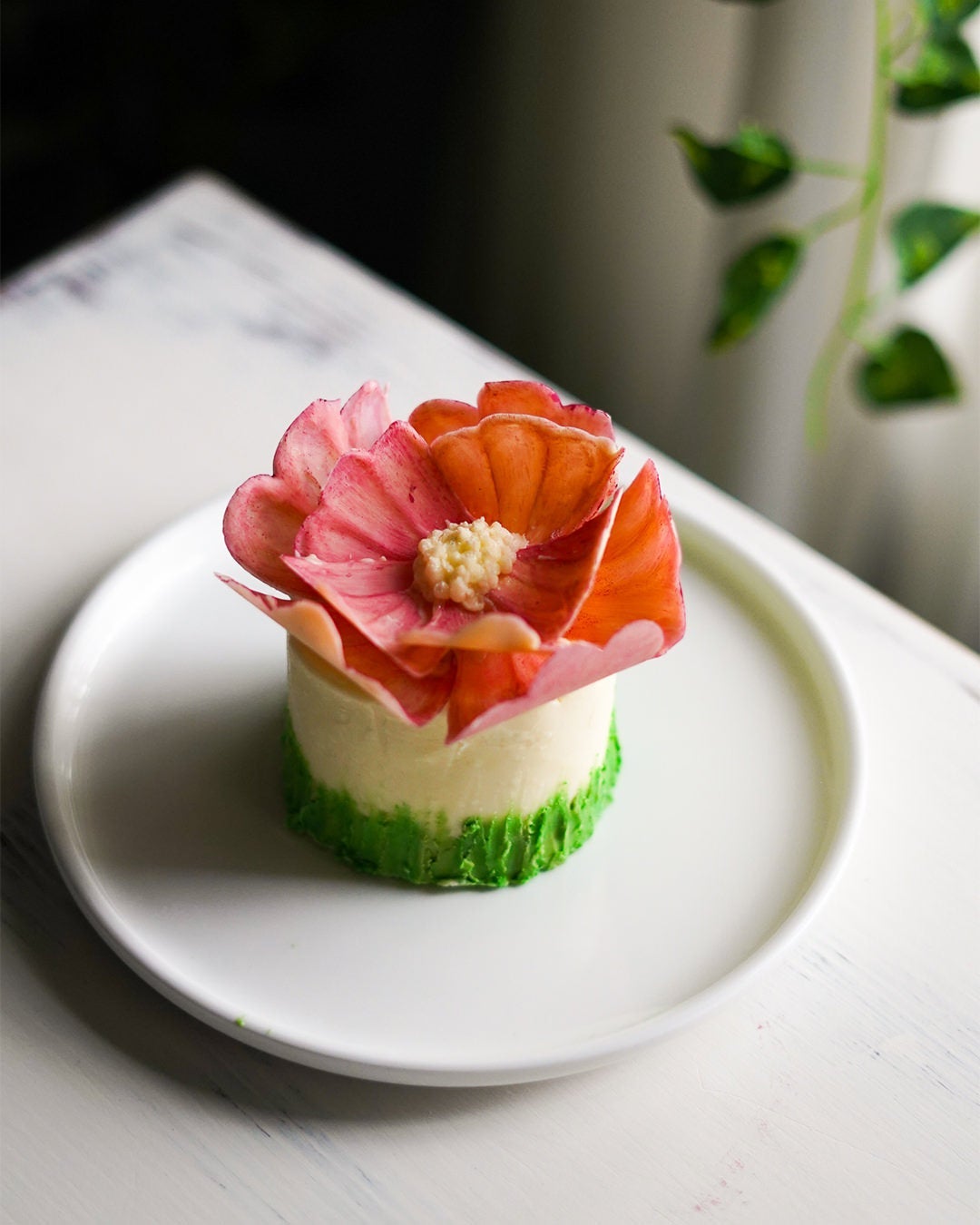 "Compose your shots like you would a photo." – Chef-turned filmmaker Kristin Atwood on creating compelling food videos
4. Gear For Food Videos
Right now, I'm shooting on my Sony Alpha 7 III with either a Sony 50mm f/1.8 or the Sony 16-35mm f/2.8 G Master lens. The 50mm is great for shots where you're looking to have your subject crisp and in focus and your background subtle and soft (makes food look fantastic). The 16-35mm is great for establishing shots, shooting in small spaces and full length shots of my work surface. This is also my primary lens for any outdoor or landscape work I do related to cooking so whether that's filming on a farm or out in nature doing segments on foraging etc.
In general, I use the 50mm the most but I'd also really recommend a 25mm or 35mm. Most of the work I've done for YouTube and YouTube Premium as well as for any of my series on streaming platforms like Hoopla or Airy TV was shot with a 25mm prime lens which was my go to up until very recently.
5. Don't Forget About Story
This is actually something that I've really been trying to get better at myself. It can be really difficult to create a meaningful story that pushes a video or series about cooking forwards in an engaging way but it is incredibly important. A compelling story is really key to keeping viewers engaged in your work and having a narrative that ties how-to, cooking or lifestyle content in with an overarching theme or idea really allows people to connect with you as a photographer or filmmaker.
Food and cooking, for each of us, have so much attached to them that goes far beyond the physical act of cooking or eating. Some foods invoke nostalgia and bring back memories of our childhood. Some foods are connected to our cultures or are deeply rooted in tradition. We have food for comfort, for times of celebration and for when we're feeling low. When I'm trying to tell a story about food I try to tap into these ideas and create a space where people can connect with what I'm making on a bit of a deeper level.
See more of Kristin Atwood's work on her Alpha Universe Profile, Instagram @chefstudiokrissy and on the Chef Studio YouTube Channel.