Sony Artisan Nino Rakichevich is traveling in Europe for the summer. In addition to teaching a class of students from The Brooks Institute, Rakichevich photographed both Paris Fashion Weeks (Men's and Women's fashion). In this dispatch from abroad, he shares some of his favorite photos from each Fashion Week.
As photographers crowd around designated spots along the runway or in other obvious shooting areas, Rakichevich takes advantage of his experience, relationships and reputation to get into other places where he captures intriguing behind the scenes photos as well as definitive haute couture images.
Part of his extraordinary access is due to Rakichevich's commitment to maintaining a low profile and keeping his gear to a minimum. The photos in this article were all taken with the RX1R 2, a6300 and a7R II.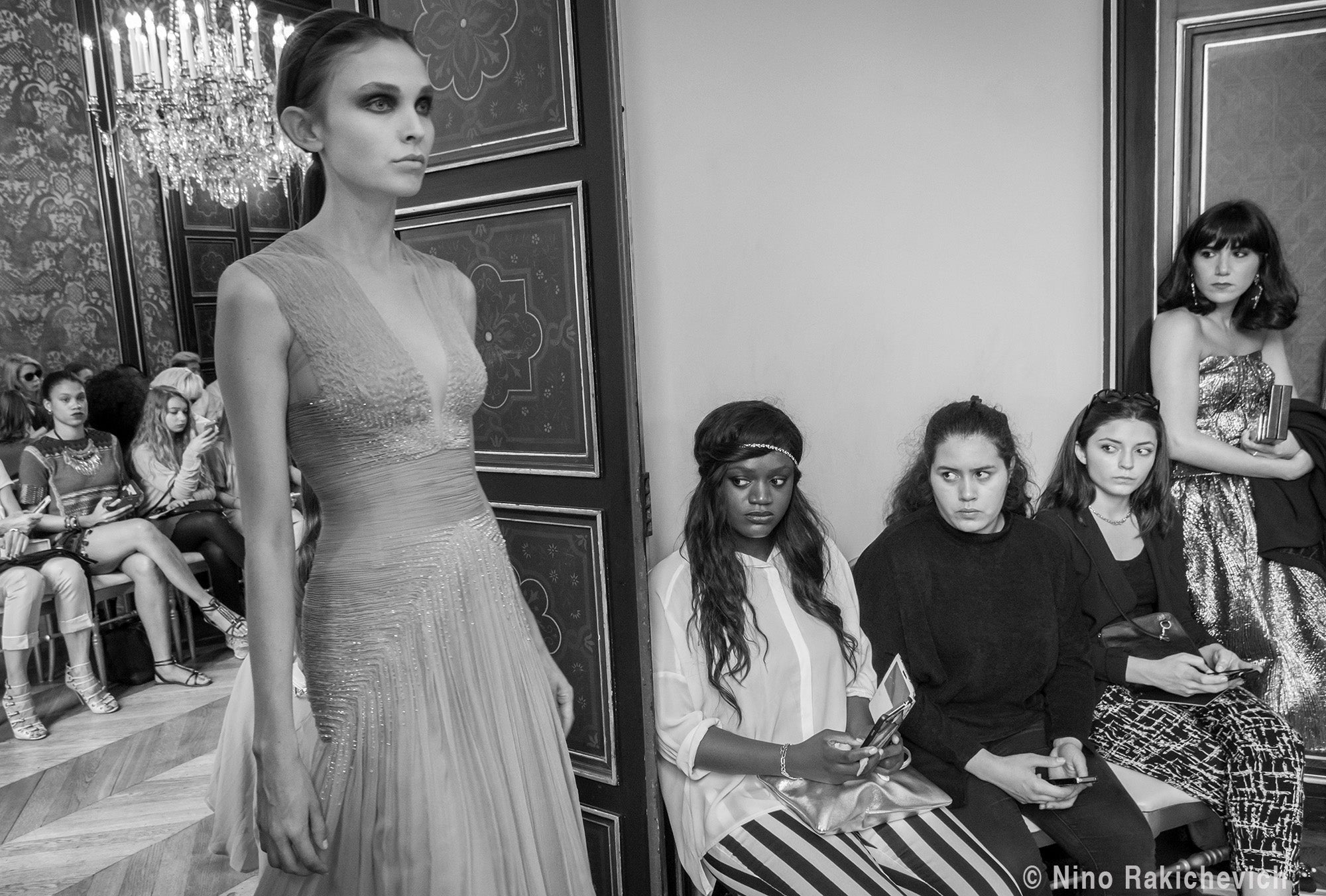 α6300, Sony Vario-Tessar T* E 16-70mm f/4 ZA OSS lens at 17mm, f/6.3, 1/125-sec, ISO 2500
"I don't like to be in the same spots as the other photographers because everybody gets the same photos. By positioning myself elsewhere, I was able to get this more interesting photo. I love this photo because it shows so much if the emotion of Fashion Week. In the eyes of these four girls, just watching a model, you can see that."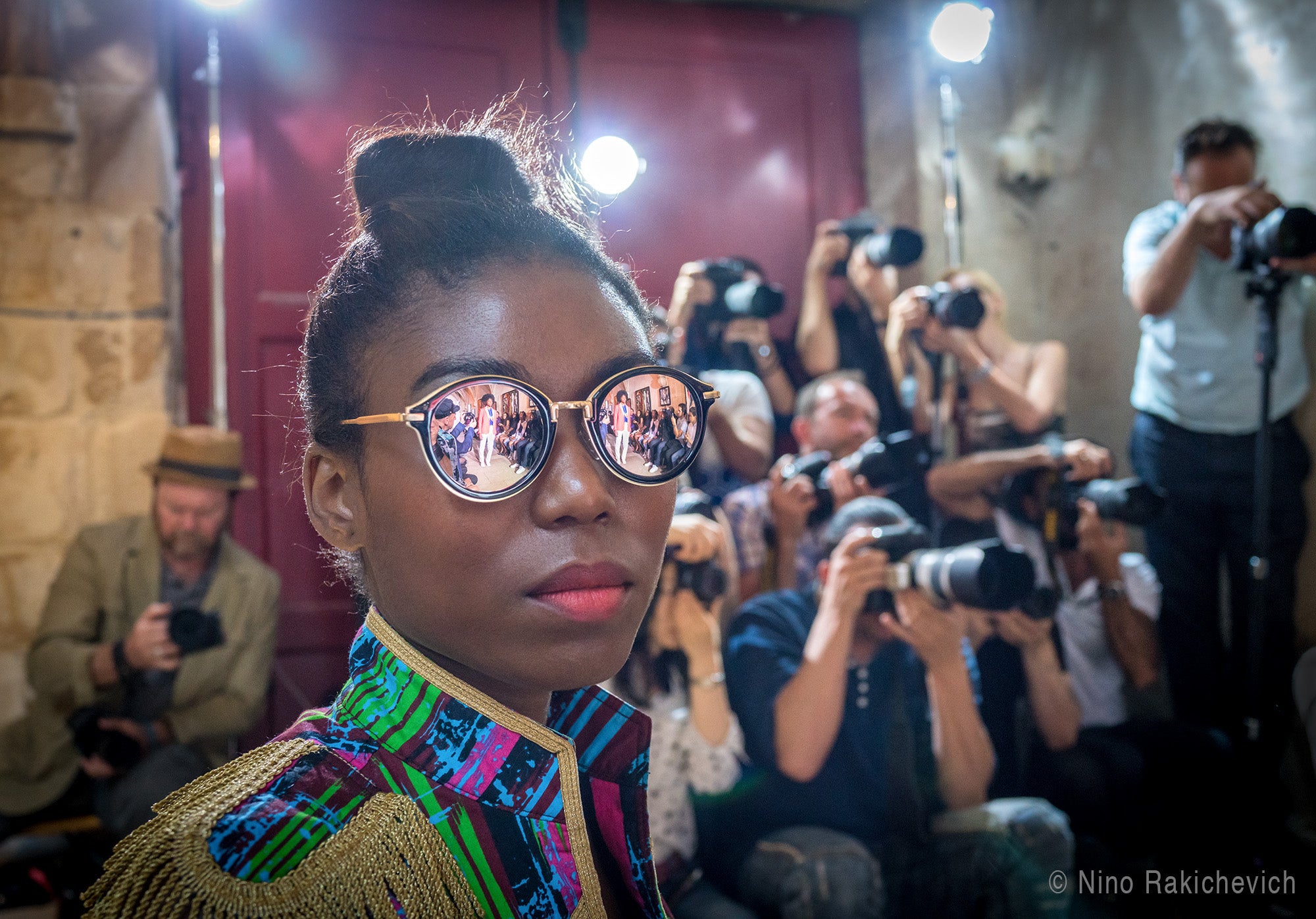 RX1R II, 35mm lens, f/5.6, 1/125-sec., ISO 3200
"Here, I was in a front row, where I basically had a view of the other photographers. I was lucky enough to sit next to this lady who had mirrored glasses. I politely asked her if it would be okay for me to take pictures of her. I had the idea of photographing the entire show in her glasses. She was fine with it. That's also how I was able to get all the photographers in the background, which means none of them have the same shot that I have, which is always cool. Shooting Sony, I especially love seeing all these Nikon and Canon guys in the background just firing away getting the same shots as each other."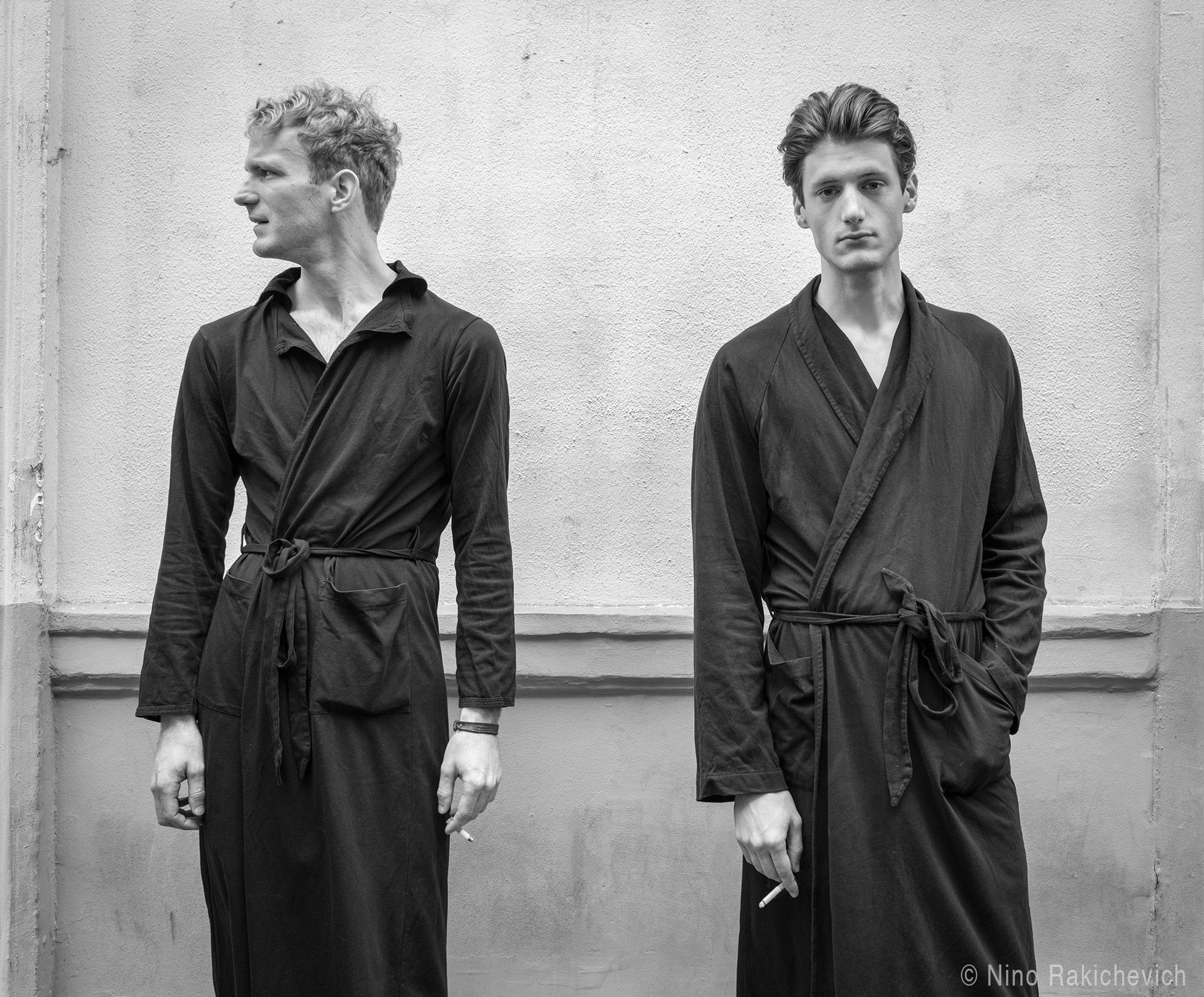 RX1R II, 35mm lens, f/5.6, 1/125-sec., ISO 100
"These are models from Men's Fashion Week. Just before their show, they're having a last smoke in their robes. In a moment, they both went inside to change into their outfits. This kind of behind the scenes shot adds a dimension to Fashion Week that most people never get to see."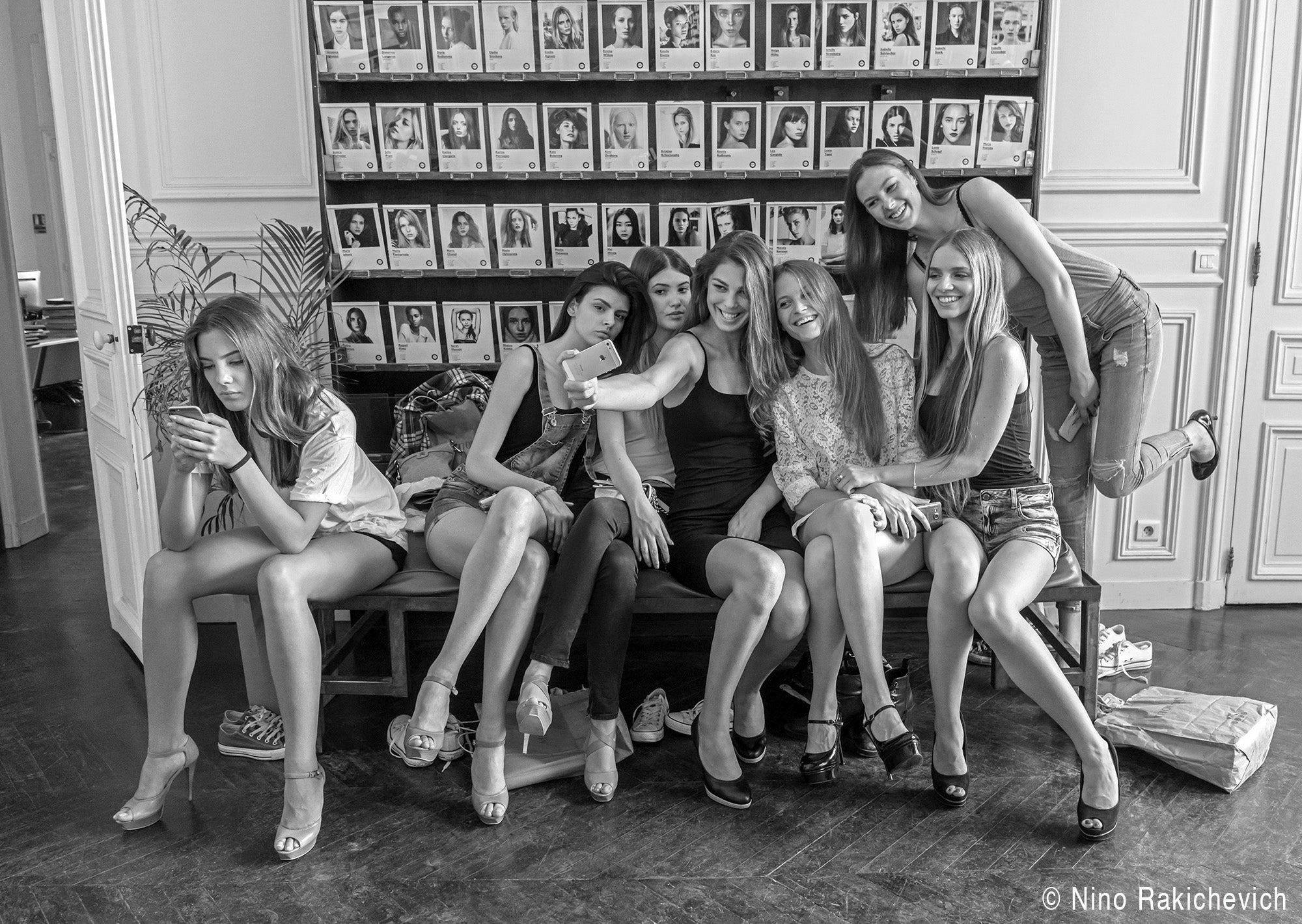 α7R II, FE28mm f/2 lens, f/5.0, 1/200-sec., ISO 2500
"A big part of Fashion Week is model tryouts. These models are, mostly, enjoying their trip in a moment of levity outside of the stresses of auditioning for a modeling agency in Paris. They are all Serbian girls who have made the trip for this opportunity."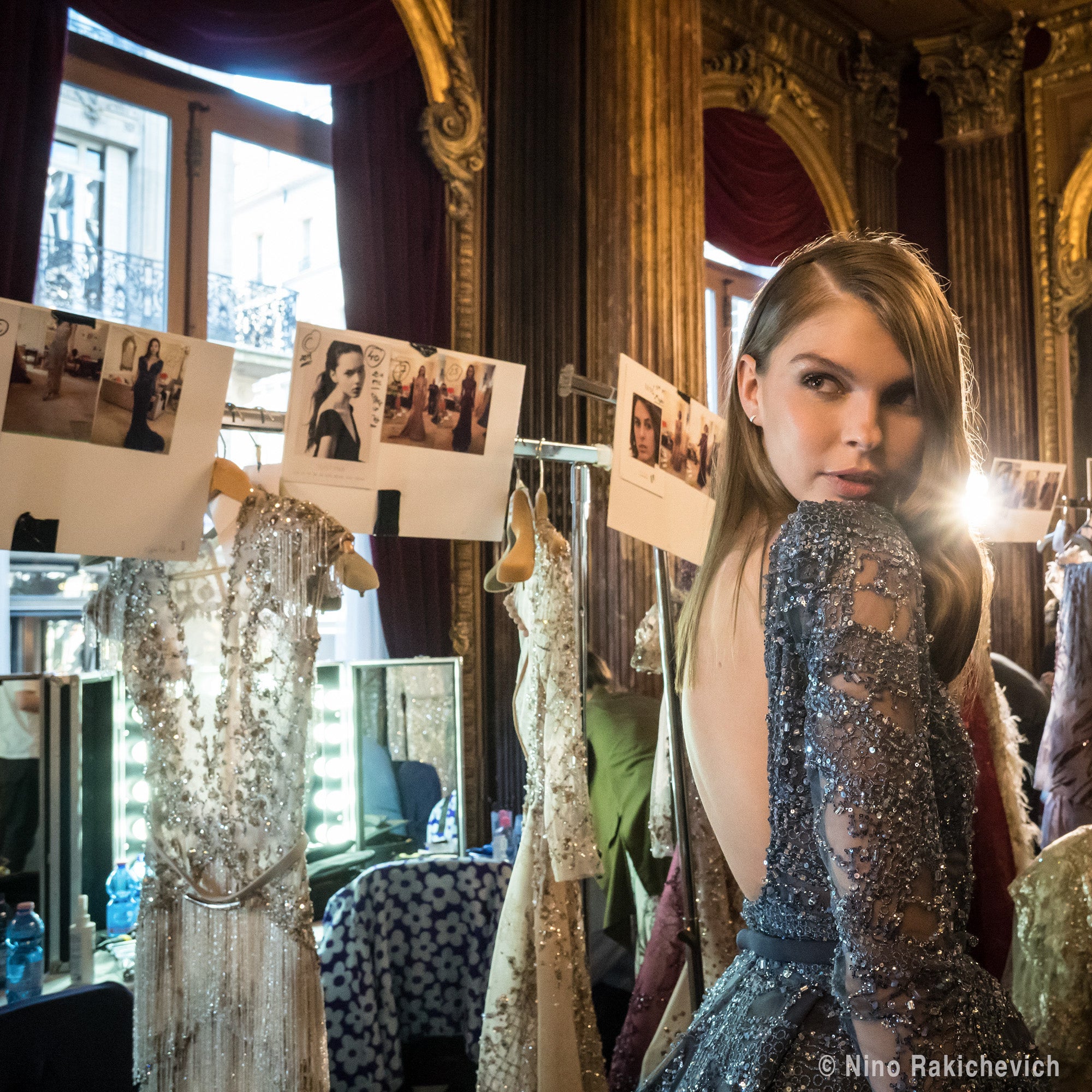 α6300, Sony Vario-Tessar T* E 16-70mm f/4 ZA OSS lens at 16mm, f/5.6, 1/80-sec., ISO 4000
"Going backstage after a fashion show is only reserved for most trusted photographers. I'm fortunate to get a lot passes for backstage and that's how I get these interesting photos like this one. It was right after the show and you can see all of the garments and notes around the models' stations in the background."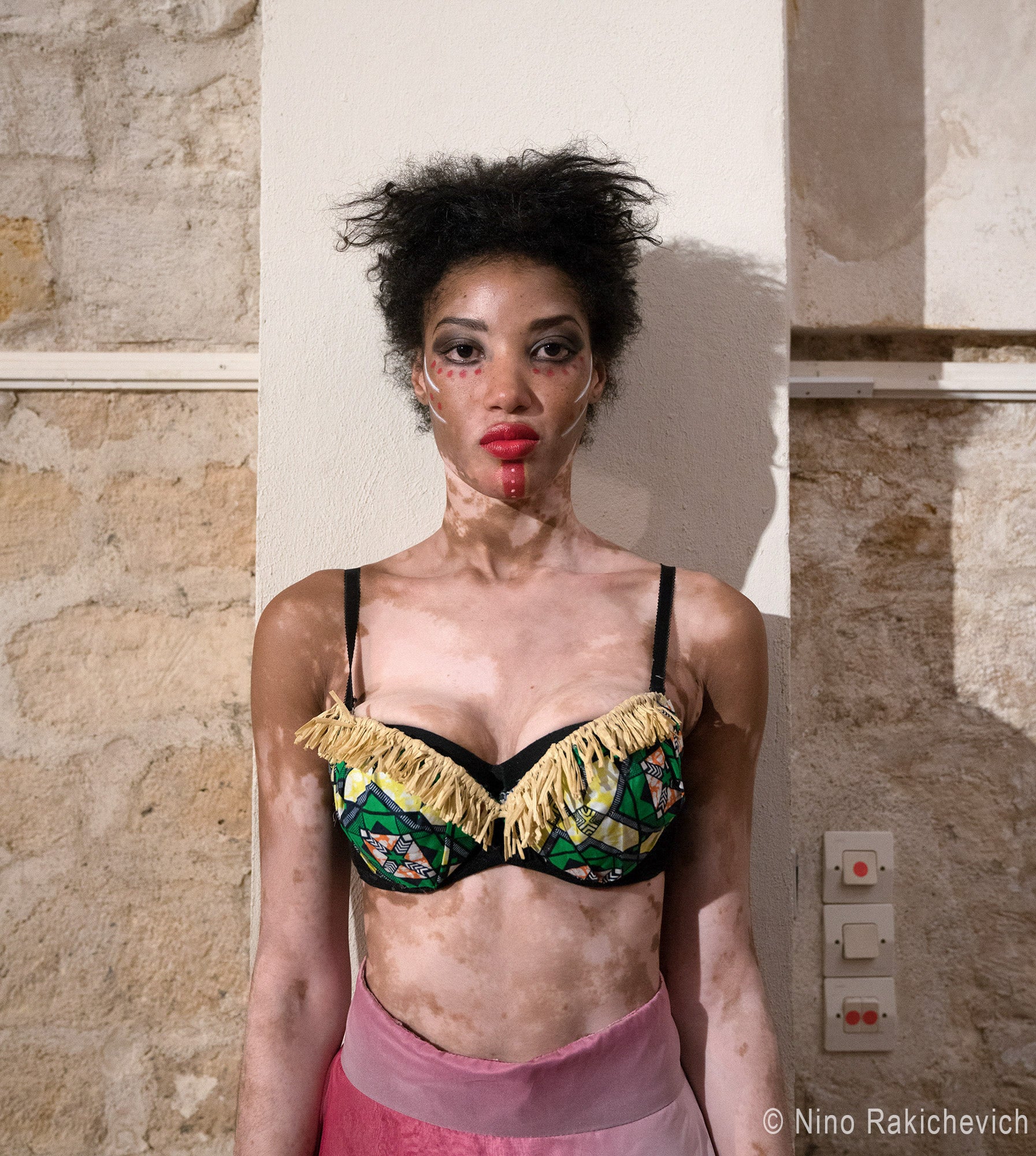 α7R II, FE 24-70 f/2.8 GM lens at 33mm, f/4, 1/60-sec., ISO 3200
"Also backstage after the show, this is a portrait of a model who has a rare skin condition. She's really striking and very unique. I'm grateful that she trusted me enough to let me take this behind the scenes portrait of her."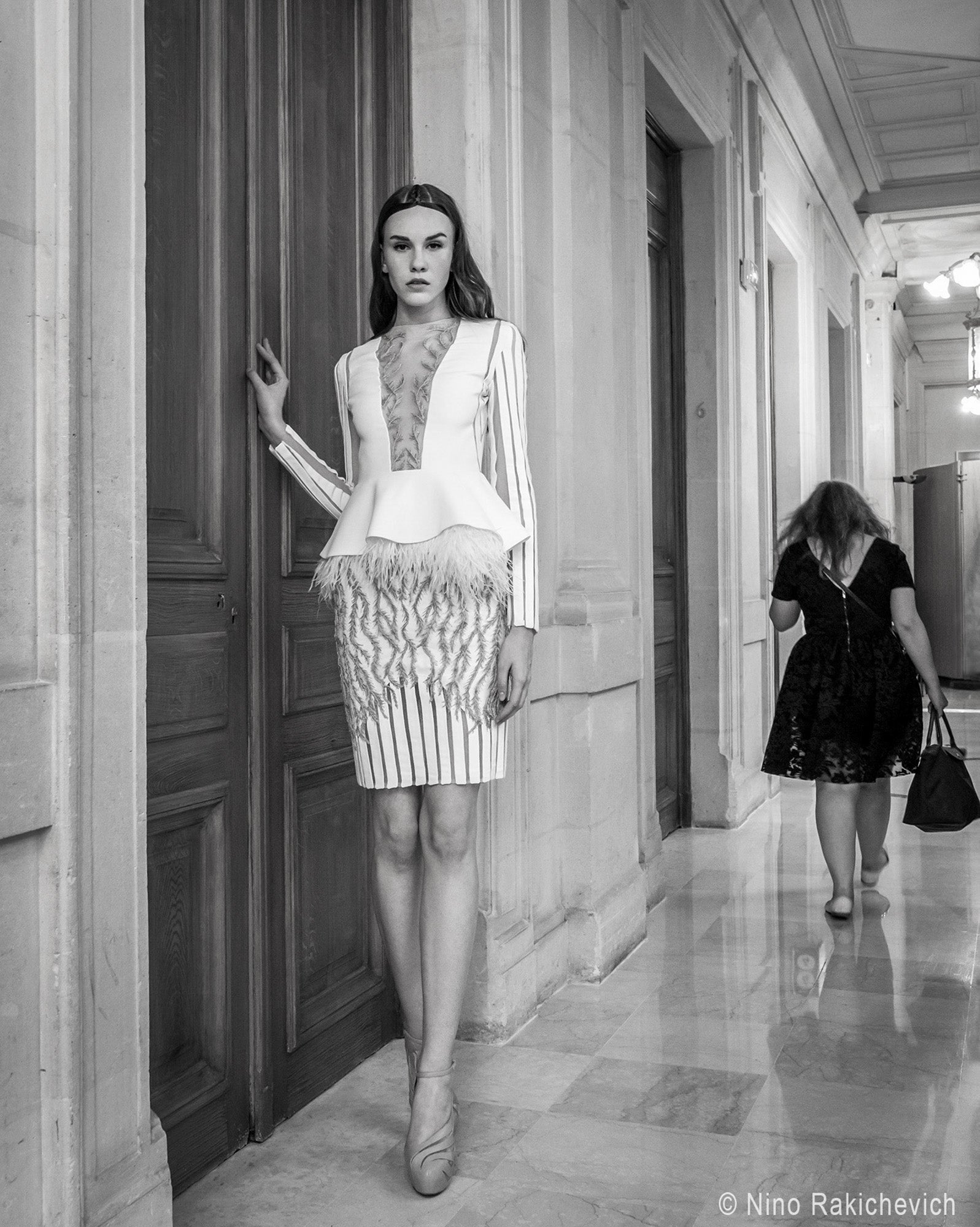 α7R II, FE24-70mm f/2.8 GM at 24mm, f/5, 1/40-sec., ISO 2000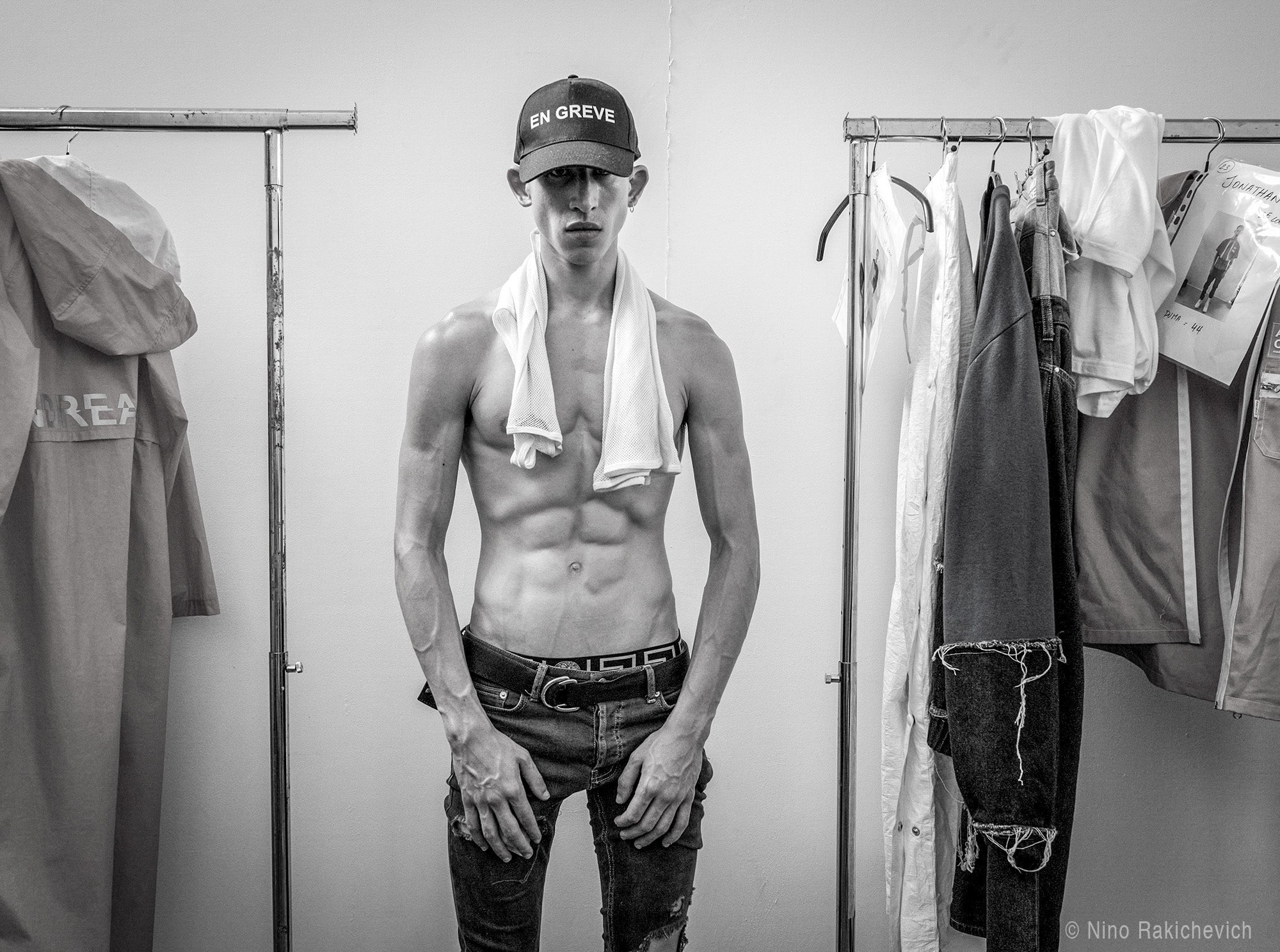 RX1R II, 35mm lens, f/6.3, 1/400-sec., ISO 2000
"Also backstage during Men's Fashion Week, I call this photo "Fat Free". That model, he has really no fat at all. He's standing right next to the rack with the outfit that he was wearing a few minutes before."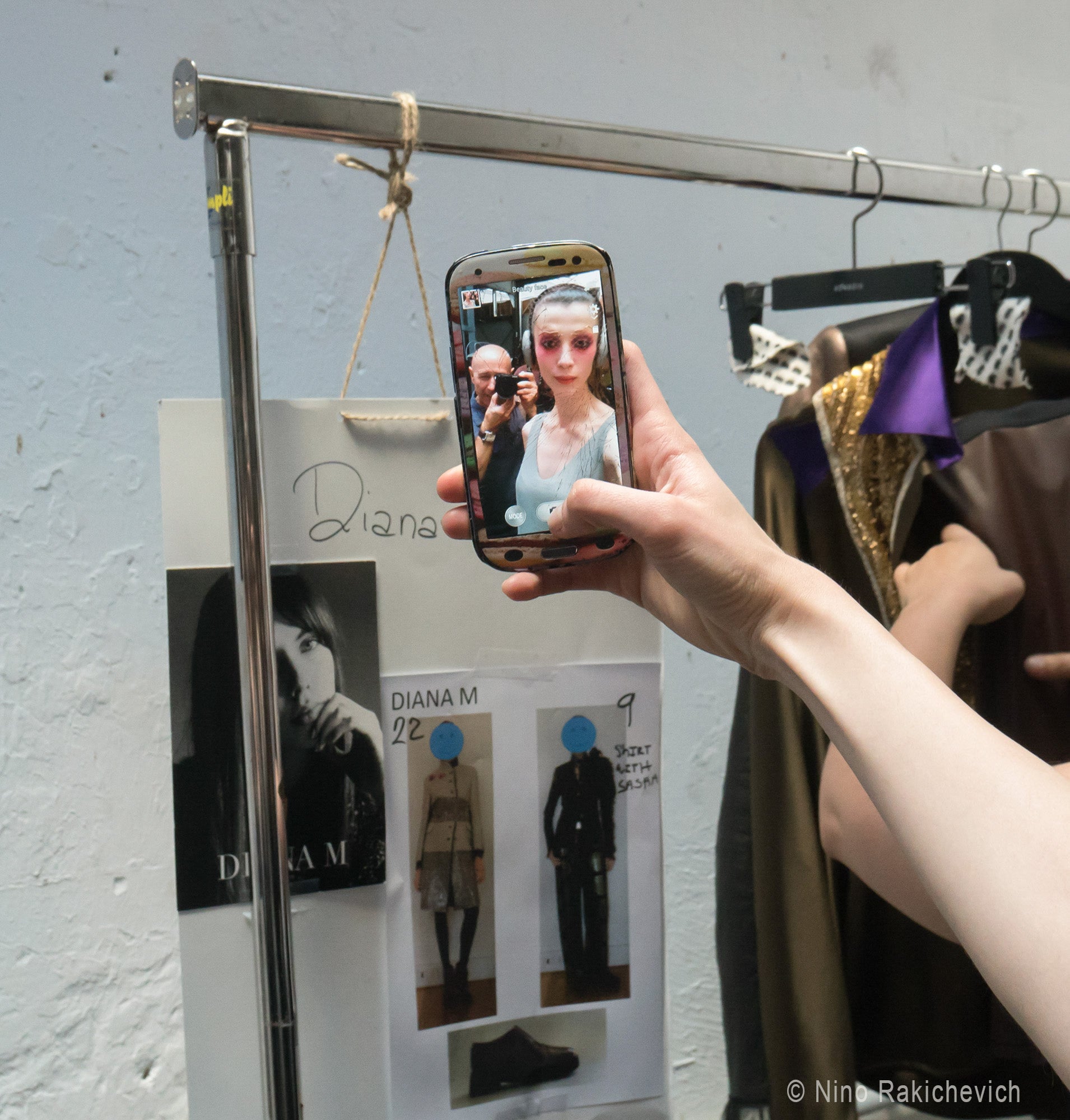 α6300, Sony Vario-Tessar T* E 16-70mm f/4 ZA OSS lens at 22mm, f/6.3, 1/160-sec., ISO 2000
"This is another shot I was able to get because of my access. The model is taking a selfie and I'm taking a selfie with her taking a selfie. It's kind of cool."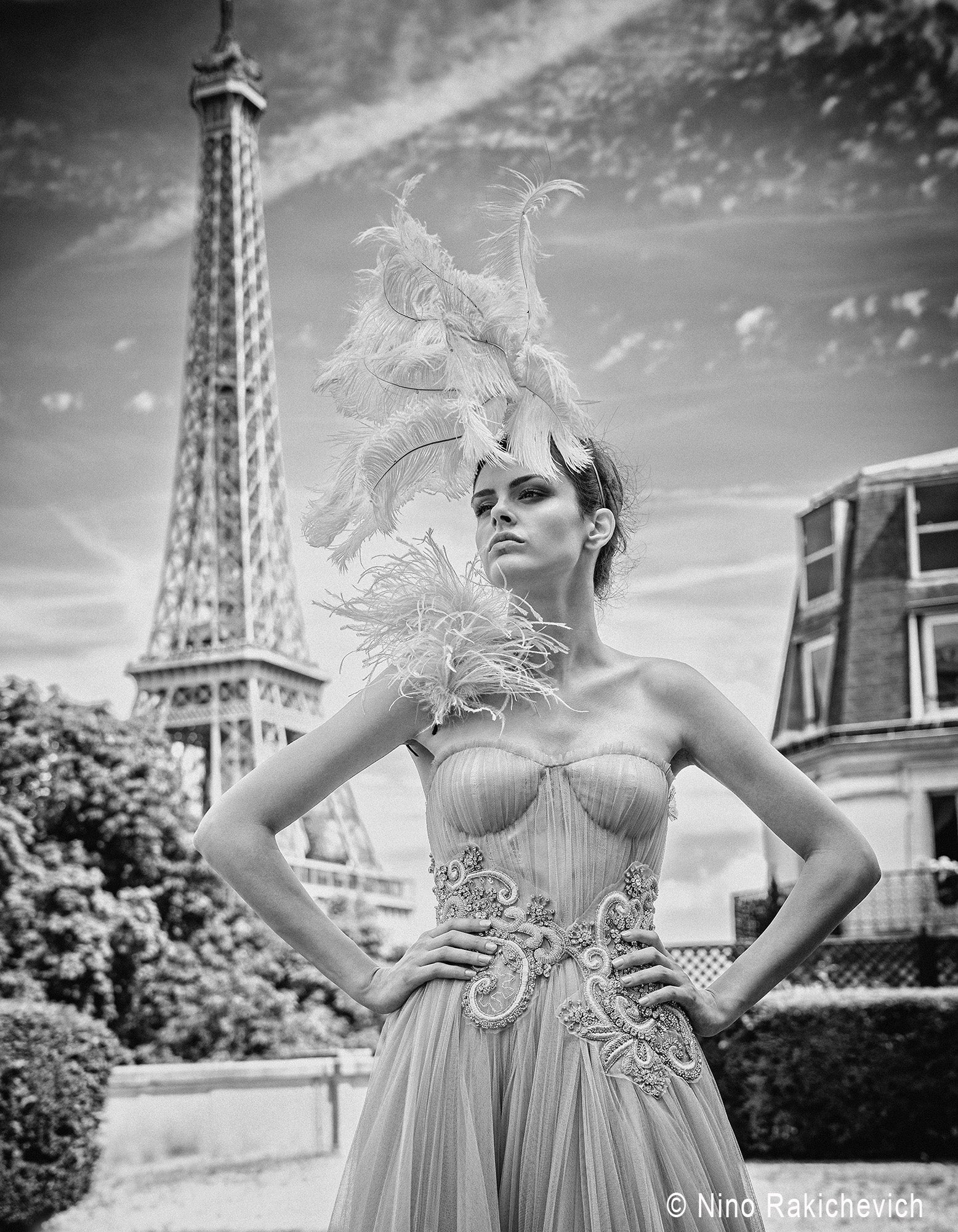 α7R II, FE24-70mm f/2.8 GM at 41mm, f/4, 1/1000-sec., ISO 400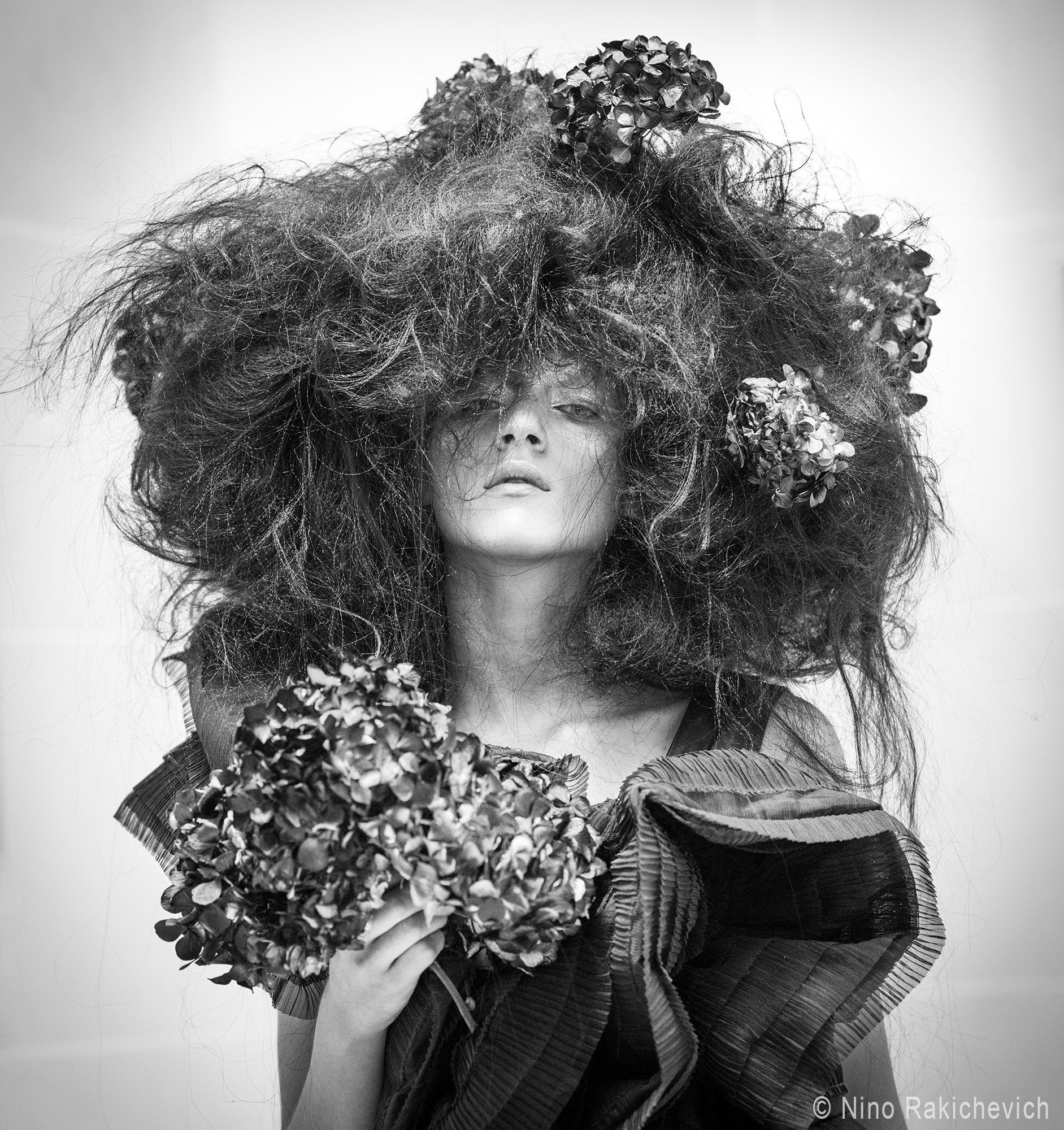 α7R II FE85mm f/1.4 GM, f/2.5, 1/60-sec., ISO 1250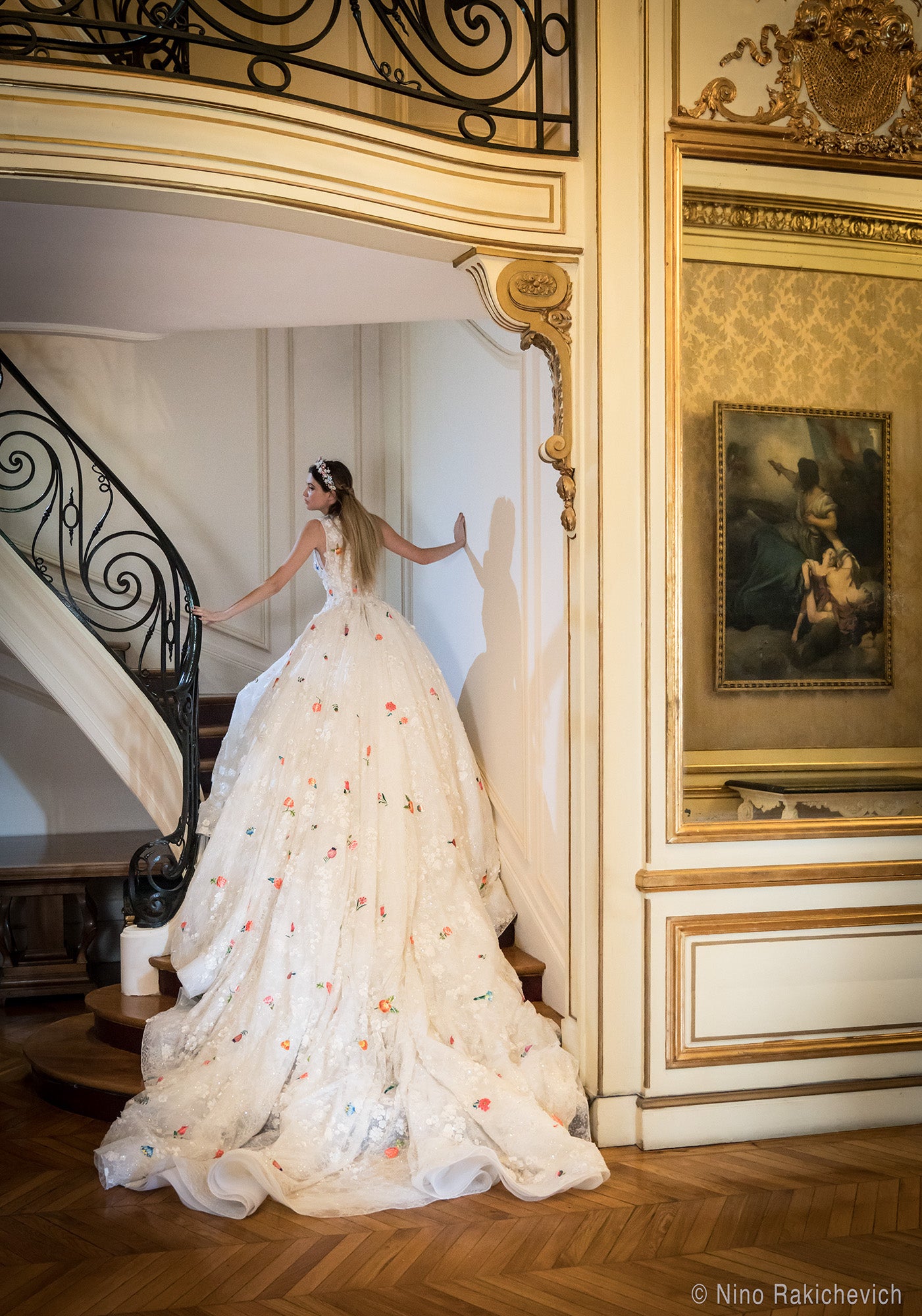 α7R II, FE24-70mm f.2.8 GM, f/4, 1/60-sec., ISO 3200
"On the last day of Women's Fashion Week, I took these photos as part of a series with a Serbian model at the Serbian Ambassador's residence in Paris. These are more straight-forward fashion photos and not the backstage documentation of Fashion Week. Everything comes together in these photos—high-fashion garments, a stunning model and a magnificent building near the Eiffel Tower in Paris. "
Follow Nino Rakichevich on Instagram @Nino_Rakichevich and on Facebook