For her Alpha Female+ grant, hip-hop artist turned photographer Sharon Miller created a portrait project featuring fine-art editorial-style portraits of creative community youth between the ages of 13-24. Using the Sony Alpha 7 III and Sony 24-105mm f/4 to capture the portraits, she based them on each youth's creative career goal. Learn more about her winning project below.
Photo by Sharon Miller. Sony Alpha 7 III. Sony 24-105mm f/4 G.
Photo by Sharon Miller. Sony Alpha 7 III.
Photo by Sharon Miller. Sony Alpha 7 III.
Photo by Sharon Miller. Sony Alpha 7 III.
Photo by Sharon Miller. Sony Alpha 7 III.
Photo by Sharon Miller. Sony Alpha 7 III.
Photo by Sharon Miller. Sony Alpha 7 III.
Photo by Sharon Miller. Sony Alpha 7 III.
Photo by Sharon Miller. Sony Alpha 7 III. Sony 24-105mm f/4 G.
Photo by Sharon Miller. Sony Alpha 7 III. Sony 24-105mm f/4 G.
My Sony Alpha photo project is called, "The Creative Ambassadors: An empowering youth portrait exhibit celebrating our future creative leaders." This photo project seeks to help empower the voices, erase the stereotypes and showcase the dreams of often overlooked creative youth ages 13-24 within underserved NYC communities. This has been a concept idea of mine for a very long time. The idea stems from my work as a visual arts teacher and creative program founder where I teach youth overcoming adversities creative skills to inspire them to pursue careers within the creative industries. Many of the youth I teach are overcoming adversities, such as homelessness, fostercare, the justice system, and financial insecurities. Every single one of them are some of the most creatively talented and intelligent people I know, who would benefit greatly from the same creative career access, training and academic opportunities as others. This project seeks to elevate their voices, bringing them closer to these opportunities. I photographed this project under my company Honeydark Studios, which is also houses my kids photo brand, Honeydark Kids.
Reflection
Seeing this project through from concept to reality was one of the most challenging, yet rewarding experiences ever! The most challenging part of this project was scheduling as I have a tight work schedule outside of this project and had to then conform that to the schedules of the youth models involved. There were a lot of "no-sleep" nights on my end, but it was all truly worth it! The most rewarding part was interacting with the youth models and seeing the internal transformation of each of them, as they were able to see themselves in a completely different light. There was a lot of self-love learning and inspiration happening during these photoshoots that I believe will help continue to transform the lives of these youth for years to come.
Project Camera Gear
For this project I used the Sony Alpha 7 III camera and the Sony 24-105mm f/4 G lens. I recently began using Sony cameras, starting with the Alpha 6400. I am new to the Sony brand, but I am learning quickly. The Alpha 7 III is the first full frame camera I have ever used (in any brand) for portrait work. It truly changed the game for me. The lens provided beautiful shots, did not give me any issues with "hunting," and auto focused very quickly, which was truly appreciated.
My favorite part about the A7 III camera body was the playback feature that allows me to see what I shoot through the viewfinder of the camera as an alternative to the rear display during playback. My eyesight does its own thing now, so the tiny image on the rear display is always an issue for me. Looking at images via the viewfinder allows me to see my progress up close without having to remove the camera from my face. The camera itself is still a learning curve for me as I am new to the brand, but the training Sony provided helped immensely. I am learning new things about this camera daily and can't wait to use it for video as well.
The Creative Ambassador Process
For my Sony Alpha + project, my focus was on our creative youth and their goals. All of the youth selected are from underserved NYC neighborhoods and all of them had specific creative career goals they each wanted to achieve. From music, to design, to theater, each youth's photo experience was meant to inspire these dreams.
To be a part of this photo project, youth from across NYC had to submit a "Creative Ambassador" application that asked them questions about their life, interests and creative career goals. 13 youth were selected and out of the 13, 10 youth actually completed their participation in the project. Participants were given mood boards based on their interests and goals, and those mood boards acted as the theme for their photo shoots. The focus was to create editorial style portraits based on their creative career goals, without being too literal in the visual process. I wanted to hint at their aspirations, but in a creative way. Since I also have a professional background in visual styling, set design and scenic carpentry, I really wanted to have the opportunity to showcase my skills as well and have fun with the production design process. I loved creating themed environments based on the personalities of each youth. I feel each photo is an accurate representation of each Creative Ambassador's personality, interest, and goals. It was so much fun to do for all of us! The
Team and Sponsors
This project was also sponsored by NYC's City Artist Corp organization, The Queens Council on the Arts, and Mysteek Naturals temporary hair color, who provided great color selections to use during our youth's styling. I also selected a very talented team to help me see this project through as I soon realized I am not a robot and can't do everything on my own (chuckles). My team included celebrity makeup artist Eloria Michelle, rising makeup artists Michelle Ravelo (@face.factz) and Jade (@paintsbyjade), noted performance artist Helixx C. Armageddon, who assisted in the organizational aspect of the project, as well as my son/artist Harlon, who helped in the set up. I created all of the set and prop designs, wardrobe/costume purchasing and styling, as well as the hairstyling for the shoots.
The Youth
Vivian: The Bold & Beautiful Songbird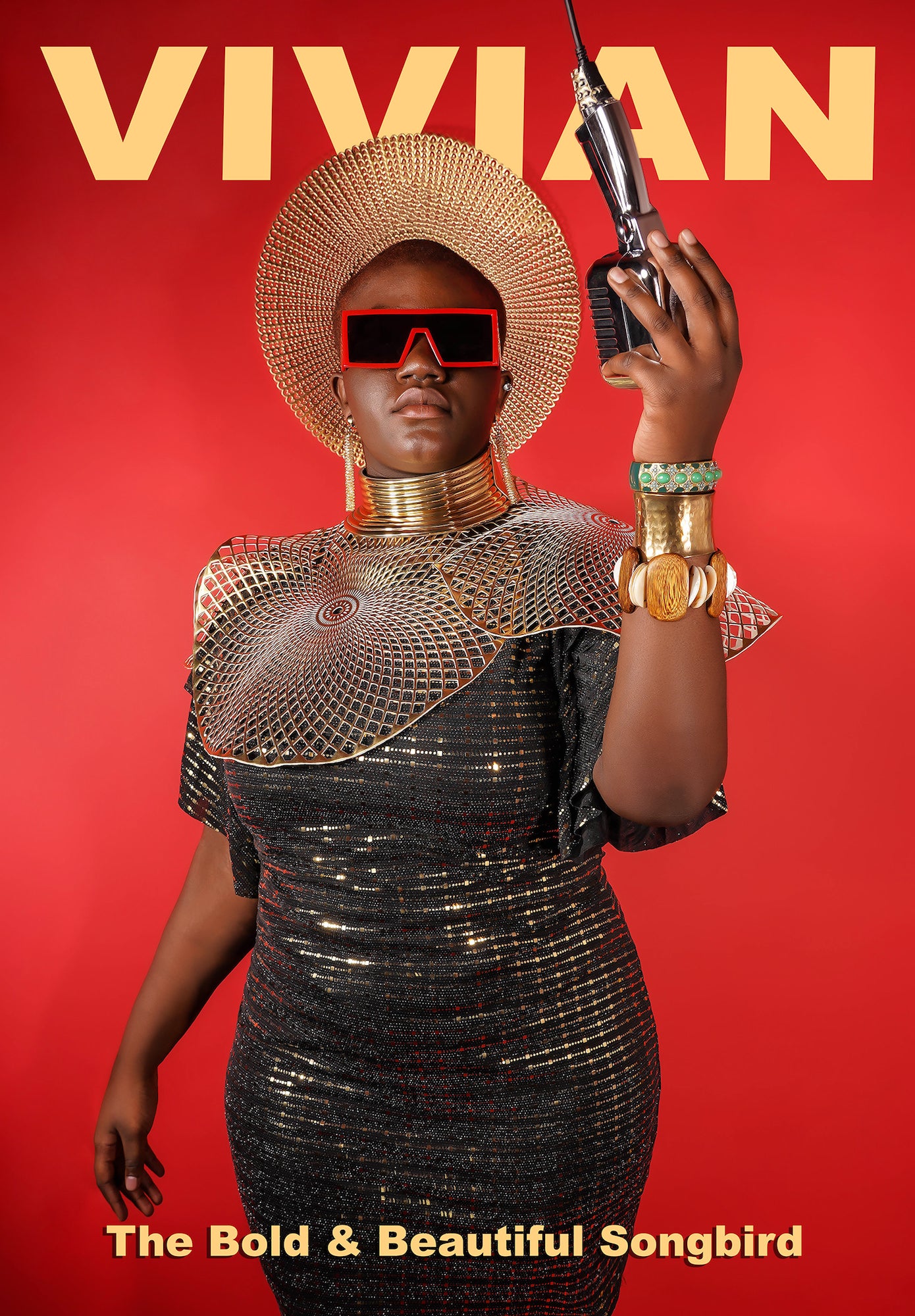 Photo by Sharon Miller. Sony Alpha 7 III. Sony 24-105mm f/4 G.
Vivian is a 16-year-old Creative Ambassador whose dream is to be a singer. Vivian recently shaved her head and I requested her new look become the centerpiece for this image as a representation of her beauty, boldness and new direction. I also wanted her to overcome her shyness and allow her to showcase her powerful beauty daily. Over a few days, I introduced her to afrofuturism and the fabulousness of singer Grace Jones, whom she was excited to learn about. These introductions became the inspiration for her shoot. I would love for her to even meet Grace Jones one day. I see Vivian as a sweet, yet powerful young woman who is determined to overcome all obstacles and has a bright future ahead of her.
For the styling and theme of this photo I decided to go for afrofuturistic inspired wardrobe pieces sourced from a local thrift store. The gold "armor collar" and halo around her head are actually created out of $1 table placemats I found at a local discount home store. The vintage mic is actually a novelty showerhead I found on clearance that I hung from my studio ceiling with a mic cord. Vivian's hair was colored using Mysteek Natural's temporary hair color. The color used was "Assertive Auburn."
Credits
–Photography & graphics, set & prop design, wardrobe styling, makeup & hair: Sharon Miller for Honeydark Studios.
Maia: The Blue Contemporary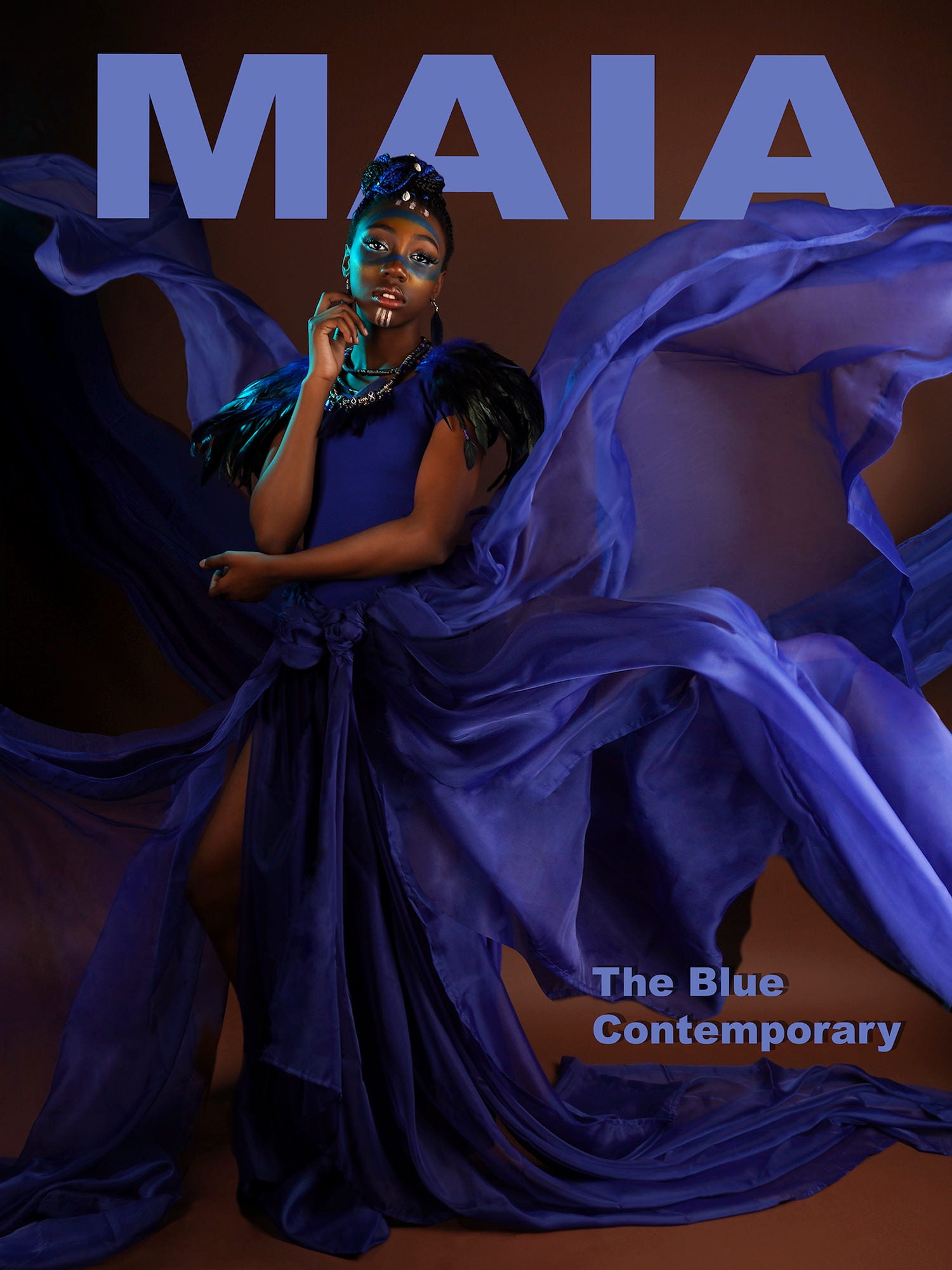 Photo by Sharon Miller. Sony Alpha 7 III.
Maia is a 13-year-old Creative Ambassador with aspirations to become a well-known dancer/choreographer. She says she would LOVE to start her own dance company one day and open a dance school for underserved youth in her community. Maia was very shy at first, but when she let go of her shyness and just lived in the Creative Ambassador photo experience, she was powerful! Her posing, her dance movements, and her confidence were flawless! Maia says her favorite form of dance is Lyrical Contemporary. She is well on her way to being our next leader in dance and movement.
I wanted Maia's photo to represent movement as a nod to her dance aspirations. I knew I wanted to use fabric and blue is her favorite color (hence the name The Blue Contemporary), so I set out to create that photo story. I couldn't find the right color or texture fabric from any of the local fabric stores, so I used the next best thing, which was a bunch of blue discounted window curtains I found at a local home store. I tied the curtains to her waste and attached feathered pads to her shoulders to represent flight. I wanted an "Afropunk" inspired look, so I had talented makeup artist Michelle Ravelo create the face art design and I styled Maia's braids into a "three-bun mohawk." The photo came out exactly how I imagined it in my head. I am very happy with the results of everything together and Maia was the one of the best models ever!
Credits
–Photography and graphics, wardrobe styling, hairstyling and set design: Sharon Miller for Honeydark Studios.
–Makeup: Michelle Ravelo (@face.factz)
Zoria: The Thespian Beauty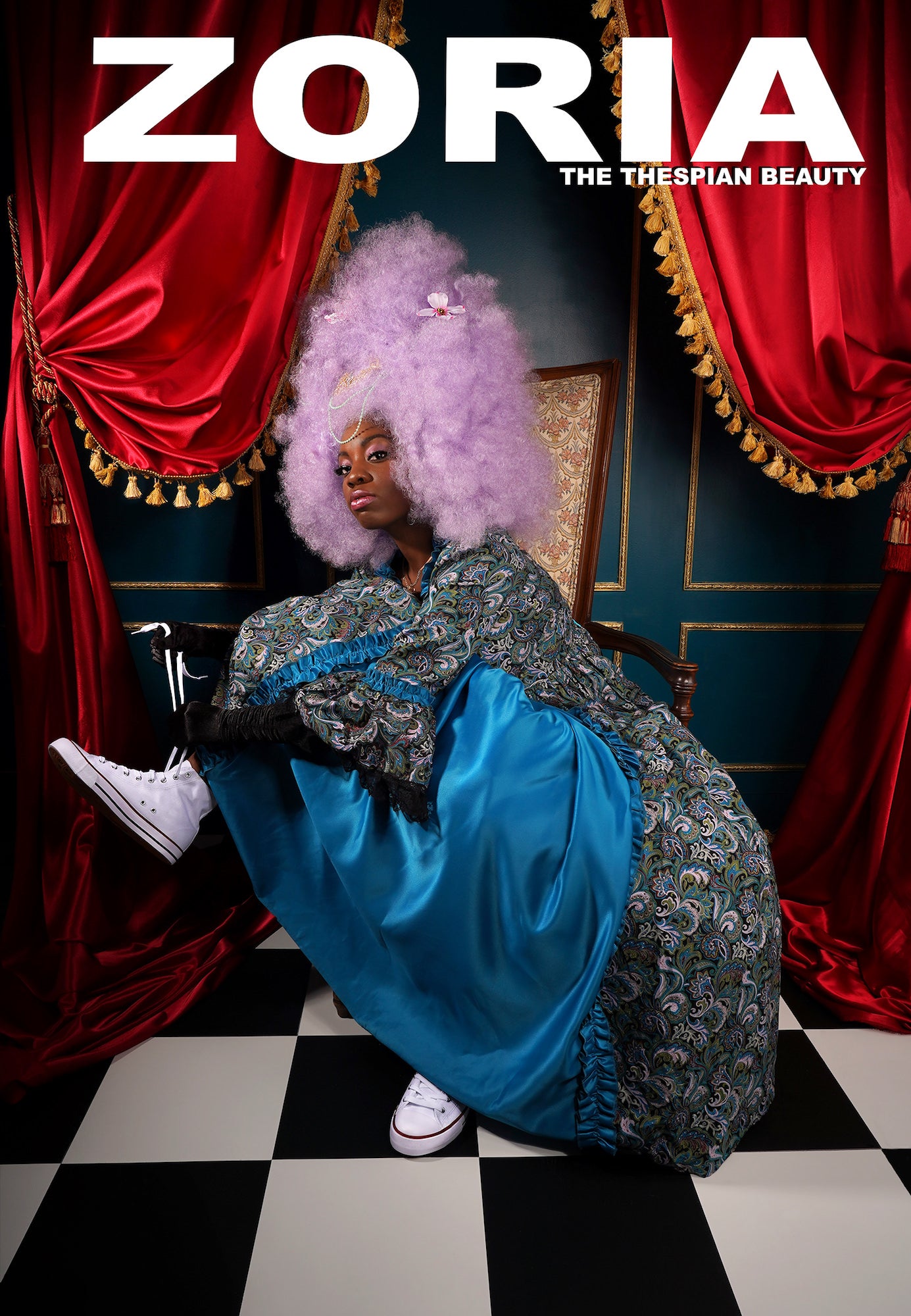 Photo by Sharon Miller. Sony Alpha 7 III. Sony 24-105mm f/4 G.
Theater and film is where our Creative Ambassador Zoria's heart lies. She is a 19-year-old talented drama actor with a lot of spunk and a great sense of humor. Zoria seeks to believe in herself even further. She performs on stage and has a large Tik-Tok following where she is known for her comedic acting videos. Hopefully this experience inspires her to follow every dream she deserves.
Zoria's theme was probably one of my favorites, because I really had the chance to throw all aspects of my creativity into it. I had the idea for this style of shoot for a long time. I created and installed the wall molding in the background specifically for this theme. I also made the curtains by hand out of discounted fabric and trim from a local fabric store. The chair was purchased from a Habitat for Humanity's ReStore. For the floor, I literally duct taped a bunch of b&w vinyl tiles together. For the lavender wig, I highlighted it with Mysteek Naturals Royal Purple temporary hair color and added decorative elements. The front of the wig says, "QUEEN".
Credits
–Photography & graphics, set design & props, hair and wardrobe styling: Sharon Miller for Honeydark Studios
–Makeup: Eloria Michelle
James: The 2D Evolutionist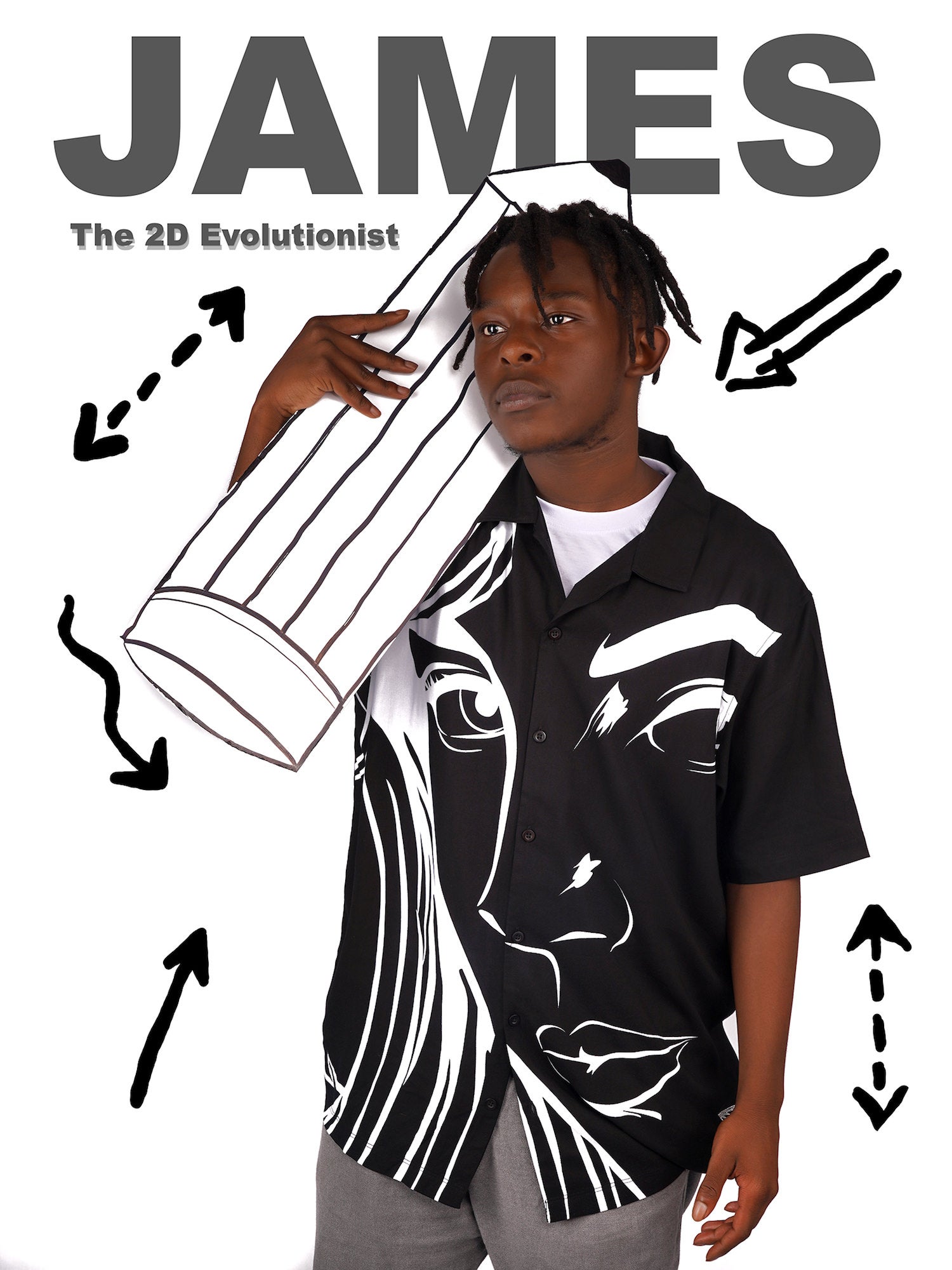 Photo by Sharon Miller. Sony Alpha 7 III.
James is a 17-year-old aspiring 2D/3D animator and graphic artist. His goal is to one day see his work in video games, in comic books or even on the big screen. He spends a lot of time practicing illustration, wants to learn more digital art techniques and would love to go to an art college like The School of Visual Arts one day. Not only does James have a strong passion for art, but he also enjoys history, especially Greek mythology. His determination will definitely keep him on the right path.
For Jame's theme, I wanted to keep it as simple as possible. I wanted it to almost have the feeling of a cartoon storyboard. I created the 2D pencil by hand out of foam board and drew the photo graphics manually. I found the shirt at a local clothing store and it fit the entire theme perfectly!
Credits
–Photography & graphics, wardrobe styling, set & prop design and hairstyling: Sharon Miller for Honeydark Studios
Lanise: The Show Stopper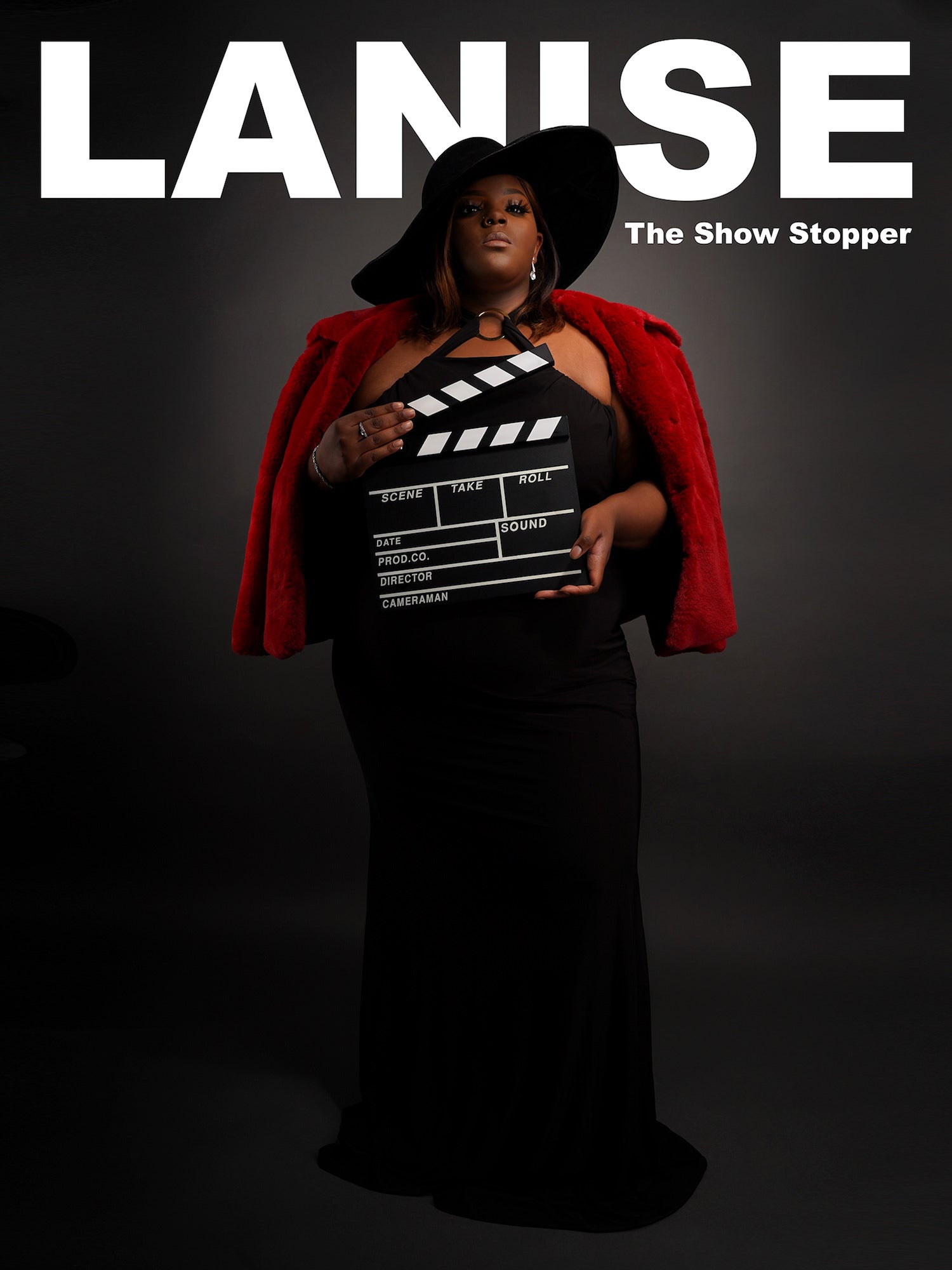 Photo by Sharon Miller. Sony Alpha 7 III.
Lanise is a 21-year-old Creative Ambassador with dreams of being in the entertainment industry. Her goal is to be " an actress who connects with everyone" Lanise also wants to help create a more inclusive path for plus-size African American women aspiring to be in the entertainment and film industry. Lanise takes acting classes and hopes one day her talent and skill will bring joy to the craft.
For Lanise's theme, I wanted it to have the feel of Hollywood glamour. I wanted it to be simple yet powerful. At first I wanted to go with a b&w image, but after finding that red coat, I realized color was the way to go. The red pop of color really works and I am really happy with the results of this photo.
Credits
–Photography, graphics, wardrobe styling, set and props: Sharon Miller
–Makeup: Jade (@paintsbyjade)
–Hair: Lanise R.
Malin: The Van Gorgeous One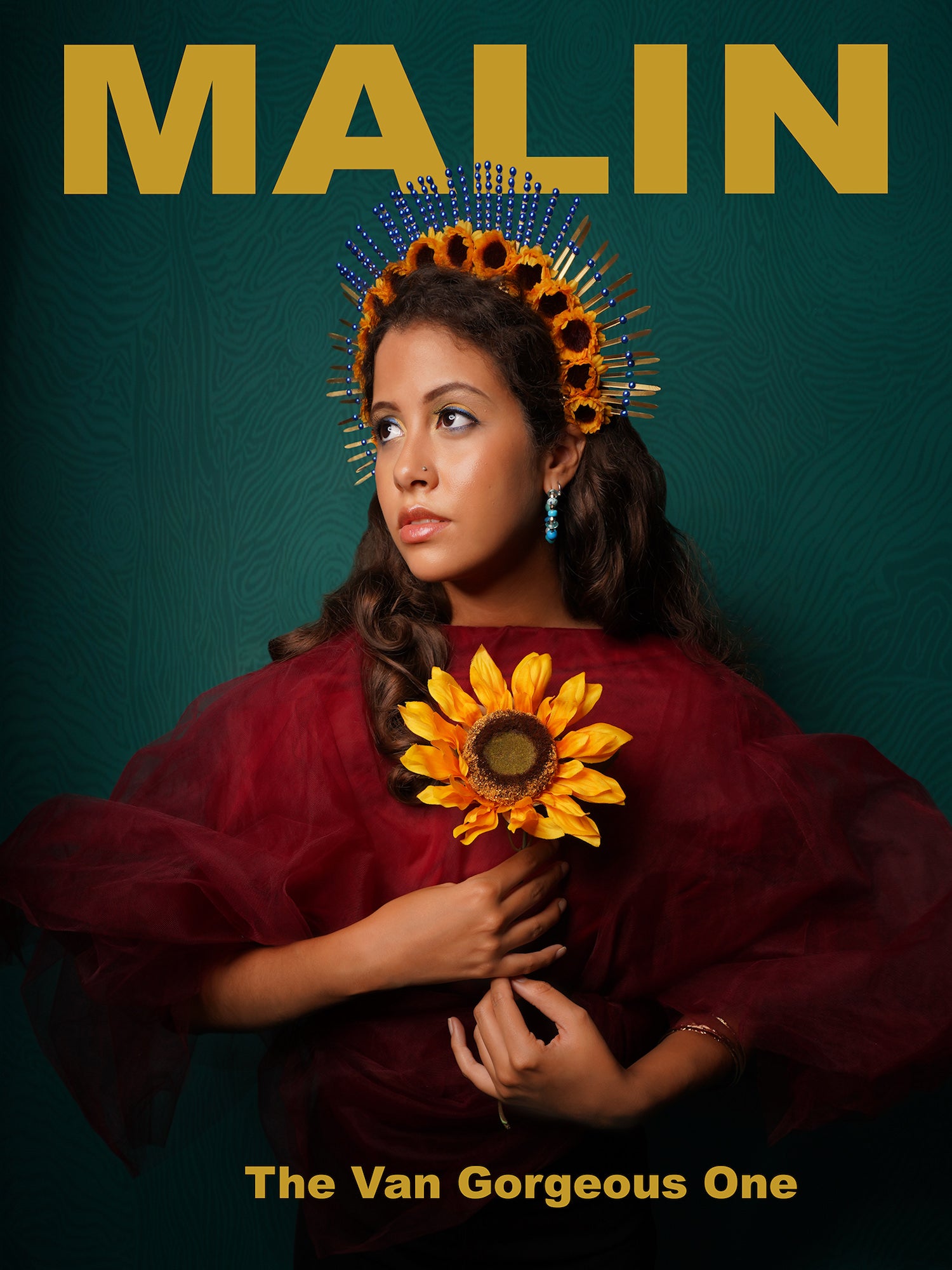 Photo by Sharon Miller. Sony Alpha 7 III.
Our Creative Ambassador Malin, 24, is a beautiful and talented painter and illustrator who has been creating art since she was only 4 years old. Malin uses mind mapping, journal entries, loose sketching of an idea, as well as exploring lyrics that shake her soul, for creative art inspiration. Not only is she a skillful artist, Malin is also a social and global advocate working with nonprofits to increase positive change across the world.
For Malin's theme, I wanted it to be Vincent Van Gogh inspired, representing her free flowing style of art, as well as her personality. I created the headpiece by hand and her tulle top is actually an upside down skirt that I tied around her with a string. The sunflower acted as a perfect nod to Vincent van Gogh.

Credits
–Photography & graphics, set and prop design, wardrobe styling and hair: Sharon Miller for Honeydark Studios
–Makeup: Eloria Michelle
Sadania: The Illuminated Beauty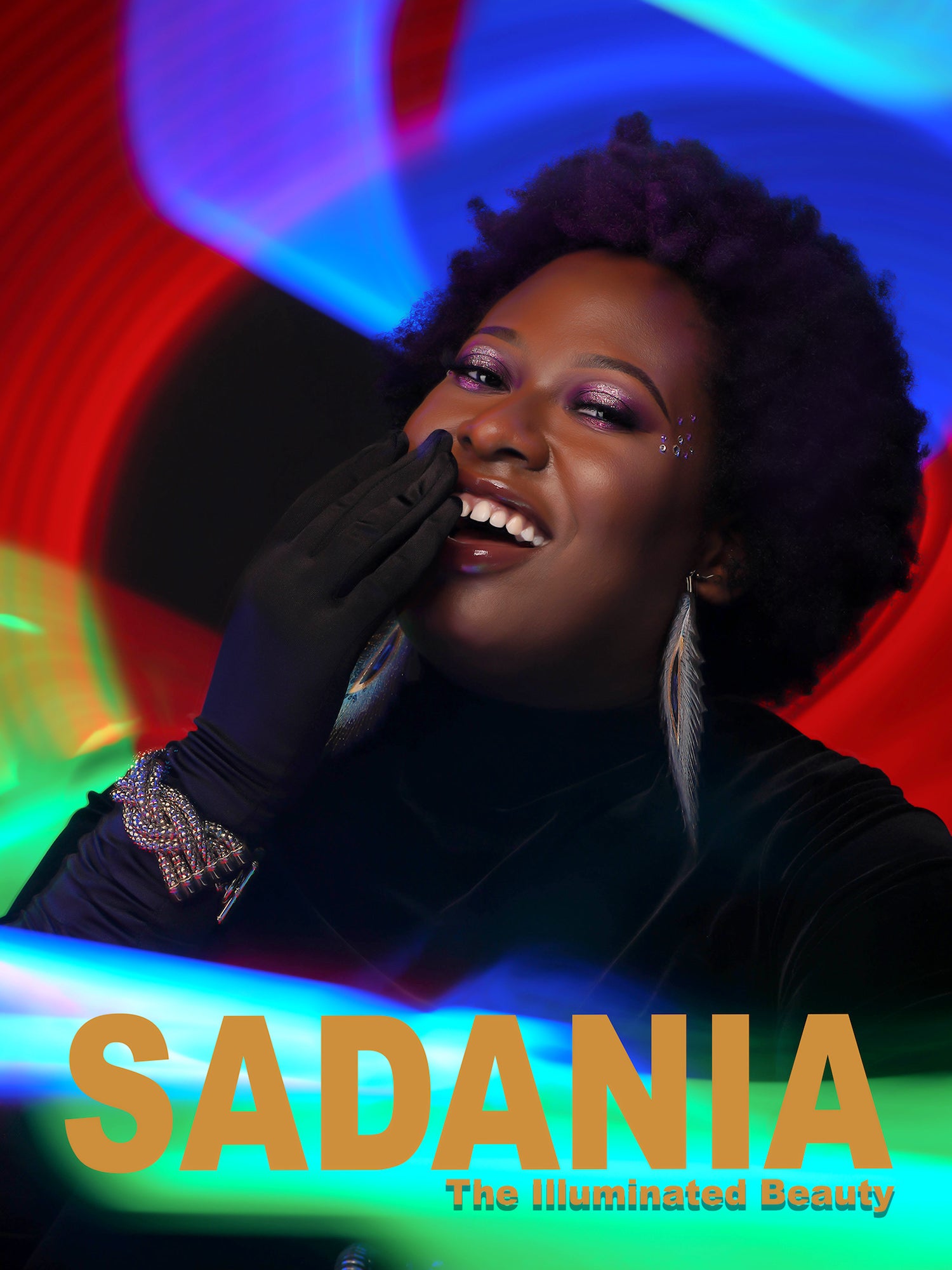 Photo by Sharon Miller. Sony Alpha 7 III.
Sadania is a talented 23-year-old aspiring makeup artist. She loves to play with color and artistic style when creating makeup looks for her current clients and would love to expand her connections as an artist and as a creative business. Sadania actually did her own makeup for her Creative Ambassadors shoot and she did such an amazing job! I can definitely see even more doors being opened for her very, very soon!
For Sadania's photo theme, I knew I wanted to incorporate some sort of light painting as a representation of free flowing color and light when applying makeup artistically. I practiced it for a number of days with my new Sony A7 III camera, which was a slight learning curve for me, but once I figured it out, I was golden from that point. Sadania's hair was also colored with Mysteek Natural's "Royal Purple" temporary hair color for this shoot.
Bishop : The Artistic Mic Checker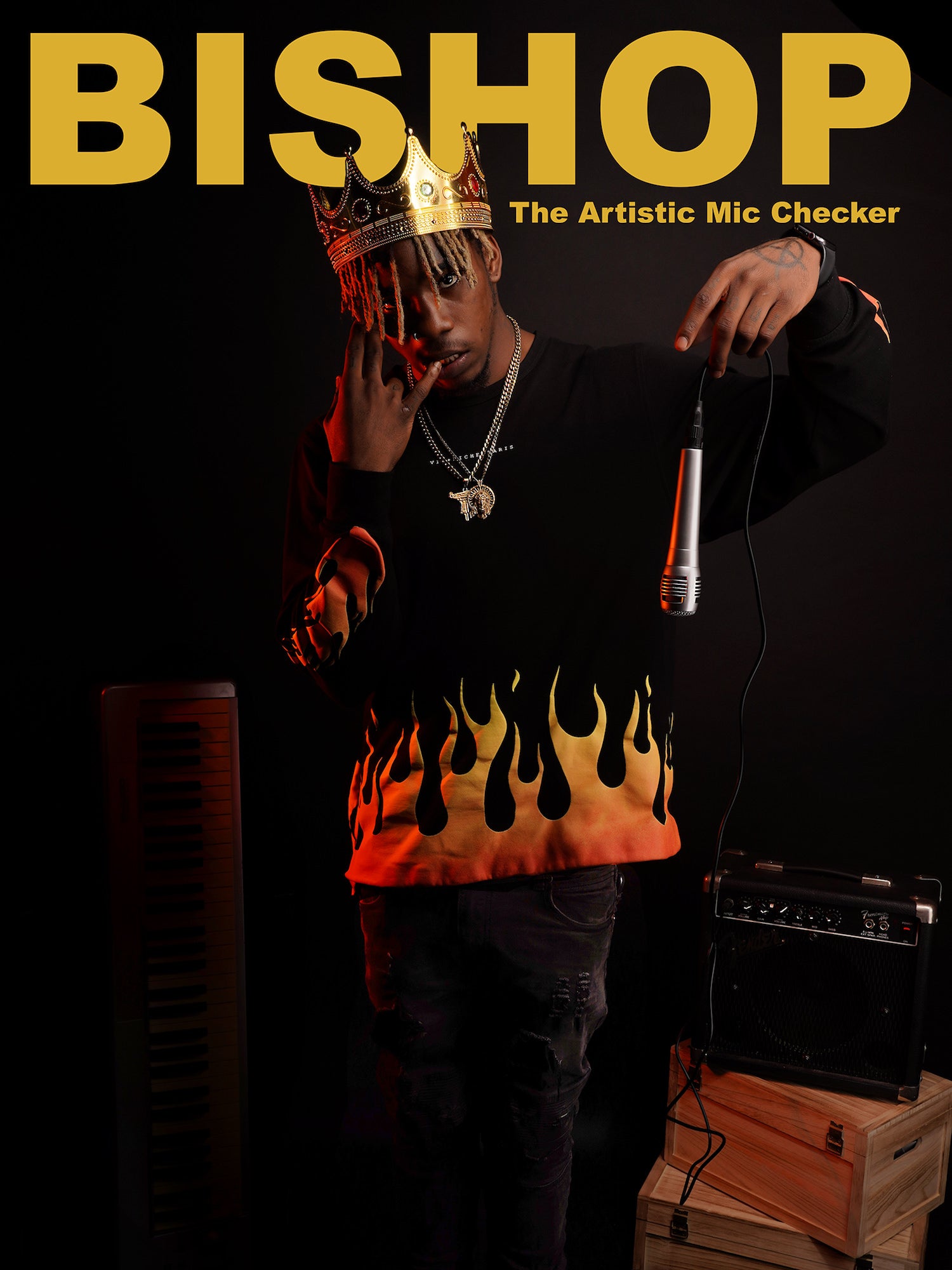 Photo by Sharon Miller. Sony Alpha 7 III.
Bishop is a 24-year-old Creative Ambassador pursuing a career in the entertainment and hip hop industry. Bishop is a multi-talented individual with creative skills ranging from music production, rapping, illustration, dance, as well as fine art painting. Bishop recently showed his paintings at a Brooklyn gallery and currently works as a teaching artist with a NYC-based non-profit. When it comes to his goals, Bishop says, "I won't stop no matter what!"
Bishop's set was literally inspired by the shirt he wore that day on set. I used an orange gelled strobe to feed off of the flames on his shirt, along with a fender amp, mic and my own personal piano keyboard to create the music inspiration for this shoot. Bishop was a posing natural so getting the right shots was easy.
Credits
–Photography and graphics, set and prop design: Sharon Miller for Honeydark Studios
–Wardrobe and hair styling: Bishop M.
Antwan: The Food Fashionista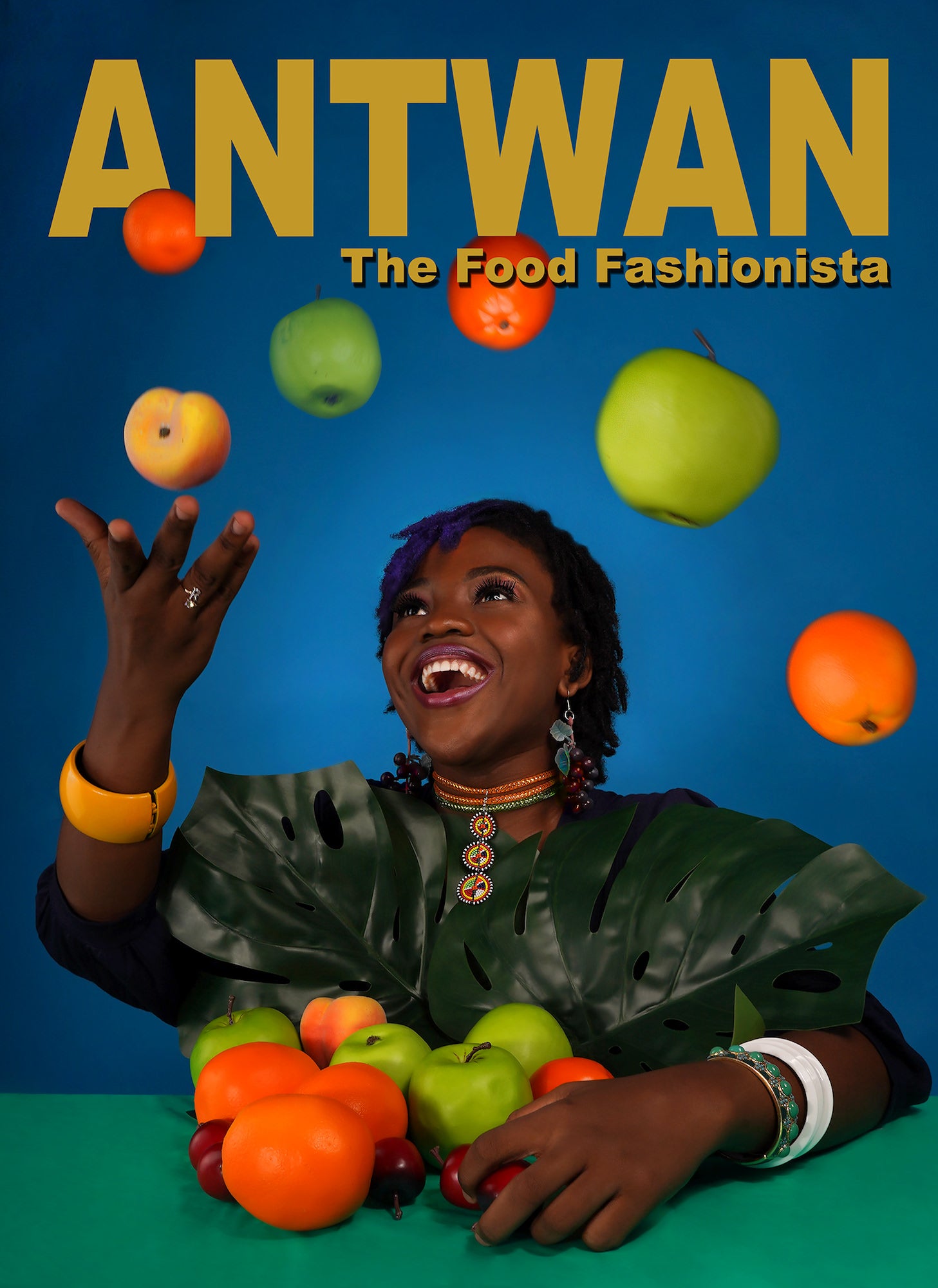 Photo by Sharon Miller. Sony Alpha 7 III. Sony 24-105mm f/4 G.
The culinary arts is what our Creative Ambassador, 16 year old Antwan loves! She would love to cook and bake as a career. Antwan would also love the opportunity to attend culinary school and maybe even have her own restaurant one day. Antwan is a very sweet and soft spoken young woman, but her beauty and skills are powerful!
For this theme, I wanted to incorporate food, but in a fun way. I created earrings out of fake grapes and used a gazillion pieces of plastic fruit for Antwan to play with and throw around the studio (what fun she had). I pinned faux leaves to her to create a fun wardrobe look and applied a mixture of Mysteek Natural's Bougie Blue and Royal Purple temporary hair colors to Antwans hair for a cute color pop!
Credits
–Photography and graphics, set and prop design, hairstyling and wardrobe: Sharon Miller for Honeydark Studios
–Makeup: Eloria Michelle
Viola: The Lyrical Collage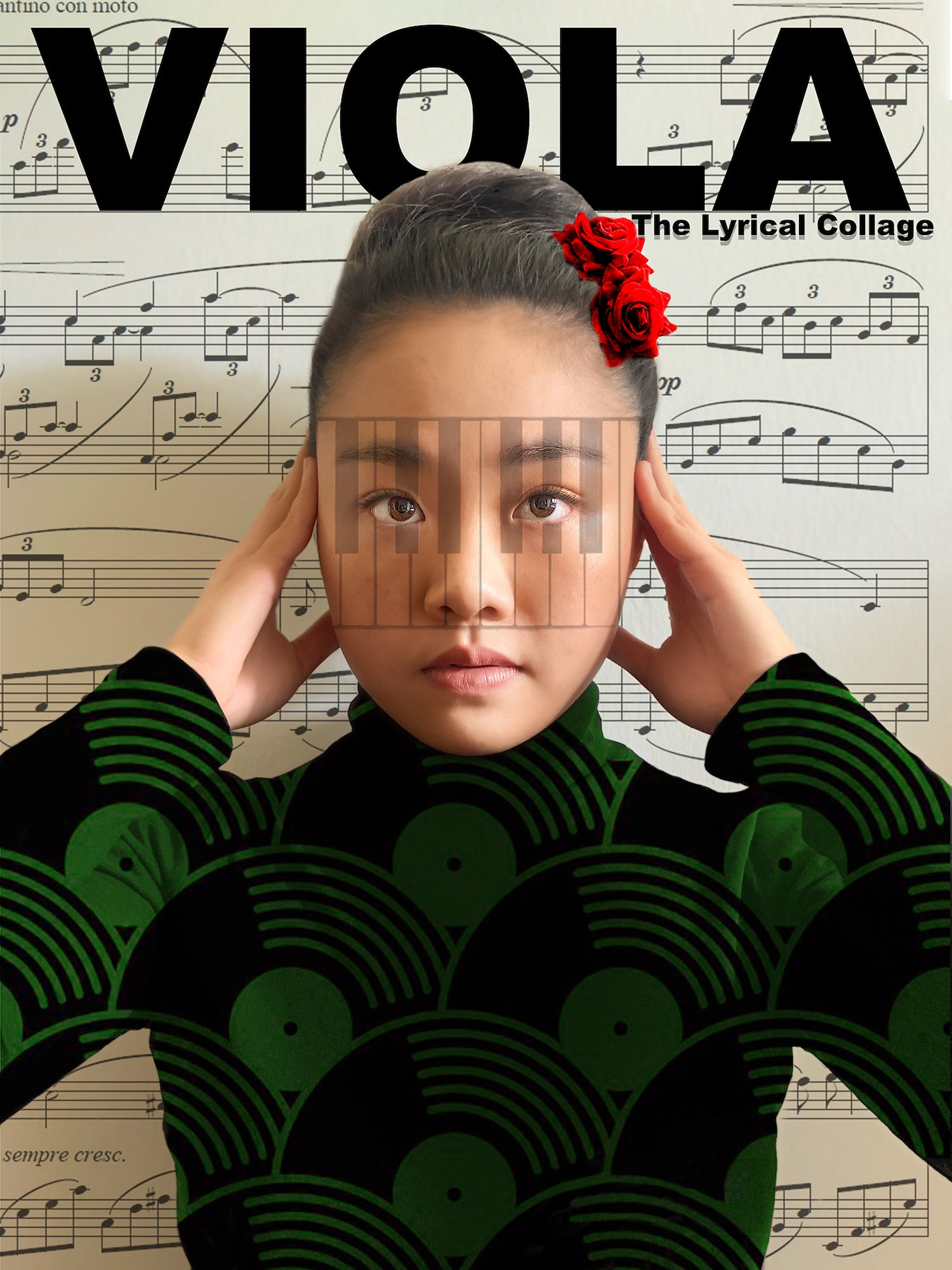 Photo by Sharon Miller. Sony Alpha 7 III.
Viola, 23, aspires to be a singer, songwriter and musician. Viola loves music because she believes it to be a bridged connection she can share with family and between her and others from different countries who may not share the same language as her. Music also helps her to overcome personal obstacles on her path to greatness. She states, "So much could be spoken through sound and when it resonates just right. it evokes the most powerful feelings and clarity."
Viola's theme was the most thought provoking for me, because even though she is from NYC, she recently received the opportunity to travel to Germany to study abroad. Therefore, this would be my very first long distance photoshoot. This photo shoot was achieved by using Zoom to meet with Viola and direct her in posing. I then took screenshots of the poses I wanted her to replicate. A local student, Alexis Brandt took snaps of her with a smartphone using the screenshot poses as a guide and sent them to me. I then used the Adobe software subscription I won via Sony to edit the photo and create a graphic music based collage photo as Viola's theme. This was indeed a challenge at first, but I love the end result!
Credits
–Photography and graphics: Sharon Miller for Honeydark Studios and Alexis Brandt
–Hair and makeup: Viola Z.
–Wardrobe styling: Sharon Miller
The Future
Overall, this experience was one of the best experiences I have had, even though it followed a really traumatic time in my life. When I won, I was dealing with both the loss of my dad and my Nana, so this was the boost of love I needed. I will use what I have learned over these few weeks and my new gear to continue creating and inspiring youth. I plan to do a part two of this series with more creative NYC youth, as well as use my new gear to teach photography to youth within my community. My ultimate goal is to one day create a public fully immersive art exhibition featuring the creative youth I photograph. Maybe I will be able to travel state to state and in doing so transform the lives of creative youth across the nation!
Acknowledgement
I first would like to thank Sony for this great opportunity. I am truly honored to be a Sony Alpha Female and now part of the Sony Alpha family. The Sony staff has been extremely helpful and welcoming within this experience and I feel really blessed to have now met such inspirational people on my creative journey.