Photographer, filmmaker, Sony Artisan and co-founder of SeaLegacy Andy Mann is a terrific storyteller who specializes in environmental and natural history stories. An Emmy-nominated director, Mann is well-regarded for his filmmaking abilities. He has a special style to his films that allow the viewer to feel an intimate connection to the subjects. Throughout his career, Mann has developed special techniques and tools for creating stylistic films that make an impact.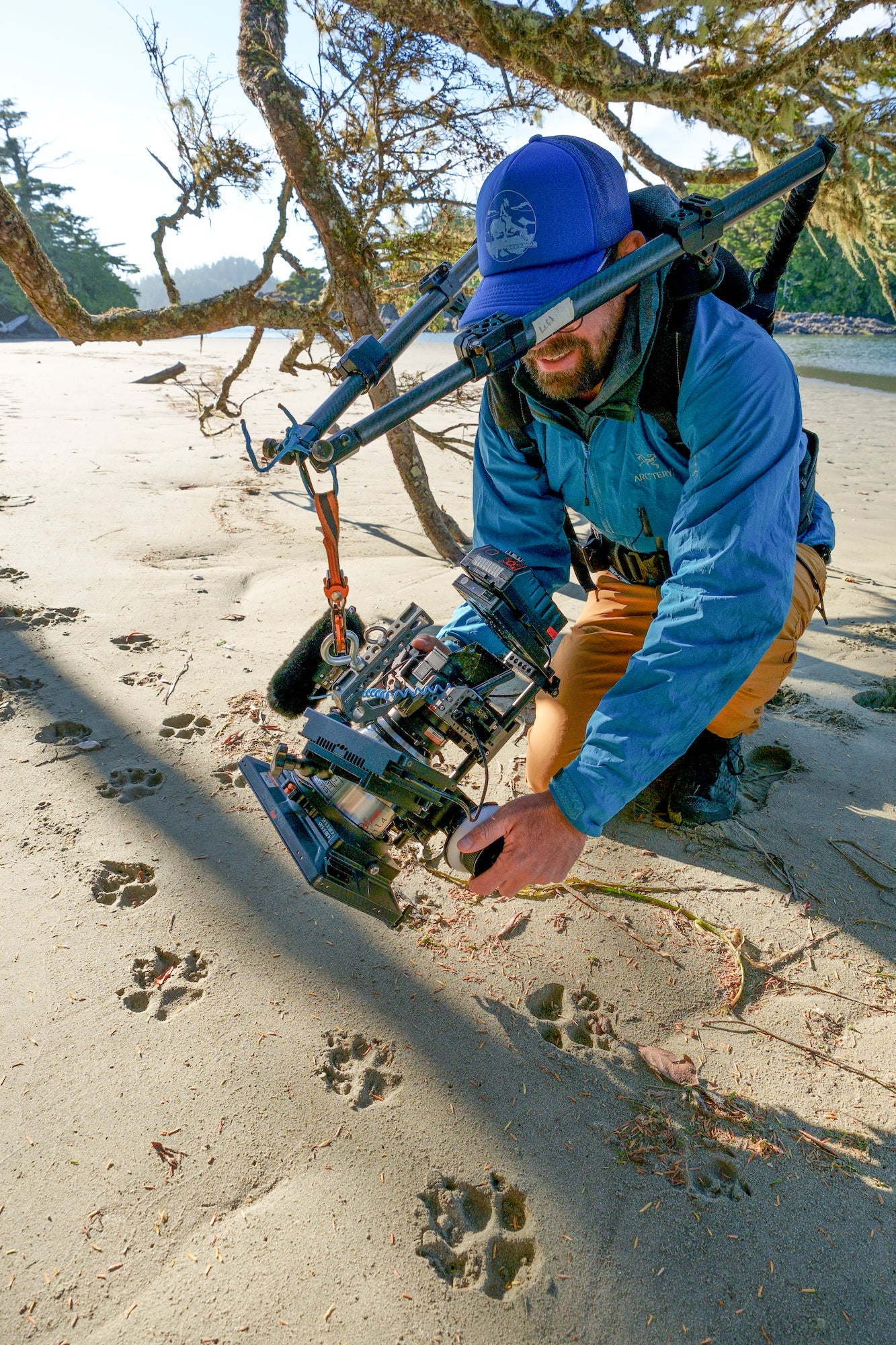 Sony Artisan Andy Mann
The Emmy-nominated director, photographer, filmmaker, Sony Artisan and co-founder of SeaLegacy Andy Mann gives us his tips for creating stylistic films that connect with the viewer.
1. Chase Great Stories With Great Access
Mann explains that first and foremost, you need to find interesting people doing interesting things. He goes on to explain that the greatest asset in your stories will be the access you have to a subject. This will allow you to show intimate, emotional moments in your film. "They say film is a poor way to communicate information, but it's a great way to communicate emotion. My advice is to make a film that someone can feel their way through. You just want people to care about other people, really."
When looking at what story you want to tell, Mann suggests thinking of the topic you're interested in and then finding a character. He explains, "No matter what the topic of the story is, finding an emotional avenue to tell that story is usually through some stakeholder, a single person or a group of people that your story most affects. So you want to connect people to your ideas through other people."
When Mann is first looking at a story he starts by looking at access points. When he finds a subject, Mann gets the most excited when they allow him to have access beyond the typical public front. For example, being invited into someone's home and having dinner with them. "And then when you get that access, I want to think about what questions or what scenes I'm going to shoot. And I'm always trying to get to the most vulnerable point of my subjects and find a beautiful way to tell that story or shoot that vulnerable moment."
2. Handhold & Float
Mann shoots the majority of his films on a mirrorless body; typically his Sony Alpha 1 or Sony Alpha 7S III and occasionally his Sony FX6 or Sony FX3. He says these days he handholds everything he shoots, even interviews. He also describes his shooting style as "floating" meaning always having little, soft movements while he's shooting.
Even when he's using the lightweight mirrorless cameras, Mann puts the camera in a cage with a large monitor and shotgun microphone. He also often puts the setup on rails and adds a V-Lock battery in the back to power the monitor. Mann likes to weigh down his setup this way so that his handheld style has a bit more heaviness and smoothness to it. He says that in addition to the internal stabilization, this technique creates a really nice feel to the camera movements. "It just makes it a little more secure. Since I'm always floating, paralleling back and forth."
3. Get Close
Mann breaks down his interview setup, highly recommending that you get close. "I'm doing all my interviews right now handheld where, even if I have to stand on a box, I want to be just a little bit above their eye-line. I'm usually shooting with a 35mm lens, and I'm still floating. I just like that move, where every clip has a little edge, a little float. It's just a style kind of thing."
4. Find Foreground
Mann's tips of shooting handheld and including a bit of camera movements help add a unique visual style to his work. Another way he achieves this is through his framing. Mann suggests that when filming, you should always look for a foreground element.
"Tuck behind something. Even if you have to grab a handful of grass and just hold it up. You need and you want depth. You want the camera to be kind of this voyeur through the story. And never settle for mid-range lock-offs."
5. Always Shoot Wide Open
Known for gorgeous and cinematic footage, Mann continues to share the 'rules' he's developed while shooting. "I always shoot wide open - between f/1.4 and f/2.8 and I never ever go above f/8 because the camera sensors will just be too dirty no matter what. That means you'll definitely need variable ND filters to be able to achieve that."
He also goes on to explain that it is not the end of the world if you slightly miss focus in this look of films. "Soft is OK. Nothing has to be super sharp. You want that sort of texture."
6. Picture Profile & Proxies
"I use the Sony Picture Profile PP8, the flattest S-log. And that allows you to have the greatest dynamic room in terms of post production and color stuff. And it's also more forgiving in your highlights and shadows." Mann explains that something like this is what really separates good work from great work. He says that "if the story is good, then you've edited something really good. Now you can go into color; give it a style and a specific feel that comes from how you color it. That makes it your own. And it really pays off, in the end."
Another in-camera tip that Mann mentioned was shooting internal proxies. "I always shoot internal proxies. I think it's a smart thing to do because I'm reviewing my shots at the end of the day and I'm even making little string outs to make sure I have a sequence that's right and that everything is feeling good. And having a 1080 compressed proxy file is nice because you can get right to work. It also saves you a lot of time when you go to edit."
7. Play Both Producer & Director
Mann also stressed "Also, you have to sometimes beat these scenes into submission to make them great. If you see something happening, you just have to play producer." Mann gives an example when shooting for SeaLegacy where he goes on the boat with artisanal fisherman to tell a great story. He explained that it would be easier to have shot that scene with a long lens, but that's not how you get the great, intimate footage. "You have to be your own producer, in your head."
He continues, "You also want to direct. Take your time, don't rush, make sure everything looks beautiful, and get the emotional scene. Have the subjects do the interesting action a few times. Even in documentary filmmaking, you still need to get in there and produce scenes the best you can."
"Be sure you ask your subjects some questions. If you don't know what to ask, if you're not totally sure how they tie into the story, just ask some emotional questions." Mann again mentions the artisanal fishermen and said he asked them why they loved the sea. He knew their answer would lead to an emotive and relatable sound bite.
8. Work In Good Light
From Mann's perspective, working in good light is one of the most critical aspects to creating a beautifully shot film. "Work at sunrise and sunset, and then take a break in the middle of the day."
"Sunset is super overrated, work after sunset. Work in the blue hour because sunset light is good if you shoot into it, but I'd rather have that pink, purple hue that glows off someone's face in the scene. And if you're shooting wide open you can shoot at ISO 12,000 on every single Sony mirrorless camer, and you can shoot well into the dark...and I think you should."
See more of Andy Mann's work on his Alpha Universe Profile and on Instagram @andy_mann.