My mom and I (@emmaexpedition) had just finished a week-long road trip through Glacier National Park. On our drive back to Arizona, we decided to make a short detour to see the Grand Tetons. It was a last minute plan to try and find a spot to see the Tetons at sunrise. Thankfully, finding a location to photograph the Tetons is very straightforward.
In my brief search for a spot to photograph the Tetons, I came across a portion of the Snake River that offered a gorgeous reflection of the mountains. It is a very popular location for landscape photographers and once you see it in person, it is very apparent why it is the fan favorite. Along with testing out new compositions, I am a huge fan of going to the popular landscape spots and getting the opportunity to create my own image in those classic locations.
We arrived at the parking lot about 40 minutes before sunrise and were greeted to about 50 other photographers already setting up their tripods along the river bank (this was before the pandemic hit and social distancing became the new normal.) I found a spot amongst the crowd and waited anxiously to see what would unfold. When we arrived, the mountains were hiding behind a cluster of clouds. Over the course of 30 minutes the clouds parted and revealed a truly epic scene.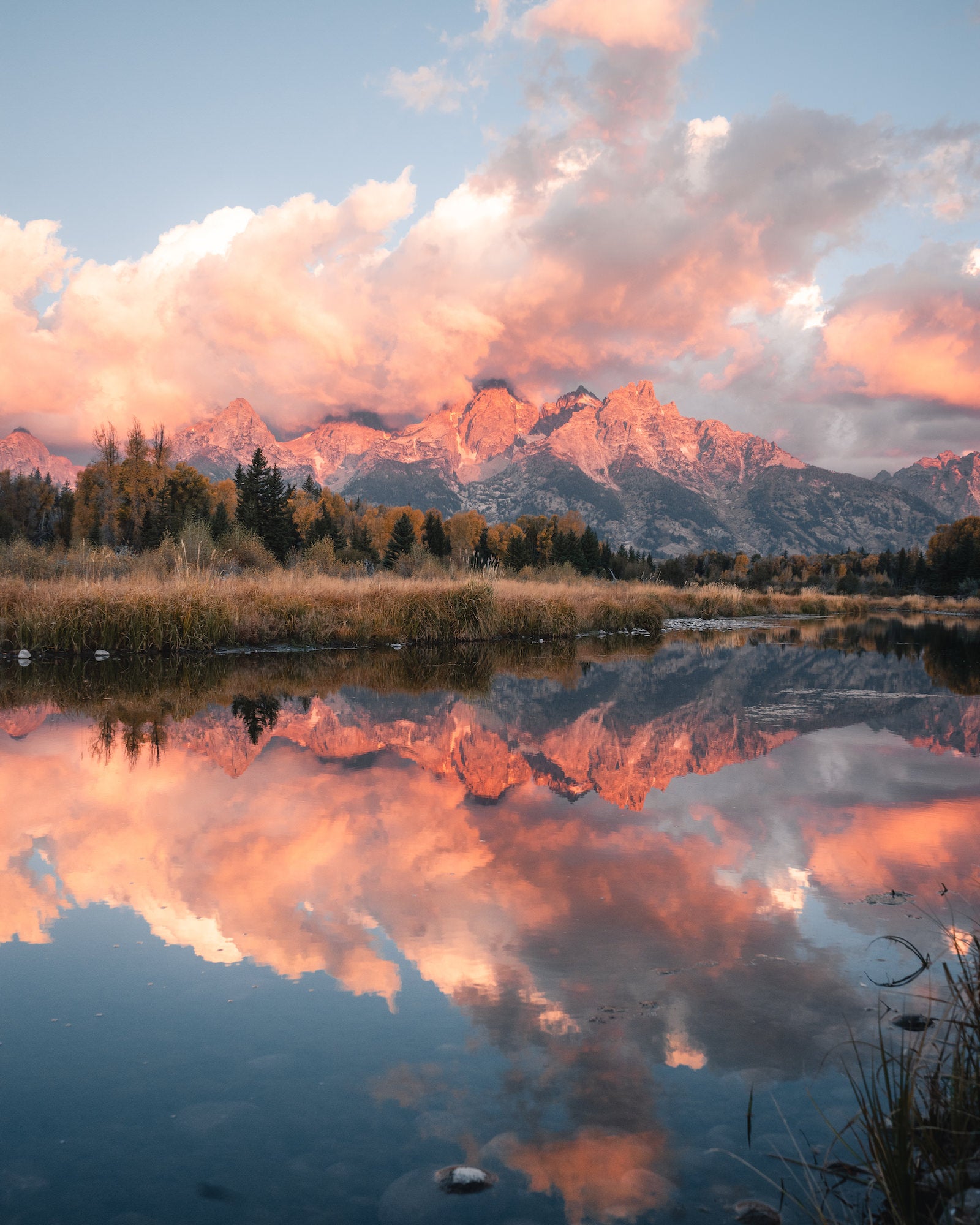 Photo by Emma Kulkarni. Sony α7R. Sony 28-70mm f/3.5-5.6. 1/60-sec., f/8, ISO 400
How She Got The Shot
In the past I've shot with a Canon. However, over the past year I have been reevaluating what gear I keep in my hiking pack. Most of the places I photograph require some amount of hiking and Sony's mirrorless cameras are a great option to minimize the amount of weight that needs to be carried. I purchased a used Sony α7R to test out and my trip to Glacier National Park was the first place that I got to really try out this camera. I had the kit lens (28-70mm f/3.5-5.6) which worked beautifully for this sunrise.
The reason I chose the Sony over the Canon this morning, was because of the color profile that the Sony RAW files capture. I knew if this was going to be a good sunrise, that I would need a camera that could capture the strong alpenglow well and the Sony α7R camera was the perfect choice. I did not have an option for different lenses to choose from, so I had to work with what I had on hand.
I ended up shooting this sunrise without a tripod. This actually ended up being very beneficial because I was able to weave between other photographers to try out a couple different compositions within a short period of time. The settings for this shot were simple: ISO 400, F/8.0, 1/60 sec. I kept the aperture at f/8.0 to make sure the image was as sharp as possible.
This may sound cliche by now, but you do not need the latest and greatest gear to create a great photograph. With a little luck and planning, I was able to capture this beautiful moment with a camera that was three generations behind the newest technology. With every location that I decide to photograph, planning is critical, but it is really about showing up and working with the elements at hand.
For this circumstance, we only had a single morning to check out sunrise, so planning around the weather was out of the equation. I was hoping for good conditions, but in this scenario, I tried to not have too high of expectations. Normally, when I'm looking to photograph a new location, online research is my first step to planning a shot. I usually educate myself on typical weather patterns, accessibility of the location and developing a concept for what my dream shot would be at that location. I then usually try to take my preconceived expectations and put them on the back burner once I'm physically at the location. I have yet to be somewhere that is exactly how I expected it to be based on my online research.
If I'm trying to photograph a location at sunrise, I typically try to visit the location the day before to get an understanding of what the space looks like in the daylight. Otherwise, I typically plan to be places at least an hour before sunrise/sunset to give myself time to work on compositions and allow myself time to just embrace the environment.
While this shot was taken with the kit lens, I have lately been gravitating toward the Sony 24-70mm f/2.8 GM and Sony 70-200mm f/2.8 GM. I've been inspired by creating photos that have an element of compression to alter the perspective of nature while being able to capture a scene in-camera with minimal post-production altering. I look forward to getting out there again when all of this passes to try out more gear on more incredible landscapes.
See more of Emma's work on Instagram @emmaexpedition.