Wedding and portrait photographer Kesha Lambert often creates portraiture that is colorful, fashion influenced and alive. The Sony Artisan has photographed many stylized editorial photo shoots and knows how to coach her subject through ideal body positioning and expression. Add in storytelling approach and talent for lighting a scene, and you get a beautiful image full of depth, like this portrait of a model in a cluster of flowers. When we saw this image of hers we wanted to learn more about how she created it. Keep reading as she shares her story behind getting this shot with her Sony Alpha 1 and the new Sony 24-70mm f/2.8 G Master II lens.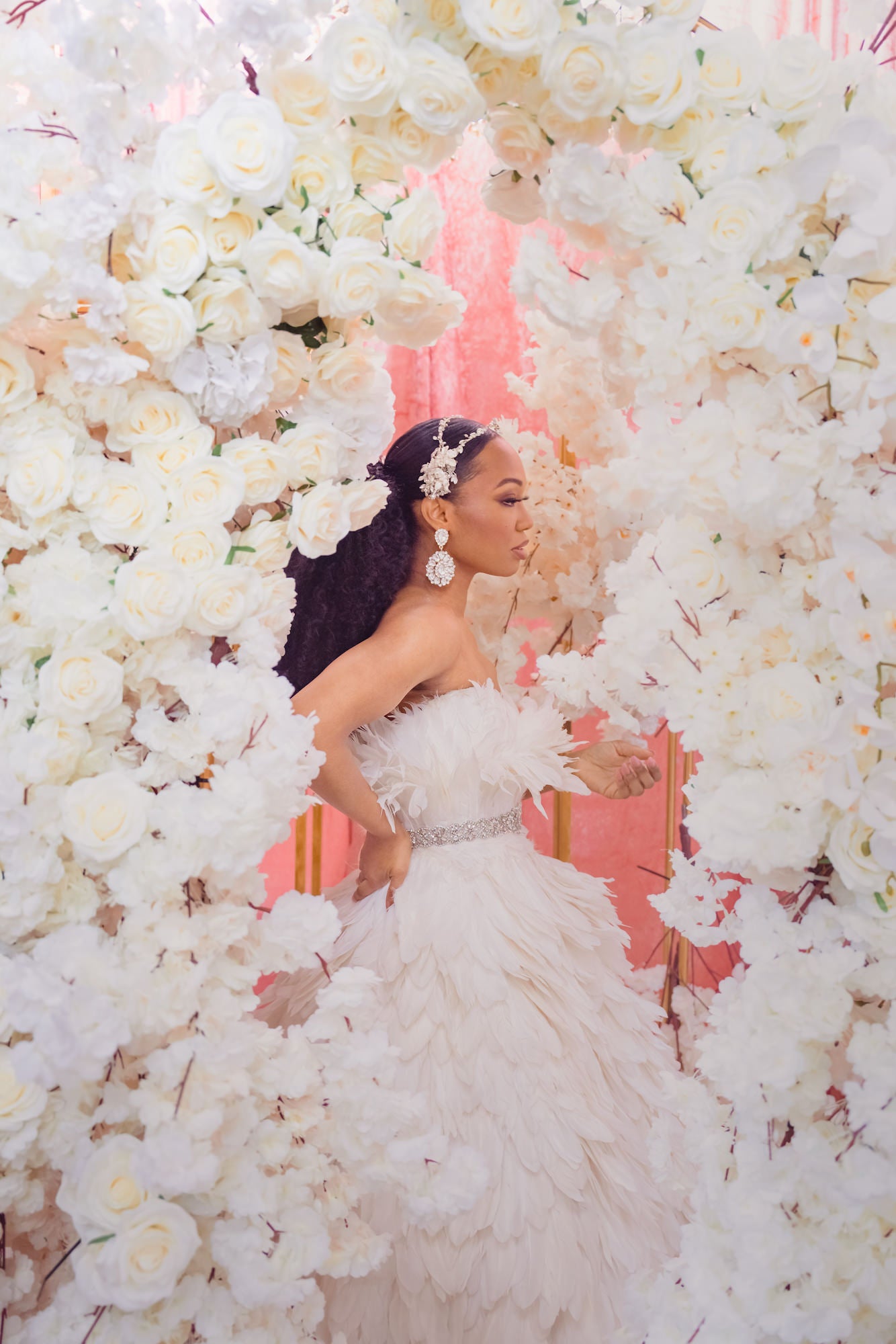 Photo by Kesha Lambert. Sony Alpha 1. Sony 24-70mm f/2.8 G Master II. 1/160-sec., f/2.8, ISO 1000
Sony Artisan Kesha Lambert explains how she created this styled portrait with her Sony Alpha 1 & Sony 24-70mm f/2.8 G Master II.
The Scene
Lambert, who shoots wedding photography, also does various brand photography sessions. "This was a project for a floral designer," she says. "She was opening two spaces so we were taking images to help promote the space. The floral arrangement in this photography was her design and completely styled. People that I work with in the wedding space had come together to do this project for the designer."
A Styled Shoot With The New Sony 24-70mm f/2.8 G Master II
The Sony Alpha 1 is Lambert's staple camera and has been since she first tried it. She uses it for weddings and most of her projects now, and was using it for this brand shoot. Lambert is a fan of shooting handheld, so she needs her camera and lens combination to be light and nimble, and that's exactly what she found when she attached the new Sony 24-70mm f/2.8 G Master II to her Alpha 1.
"The first thing I noticed is that this lens is really lightweight," she explains. "It was lighter than I expected and smaller than I expected. I could use this for an entire wedding from start to finish with no problem. It does what you would expect of a G Master lens. It has a lot of the qualities that you look for in a lens, the things that are a wedding and portrait photographer's staples. It's a fast lens. It performs well in low light. It can live up to the challenges of all the curve balls that a wedding day or styled shoot throws at us."
Getting The Shot – Lighting, Posing & More
Lambert played around with a few different setups before arriving at this particular shot. "I did pose her several different ways, but a lot of profile emphasis posing, and a couple of camera-facing poses," she explains. "The floral arrangement had an opening, and behind it was another layer of flowers. There was a space there that we could tuck someone behind. When I looked at the cubby, I knew that the outside looked like it was designed with some intent for framing. I knew that I wanted to do something that made you feel like you're looking at someone framed in a painting so I wanted to tuck her inside the blooms. I wanted to end up with a profile."
Once she decided on the proper pose, she settled on a two-light setup to properly illuminate the subject and scene. "I played around with a back lighting first. I played around with a single light source lighting my model, tucked inside where the flowers are, on the other side of the flowers, positioned high, and to the right of the camera right so that I would light the model, and not the floral arrangement itself. The shoot location didn't have windows but it wasn't a dark space, it was a bright space. I decided to use some bounce flash for the main, so that we could have some illumination outside the blooms, but also light the model inside that little flower cubby that she was tucked into."
Lambert likes to incorporate movement into her shoots to bring her portraits to life, and she sets her camera to be ready for that. "I usually leave my camera in continuous shooting mode, even for still subjects like this, because I incorporate movement and I want to be ready for that," she explains. "I think about the areas that I'm trying to lock focus on. I like to use the focus tracking setting, and for a situation like this, where she was still, I just relied on my pre-sets that are in place, my shortcuts that are in place already – focus tracking mode with the set area to medium."
She continues, "In this shoot there was a lot of texture and detail, and I didn't want to lose any of that. I played around with the flaring of the feathers with the blooms because I wanted to make sure that I was able to execute capturing the texture and the tones in the scene. The settings that I landed on – 1/160-sec., f/2.8 and ISO 1000 – were set with that in mind."
The Edit – Creative Crops
Once Lambert has her image she brings it into Lightroom for basic editing, color corrections, straightening and more. "I also do creative crops – this is a cropped image," she says. "After I do all of that in Lightroom, I open the image in Photoshop to do skin edits and tone the image. I make some creative adjustments to the colors until I'm happy with the result."
See more of Kesha Lambert's work on her Alpha Universe Profile, Instagram @keshalambert and on TikTok @keshaloveshats.