Eric Wallace (@polymathicwallace) is a former three-time professional athlete, having played basketball, Australian football and American football. He moved into professional modeling, which he's been doing for the last eight years. He chose to pick up a camera after noticing how much the photographers he worked with enjoyed what they did. "Being on fun sets, in very cool locations, working with interesting people drew me to at least try my hand at it," he says. "One of my photographers pointed me to a Sony Alpha 6000 and told me to shoot for two weeks – 'You'll know if you like it by then.' I was absolutely hooked. Looking back, the amount of growth I've enjoyed is due only to other photographers and learning from all that I have crossed paths with." Now Wallace is a professional fashion and portrait photographer based in Charlotte, North Carolina and he has upgraded to shooting stunning studio portraits with his Sony Alpha 7R II and Sony 85mm f/1.4 G Master lens. We came across this beautiful portrait set of his and connected with him to learn more. Read his story behind the portraits below.
How a pro fashion & portrait photographer made this dramatic portrait set with the Sony Alpha 7R II, 85mm f/1.4 G Master, three small strobes and a homemade snoot.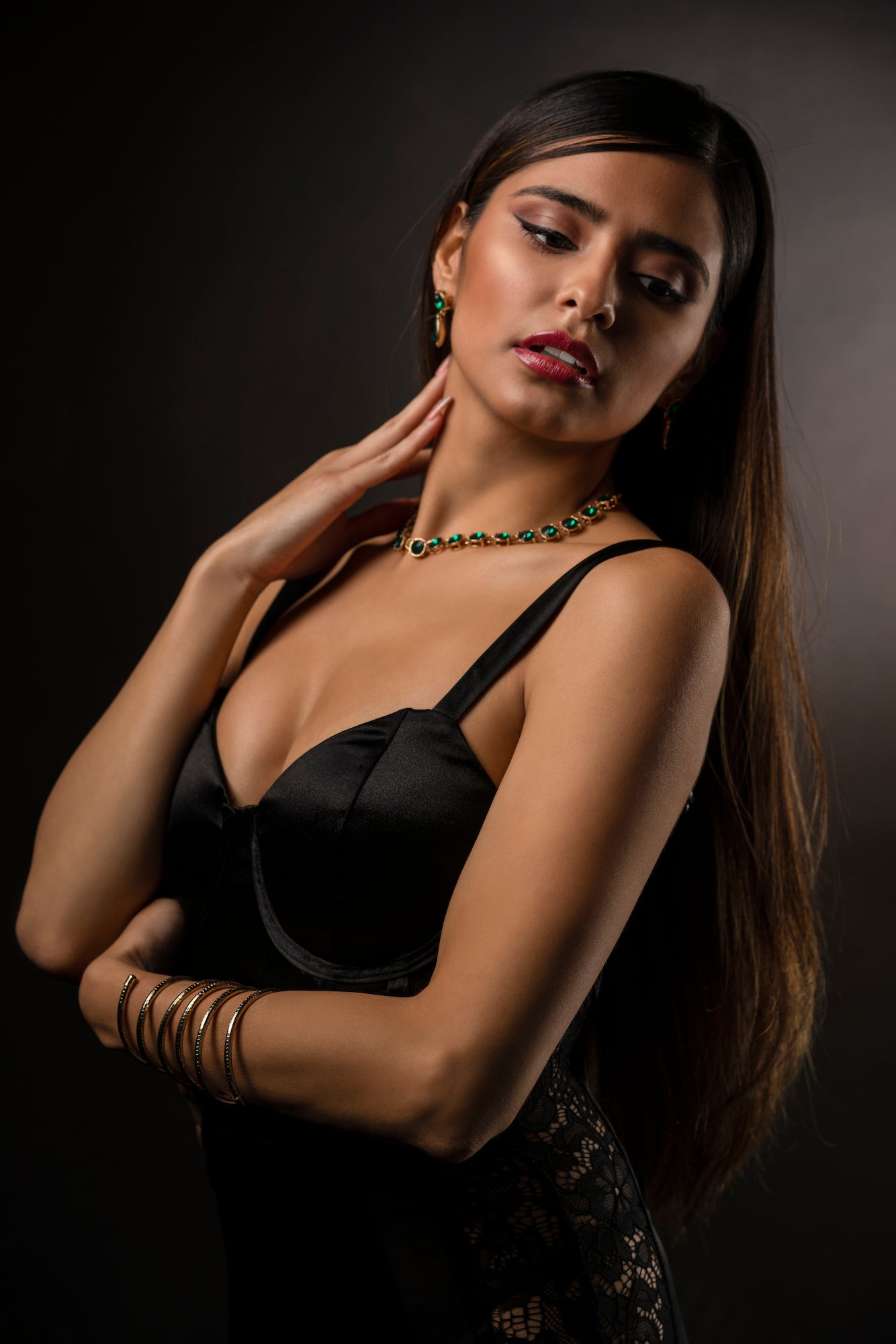 Photo by Eric Wallace. Sony α7R II. Sony 85mm f/1.4 G Master. 1/125-sec., f/4, ISO 80
The Scene – Black Dress, Black Backdrop
This was shot at SUR Studios in Charlotte. I have worked with the model, Christina Galeano, before and captured some great photos. I booked the studio for half the day and called in a few models to come and shoot with me on the day. A half day filled with a wide range of different types of fashion and portrait shots with five different models at different times in the studio. By the time I got to this set, I'd say I was very much warmed up behind the lens. When showed me the black dress she brought, I was immediately excited! I knew I wanted to shoot black on black backdrop to capture the shot I wanted with her. I wanted to capture vulnerability and power, while also getting the sensual elegance that she naturally possessed. Her poses were all on point in my vision, and it also helped that we had already shot together in the past.
Portraiture With The Sony Alpha 7R II with the Sony 85mm f/1.4 G Master
I shot this with the Sony Alpha 7R II with the Sony 85mm f/1.4 G Master lens. I'm excited to upgrade to some of the newer Sony bodies, but I absolutely love my Alpha 7R II and the 43MP of data I get in my shots. When I pair it with the G Master lens, I'm dancing and grinning behind the viewfinder! I wanted to use a lens where I could move in closer and capture more of the detail and emotion that she was giving me, so I decided to use my favorite lens – the Sony 85mm f/1.4 G Master.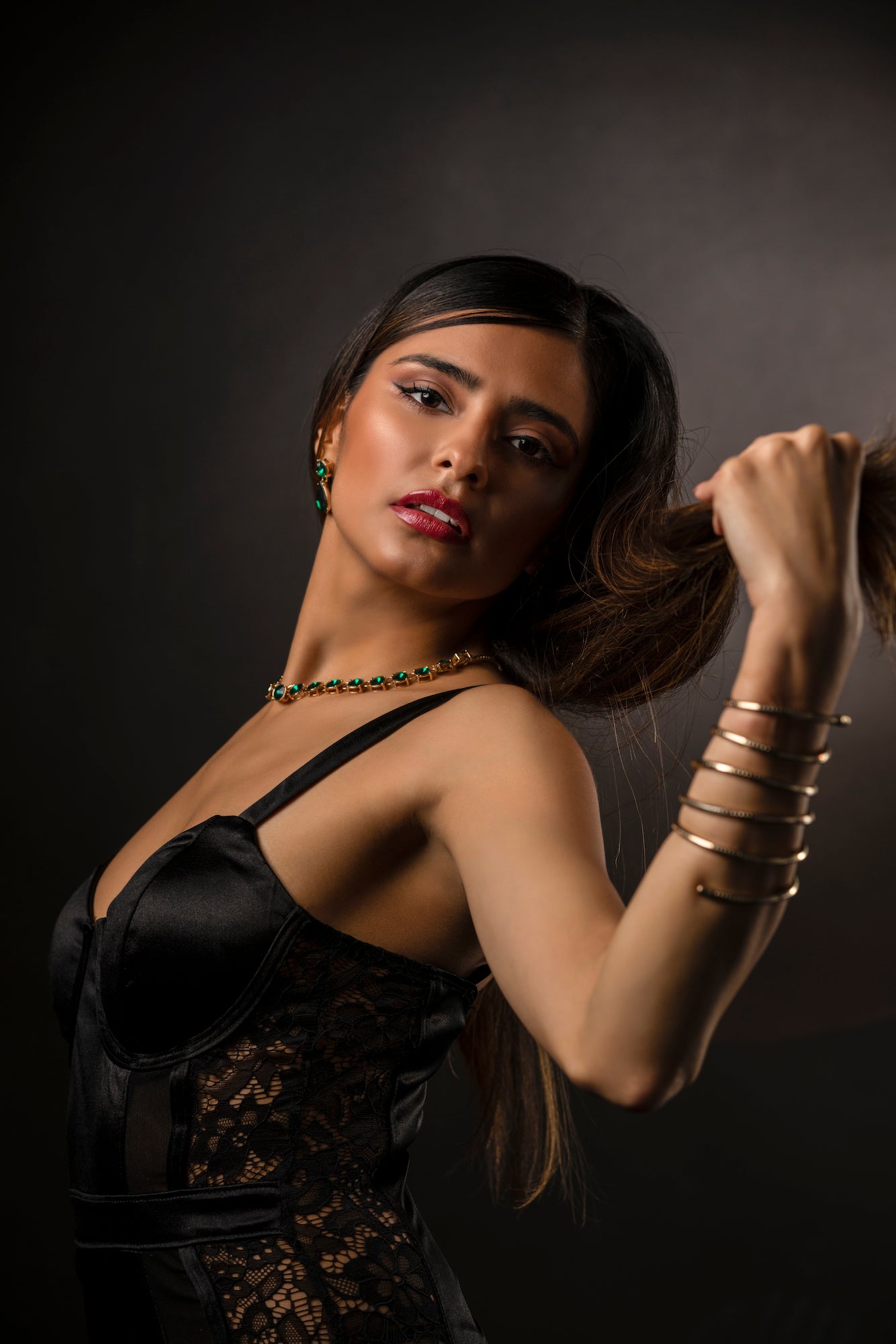 Photo by Eric Wallace. Sony α7R II. Sony 85mm f/1.4 G Master. 1/125-sec., f/4, ISO 80
How He Got The Shot – Camera Settings, Lighting & More
I shot at a shutter speed of 1/125-sec, aperture f/4.0 and ISO 80. In the studio with full control of my lighting, I like shooting at a shutter speed of at least 1/125-sec. to capture whatever motion I can, if the model is not doing a full sprint or twirl in the frame. Aperture at f/4.0 gives me an in-focus subject with a very soft fall off. I shot in front of a black backdrop with a three-light setup.
I used three Godox AD200's. My key light was a 47-inch Softbox, set up at a Rembrandt position left of frame. I fashioned a homemade snoot by cutting a paper towel roll in half and placing it over my second light that was shoulder height, right of frame, to light the backdrop and give an off-center halo. We played around with positioning as we shot, and ultimately I loved the off-centered backlighting. I had a third strip-boxed hair light in the back, right of frame. I didn't have to do too much adjusting when we began shooting because I had used this setup before, and not to mention earlier that day with another shot.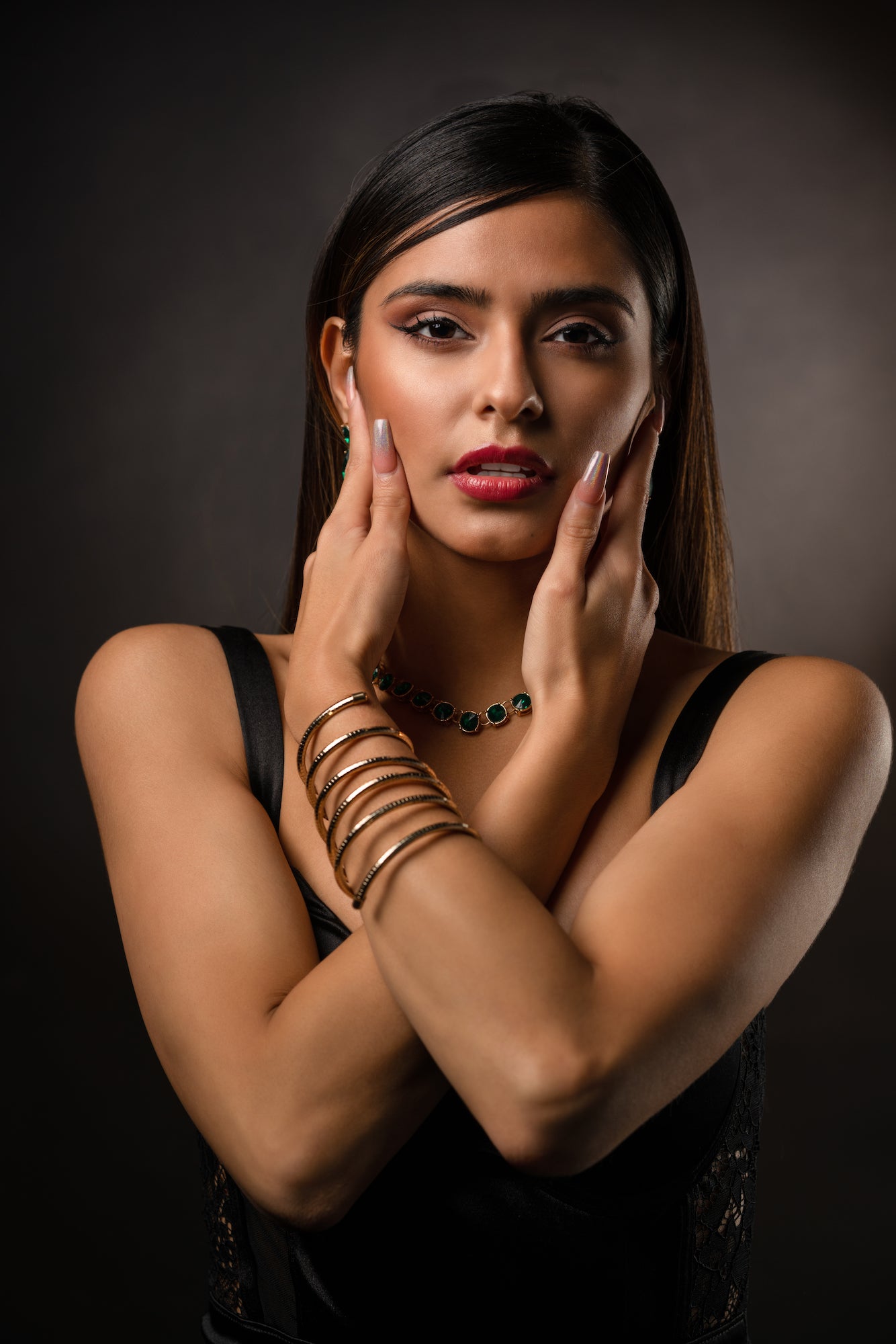 Photo by Eric Wallace. Sony α7R II. Sony 85mm f/1.4 G Master. 1/125-sec., f/4, ISO 80
His Post-Process Editing For Portraiture
The shots didn't need much post-process editing. They were very close to being finished in-camera. I do much of my work off of a 2020 12.9-inch iPad Pro. I import my photos into Adobe Lightroom where I cull and try to narrow a full shoot down to a strong 20. When I've chosen my favorites I then export my RAW photo into Affinity Photo on my iPad. I find Affinity to be a very user friendly and fully packed app for photo editing. For these photos not much was needed. I removed minor skin blemishes and I performed low grade frequency separation on the skin. While most other photos require a lot of time and attention to detail, I was pleased with what I had and exported the photos back into Lightroom. Back in Lightroom I do a final color correction and add a slight vignette. Then I crop at a 4x5 aspect for Instagram, plan a fitting caption, create the post...and on to the next photo!
See more of Wallace's work on Instagram @polymathicwallace and on his Alpha Universe Profile. Join Alpha Universe and complete your public profile. It's free and you'll have a chance to be featured on Alpha Universe! Click here to learn more.