Suzi Pratt (@suzipratt) is an event, food and restaurant photographer. She is also well-known for her tech reviews at Gemini Connect on YouTube. Suzi will be joining Sony Alpha Universe for a Live Ask Me Anything Event in the Community Forums on November 16, 2023 from 10AM - 12PM PST. We wanted to learn more about Suzi's photography work and how she shoots her food scenes. Keep reading to learn how she created and captured this delicious Thanksgiving spread.
I've been a freelance restaurant and corporate event photographer ever since 2012. Based in Seattle, most of my restaurant photos are for editorial clients, or marketing and PR when working directly with the restaurant. I brand myself as a restaurant photographer because most of my work takes place in the restaurant space itself and the photo subjects range from staged food photos, cooking and prep, interiors, lifestyle, and staff headshots – so it's a little bit of everything.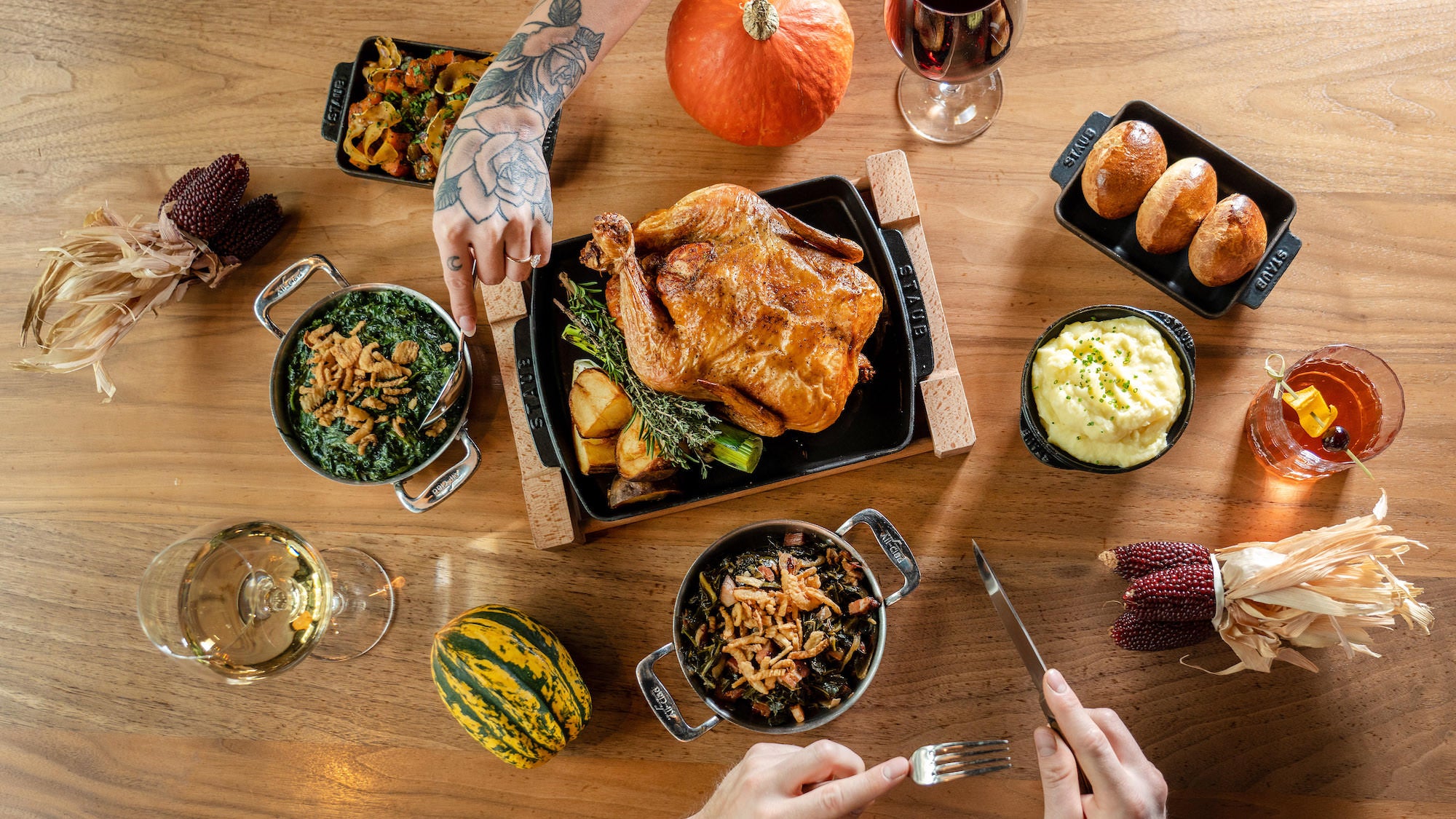 Photo by Suzi Pratt. Sony Alpha 7 IV. Sony 24-105mm f/4 G. 1/50-sec., f/4, ISO 800
Prepping The Scene
This was one of dozens of photos shot for a Thanksgiving campaign at Bourbon Steak, an upscale restaurant by Chef Michael Mina in downtown Seattle. The restaurant's director of marketing was on hand to provide creative direction, while I was in charge of executing the vision. Prior to this photo shoot, we had several virtual meetings and set up a mood board for the photo shoot, plus arranged for props (the pumpkin and corn) and talent (the hands) for this photo, and many more in the series.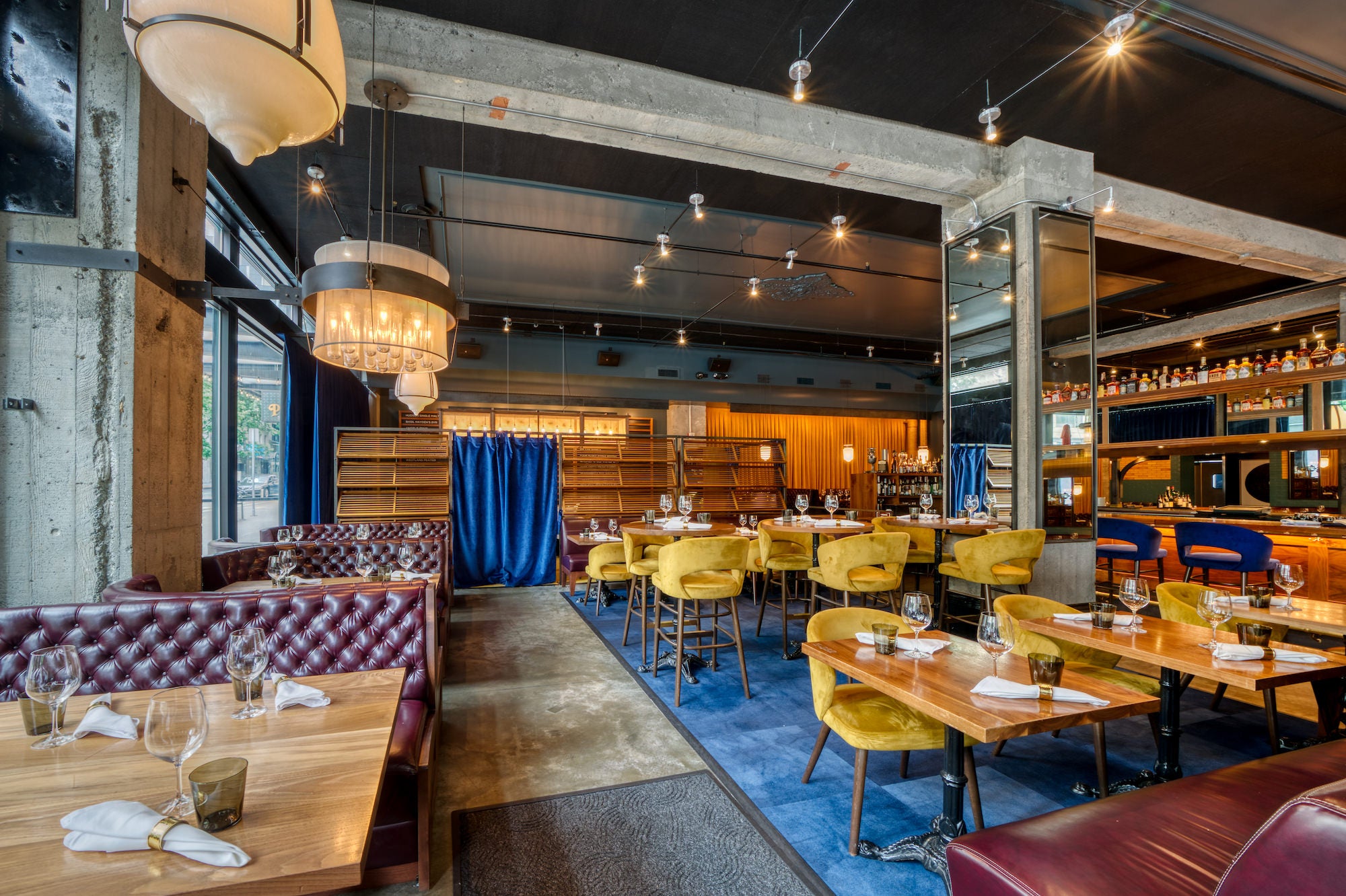 Photo by Suzi Pratt. Sony Alpha 7 IV. Sony 12-24mm f/4 G. 1.6-sec., f/11, ISO 160
Crafting A Delicious Moment
I used my Sony Alpha 7 IV and Sony 24-105mm f/4 G to capture this photo. I love the Sony Alpha 7 IV because it's the perfect hybrid camera to capture on-scene photos and videos, but I especially love the 33MP photos, so I can crop into a shot in post if needed, and the flip screen also helped arrange this photo, since it was taken overhead. The Sony 24-105mm f/4 G is a staple lens for restaurant photos because of its flexible range and relatively compact design. For food photos, especially flat lays like this one, I often shoot at least at f/4, if not f/6.3 or f/11 to get everything in focus, so I don't need bigger, more expensive fast aperture lenses. Instead, I value the flexible zoom range more.
For this image, my camera settings were: 32mm, 1/50-sec., f/4, ISO 800. Seattle is often cloudy, resulting in beautifully filtered, neutral light, so I try to shoot with natural lighting as much as possible. Even though we staged this photo near the restaurant's huge windows (just left of the blue curtain), it wasn't quite enough light for a full table spread flat lay, so I had to use my two strobes – speedlights on Westcott flash diffusers, a super compact setup that fits in my suitcase style camera roller bag and easily sets up in (often tight) restaurant spaces. Since this was a very stylized photo with lots of elements including hand models, I mounted my camera overhead on a Manfrotto light stand with a boom arm, and also shot tethered to my MacBook Pro so we could dial in each part of the scene.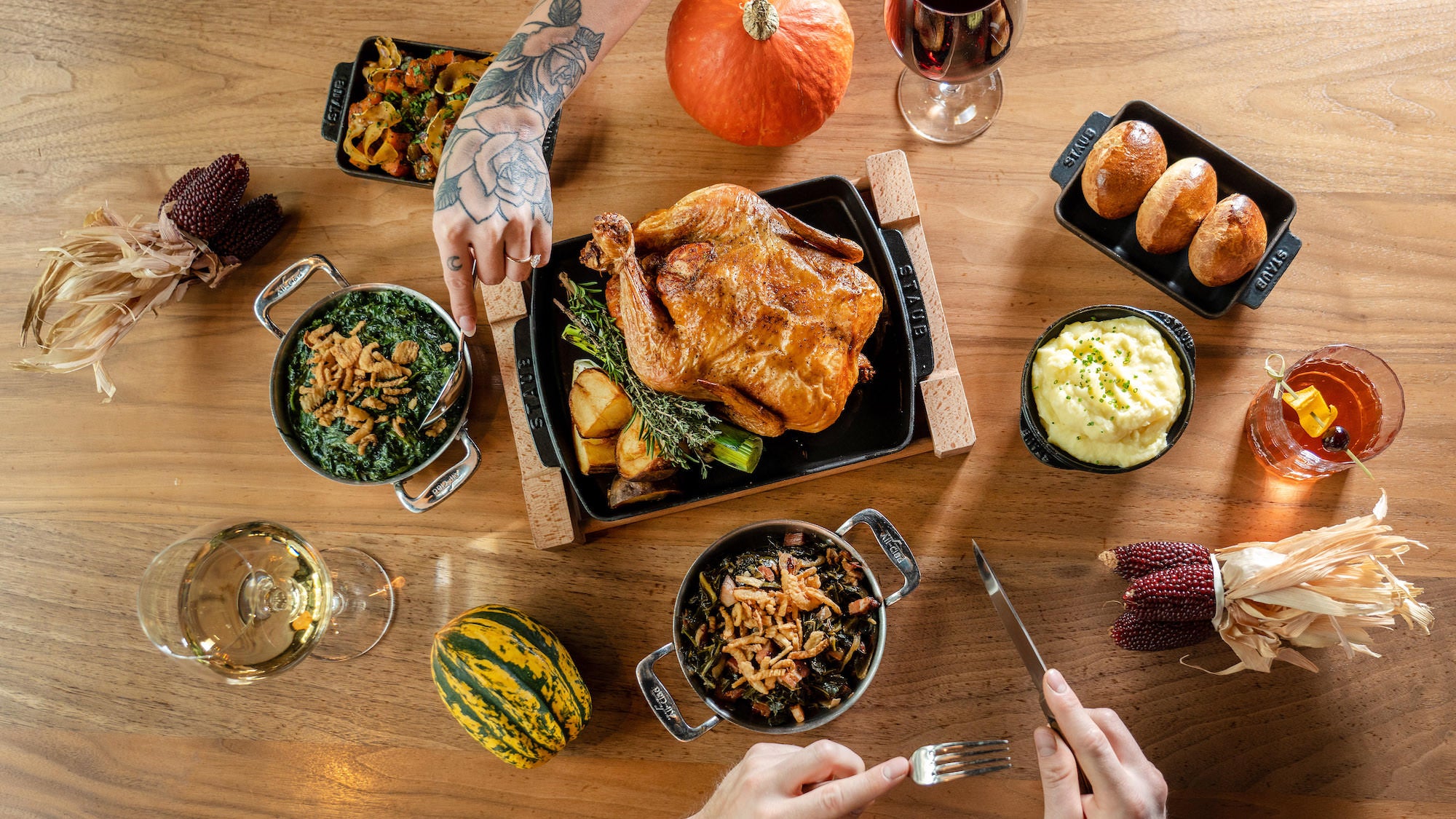 Photo by Suzi Pratt. Sony Alpha 7 IV. Sony 24-105mm f/4 G. 1/50-sec., f/4, ISO 800
The photo was shot in RAW, just in case I needed to do a lot of editing, but I ended up just adjusting the contrast, dodging and burning some of the shadows and highlights, and cropping the image. Not much editing was needed because we had spent so much time getting the scene right in camera.
See more of Suzi Pratt's work on Instagram @suzipratt and on The Gemini Connect YouTube Channel.
To learn more about Suzi's process, her gear selection and more, be sure to join us on November 16 from 10AM - 12PM PST for her Live Ask Me Anything event in the Sony Alpha Community Forums.