Stan Moniz (@stanmoniz) is an adventure and astrophotographer based in Southern California. The Alpha Collective member is known for vivid land and seascapes as well as stunning images of the night sky, which often feature the Milky Way, star trails, and epic lightning photos like the one shown here. This particular image, however, holds a special place for Moniz as he has been waiting for the opportunity to capture this moment for some time, and recently he had the chance to do just that. Moniz describes how he got the shot he has been waiting for using a Sony Alpha 7S III and the Sony 14mm f/1.8 G Master lens.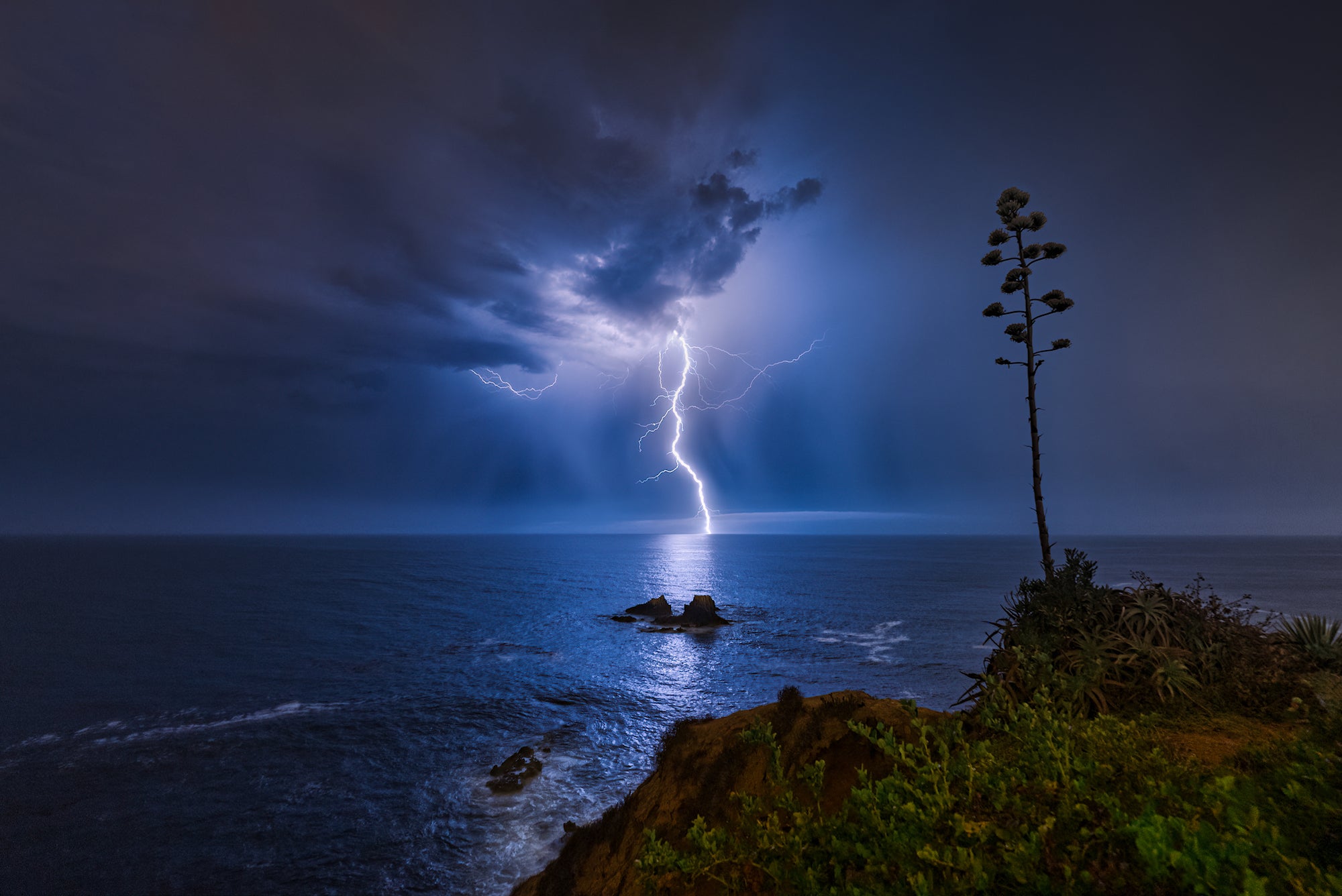 Photo by Stan Moniz. Sony Alpha 7S III. Sony 14mm f/1.8 G Master. 15-secs., f/6.3, ISO 800
Stan Moniz of the Alpha Collective describes how he got the lightning shot he has been waiting for using a Sony Alpha 7S III & Sony 14mm f/1.8 G Master lens.
Setting The Scene
"I'm a big fan of Laguna Beach and have a track record of capturing the beauty that is unique to this overlook," Moniz says. "But there was always one shot missing. It's always been a dream of mine to capture lightning standing right here in this very spot. What would it look like, and how would it translate to a photo? A question that has always been on my mind."
He continues, "My friends and I would often bring it up when monsoon season would kick in. However, for years it had only been a figment of our imaginations. It's an extremely rare possibility that this would even occur and if it did happen, you better be on top of it fast!"
To be in the right place at the right time, Moniz tracked a storm as it closed in on the Southern California coast. He explains, "[W]ith phone apps like RadarScope 05, I kept my eye on this monster of a storm that started all away over in Lake Havasu. By 2:30 am that dream shot became a reality as this storm moved right out over the coastline, dropping bolts like there is no tomorrow."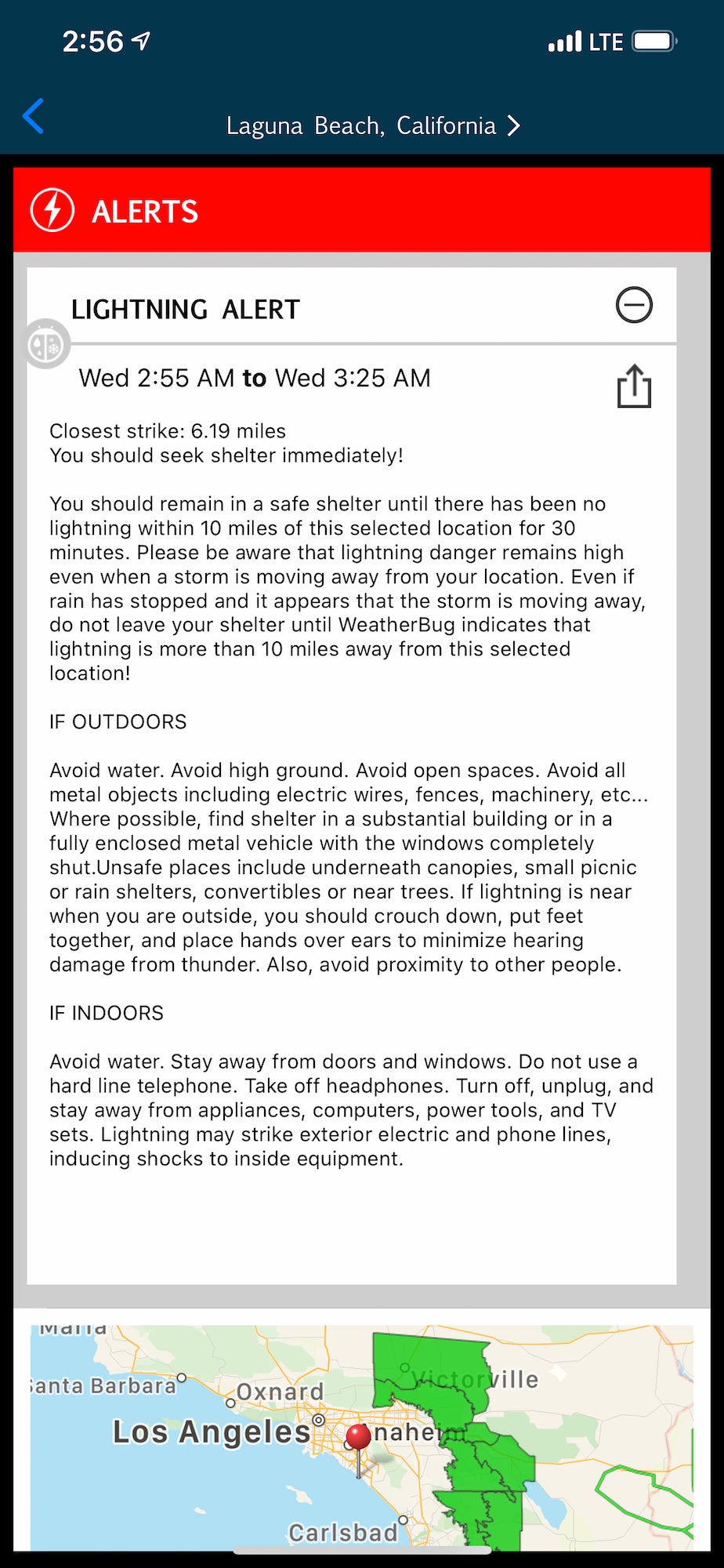 Screenshot of WeatherBug app that Stan Moniz uses to track lightning.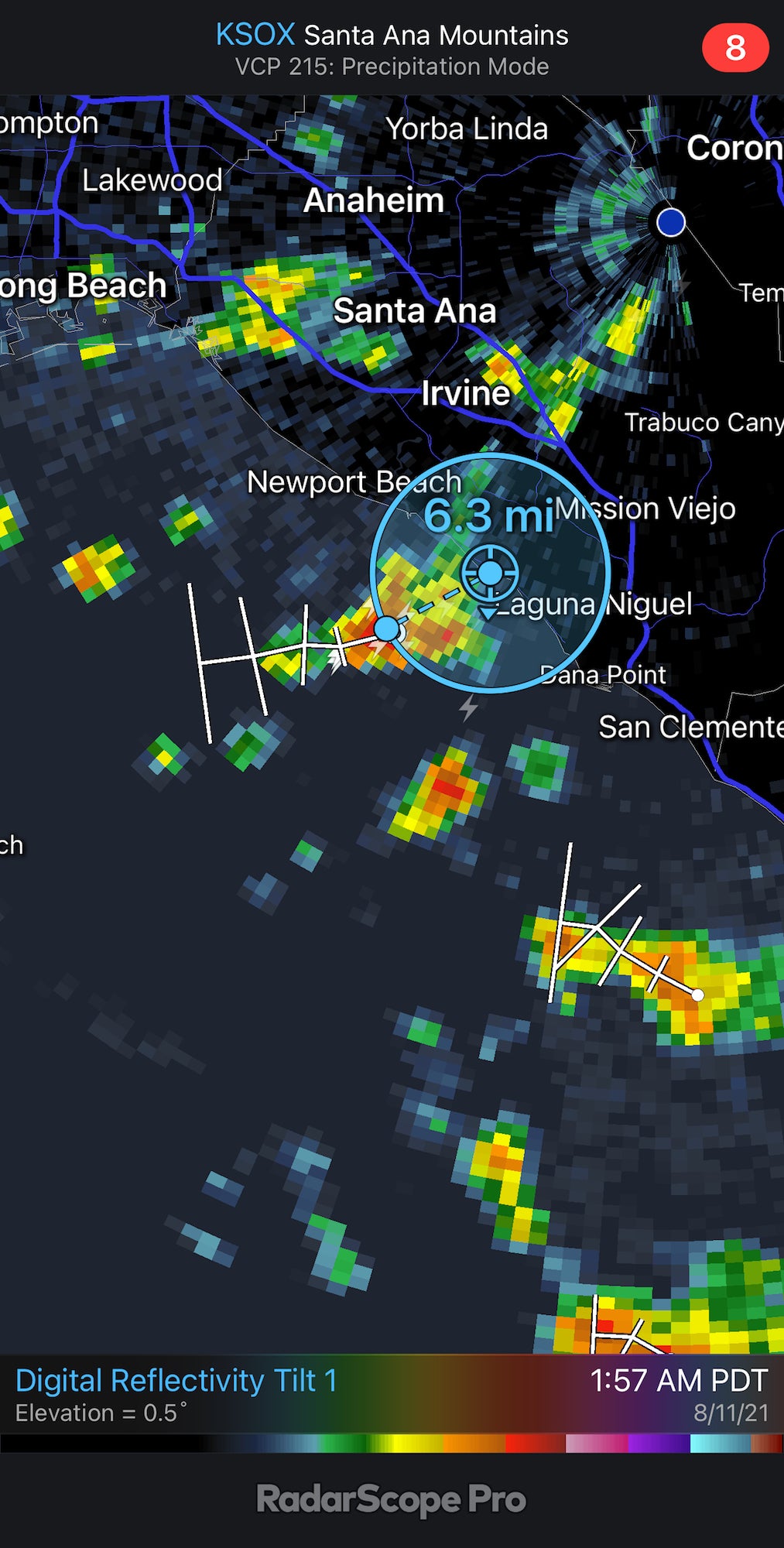 Screenshot of RadarScope 05 app that Stan Moniz uses to track lightning.
Gear & Camera Settings For Capturing Lightning Bolts
Moniz had his Sony Alpha 7S III and Sony 14mm f/1.8 G Master combination ready to go on his heavy duty tripod, the Slik Pro CF-635. "The easiest way to capture lightning is to use the interval shooting function on the camera," explains Moniz. "I set the camera so each shot was 15 seconds long. Since there were no stars in the sky, I didn't really worry that much about exposure time and star trailing. It's easier because you just set the timelapse function, let her rip and enjoy the show. The reason why I shoot a lot with the Alpha 7S III, even during daytime, but especially at night, is because it's just super easy to focus."
He continues, "Then I had the ISO at 800, which is kind of that happy balance, and the f-stop was 6.3. I've been doing a little storm chasing over the past two years, and just from past experiences, I've learned the f-stop needs to actually be a little bit more stopped down when the lightning is close. For this image, according to the apps I was using, that storm cell and those lightning bolts were six miles from me. So the closer the cell is to you, the brighter the bullets are. It's kind of like a flash going off. I've learned from messing up many times that you cannot recover the highlights when you have a bolt that is that close to you that strikes and you're shooting wide open. That's why I was shooting at f/6.3."
The Sony 14mm f/1.8 G Master is a favorite for Moniz, and for this image it again provided him with the perfect focal length and performance. "I wanted to capture this grand scene," he says, "and the 14mm focal length is the one that worked. If I had used the 24mm, I probably would've missed a lot of the bolts I captured. The 14mm f/1.8 is just so, so sharp. It's so rectilinear too, so it captures that straight horizon. It made for a really good photo, especially stopped down. That lens is so sharp corner-to-corner, and at 6.3 it was perfect for the type of shooting I was doing."
See more of Stan's work on his Alpha Universe Profile and on Instagram @stanmoniz.