José Ramos (@joseramosphotography) is a landscape photographer with a passion for the beauty and power of the natural world that surrounds us. He divides his time between working as a photographer and a doctor and he's equally dedicated to both. He frequently sacrifices sleep in in favor of dedication to his crafts. We saw his Alpha Universe Profile and connected with him to learn more about how he created this stunning landscape photo with his Sony α7R and Sony 16-35mm f/4. See his story behind the shot below and create your own Alpha Universe Profile HERE for your chance to be featured on AlphaUniverse.com.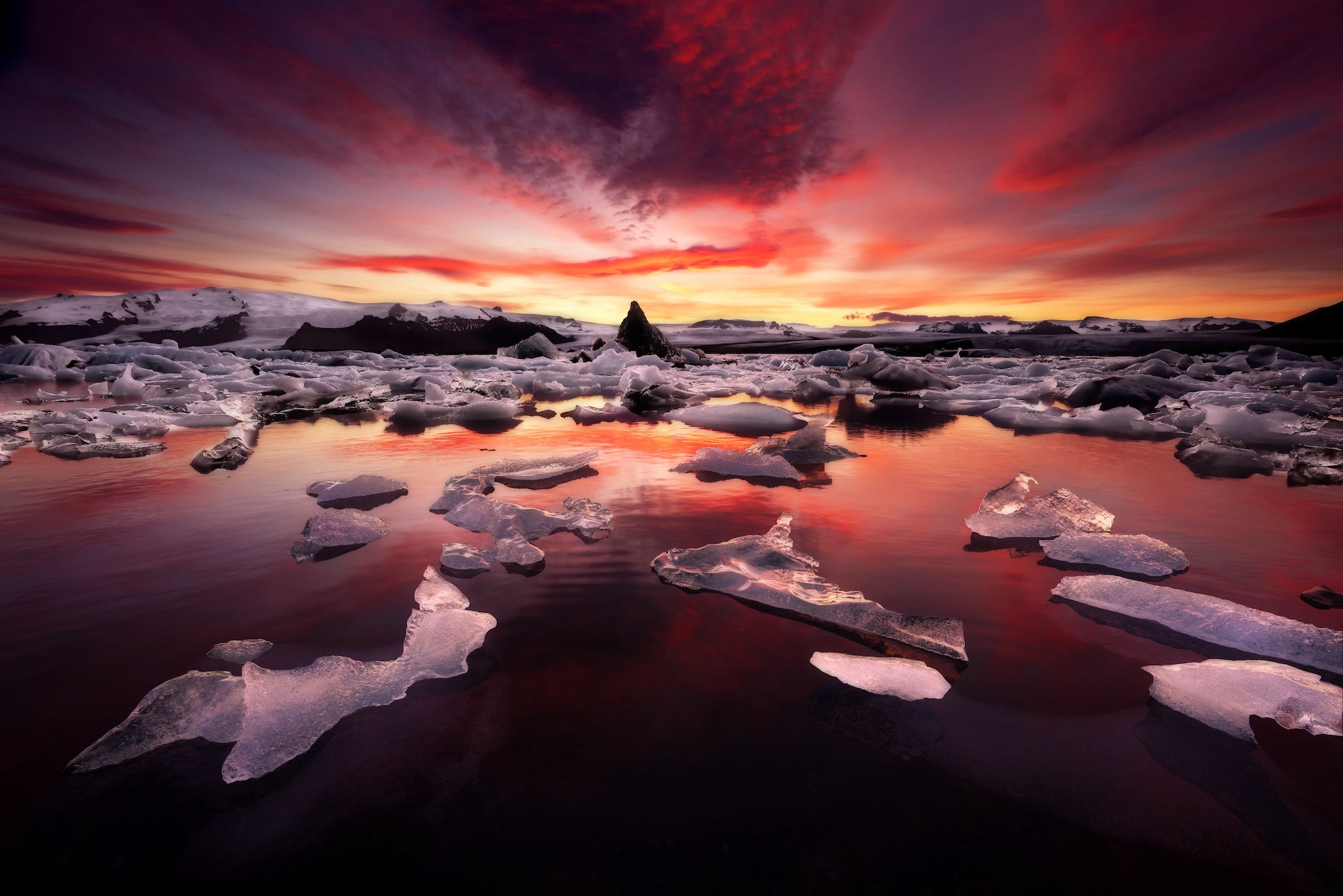 Photo by José Ramos. Sony α7R. Sony 16-35mm f/4. ⅛-sec., f/16, ISO 200
Conceptually speaking, I always try to offer my personal thoughts, experiences and reflections about my images through storytelling, because I think the image creation process never ends with the camera shutter press, but is rather continued by what is evoked by the image when it is reviewed at home, and later carried on by the emotions of the final viewer who, once again, re-creates the image inside him or her. In my photos, it's important to raise awareness about nature and the need to protect the environment.
The Scene
This is an image of the Jokulsarlon Glacier Lagoon in Iceland. After two photo-trips to Iceland, with no luck at this spot in terms of good light conditions, I finally had the chance to witness an epic sunset at Jokulsarlon during the third visit, with enough time to choose from the endless possible angles and compositions. Due to the slow moving pieces of ice, doing a long exposure in this place would be impossible, so I had to plan accordingly. Since the ice pieces were a few meters aways from the shore and I wanted to get the classic immersive look of ultra wide angle lenses, I had to enter into the freezing water to get this image. From time to time, chunks of melted ice slowly flowing with the current would meet my legs with great subtlety, making me feel like a part of the whole moving scenario.
This place is quite simply the most beautiful work of moving art I've ever seen in my short life. Conceptually speaking, and while watching it under such a fiery light, along with its endless cadence of moving pieces of ice, I see this scene as a great teacher of lessons of "impermanence" and "dissolution." This is why I called this image "Dissolution of Eternity."
Shooting Landscapes With A Classic
This was my first trip to Iceland with a full frame camera, the classic and amazing Sony α7R. Before buying the α7R, I had been using Sony APS-C cameras for so many years, and fortunately that never stopped me from being published, or licensing and selling prints of my images. But then Iceland led me to the fascinating world of night photography, while hunting for the famous Northern Lights, and in my first visit to the country in 2014 it became obvious that shooting long exposures at high ISOs was not doable with the current APS-C sensors, and I needed high quality images at high resolutions. The α7R was a game changer in that aspect, and it became my main camera for long. The high resolution of the "α7R" series is perfect for landscape photographers who are looking for every bit of detail and dynamic range in their photos, giving us that extremely important sweet spot between high resolution and low noise.
The lens was a Sony 16-35mm f/4. When I bought it, the 16-35 f/4 was the only high quality ultra wide angle native zoom available for the Sony mirrorless system. For me, it's still a great lens today.
How I Got The Shot
I specialize in long exposure photography, but this image needed a faster shutter speed, as the ice pieces were slowly moving. This was shot post-sunset and there wasn't a lot of light available, so I went for the slowest shutter speed that would still maintain the sharpness of the ice pieces. This image was shot at ⅛-sec. and I used an ISO of 200. I used a tripod to make sure there would be no camera shake and also used a graduated ND filter to be able to get a properly exposed image in one shot. Regarding focal length I am a big fan of ultra wide angle compositions, as they can pull the viewer into the photo through strong leading lines in the foreground, so I shot this at 16mm. The nearby pieces of ice were quite close to me, so I used manual focus and tried to achieve hyperfocal distance to make everything as sharp as possible, from foreground to background.
A Post-Production Process To Enhance Contrast
I do not have a fixed workflow, and it always depends on the base image I am working with. I always start by fine tuning the image in Adobe Camera Raw, adjusting exposure and white balance, controlling highlights and shadows and then establishing the base color mood of the image through adjustments in the Hue/Saturation/Luminance panel. Then I open it in Photoshop, where I try to fine-tune the image and embed it with something similar to the sense of "awe" I felt while being there.
In this image I did not need to go too creative with colors, as this was already an epic and beautiful sunset, so the fine-tuning was mostly about creating strong local contrast adjustments, applying dodging and burning in some areas, enhancing the overall color vibrance of the scene and selectively slightly desaturating the ice pieces, so they would not have an excessively strong color cast, creating a solid color separation that would increase the notion of contrast.
Join Alpha Universe and complete your public profile. It's free and you'll have a chance to be featured on Alpha Universe! Click here to learn more.