At the beginning of the year, wedding photographer Garrette Baird decided to set two goals for himself. He wanted to both travel more in 2018, and to create new experiences that pushed him outside of his comfort zone. One day in January he was waiting to board a small regional flight to New York – a nice start on his first goal of traveling more. While waiting he had a little idea in his mind about starting a series of portraits. Just a hobby project capturing people that he thought seemed interesting for whatever reason. He had thought about it before but just never worked up the courage to actually ask anyone if he could take their photograph. He saw an opportunity to work toward this second goal that day in the airport.
"I was sitting in a completely packed terminal and I saw this group of military personnel," said Baird. "I have the absolute highest regard for people who are serving our country in the military. Both of my grandfathers served in World War II and I have a major respect for what they do."
When he saw this group he thought of a unique way to show his appreciation for them. Something more than just shaking their hand – something they could keep and cherish. He could take their portrait right there in the airport. But the intimidation of going up to people he didn't know and asking to take their photo overcame Baird.
"I was watching them and they were sitting in the terminal and I again chickened out – I just didn't do it," said Baird. "We were waiting there for probably 45 minutes from the time they came in to the time we started boarding. There was one woman in particular in this group who was different. I couldn't quite put my finger on it, but she just glowed with this class and grace."
After boarding the plane, Baird noticed that this woman was sitting one row ahead of him. Another passenger came up to the woman to offer her his first class seat, and she respectfully declined. A classy move, Baird thought, because who wouldn't want an upgrade? He didn't think much more of it and spent the rest of the flight editing photos.
"We came up on the approach, started to land and I thought to myself, 'Garrette, you need to really suck it up and just go ask because she may say no, but she probably won't. She's super nice, you've seen her, she's amazing – so why don't you just go say something to her?' So, we all stood up to get off the plane and I walked up to her and said, 'Excuse me.' And she thought I wanted to get past her."
He quickly explained to her that he wasn't trying to squeeze by, but rather wanted to ask her something. Baird gave the woman his name and said he was working on a little hobby project to help him be better at communicating with people, and that he wanted to take her picture and send her a copy.
The woman's response? "Oh, absolutely." And just like that the barrier was broken. All of the nerves Baird had melted away because he found the courage to just ask. They got off the plane and Baird found a nice big window with light where he had a little photo session with her. What Baird didn't realize at the time was just how difficult this first portrait in his hobby project would be to top.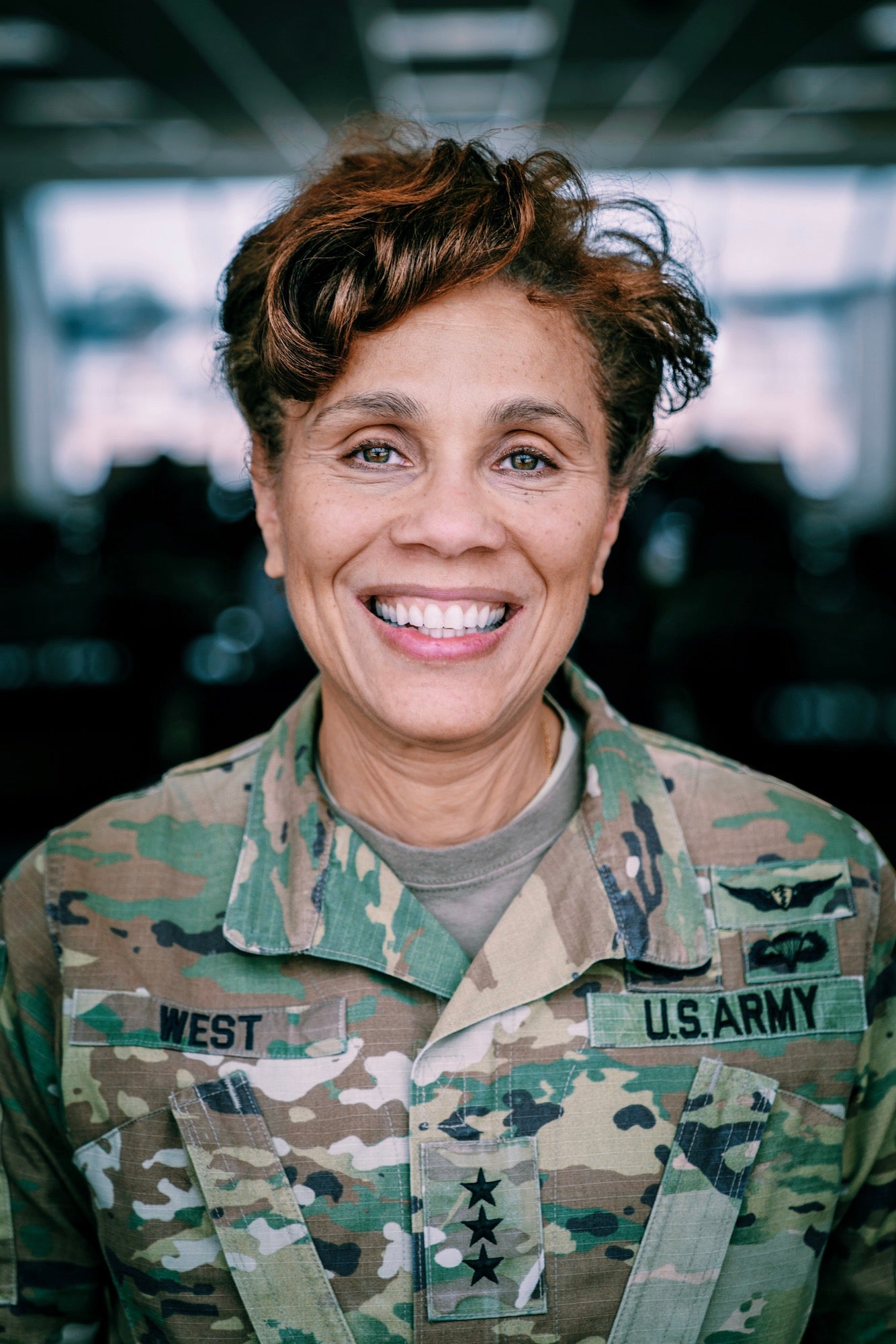 LTG Nadja West. Sony α7R III, Sony FE 24-70mm f/2.8 G Master lens, 1/90-sec., f/2.8, ISO 100
"I asked her if she was in New York for work, and she said she was a surgeon of some sort there for a medical convention or something," said Baird. "We exchanged our information so I could send her the photos and when I got back to my hotel to edit them I could not remember her name to save my life. I felt horrible so I texted her asking her name and for clarification on what type of surgeon work she did. She responded with, 'LTG Nadja West and my title is The Army Surgeon General.'"
Baird thought that sounded pretty important, so he did a little Googling and found out that she was the Commanding General of the U.S. Army Medical Command. She was the first black Army Surgeon General and the highest ranking female to have graduated from the U.S. Military Academy. He found a fascinating story about her on CNN about how she was an orphan and part of an adopted family of 12 children. Her adopted mother was a grandchild of slaves and her father joined the army when it was still segregated. He started tearing up just watching her story. She even mentions how she found Star Trek to be a huge source of inspiration for her because it's the first time she had seen a female of color in a command position. Baird is a self-proclaimed geek and lover of Star Trek and thought that was a really cool "geeks unite" moment.
"Honestly, I'm glad I didn't know that she was a Three Star General because I probably wouldn't have approached her. She is basically a celebrity. She can hardly walk down the streets of the U.S. Military Academy because so many people want to come up to her."
The experience was certainly not a bad start to his portrait project.
"My first time venturing out of my comfort zone and starting this project, the bar was set pretty high," said Baird. "I've had other scenarios since where people have said no to having their portrait taken, but that's OK now since I've also had people say yes."
Baird has learned a lot from his portrait project and it's helped him immensely in his wedding photography work.
"You have to treat stepping outside of your comfort zone like you would training a muscle. The first time you go the gym it's going to be a little rough, but the more you do it the easier it gets. The same goes for reaching out and meeting new people. You also just don't know who's around you, what they're going through, the things they've overcome or how much of a champion somebody is. And you won't know until you reach out, be a human and talk to them. Humans are capable of amazing things and you just never know who might be next to you."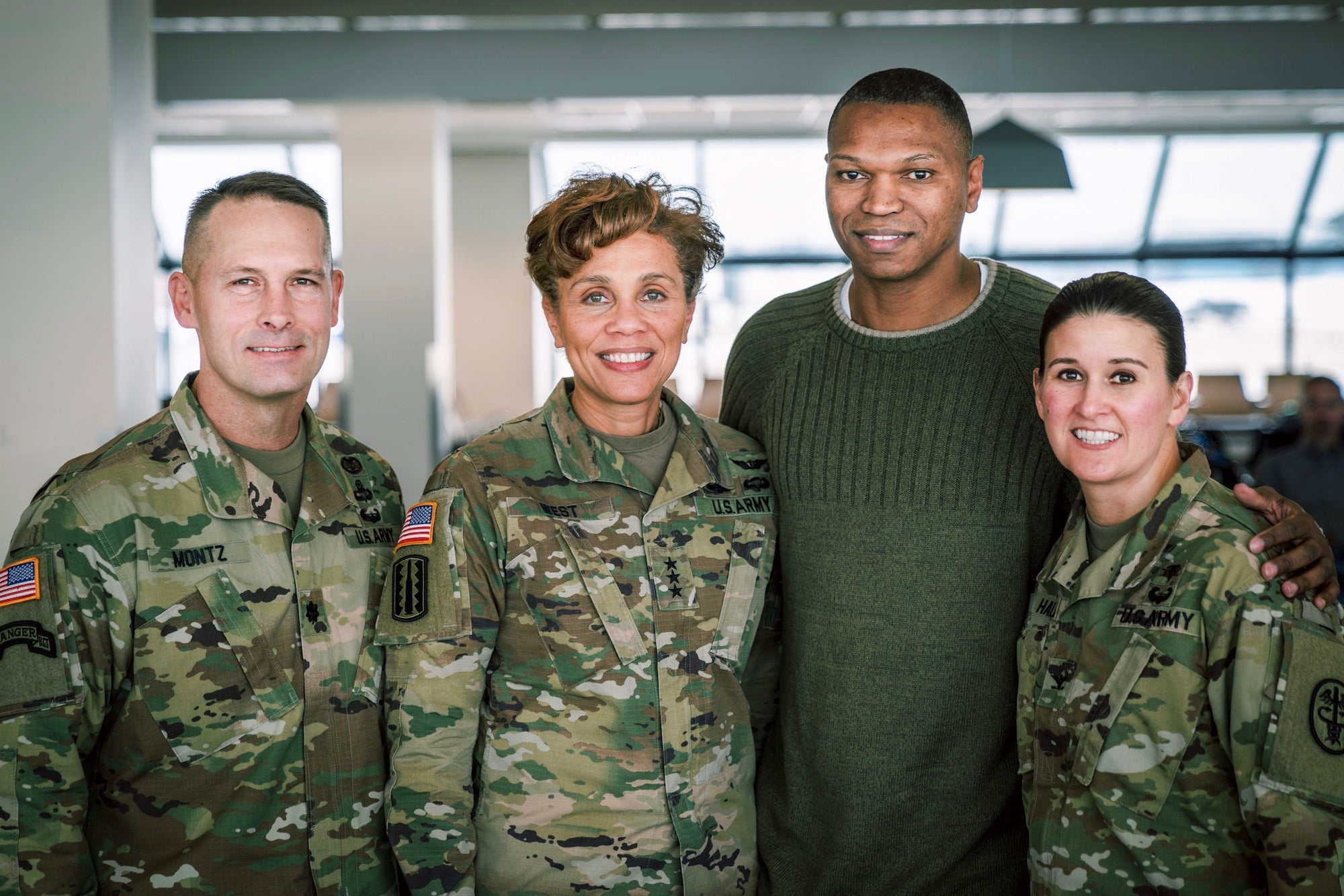 LTG Nadja West and the group she was traveling with. Sony α7R III, Sony FE 24-70mm f/2.8 G Master lens, 1/90-sec., f/2.8, ISO 100
Garrette Baird is half of the international award-winning husband and wife filmmaking team, Eyenamics. You can learn more about his work at eyenamics.com.