One of Mark Forman's many specialties, whether he's shooting moving pictures or still photos, is covering the transportation industry. From the bicycles of his first project (the film Bicycles on Snow), to trains, planes, helicopters, bridges, roads and the heavy machinery used to make them, Forman is a natural when it comes to shooting transportation-related subjects. He's done it all.
"I used to do Oshkosh," he says, "the world's largest gathering of airplanes. I'm involved with railroad museums. I went down to Virginia when we brought down a railroad car to be used on a train that was hauled by a steam locomotive. On the move down I photographed the car being moved: out of the back of the car, the rails, long exposures, so I'd get great shots that really feel like you're moving even though it's a still image. And then once we were down there I rode in the car that we brought down but I also rode behind the steam locomotive. I got access to areas the public wasn't allowed, so I got some pretty interesting shots. I'm very astute with doing transportation."
When Forman was recently asked to photograph construction work on some famous New York bridges, he leapt at the chance. He'd get to go up in a helicopter and photograph the heavy machinery, cranes and lifts in use by the Operating Engineers of New York City.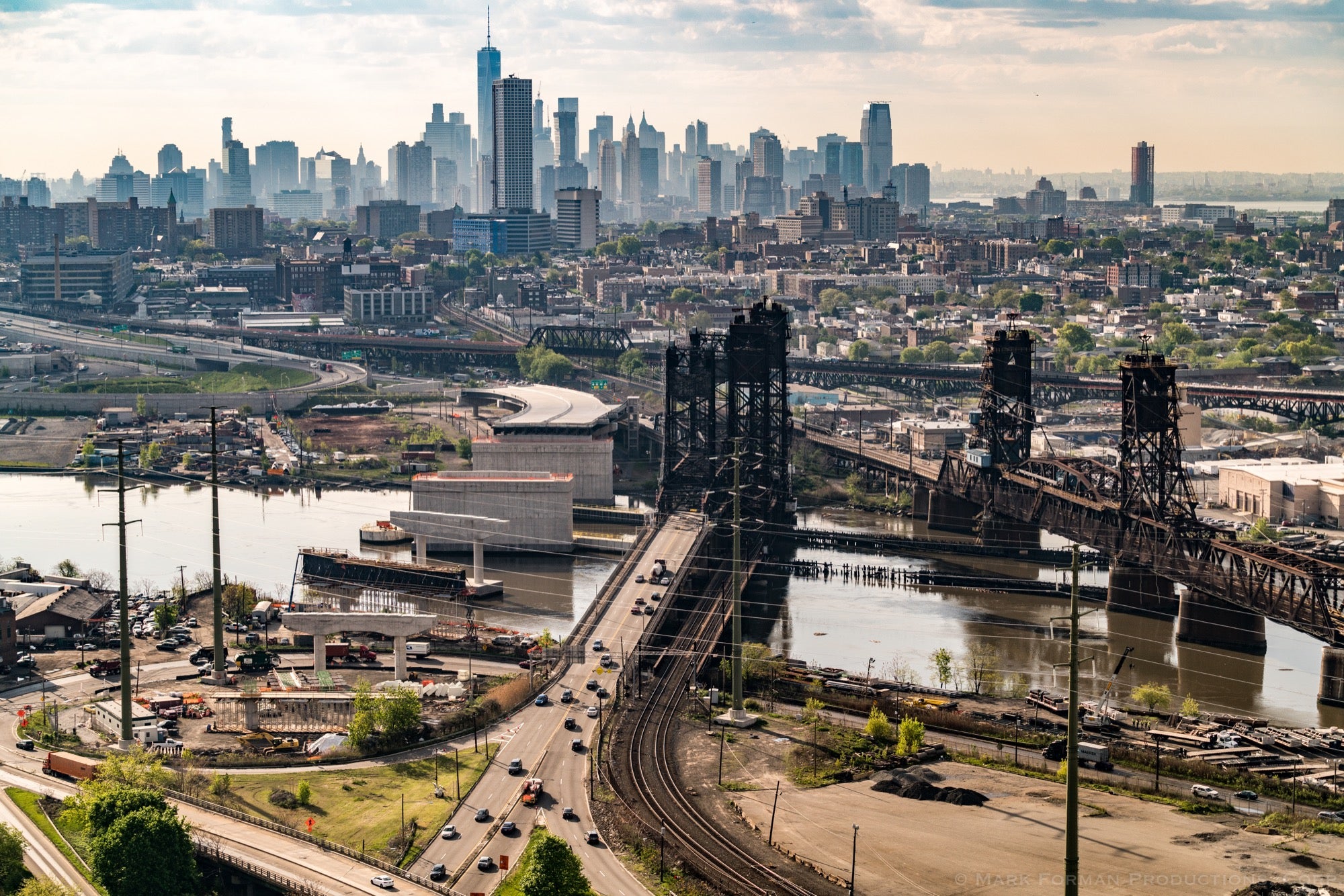 Sony α7R II, Sony FE 70-200mm f/4 G OSS lens at 70mm.1/1600-sec., f/6.3, ISO 500.
"The operating engineers," he explains, "are basically the people who operate all the machinery, the cranes, the bulldozers, etc. And I went up with my friend Kai Simonsen, who is very well known. He's up pretty much every day with a helicopter. And so I had to photograph from the helicopter, as he was shooting motion I was shooting stills. And I was photographing all the various cranes that were constructing the new Tappan Zee Bridge. There's other bridges in the New York area being worked on such as the Goethals and the Bayonne where they're raising the height of the bridges so that they can pass Panamax ships under them."
Sony α7R II, Sony FE 70-200mm f/4 G OSS lens at 70mm.1/2000-sec., f/4.5, ISO 100.
The shoot was fast paced an intense, and Forman knew exactly the equipment he needed with so much to cover in such a short amount of time. Why the rush? Because the cost to keep a helicopter aloft in New York City is enormous.
"Basically," Forman says, "I did it in three hours because helicopter time is really expensive. I went up with a couple of Sony α7R II cameras. I had the 28-135mm on one camera and the 70-200mm f/4 on the other camera."
"We started around sunrise," Forman says, "and we finished three hours later. It's very high tension because people pay a lot of money for this stuff. Unfortunately the helicopter gets all the money and I get very little. The real issue is that you can't really look at a screen, even in a helicopter, and know whether it's in focus or it's not in focus because everything's vibrating. And so you just have to make sure you choose a camera that's going to work. Obviously the α7R II worked very well for me."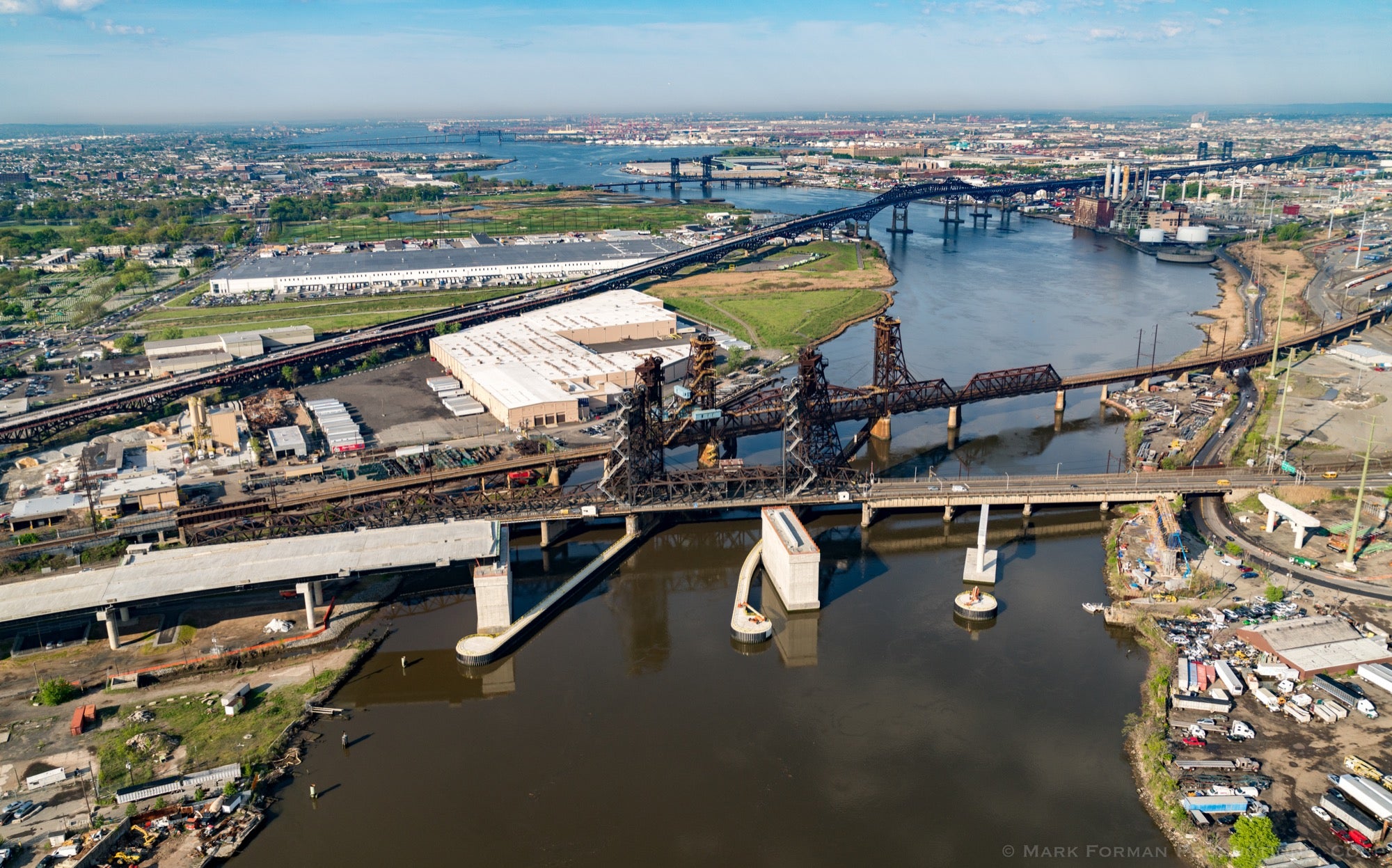 Sony α7R II, Sony FE PZ 28-135mm f/4 G OSS lens at 28mm.1/2000-sec., f/4.0, ISO 320.
Forman puts the priority on a fast shutter speed to ensure any motion blur is eliminated—whether from handholding, the helicopter moving or its engine vibrations.
"I was shooting as fast as I could and as highly skilled as I could do it. I was at 1/2000th mostly —because I wanted to make sure that everything was stopped. And the helicopter's vibrating like crazy…even the best helicopters vibrate. And so I'm making sure that I don't touch anything in the helicopter as I was shooting, because the body is a great insulator against vibration. I was just shooting out from the open port on the side of the helicopter."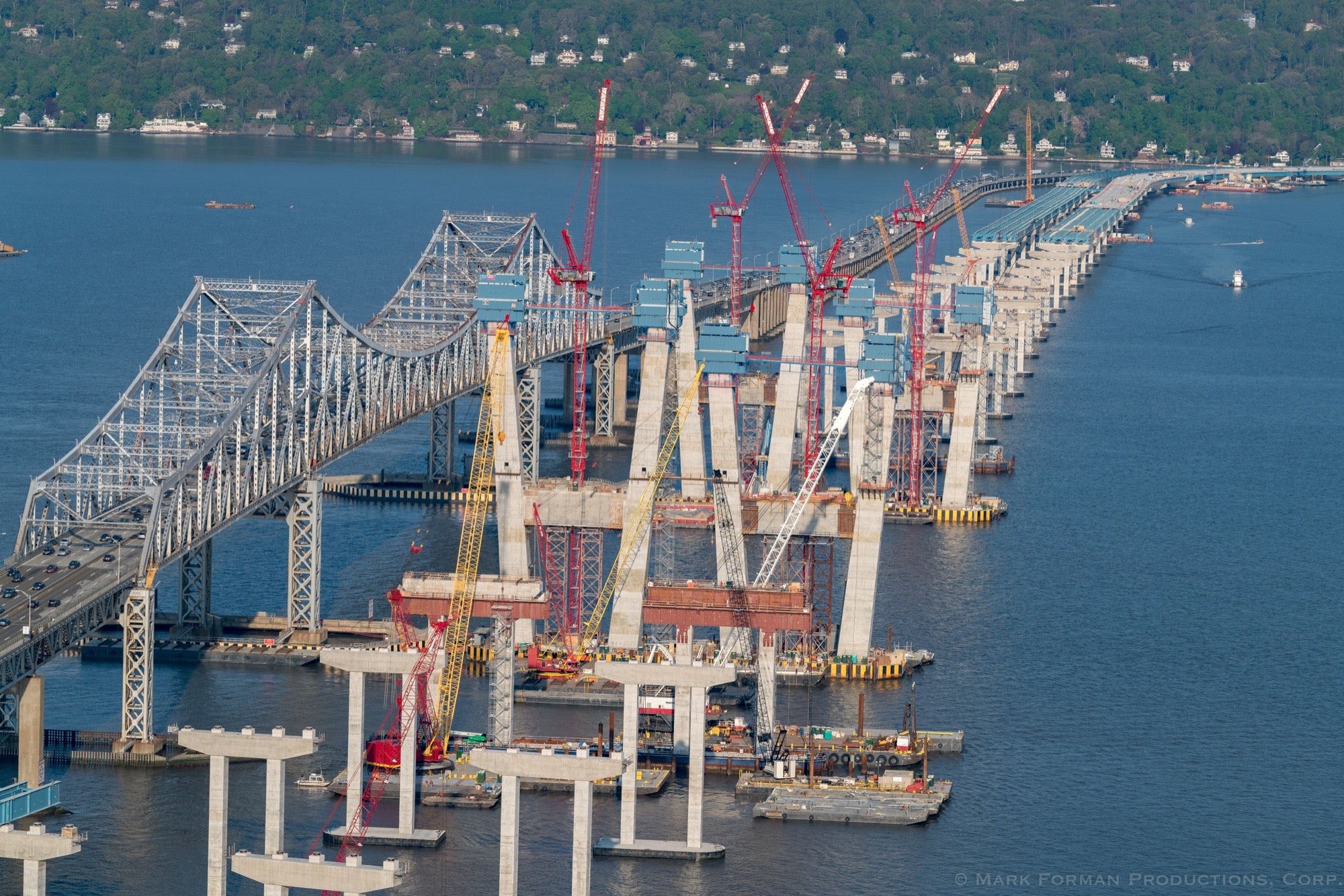 Sony α7R II, Sony FE 70-200mm f/4 G OSS lens at 128mm. 1/2000-sec., f/6.3, ISO 500.
Depth of field isn't often an issue when shooting wide views from the helicopter's distant vantage point, but sharpness certainly is. For that reason, He dialed in his shutter speed and aperture, depending on his relationship to the subject, and allowed the α7R II's auto ISO feature to dial in the appropriate sensitivity.
"Because I'm in a helicopter and usually at least 1,000 feet away from anything," Forman says, "I'd prefer to shoot at f/5.6 or 8. That would be great, but sometimes you don't have that opportunity. The most important thing is speed. You're making sure you're at 1/2000th of a second. I set Auto ISO. It's daytime so it's not going to get you in trouble. The Sony Alpha series cameras have really great ability to keep the noise low. I could shoot at ISO 3200 and you're going to see some noise, but it's not going to be a killer. If I shoot at ISO 800 it's not going to be an issue at all. I could have shot in manual mode with a variable ISO; that's another way of doing it. And you can limit the variable ISO too. If I was shooting straight down and there was no sun, I'd use f/4. But for shooting across something, I'd adjust the aperture to f/11."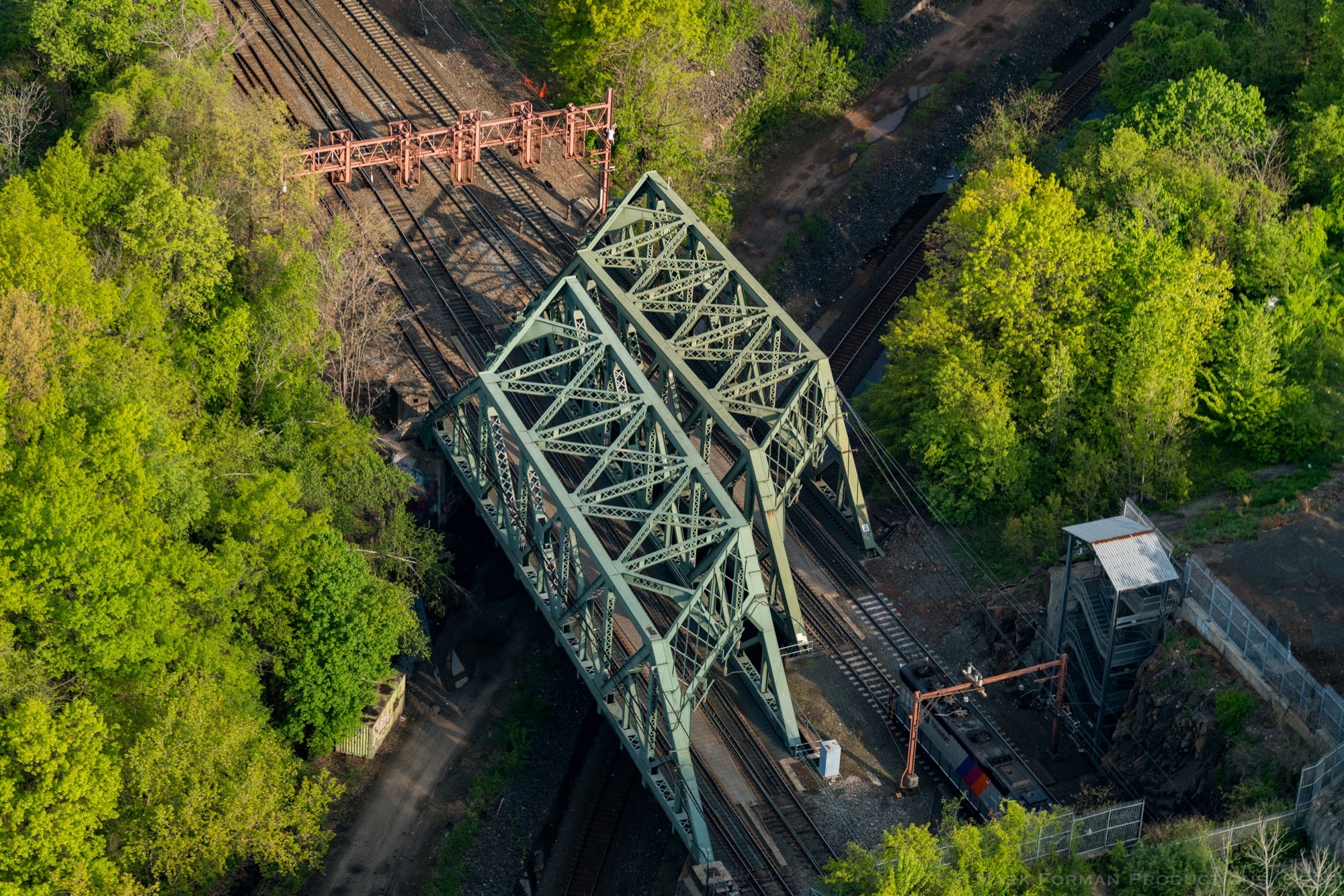 Sony α7R II, Sony FE 70-200mm f/4 G OSS lens at 118mm.1/1600-sec., f/4.0, ISO 500.
"That's another thing also," he adds. "Metering can be an issue sometimes. So autoexposure lock can be important. And focusing is the biggest bugaboo. I used to do center point small spot and then move the camera left or right or up or down, but that doesn't work too well with the helicopter. So, basically, if I can get the pilot to hold it's really good, but we're still moving. So I'm always playing with focus settings. The latest thing I've been doing is continuous autofocus."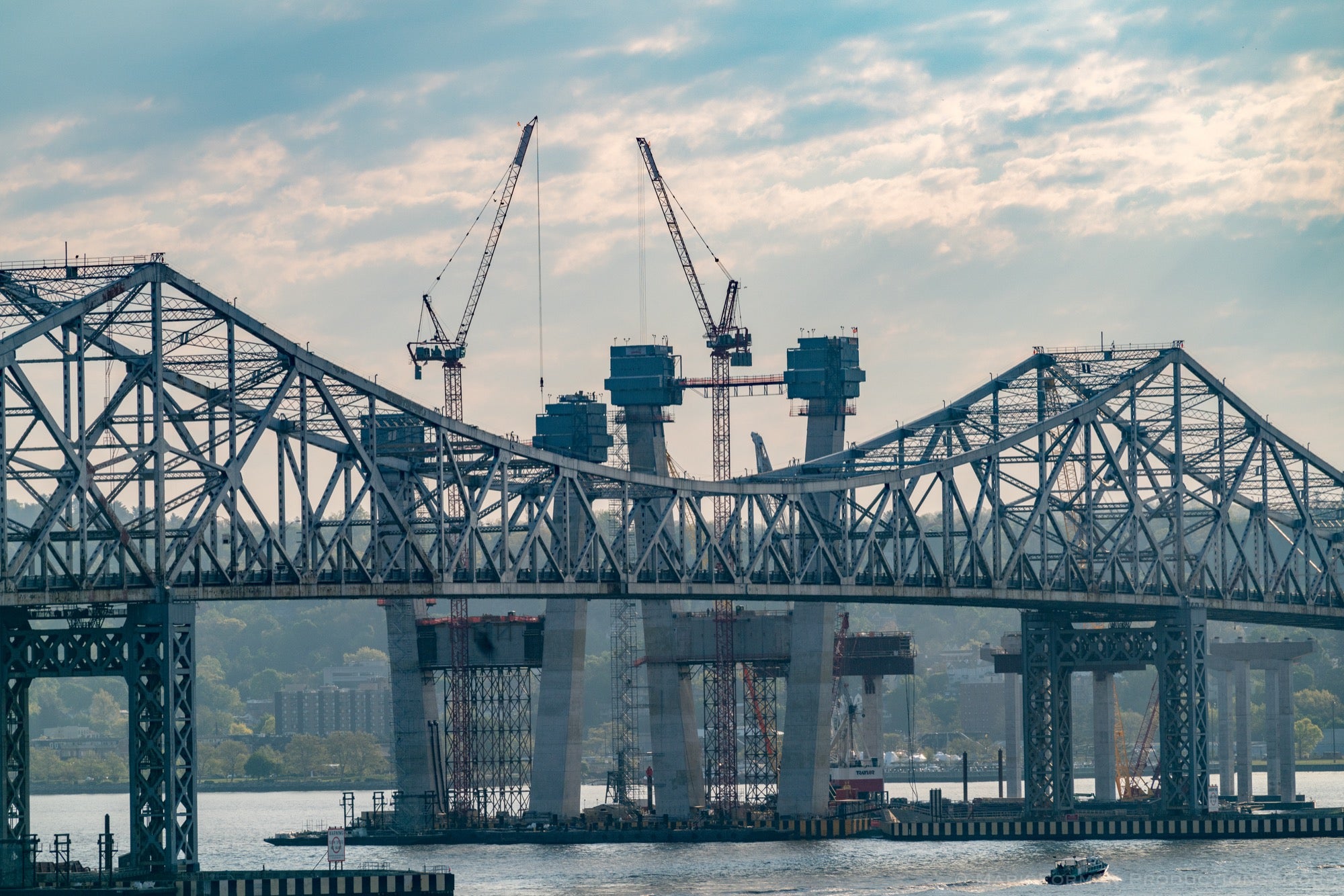 Sony α7R II, Sony FE 70-200mm f/4 G OSS lens at 200mm.1/1200-sec., f/8.0, ISO 500.
Does Forman have any particular favorite images from the assignment? Absolutely. Who wouldn't love the largest crane in the world.
"There are a few favorites," he says. "There's a shot looking across the Tappan Zee. There are a couple of shots of the Bayonne Bridge, sections of the concrete being lifted up. And there's a shot looking straight down at the Left Coast Lifter."
The what?
"Have you ever heard of the Left Coast Lifter," he asks? "When they rebuilt the Bay Bridge in California they used a crane, the largest crane in the world at the time, to lift sections of this new bridge. Then they brought it through the Panama Canal and they brought it to the Tappan Zee. I had to concentrate a lot on that, but I also concentrated on all the cranes. I think there's 24 cranes on the Tappan Zee right now. And I concentrated on the people working with the cranes as much as I could. 200mm is my max. I can get relatively close with a helicopter, but never as close as I want."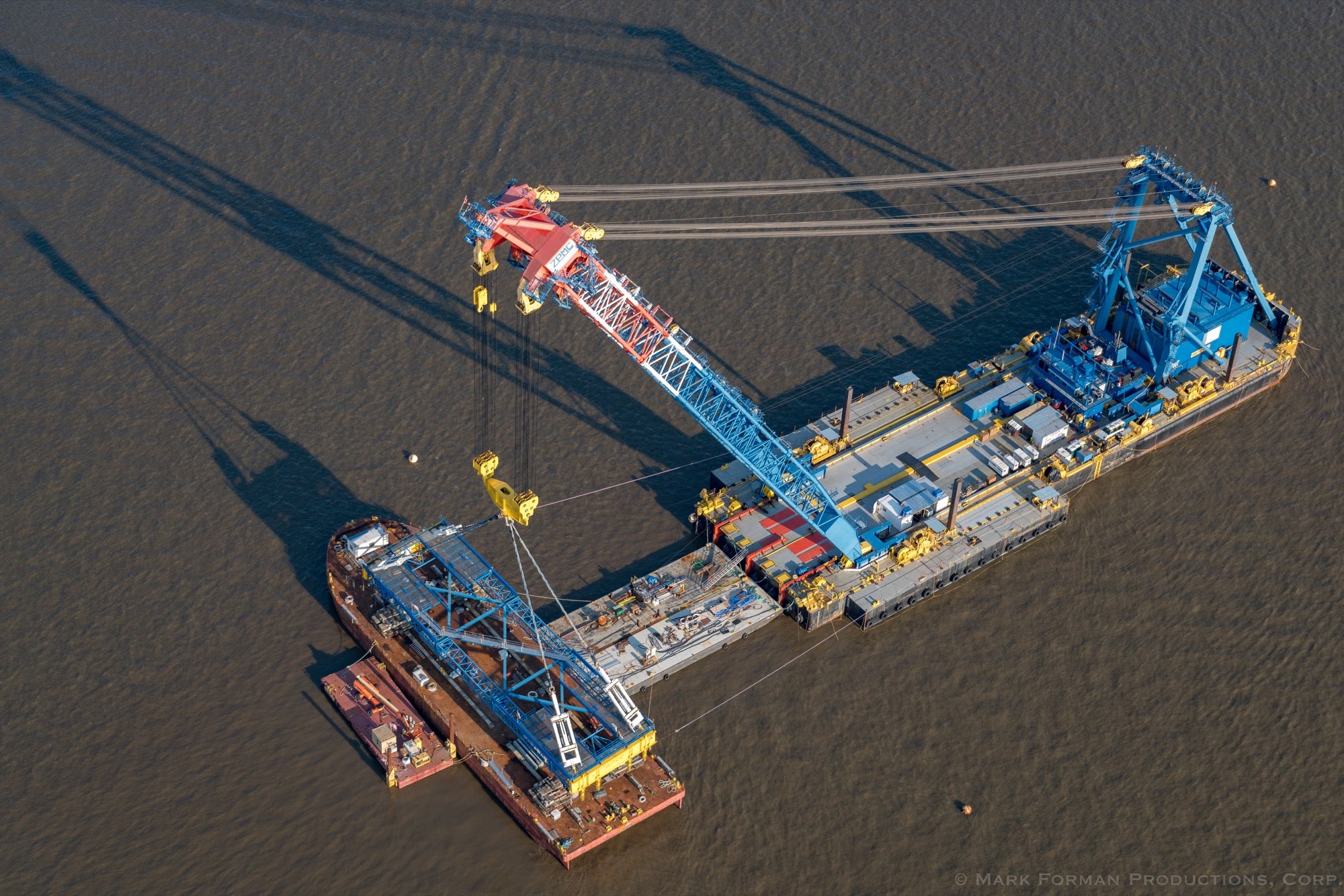 Sony α7R II, Sony FE PZ 28-135mm f/4 G OSS lens at 57mm. 1/2000-sec., f/4.0, ISO 500.