Get fired up for photography in 2017 with this top 12 of 2016 from Sony Artisan Don Smith. The professional landscape photographer had another extraordinary year and this collection of his favorites from the past 12 months show why so many of us wish we had his life.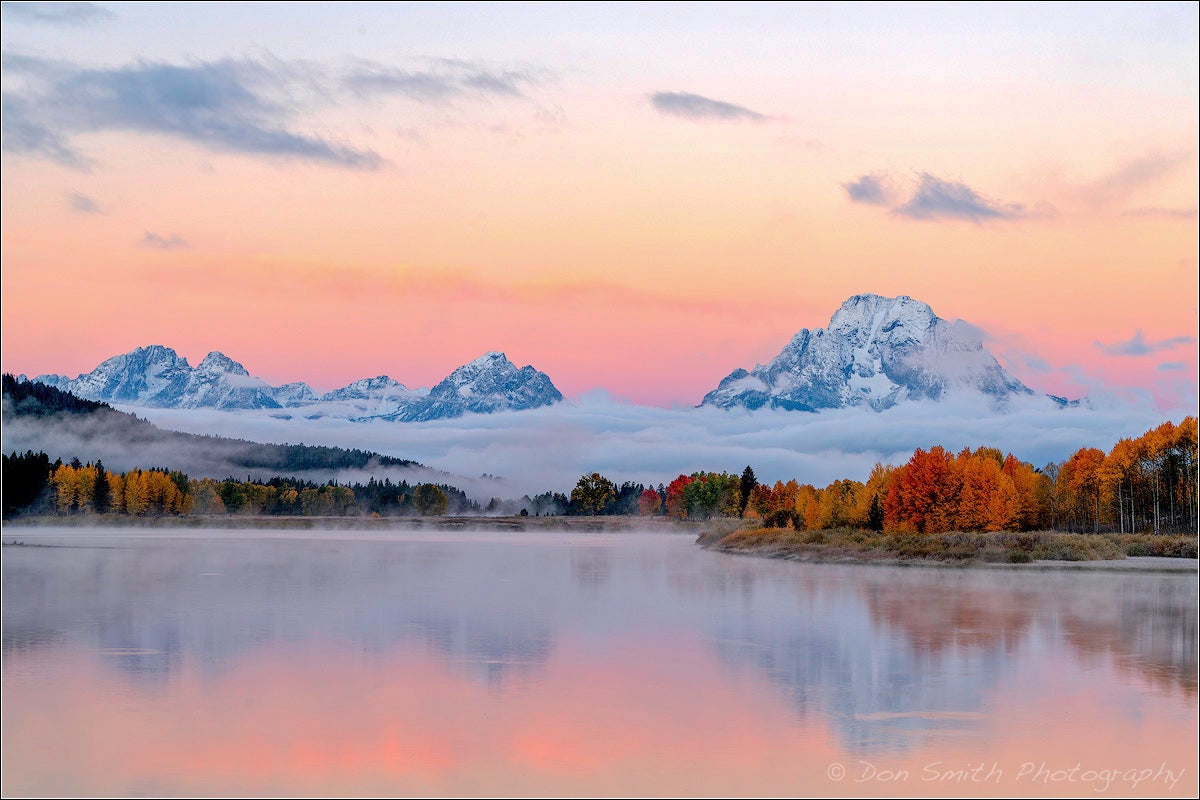 Morning Magic, Oxbow Bend, Grand Teton National Park, Wyoming
. Sony α7R II, Sony 70-200mm lens, 8/10-sec., f/11, ISO 100, Singh-Ray LB Polarizer

My Favorite Image of 2016 was made at Grand Teton National Park's Oxbow Bend on an incredibly gorgeous morning this past fall during my Grand Teton Fall Workshop. I've photographed this location numerous times but on this particular chilly morning, it was all about the fantastic light, scattered clouds and mist that elevated this image to #1 for me. Throughout my career I've always sought out this special light. Personally, I'll take great light over subject any day; however, when you get exceptional light and an exceptional location together in one frame, you'll come away with a winner every time.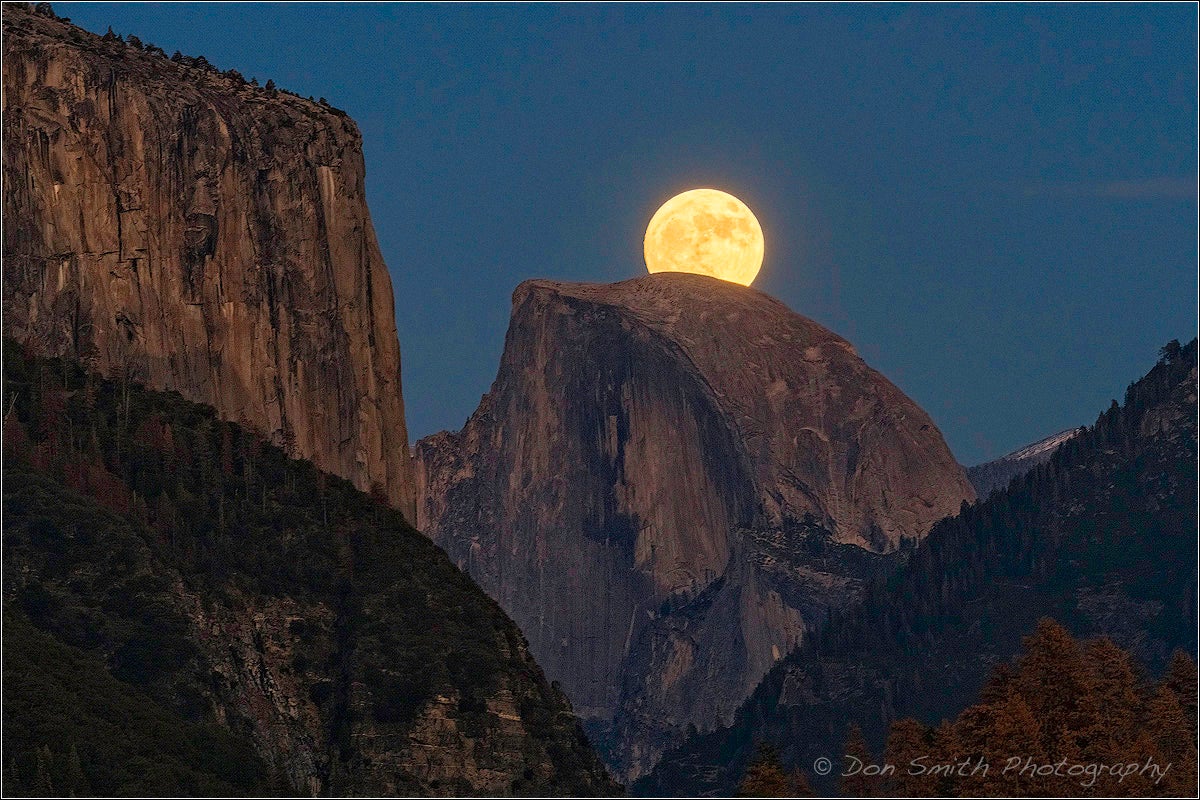 Super Moon Over Half Dome, Yosemite National Park, California – October 2016. 
Sony α7R II, 150-600mm lens, 1/5-sec., f/11, ISO 200
My #2 Favorite Image of 2016 was captured in Yosemite while co-teaching Gary Hart's Fall Workshop. Gary had lined up three Super Moon shoots in three nights for the group and was looking for a fourth location for the grand finale. A friend/colleague of mine, Nick Lust, had emailed me that he had plotted the moon rising over Half Dome on the last evening from a location we had all used in the past and was coming up to shoot it that evening. I double-checked his findings using the Photographer's Ephemeris and showed Gary, who in turn, plotted it with his method of using a topo map and some complicated math. Regardless, we were all in agreement and off we went with the group expecting to have the location all to ourselves. WRONG! Software programs have made it easier than ever to plot moonrises from varying elevations and we were met with other photographers thinking along the same lines as us. Regardless, we all got our spots, and just after the sun set, this gorgeous Super Moon – the closest to earth since 1948 – appeared on-schedule right behind Half Dome. Quite an amazing sight to see and photograph and a fantastic way to end the workshop!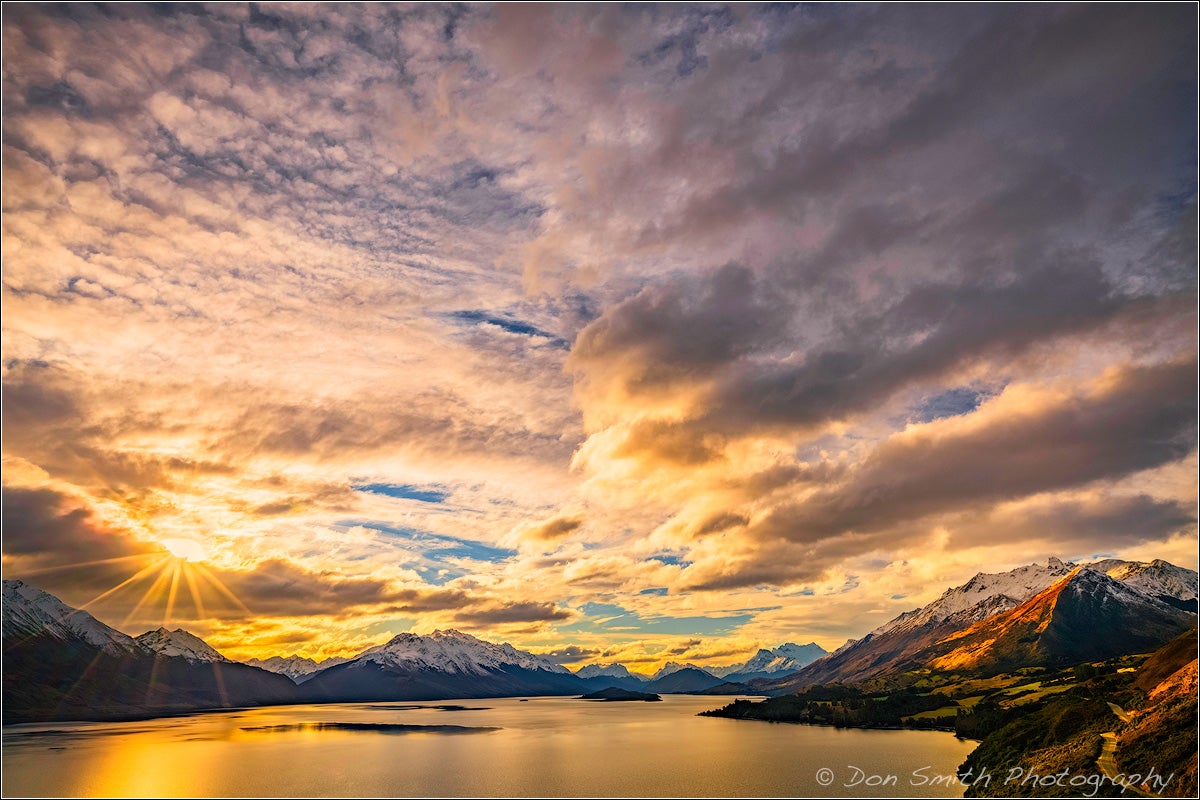 On the Way to Glenorchy, South Island, New Zealand – July 2016
. Sony α7R II, Sony 16-35mm lens, 1/160-sec., f/22, 100 ISO, Singh-Ray LB Neutral Polarizer
Number 3 on my list of my 12 Favorites for 2016 was captured in early July while scouting for an upcoming workshop on the South Island of New Zealand outside of Queenstown. I saw this scene unfold as I was driving towards Glenorchy. The radiance and warmth of the light over Lake Wakatipu (the third largest lake in New Zealand) took my breath away and I quickly pulled the car over and set my tripod and camera. Gary Hart and I will be finishing our scouting this summer (New Zealand's winter) and will be offering the workshop in late June/early July 2018. If you would like to be added to the list to be first notified, please send me an email: don@donsmithphotography.com.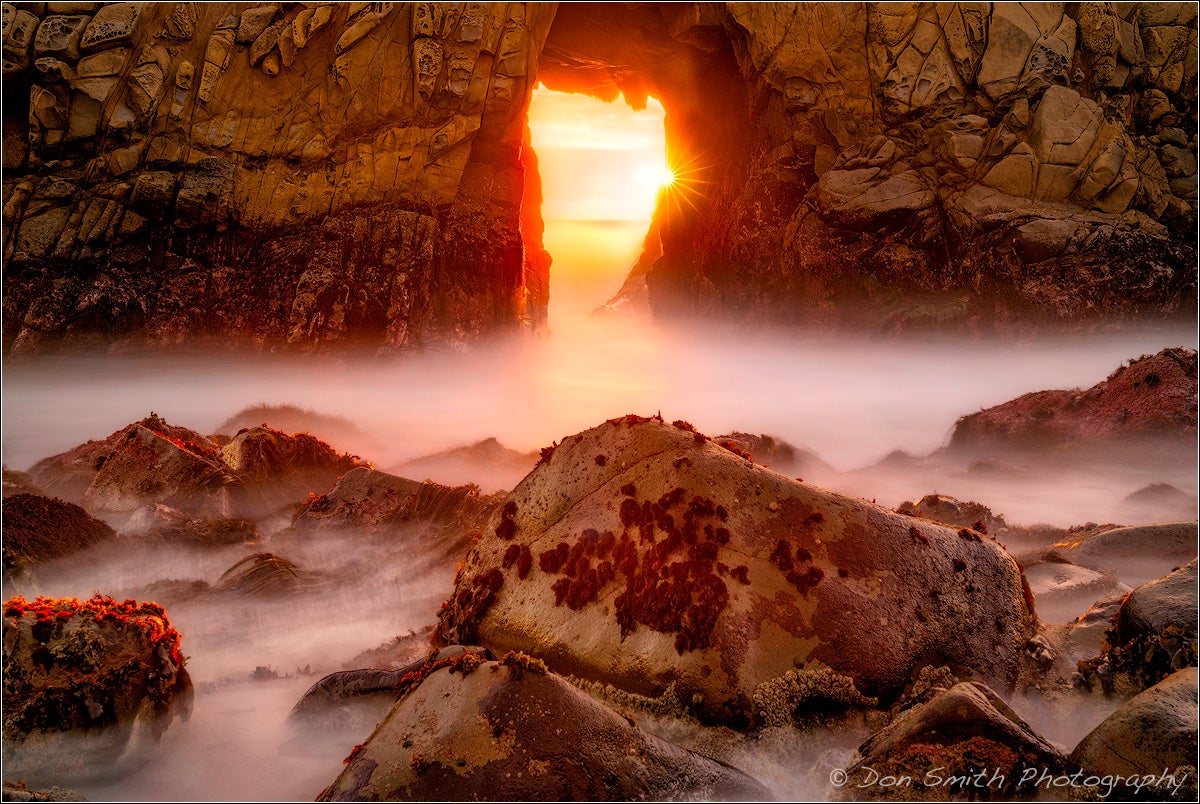 Sunstar Through Keyhole Arch, Pfeiffer State Beach, Big Sur Coast, California – November 2016. 
Sony α7R II, Sony 24-70mm G Master lens, (3) separate exposures masked in Photoshop and crafted in Luminar, ISO 100, Singh-Ray 10 Stop ND Mor-Slo.
My 4th Favorite Image of 2016 originated literally from a dream. No, I don't have psychic powers but every once in a while a vision of an image will come to me in the form of a dream – not so weird when you consider I do this for a living and I'm constantly thinking "photos." This doesn't happen often, but when it does, I've learned to write the ideas down and pay attention to them. I had to wait three months for the sun to make its annual migration far enough south at sunset to align with the opening of Keyhole Arch. Then I had to wait for a clear day. The rest was executing both the capture and processing of the image. I explain the entire story in my blog.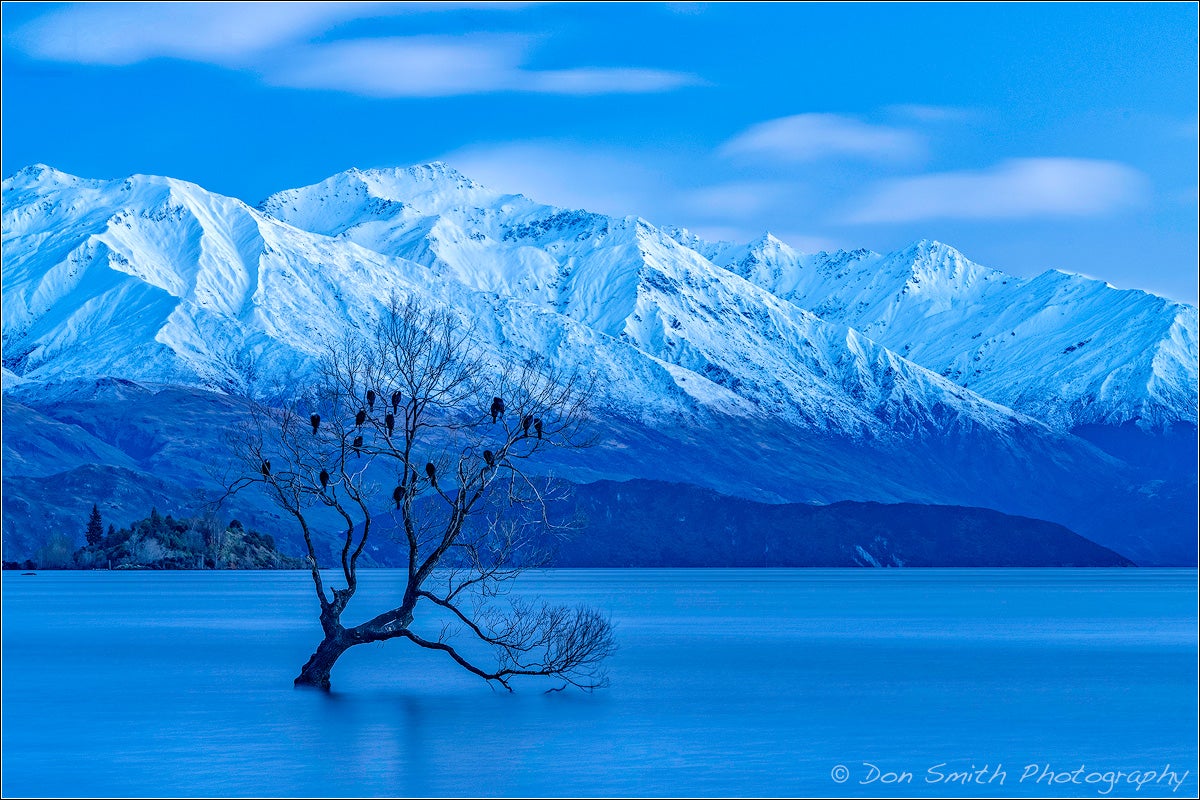 A lone willow in Lake Wanaka with Southern Alps, Wanaka, New Zealand July 2016. 
Sony α7R II, Sony 70-200mm lens, 30-secs., f/13, ISO 200, Singh-Ray LB Polarizer.
My 5th Favorite Image of 2016 was made at dawn this past July on the South Island of New Zealand at Lake Wanaka. This is a rather iconic spot and this lone willow tree was fortunately located about a 1/8th mile walk from my hotel – sheer luck. My son Aaron and I saw a painting of this in the hotel restaurant the night before and when I asked where this was, the waiter smiled and literally pointed out the window. I'm not sure what type of birds these were but I'm glad they held still as this was a 30 second exposure – one of my first of the morning, which in turn, allowed for some subtle movement with the clouds.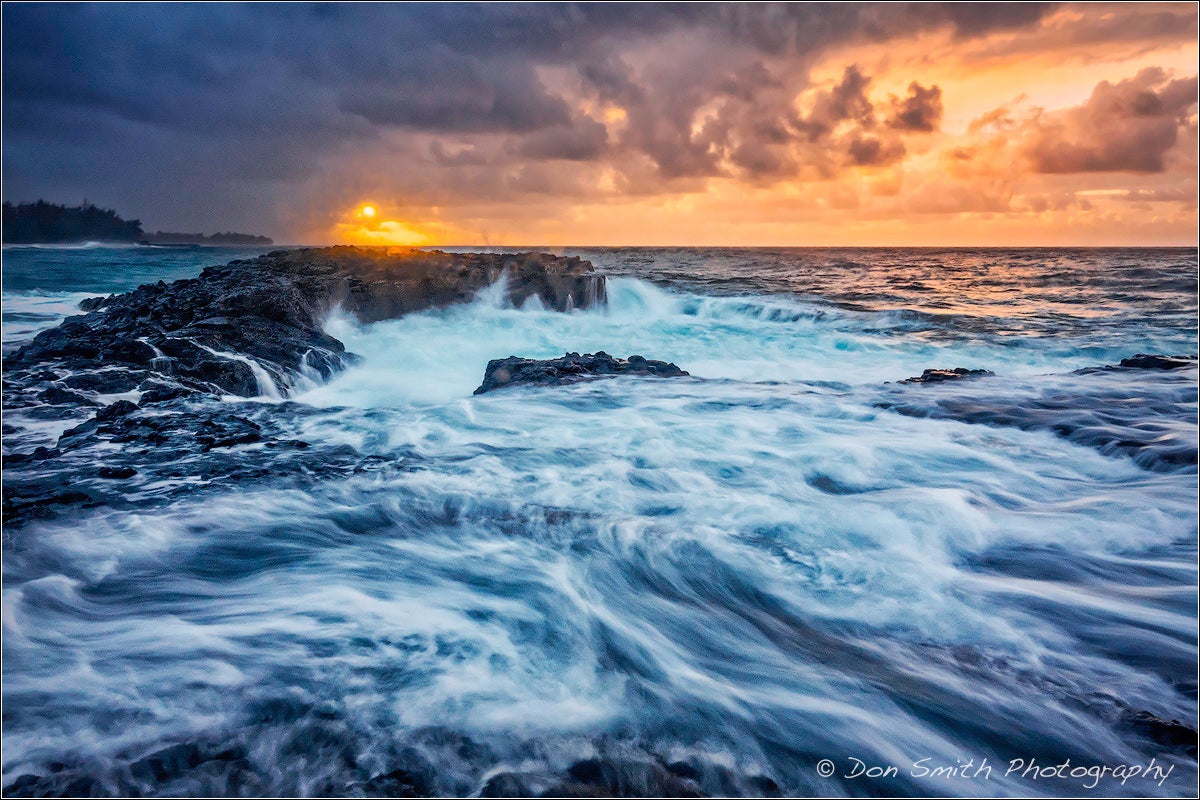 Lumahai Beach sunset with wave crashing over lava shelf, Kauai, Hawaii June 2016.
 Sony RX10 III at 25mm, ½-sec., f/16, 200 ISO.
This photo was captured during my annual Kauai Workshop. It was a stormy evening along the northwestern side of the Island and I took the group to Lumahai Beach for a sunset shoot where the movie South Pacific was filmed. There is a cool lava shelf where the group can setup; however on this evening, the waves were crashing over the shelf. As the sun lowered in the west, this large wave broke over the shelf and I made this frame while holding tight to the tripod. I felt this frame captured both the incredible light of sunset and the fury of the sea!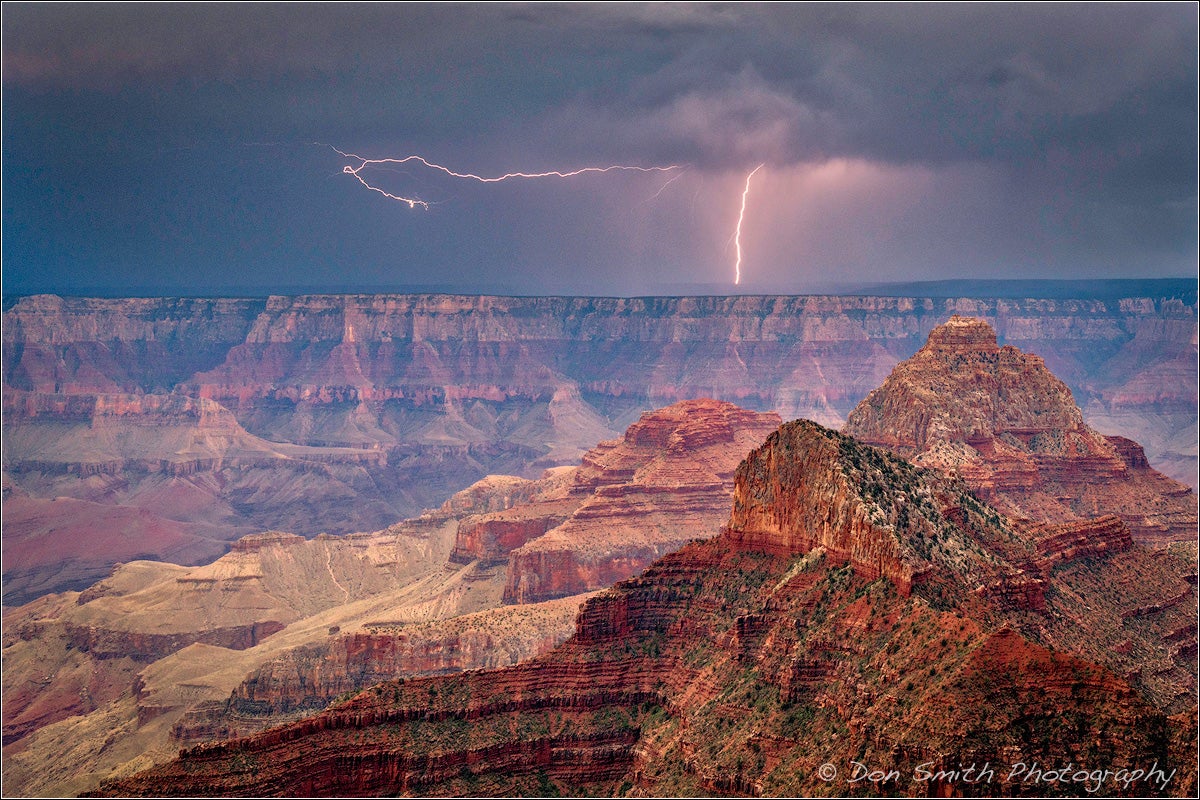 A horizontal & vertical bolt fire simultaneously at Wahalla Point, North Rim, Grand Canyon National Park, Arizona. 
Sony α7R II, Sony 24-70mm G Master lens, 1/2 sec., f/16, ISO 250, Lightning Trigger IV.
Number 7 of my Favorite 12 Images of 2016 was captured during monsoon season at the North Rim of the Grand Canyon. Gary Hart and I host two workshops each August and we were in-between workshops when a rather large late-afternoon storm ignited. This image was recorded near sunset at Walhalla Overlook. I thought it was cool to have both a cloud-to-ground strike along with a cloud-to-cloud strike in the same frame. The power of nature is awesome!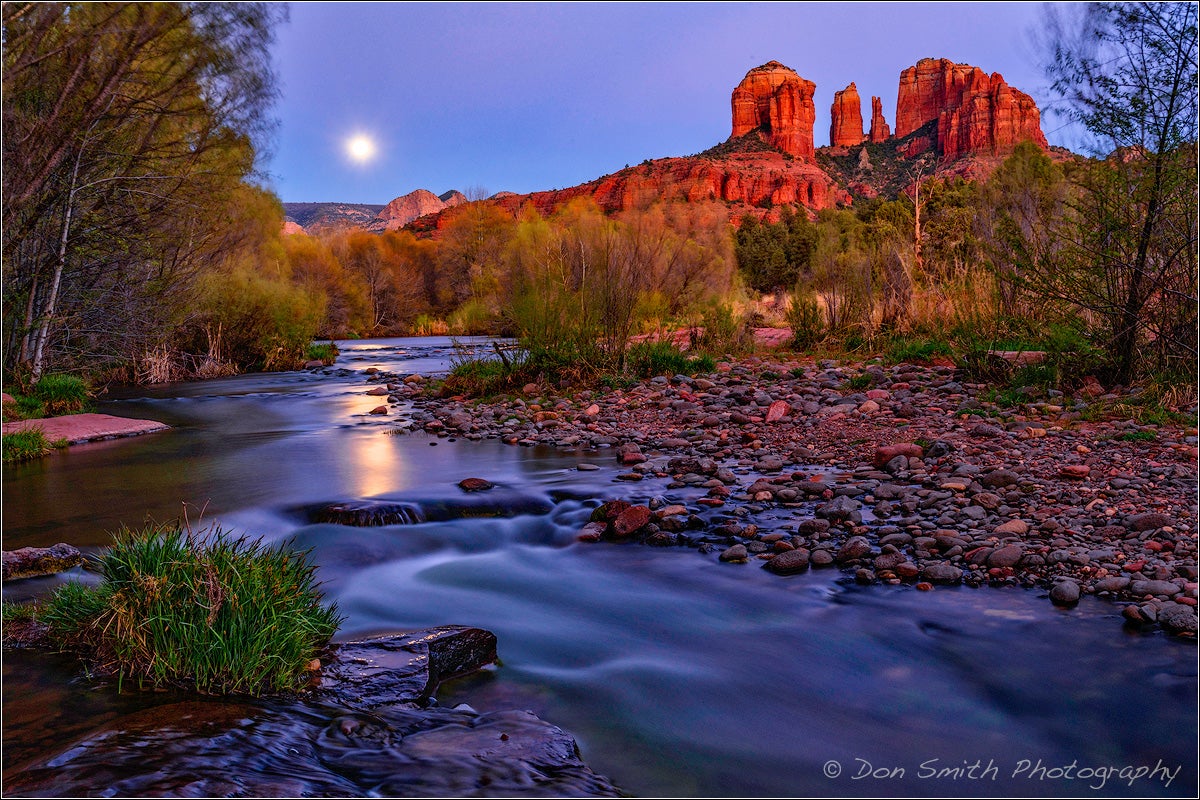 A full moon rises over Oak Creek at Red Rock Crossing, Sedona, Arizona.
Sony α7R II, Sony 24-70mm G Master lens, 30-secs., f/22, 100 ISO, Singh-Ray LB Neutral Polarizer.
Number 8 of my Favorite 12 Images of 2016 was captured during my Northern Arizona Workshop this past spring. I had planned for this moonrise near Cathedral Rocks alongside Oak Creek in Sedona just after sunset. The window of opportunity where I could hold detail in the moon and on the landscape was rapidly waning but was enough to make the image. I really loved the moon's reflection in Oak Creek and the luminescent feel of the light on Cathedral Rocks a – kind of a bonus!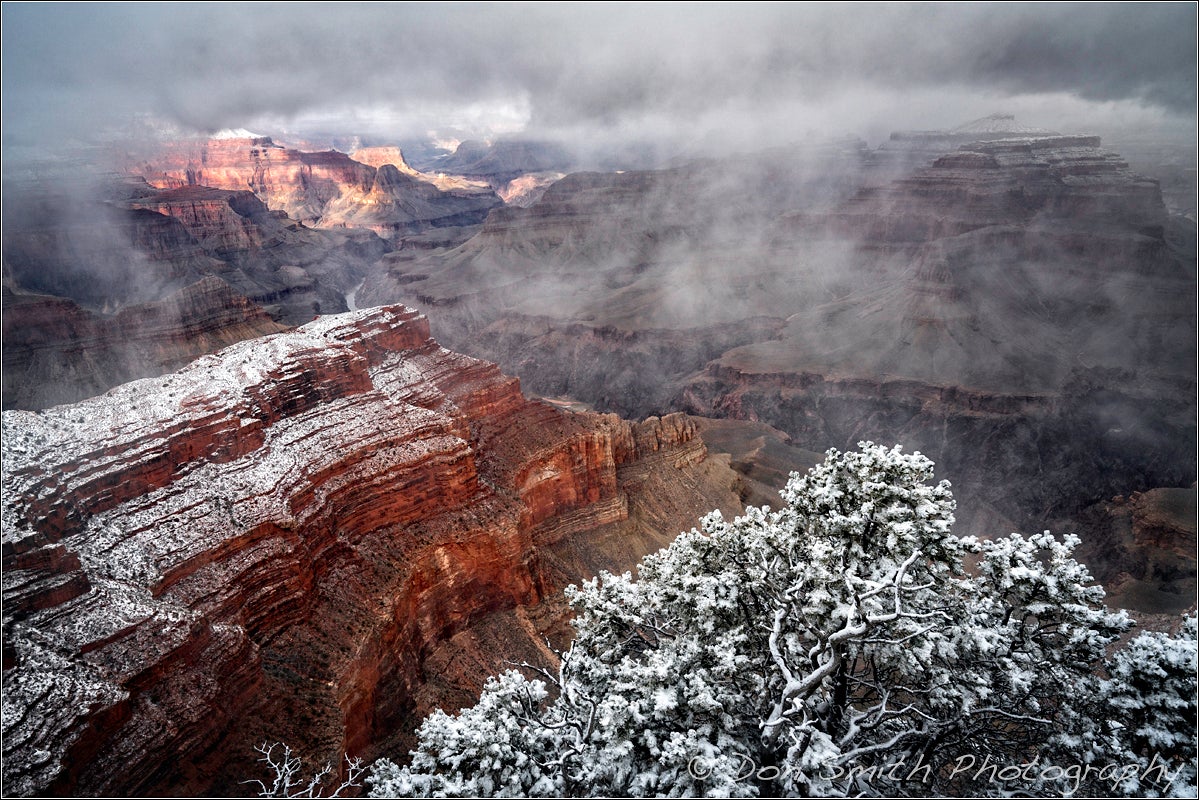 Fresh snow and clearing storm at Hopi Point, Grand Canyon National Park, Arizona.
Sony α7R II, Sony 16-35mm lens, 1/15-sec., f/16, 100 ISO, Singh-Ray LB Neutral Polarizer.
My 9th Favorite Image of 2016 was captured along the south rim of the Grand Canyon as a winter snow storm was just beginning to break. My oldest son Rob and I had been in nearby Flagstaff visiting my other son Aaron at college. When we arrived at the Park, one of the rangers told us, "you should come back tomorrow, we just don't see the Canyon during snow days." Glad he was wrong! BTW – this was Rob's first glimpse ever of the Grand Canyon – there wasn't another person in sight!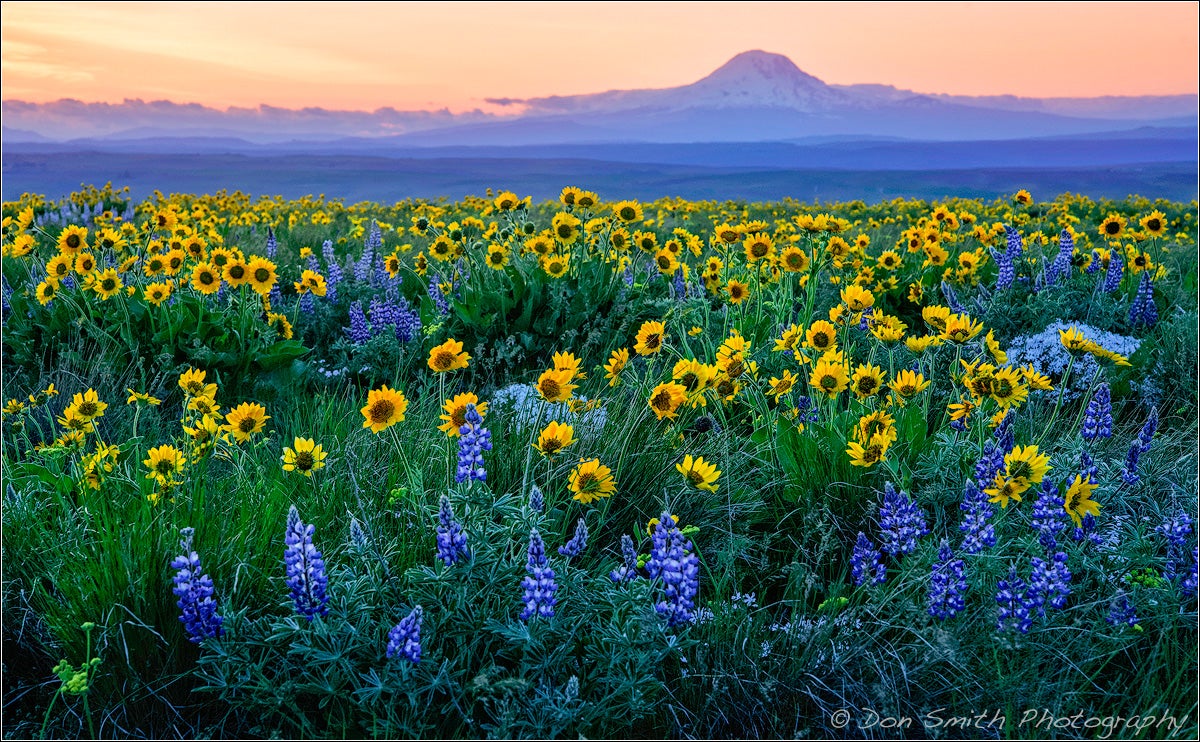 A field of lupine and balsamroot color the hillsides with Mt. Adams in the distance, Columbia Hills State Park, Washington. 
Sony α7R II, Sony 24-70mm G Master lens, 1/100-sec., f/11, 3200 ISO.
Image 10 of my Favorite 12 Images of the Year was the result of persistent scouting. Prior to any workshop we teach, there are endless hours of driving to check on locations that we will use in the workshop with an eye always on alert for a potentially new location. This happened to be the case this past April prior to the start of Gary Hart and my Columbia River Gorge Workshop. We were driving in Southern Washington scouting the incredible wildflower blooms when we decided to push forward along a dirt road to a ridge. Things began to look really sparse – "just a bit more then we will turn back," we both said. As we reached the ridge, some bright yellow balsamroot flowers caught my eye. Gary pulled over and we walked up the ridgeline where the flowers were and incredibly, this scene opened in front of us. Pristine rolling hills of wildflowers and Mt. Adams in the distance! Without question, our best find of the year!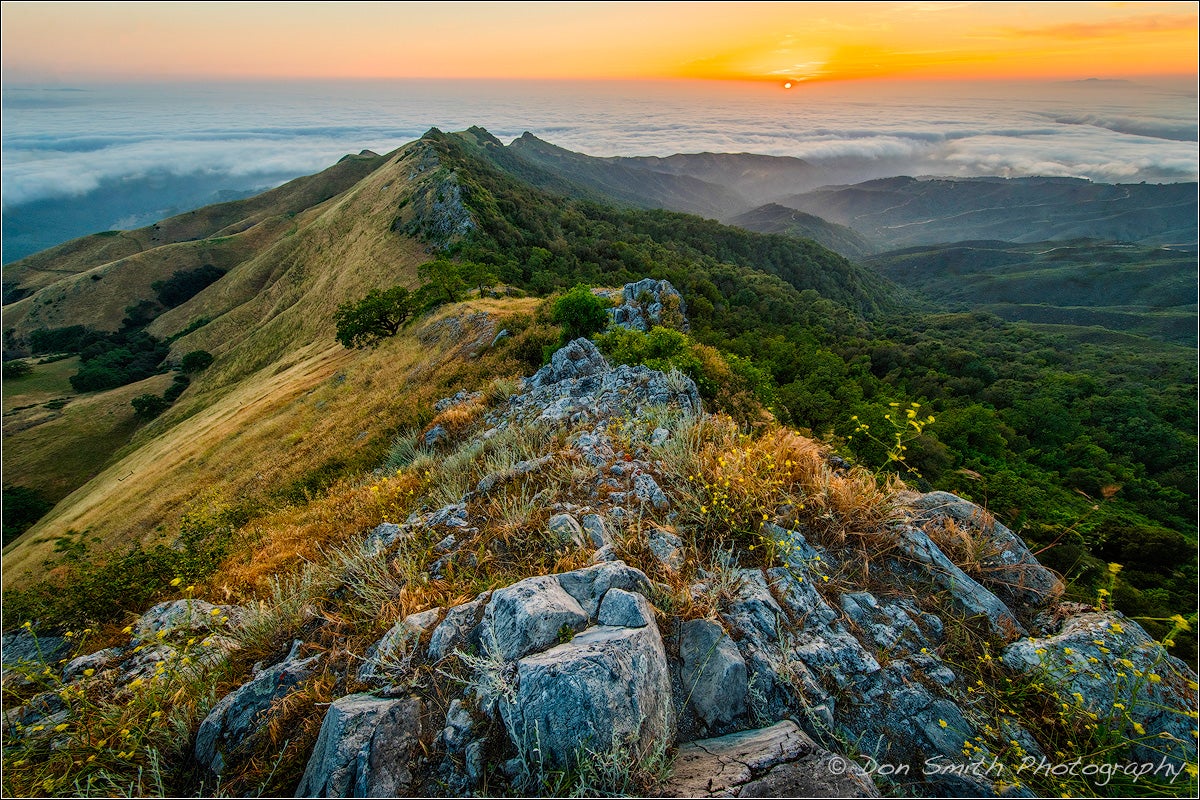 The sun sets into Pacific Ocean fog as seen from Fremont Peak State Park, elevation 3,169 feet, Gabilan Mountain Range, California.
 Sony α7R II, 11-24mm lens, Metabones IV adapter, 1/50-sec., f/16, ISO 400.
Image 11 in my top 12 countdown of 2016 was made close to my home high atop central California's Fremont Peak (3100 feet) as the sun sank into bank of fog over the Pacific Ocean. I was testing an 11-24mm lens with my Sony α7R II.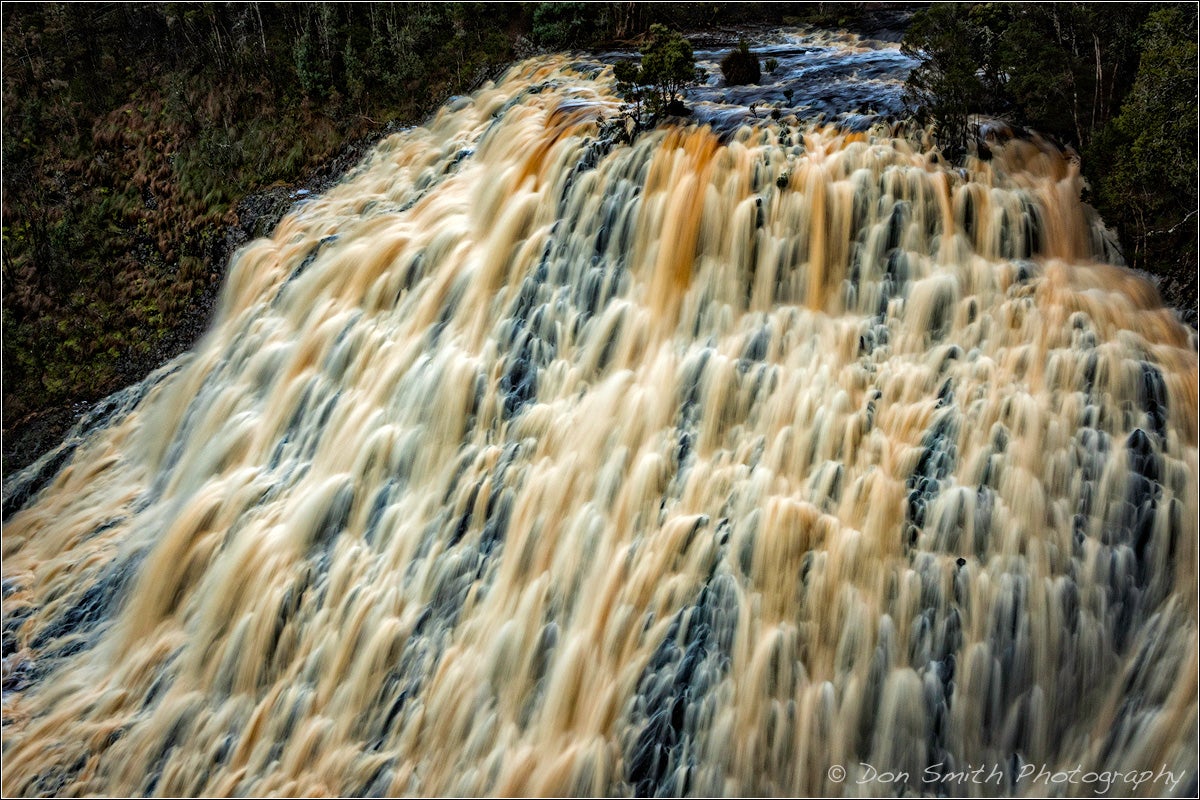 Heavy rains wash mud into Dip Falls, Mawbanna, Tasmania, Australia.
 Sony RX10 III at 35mm, ¼-sec., f/16, ISO 100, Singh-Ray LB Polarizer.
Image 12 comes from northern Tasmania. My wife Beri and son Aaron and I were visiting relatives and of course I was out shooting stock. My wife's cousins took us to this incredible fall after an overnight rain storm and we were blown away with not only the power of the fall but the mixture of the mud in the water that provided some awesome color!
To find out more about Don Smith's workshops go to his website, www.donsmithphotography.com/Workshops