The Sony Alpha Female+ Grant Program is excited to announce Elizabeth Cayouette as the first winner in the fourth season of Alpha Female. Cayouette is a director, videographer and editor who has created videos for clients like Aerie, Williams Sonoma and All Womxn Project. She is passionate about bridging the gender gap and seeing women involved in all stages of production, and that's why she launched Keie Creative tutorials to help women learn video without the fear of judgment. The Alpha Female+ Grant will help Cayouette shoot, edit and launch her first two tutorial videos – Intro To Premiere Pro and Videography Basics. Learn more about Elizabeth Cayouette and her winning project below, and see how you can apply for an Alpha Female+ Grant here.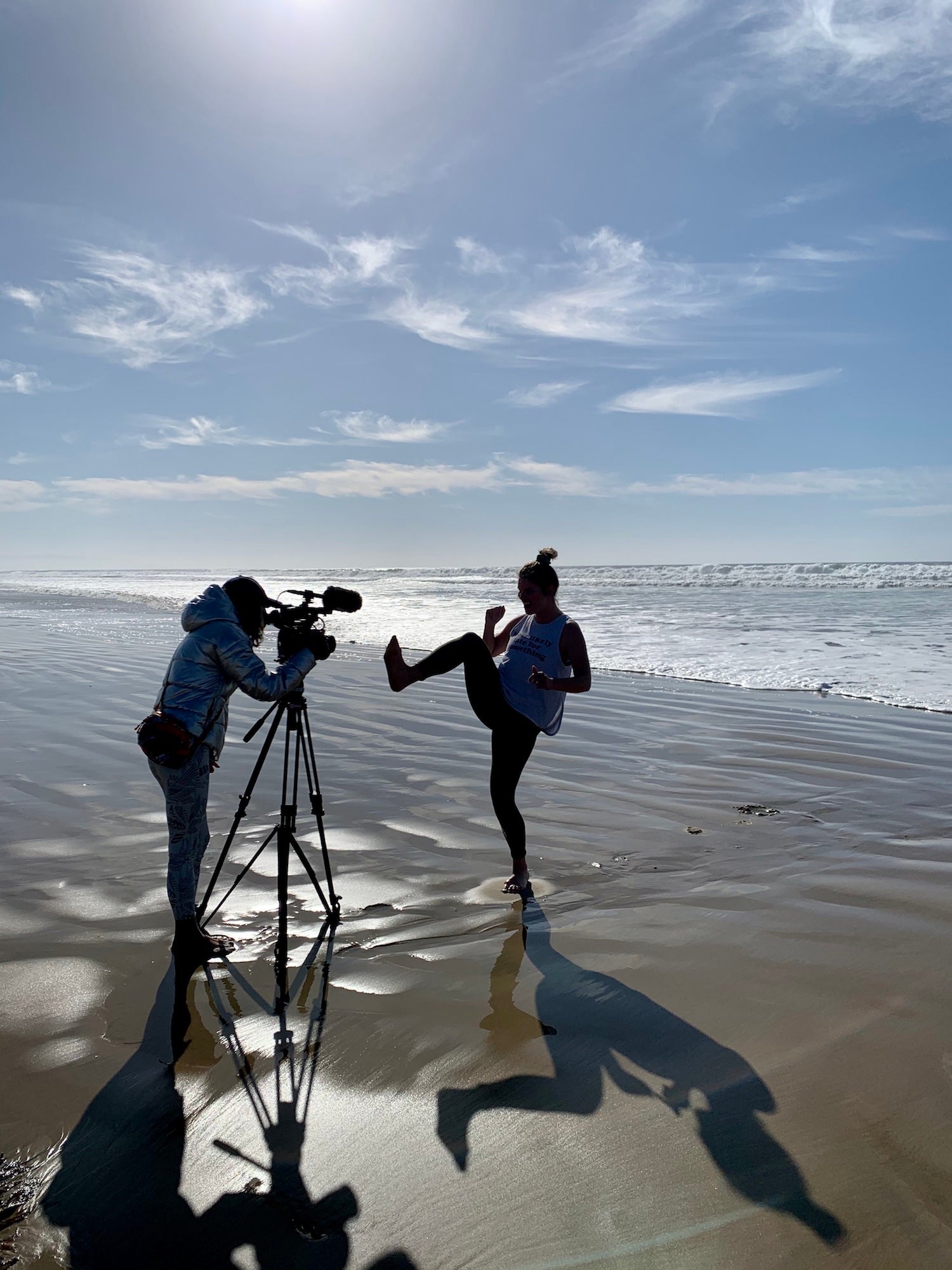 Alpha Female + Grant Winner Elizabeth Cayouette directing.
Gaining Confidence As A Female In The Video Industry
Cayouette never thought she could be a videographer or editor, but after her first video class during her first semester of college she was hooked. She struggled with confidence in a class primarily filled with men, but her passion for video helped her excel. She now works with billion dollar brands and still the question of why the sets and editing rooms are filled with men bother her.
"I thought back to the first day I opened my computer and picked up a camera," explains Cayouette. "I was ashamed to ask my super basic questions in class, sure I would be called a fraud. I felt too stupid to understand tutorials, and was embarrassed by how boring I found them. 'You can just watch a tutorial on it' seemed to be a standard response to any question I asked the men surrounding me. But all of the tutorials were by men, and I didn't find them engaging."
She says it took her years to build up her confidence, and after going viral on TikTok, countless other young women reached out to her. Every single one of them asked if it was hard working with so many men. "They were afraid of being the only girl in the editing room or on set," says Cayouette. "They were embarrassed to ask basic questions about exporting a video. But those questions aren't stupid-they're crucial."
Launching Keie Creative
That's why she decided to launch Keie Creative – so women could learn about video without intimidation or the fear of judgment. "I decided to launch Keie Creative tutorials that break things down to the most basic level, exactly what I needed when I started in video, knowing NOTHING. Keie means 'to set in motion' - I named my project Keie Creative, because my ultimate goal is to set in motion women and girl's creative video journeys."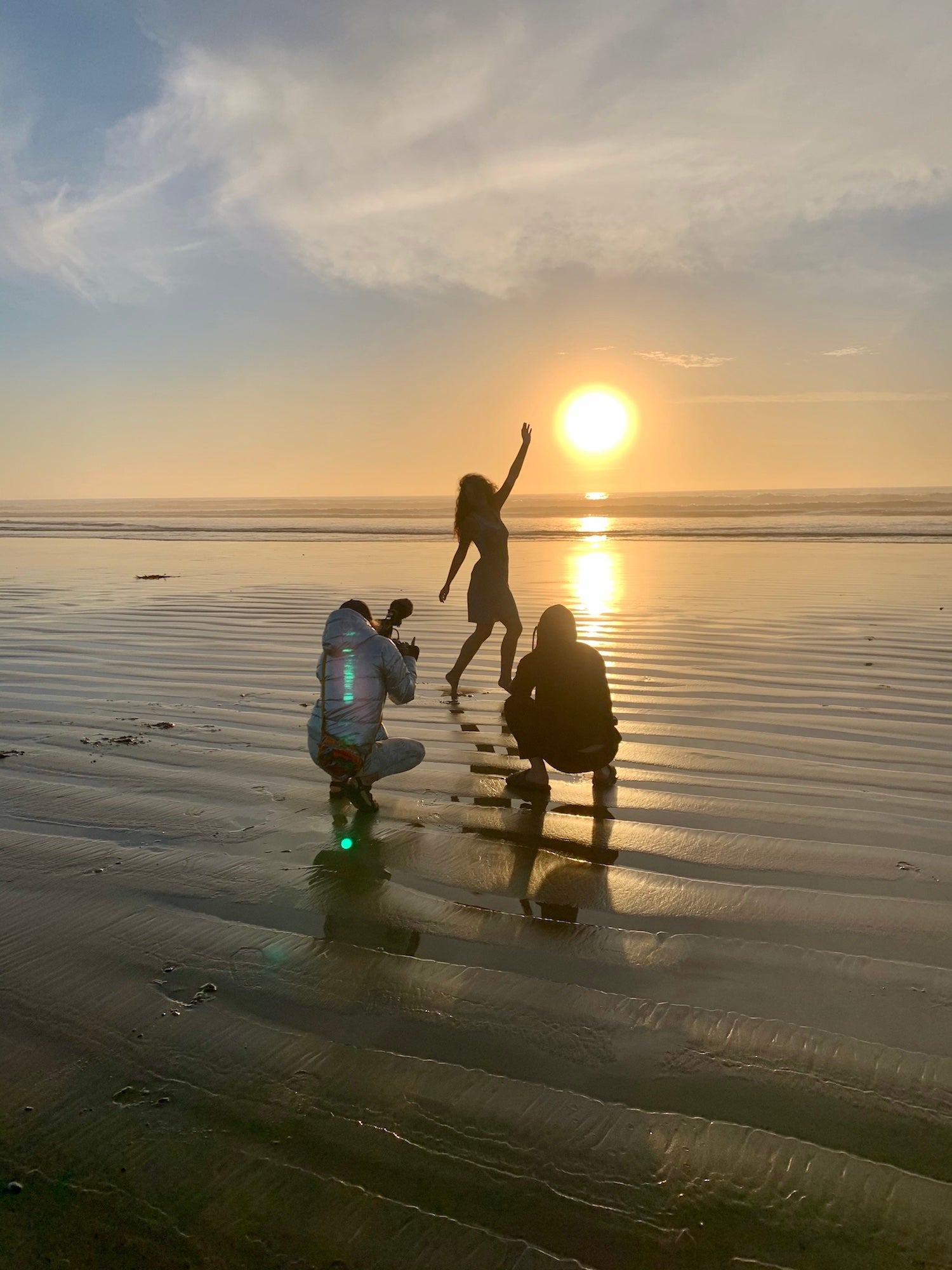 Alpha Female + Grant Winner Elizabeth Cayouette on location filming.
The Alpha Female+ grant will give her the foundation she needs to start the videos. She will receive $5,000 in cash, more than $3,000 in Sony Alpha camera and lens equipment, and a year subscription to Adobe Creative Cloud All Apps and Sony PRO Support. She will shoot, edit and launch her first two tutorial videos – Intro To Premiere Pro and Videography Basics.
"Women in the video industry suffer from a huge gender gap. I want to change that, and make the industry more equal and representative, though delving into a root of the problem and getting girls and young women interested in video production. Because the future of video is female!"
See more of Elizabeth Cayouette's work on her Alpha Universe Profile and create your own public Creator Profile HERE. You can also contribute to the Alpha Female+ Community by joining the Alpha Female Facebook group, following @sonyalpha and @sonyalphafemale on Instagram and tagging your posts with #sonyalphafemale for a chance to have your work featured.
Do you have a photo or video project that you believe in? Learn more about the Alpha Female+ Grant program and how to apply HERE.