Robert LeBlanc is a photographer/photojournalist who sees the world through a different lens. He photographs the world with small point-and-shoot camera and frequently, a skateboard. In a word, Robert's journalistic style can be called gritty. His photos are authentic and spontaneous and ideally suited to the RX100 IV which he has been using for several months. In this collection of photos, LeBlanc gives us a glimpse at urban skating in the streets of LA and San Francisco and how he worked with the RX100 IV to get his shots.
Finding new routes through city while adventuring around, is half the fun of taking photos for me. Adding the factor of doing it with your friends makes it even better. I almost always have my RX100 IV set to continuous shooting, moments pop up to quickly and if I don't shoot from the hip often, then the moments just fly by. This image is a perfect example. After skating around downtown LA we found a short cut through theses narrow hallways, I grabbed my RX100 IV out of my back pocket and just started to hit the shutter button, not knowing what was going to happen. This image reflects that feeling of uncertainty and also the willingness to embrace that uncertainty.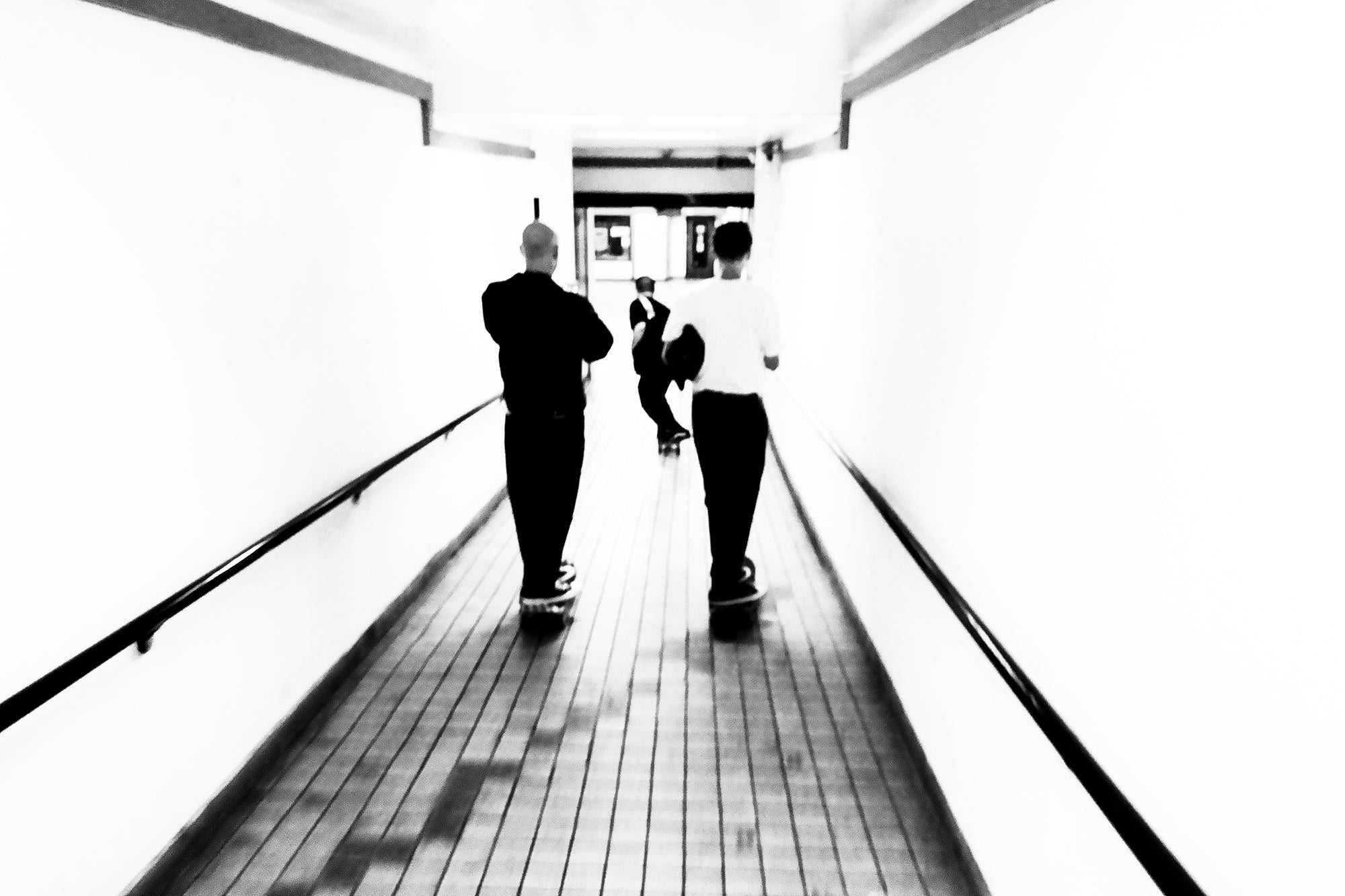 Sony RX100 IV. 1/80-sec., f/2.8, ISO 800
I usually look for two things in a photo: Shadows and framing. The shadow is another extension of the subject's self. This flat one dimensional reflection unnecessarily ends up being my subject more often than not. While around LA's skid row we would pass by tons of metal roll down doors and windows, all with different textures and in different metals, making the perfect backdrop. I would skate against traffic in the street hoping to catch him and his shadow on one of the doors. After a few attempts and some close calls I was able to catch it. RX100 IV's size and button placement make it extremely easy for me to shoot and still have control to avoid all the life that's going on around me. Plus the ability to toss it right in my back pocket when things get a little crazy is a huge added bonus to me. The Sports mode with Continuous Auto Focus is definitely my go-to setting when shooting like this during the daytime.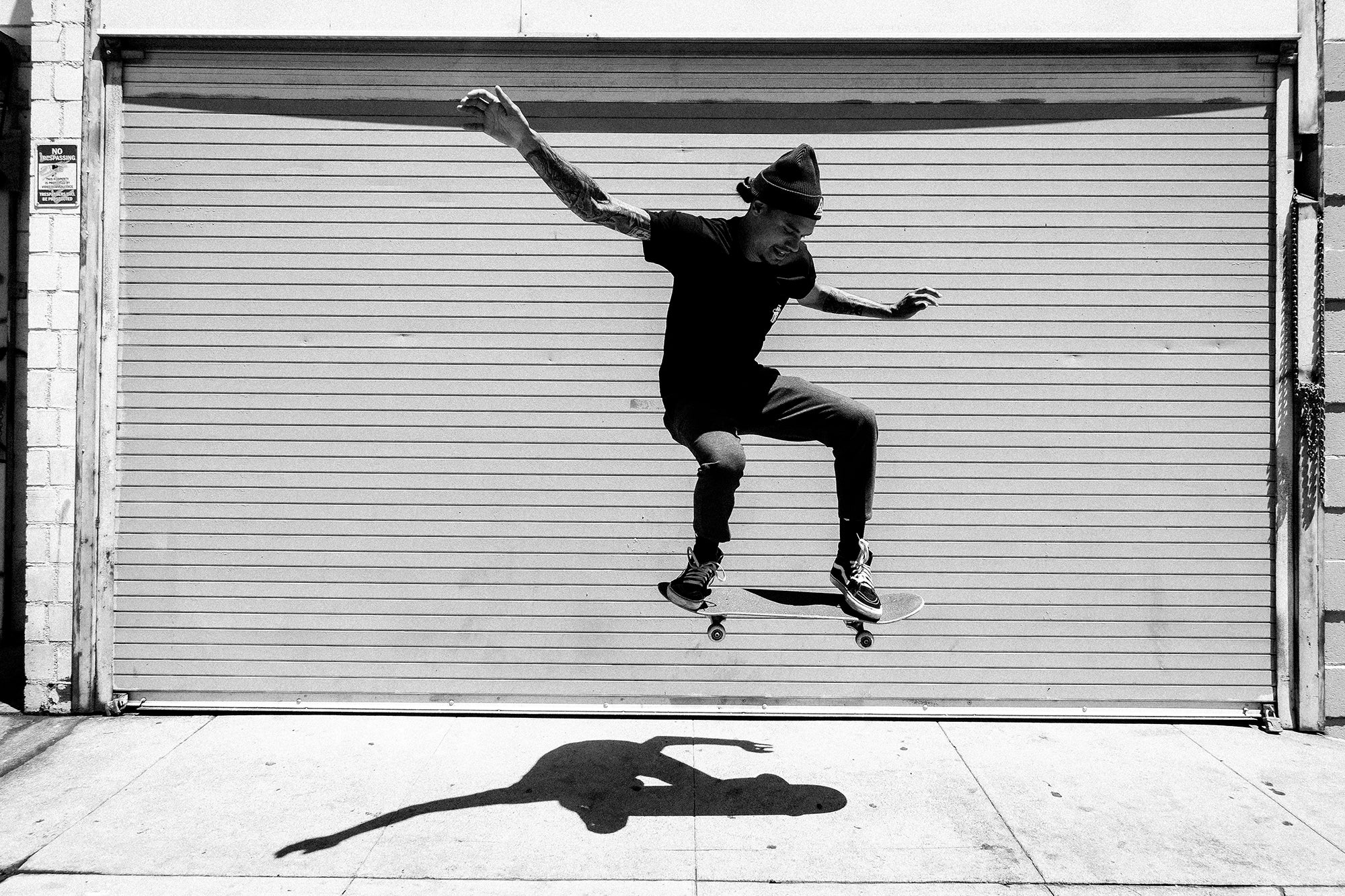 Sony RX100 IV. 1/1600-sec., f/5.0, ISO 500
I think one of the great things about skateboarding is that it's all about self-expression, from the tricks you choose and the way you do them, to even the gear you use. You can take a photo of five different skaters all doing the same trick and each one would look so much different because they ooze with their own styles. After skating around Los Angeles in the Little Tokyo neighborhood, we found this awesome brick plaza right around the corner from the main transit stop. After skating the plaza and luckily not getting kicked out we decided to take a breather and recuperate at the bus benches. Sitting there, I noticed my friends' socks peeking out and his jewelry shinning under the bus stop lights, it was a beautiful reminder that we all have our own style and individuality even if it shows in just a little detail. Taking photos at night can be tricky when on the fly and dealing with constant lighting changes, so I use Aperture Priority mode and the EVF constantly. Being able to make quick adjustments through the viewfinder really makes is possible to get good clean images under low light, when it matters.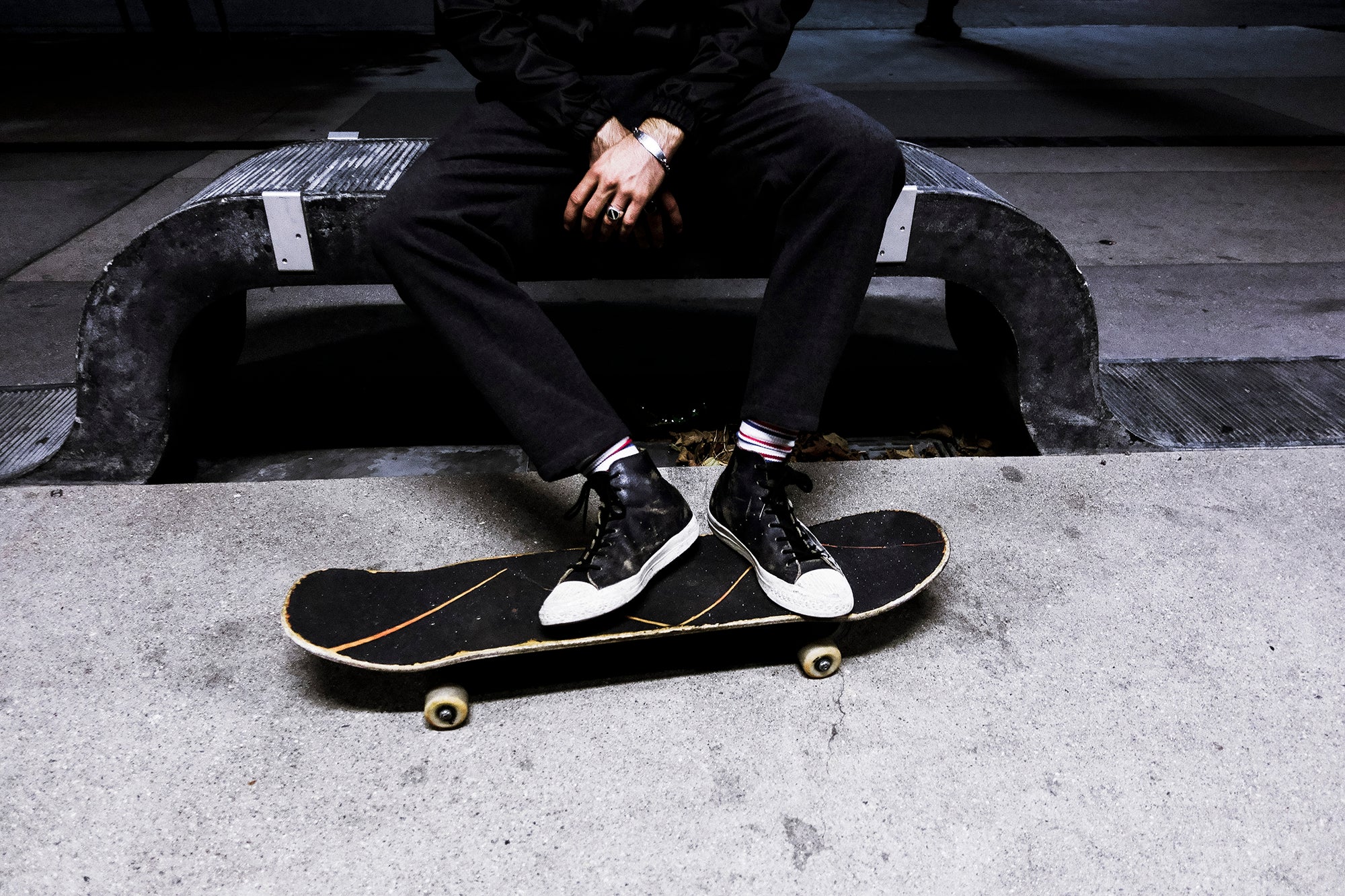 Sony RX100 IV. 1/30-sec., f/1.8, ISO 640
Bombing hills through busy streets in the city is one of my favorite things about skateboarding, and there's no better place for that than San Francisco. This photo was taken early in the morning while cruising around before the city woke up. With the oil slicked asphalt to slide around on and the wide open streets all to ourselves, the city felt like our own playground. This photo really sums up the feeling of skating and the feeling of freedom I get from it. I usually shoot in Sports or Shutter Priority mode while skating downhill. I use the AEL toggle feature to adjust my exposure when I go from deep shadows and bright sunlight between buildings.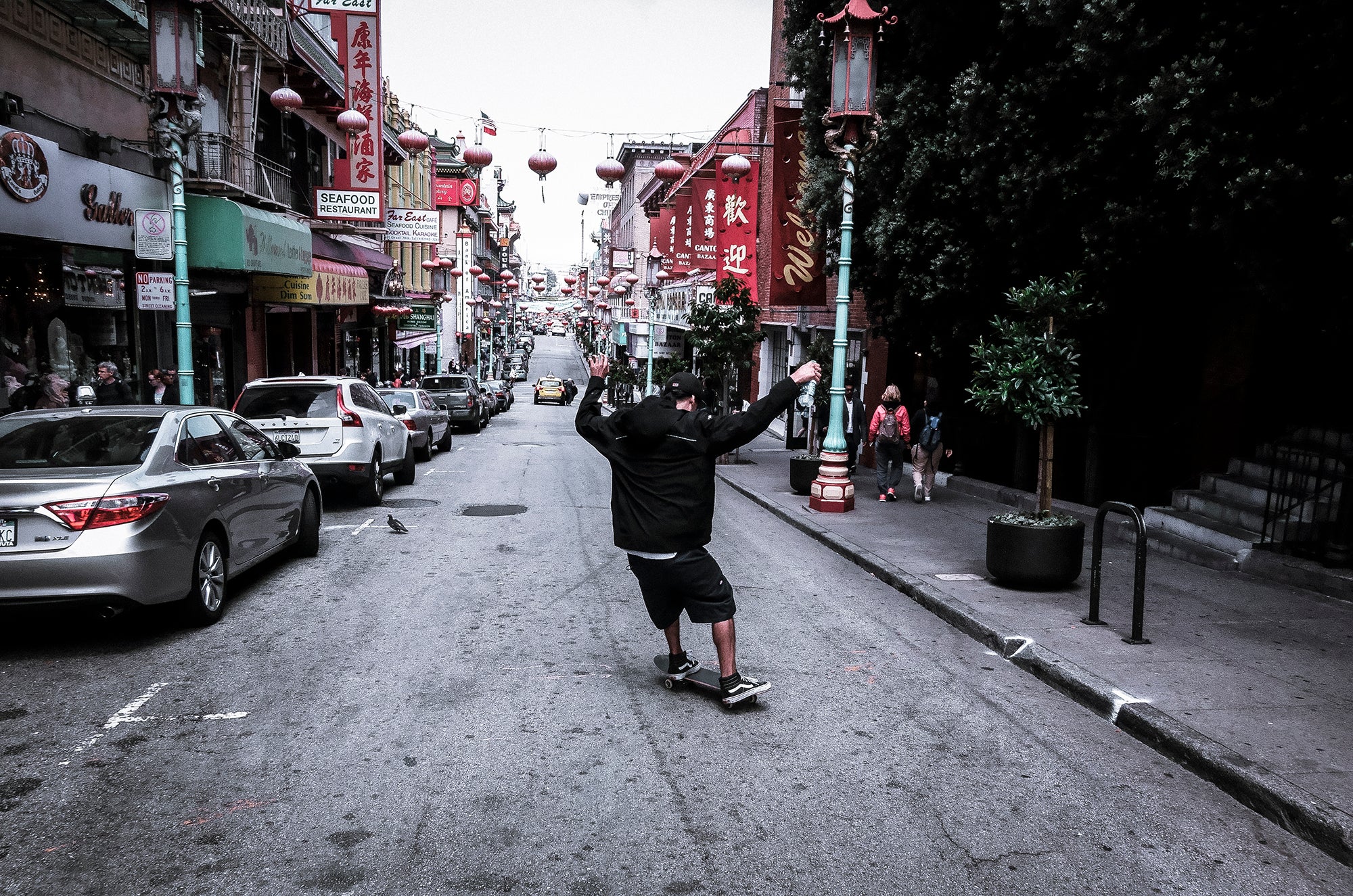 Sony RX100 IV. 1/1000-sec., f/6.3, ISO 800
My favorite seat on the bus, is the bench facing the back doors. The door windows make perfect frames. This photo was taken after skating through the Tenderloin in San Francisco. This was taken during a 20 min bus ride where I set the RX100 IV to Aperture Priority and started firing away. I've noticed people really tend to get deep into their thoughts while waiting for the bus, but it's hard to get a good clear photo of this bus stop mediation without being noticed. Looking through the EVF, I waited patiently to photograph someone in this state of Zen, and at last there he was standing perfectly still like a statue, thinking about something so profound that neither moving traffic, bus doors nor honking cars could intrude on his thoughts.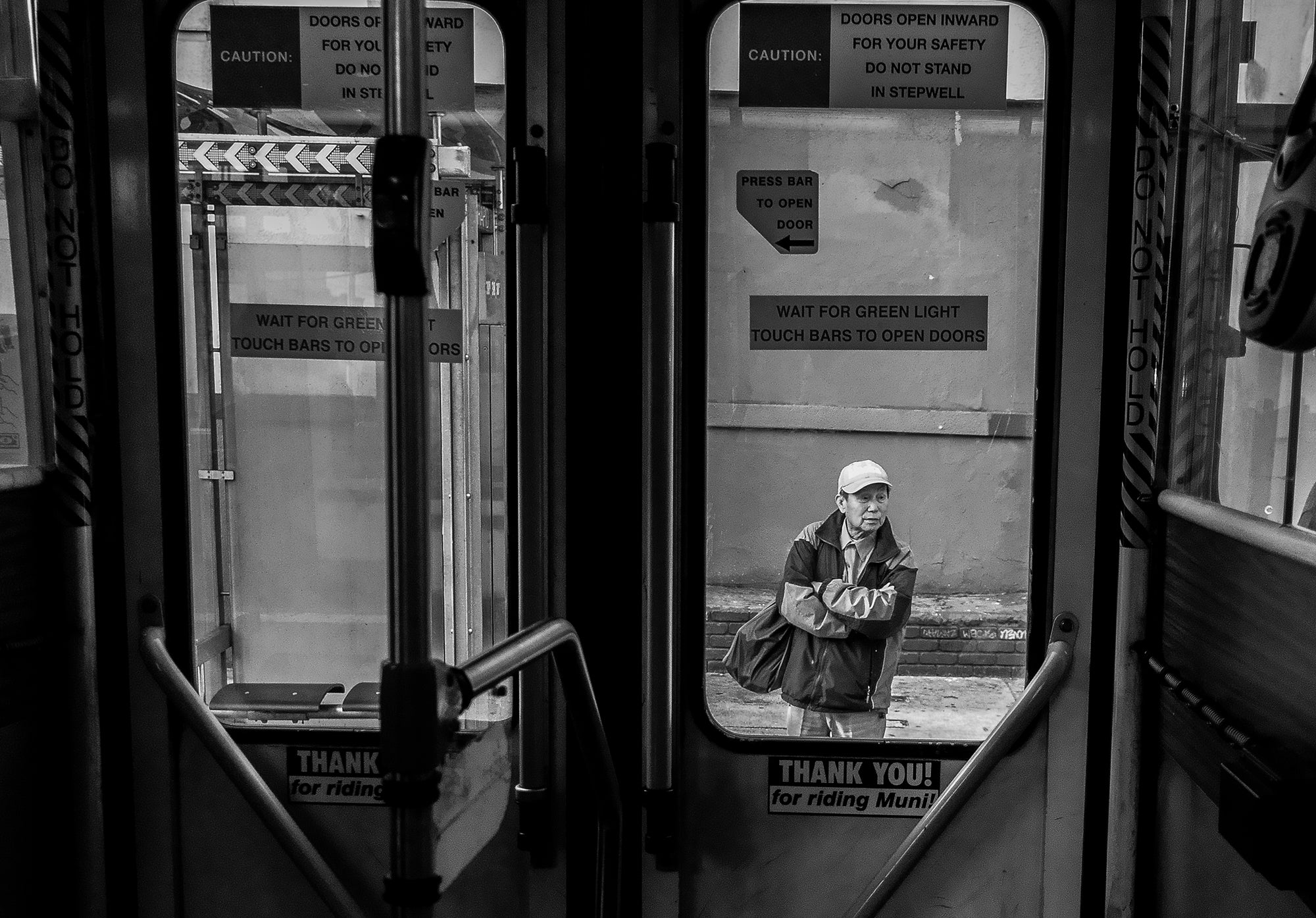 Sony RX100 IV, 1/2000-sec., f/1.8, ISO 1000
The RX100IV is so fast and "smart" that I rarely find a need to override it's automatic settings. That's very unusual for me. But skating around one night in LA I decided to just shoot in manual mode without flash, and see what I could come up with. I felt like I was starting to treat the camera more like a film camera, and in the end I was very pleased with photos the RX100 IV created under low light conditions with fast movement. The images from that night really have a film-like aesthetic. When I look at this one it feels like I took the photo with an old film camera.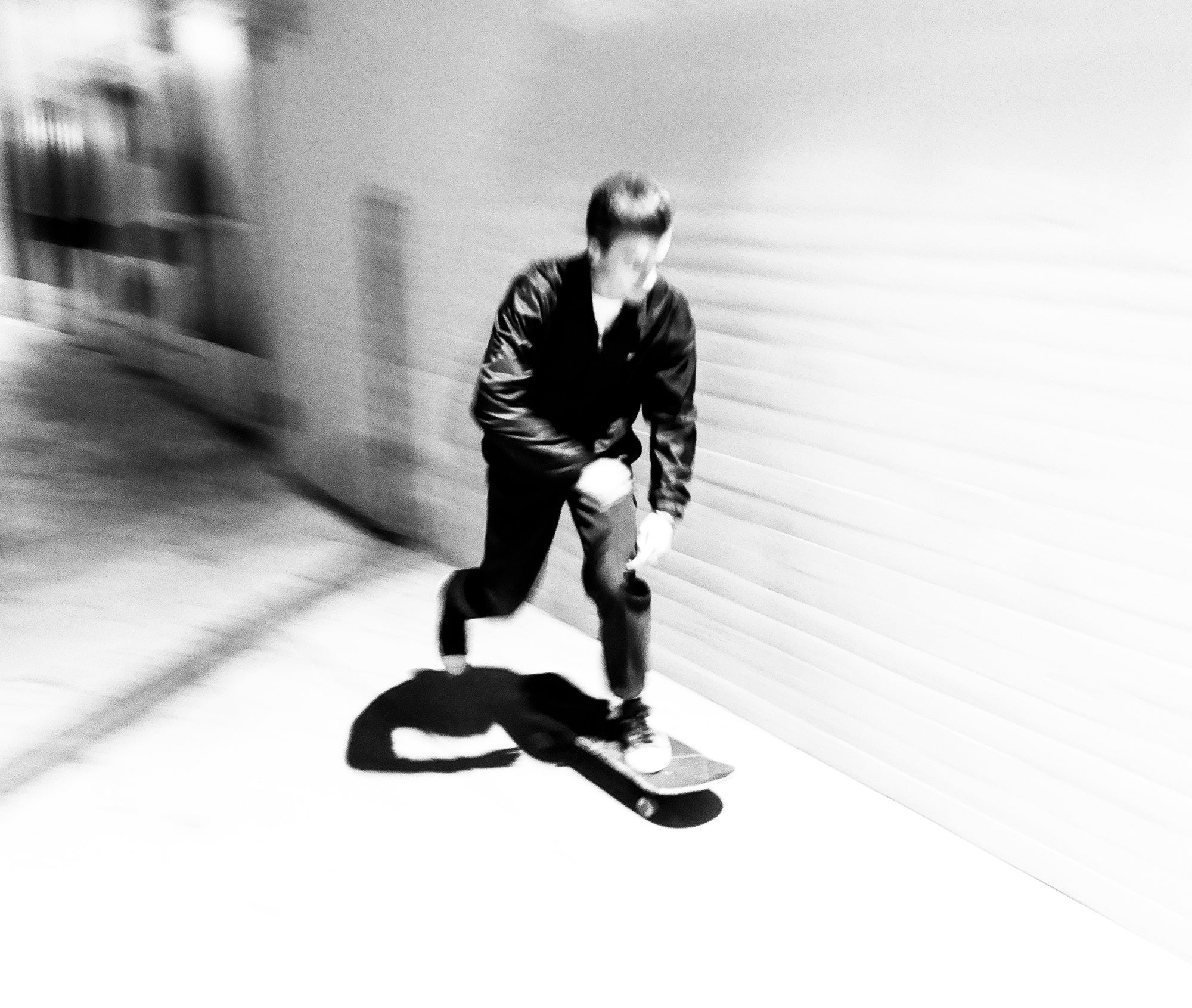 Sony RX100 IV. 1/15-sec., f/1.8, ISO 800
You can see more of Robert LeBlanc's work on his website.