Stan Moniz (@stanmoniz) is a unique creator both above and below the water. His work captures the adventure of the outdoors and the beautiful moving water through photography and film with his Sony gear. For a conservation project with Scuba.com, Moniz recently traveled to the Bahamas to document the endangered oceanic whitetip sharks with the new Sony 16-35mm f/4 G PZ. We connected with him to learn more about the experience documenting the distinctively beautiful species.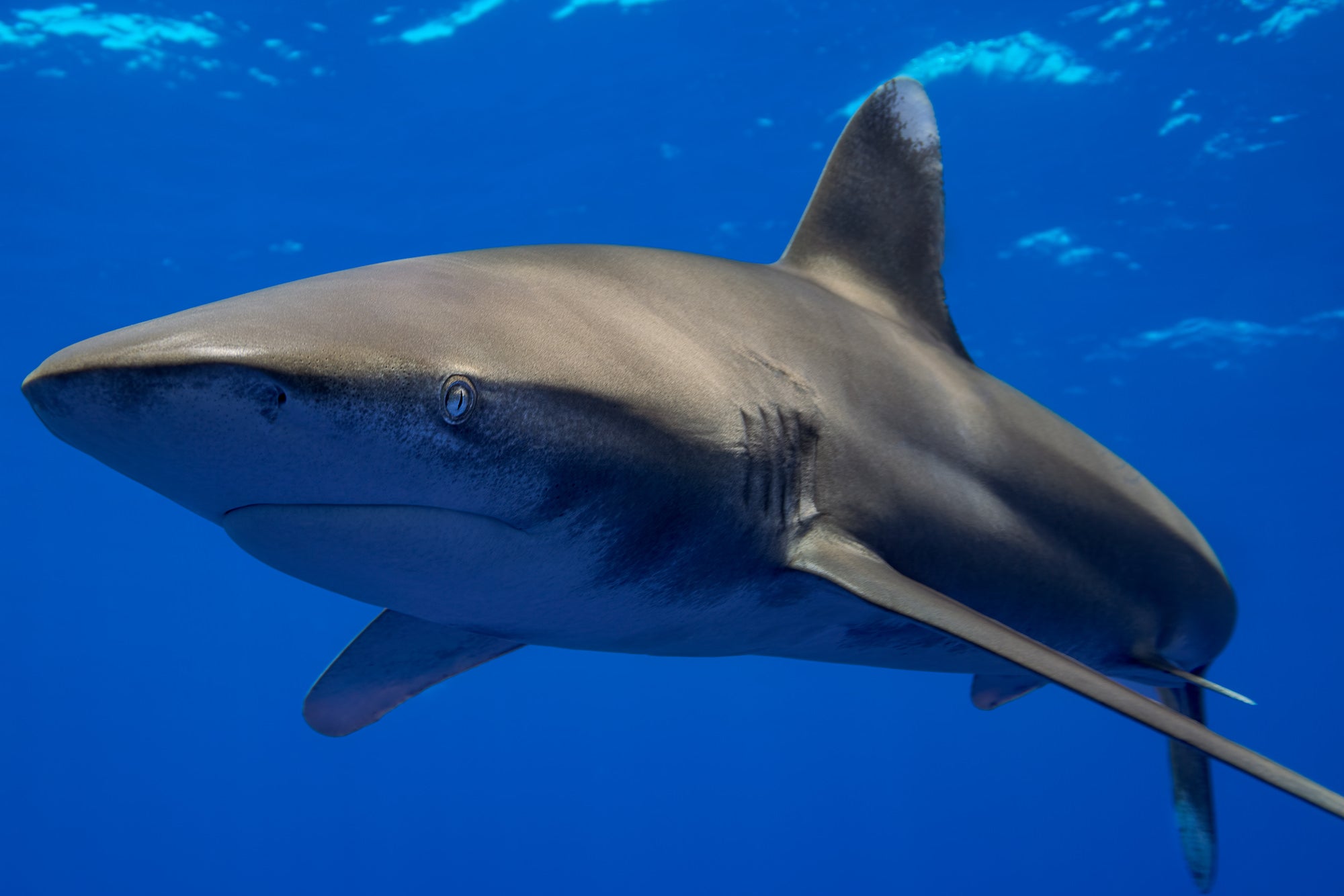 Photo by Stan Moniz. Sony Alpha 1. Sony 16-35mm f/4 G PZ. 1/250-sec., f/5.6, ISO 200
Alpha Collective member Stan Moniz goes underwater with the new Sony 16-35mm f/4 G PZ to document these rare and endangered sharks.
Oceanic Whitetip Sharks
At one time the oceanic whitetip shark was quite common, but over the years their global range has declined. The species is mostly under threat due to commercial fisheries and the high value of their fins in international trade. "This was a conservation project for these oceanic whitetip sharks," Moniz explains. "They're critically endangered right now for their conservation status, and their fins are highly prized in some parts of the world. But thankfully, in the Bahamas it's illegal to fish sharks, and it's one of the only places in the world where you can see a group of these sharks in this kind of abundance. It's really amazing, and it's one of those sharks, that's really rare to find them in a group like we did."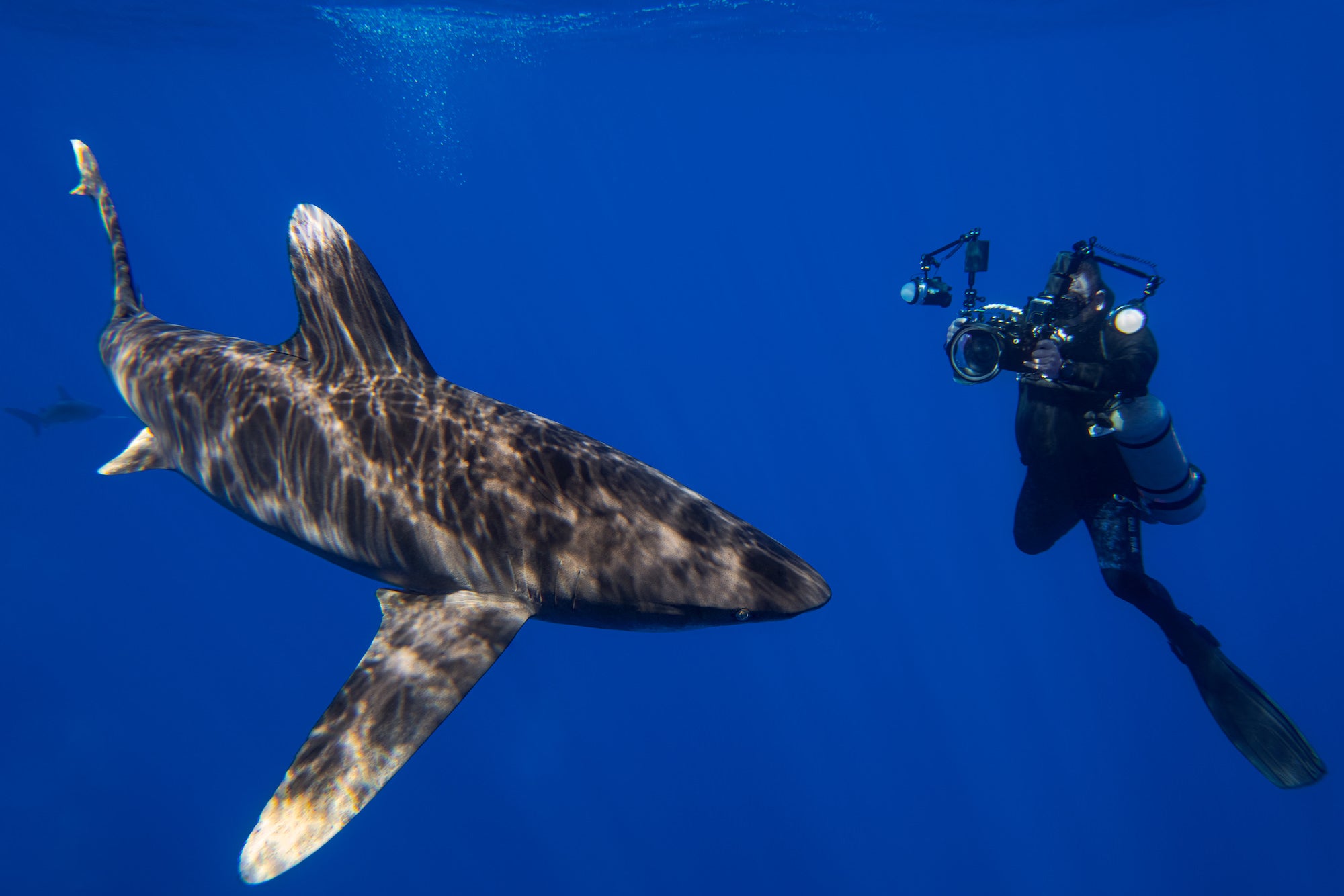 Photo by Stan Moniz. Sony Alpha 1. Sony 16-35mm f/4 G PZ. 1/320-sec., f/7.1, ISO 400
He continues, "It was a remote island called Cat Island. We flew into Nassau, and then took a little plane for about 20 minutes to jump to a different island. The water is just immaculate, and you have all these beautiful encounters with these sharks off of water that's thousands of feet deep. It was the most breathtaking, dreamy, ethereal scene I've ever seen in my life. It was like 50 meters of visibility…there was not one speck of particulate in the water."
Going Underwater With The Sony 16-35mm f/4 G PZ
Moniz traveled to Cat Island with the Sony FX3, Sony Alpha 1, Sony 14mm f/1.8 G Master and Sony 16-35mm f/4 G PZ. His original plan was to use the 14mm f/1.8 GM as his underwater lens, but he ended up using the 16-35mm f/4 G PZ underwater. "I had the 16-35mm f/4 G PZ on my FX3 underwater with my Aquatech Housing," he explains, "and the rad thing about it, is it's a perfect combo. I had a toggle switch on the front of the FX3 where I could power zoom in and out. So I could do some really cool different dolly movements, set the record speed or the standby speed."
He was also able to put the Sony 16-35mm f/4 G PZ on his Sony Alpha 1 to shoot underwater, programming his keys on the camera to control the power zoom. "I assigned the zoom out to Custom Key 3 on the Alpha 1," he says. "Then I assigned the zoom in to the AEL button. So underwater I was zoomed up at 35mm as the sharks would come close to me and literally kiss the dome of the port, because that's where all of their sensors are. I would zoom out, so it looks like this parallax video clip of the shark, like a dolly effect underwater."
He continues, "I got a bunch of photos, but the video footage is really insane and where the 16-35mm f/4 G PZ comes in. This lens underwater is incredible because first off, all the video I shot was in 120 frames per second, 4K, 10 bit, with the Sony Alpha 1. The f/4 maximum aperture was fine because there was so much sunlight coming through the water. I was at 1/250th of a second for my shutter, because I was doubling the frame rate and I was still seeing f/5, f/6, f/6.3, f/7.1 at ISO 125. I was shooting in picture profile 11 so everything would match up between the footage on the Alpha 1 and the FX3."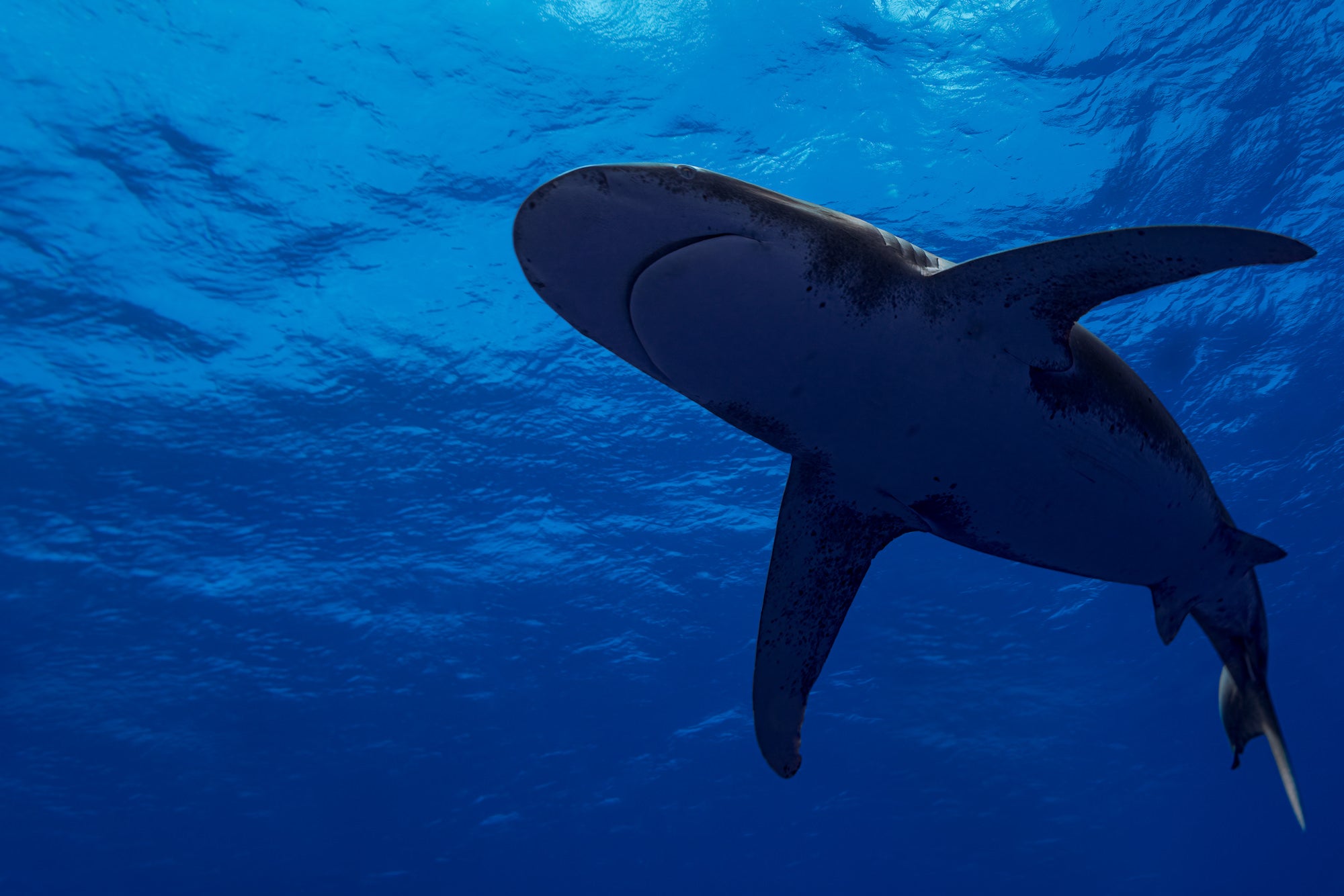 Photo by Stan Moniz. Sony Alpha 1. Sony 16-35mm f/4 G PZ. 1/250-sec., f/8, ISO 160
The trip to document the oceanic whitetip sharks was only Moniz's 13th dive. While he has a lot of experience in astro and landscape photography, he's relatively new to scuba and he got PADI certified by DiveNinjas, owned by fellow photographer and friend Jay Clue (@jayclue). The two have teamed up for a workshop series, Above & Below, to travel to unique places while capturing everything underwater and above.
"Jay Clue is all about scuba and sea life, while I do a lot of astro and landscape," says Moniz. "Now that I've learned the scuba side of it, I'm teaching Jay the astro and landscape side. We're going to very unique places and will be teaching attendees how to shoot photography and video below with underwater, sea life, animals, and then also above, with astro, landscape and long exposure. So you get an all in one."
Learn more about the Above & Below series of workshops here.