For me, lenses are like people. Each has a slightly different character. Some are fun to shoot with, some are serious, some are really intense and have one track minds. All are useful for certain and specific assignments and for achieving different looks.
When you combine a super-fast aperture with a true telephoto prime lens, you get an eye candy machine.
The 135mm focal length has long been a favorite of mine. I've had a fast 135mm on my Sony mirrorless wishlist for some time and whenever I've had a chance to talk with the Sony engineers, I've expressed the many ways I use one in my work. It's a perfect lens for portrait and wedding work of course, and it also finds a way into my bag for sports where I used it for a medium look at sporting events. Even though 135mm falls within the range of a 70-200mm zoom lens, when you go all the way to f/1.8, the prime lens gives a much different look than the zoom at 135mm.
So when I got a call from Sony headquarters a few weeks ago revealing that a new 135mm f/1.8 G Master lens was about to be announced, and would I like to test it, I jumped at the chance. When I heard that it's a G Master and that it has the same kind of lateral AF motor system as the Sony 400mm f/2.8, 24mm f/1.4 and 100-400mm f/4.5-5.6 G Master lenses I began to envision a lot of potential for the lens. Combining the light gathering of f/1.8 and adding the speed of a lateral AF motor could produce the fastest AF ever put into a telephoto lens.
135mm f/1.8 G Master For Portraits & Weddings
In portrait work, the assignment is always to make certain the subject of your photograph is the essential part of the frame. Classic portrait focal lengths have always been in the 75-100mm range, but I prefer the 135mm look, especially when the backgrounds are busy and complicated. Many photographers make a good living doing senior shoots for high school and college students. The new 135mm f/1.8 G Master lens should be considered for this purpose. For example, shooting wide open, you can take a distracting rusted fence in the background and turn it into a beautiful, earth-toned watercolor. Another clear advantage when you use off-camera lighting is that you can work further away from your subjects and allow the light modifiers to be much closer than normal which gives a great look or luminance to your portraits.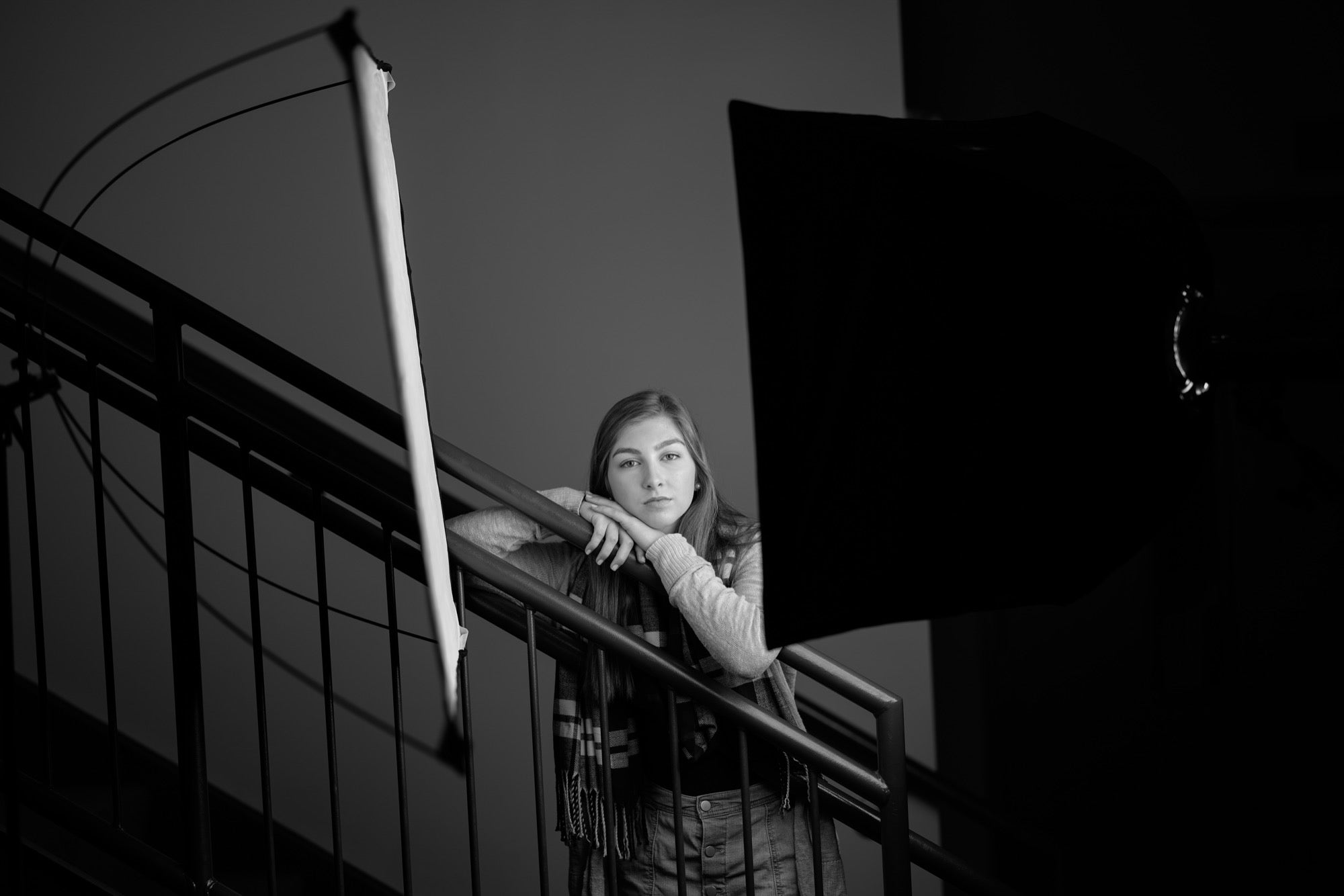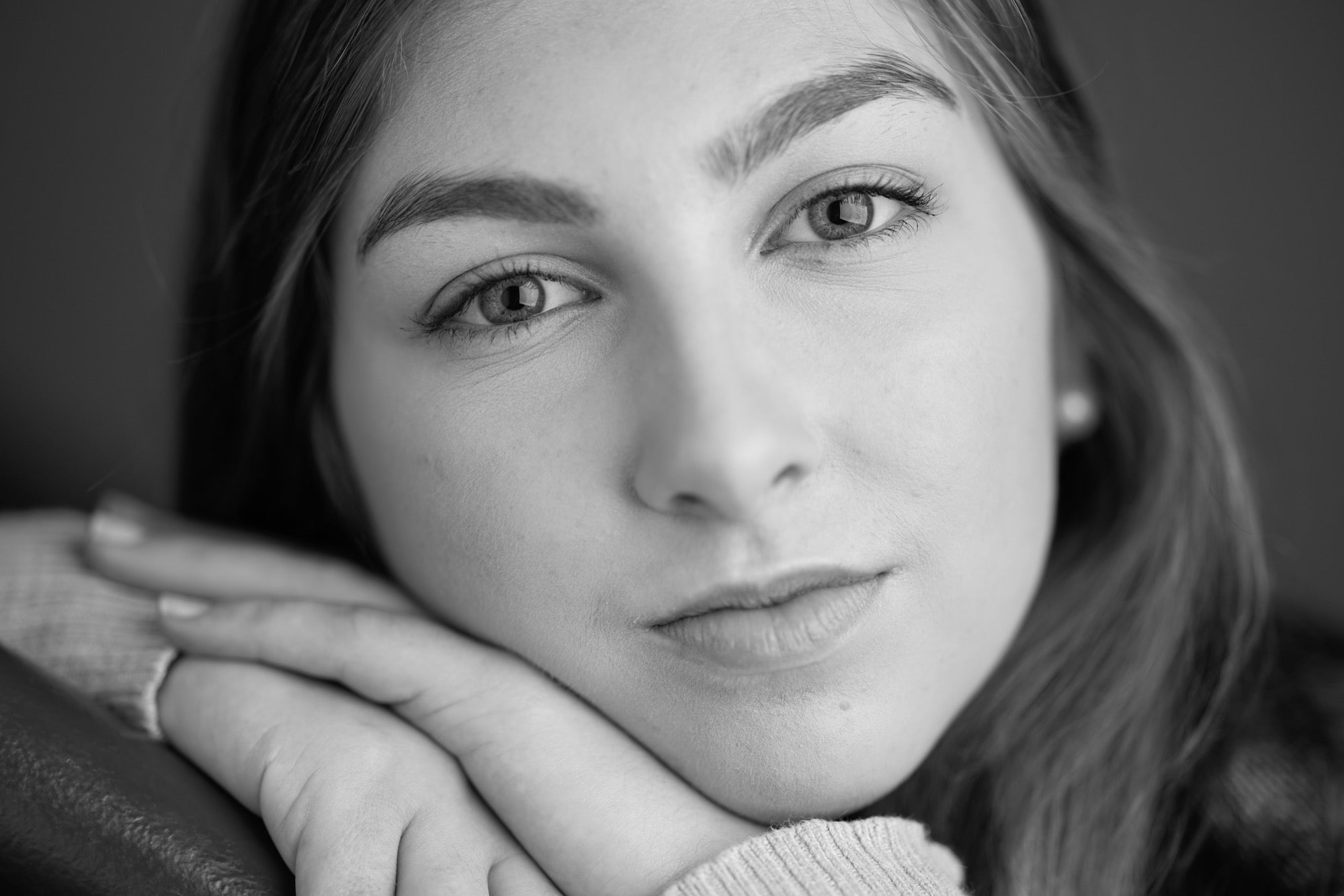 Sony α7R III. Sony 135mm f/1.8 G Master lens.
In this image I was able to use my strobes and achieve f/1.8 by using HSS. I think shooting a lens like the 135mm G Master at f/5.6 or f/8 is a little crazy unless you're trying to carry depth of field for some reason. In my opinion, shooting wide open is the best way to judge a lens like this one's sharpness and overall quality. It was pouring rain the day I had set aside for a portrait shoot, so we took it indoors. Here are a few of my favorite images from the shoot.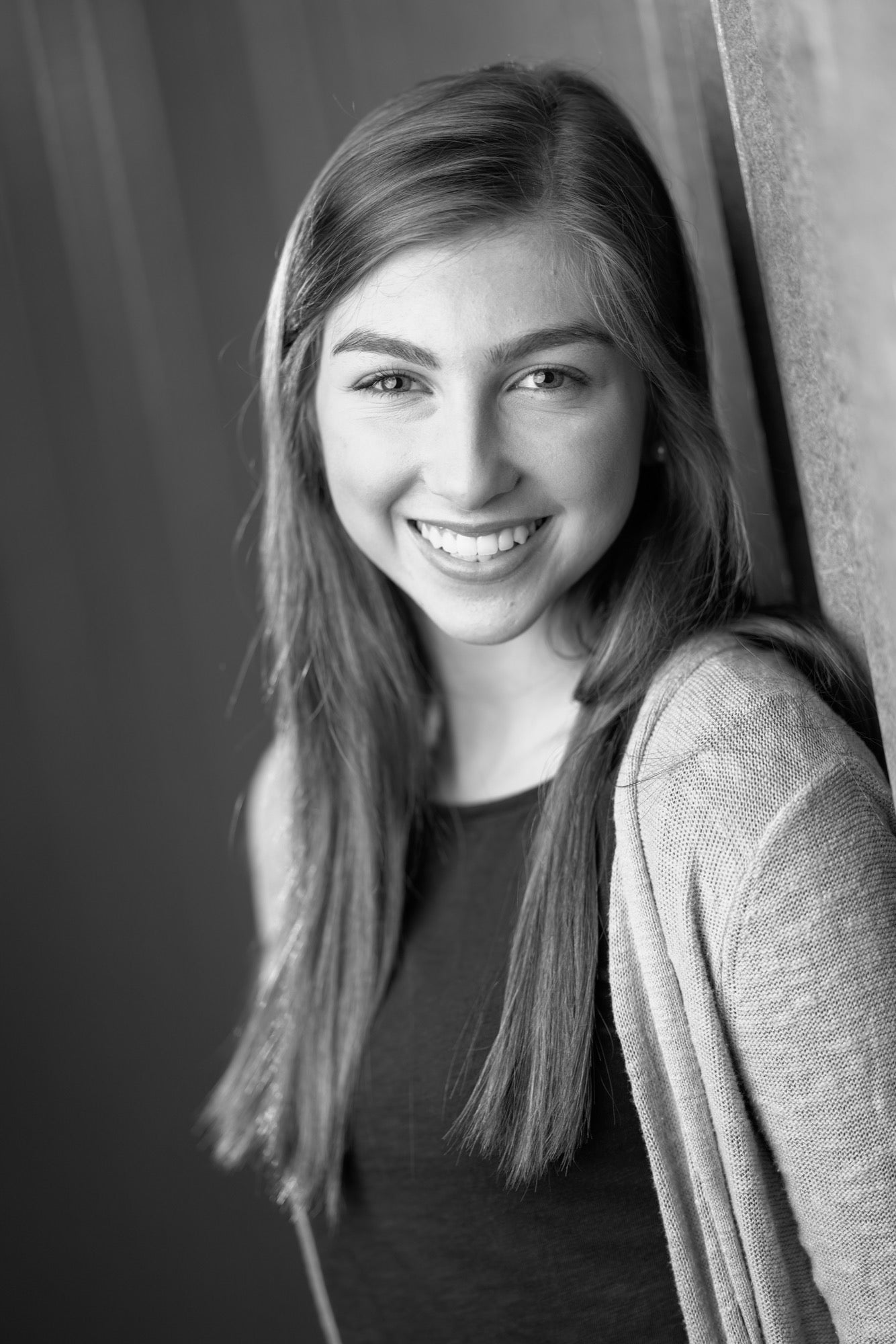 Sony α7R III. Sony 135mm f/1.8 G Master lens.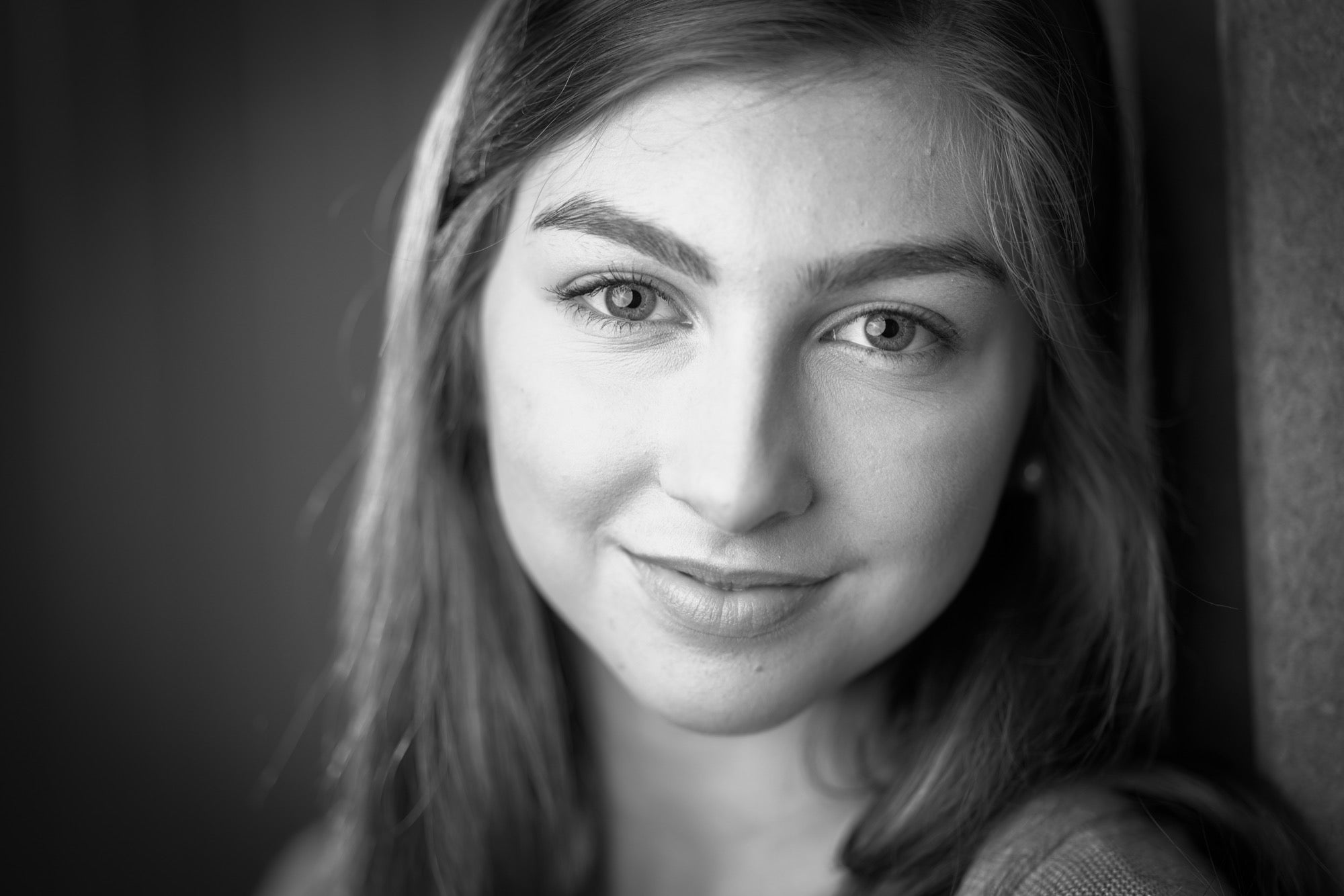 Sony α7R III. Sony 135mm f/1.8 G Master lens.
In wedding photography, smaller venues can be challenging with short aisles that the bride and groom walk down, lower ceilings and less light. These challenges make a wedding ceremony difficult to capture. When you switch to a fast prime like this 135mm f/1.8, you can make it work. With the fast maximum aperture you can blast the background out of focus even when they're standing a few feet from the back wall of the sanctuary and you can keep the ISO down for lower noise. Also, the lens weighs less than most zooms so carrying two bodies is easier for long days.
There is and will always be an ongoing tension between shooters that prefer the ease and speed of zooms versus the use of two or three prime lenses for assignments. I've always been more of a prime shooter. The faster prime lenses offer better bokeh and simplify even the most complicated backgrounds. As photographers build a system of lenses, they usually start with zooms and add primes as they define their style and see the benefits of specific lenses. The new 135mm f/1.8 G Master will be welcomed in a big way by shooters like myself that prefer primes when possible. The lens nicely rounds out the prime lens lineup and gives portrait shooters another eye-candy machine past the 85mm f/1.4 G Master.
135mm f/1.8 G Master For Sports…Yes Sports!
There's another, less obvious reason I was excited about this 135mm. Beyond just portraits and wedding photography, I've used 135mm primes for sports for years and I was particularly interested in seeing how this G Master would perform. Spoiler alert: it's excellent! Here's why…
If you sit out around where the three-point line meets the baseline in hoops, then you're in 135mm country. You're pretty far from the basket but you're far enough away to have most of the body and arms for players at the hoop or nearly so. I love shooting point guards coming in from half court with a 135. It's plenty telephoto to blur out the background from that distance and offers a much cleaner look than a slower zoom. This new Sony 135mm f/1.8 G Master, being 1.3 stops faster than f/2.8, gives a very pleasing result. Many people don't realize how much the wider aperture can affect the look of images. It's pretty stunning when you compare the results. When you combine a super-fast aperture with a true telephoto prime lens, you get an eye candy machine.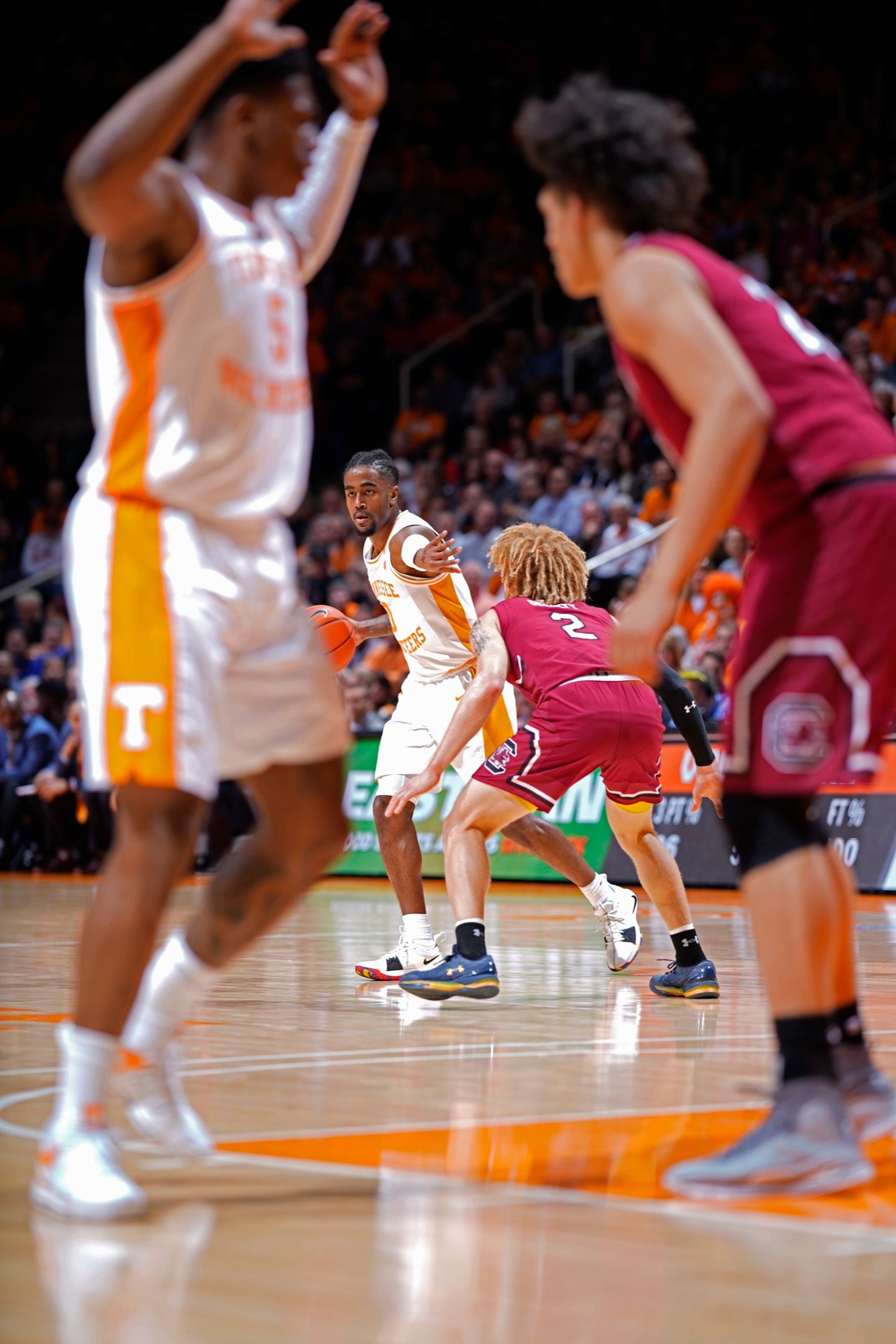 Sony α7R III. Sony 135mm f/1.8 G Master lens.
Sports assignments often come with complicated backgrounds such as fans in the stands in crazy colors, chain-link fencing that surrounds ball fields, big white tents at track meets and behind end-zones, ambulances parked in bad spots around a field, advertising banners and scoreboards/screens that are brighter than the light on the field. As sports photographers, we don't always get to stand or kneel in the best position for a clean background, so we have to work with what we have and make the best image we can. The 135mm f/1.8 G Master gives me an advantage over the other shooters who are trying to get the same shots, because even though we might all be shooting from a position that's not ideal, my images are going to look cleaner than the photographer next to me who is using a slower lens and has a much more distracting background in their shots. A fast telephoto simplifies the background and makes the focus of your photos the athlete that you're tracking.
Because I had the lens for some time, I was able to shoot several assignments with the 135mm f/1.8 G Master and I can say this: It is a stunner! It's fast, accurate and sharp, and it's pretty compact for being an f/1.8. It more than lives up to what you'd expect from any lens badged as G Master. When I say it's fast, I'm not only referring to the maximum aperture. The lens has the same kind of lateral AF motor system as the 400mm f/2.8 G Master (and the 24mm f/1.4 GM and 100-400mm f/4.5-5.6 GM as well). It was clear to me as soon as I mounted it on a camera and hit the AF-ON button with my thumb that this was not a helicoid AF motor. The lens grabbed focus instantly and stayed locked-on. Lateral AF drive is just better. The shortest distance between two points is a straight line, and so it is with AF motors as well.
While you can use the lens on any Sony mirrorless body without a grip, I love the feel of the 135mm G Master in my hands on the α9 and α7R III with the battery grip attached. It just feels right for me as I think it will for most sports shooters.
For the first game I shot with the 135mm f/1.8 G Master, I used it on an α7R III body to cover the entire court. I wasn't sure if the lens would still be able to knock the background out of focus when the players were under the goal way down at the other end of the court. I was a little shocked at how well it worked! It's crazy that it would work at all, but it did.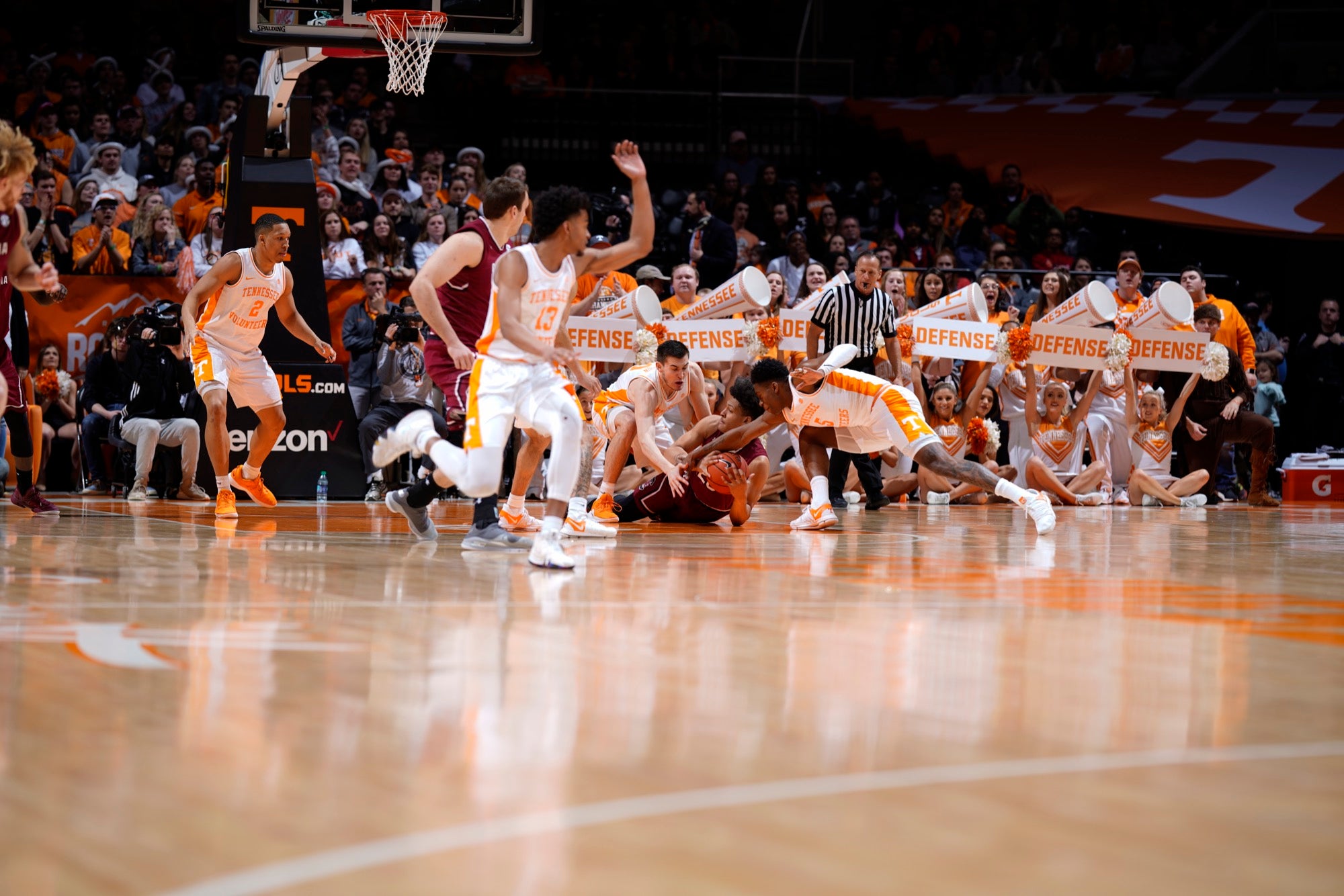 Sony α7R III. Sony 135mm f/1.8 G Master lens.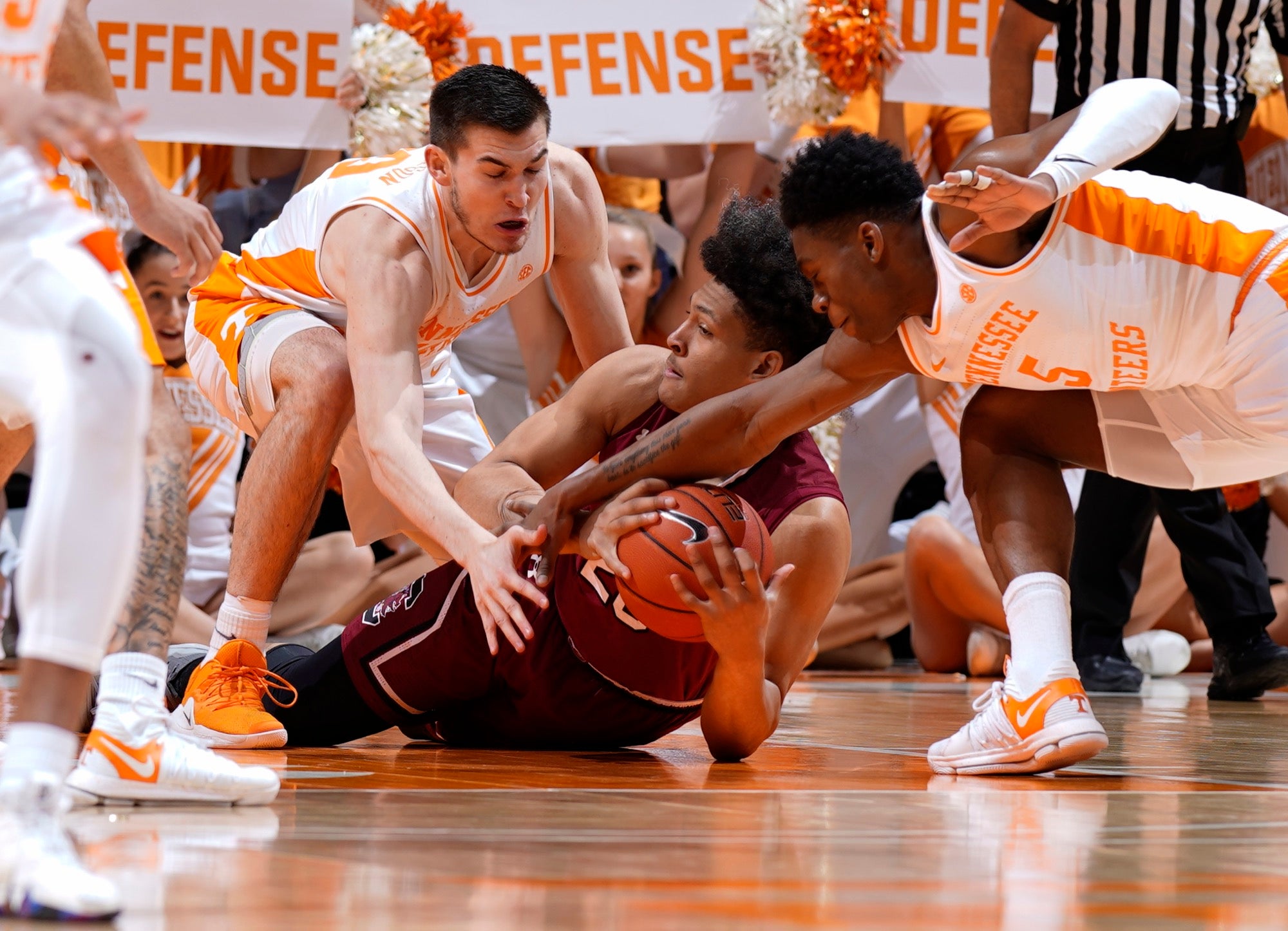 Detail of the image above. Sony α7R III. Sony 135mm f/1.8 G Master lens.
A few more details about the lens speak to its versatility and the fact that Sony has been particularly thoughtful about its usability for a lot of photographers. The 135mm GM also has a switch to allow you to de-click the aperture ring which will make film-makers very happy. For still shooters, they added not just one but two focus-hold buttons so that if you hold the camera in portrait or landscape, there's always a button for focus hold for your left thumb to find. I always re-task these to be Eye-AF, by the way, but you can turn them into a bunch of other options should you desire to do so.
Here are some other images made with the new 135mm f/1.8 G Master at two games that I shot during the time I had the lens: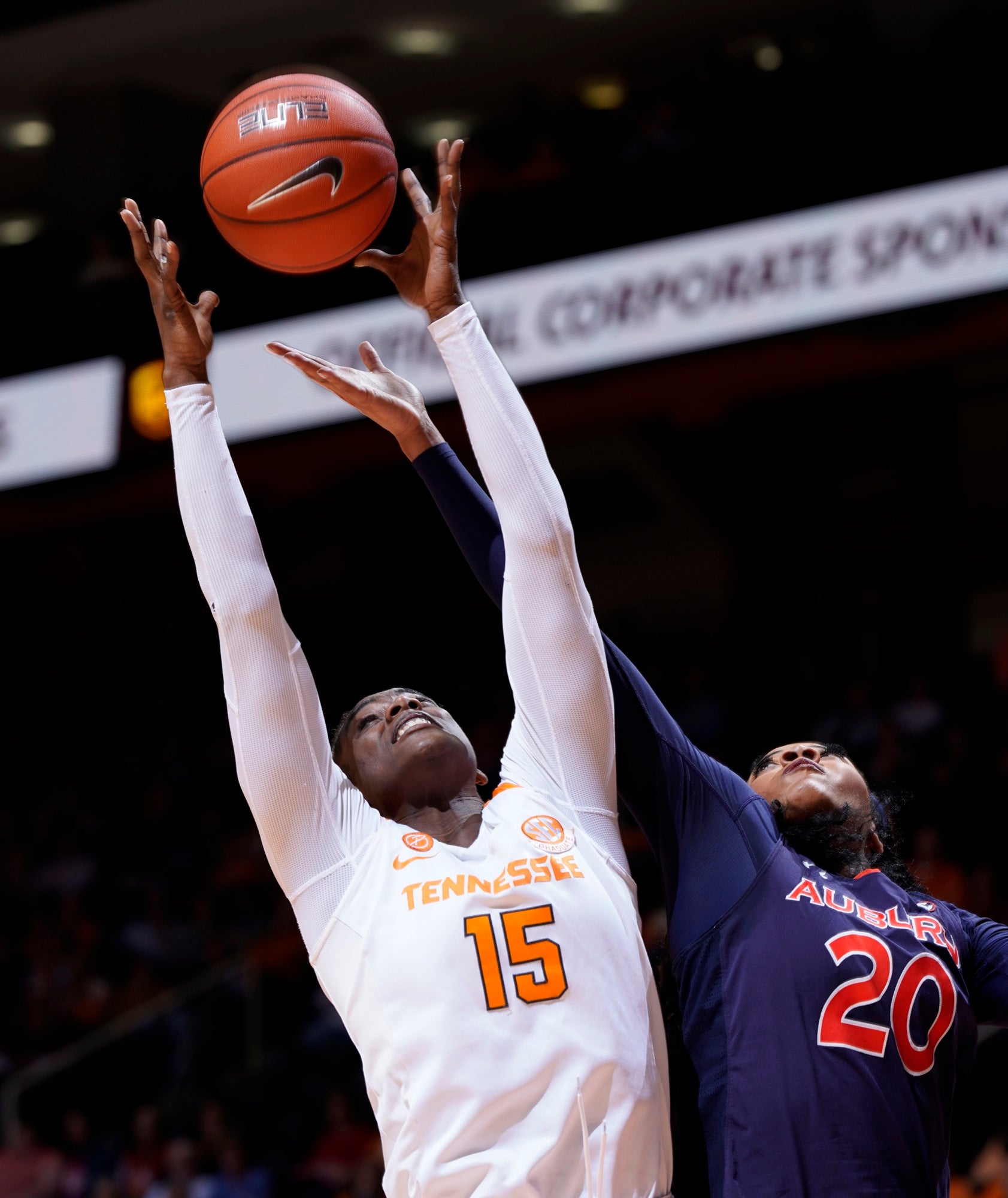 Sony α7R III. Sony 135mm f/1.8 G Master lens.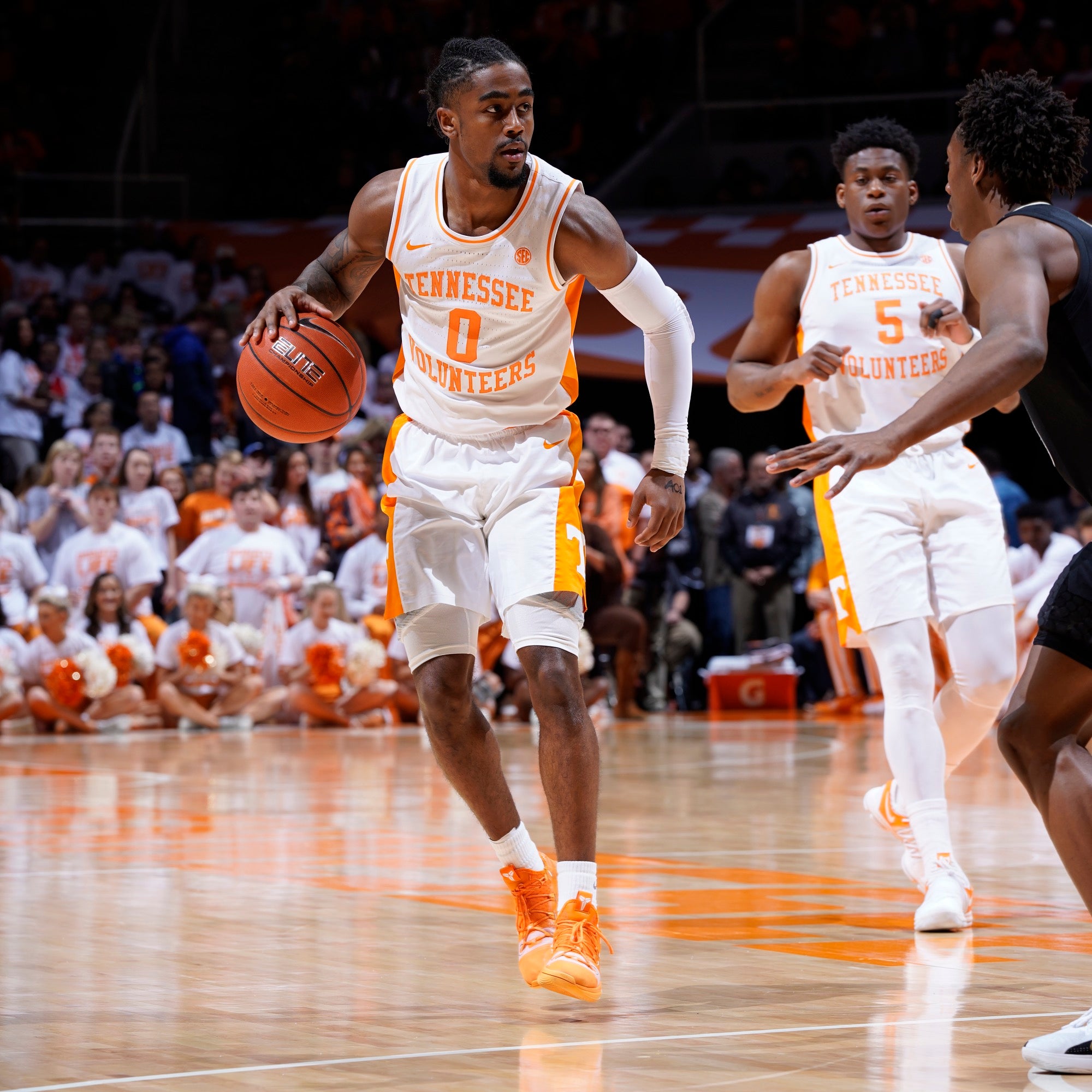 Sony α7R III. Sony 135mm f/1.8 G Master lens.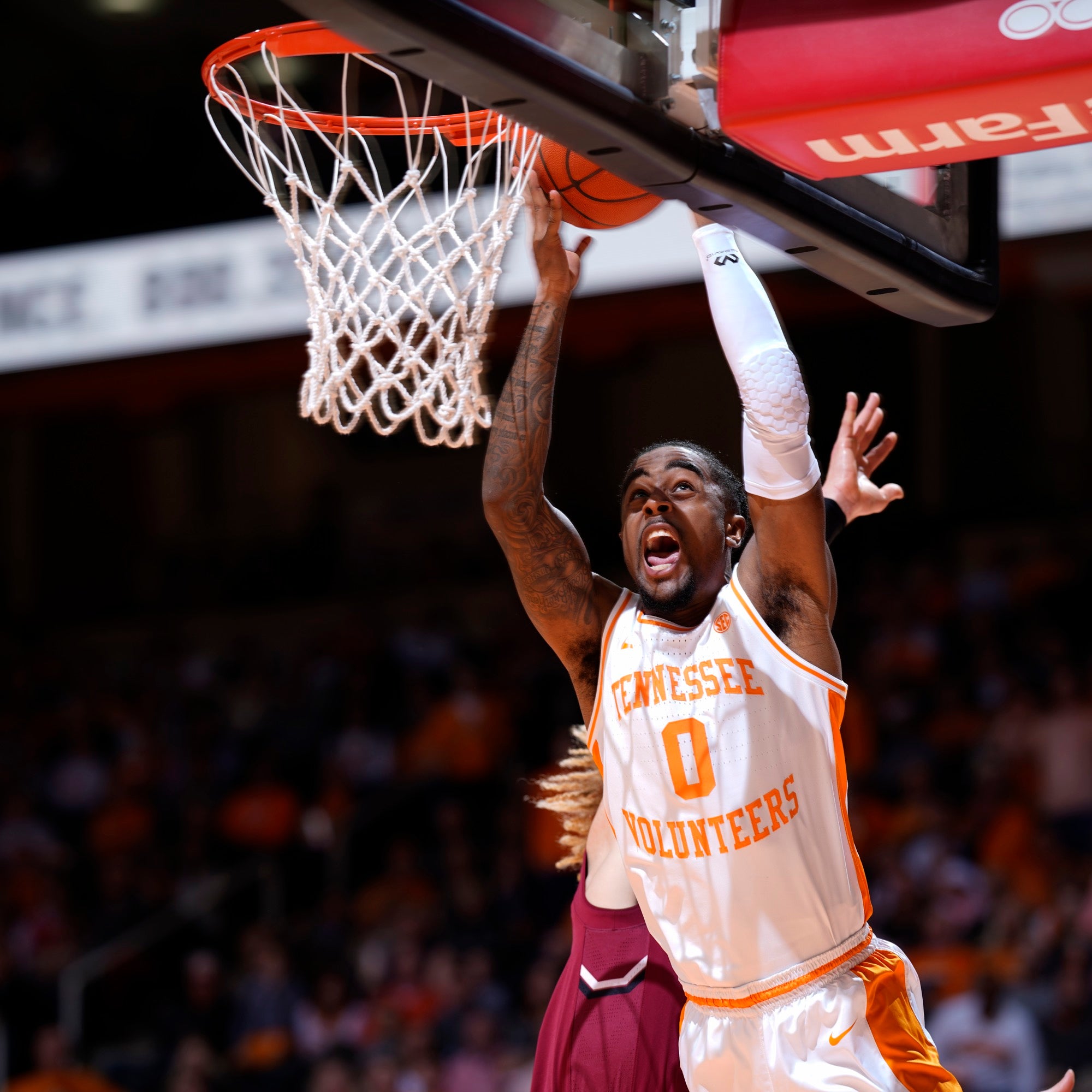 Sony α7R III. Sony 135mm f/1.8 G Master lens.
Sports where I will use the this lens on a regular basis are basketball, volleyball, track and field (where you can often get very close to the athletes), tennis, baseball (for shooting first base "dive-backs" from the dugout, automobile and bicycle racing, mountain biking, motocross, boxing and karate for getting tight shots and wrestling (where meets always seem to be held in the dark).
Because of the super-fast f/1.8 aperture, the 135mm G Master allows even more accuracy than a 70-200mm in terms of AF for sports, especially with the flailing arms and quick action under the net in basketball. In the hands of an experienced shooter, there's a more accurate and nuanced feel with the 135mm prime when you're trying to pick out one player with the ball in traffic in the lane. The AF on the new 135mm G Master is so fast in the heat of sports action, I felt my eye trying to catch up to what the lens had already accomplished in terms of focus a few times. Just like with the Sony 400mm G Master, when you combine the α9 and the new 135mm GM, you get an uber-fast and accurate lens that is ready for anything. Sony has produced another grand slam with this lens. While not every shooter will buy one, those of us that love action and making beautiful portraits on location will gobble them up. It will be a must own lens for sports, portrait and wedding shooters.