When photographer and filmmaker Joe DiGiovanna moved into his new neighborhood in Weehawken, New Jersey around 10 years ago, he was already thinking about how to ensure his next place in the area had a clear view of the famous Manhattan skyline. He didn't have an exact plan at the time, but he knew the skyline was special and he wanted to film and share it in some way. Fast forward to today, and he's attracted nearly 40k followers on Instagram for his 30-year timelapse of NYC – @nyc_timelapse. In his fourth year of the project, we talked with him to learn more about how it came to be and how he's capturing it using the Sony α7S.
"The idea was really always there," explains DiGiovanna. "I moved into this neighborhood about 10 years ago, and rented a place that didn't have a view, but I was already scheming. 'How do I get that view?' I saved up money and waited two years to purchase an apartment with the view I was looking for because I just love it so much and knew I wanted to film it and try to publish it. It's indescribable. You can stand facing the same direction, and you've got this incredible sunrise. Then when the sun goes down you've got an incredible sunset, because the city is a mirror. The buildings create this mirror surface so even though the sun is setting behind me and usually to the right, you're getting this indescribable view of the sun."
He continues, "And I think that's sort of where the obsession comes, but there's also just this part of watching the city work. You can witness a lot just by sitting and watching. You can see the city pulsing like a living being. I could probably tell you which buildings turn off their lights at which time and it's become its own way for me to take inventory. 'Whoops, I'm up later than the Empire State Building!'"
Now that he had the apartment with the right view, his idea began to develop. Always intrigued by the fantasy aspect of a timelapse, he thought about how cool it would be to capture running photos of the skyline around the clock and put it together in a video to share with the world. With the plan coming together next he needed to find the right gear to get the job done. After spending months considering and testing several other camera brands for the project, he knew he needed something with the least amount of moving parts and that could immediately transfer the photos to his computer where he could remotely access them wherever he would be at the time. He landed on using the Sony α7S.
"I finally met the α7S," he explains, "and it was like love at first sight. The more I got to know that camera, the more I knew it was what I needed to use. I put it on a shelf that I made out of box steel with a ball head attached to it and a support for the lens. It lives right there and doesn't move. It's been the same camera running for the last 4 years. It takes a picture every 30 seconds using an Arduino intervalometer, all night long, all day long. I have it tethered via a USB cable into my MacBook Pro where it goes straight into Capture One."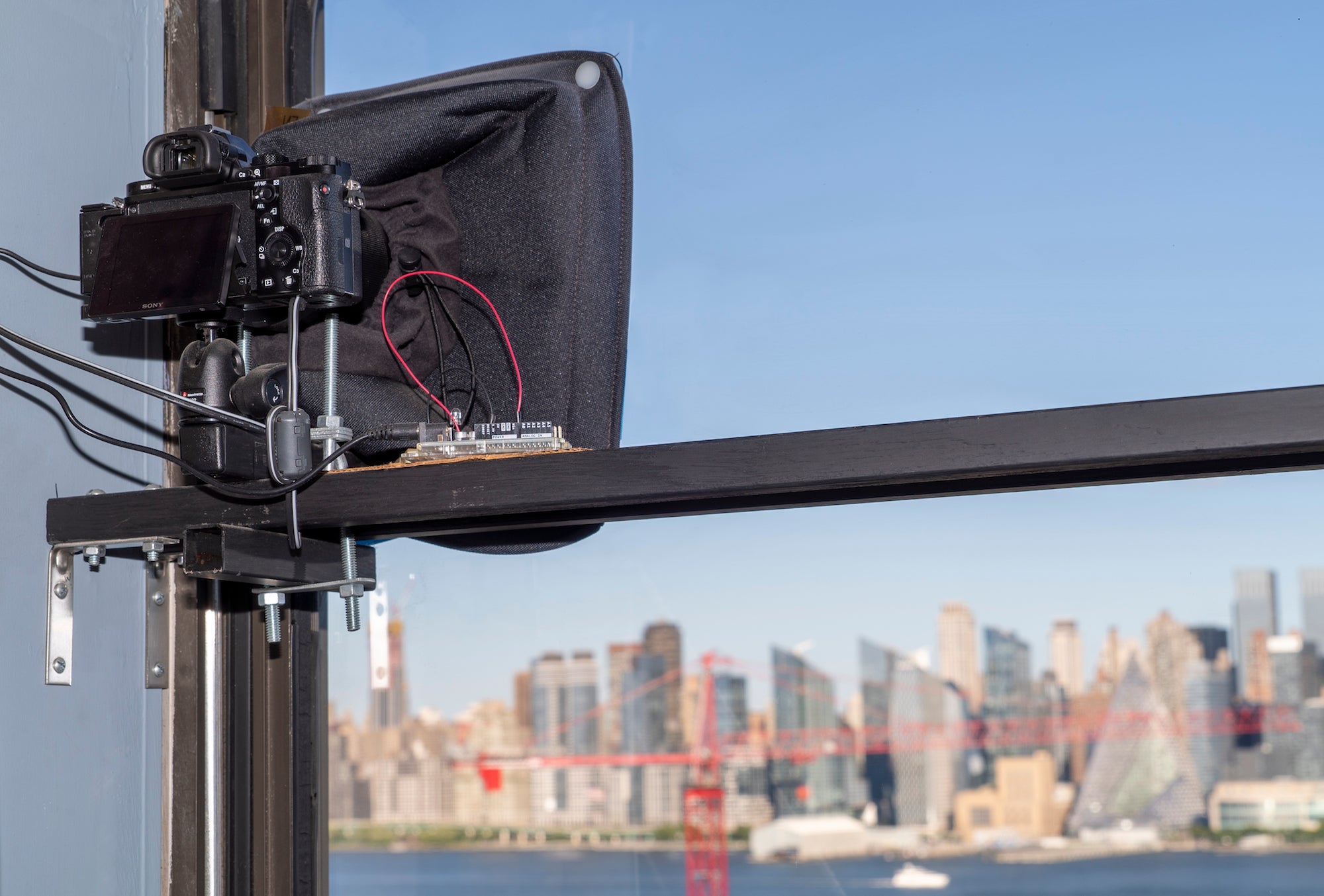 "The lens I chose is the Sony 24-240mm f/3.5-6.3 and it's landed right. I appreciate the absurdity that I'm using a zoom lens on a shot that's not going to move for 30 years, believe me. But I'm dealing with a streetlight below the window, and I tried every lens I could get my hands on to minimize how much that comes into the shot. And much to my own disbelief, it did with this lens right around 70 millimeters."
He had to perform many test runs before deciding on his camera settings. When testing for ISO he wanted to see how grainy it would be when he zoomed into 100% or more, and he found that a lower ISO worked the best.
"I'm not doing any bulb ramping for this project because I like when you're shooting your sunset, and the daytime footage is extremely sharp and crisp. Then as it goes to night the exposures get longer, and the lights of the cars get stretched out and all that stuff – I love that. So I'm staying at f/8 and the ISO is staying at 320 – and that's it. It's on aperture priority, and it just takes care of itself from there."
Creating a 30-year timelapse from the same location presents plenty of questions and challenges. What if the power goes out?... What if he moves?...And, with rapidly evolving technology, does it really make sense to stay with the α7S for 30 years? DiGiovanna has definitely considered all of these things.
"I have an uninterruptible power supply that will cover us for a day if the power goes out. That's the reason I went with a laptop – if the power goes out we have 11 hours of battery life. I've been running the laptop for almost five years so it will need replaced soon. Because I own the apartment, if things change where I have to move, I would just make it part of the rental agreement that the camera stays there and keeps running."
"As for the camera – I had originally planned to continue using a Sony α7S for the full 30 years. I know that new things are going to come out, but I figured it could have the same feeling throughout the 30 years and it didn't matter if it looked old, because it is old. But recently I used the α7R III while photographing a Broadway show, and I've changed my mind. What an extraordinary camera. And as I've gotten more hands-on with the footage and started zooming in and panning left and right at specific moments during the day, I think I'd like to take advantage of more megapixels."
For DiGiovanna, the project has resonated with people more than he ever thought it would. People have flocked to the Instagram, and viewers can even add their story to a living calendar on his website.
"Besides the fact that I'm a camera nerd, the whole idea of the project is just about time going by, and being able to mark a day through the context of the skyline. And people have started doing that. I'm extremely thankful because it's brought people to my Instagram, where people have started doing exactly what I had hoped they'd do, which is writing, 'This is the day that my daughter was born,' or, 'Hey Sam, this is the day we got caught in the rain.' It's like a virtual hug."
As for the future, DiGiovanna has a dream to spread the project far and wide to cities all over the world.
"I've even been scouting locations. I want to have a camera in Brooklyn and then one more downtown where we could see the Empire State Building. Then I'd love to have a camera in Paris, London, Moscow, Tokyo and Mexico City. I'd like to have cameras everywhere. It's just been fascinating the way people have connected with the project and it would be great to do it for more cities."
Follow the project on Instagram @nyc_timelapse and at nyctimescape.com. You can see more of DiGiovanna's other work on his personal Instagram @JosephDiGiovanna and at josephdigiovanna.com.