What a month it has been! When I was informed that I had been awarded a Sony Alpha Female+ grant, for creating photographic images of wild animals living inside the Thorne miniature rooms, I didn't foresee some of the effects that the COVID-19 pandemic would have on my project. At many junctures I needed to make the decision to view frustrating hurdles and setbacks as the "creative opportunities" they were.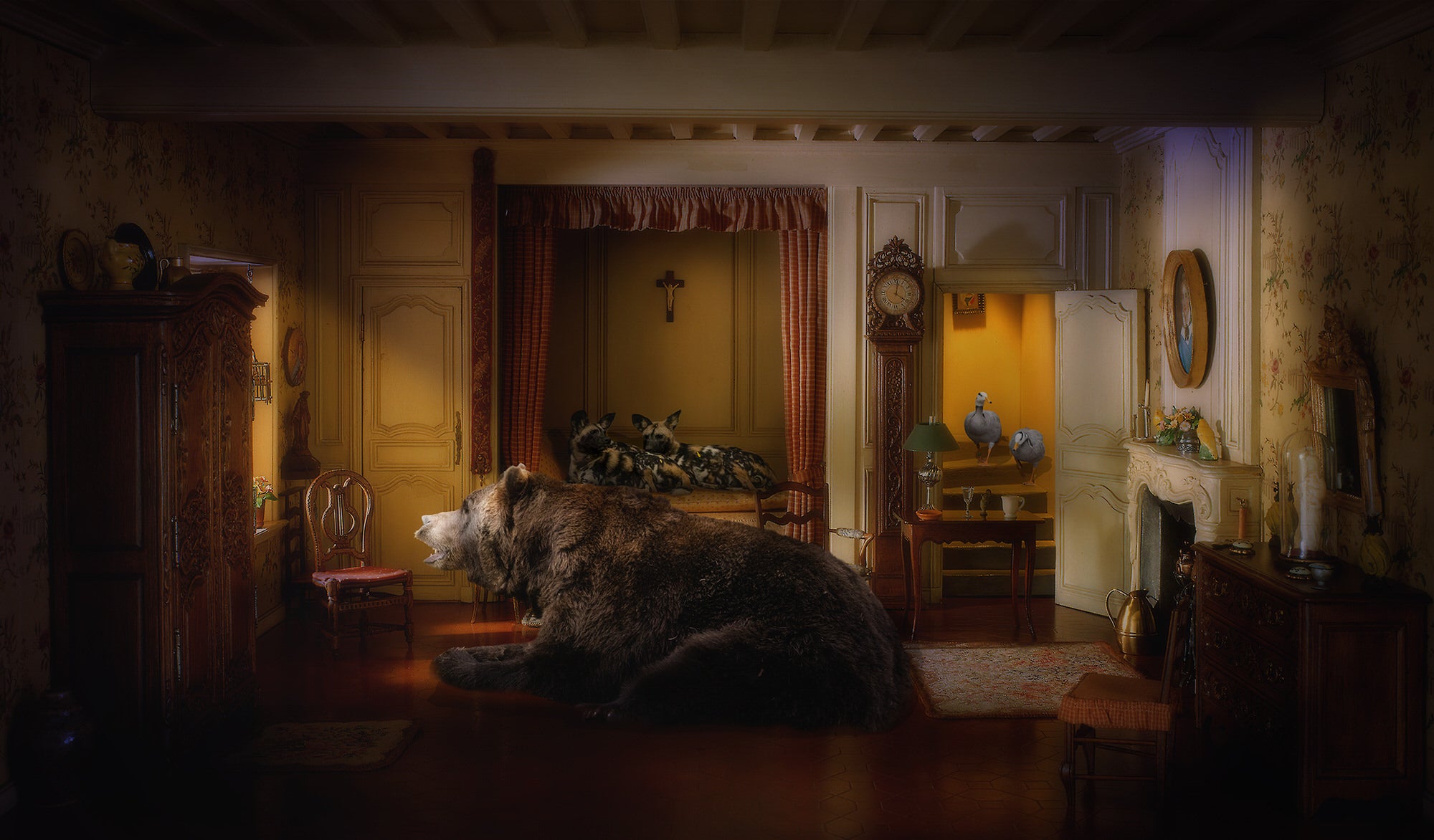 Composite Image by Lisa Frank. Grizzly Bear, African Painted Dog (Endangered). French Provincial Bedroom of the Louis XV Period, 18th Century, c. 1937.
My initial plan was to travel for two weeks, but I found that visiting eight zoos in nine days and taking more than 4,000 photographs gave me more than enough to work with. The zoos were surprisingly crowded and this was slightly stressful to contend with as part of a daily routine. Perhaps they've become a remote classroom for families. Or maybe people are looking for opportunities to be transported to another land, seeking out uncommon moments with wondrous distractions. I believe zoos are certainly a place to find a certain sort of grandeur – there is raw beauty to behold. In a confounding world it's a refreshing perspective to rediscover that we are not the largest animal on the planet, nor the strongest, nor the fastest, nor the most beautiful, necessarily. I can imagine that many went home after their visit feeling uplifted and happy for the distraction.
Because of crowds and the brief nature of each visit I made a few decisions about how I would work. I decided that I would only photograph in the outdoors, foregoing interior habitats, and I would focus primarily on animals that were in open, naturalistic enclosures without glass or metal obstacles to shoot through.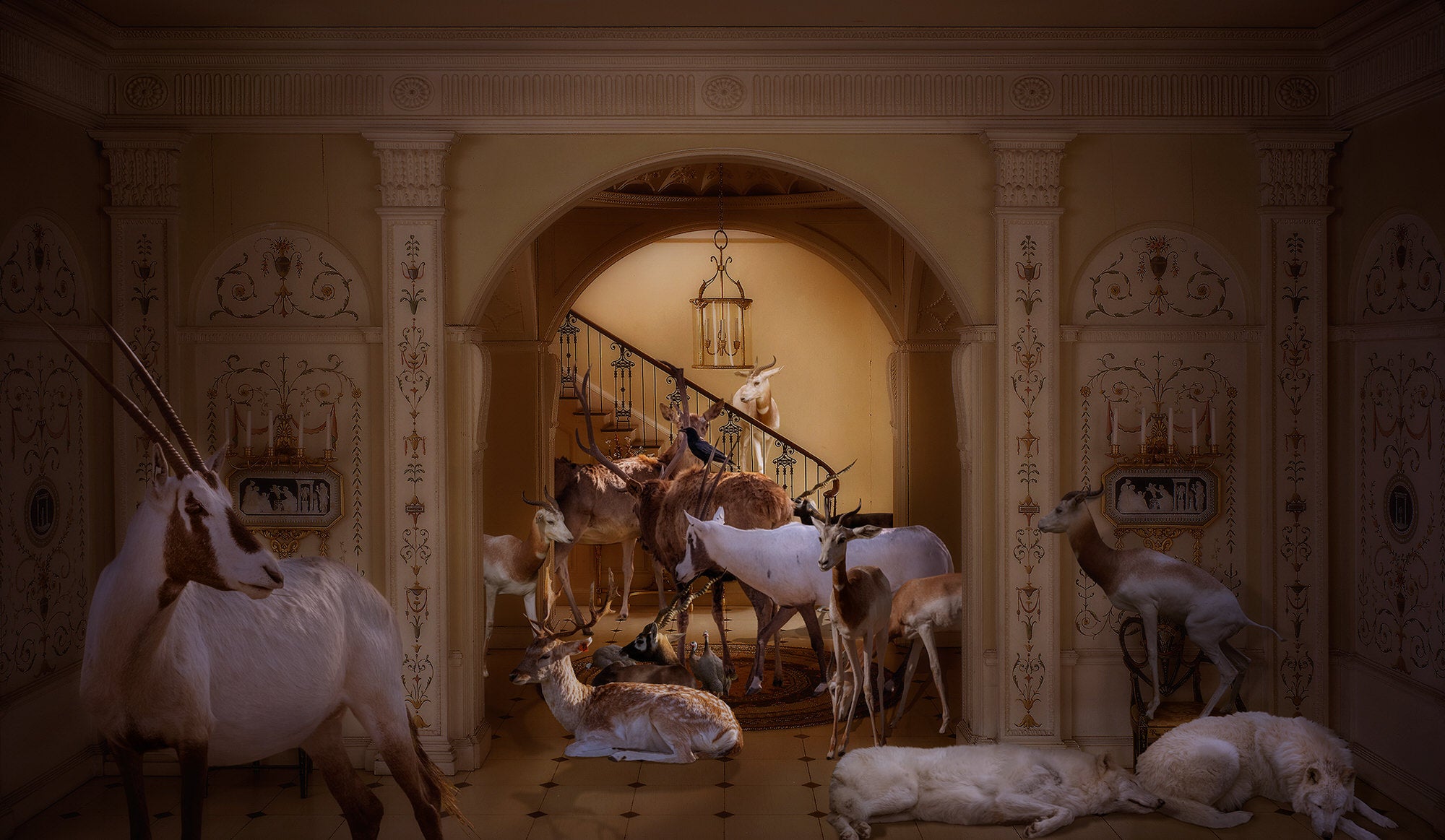 Composite Image by Lisa Frank. Timber Wolves, Addax (Critically Endangered), Arabian Oryx (Vulnerable), Blackbuck, Axis Deer, Dama Gazelle (Critically Endangered), Gemsbok, European Red Deer, Fallow Deer, Crow, Guinea Hens. English Entrance Hall of the Georgian Period, c. 1775, c.1932.
I chose zoos that were well reviewed nationally and located in warmer climates. The zoos in St. Louis, Memphis, Ft. Worth and New Orleans are consistently rated in the top 10 in the U.S. They each have some wonderful habitat designs that allow many animals relatively free range and viewers the opportunity to view groups of animals interacting. In Texas I went on a safari-type experience at the Fossil Rim Wildlife Center and I also visited the Caldwell Zoo in Tyler, the Cameron Park Zoo in Waco and the Houston Zoo. Because I was camping, the warm weather and pleasant evenings made "van life" very enjoyable.
A new challenge for me in using campgrounds was to have enough power to recharge multiple batteries, a laptop, an external hard drive, tablet, smartphone and more. I invested in a ridiculous number of chargers and a solar powered generator. Every possible port was fully engaged and put to use.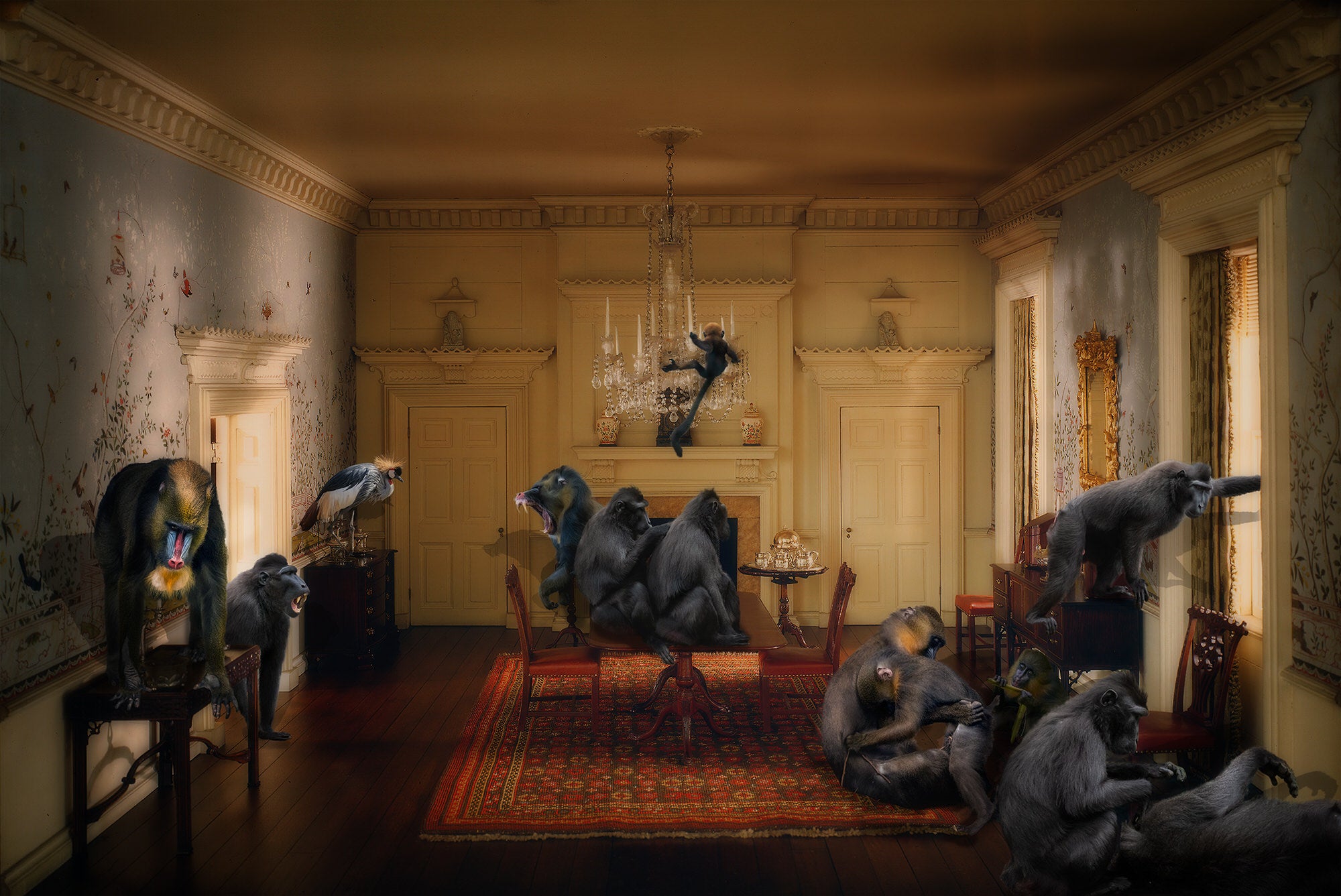 Composite Image by Lisa Frank. Sulawesi Crested Black Macaque (Critically Endangered), Mandrill (Vulnerable). Virginia Dining Room,1758, c. 1940.
The largest COVID setback was that I was unable to photograph the Thorne Rooms successfully. Because of the pandemic, the Art Institute in Chicago has been short staffed. Despite the fact that I became a member so I could be among the first to enter one early November morning, I was informed I couldn't bring my tripod into the museum.
The Thorne Rooms are in the basement of the museum and it is a dimly lit environment. Each room is framed in wood and is behind highly reflective glass. My plan B was to use a rubber lens hood to shoot directly against the glass, but I was told by the guard that this too was now forbidden. Needless to say, my hand-held results in an environment that is awash with reflections were not what I had hoped for when in fact I had planned to focus stack.
I decided to write to the museum, asking for special permission to bring a tripod but was informed that they could not make special allowances due to their continued shortage of staff. Soon this staffing issue turned into a full shut-down. The museum has been closed since mid-November and will remain so for the foreseeable future. Needless to say it was quite worrisome when I heard the news that I would not be able to return to reshoot, but I was on the road by that time and there was little to be done except come up with a new strategy.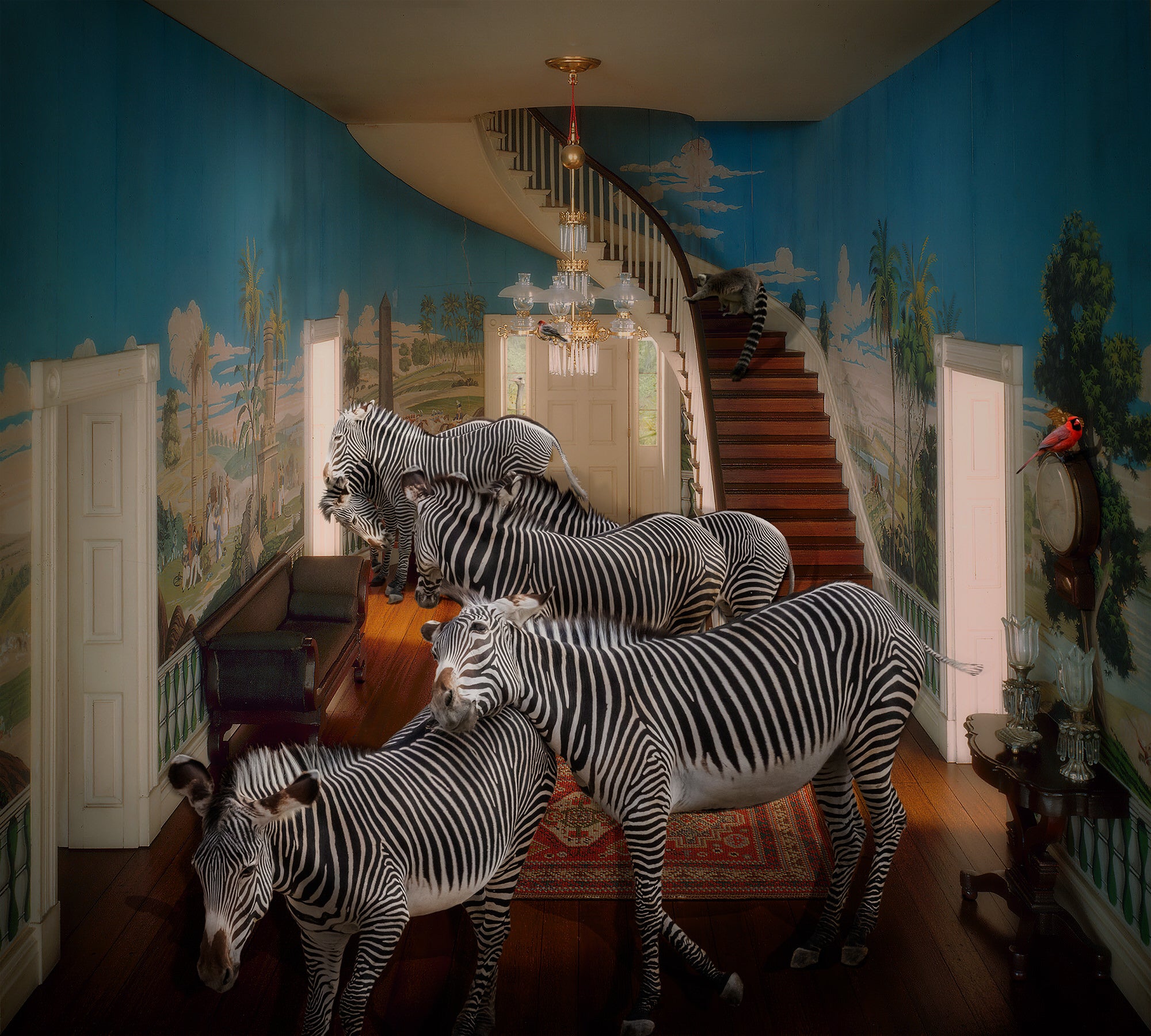 Composite Image by Lisa Frank. Grevy's Zebra (Endangered), Ring-tailed Lemur (Endangered), Cardinal. Tennessee Entrance Hall,1835, c. 1940.
When I returned home I relaxed into editing mode. Perhaps it was fortunate to have two weeks of quarantine time ahead to help keep me sitting in front of my computer. My photos of the rooms still seemed unusable but I discovered that the Art Institute images are available for public use under the Creative Commons Zero (CC0) designation. The JPGs average around 2.3 MB. Although they look great on their website they aren't on par with photos taken with my Sony Alpha α7R IV. This was a problem that needed creative intervention.
I had no choice but to put the JPGs to work so I used a combination of Topaz Gigapixel AI, DeNoise AI and DXO Color Efex Pro to enlarge them and soften the noise. Against the photos taken in the zoos with my α7R IV, the JPGs of the rooms are heavily modified stand-ins. Although I have been conflicted about my choice, I have decided that the "fine art" designation for this project as well as the limitations because of the pandemic give me some leeway to take unusual paths. I'm pleased that I had an option that worked out as well as it did.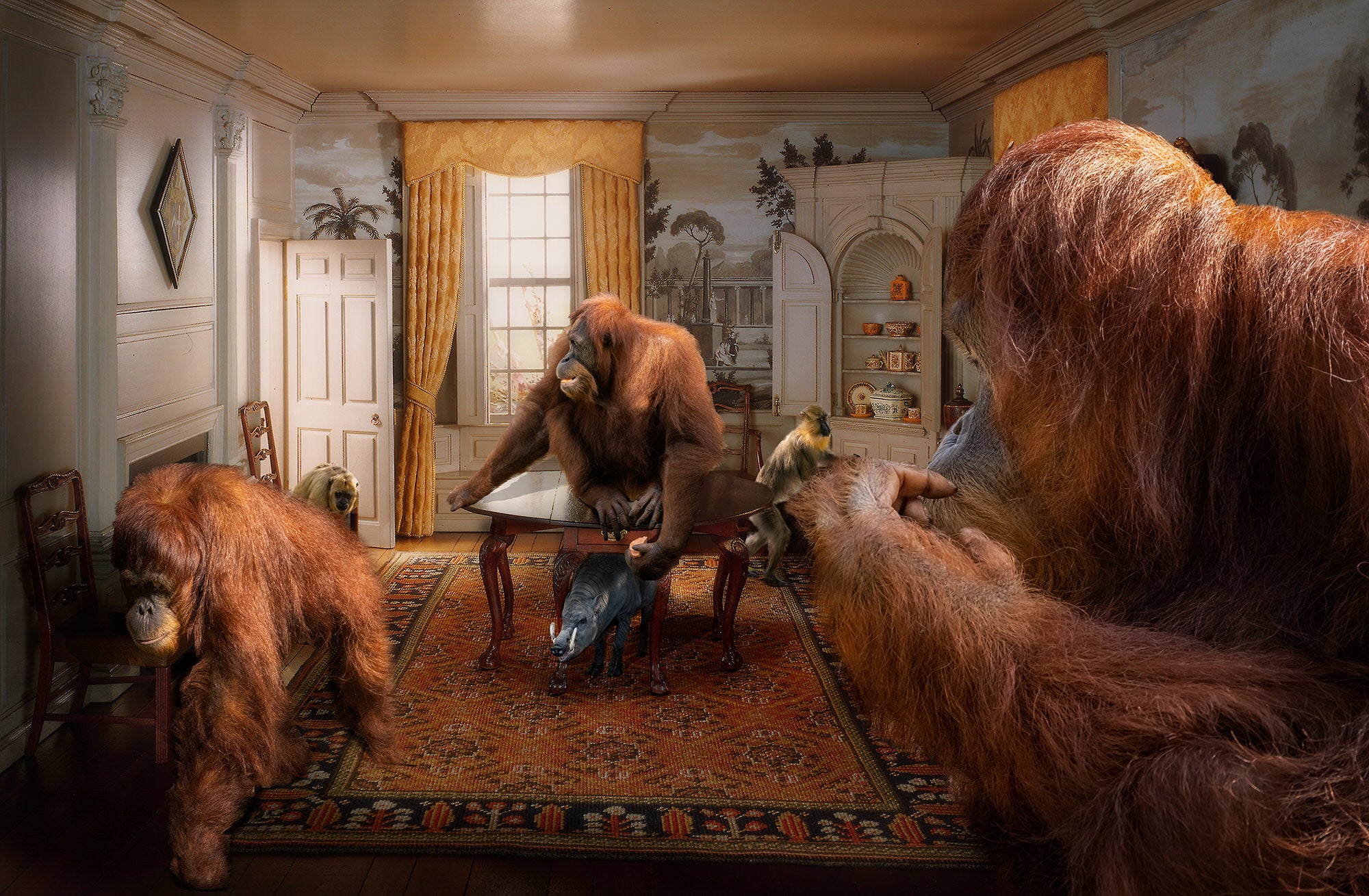 Composite Image by Lisa Frank. Sumatran Orangutan (Critically Endangered), Babirusa (Threatened), Mandrill (Vulnerable). New Hampshire Dining Room,1760, c. 1940.
Artistically I have chosen to use a wide range of animals but have wanted to particularly highlight animals that are facing survival issues. When I took the photos, I looked for animals that I might easily transpose – in particular they needed to have feet! I also knew that if they were evenly lit it would be easier to find a home for them within a composited image (the hot Texas sun was a bit challenging because of harsh shadows). I have experimented with transforming the images so that they look like they're relics from some by-gone event, but decided to go with an approach that used a unifying soft focus that was without textural effects.
At each zoo I found myself mesmerized by the animals. There were the Modigliani-like faces of the Sulawesi Crested Black Macaques in Memphis and the two young elephants rough-housing in deep water while Tonya, the mud-caked matriarch showered. There were baby flamingoes that looked like grubby puffballs next to their elegant elders; an ostrich that noisily reprimanded a curious gazelle; a chimp that asked its audience to clap along. There was the dramatic kettle of vultures airing their outstretched wings amidst a pair of white rhinos and the family of Sumatran Orangutans with their little ones somersaulting and beaming toothy grins.
And yet I'm aware that zoos are complicated places. Although they ideally exist to educate and preserve, even the best zoos are based on coercion and captivity. I know that my wonderment comes at the expense of the animals' confinement. Although fully alive, they are partitioned off, living half-wild, half-domesticated lives. I walk quickly by the animals that are confined in old-school cages. I grow uncomfortable observing polar bears that pace wildly, five steps to the left, five steps to the right. I don't want to be complicit in lives reduced to a metaphoric treadmill. I don't want to participate in suffering.
For the most part, my experiences were positive with plenty of wonder-filled moments. I'm aware that creating a rich life for zoo animals is a complex and enormously expensive task. What is undeniable to any observer is the breathtaking diversity of life on display. Zoos seek to meet the deep need to help preserve it. Connecting to the wild can give zoo visitors an incentive to support stewardship of our planet and that is a terrifically important role to play.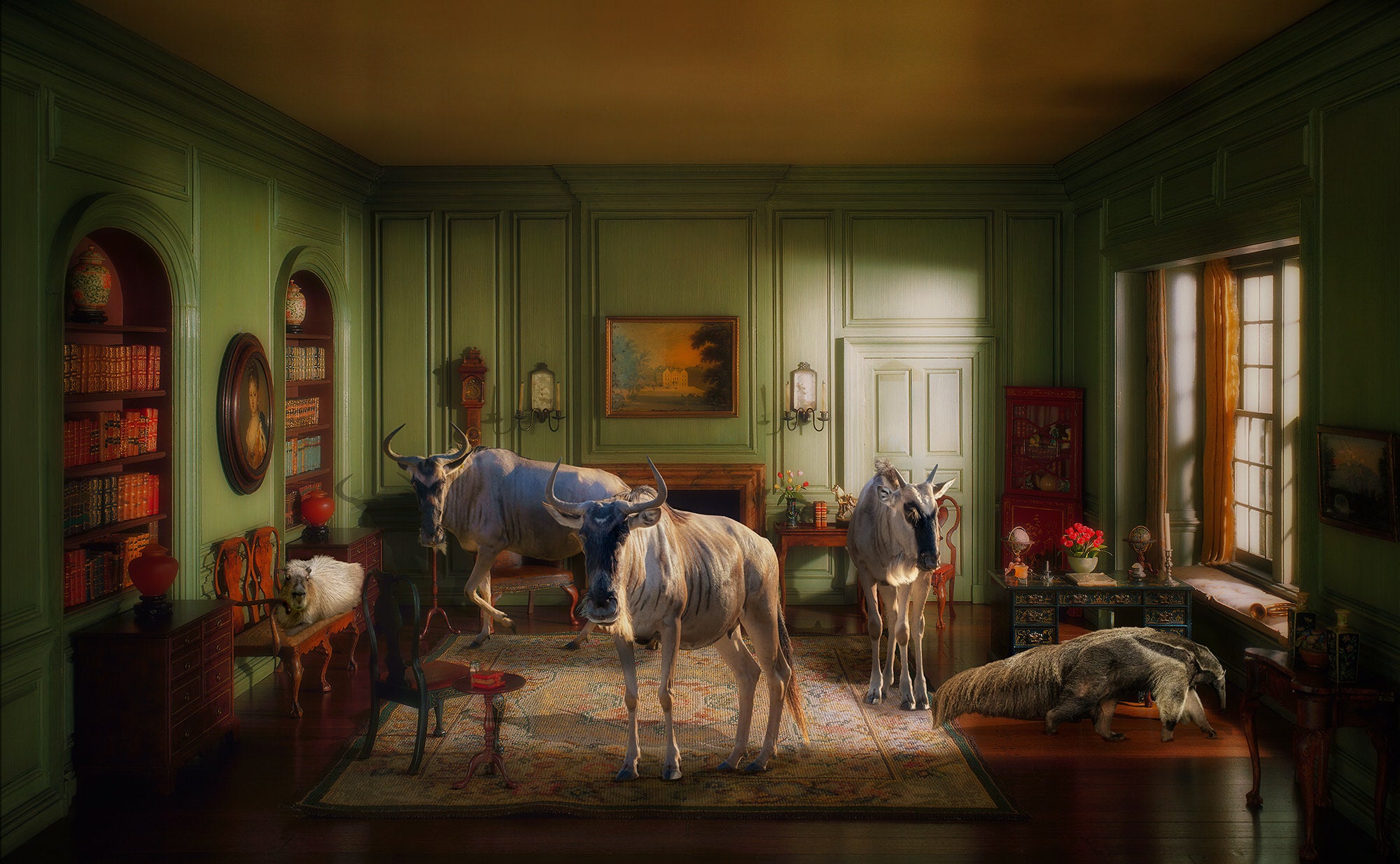 Composite Image by Lisa Frank. Wildebeest, Capybara, Giant Anteater (Vulnerable). English Library of the Queen Anne Period, 1702-50, c. 1937.
The final images portray drama both familiar and unfamiliar, humor, strangeness, boredom and all too much togetherness. I want to acknowledge the assistance I received from my sister, Leslie Frank, who helped mask the hundreds of photos prepared for use.
See more of Frank's work on her Alpha Universe profile.