Mike Karas (@mike.karas) is a freelance and hobbyist photographer who likes to explore and create images all over the world with his Sony camera. When traveling, Mike likes to capture the same spot in a variety of ways to bring the scene to life and get a unique image. He did just that during a past trip to Japan where he made a beautiful photo of Mount Fuji, cherry blossoms and a pagoda. Instead of just checking a box and moving on when he's made a picture, Mike likes to really move around with his camera and lens to explore and uncover new possibilities. We spoke with him to learn more about how he created his final image below and how he works a scene to create unique and lasting memories of his travel experiences.
Travel and adventure photographer Mike Karas details the different ways he composes and captures a scene.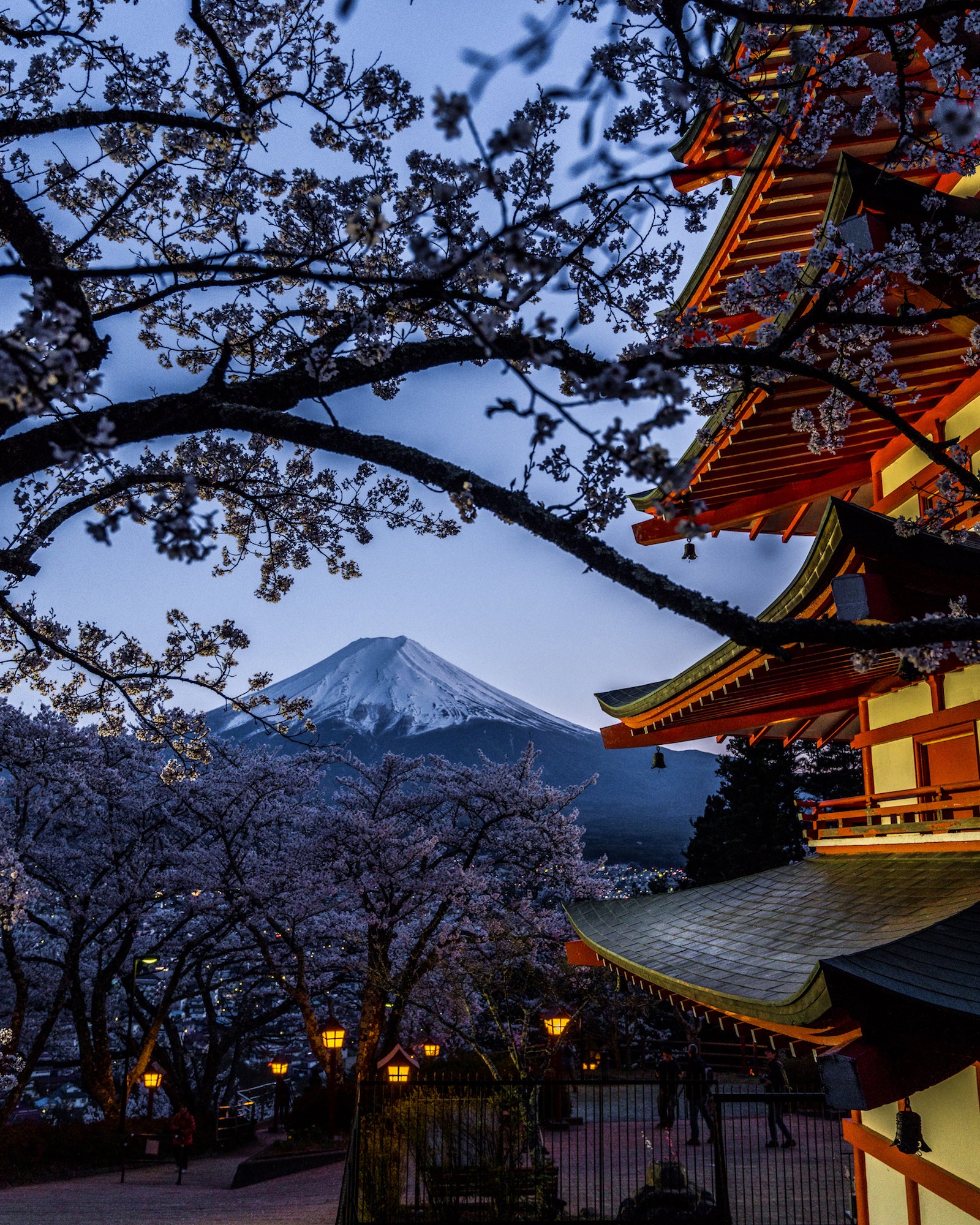 Photo by Mike Karas. Sony α7R III. Sony 24-70mm f/2.8 G Master. 1/80-sec., f/4, ISO 800
Location & Inspiration
"Back before the pandemic, I was traveling to Japan to catch the cherry blossom season, and meeting up with some other friends who were also photographers. I had booked my tickets for the middle of the cherry blossom season, but the season arrived at least two weeks early. So when I got there, the only place that still had them in bloom was over by Mount Fuji. We took the train and hiked up steps to this spot for sunset. We were probably there for about an hour to two hours taking photos, golden hour through blue hour."
The Gear
To capture the scene, Mike relied on one of his main camera & lens combinations: the Sony α7R III and Sony 24-70mm f/2.8 G Master.
"The α7R III is my workhorse camera that I use all the time and what I used to capture this camera. The autofocus on it is really, really nice, as is the low light ability. I also like that the camera has a larger photo file size with all of those megapixels, so I'm able to crop things or to blow things up if I need to. It just captures a lot of detail that gives you more to work with. The other nice thing about this camera is its ability to have a larger buffer and use the higher speed memory cards. It's just more powerful and more capable."
"As for the Sony 24-70mm f/2.8 G Master, it's one of the two main lenses that I use. I really like that it's relatively wide angle, but also has the ability to zoom in and crop and compress things more. The other lens that I use is the 16-35 f/2.8 GM, but the 24-70mm allows you to kind of compress some of the foreground more into the image with the higher focal length. It enabled me to make Mount Fuji appear bigger in the photo, along with still capturing the foreground with the pagoda and cherry blossoms."
How He Got The Shot
"For this photo I took advantage of the camera's ability to use a higher ISO, while still keeping the image clean and without objectionable noise. That's a major benefit of using the α7R III for me," says Karas. "It was a little breezy that evening, so I was shooting at 1/60-sec to try not to get any motion blur within the blossoms."
"When we first got there, we were just getting some tripod shots, but as the light was starting to fade, I was trying to capture as many different photos as possible. It's a lot easier for me to run around shooting handheld versus using a tripod. So I switched to handheld and cranked up the ISO to shoot in the diminishing light of blue hour. I kept moving around to capture compositions from different angles to create the scene, and to have plenty of choices when I go back to review them."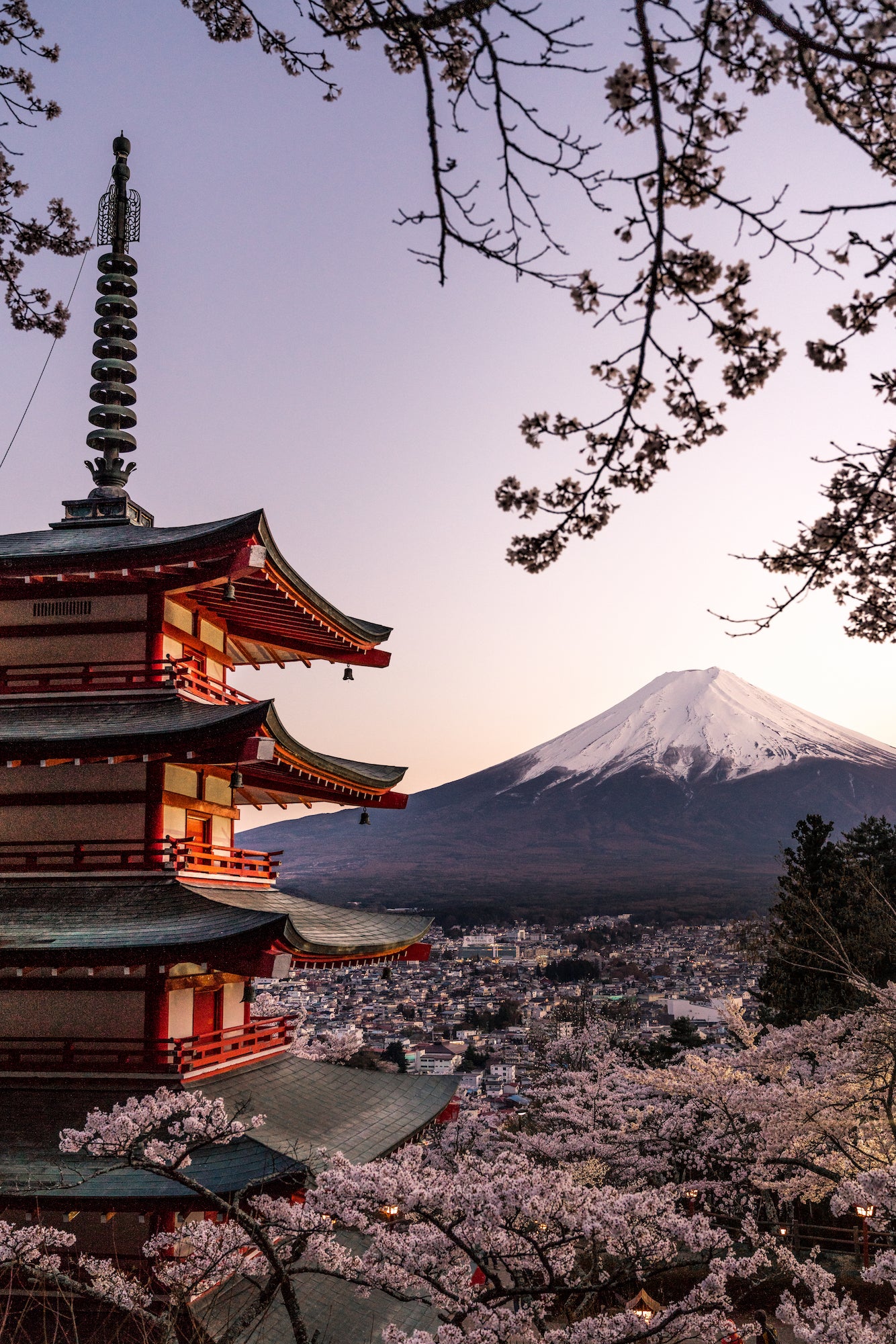 Photo by Mike Karas. Sony α7R III. Sony 24-70mm f/2.8 G Master. 1/80-sec., f/6.3, ISO 500
Creating Different Compositions
Moving around to capture different compositions is something that Karas makes a point to do when traveling, especially to scenic and popular spots.
"I'm always trying to work on this, but sometimes when you get to a location, there's one image of it that you've seen before," explains Karas, "and that's the composition you want to get. It's instilled in your mind because you've seen it. A ton of people will visit the same spot and sit there for 30 minutes trying to get that one perfect shot of the same place. Whereas for me, I'll try to set up and get that one shot at that right moment, but as soon as I've done that, I'm running around trying to create other compositions."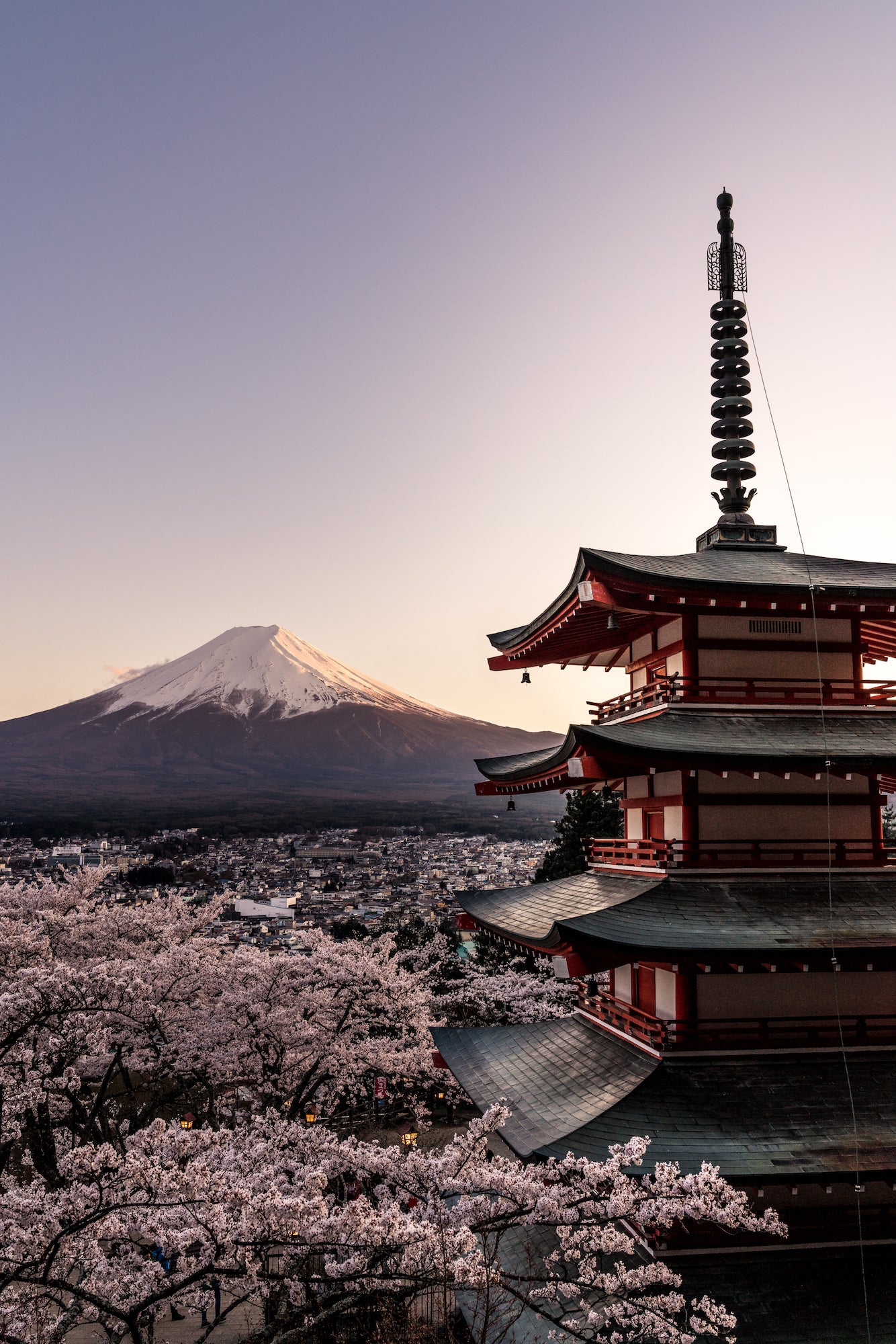 Photo by Mike Karas. Sony α7R III. Sony 24-70mm f/2.8 G Master. 1/125-sec., f/9, ISO 400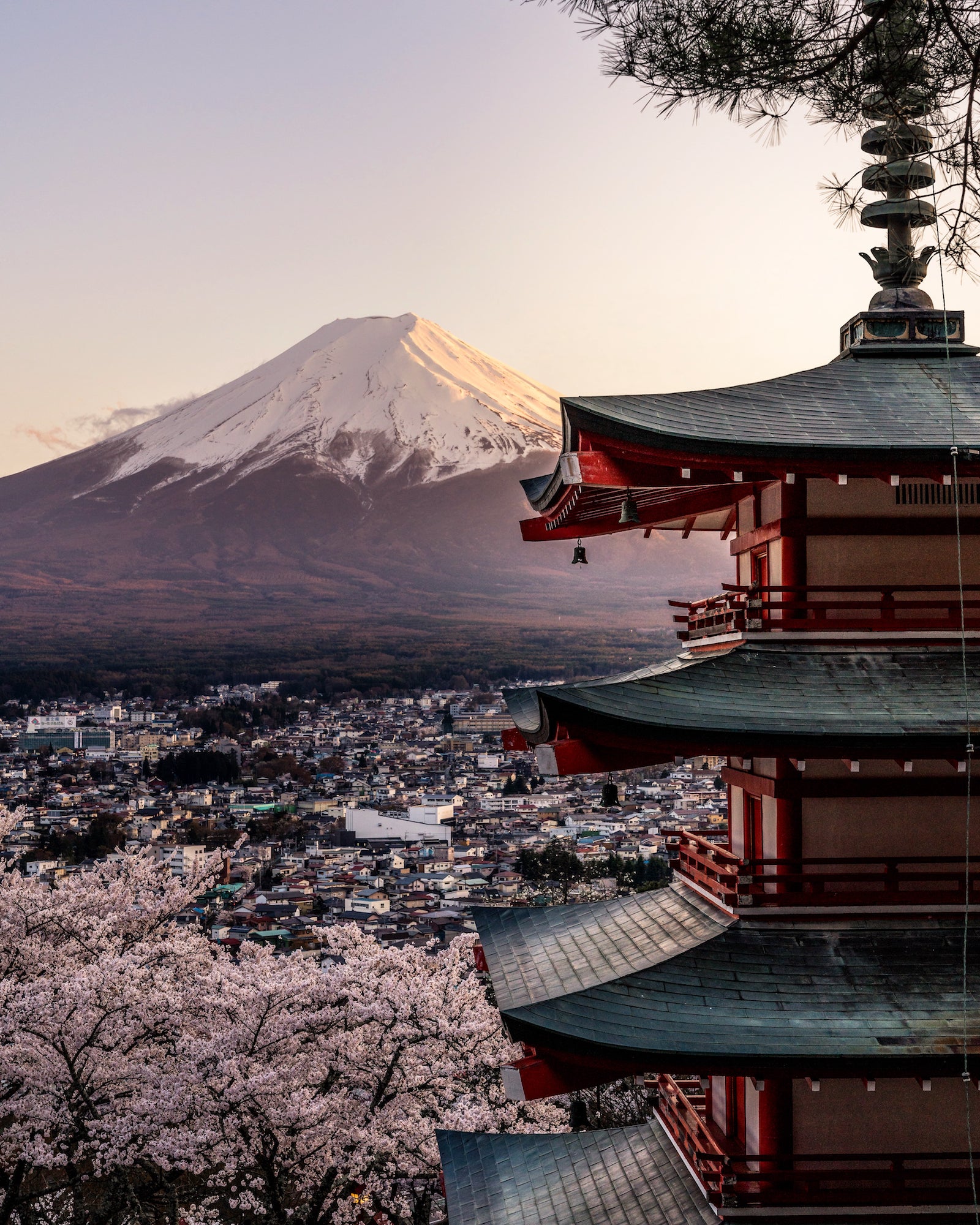 Photo by Mike Karas. Sony α7R III. Sony 24-70mm f/2.8 G Master. 1/125-sec., f/9, ISO 400
"If you stand in one place, you're really only going to get one or two shots. But if you move around, you may see different angles and positions that you hadn't originally thought of prior to visiting the location. So before I go somewhere, I'll do a ton of research on the spot and have a few different compositions in mind that gives me a baseline. One of my favorite things to do is really walk around on my own once I get there to try to find things that are maybe new or you just don't see a lot of. It's just a chance to try to be more creative rather than emulating everybody else."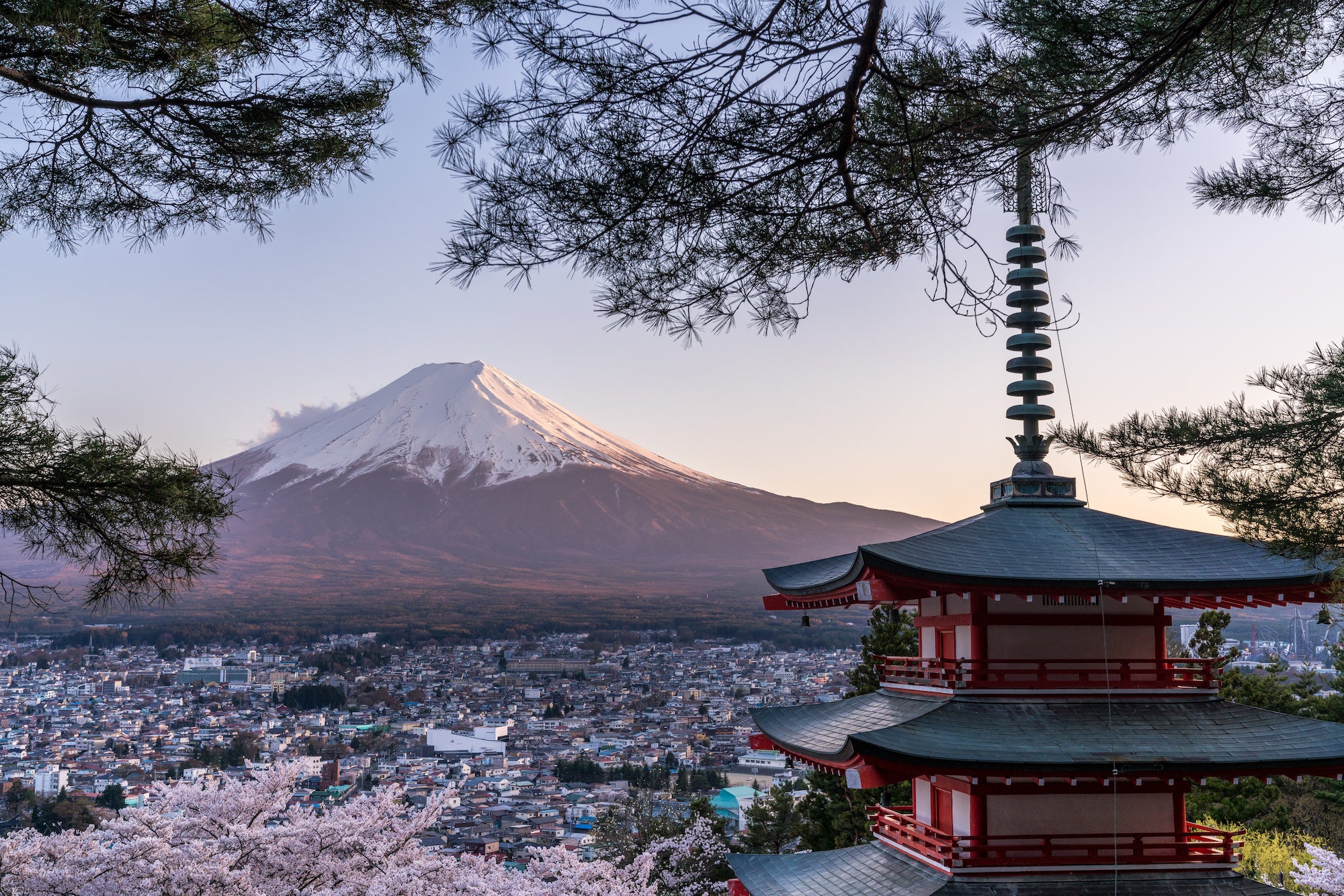 Photo by Mike Karas. Sony α7R III. Sony 24-70mm f/2.8 G Master. 1/80-sec., f/9, ISO 200
Post-Processing
"I try to edit my photos and more of a natural style. I don't edit different colors and tones. My photos might tend to have a little bit of a cooler feel to them, but for the most part I'm trying to get it as close to what I saw with my eye as possible. When I go into post-processing I'm typically just using Lightroom and I'm trying to balance that image out. For this main shot I brought out the shadows a little bit and brought down the highlights to make sure that the background wasn't too blown out and looked good with the foreground."