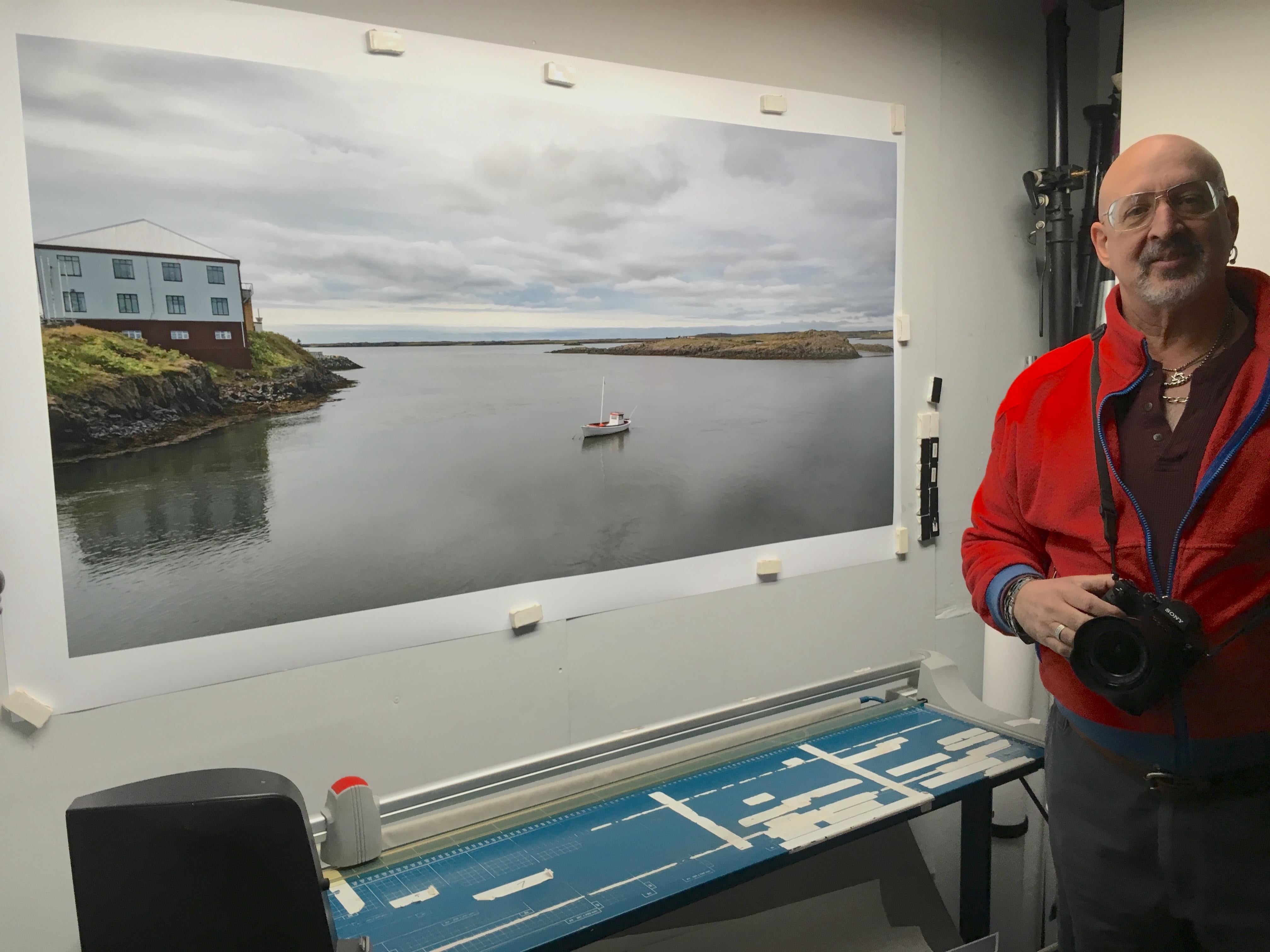 Mark Forman standing beside one of his 30 x 60 Super Landscape Format Iceland prints from the Sony α7R II.
By Mark Forman
I have dreamed of a day when I could find a camera that could match my 55 years of experience of making images come alive for audiences. My first experience with photography was shooting the raising of a flagpole in summer camp when I was nine years old with an Ansco 620 box camera. The second camera I used was my father's Polaroid which at the time seemed magical in the 1960s. I then got a taste of cinematography with a 16mm Ciné Kodak Model E shooting a building as it was being imploded in Boston in the early 1970s. This sparked my interest in getting a better camera. A Canon FTb SLR was followed by a Canon AE1 and then an Olympus XA which I used for 20+ years in my travels across the USA and Europe building a portfolio of mostly 35mm slides.
With that portfolio, I applied to the NYU Film School and was accepted into the BFA program in 1981, specializing in cinematography. By1984 I won an award for Best Cinematography at the NYU Film festival. I then was accepted into the NYU Tisch Graduate Film School and stayed with the motion picture industry and in 2001 I decided to add digital still photography to my motion pictures and television cinematography.
By December 2008 I became the first person to have shot a paid Motion Picture segment with a DSLR for a feature film "Notorious" with the then novel Canon 5D Mark II. That camera showed me the potential for shooting motion with a relatively small still camera with a relatively large image sensor, but it was not as easy as it would become five years later with the introduction of the Sony α7- series mirrorless cameras.
Digital stills for me are very liberating as working in a darkroom was never on my list of likes. Instead, I work on a computer and see out my 14th story window at the same time. I used both the Nikon and Canon DSLR systems and when Sony introduced the Alpha series of cameras, I purchased the original α7R.
After a few hundred thousand stills and videos with DSLRs and now mirrorless cameras I feel very comfortable with these systems and I feel that I can create my art at a level that what I produce has becomes worthy of very large fine-art reproduction.
In the late Summer of 2015 I went to Iceland with Sony α7R II cameras and Sony lenses. From that trip, I decided to print six 30 x 60 inch prints in what I refer to as cinema landscape mode (a ratio of 2:1) I also produced an 18-minute slide show of 165 images.

The α7R II was the right camera for this project. Making big, fine-art prints requires more than just adequate pixel dimensions. The sensor has to be able to deliver dynamic range so that highlight and shadow detail can be seen properly. This is one reason why a huge megapixel count smartphone yields a lousy-looking large print. There are enough pixels, but insufficient dynamic range captured by the sensor. The α7R II gives me 14-bit uncompressed raw files and the Adobe 1998 color space and 14 + stops of dynamic range.
With every shot, I press the shutter only when I feel my emotions and the framing is right and never have I ever used the rule of thirds. Of course I make sure that my camera is set up correctly and I always edit the images in a photo editor working on tonality, highlights and shadows, paying attention to the dynamic range captured by the the camera. That's one of the key benefits of the α7R II and why I moved to Sony.
The seven-day trip to Iceland was planned with less than two weeks to go in mid August of 2015. We planned to tour the areas within 150 miles of Reykjavik our hotel home base. We decided to rent a car at the airport which in Iceland is the best way to tour when photography is concerned. It made it easier for us to be on our own schedule or stop wherever we pleased. We purchased a SIM card for the smartphone with a data plan which allowed us to use the GPS as well as communicate and stay connected. Remarkably we never experienced poor mobile service during the entire trip. There is more to do than one would expect within a very short distance of Reykjavik with many waterfalls and volcanic features to explore as well as the pristine North Atlantic coastlines. The one thing we did not get was a lot of sunshine. However, when the sun was out it was low on the horizon due to the northern latitude and this makes for very dramatic shadows and clouds lit from below—all very cool things for photography.
I want to thank my partner Jeffrey Genjian who helped out tremendously with taking shots of me working and also holding down the tripod in the wind and carrying equipment across Southwest Iceland.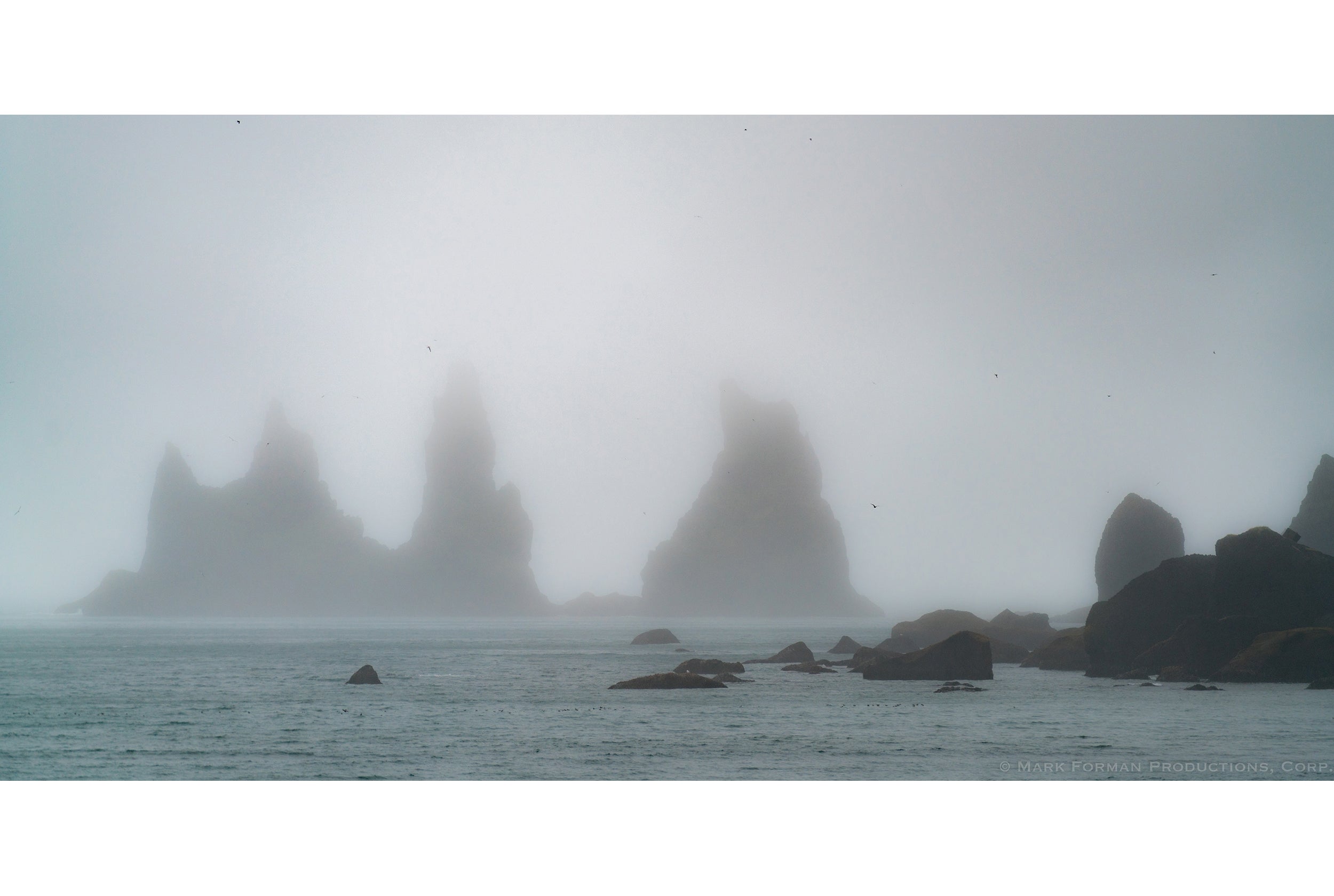 Above: A foggy overcast and rainy day greeted us in Vik, where I saw a chance to capture this magical image. The wind was picking up but I shot the famous volcanic spires with handheld. Sony α7R II, Sony FE 70-200mm f/4 G OSS lens.f/4, 1/500-sec., ISO 200.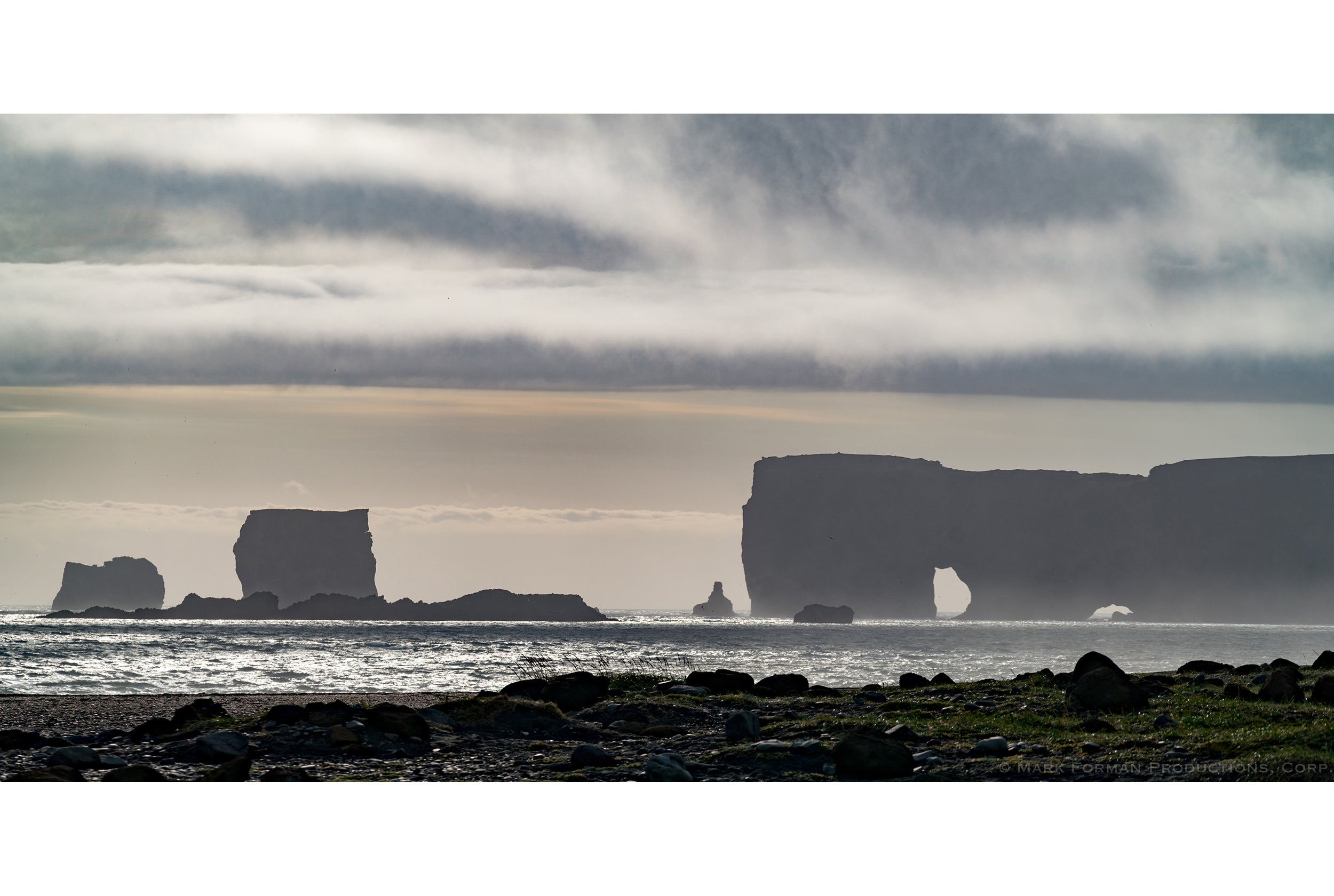 Above: The fog began to lift in Vik, where I saw a chance to make this dynamic image. The wind was still strong and the Optical SteadyShot in the lens really helped. Sony α7R II, Sony FE 70-200mm f/4 G OSS lens. f/7.1, 1/1000-sec., ISO 100.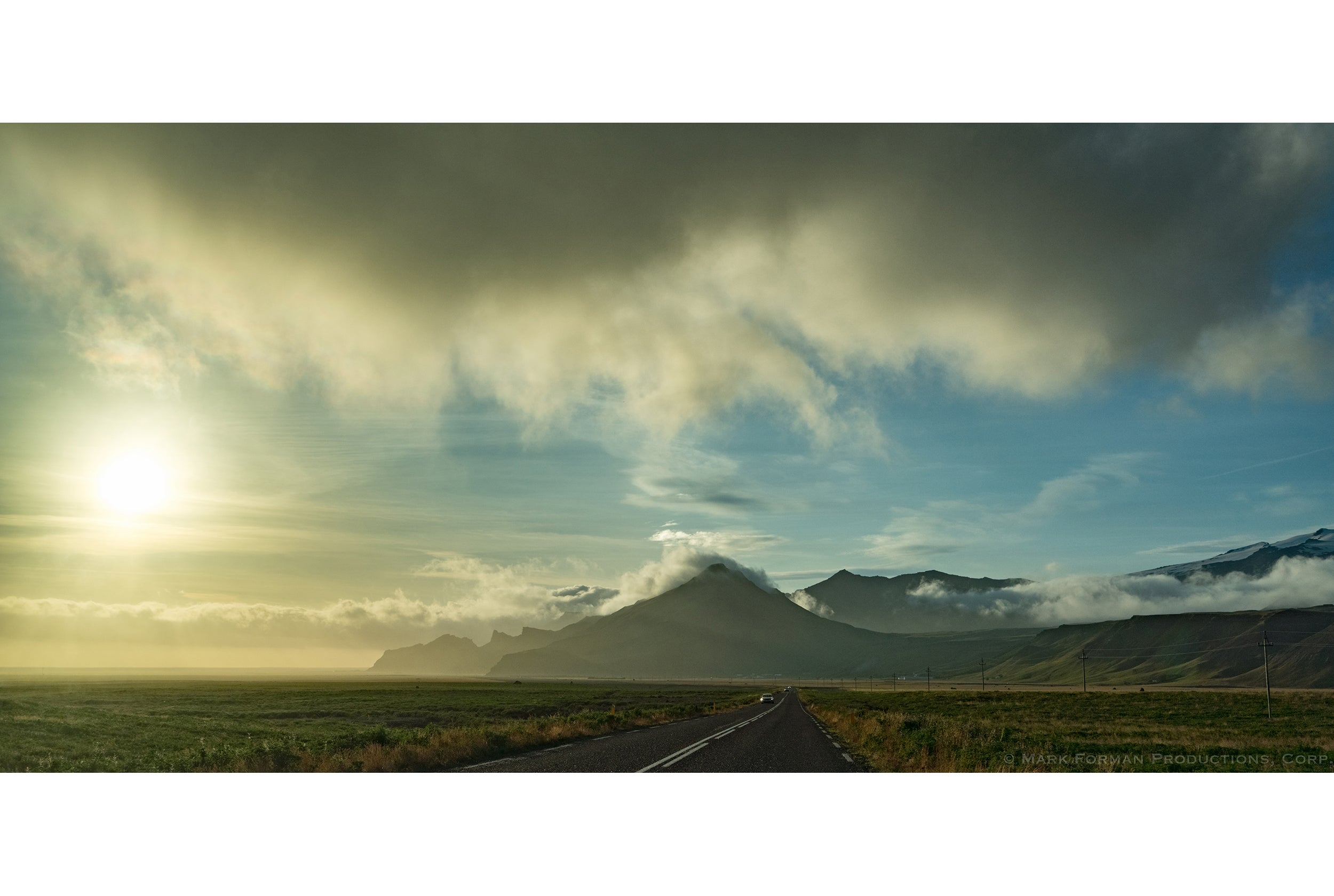 Above: I shot this one through the windshield (1/2500th second) as we drove West along the ring road back to Reykjavik. It's another example of being able to bring out the dynamic range in post-processing. The camera's 14 stops really helps! Sony α7R II, Sony FE 16-35mm F4 ZA OSS lens. f/8, 1/2500-sec., ISO 800.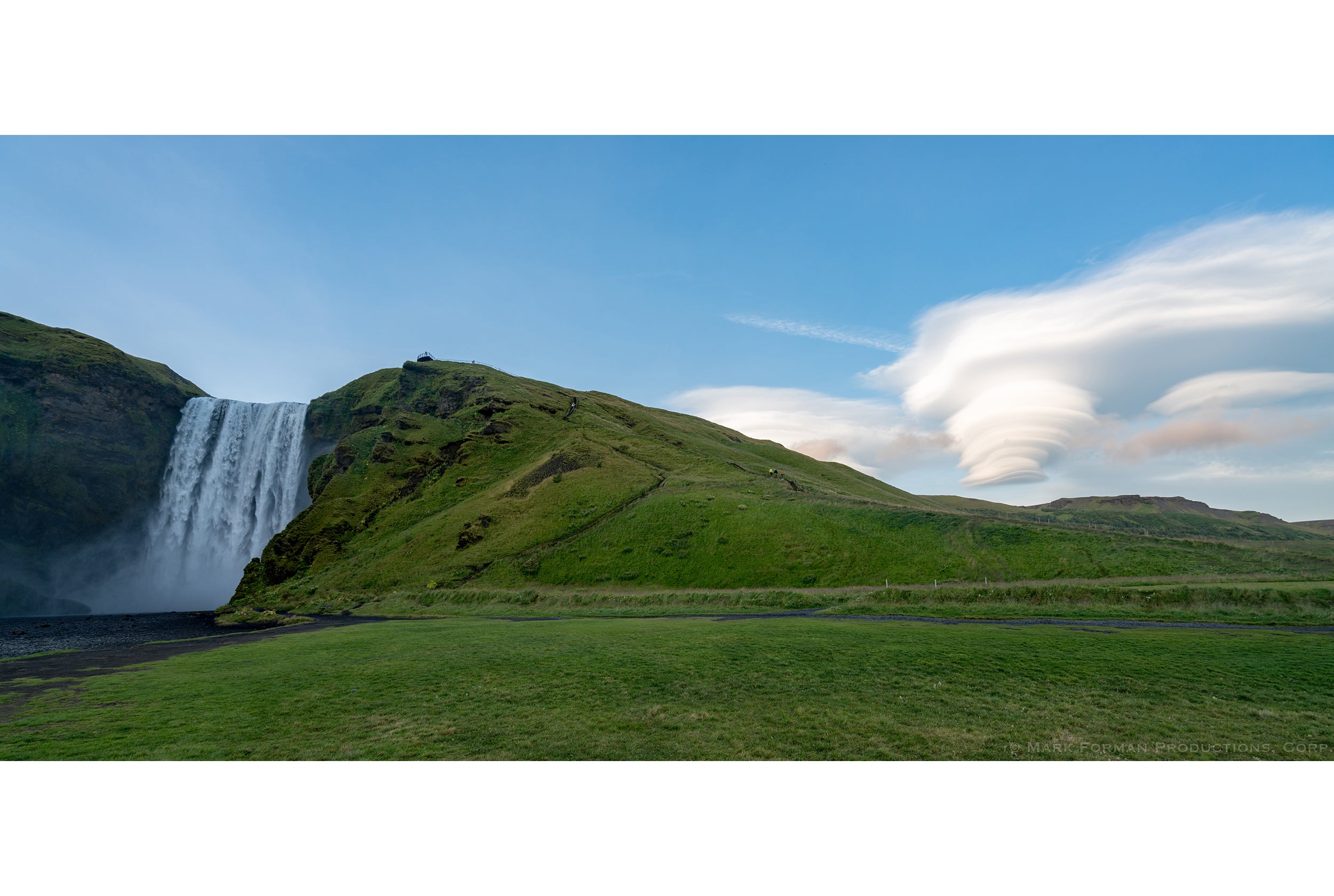 Above: Yes, the famous Skogafoss waterfall and lenticular cloud are in the same shot. The long shadow across the falls was brought up in editing while controlling the clouds' highlights. Sony α7R II, Sony FE 16-35mm F4 ZA OSS lens. f/5, 1/100-sec., ISO 100.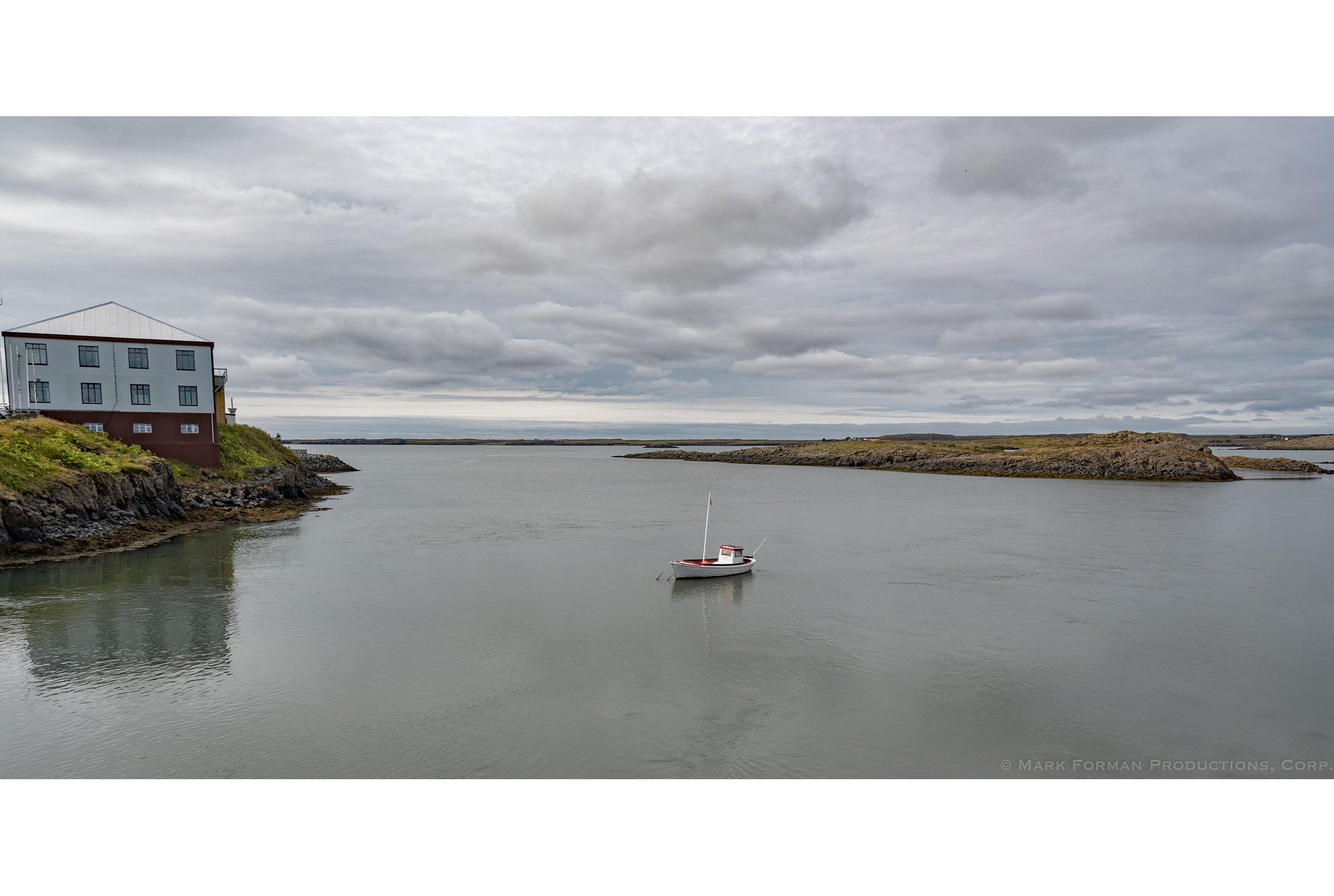 Above: Balancing the clouds and the calm water makes for this serene image at Borgarnes, Iceland. Sony α7R II, Sony FE 16-35mm F4 ZA OSS lens. f/8, 1/250-sec., ISO 100.
Making The Prints
I work with Ryan Speth who has many years experience with large scale printing with many well-known photographers. Ryan told me that he feels that the Sony α7R II rivals a 4 x 5 camera in resolution and that print tonality is amazing. He has been invaluable in helping me make very large museum-quality prints. My images are 30 x 60 inches in size. Ryan feels that the α7R II has the tonality and dynamic range necessary to produce a stunning print. While some will pixel-peep large prints, examining them from a few inches away to point out minute sharpness issues, that misses the point of making a large print designed to be viewed from an appropriate viewing distance. What does matter is colorimetric and dynamic range which can be seen at any distance from the print. That Sony has done incredibly well with the α7-series cameras.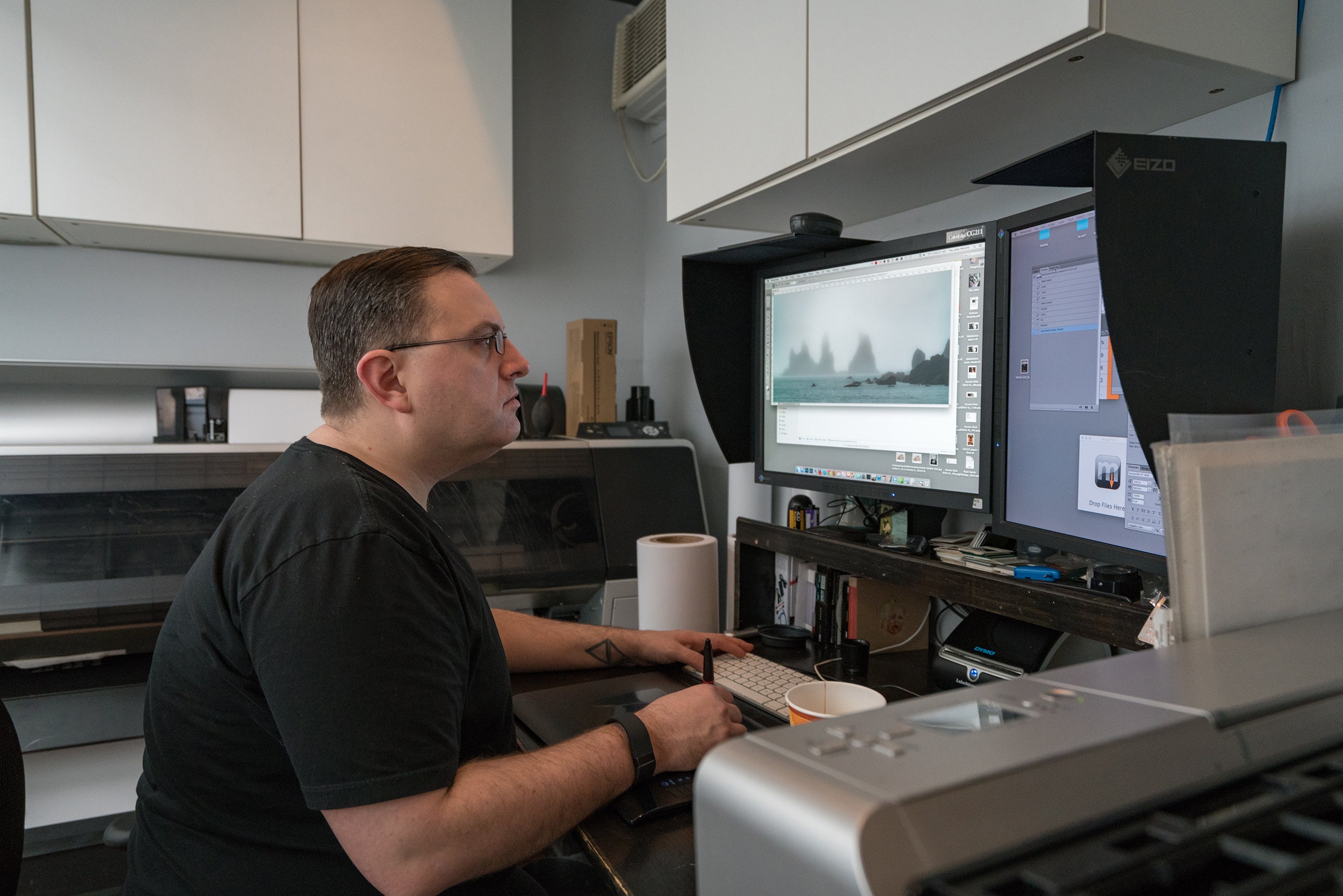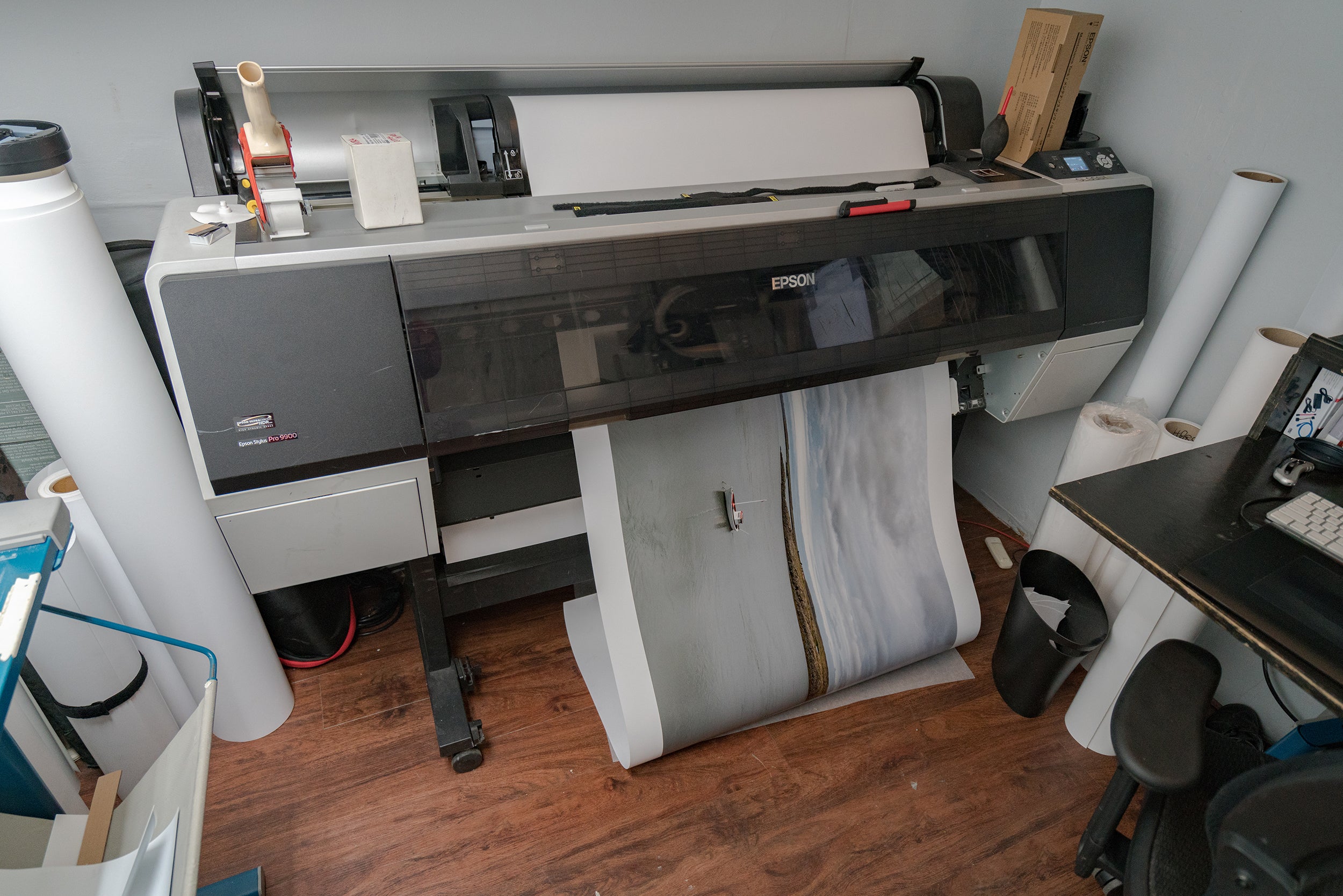 I prepared the images in Lightroom and then output them as 200MB 16-bit psd files and sent them to Ryan via FTP. He then crossed-checked the images with me and in the cross check we found some issues with one minor dust spot on one image. We also found some motion blur in one shot I decided to use another photo in that case which actually worked out for the better.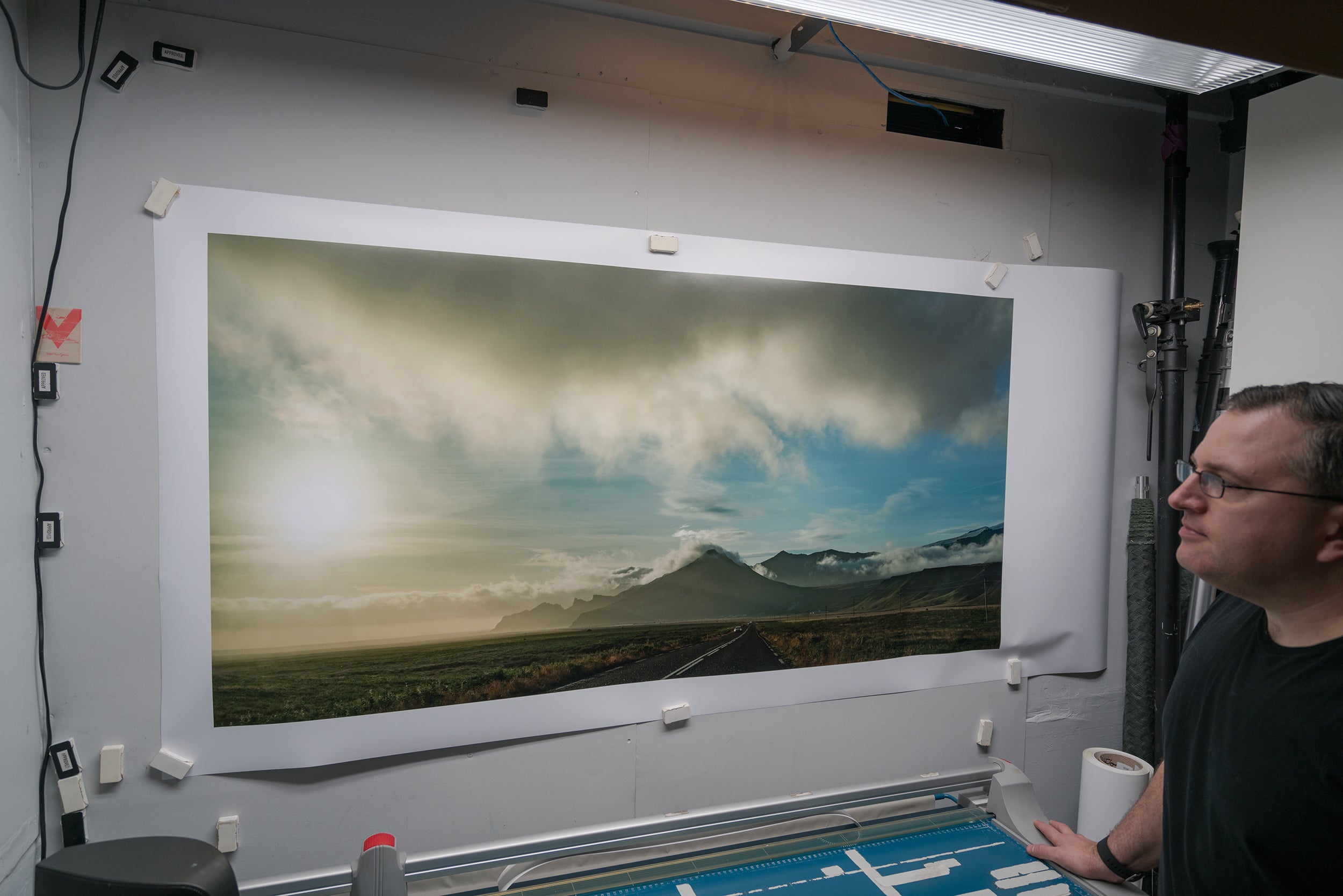 Creating The Slideshow
I edited well over 3000 images down to 165 over 6 weeks yielding an 18-minute show of about 6.5 seconds per image. I believe in keeping my transitions to simple dissolves as I feel it is the images, not the effects, that make a good show. I also believe in not using the overused "Ken Burns Effect" for the same reason. My motion picture experience also played a role in putting the show together where I used both Lightroom and Final Cut Pro X for the edit.
Another factor in the presentation is that the resolution of the show is 4K (3840 x 2160) and HD for presentation online. Selecting the music for the show is the most difficult thing sometimes. I was lucky in one way and found some music that fit perfectly from a well know music shop in Reykjavik called 12 Tonar. They gave me permission to use the music. However when I returned to New York I wanted to confirm permission and found out that international rights were another story. I am still working on getting this issue settled.
A Few Thoughts About Dynamic Range, Tonality and My Workflow
A shot where you can see into the shadows and the highlights at the same time is not easy to achieve when both printing the image and preparing an online show as each has its own final output needs. 14-bit cameras with more than 14 stops of dynamic range made it possible for me to produce both easily. I prefer to shoot in uncompressed raw. I usually expose slightly conservatively preferring not to overexpose my highlights, especially clouds, where I can pull lots of detail later. The Sony α7-series cameras allow me to bring up the shadows without adding noise when I shoot this way. I have also experimented using S-Log 2 for stills and have been able to pull up a shot to a remarkable degree in post production.
I use a calibrated 4096 x 2160-pixel 31-inch 10-bit monitor in a room with controlled lighting and an image editor that allows me to control the entire image. I always shoot with no sharpness applied until it is actually needed for the final export depending upon the usage–an image file destined for a large print gets different sharpening than an image file destined for an online 4K slideshow.