For Dan Marker-Moore (@danorst) and me (@mmeyers76), the idea to shoot the July 2, 2019 eclipse started just shy of two years ago – more specifically on the afternoon of a late-August day in 2017 just after the last eclipse passed over the skies of the United States. A partial eclipse could be seen in Chicago (where I live), but the sun was high in the sky and cloud cover was heavy, especially during totality. The path through California (where Dan lives) was only a partial eclipse as well. We both got a few shots, but we wanted more so we set our sights on the next one – a few hundred miles north of Santiago, Chile on July 2, 2019.
One of the things that makes this year's eclipse in Chile so special is that it takes place just before sunset. The moon will pass in front of the sun while it's low in the horizon, creating an opportunity to capture this incredible event in the same frame as the Chilean landscape. Now we just had to figure out exactly which locations would make for the best compositions, and have a few backups in case things didn't go exactly as planned.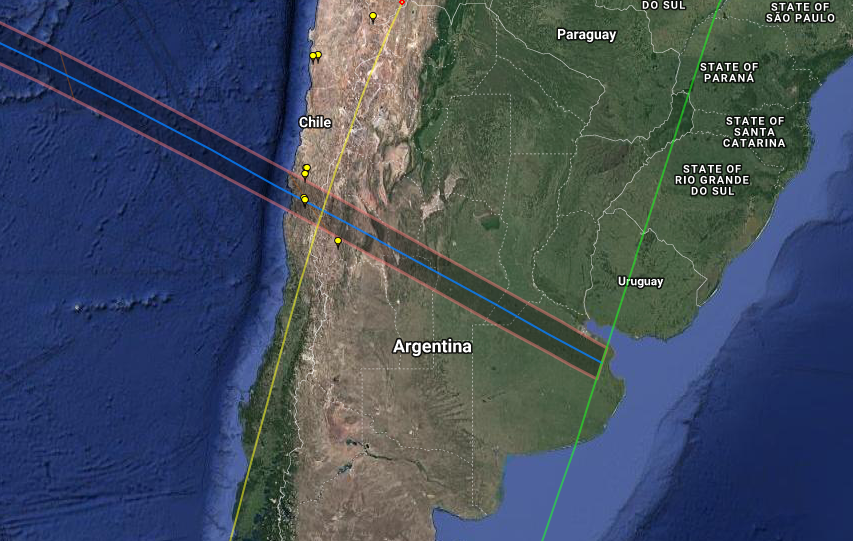 Map created by Xavier M. Jubier
Putting the Plan Together
Shooting an event like an eclipse takes a lot more planning than shooting most other subjects. You only get one shot. Totality lasts only two minutes and there are no do-overs, so you have to have a game plan (and several backup game plans) to ensure you best prepare yourself for any unforeseen circumstances.
First was scouting locations. We decided that the Cerro Tololo observatory should definitely be in the mix. It has a great astrophotography environment, sitting high atop the mountains of the Elqui Valley, and would also make for some dynamic compositions that included the observatory in the same frame as the eclipse.
Also making the list was the coastal town of La Serena, which sits inside the path of totality. We scouted several landmarks in the area that would make for interesting compositions and found a lighthouse right on the water with a perfect alignment with the arc of the setting sun.
The area between Chile and Argentina is rich with beautiful landscapes, farms, mountains, rivers and lakes that would serve as a perfect foreground to frame the eclipse. We scouted several locations along the countryside as well, and feeling confident in our choices, began planning out exactly the kind of shots we'd want, and how we'd go about capturing them.
Getting the Shots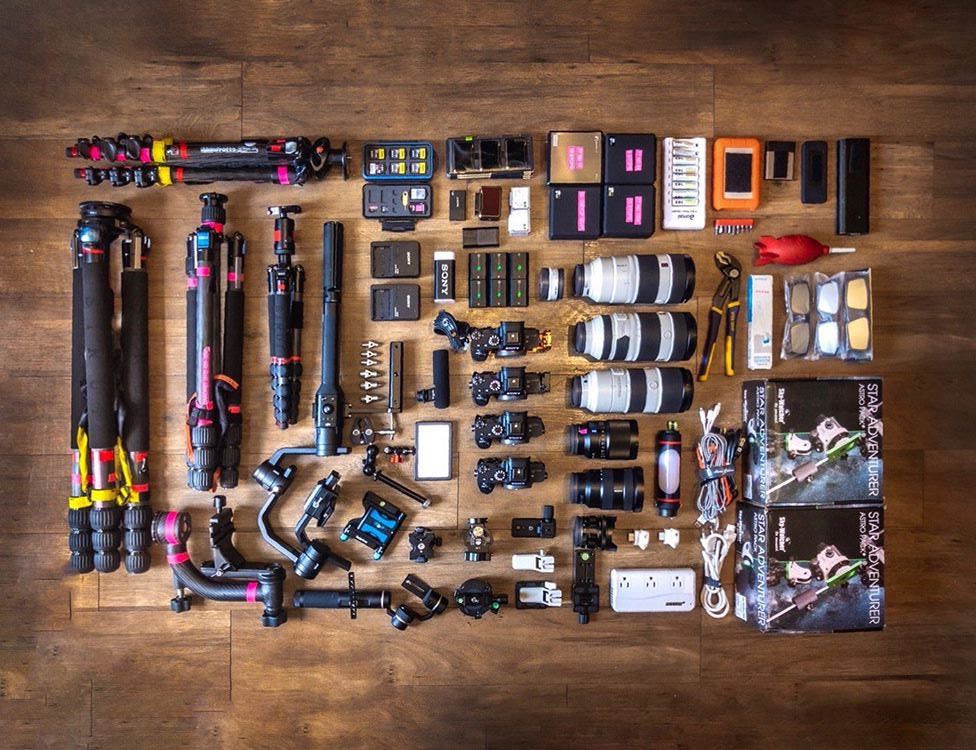 Dan Marker-Moore's Gear For The Eclipse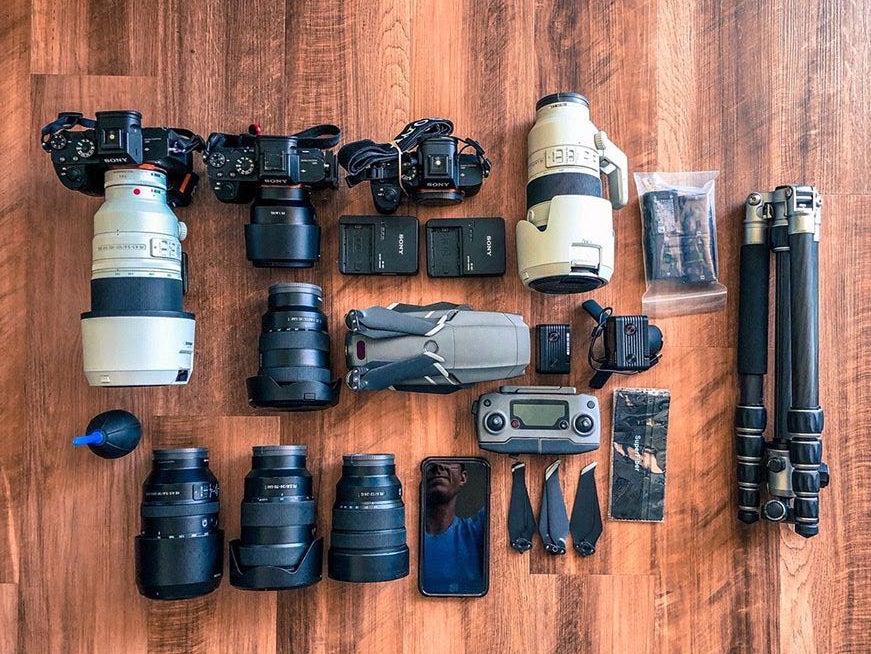 Mike Meyers' Gear For The Eclipse
The goal is to create the kind of imagery and video that really brings people along for the ride and helps elicit the emotion and excitement that comes with viewing an event of this magnitude in person. Another key element of this is to show the kind of detail the human eye simply can't get. Here's how we will be capturing it:
Setup 1: Close-up three-hour timelapse of the entire eclipse event.
Camera: α7R III

Lens: 100-400mm f/4.5-5.6 GM

ND Filter: 10-stop

Additional equipment: Star tracker
This setup will capture a close up of the sun as it progresses through the sky for a three-hour period (3-6:15pm), from roughly 20 minutes before the eclipse starts through a half hour after sunset. This will be shot slightly underexposed to try to control the highlights as much as possible. The corona will not be visible from this setup.
Setup 2: Close-up timelapse of totality.
Camera: α7R III

Lens: 100-400mm f/4.5-5.6 GM
This capture will also be a close up of the sun, but unlike Setup #1, will be a locked-off composition (not using the star tracker) and only capture the period of time just before and just after totality. Because so much of the sun will be obscured at this time (4:35-4:45pm) in the eclipse, we will be able to safely capture images without the need for an ND filter. Shooting slightly over exposed will capture more detail in lower light than setup 1. This exposure will produce a detailed timelapse that does capture the corona.
Shooting very similar compositions with two bodies and different exposures allows us to have the entirety of totality captured and properly exposed without the need to change exposure on a single camera or remove ND filters.
Setup 3: Close-up video of totality.
Camera: α7R III

Lens: 100-400mm f/4.5-5.6 GM

Teleconverter: 1.4x

Mode: APSC (crop)
Totality is the crown jewel of the eclipse, and capturing the full duration of it with video and in ASPC mode with a 1.4x teleconverter will produce the most punched-in, detailed view of the corona possible. We will have a full 111 seconds of video of the corona during totality (4:38-4:42pm).
Setup 4: Wide-angle three-hour timelapse of the entire eclipse event
Camera: α7R III

Lens: 16-35mm f/2.8 GM/24-70mm f/2.8 GM (depends on composition)
As a wide-shot setup we can establish the environment, giving a good feel for what the eclipse was like as the sun passes over the Chilean landscape (3-6:15pm).
Setup 5: Capturing the environment & the crowd
Camera: α7R III

Lens: 16-35mm f/2.8 GM
We'll be capturing any crowds around us, environmental video and some BTS to give some insight into our setup and what it's like to be there for the event (3-6:15pm).
Setup 6: The roving backup
Camera: α7R III

Lens: Varied
We've been thinking about shooting this for two years. We traveled all the way to Chile. We've scouted and planned everything out. But if anything goes wrong, for any reason (someone knocks over a tripod, etc.), having a backup camera is never a bad idea.
Setup 7 & 8: Timelapse of the people and the place
We'll have two RX0 cameras locked off running timelapses to get some BTS coverage of crowds and Dan and I shooting the event.
How You Can Come Along for the Ride
We couldn't be more excited for this incredible event, and really encourage you all to follow along and be a part of it as well. We'll be doing a number of stories leading up to and during the event, and Instagram will the best way to follow real time. Keep checking our Instagram accounts and the Sony Alpha Instagram account (listed below) for behind-the-scenes photos and video. Also be sure to keep an eye on the Sony Alpha Universe site, where we'll be posting a complete rundown of the event via photos and video shortly after the eclipse. We hope you're all as excited about this as we are, and can't wait to show you everything we capture!
SonyAlpha Instagram: @sonyalpha
Mike Meyers Instagram: @mmeyers76
Dan Marker-Moore Instagram: @danorst