Jared Boaz (@jaredboazphoto) is a nature and landscape photographer who migrated to nature photography as a second career after 15 years in healthcare. "it's what I'm most passionate about," Jared explains. "I've been doing nature and landscape photography for around 18 years and my biggest growth period has been over the last 10. I learned on black and white film when I was still in high school and I switched to digital in 2005, but it wasn't until 2012 when I moved from San Diego to Northern California that I really got into it. I've learned over the last few years that leaning into smaller vignettes of nature and seeking out intricate details has really given my photography more creativity." This approach allows his photography to stand out amidst the vast number of images captured in iconic locations he visits. By isolating these visual vignettes, Jared finds creative inspiration and produces unique images. We connected him Jared to learn more about this image and how he made it with his Sony Alpha 7R V and Sony 100-400mm f/4.5-5.6 G Master with the Sony 1.4X Teleconverter. Keep reading as he explains the story behind it.
Product Preview – In This Article You'll Find: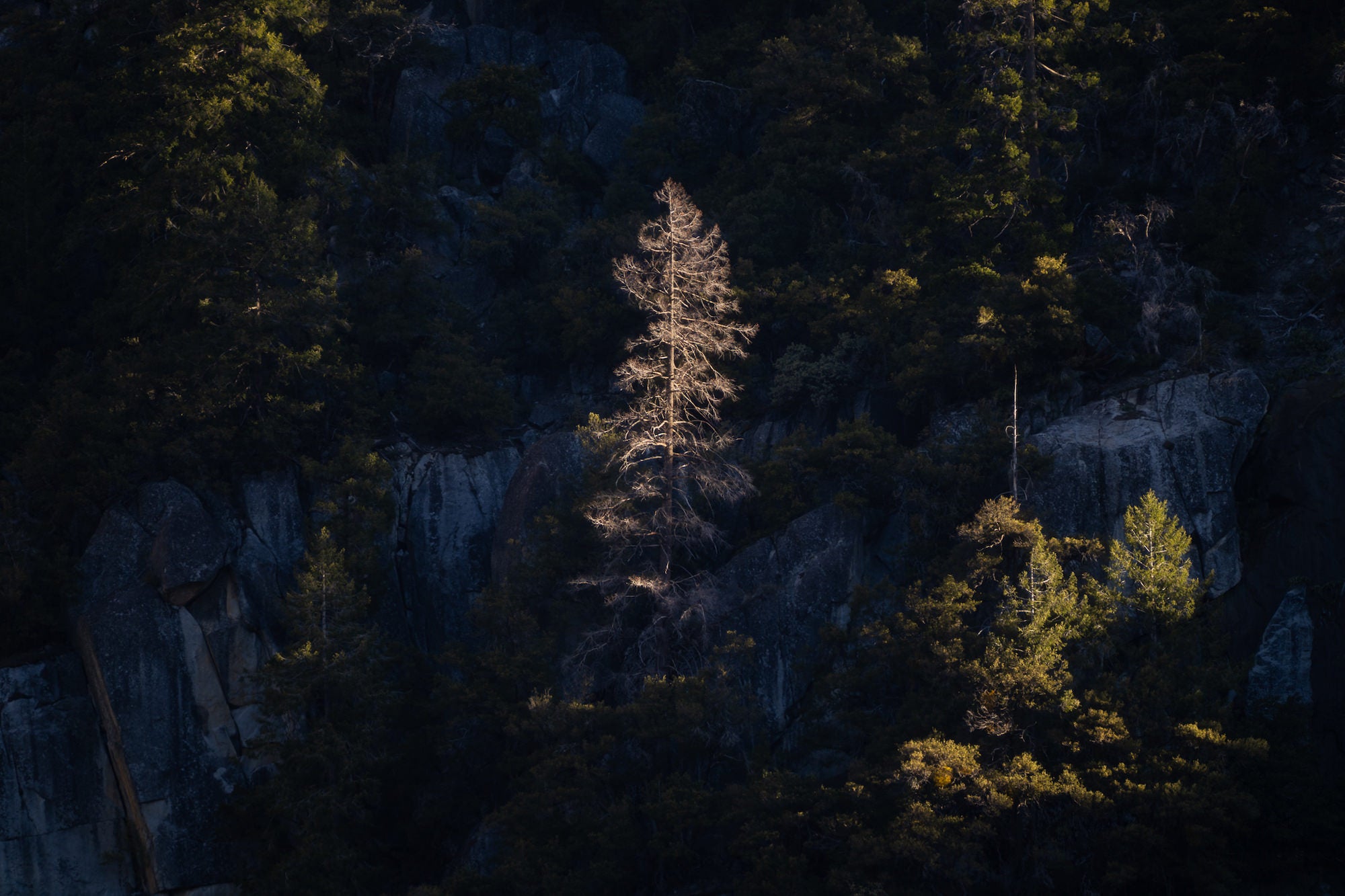 Photo by Jared Boaz. Sony Alpha 7R V. Sony 100-400mm f/4.5-5.6 G Master + Sony 1.4X Teleconverter. 1/60-sec., f/8, ISO 250
Nature and landscape photographer Jared Boaz recaps how he captured this beautiful shot in Yosemite with the new Sony Alpha 7R V and a G Master telephoto.
The Scene: Isolating & Following The Light

Growing up in San Diego, my parents would take us to Yosemite National Park and the eastern Sierras in the summer to camp and fish, so when I moved to Northern California I decided that I wanted to take more photo trips out to these locations. I tend to find myself in Yosemite a few times a year for photography, along with the Redwoods, Death Valley, and other areas of the west coast. Living in California has been instrumental in developing my photography and I feel incredibly fortunate to live in such a beautiful place.
This specific photo was taken on my most recent trip to Yosemite in April 2023. My friend Alex and I take my camper van to these locations, but I tend to be more reactive in my photography these days. I let the light dictate what is interesting and I respond to the changing light on the landscape. I was watching the light rake across the granite walls of Yosemite Valley on my first day in the valley and saw this side lit grouping of trees with the stark white tree in the middle and thought it would make an interesting composition. I lean towards shooting sidelight a lot because it does a great job of providing natural contrast and highlighting the subjects while also creating a nice balance of cooler tones in the shadows.
The Gear: Composing Within The Frame

I recently switched to Sony from Canon due to the flexibility of the Sony system and how great the video and photo quality is. I have a small YouTube Channel that I have been working on and I have always been impressed by the video footage straight out of camera, so I decided to switch my platform to Sony instead of using two systems and I chose the Sony Alpha 7R V body for my nature photography due to its incredible 61mp sensor. The amount of detail I can capture with that camera is amazing and I am so impressed by the image quality. I like to crop in after I photograph something - I like to recompose the scene within the scene so it gives me a lot of latitude for that. The lens I chose to shoot with is probably my favorite all time lens. That is the Sony 100-400mm f/4.5-5.6 G Master. I also added the Sony 1.4X Teleconverter to get a little more reach and isolate my subject a little more. I almost always use a tripod and I used my FLM CP-30 L4 II tripod to get the camera to eye level and scan the granite walls for compositions.
Getting The Shot

This was one of the first shots I took on my trip, so I hadn't even had my coffee yet because we woke up from our camping spot and got into the valley right at sunrise. It was really cold that morning and my tripod legs weren't the most forgiving as my hands struggled to adjust my tripod height to get my camera ready. Having a tripod that can get your camera to eye height is imperative to not straining and being comfortable when picking out compositions, in my opinion.
I actually had my camera fixed on a dead tree probably 200 yards or so from me but as the light started down the walls, I realized that wasn't going to be the composition I thought it was - so I started looking around for what else was happening around me. I watched as the light moved down the granite and started illuminating the trees along the walls, and knowing from my many experiences in Yosemite, they call it the Valley of Light for a reason. I set my camera to an ISO of 250, f/8 to get a little more light into the sensor since it was still a little dark, and a shutter speed of 1/60-sec.. I set my focal length to 400 but with the Sony 1.4X Teleconverter that's a maximum range of 560mm which was perfect for isolating the tree in the middle. I usually use a remote shutter release but I didn't have one with me on this trip so I used the 5-second shutter delay on the camera and it worked perfectly.
The Edit: Eliciting Emotion Without Over-Editing

What I like to do when I shoot is to "expose to the right" so I retain as much information as I can within the shadows, and there are schools of thought for all sorts of methods to getting the right exposure but I prefer this method and bringing the contrast back in post processing.
My process typically starts in Adobe Lightroom where I correct the exposure and add a little saturation back to it. I also tend to cool the white balance down and add warmth back in later selectively in Photoshop. I like to bring the exposure down quite a bit and accentuate the light and shadows a lot. From there, I will bring it into Adobe Photoshop and this is where I do refined adjustments, I clean up any distracting elements within the frame by cloning or healing - but this didn't have much, and I don't like doing too much of that to begin with. Then I do a series of luminosity masks and luminosity painting to bring out more of the highlights, darken shadows and bring in complementary colors. This often means having warmer highlights and cooler shadows, but I am usually pretty satisfied with the end result.
After all of that, I add a subtle orton effect to most of my work, nothing drastic but just a little bit to soften it slightly. I really like the end result and after I export it, I tend to wait a few days and look at it again with fresh eyes to make sure I still like it and think it is tasteful. I strive for my work to elicit emotion but not over edit them so I try to tastefully add these elements of color and luminosity to achieve that.
See more of Jared Boaz's on Instagram, YouTube and Facebook.