After a successful showing in Palm Beach, Kevin O'Leary's Irreconcilable Images exhibition moves to New York, opening at Art New York on May 3. O'Leary's fortune and fame come from his business acumen and hosting the entrepreneur show, Shark Tank. His first love, however, is photography.
"I bought my first camera, a Soviet made Zenit-E SLR, in 1970. I still have the first roll of black and white 35 millimeter film that I developed and the images I printed from it, scratches and all. The smell of developer and fixer from the countless hours I have spent in darkrooms is still imprinted in my brain.


"As an investor and television host I have traveled the world and have had many unique opportunities to capture images."
O'Leary's exhibition will also be open to the public from May 3 - 8, and he will personally be on site at select times to speak about his works in person. The exhibition will complement the additional 150 international galleries and nearly 1,200 international artists exhibiting blue chip, modern and contemporary art works over the six-day-long Art New York fair.
Profits from the sale of O'Leary's photographs will go to the Perry J. Cohen Foundation to support teenage entrepreneurs.
The idea for a photo exhibition and philanthropic endeavor came from a chance meeting between the O'Leary's, Pamela Cohen and Nick Korniloff during the Art Miami fair. Cohen, Director of Marketing for Art Miami and President of the Perry J Cohen Foundation, said, "We met and immediately engaged in conversation about specific artwork on exhibit, Kevin's photography, philanthropy around teenage entrepreneurs, our son's entrepreneurial spirit and the Foundation we created in his honor."
"Perry was a huge fan of Kevin's and as a family we spent many hours watching Shark Tank. It was a very powerful and meaningful conversation, with Kevin ultimately stating that he wanted to know more about our son and the foundation, our fairs and we wanted to know more about and see his photography work. Since then, we have stayed in touch, and due to Kevin's sincere interest in our son's story, he made the generous offer to provide all proceeds of his sales to the Perry J Cohen Foundation." said Pamela Cohen.
In addition to O'Leary's Irreconcilable Images photography, the exhibit at Art NY will feature Study From Room 48, a series of merged photos and video captured from the same vantage point at the Soho Beach House in South Beach from January 11th through March 13th. The series was shot in 4K with the Sony α7R II. Study From Room 48 is a digital installation playing in a perpetual loop on a digital frame. The work was produced in partnership with ElectricObjects, producers of wireless 1080p digital frames.
O'Leary calls the exhibit "Irreconcilable Images"—objects and people that seem out of place. Both whimsical and thoughtful, the viewer can't escape the image within frame. You question what's happening and seek to resolve the situation. Like looking at the work of Cartier-Bresson, your mind can't help but make up stories about what it's seeing.
"I love to find objects that seem to be out of place in their surroundings. I call them "irreconcilable" because viewing the work alerts your sense of foreboding and you are suspicious of what you are seeing. The eye keeps trying to reconcile the imputed inaccuracies. To me that is the hallmark of a great image that remains timeless. The work in this exhibit spans multiple decades and geographies but each image is irreconcilable in its own way."
You can see Irreconcilable Images at Art NY May 3-8. Click here for details.
More of O'Leary's Irreconcilable Images: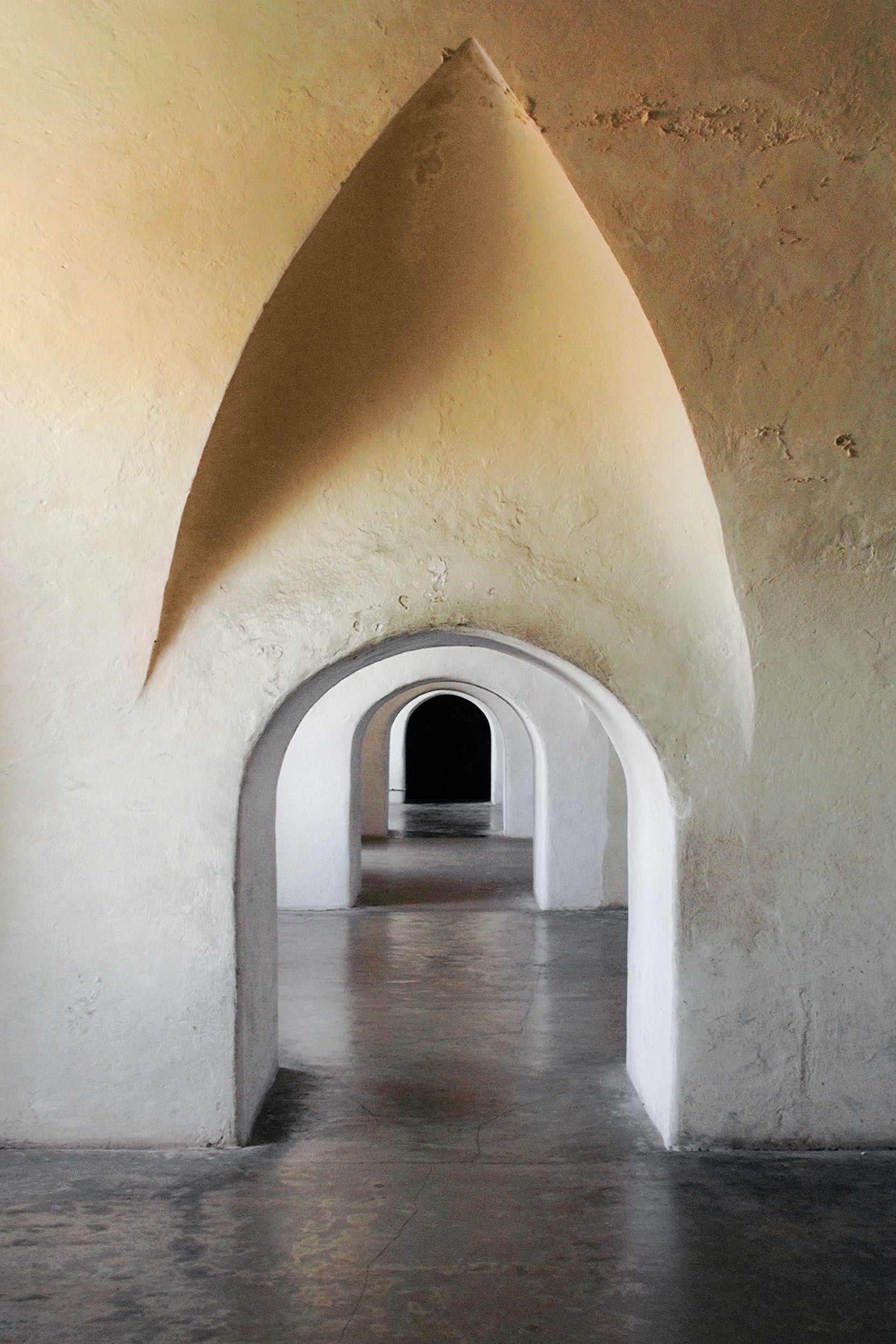 Archway 2001
This is one of the first images I ever took with a digital camera. The technology was rudimentary at that time but somehow these arches in Puerto Rico transferred into digital memory with beautiful tonality. I didn't have a digital archiving system at the time and as I transferred from one computer to another I lost the file. Luckily I had made an archival print that I was able to re-scan using new high resolution technology so that now I have it back forever. I love this image and its provenance! I stumbled upon this technique by accident. It renders such interesting tonality and texture that rescanning is now a stable in my printing tool kit.
Without a familiar object in the frame it is impossible to determine the scale. When it is on display at a showing I'm always intrigued on how long people will stare at it.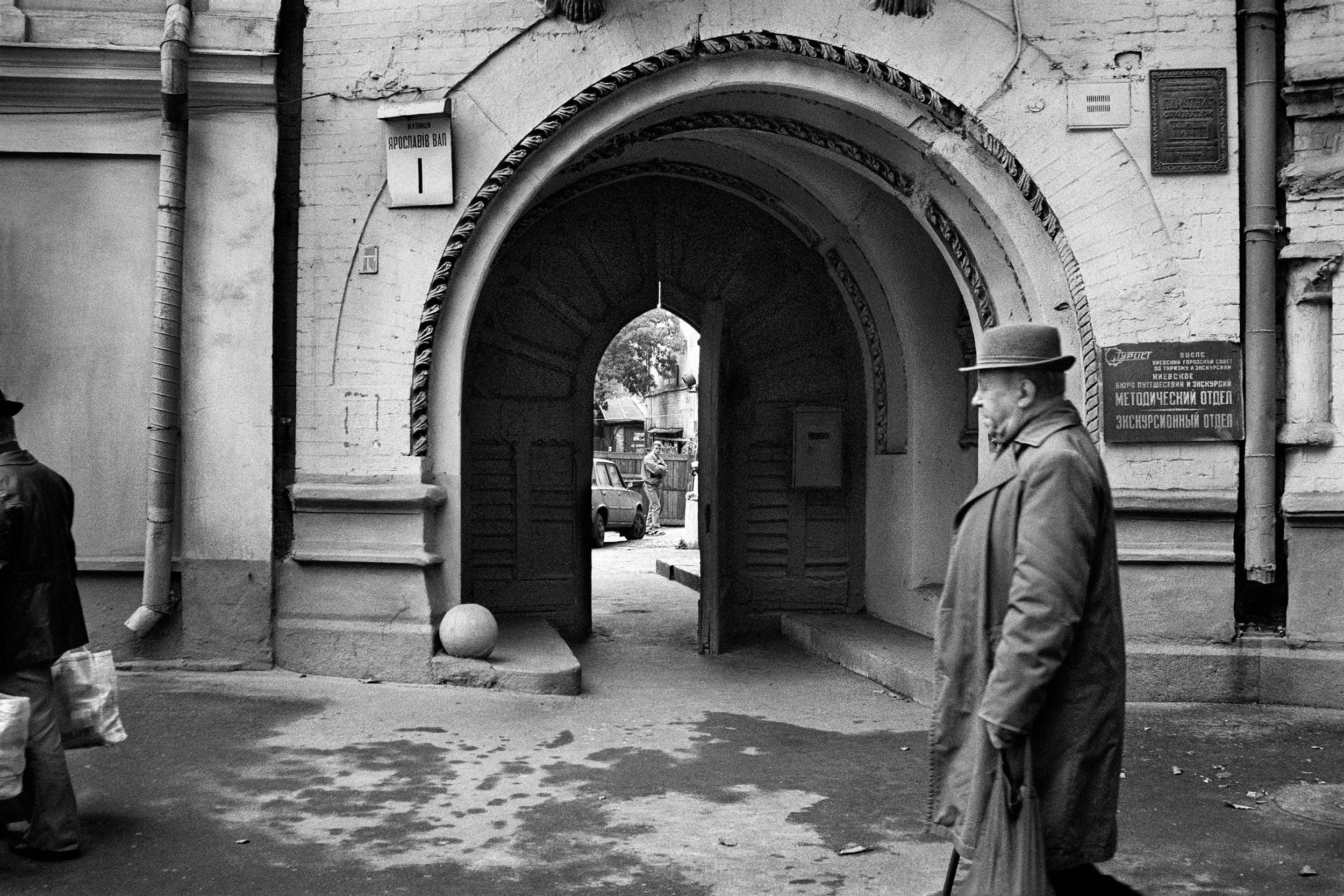 Kiev 1986
In the 1980's I visited the Soviet Union. It was several years before the Berlin Wall was torn down but trade with the west was opening up especially for PC software which I was selling. I took this image in the Ukrainian city of Kiev. There was always a sense of "big brother" is watching and people kept to themselves with their eyes down when they walked. A man is suspiciously watching me through the open archway door as I pulled out my Leica and started taking pictures.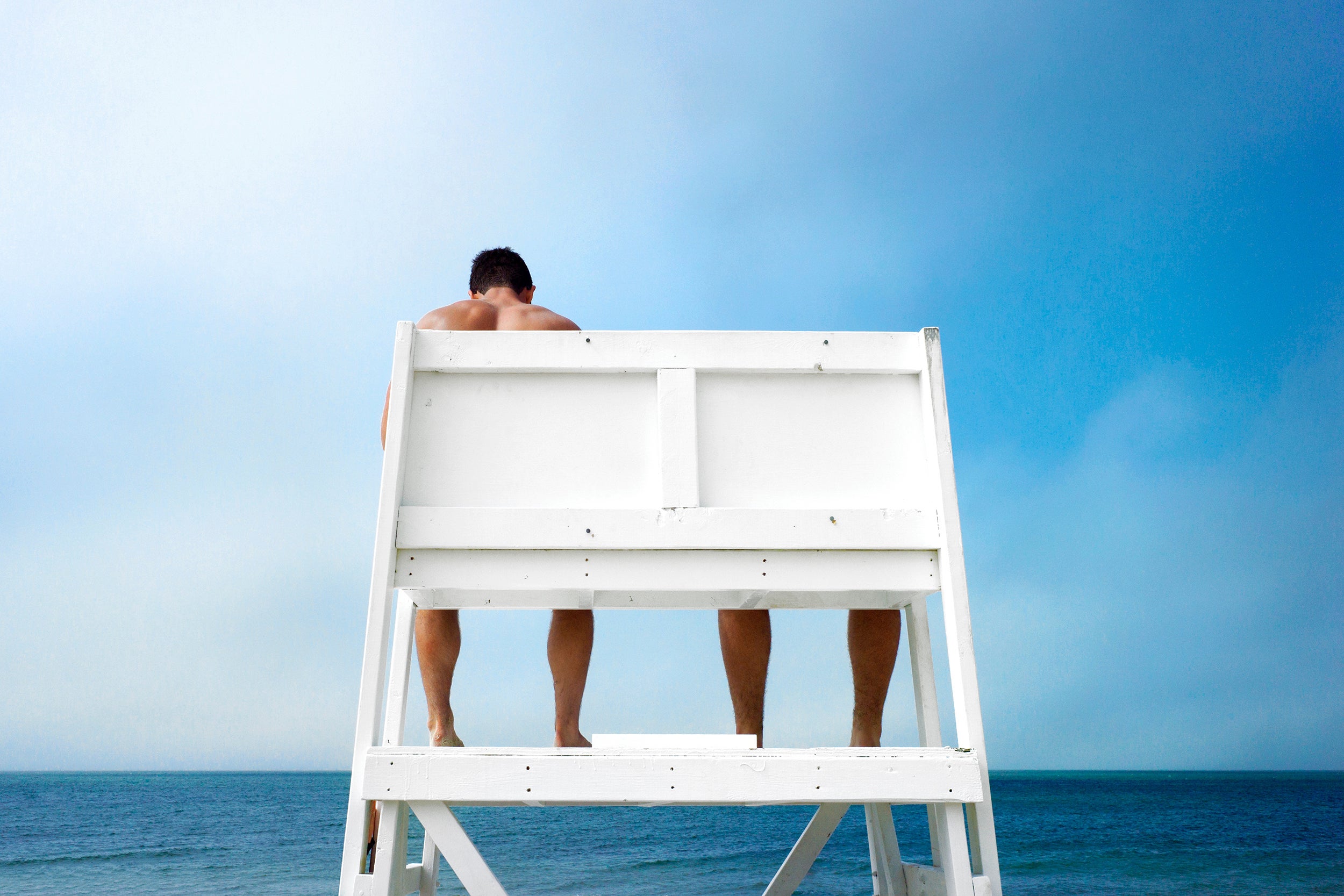 Life Guards 2013
I am constantly asked if I photoshopped out the head of the second life guard in this image. No. He simply bent down to take a bite out of his sandwich at the moment I happened to be walking down the beach in Nantucket. I like this photograph because it raises more questions than it answers.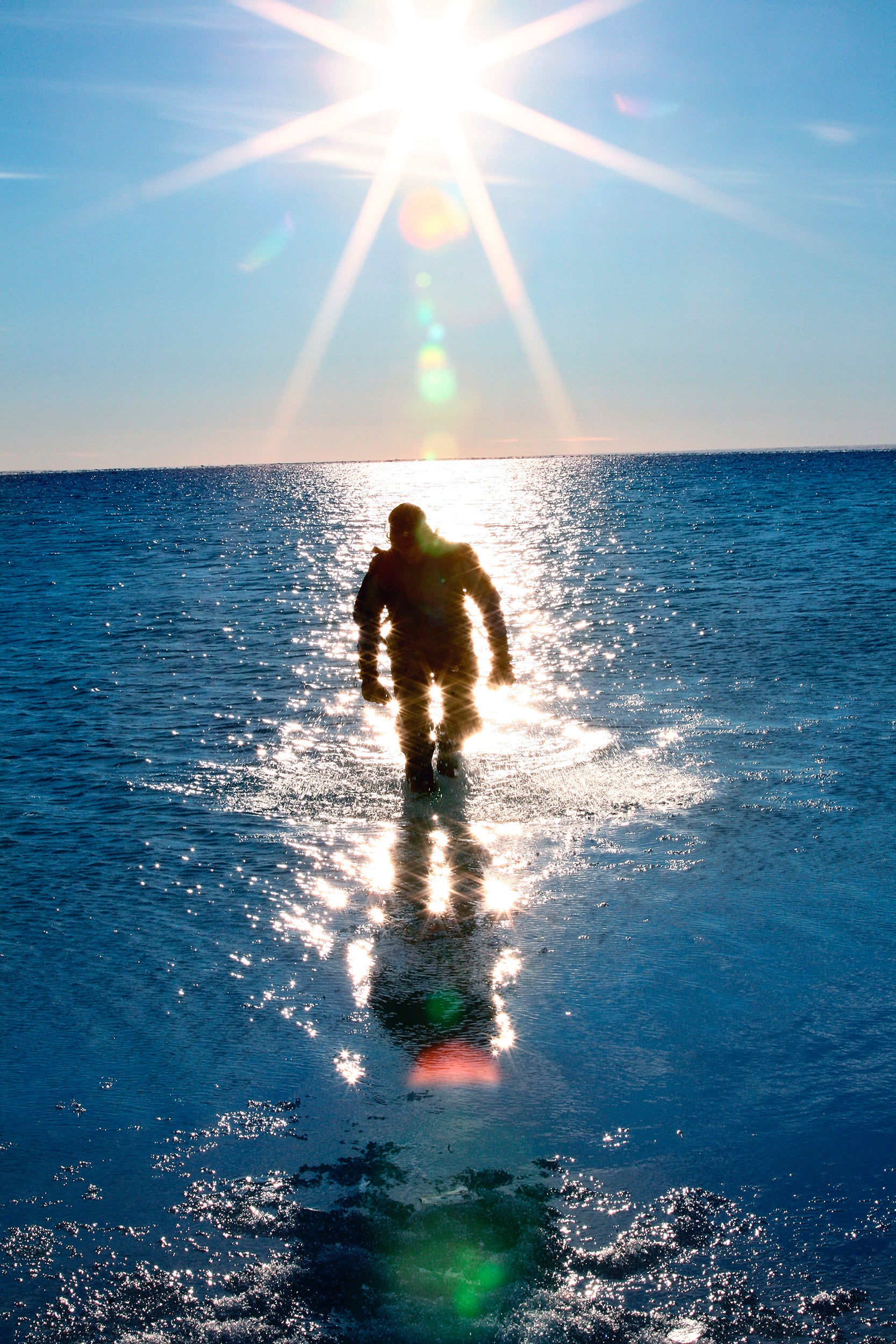 Big Foot 2007
This is a primordial ice lake formed by the relentless August sun melting the surface of the ice in Greenland. These lakes are created in just a few hours and can be 2 km wide and 35 meters deep. When the water becomes too heavy the entire body disappears in a matter of seconds! The ice cracks and the water flushes to the bottom of the glacier where it provides the lubricant that causes the glacier flow off the continent. I took this image of a co-host walking on the edge of the lake when were setting up to shoot a sequence that would involve the first ever boat ride filmed on a lake like this.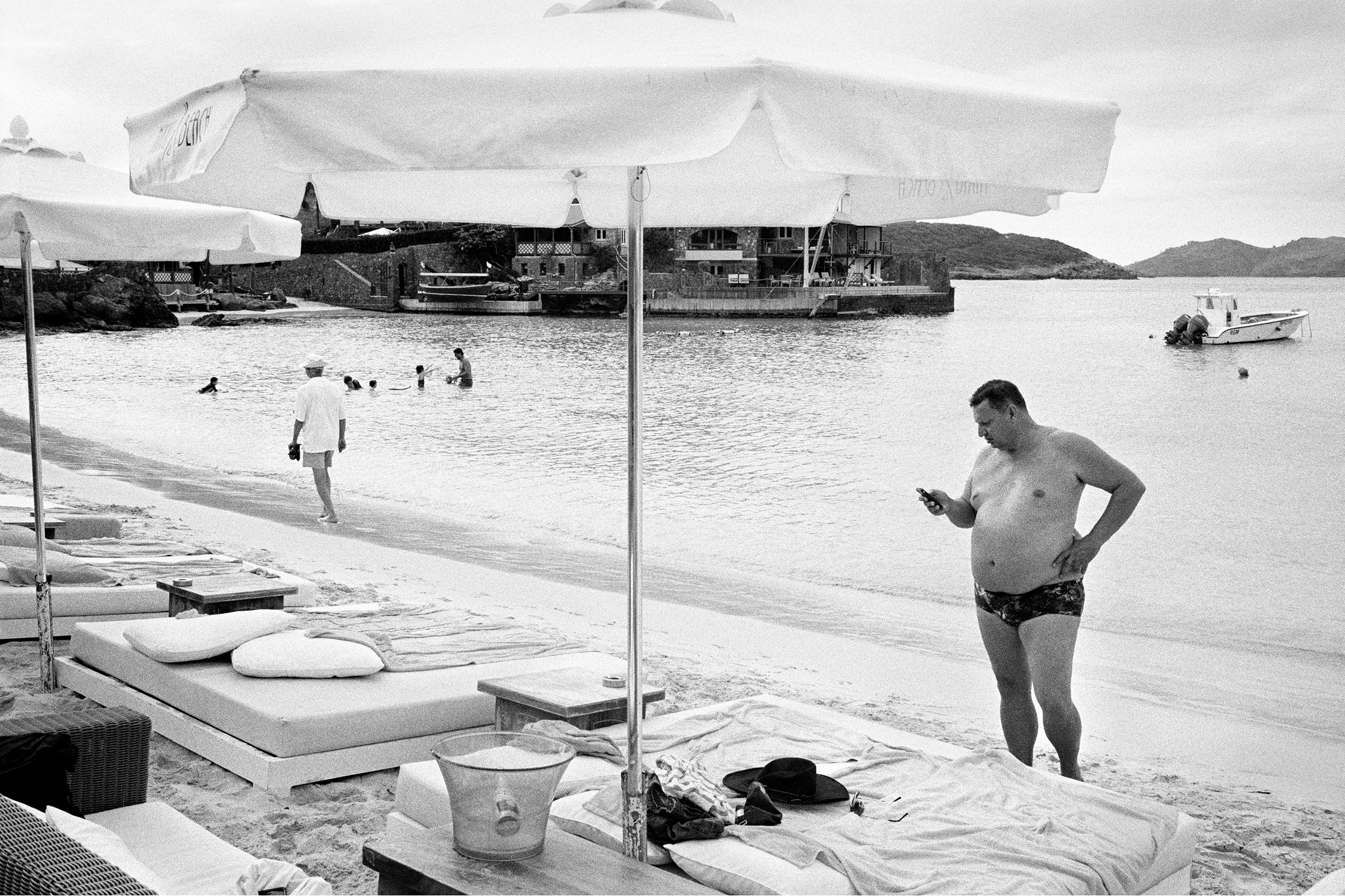 Man At Nikki Beach 2013
Saint Barthelemy is a tiny island in the Caribbean where the world loves to party. In St. Jean there is the legendary original beach bar called Nikki Beach. I shot this with my old school 35mm using black and white Ilford 400 film as the afternoon revelry was winding down. You have to admire a man that is comfortable in his skin!