Kathryn Mussallem won the National Award for Canada in the 2016 Sony World Photography Awards Competition. For her photo of a sailor during Fleet Week, Mussallem was awarded a Sony α7R II. The Canadian photographer set aside her DSLR and dedicated a week in London to shooting exclusively with the α7R II and she talked with Alpha Universe about her impressions.
Alpha Universe: Was this week your first time using a Sony camera?
Kathryn Mussallem: Yes, it arrived a day before I left for London and I took it right out of the box, took a test photograph of my cats. The next photographs were of my bus journey from Heathrow into London.
Alpha Universe: What had you been using previously?
Kathryn Mussallem: I have been a Nikon user for over 15 years first film and then digital and prior to that a Pentax user.
Alpha Universe: What were your first impressions of the α7R II?
Kathryn Mussallem: I love how light it was and compact. I like to carry my camera in my purse. I prefer that to a cumbersome camera bag. I also jumped right into using it. I haven't even looked at the manual yet. Everything about the camera was very intuitive--the menus and the language--it was a very easy transition and everything was very logical.
Alpha Universe: Tell us about your walk through the amusement park in Brighton and what you photographed?
Kathryn Mussallem: The Brighton Pier is a landmark, a very kitschy landmark full of sticky rides, cheap souvenirs and greasy food. I have friends who live there and every time I visit, we go to the pier. It was a freezing cold windy day this time, my friend wanted to turn back but I insisted I had to walk to the end, I was on a mission to take photos!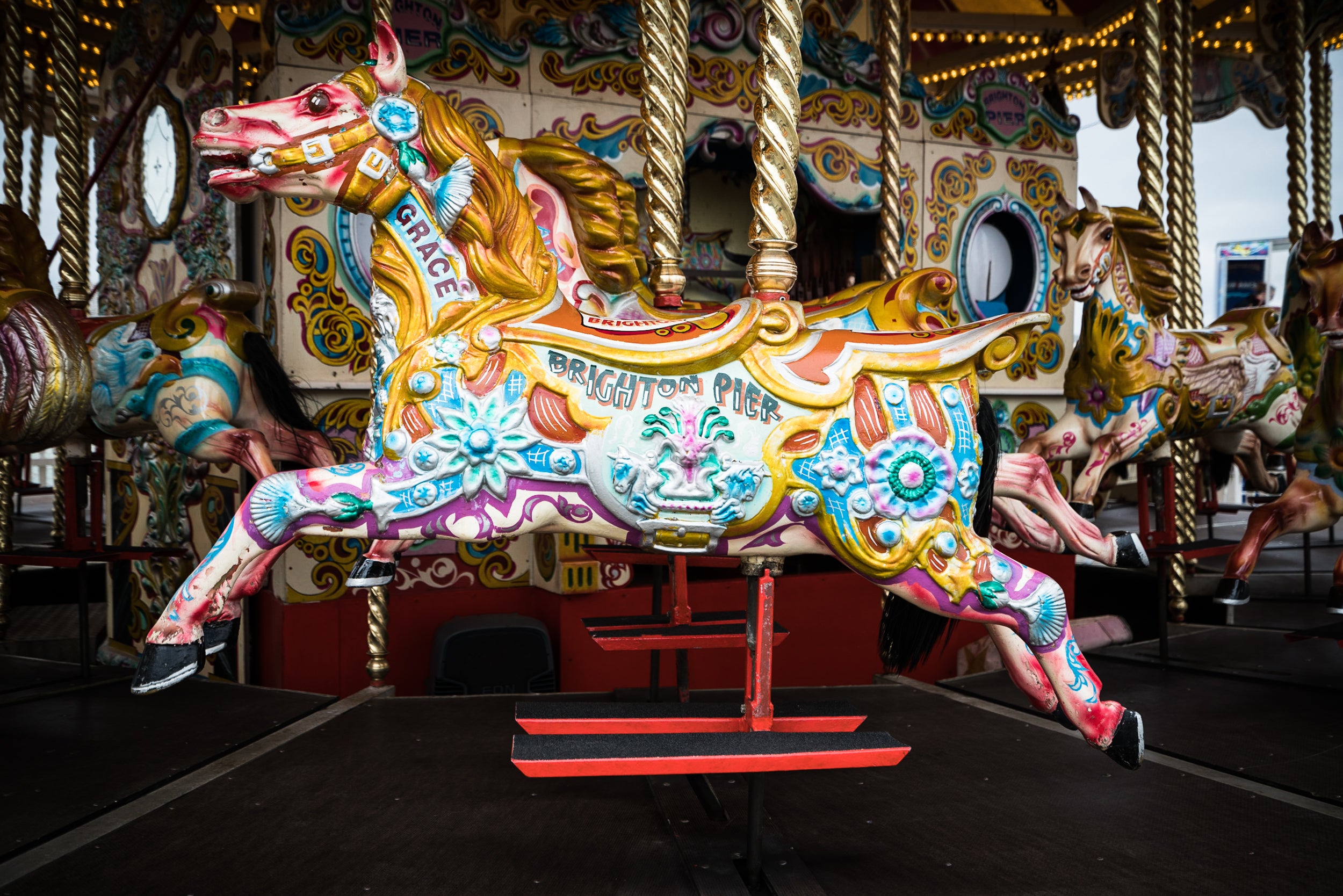 Alpha Universe: Looking at your photos, you captured some of the flavor of the UK without showing the typical landmarks and central-London vistas. Where else did you go?
Kathryn Mussallem: I travel a lot and when I do I tend to not stay in hotels or central areas. I always pick neighborhoods to explore and stay in private homes. Markets are one of my favorite ways to explore a city, they are traditional fixtures of towns and cities, you get to see an incredible cross section of society, kids, dogs, vendors and all sorts of eccentric individuals.
On this trip I went to a local car boot sale in Lewes and in London I went to Borough Market, Portobello Road, Brick Lane Market, Spittafields and the Columbia Road Flower Market. I used to live in London and my flat looked out onto Columbia Road, it might be the only thing I really miss about living in London. I visit it every time I go back to the city.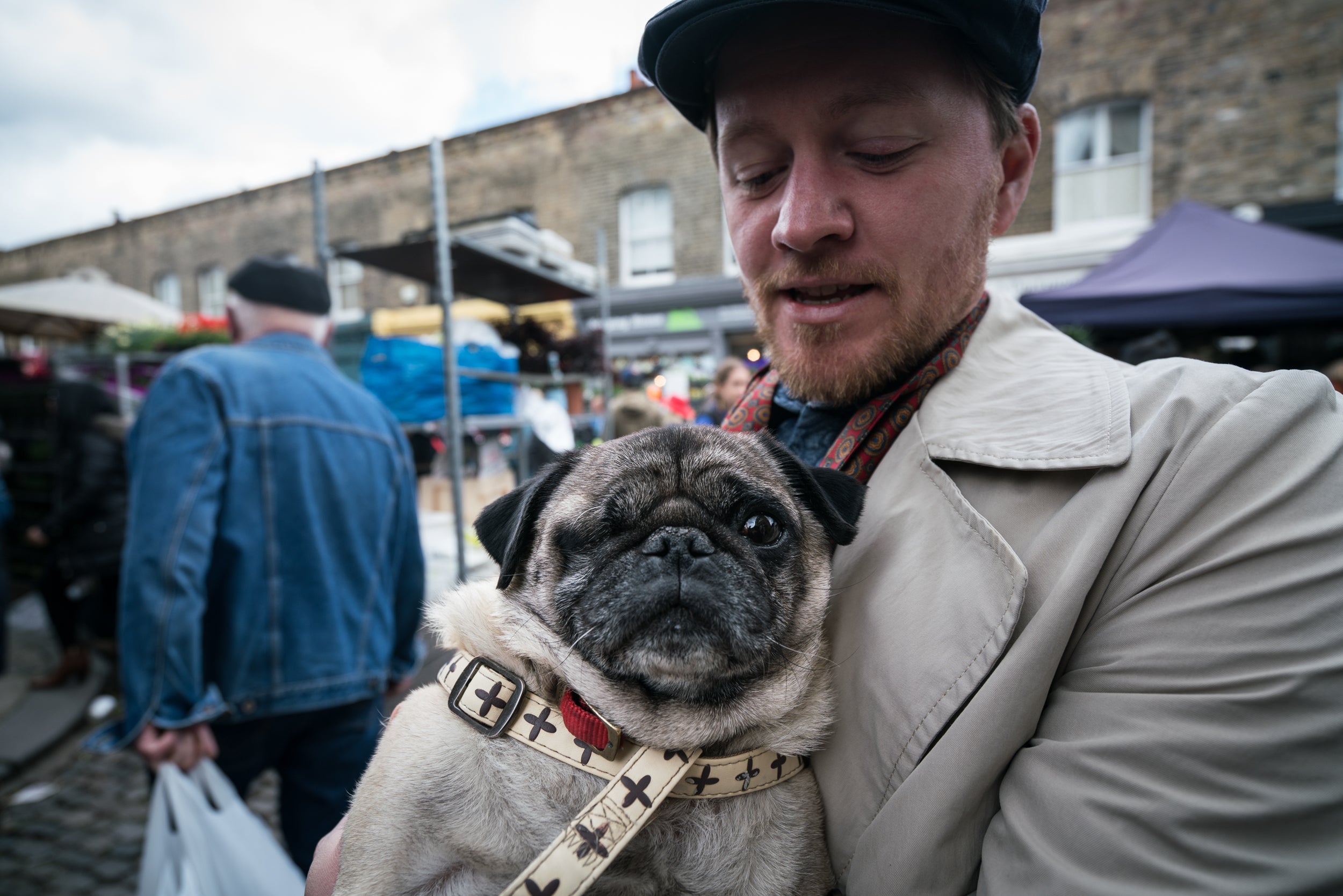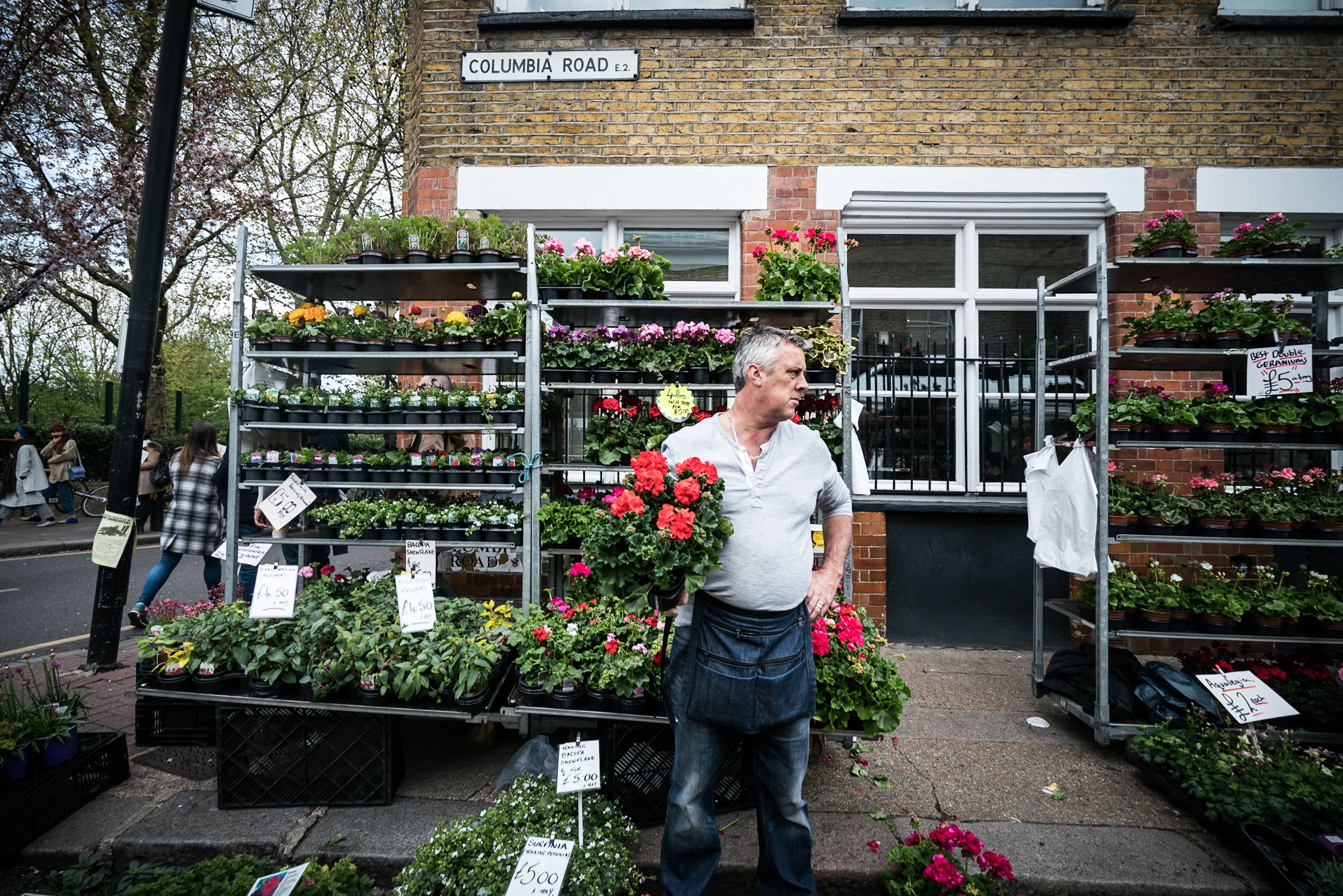 Alpha Universe: Did the camera change the way you approached people at all?
Kathryn Mussallem: Yes, I like to shoot from the hip and this camera really allowed me to do that with ease. So many of the photos I had my camera low and just hit the shutter. When I figured out how to turn of the sound I could be very subtle and clandestine. I loved how there was no shutter sound without the flutter of the mirror. That is a definite benefit to a mirrorless camera.
Alpha Universe: What's happening in photo of the vendor with the Borough Market apron...he looks like he's about to pounce on you. What was going on there?
Kathryn Mussallem: Well he got a little fresh with my friend and me as we were buying market bags from him. He was very touchy feely and calling us darling and sweetheart, so I took it as an opening to photograph him. With my photography I am usually able to read the subject, if they wouldn't mind me photographing them. I misjudged the situation and he flipped his biscuit. Then we chatted he told me just to ask to take his picture and he then started to perform. He was very animated. He even, with witnesses around, pronounced that I had permission to photograph him!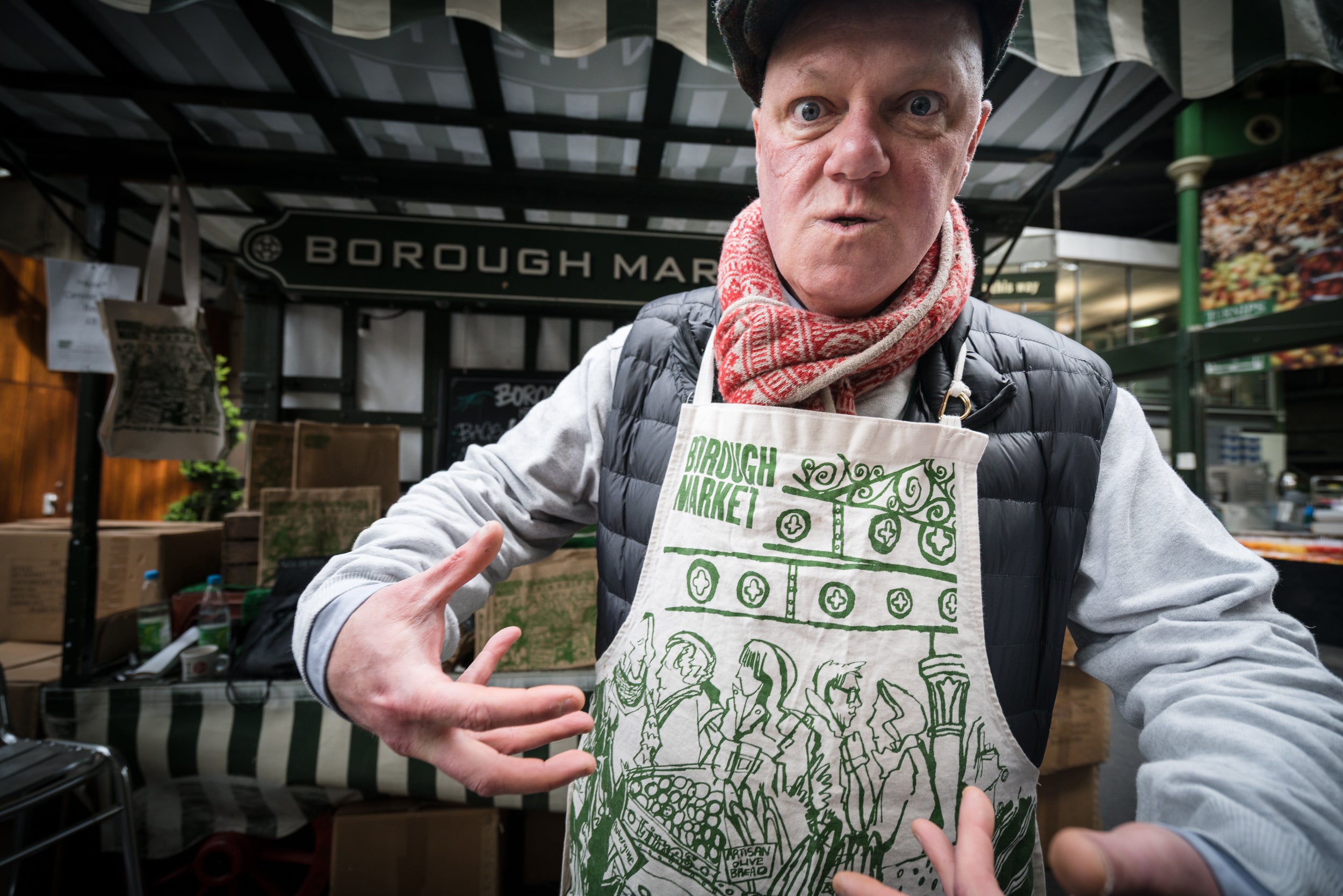 Alpha Universe: That's a great story. It sounds like the α7R II made street shooting different than with your Nikon DSLR.
Kathryn Mussallem: The silent shutter feature was the best. I often shoot from the hip it is part of why I like to shoot with a wide angle lens. Having a camera that I could bring very close to my subjects without them knowing I was taking a shot was pretty nice. I can then capture the action without alerting them so they won't change what they're doing. I also like how the screen tilts up to make shooting from the hip easy without shooting blind. I could see the action.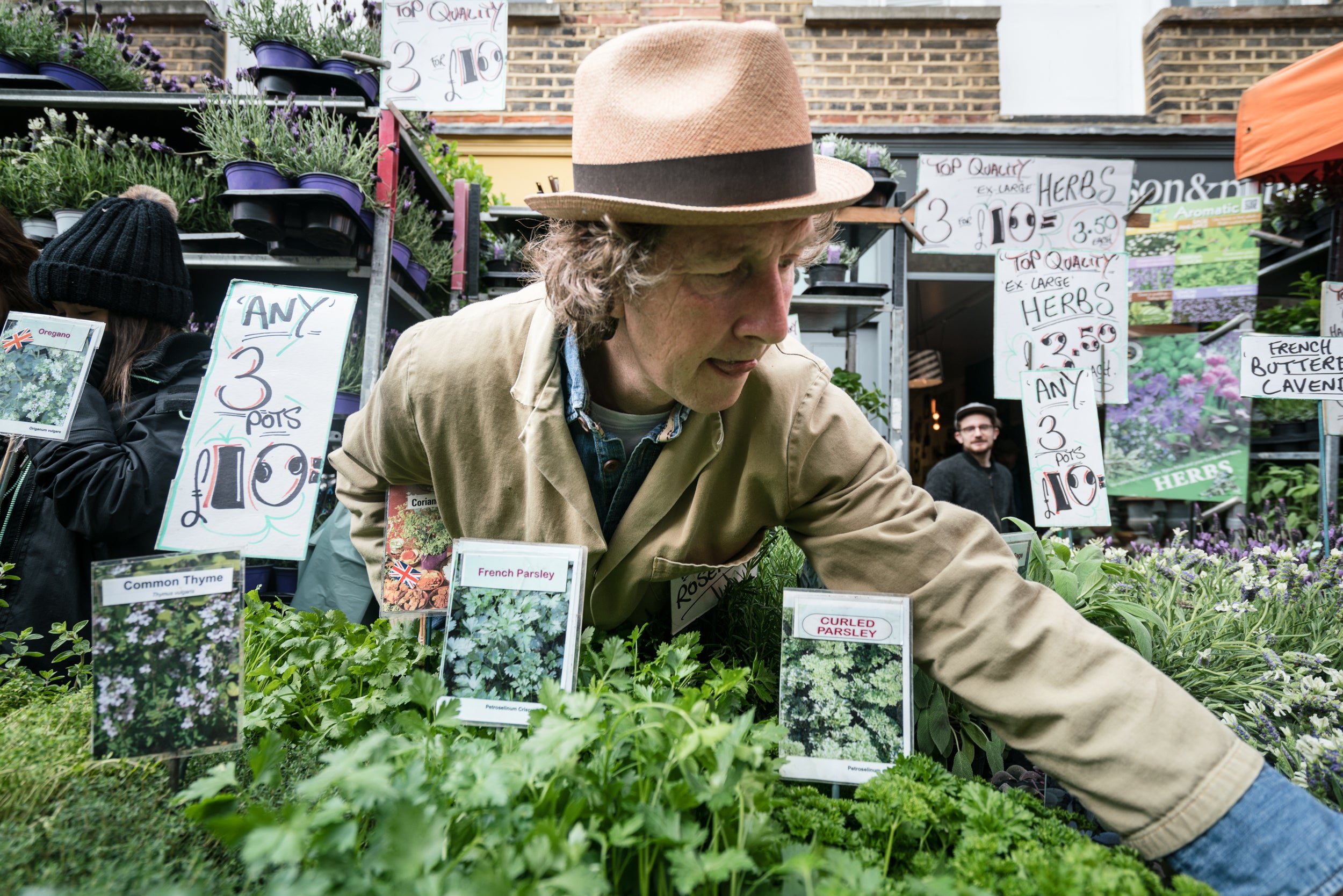 Alpha Universe: You said you like to shoot with a wide-angle. What lenses did you use during your first week with the α7R II?
Kathryn Mussallem: Just one, the 16-35 f/4 [Sony Vario-Tessar T* FE 16-35mm f/4 ZA OSS] and IT WAS AMAZING! I really loved how little distortion there was at such a wide angle even when at a wide open aperture. Usually there is distortion or vignetting at the corners it was minimal or non-existent with this lens.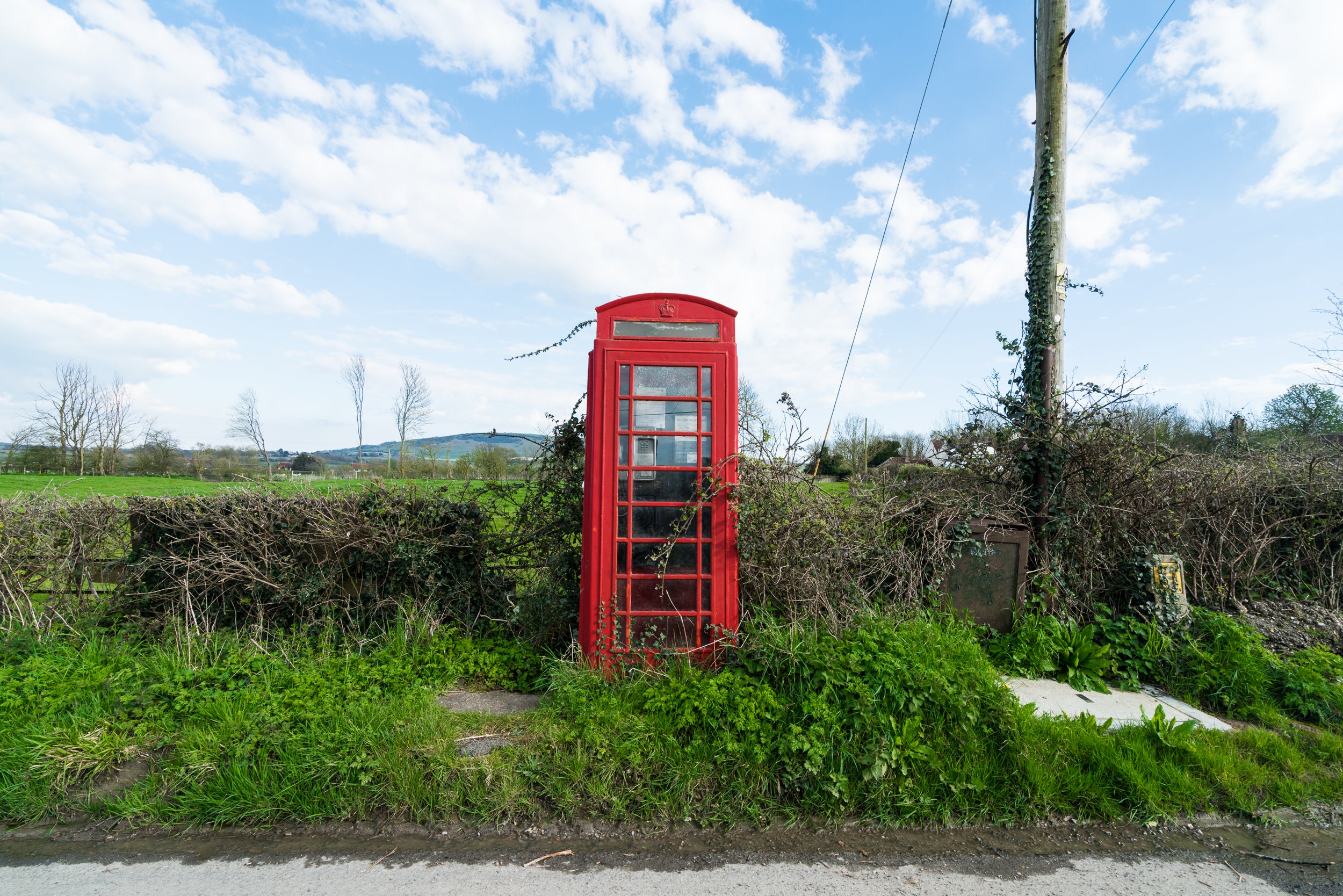 Alpha Universe: In your first week with the camera did you get any photos that wouldn't have been possible with your DSLR?
Kathryn Mussallem: Yes. The ability to turn the camera to complete silent mode allowed me to be very clandestine. Because of how light the camera is and the other features like the tilting screen and the silence, this will definitely be my street camera. When I travel or am out on the town photographing sailors, this camera will be perfect, always in my bag.
All photos by Kathryn Mussallem. Sony α7R II, Sony Vario-Tessar T* FE 16-35mm f/4 ZA OSS