I have a photojournalism background. That's how I got started some 35 years ago and from photojournalism, I got into fashion. That's why a lot of my fashion photography has such a strong photojournalistic look. I came to the Brooks Institute as a student 28 years ago to pursue fashion and commercial work, but I never lost my passion for street photography.
Street photography was also what brought me to Sony, originally. Five years ago when I came to Paris to teach for the first time, I brought the NEX-7. Since then, I moved to the α6000 and now the α6300, which is really an amazing camera.
Along with the α6300, my other street photography camera is the RX1R II which I think is the ultimate street camera. It's small, light and it's powerful. It has 42 megapixels. It has amazing dynamic range and it's silent. It's really silent. It has an amazing lens that's really designed for that sensor. It's the perfect combination of everything for street photography and I absolutely love it.
So the RX1R II has become my main camera when I'm shooting street photography. Most of the time, I'll just have that camera with me. Sometimes, I'll double up with a α6300 when I feel like I might need a zoom. When I'm using the α6300, I usually have the 16-70mm f/4 or the 10-18mm f/4. Both of these zooms are image stabilized and I love using them.
The α6300 is also the camera that my students are using this summer. Every year I bring a small group to France to photograph the Paris Fashion Weeks, and also to work on street photography. This year each student was outfitted with a Sony α6300 and three Sony lenses. That kit is small, light and I tell the students there's no reason why they shouldn't carry it with them all the time.
Here's a selection of my favorite shots taken in and around Paris so far this summer.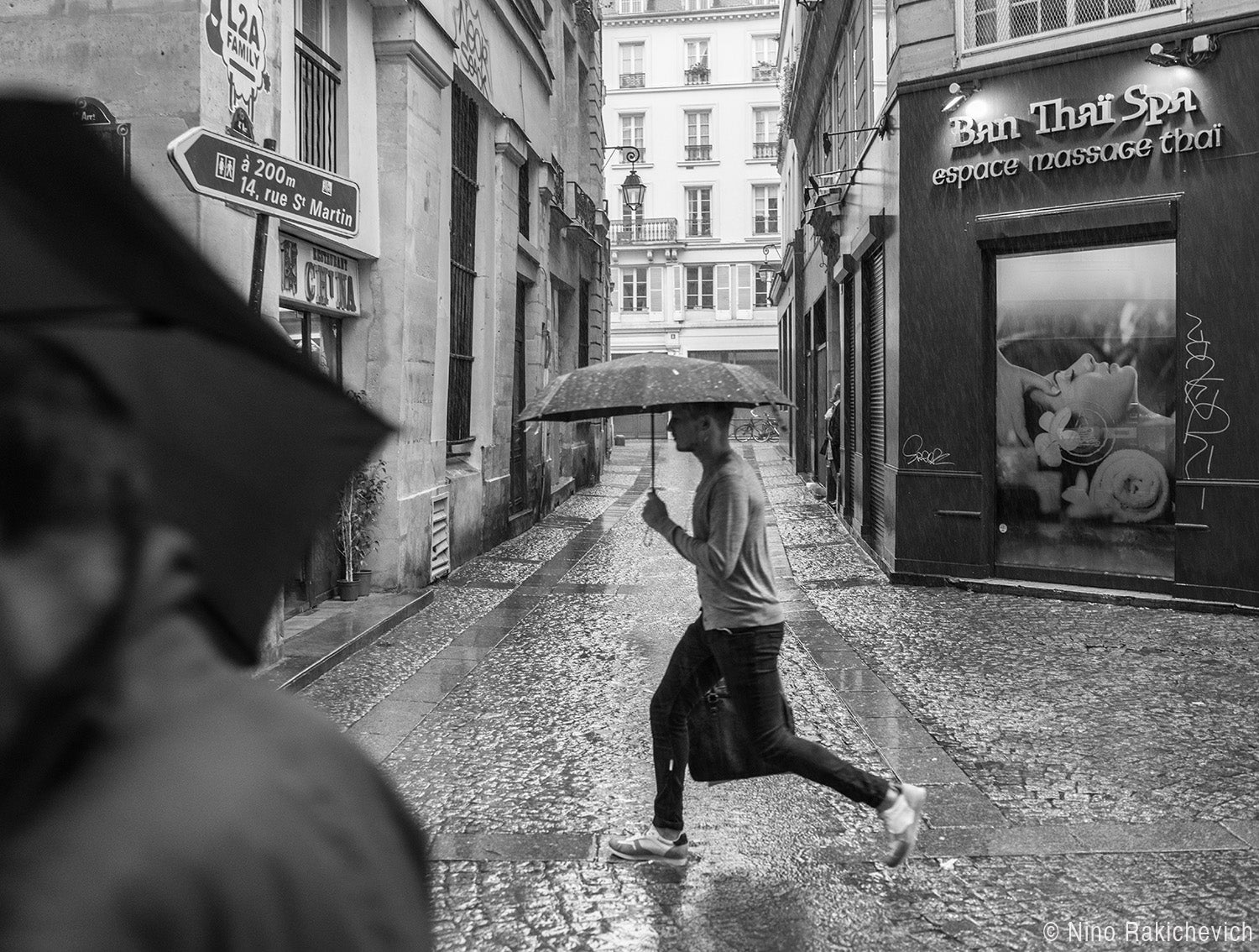 Sony RX1R II, 1/160-sec., f/2.8, ISO 1000
I was on the streets of Paris when it started raining (in June we got rain almost every day). At this moment, I really got caught unprepared so I ducked off the street and waited for the rain to pass. Although unprepared for the rain, I had my RX1R II and I was taking pictures. I didn't get many—maybe two or three good photos—and I'm really happy with this one.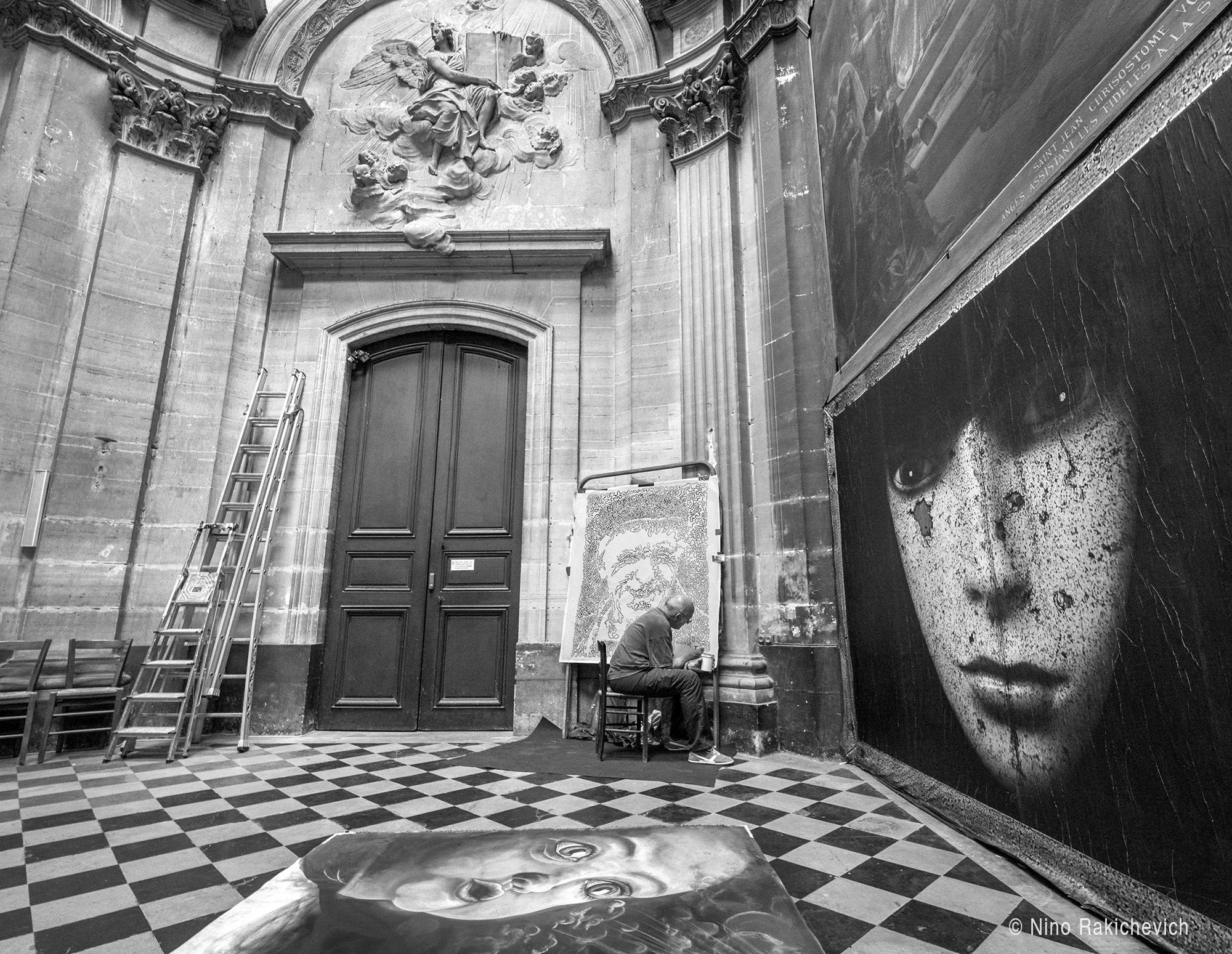 Sony α6300, Sony E 10-18mm f/4 OSS lens, 1/15-sec., f/6.3, ISO 1600
Here's an artist in action at one of the churches in Paris near the Pompidou Museum. There were a whole bunch of artists there at the time. I really like this one because he was really working and not posing for me. This photo is truly in the moment. I like it.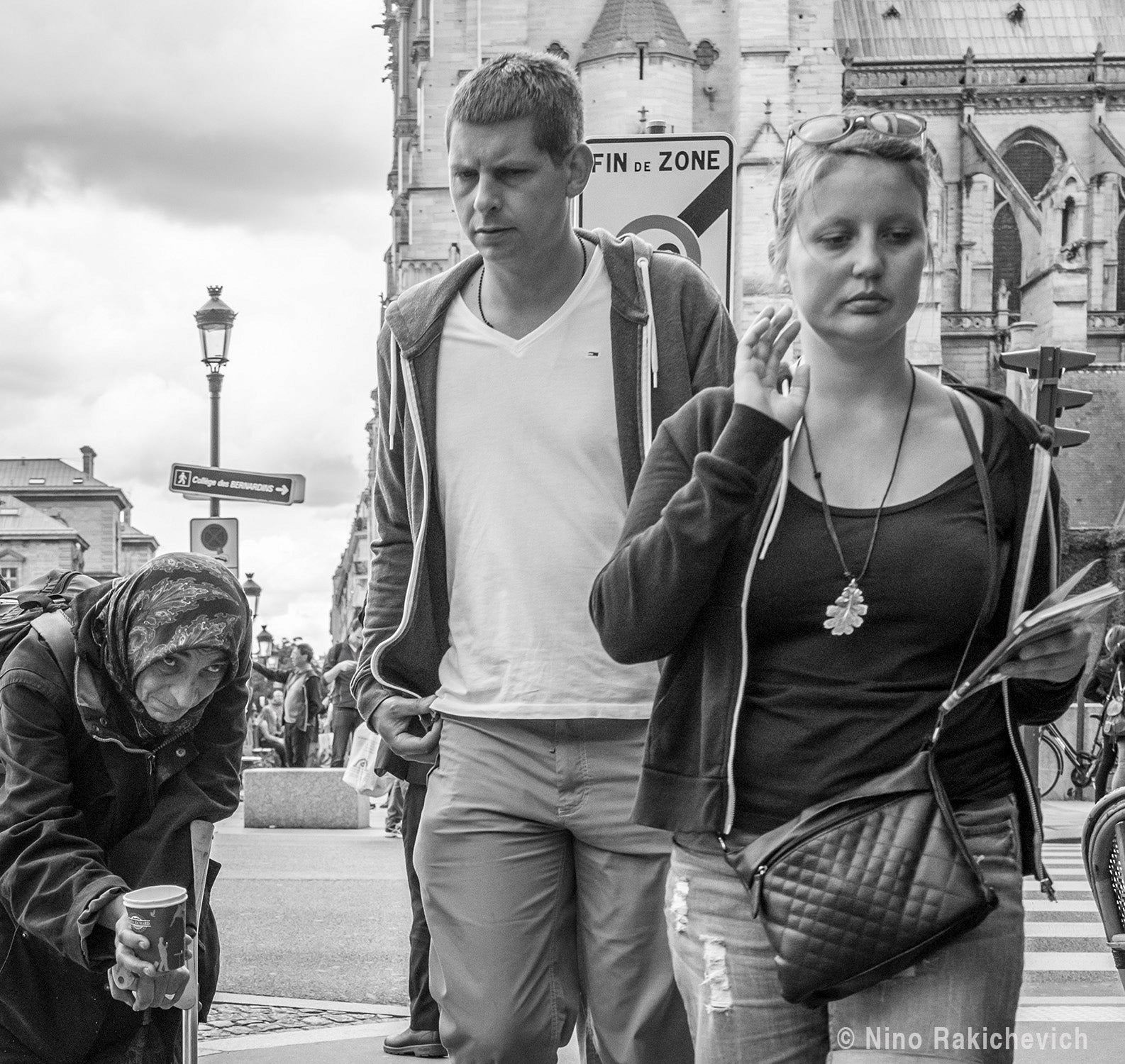 Sony RX1R II, 1/800 sec., f/5.6, ISO 800
This was just a sad moment but I'm glad I got it because I think it's quite a powerful image. The woman was begging and everything came together here in a fleeting instant.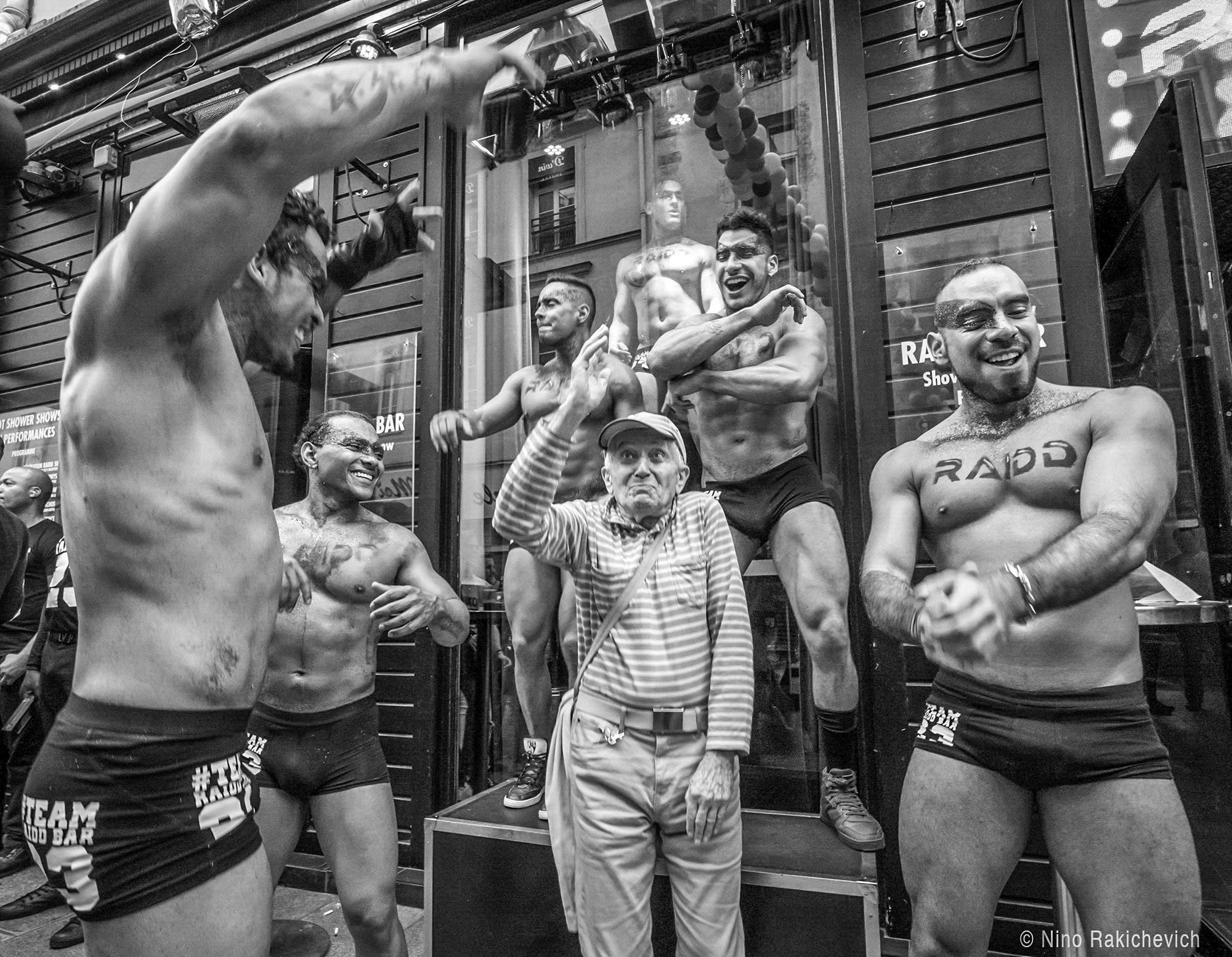 Sony α6300, Sony E 10-18mm f/4 OSS lens, 1/160 sec., f/5.0, ISO 2500
During a music festival in Paris, I saw this man dancing. He seemed very happy. I love this one because of the contrast in the scene—the old man with the buffed up guys.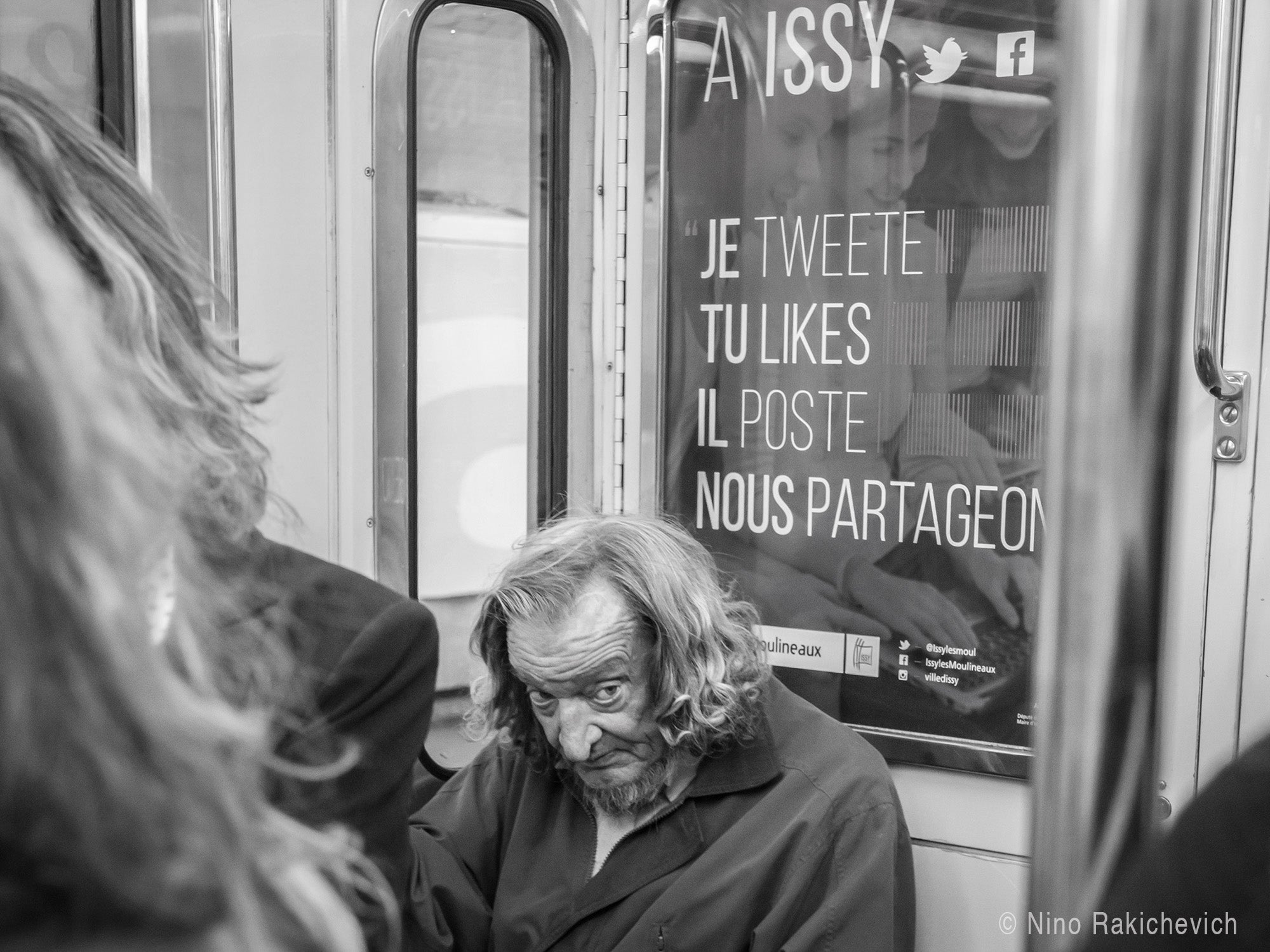 Sony RX1R II, 1/80-sec., f/4.0, ISO 4000
Being a street photographer is about being observant. You're taking in everything happening around you and you have to trust your instincts when something catches your attention. Sometimes it's the way someone is moving or how a person is juxtaposed against a building. Sometimes it's just a face. Sometimes when it happens you just take the picture and figure out why afterwards. This was taken in the Paris Metro with the RX1R II. This man had such a weird look on his face, I had to take pictures.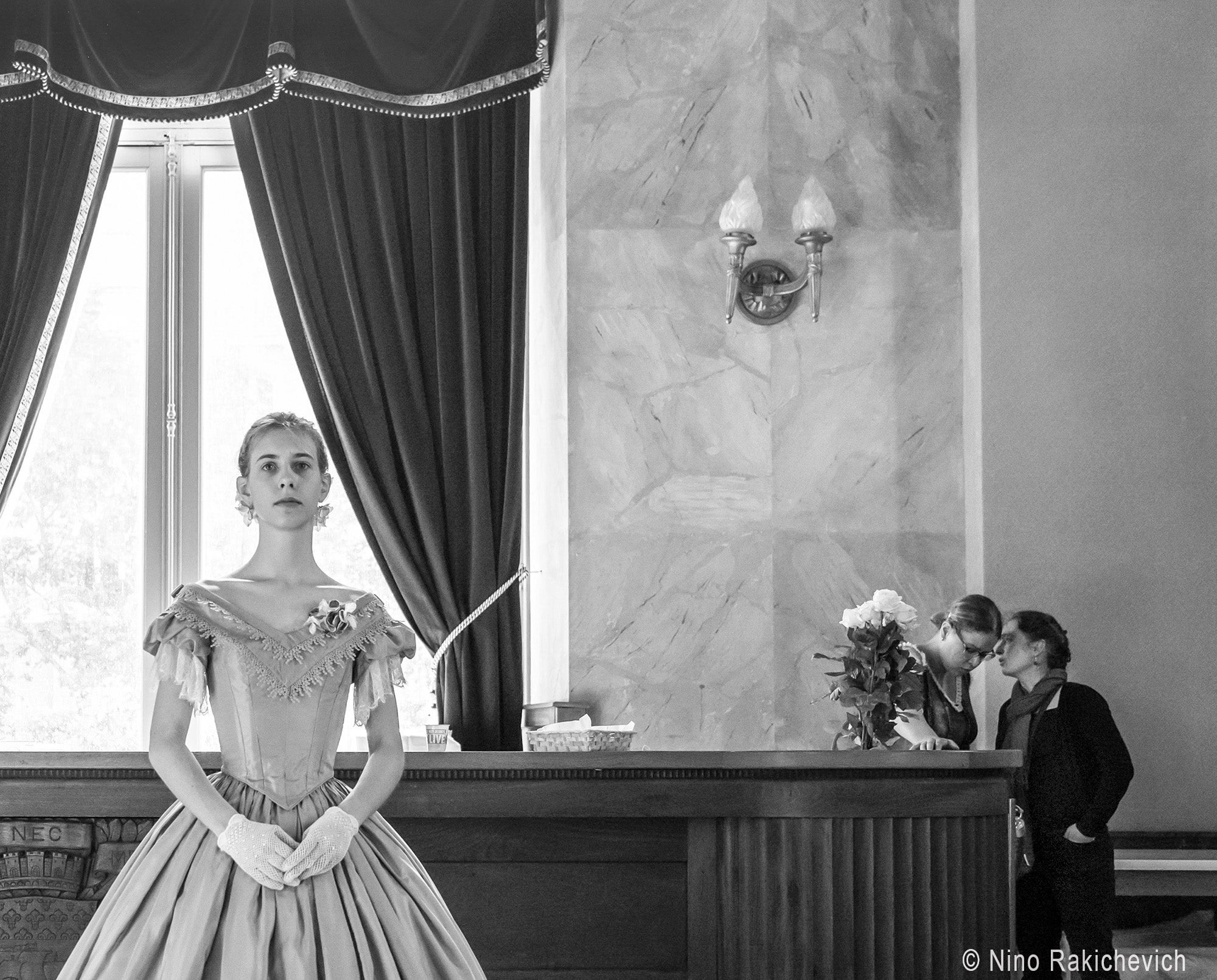 Sony α7R II, Sony 24-70mm f/2.8 GM lens, 1/1000-sec., f/2.8, ISO 2500
I made this photo during a traditional dance competition in Paris. The dancer here is probably around 20. What makes this an interesting photo to me is the combination of the dancer in the foreground and the two people talking closely together in the background. I don't know if they were gossiping or not, but it looks like it to me, so I call this shot The Gossip Girls.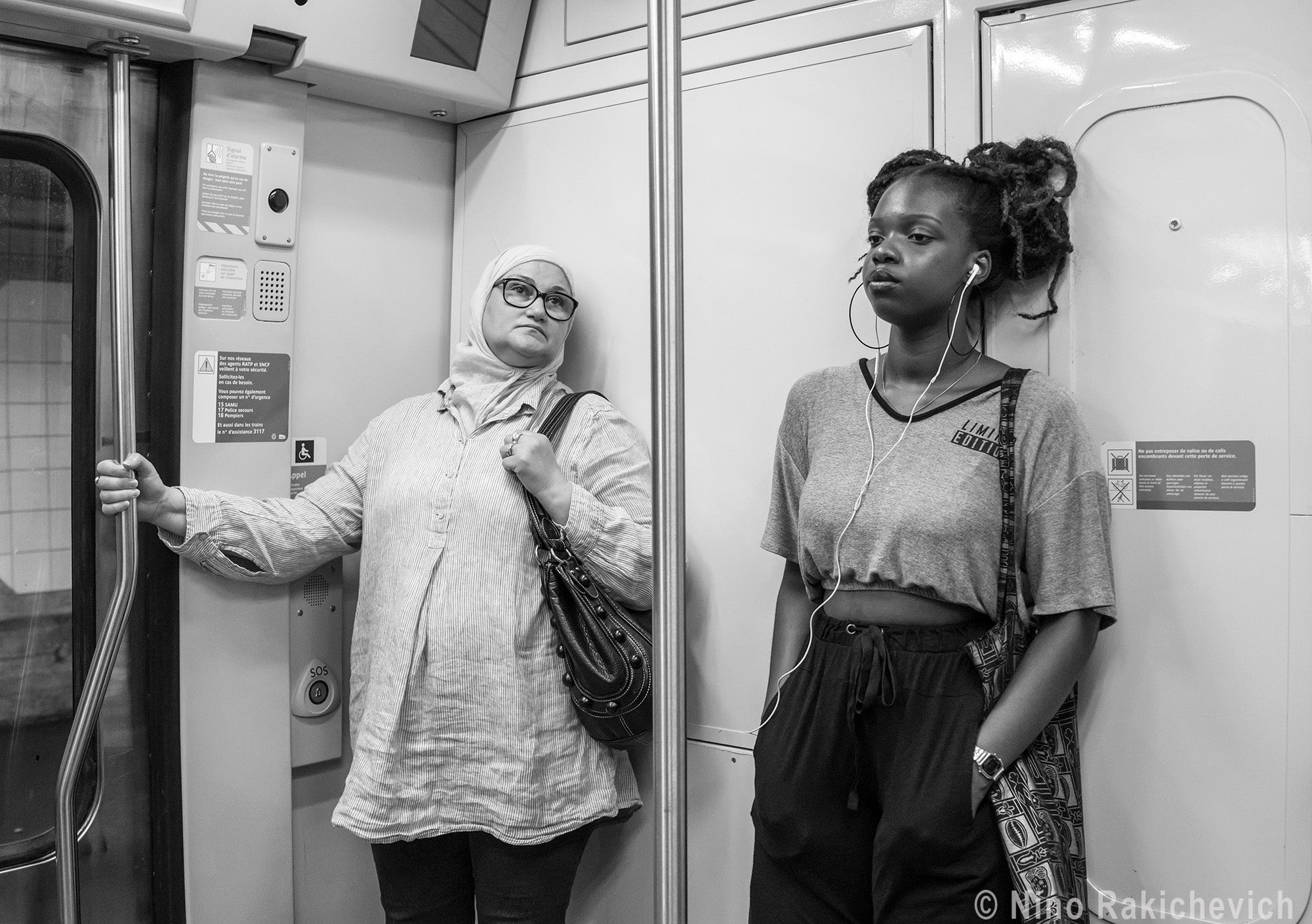 Sony RX1R II, 1/250-sec., f/4, ISO 4000
This is a study in contrast. One is older, the other is younger. One is in traditional Muslim clothing, the other is total teenager listening music. I just like this photo because of all of the contrast.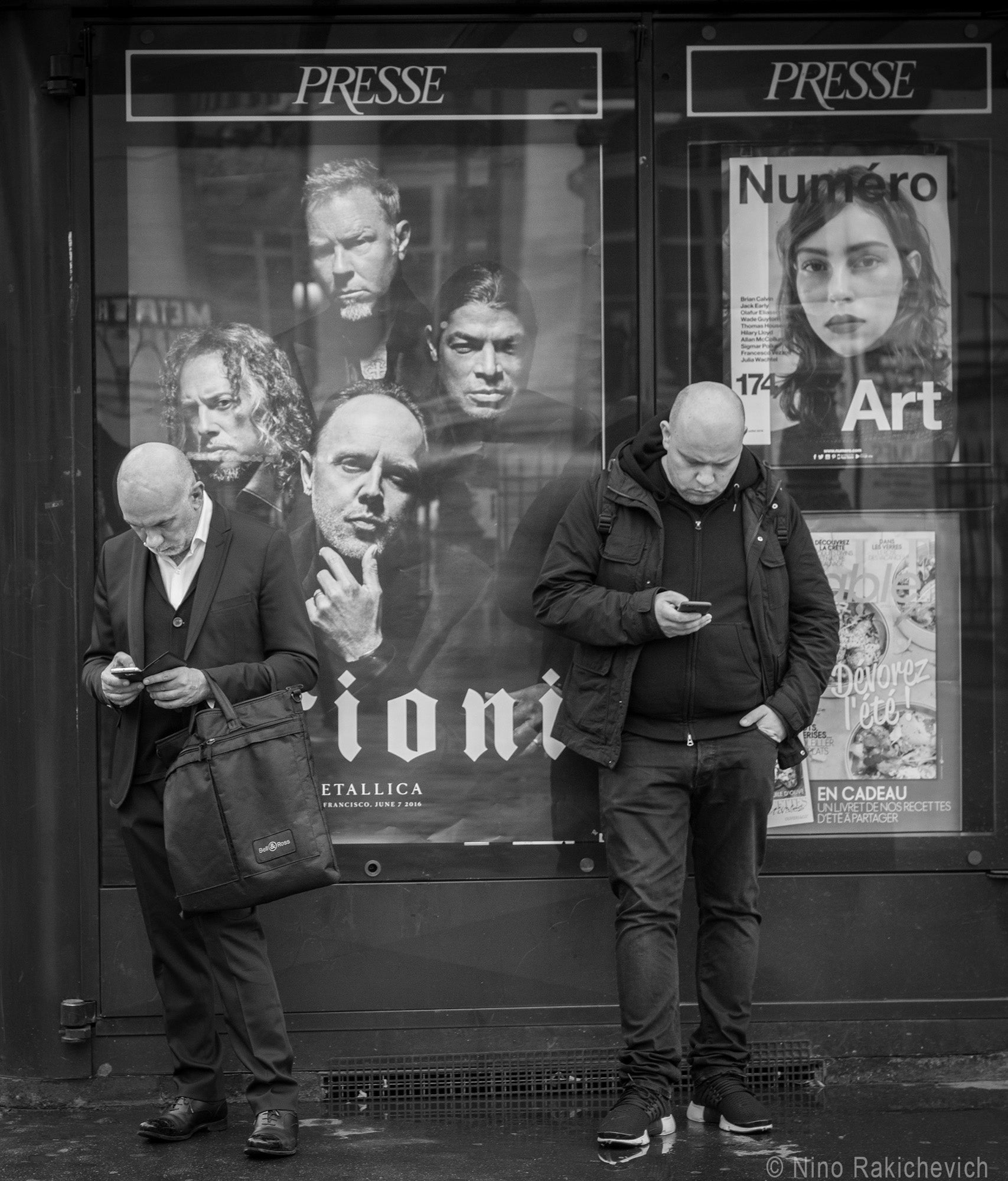 Sony α7R II, Sony 24-70mm f/2.8 GM lens, 1/40-sec., f/4.0, ISO 1000
Seeing this photo, some people have asked me, "Did you pose that?" No way. This is the moment as it happened. A couple of seconds later, it just wasn't the same thing. Right after I took this shot, one of the guys noticed that I was taking pictures and he moved and the composition just fell apart. This is the essence of street photography. You can't hesitate, because the thing you see won't be there an instant later.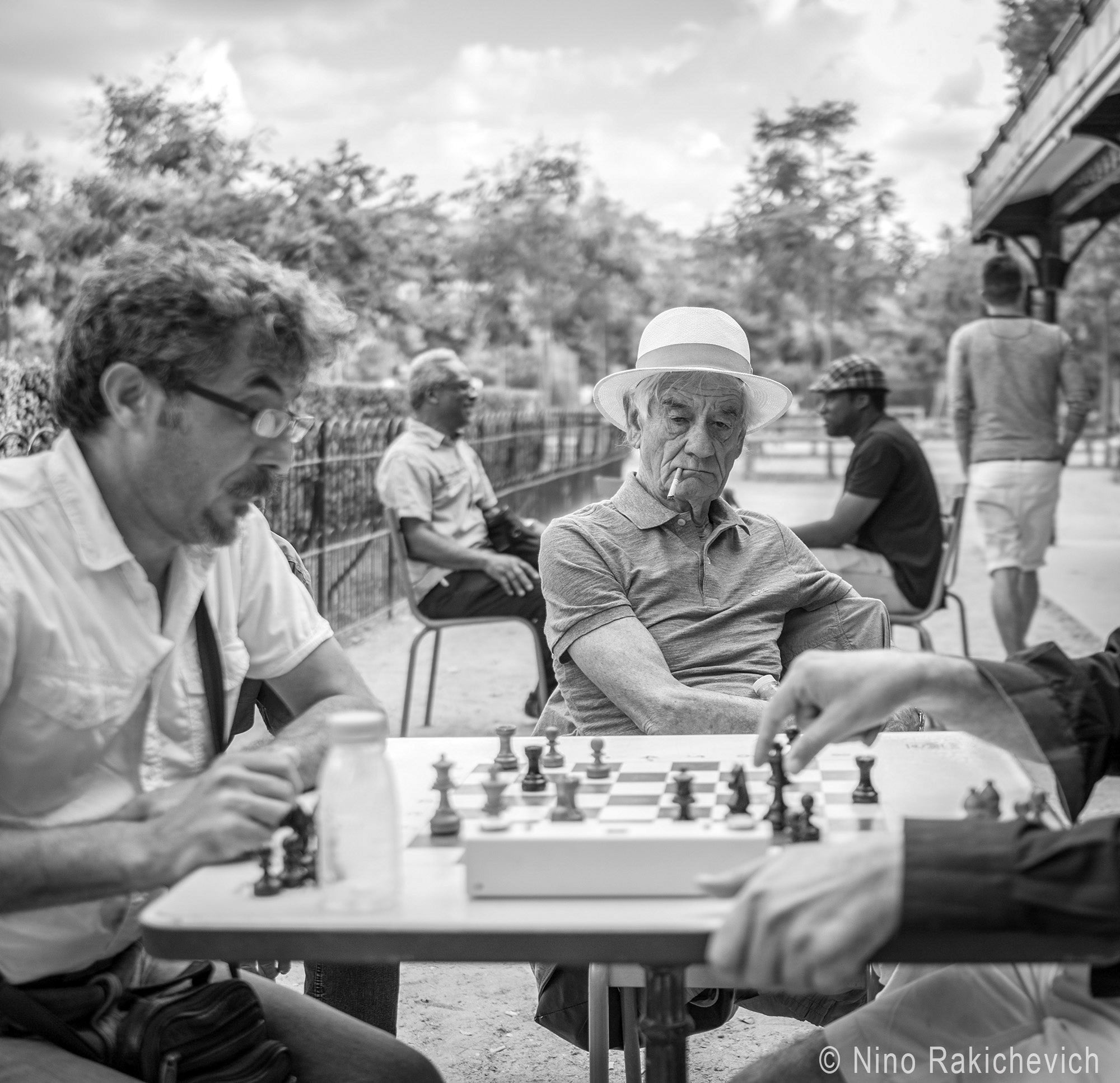 Sony RX1R II, 1/1000-sec., f/2.0, ISO 200
This was taken at Luxembourg Park in Paris. There's an area where a lot of chess players gather and you can just come and pick up a game. There are a lot of guys that are really, really serious about it. I can tell this guy in white was very serious. I don't know if he is any good, but I loved the way he was so focused on the board. I think he's probably very, very good.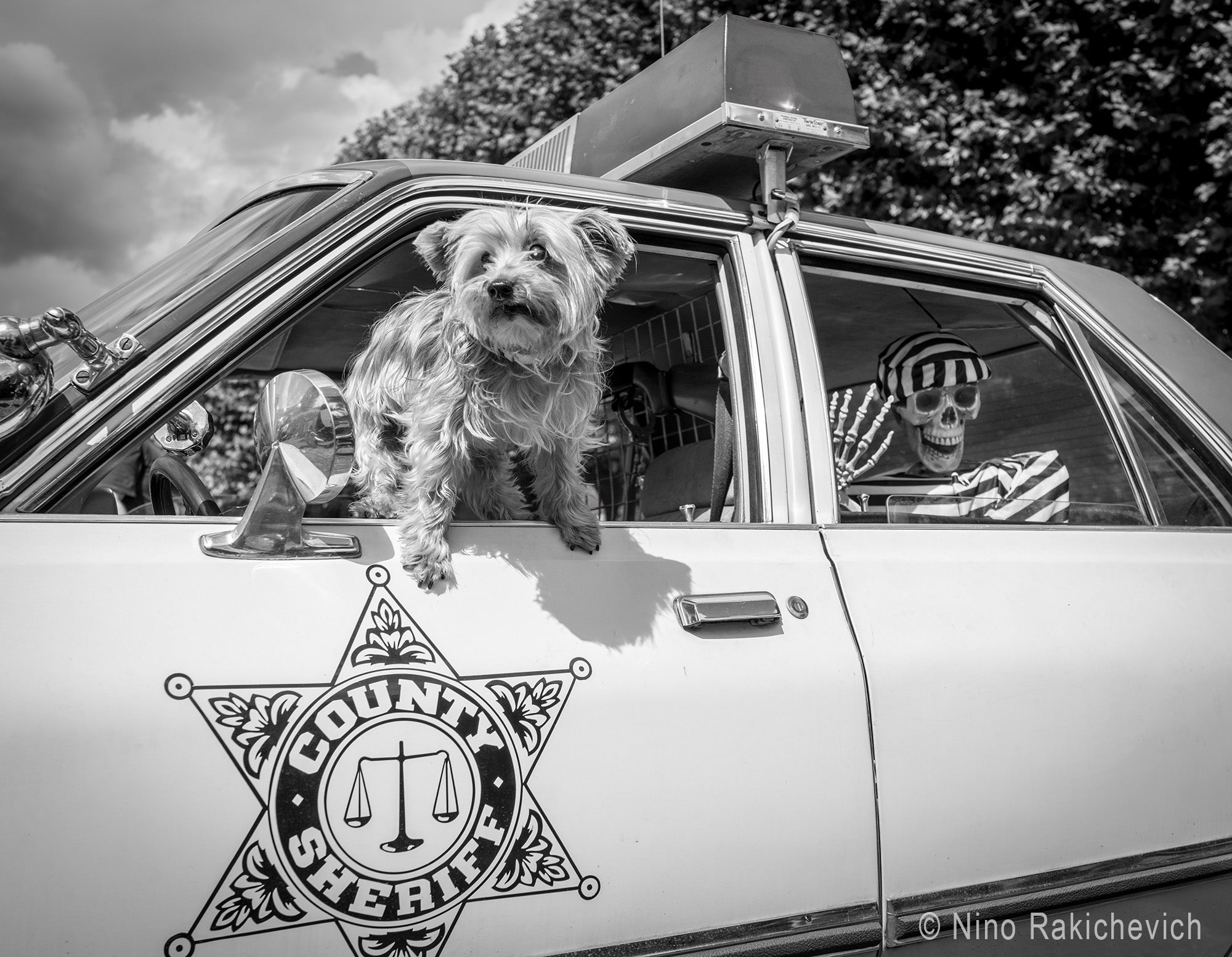 Sony RX1R II, 1/800-sec., f/5.6, ISO 250
I saw this police car at a vintage car show. They had this American police car and with a skeleton in it and a little dog was sitting on the passenger seat. In this moment, the dog just wanted to get out and I caught it at the right time. To me, the dog looks like the sheriff.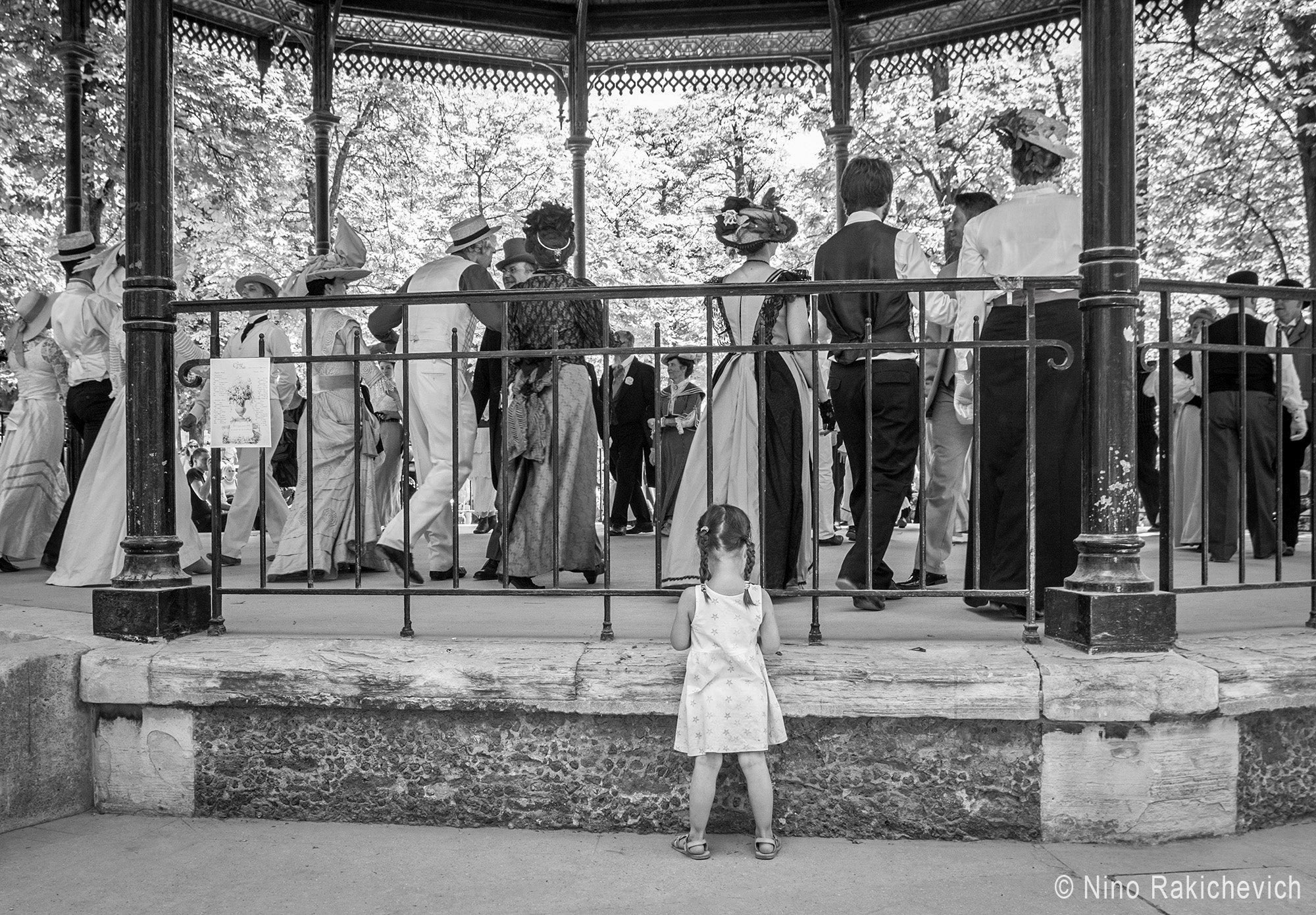 Sony α6300, Sony Vario-Tessar T* E 16-70mm f/4 ZA OSS lens, 1/125-sec., f/6.3, ISO 400
Luxembourg Park has a lot going on. Here, a group was doing these traditional dances. It was a beautiful scene with everybody dressed in old handmade costumes. I found out that they're all handmade. This little girl was just standing there totally mesmerized by the whole scene. I was too. It really felt like being transported in a time machine. I can imagine what this girl is thinking as she stands there, staring, and very much enjoying the whole scene.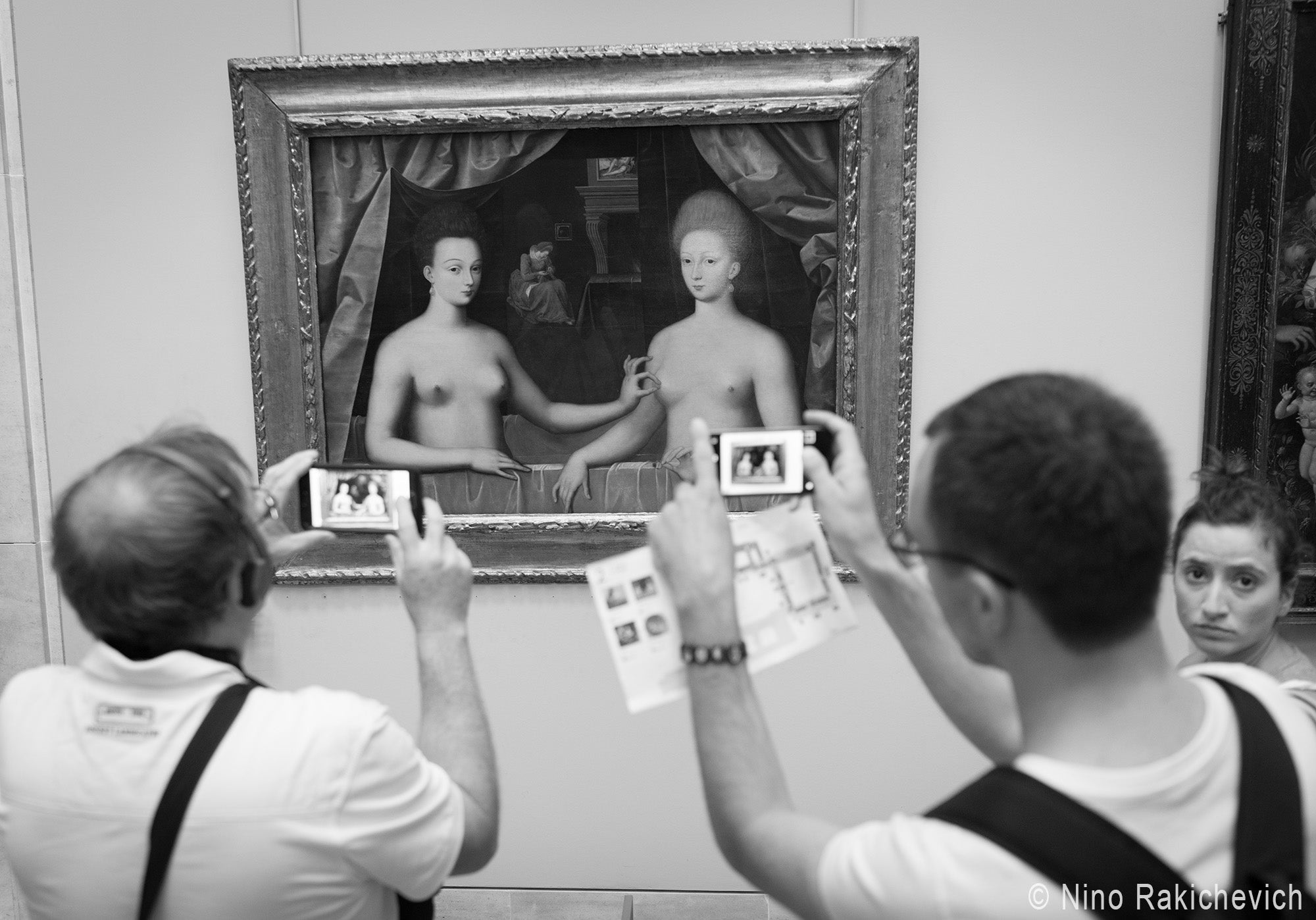 Sony RX1R II, 1/80-sec., f/2.8, ISO 1600
Like everything in the Louvre this is a very famous painting. As I stood here, I noticed that everybody who came to the painting was either taking photos of it or talking selfies with it. It's always quite a scene in front of that painting. I stood there for a few minutes and took several photos. I like the way these museum visitors are looking at the screens on their phones or at me, not the actual painting.
See more about Nino Rakichevich, follow him on Instagram @nino_rakichevich and on Facebook