Patrick Jaszewski (@pjaszewski) is a food and photography enthusiast with a love for cooking and sharing his work with others by feeding them directly or with images and video of his work. He produced this image of a charcuterie board as part of a food photography workshop at the Everything Food Conference in 2019. After his shift serving as a volunteer assisting workshop attendees and helping with cleaning and making ingredients, tools, props and backgrounds, he had some time to play around and build something of his own with leftover ingredients. While many people gravitated toward the sweets, he wanted to do something savory, so he he combined meats, nuts and cheeses to build this charcuterie board. We connected with him to learn more about how he styled, composed and ultimately captured this savory spread with his Sony Alpha α6500 and Sony E 30mm f/3.5 Macro.
How this gourmand and photography sets up an APS-C Sony α6500 for food photography with an underrated $300 Sony E mount sleeper lens.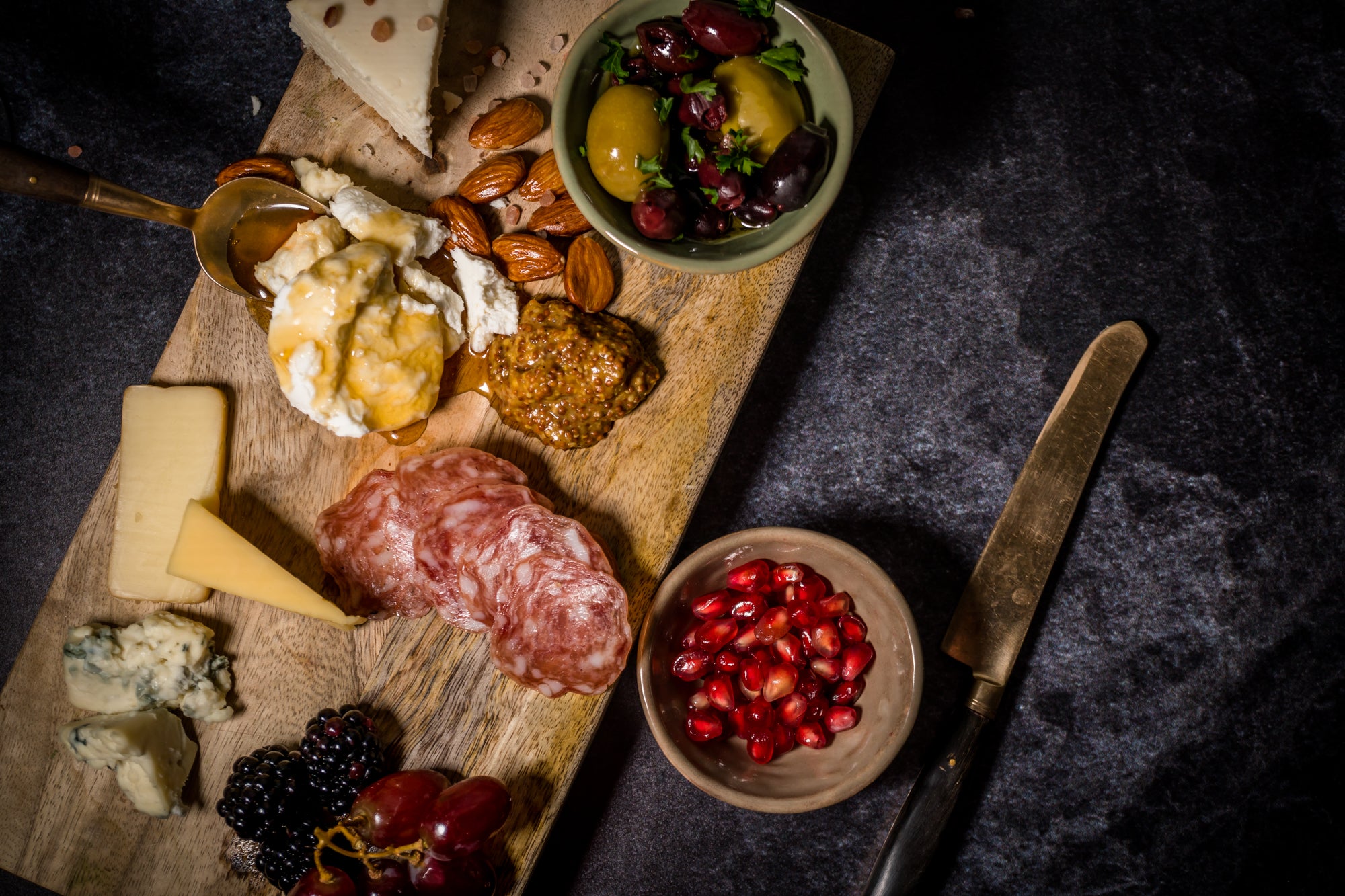 Photo by Patrick Jaszewski. Sony α6500. Sony E 30mm f/3.5 Macro. 1/4000-sec., f/3.5, ISO 100
Gear
For this image, I used my Sony α6500 with Sony E 30mm f/3.5 Macro. I love this focal length and this lens - it's versatile for food, travel and portraits and I find myself reaching for this Sony 30mm very often. While this specific shot isn't macro, this lens shines in the macro department with quick, snappy focusing at very close distances. I'm often shooting outside my home studio, so I don't often use a tripod and this lens/body combo is super lightweight and portable, making my life much easier. Since I'm hand-holding most of the time when I shoot, I trust the α6500's In-Body Image Stabilization (IBIS) to reduce any impact of shake from my hands. Also, the Sony autofocus system in the Alpha α6500 is top-notch and I know that I'm going to get clear in-focus shots.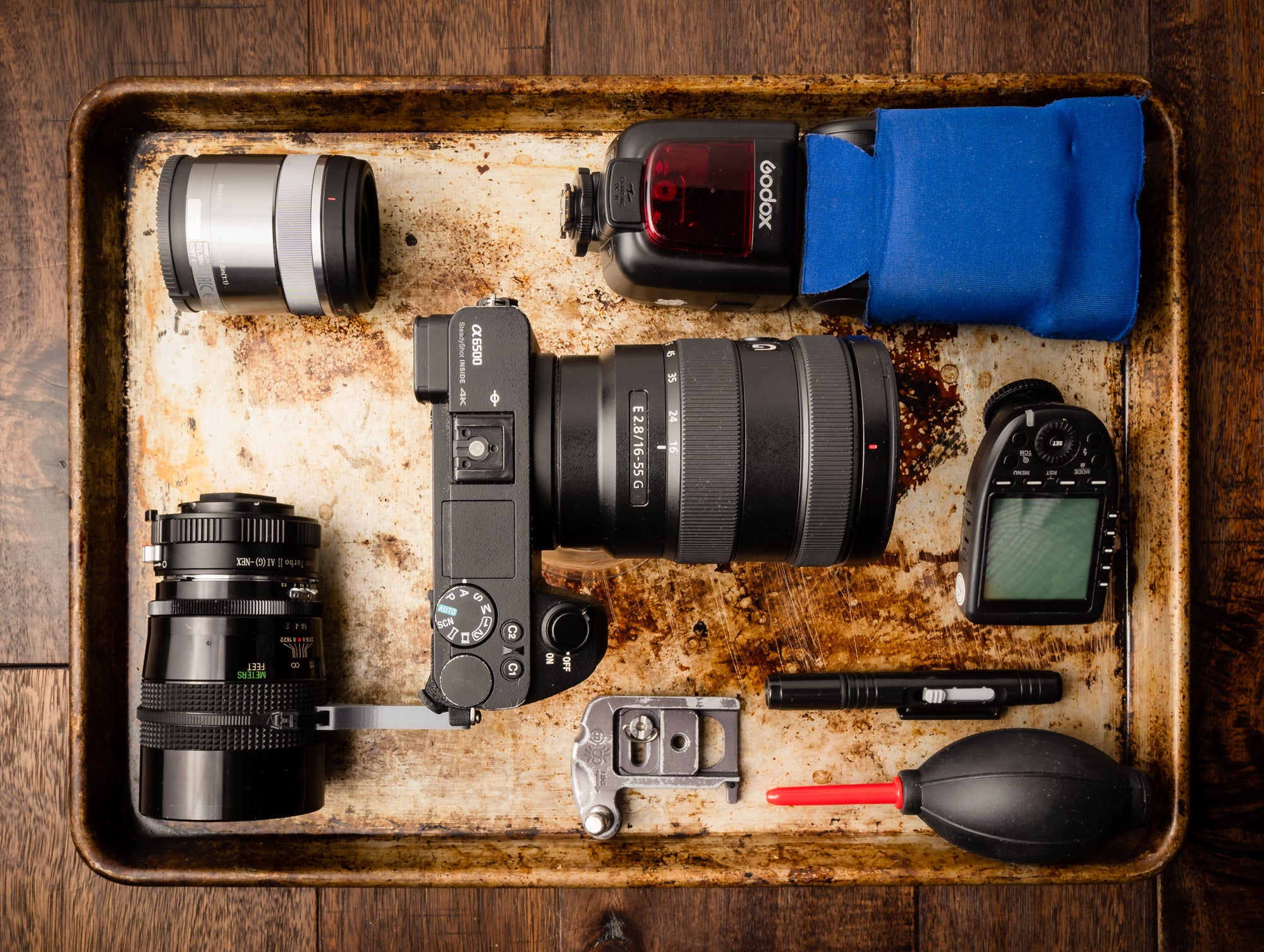 Patrick Jaszewski's gear for food photography.
Styling & Composition
As I was setting up my board to capture this photo, I started by identifying what I wanted my focal point to be and build layers of interest. I wanted the cheese covered in honey to be my "hero" at the intersection of the top and left thirds and arranged the rest of the board to support it.
Triangles and lines are a big part of how I decided to lay out my composition. I chose to build parallel lines with the edges of the board and the knife to be perpendicular to the spoon that is pouring the honey onto the subject. Further, I arranged the edges of the cheese wedges above and below that spoon to run in the same direction to echo that flow. I also formed an imaginary equilateral triangle with the right edge of the cutting board and the bottom of the frame going into the bottom right corner.
With so many geometrical patterns in mind, I wanted to balance them with organic shapes like the irregular blue cheese crumbles, almonds and stone-ground mustard. "Still-life" images are a big part of food photography, but I wanted to make sure that "life" was part of my image, so I use the spoon and honey components to make sure the image isn't purely static. I balanced the spoon on the lip of a wine glass barely out of frame (see behind the scenes photo below).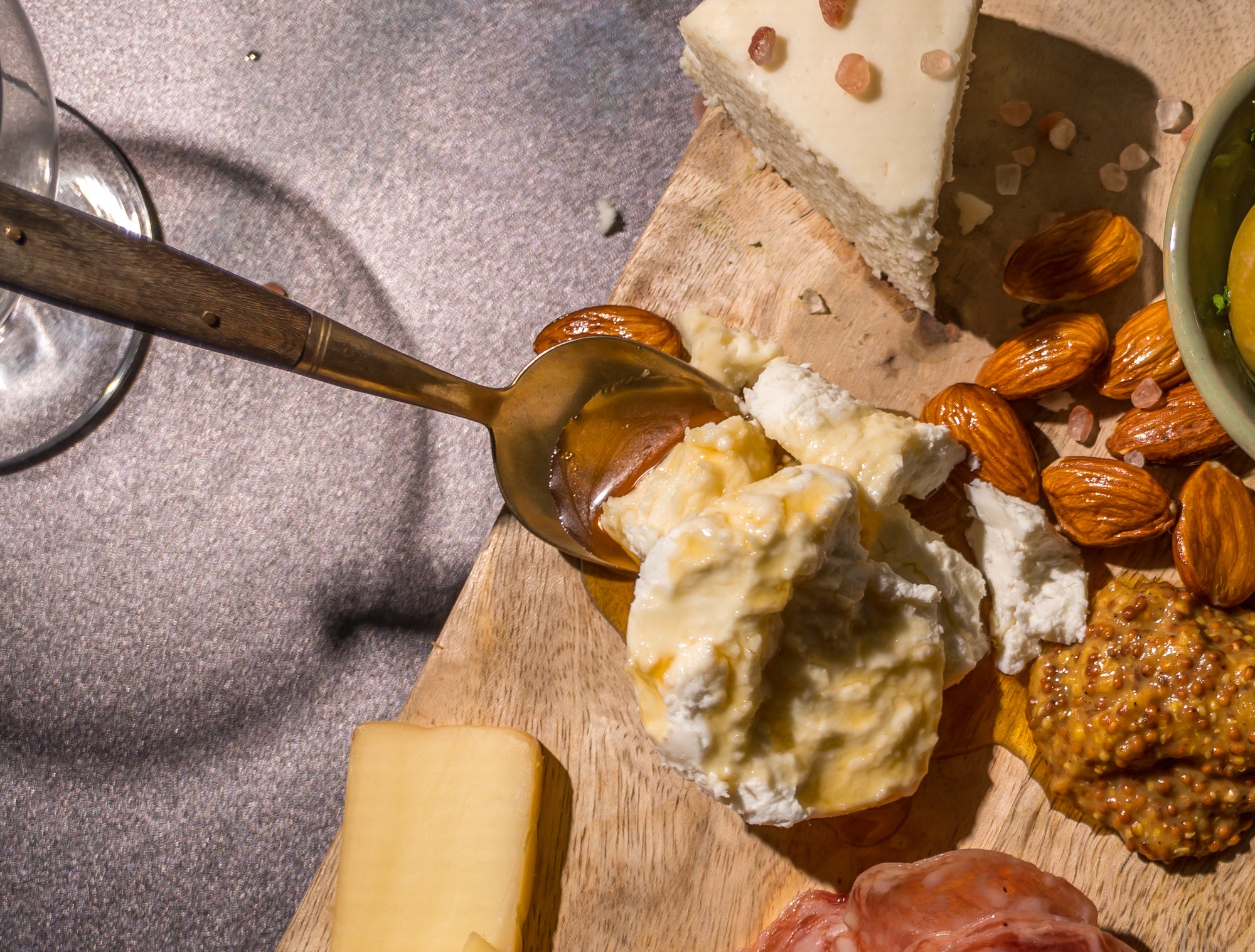 Behind the scenes photo of a spoon balanced on a glass to create a more dynamic photo.
Negative dark space on the right-side played a big role to prevent a feeling of clutter and to avoid overwhelming the frame. When composing a board like this, it is easy to add too many elements in too regular of patterns, so it takes some judgement to know when you have enough details.
Camera Settings
Once I had my composition in mind, I turned my attention to capturing my image. I shoot in Raw+JPG so I have a lot of flexibility in post-processing and used an 18% grey Light Dome to set the white balance. I wanted to shoot my flash from a fairly low angle so that I could cast long shadows almost parallel to the lines of the board and the knife and avoid too much reflection off the oil glistening on the sausage's flat surfaces. To keep some depth, I opted to shoot wide open at f/3.5 to maintain that 3rd dimension. I wanted to have a dark, textured feeling, but because I was right next to a window that was spilling out tons of natural light on a sunny day. I shot at ISO 100 and a fast 1/4000-sec. to eliminate the impact of natural light and used my flash to light the scene. (Here is the same shot using that window - also nice, just a very different mood.)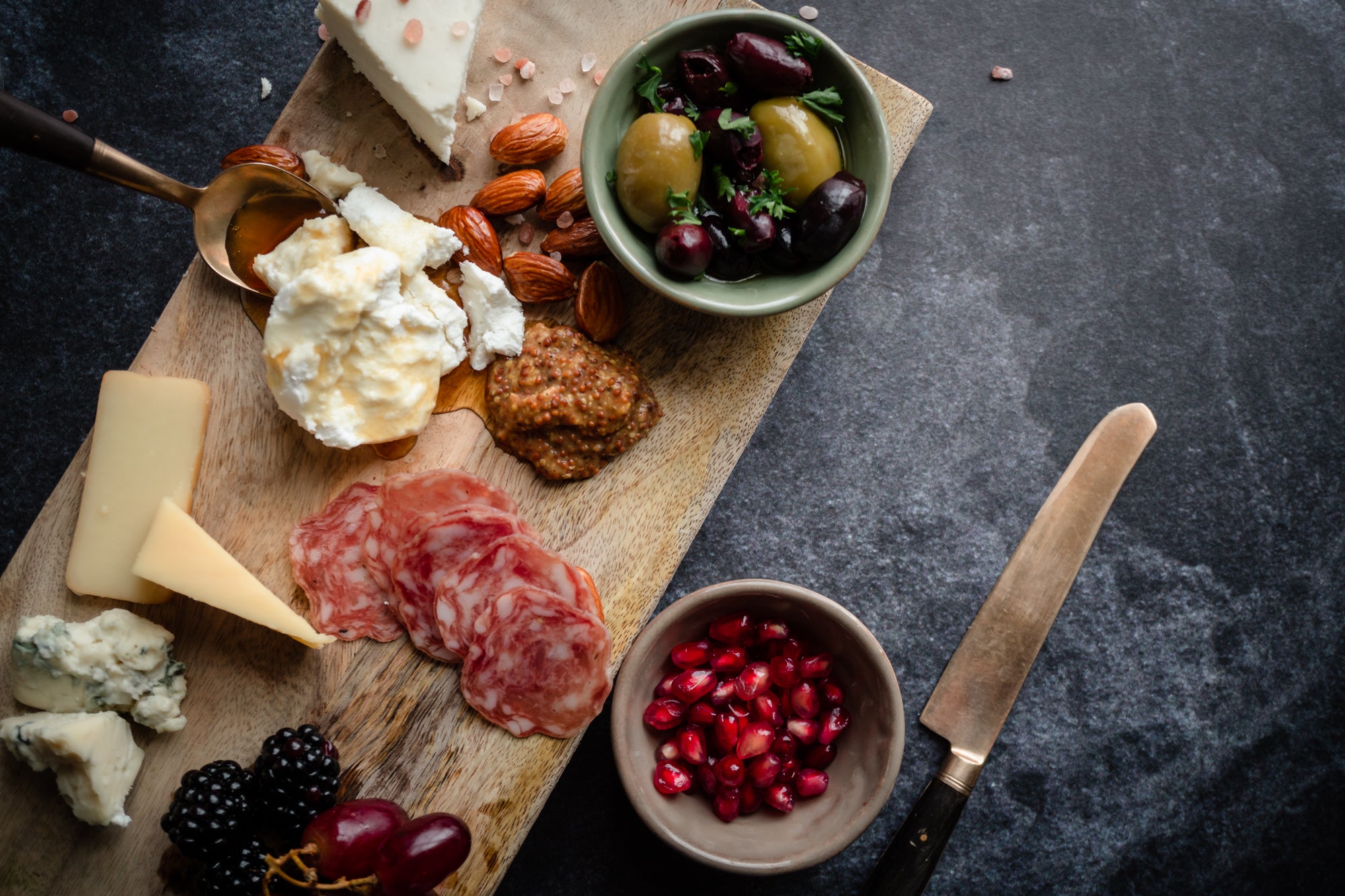 Taken with natural light. Photo by Patrick Jaszewski. Sony α6500. Sony E 30mm f/3.5 Macro. 1/125-sec., f/6.3, ISO 100
Post-Processing
After the shoot, I took the RAW file into Adobe Lightroom for some light touch-ups. I try to get it right in-camera as much as possible, but that RAW file gives a lot of leeway if I need it. In this case, I did some light cropping and exposure adjustments. With food, I like to drop the highlights, boost the shadows and then get the contrast back by dialling in the whites and blacks. I also upped the clarity, added some light sharpening, lens profile correction and a moderate vignette.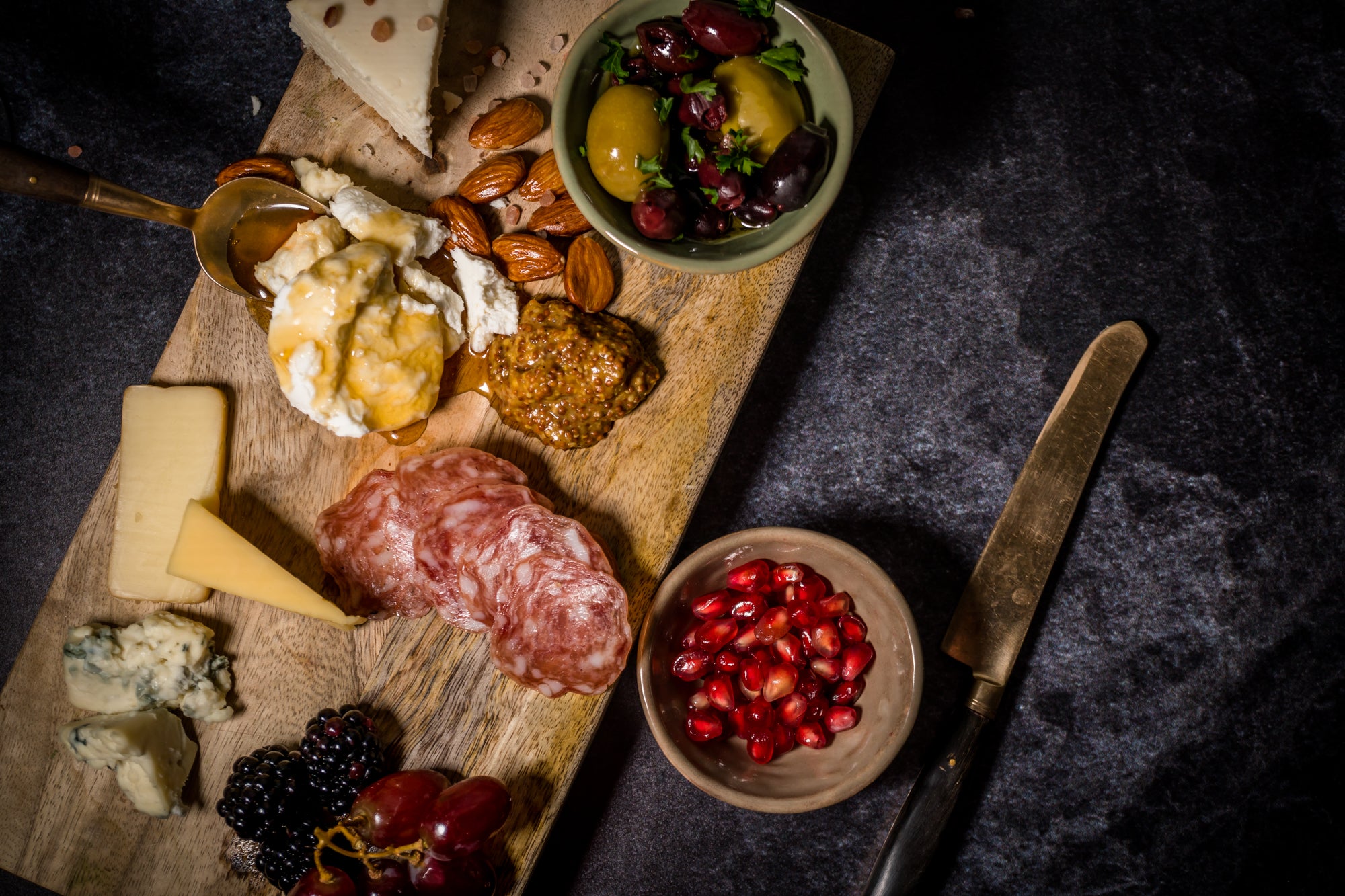 The final shot with flash. Photo by Patrick Jaszewski. Sony α6500. Sony E 30mm f/3.5 Macro. 1/4000-sec., f/3.5, ISO 100
This was a fun little exercise to do and gave me some great time to really think about how I wanted to do composition. Enjoy the process and keep shooting!